Weeknight Wednesday ~ How to Sauté Chicken Breasts and 10 Ways to Serve Them
A friend of my daughter's asked me last week for an easy meal for her husband who does not eat vegetables or fruits. Without hesitation, I told her "chicken breasts".  I can't think of an entrée that isn't easier, healthier or more versatile than boneless, skinless chicken breasts. If you know how to properly sauté boneless, skinless chicken breasts, you can make dozens of meals just by changing the seasonings and sauces. So let's get started.
How to Prepare the Chicken Breasts
Usually when you bring chicken breasts home, they look like this ~ with a thick end and a thin end.  You can't cook them like this or you will have one end overdone and dried out and one end either just right or not cooked enough.  Either way, not the thing to do.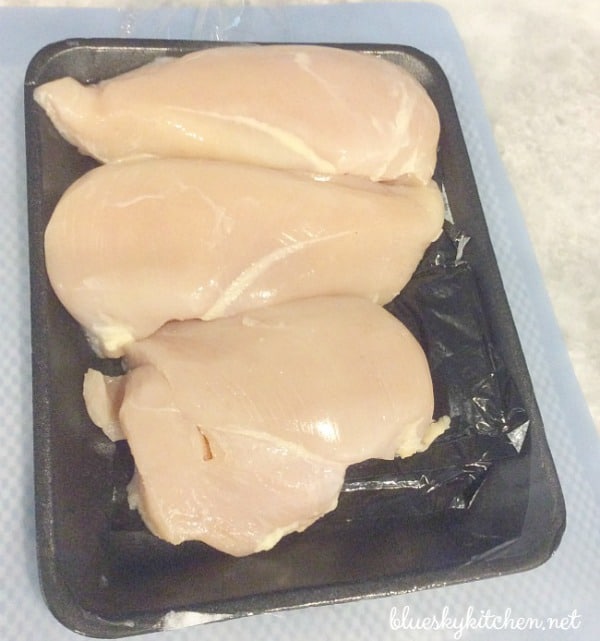 I explained how to prepare chicken breasts in this post last November. Check that out first.
After you have trimmed off any visible fat, pounded them to an even thickness with a meat mallet (the flat side) to about 1/4 ~ to 3/8-inch thick, and cut them into portion sizes, (about as big as your fist or about 4 X 4-inches, 4-5 ounces), you are ready to start cooking.
How to Sauté Chicken Breasts
You will need a skillet (I love to use my cast-iron skillet or my All-Clad) large enough to hold the number of chicken pieces are preparing.
You will also need:
flour, kosher or sea salt, freshly ground black pepper, and either canola or olive oil.
This isn't a recipe; it's a technique and once you know it, you can make dozens of different chicken dishes.
The Technique
Heat your skillet over medium~high heat. When is just getting hot, add a tablespoon or 2 of the oil and swirl around the pan. The oil should shimmer, almost appear to float on the pan ~ that's how you know your pan is hot. If the pan gets too hot, turn the heat down to medium.
While the pan is heating, place the chicken pieces on a plate. Lightly sprinkle with a little salt and pepper. Place about 1/4 cup flour (exactly how much depends on the number of chicken breasts) on a plate or in a Pyrex pie plate. Season with salt and pepper and any other seasonings you might want to add. (More about that in a minute.)
Dredge the chicken breasts in the seasoned flour, shaking off any excess flour.
Place a few chicken breasts in the skillet with the smooth side down. DON'T TOUCH THEM! After a few minutes, lift up an edge of a chicken breast with tongs. The bottom side should be getting golden brown and the chicken breast will be firming up.
When the breasts are golden brown on the bottom, turn over with the tongs and cook the other side until golden brown.
When both sides are golden brown, remove from the skillet to a paper towel-lined plate.
That is it. Your chicken breasts will be moist and flavorful and done in about 6 minutes. Don't overcook. Use the color and the firmness of the chicken breasts as your "done" guide.
Seasonings for Seasoned Flour
cayenne
dried oregano
paprika
chili powder
herbs de provence
curry
garlic powder
dried thyme
red pepper flakes
dried tarragon
Now for the fun part.
10 Ways to Sauce your Chicken Breasts
Deglaze your pan with a little white wine or chicken broth, scraping up the bits of chicken in the skillet. Add a tablespoon of chopped shallot and stir. Off the heat, add a tablespoon of unsalted butter, swirl in the pan until melted, season with salt and pepper and pour over the chicken breasts. You just made a beurre blanc (white butter sauce).  You are officially French.
Add capers and lemon juice to the skillet for a Chicken Piccata.
Add chopped olives to the skillet sauce.
Add sautéed sliced mushrooms to  the chicken.
Add caramelized onions to the chicken.
Serve with salsa, tapenade or pesto on top.
Combine a can of drained and rinsed black beans, corn kernels, diced onions, jalapeño, cilantro and a little extra virgin olive oil. Spoon on top of the chicken breasts.
Serve with the Mustard Sauce from the Mustard Roasted Fish.
Heat  pasta sauce and serve over the chicken.
Add some lemon juice to mayonnaise or Greek yogurt and whisk with any seasonings you like and serve over the chicken.
That's 10+.  I bet you can come up with more. If you served every way I've listed above, you have 12 different entrées. And you only used 1 skillet.
Easy prep, easy cooking, easy clean-up. Happy you and happy family.
What do you serve with the chicken breasts? Anything you want. Potatoes prepared any way, any vegetable, slaw, salad, couscous, quinoa, grain, lentils, the list is endless.
For this meal, I spooned sautéed mushrooms over the chicken and served it with a baked sweet potatoes (We love those.) and sweet peas.
Promise me you will practice sautéing chicken breasts. Try the different sauce suggestions. Come up with ones of your own (and please share and send me a picture).
Conquer the kitchen!!