How We Prepare for Our Kentucky Derby Party
Do you know what the first Saturday in May is? The Kentucky Derby! It's not too late to plan a Kentucky Derby party and I wanted to show you how we prepare for our Kentucky Derby Party.
Do you know what is the most exciting 2 minutes in sports? What is the only sport that requires women to wear hats? And what event has its own designated cocktail? Well, of course, it's the Kentucky Derby ~ and this year is the 147th running of the most famous horse race in America, if not the world. This event calls for a Kentucky Derby party.
In 2001 Sweet Shark and I went to the Kentucky Derby and it still ranks as one of the best days of our lives. The pageantry, the spectacle,  the beautiful horses, the color, the hats, the mint juleps (!) ~ it was all a wonderful experience.
Starting in 2003, every other year we have hosted a Kentucky Derby Party (We did miss a couple of years when we were moving, lived in an apartment for a year and moved into our new house). And we had to cancel last year's party after the SAVE the DATE went out.
Although we won't be hosting our usual big party, we are thinking about a small gathering.
It's our very favorite party to host. Even if you are not into horses or horse racing, the Kentucky Derby is still a great reason to gather your friends for good food, the classic mint julep and dressing up with hats!

If you can't host a Kentucky Derby Party this year, you can save this party prep post for next year (Pin it to your Party Ideas, Please!)
Our Kentucky Derby Party Preparations
Preparations begin in February when I send out a "save the date" and in April, we send our official invitation. The week of the Derby, we ramp up into full swing party mode.
First, I want to give you a sneak peek of some of our Derby Day decorations.
By Friday, we try to have (almost) everything in place so we can just do last~minute meal assembly, set up the bar, and relax before our guests arrive.
Kentucky Derby Party Supplies
Here are some items that you should consider for a Kentucky Derby party.
When guests arrive, our banner greets them. We put it on a pole attached to a tree in the front yard,
When we had our first Kentucky Derby party in 2003, we stocked up on (1000) cups for mint juleps, napkins, straws, and sparkly little horses to last us for awhile – as in forever.
We have over 30 Kentucky Derby glasses starting in the 80's that belonged to Sweet Shark's parents and we've added more over the years.  You can order Kentucky Derby party paraphernalia online at several sources, such as Party City and Caulfield's.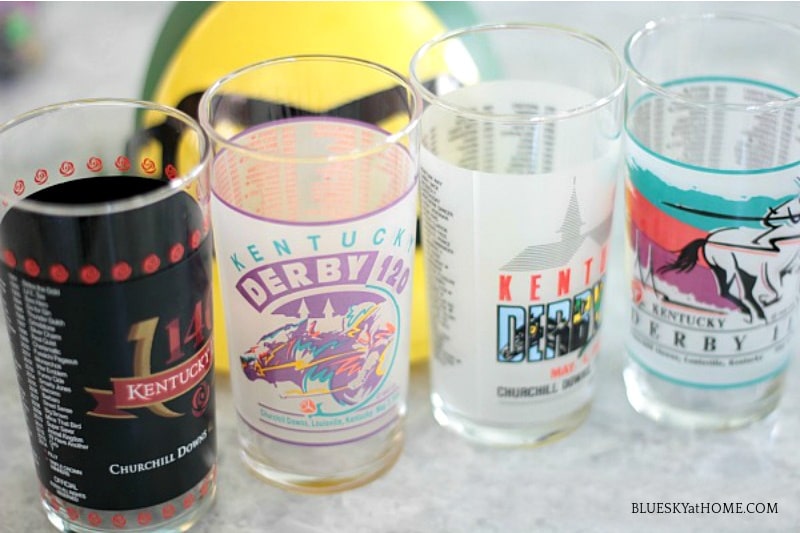 Jockey hats are good to have on hand in case a lady forgets to wear her hat. They are also fun to place around for decorations.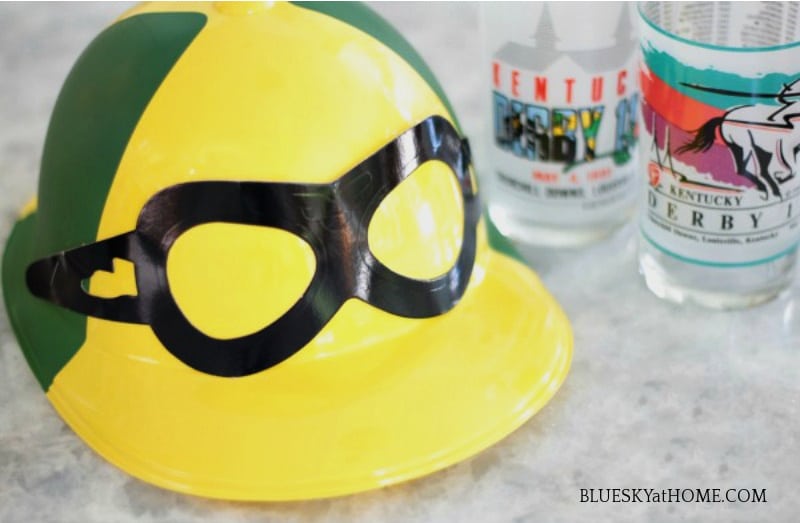 A cute Thoroughbred pony sings for his supper and makes a great addition to the decorations.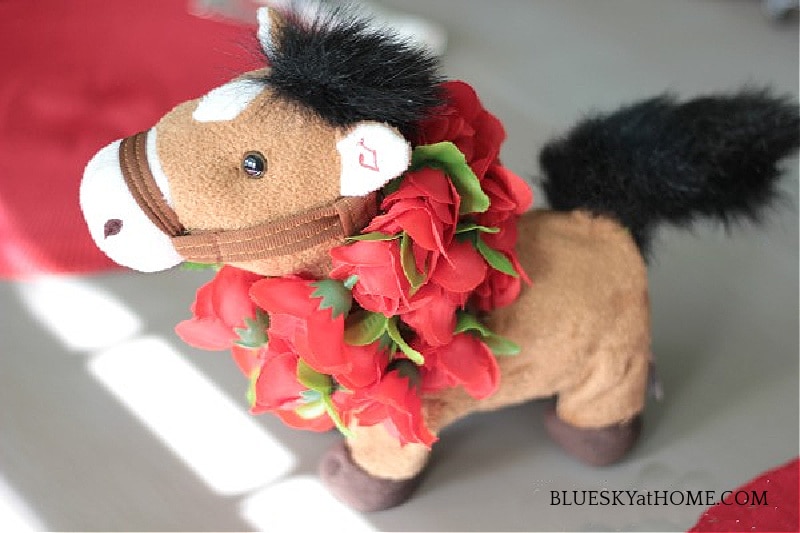 DIY Party Decorations
In addition to Kentucky Derby items that you can order online, there are several projects you can make yourself to add to the theme of the party.
In 2014, my brother~in~law, made this great tote board for us.  He makes a new one every party year. I've kept them all just because.
I found this wooden horse in Waco at the Junky Monkey when I visited Magnolia Market a few years ago. His transformation was a big part of our Kentucky Derby preparations.
I bought these supplies at Hobby Lobby with a special decoration in mind. This black & white check ribbon is perfect for many Kentucky Derby decorations.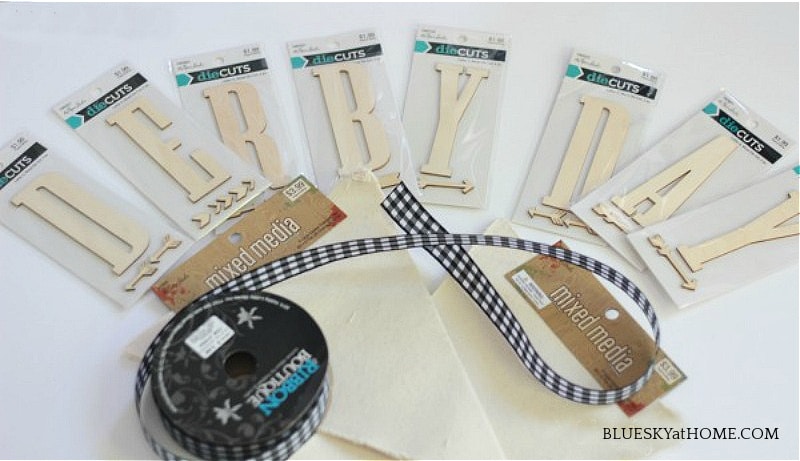 I used some of the ribbons for napkin ties.  Black and red are the "colors of the day" since the Kentucky Derby is the "run for the roses". Kentucky Derby party is the time to bring out your good china and silver.
Our Kentucky Derby party is a buffet. I use extra tables so that everyone can sit down after the race to enjoy the meal. You could also just have an appetizer party with small plates.
Red and black & white check scrapbook paper is good to have for all sorts of decorations. I used paper for menu cards.
And speaking of "run for the roses", here is part of my DIY decoration project. Floral roses from Hobby Lobby and a burlap ribbon I had on hand. Think blanket of roses.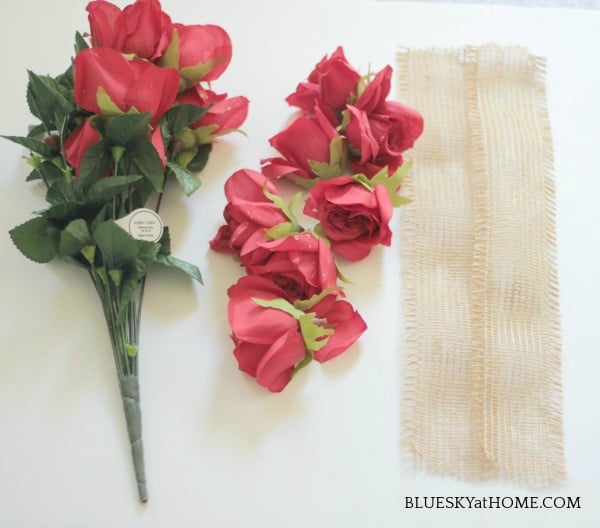 For a Kentucky Derby banner, I spray-painted the die-cut letters and bought pre-cut triangles for my project.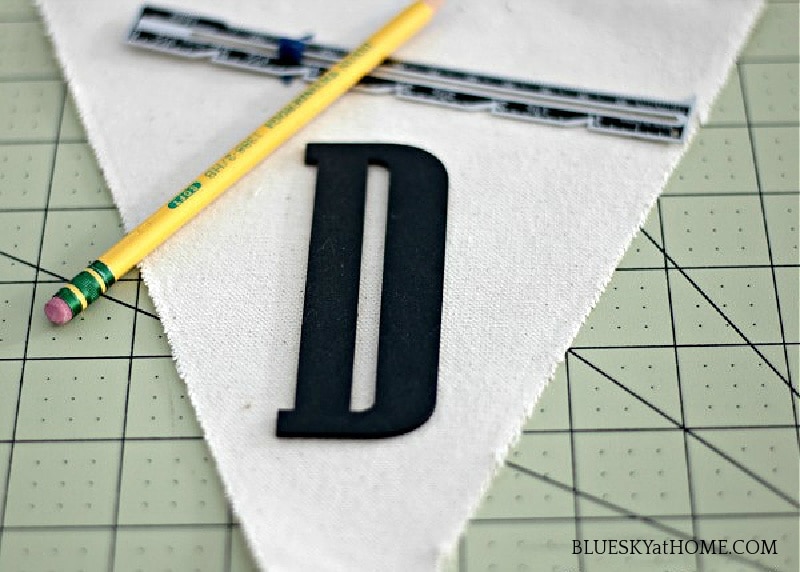 Here's a little sneak peek of the finished project, using the black & white ribbon and red netting I already had.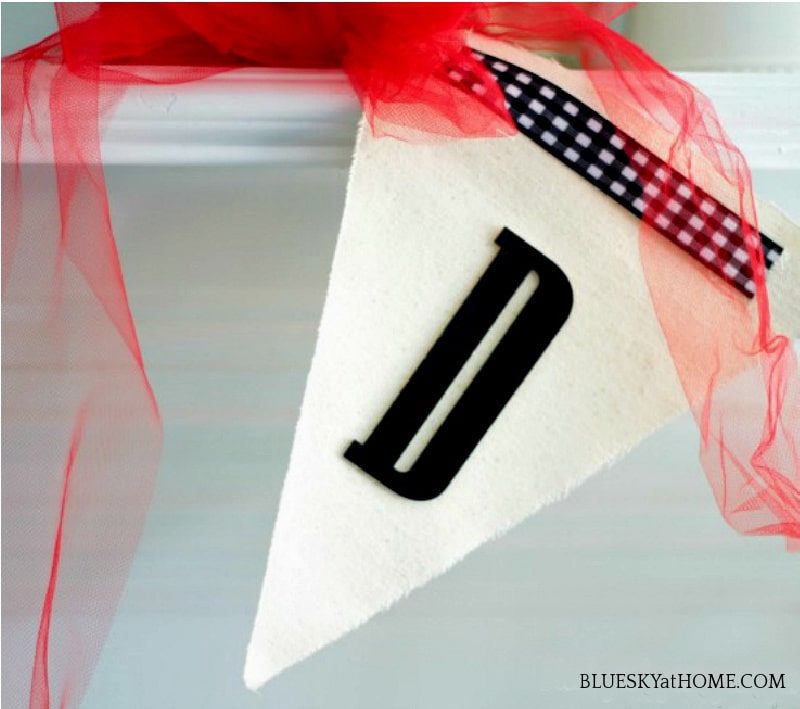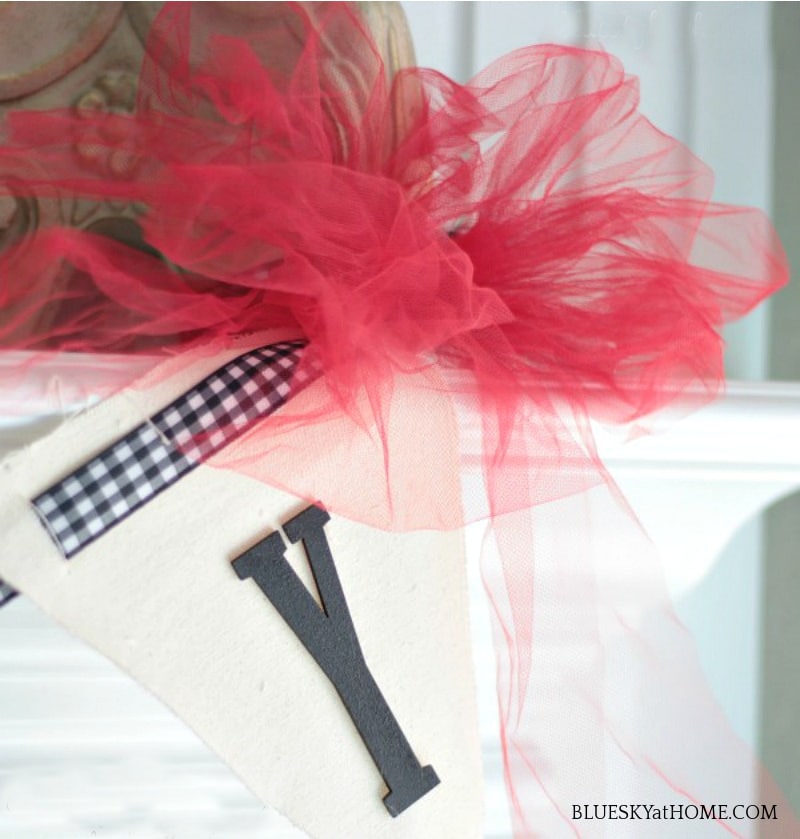 Everyone gets a copy of "My Old Kentucky Home" to sing along with the 100,000 fans at Churchill Downs during the post-parade.
These ideas will get you started on Kentucky Derby party preparations. More good party planning ideas to come later. I'll share our menu and the finished decorations.
Until then, PIN this post to keep in your Kentucky Derby or Party Board.