Kentucky Derby Tablescapes Celebrate Run for the Roses
Last year was Kentucky Derby party year for Sweet Shark and me. Every other year we have a big party ~ last year was our 7th party in 15 years. I start thinking about our party weeks in advance. In case you are planning a Kentucky Derby party, here are some Kentucky Derby tablescapes that celebrate the Run for the Roses.
At this time party preparations are in high gear. Although I don't start cooking until the week of the party, I do try to get all our decorations complete the week before the party. That includes setting our Kentucky Derby tablescapes. And, since no Kentucky Derby tablescape is complete without red roses, you can imagine that the classic Derby flower is the focal point of our tables.
Our Kentucky Derby party always starts with Mint Juleps and appetizers before the race. In 2016 I decided to also serve a light buffet dinner after the race. I set as many places for guests to sit as possible, using our dining room table and breakfast room table to create Kentucky Derby tablescapes where some guests can sit and enjoy their meal. Fortunately, I can set up those tables up before the party. The morning of the party, we set up a couple of tables outside. The weather last year was perfect for outdoor visiting and dining.
Kentucky Derby Tablescapes Celebrate Run for the Roses
I've already shown you some Fun Kentucky Derby ideas, but here are more. Let's actually start at the front door.
Front Door Kentucky Derby Wreath
I bought a boxwood wreath at Joann several weeks before the party and decorated it for spring with pink azalea blossoms, tulips, and hydrangeas and topped with a sage green ribbon. Nothing was glued on so the flowers and ribbon were easy to remove. I bought 2 large bouquets of red roses at Joann and cut off the roses with clippers. Then I just stuck the stems into the boxwood wreath and made a bow with black and white ribbon. It took me about 20 minutes from start to finish and our guests will know that this is party central.
Entry Decorations
Using printables from Melissa at Polka Dot Chair, I made a banner for our entry mirror. I printed the "Run for the Roses" on full sheet shipping labels. Then I cut out each section, attached them to red cardstock, and cut around them.
I attached a black plaid ribbon to make a loop and then red ribbon to make the banner. Then I used one of my favorite craft supplies, 3M thick double~sided mounting tape, to attach the banners to the mirror.
Red roses from Sam's filled a champagne bucket ~ my version of a trophy.  Then I tied a bow with more plaid ribbon. A stuffed Derby horse stands by the "trophy", a silver champagne bucket.
TIP: place a glass or plastic container of water with your flowers inside your silver buckets so you don't get yucky flower water in the bucket.
Using more printables from Polka Dot Chair, I made these WIN~PLACE ~ SHOW decorations.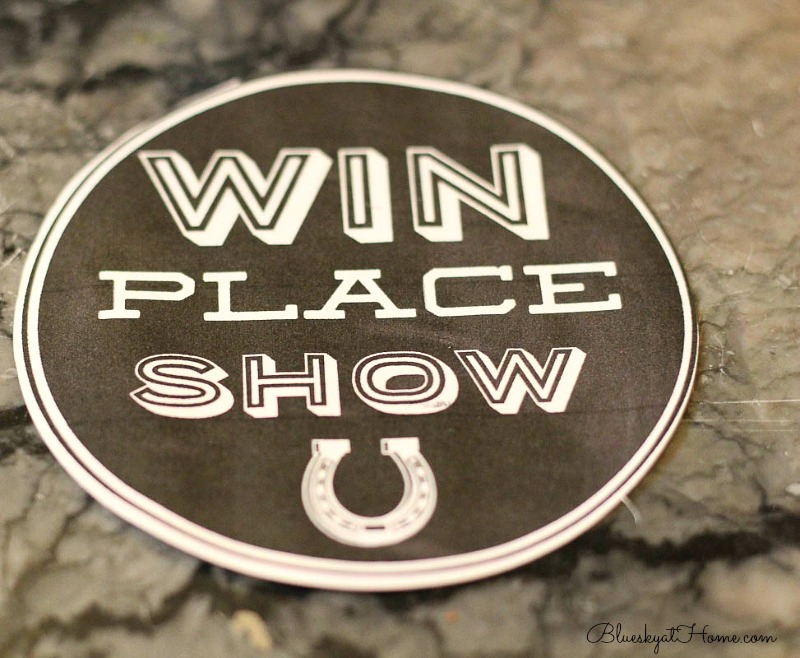 Dining Room Kentucky Derby Tablescape
Last year I was deep into my dining room makeover on the One Room Challenge (this is Week 5), and our dining room was about 85% finished. Far enough along that I hope our guests would enjoy the new look. I used another silver wine bucket filled with red roses and baby's breath as the centerpiece.
I found these red woven placemats at Bed, Bath & Beyond for $1.99 so I bought 8 new ones. Red and white plaid ribbon ties up napkins.
Each guest gets a glass from one of the Triple Crown races that Sweet Shark's parents collected over the years. We also bought back glasses from our trips to the Kentucky Derby, The Preakness and The Belmont. I had a bolt of red net ribbon on hand so I made a bow around each chair for color. In the past few years, we've bought 4 Mint Julep cups  ~ 2 in Savannah and 2 at an antique show in Atlanta and I had them engraved with our monogram. We hope to add more in the future. The silver brings a nice bit of shine to the table as well as the little horse "confetti" strewn about the table.
Living Room Mantle
In 2016 I found this old wooden horse at a flea market in Waco ~ I think it was called the Junkie Monkey. I painted it black and nailed it to a board for stability. Then I made a red roses blanket just like the Derby winner gets. I also made a "Derby Day" banner. It was so cute I used it again last year. I covered the wooden board with green moss to look like grass.
Breakfast Room Kentucky Derby Tablescape
Since we now have a new round table (40~inches) in the breakfast room, we put a portable 48~inch round tabletop made by Samsonite that I've had for years (it folds in half for storage) on top. This way we can sit 6 people. I placed a round white tablecloth on top and used red napkins with black plaid ribbon to tie them.
Another silver wine bottle container is filled with more red roses (can't have enough) for the centerpiece. More horse "confetti" and printables fill the table as well as more Derby glasses.
We will use our large kitchen island for the appetizers before the race and as the buffet area after the race. Then I'll bring out the desserts. Speaking of desserts, this year I'm making Derby Bourbon Truffle Balls. A printable copy of this recipe is in my recipe list on my newsletter, so sign up to receive it.
If you would like more Kentucky Derby Party Ideas, I have a bunch for you to share and PIN.
As always, I'll be making Pimento Cheese, Pan~Fried Onion Dip, and Jalapeño Cornbread Salad while Sweet Shark makes his famous Smoked Salmon and Dipping Sauce. We order a Honey~Baked Ham and Chicken Tenders. Since the Kentucky Derby fell on Cinco de Mayo, I also made guacamole.
I'm going to share Sweet Shark's Mint Julep recipe and my Southern Pimento Cheese Recipe later this week.
I hope these ideas give you inspiration for your own party. This post would be great to PIN.
Even if you don't have a Kentucky Derby party, be sure to watch the race. May your horse win.