14 Fun Summer Party Ideas and Tips for Your Next Party
Regardless of what the calendar says, it is now officially summer. Do you want to have friends and neighbors over for a summer party, but don't feel you have all the tools to do so? Here are 14 Fun Summer Party Ideas and Tips to help you be a party-animal hostess.
Summer is the perfect time to bring friends and family together for a fun and memorable party.
Whether it's a backyard barbecue, pool party, or picnic in the park, there are endless possibilities for entertaining guests during the warm months. As someone who loves throwing summer parties, I've come up with some tips and ideas to help you plan your own.
We all can use some help planning and hosting a party. Here are summer party ideas and tips and suggestions for you.
Do you cringe at the thought of having a party at your house? Do you want to have friends and neighbors over, but aren't sure you can pull it off? Stick around because I have some tips and ideas to make summer parties less stressful and more fun.
This post contains affiliate links to products used in the creation of this project. If you should order any item from this site, I may receive compensation, but you do not pay a penny more. Your purchase is greatly appreciated as it helps support the continued publication of this site.
14 Fun Summer Party Ideas + Tips
Next week I'm hosting my "happy hour" girls' June birthday dinner. We've been getting together for quite a while every few months to celebrate our birthdays. Two of us have June birthdays in June: my friend Jaynie and me.
It got me thinking more about summer entertaining. I started hunting for more fun summer entertaining tips and ideas.
Party Ideas
Looking for some fun summer party ideas? Look no further! I've got you covered with over 14 great party ideas:
10 Outdoor Party Ideas
There's nothing quite like an outdoor party in the summer. Here are ten ideas to make your outdoor party a success:
BBQ: Fire up the grill and cook up some burgers, hot dogs, and veggies. Don't forget the condiments and sides!
What is more iconic in the summer than a barbecue? A party where barbecue is the main attraction will always be a hit. Use this article to compile a barbecue menu your guests will love. Choose from appetizers, salads, sides, mains, and desserts.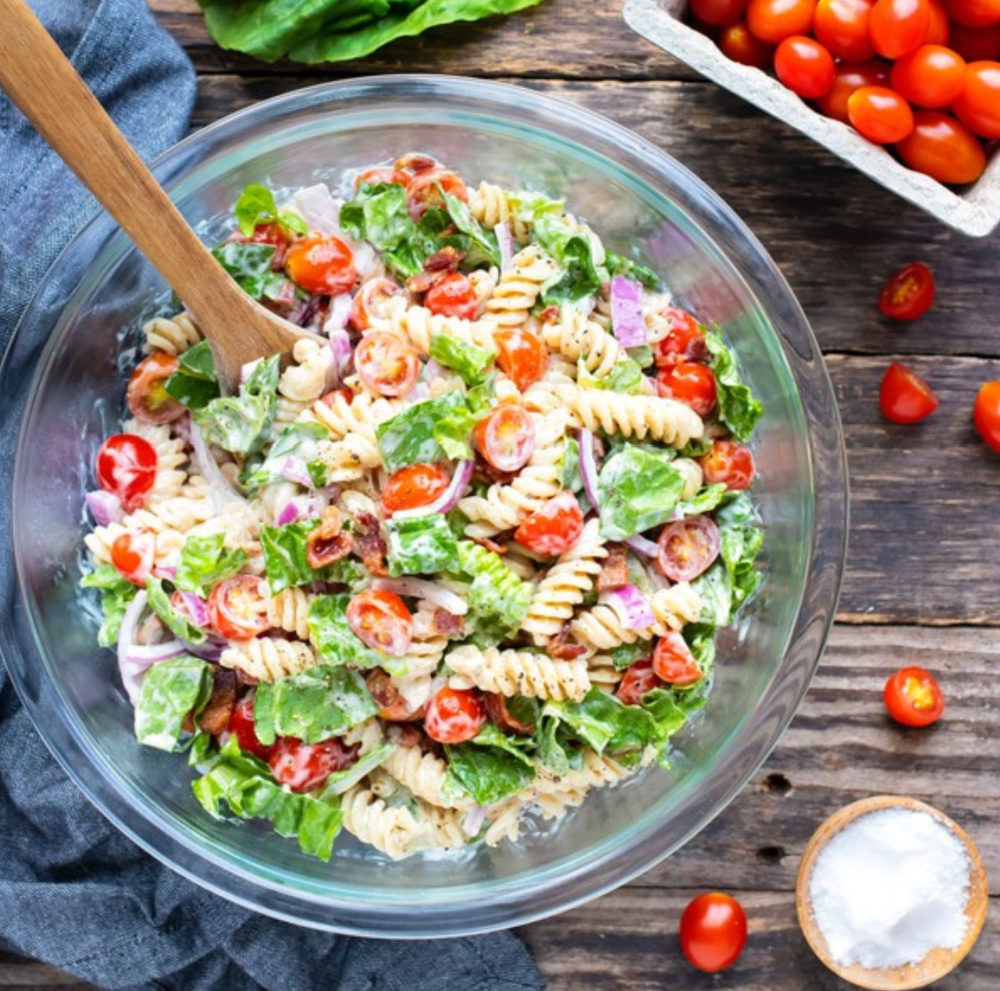 Lawn games: Set up some lawn games like cornhole, frisbee, or volleyball to keep your guests entertained.
DIY photo booth: Create a DIY photo booth with props and a fun backdrop for your guests to take pictures.
S'mores bar: Set up a s'mores bar with different types of chocolate, graham crackers, and marshmallows for your guests to make their own delicious treats. Teddy bear s'mores are trending on Pinterest right now.
Tropical luau party: This is one of the most popular summer dinner party themes. They are a great way to make the most out of the summer season. You can include tiki torches, hula skirts, leis, tropical floral arrangements, and an aloha sign to welcome your guests.
If a summer tropical party is calling to you, then follow these ideas for decorations, dishes, and table settings. Are a tropical party and a luau the same?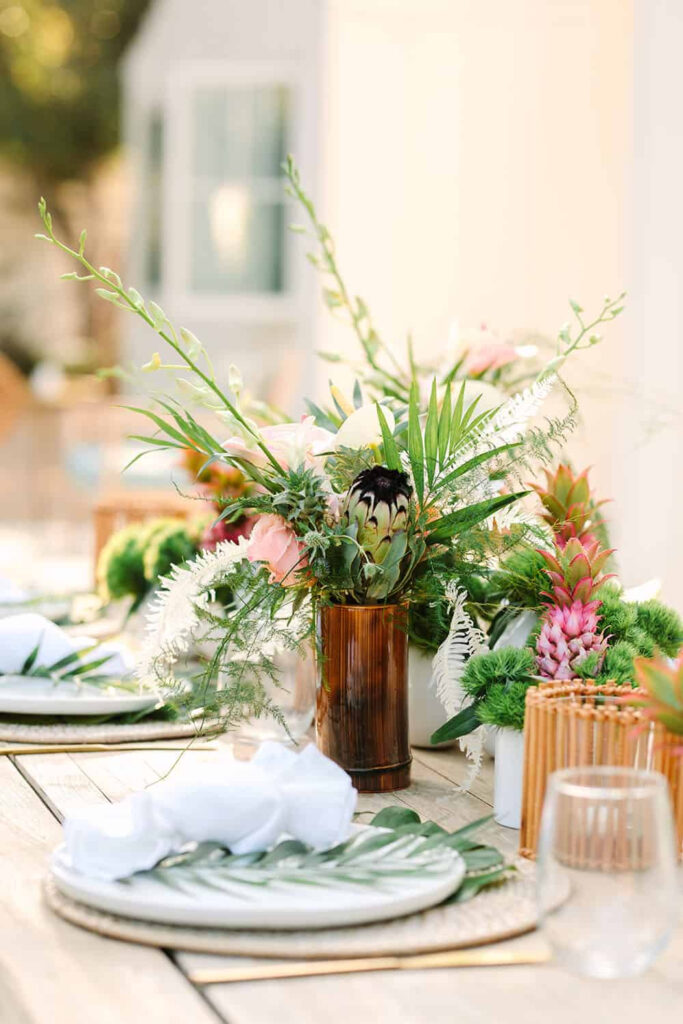 French garden party: If you like something elegant, a summer party for adults with a French garden theme is so tré chic. To fully embrace a garden party theme, you will want to include a variety of wines and light refreshments, hors d'oeuvres to snack on, and of course a beautiful array of flowers in a light and summery color scheme throughout the party.
Beach party: If you can't go to the beach, bring the beach to you and your guests. All you need are some key touches to make your party just as fun and relaxing as a day at the beach. A fun way to incorporate details of a beach-themed party is by including decor that fits the setting such as seashells, sand-based centerpieces, and a combination of neutral and blue hues throughout the event. Have buckets of sand and shovels and bright beach towels.
Pool party: If you have a backyard pool, you are a popular neighbor. You have a ready-made party theme in place. Fill the pool with fun pool floats (We have a unicorn and flamingo floats.) and pool noodles. If you don't have a pool, set out inflatable kiddie pools – grown-ups will love sitting in a little pool to stay cool.
Use all these pool party ideas to make your summer party a super success.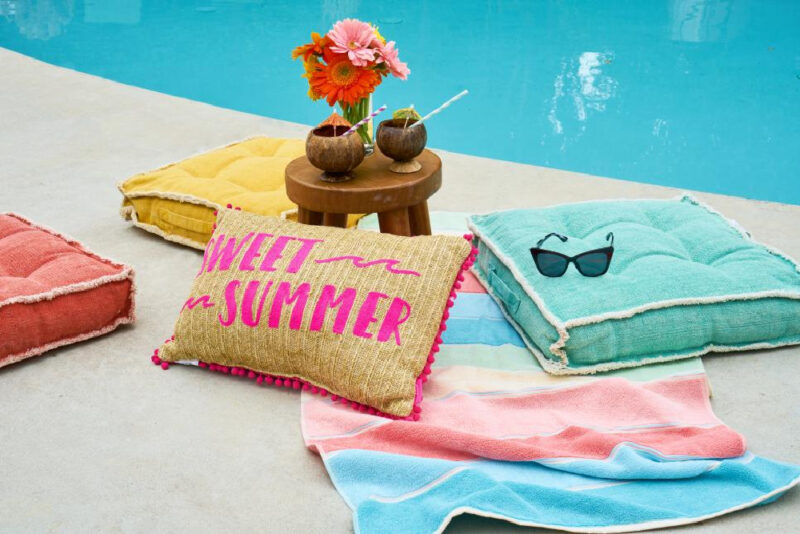 Picnic party: This is a great outdoor gathering to bring friends and loved ones together. It is also one of the easiest parties to plan. Picnic baskets, large blankets or quilts, and coolers full of cold drinks are most of the materials you will need for this outdoor party. Besides layering a few blankets, add outdoor pillows for extra comfort for you and your guests. Once you have the seating arrangement set up, all you will need is cutlery, napkins, and drinkware that match the theme of your event.
Kid parties: You may have one with a summer birthday (like me, my brother, brother-in-law, my son, stepson, and grandson). Maybe you just want a reason to get your child's friends together, like an after-baseball game. If you need ideas and tips for a summer party for your kids, then see these 10 cool summer party theme ideas.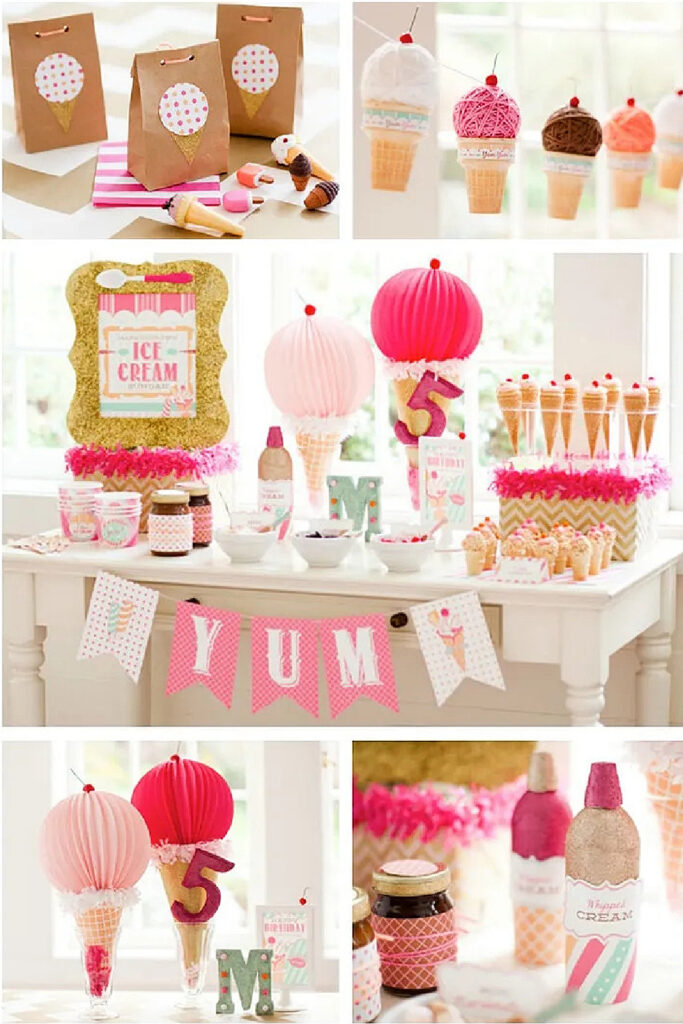 What other outdoor party themes can you think of?
Four Indoor Party Ideas
If bugs are biting or it's raining, you might prefer an indoor party, don't worry! There are plenty of fun ideas for a great party indoors:
Movie night: Set up a cozy area with blankets and pillows and have a movie night with your friends. Don't forget the popcorn!
Game night: Have a game night with board games, card games, or video games. Provide some snacks and drinks for your guests to enjoy.
DIY cocktail bar: Create a DIY cocktail bar with different types of alcohol, mixers, and garnishes for your guests to make their own drinks.
Dessert party: Have a dessert party with a variety of sweet treats like cupcakes, cookies, and brownies. Provide milk and coffee to go with the desserts.
No matter what type of party you choose to have, make sure to have fun and enjoy the company of your guests.
Party Inspiration
Sometimes all you need for inspiration is a picture. The images in these 12 Secrets to Throwing an Unforgettable Summer Dinner Party will set your creative summer entertaining juices flowing. I'd love to make this holder for a pretty pink citronella candle.
Budget-Friendly Summer Party Tips
Now that you have a party theme in mind, it's time to think about how to make your party fun for you and your guests.
It's easy to get carried away with decorations, food, and drinks when you are planning a party. First and foremost, I always make sure to set a budget for my party. It's important to stick to a budget so you don't overspend.
To save money, I like to:
Make my own decorations using items I already have at home. If you've followed Bluesky at Home, you know I love to make party decorations, centerpieces, or place cards. These 3 Easy Party Decorations were one of my favorite projects.
Serve simple, homemade snacks, appetizers or dinner instead of catering.
Ask guests to bring a dish or contribute to a communal drink station. This is very common in our circle of friends.
Food and Drink Tips
No party is complete without delicious food and drinks. Sweet Shark is in charge of the bar at our parties. Here's how we like to keep our guests happy:
Offer a mix of sweet and savory dishes, like fruit skewers, charcuterie boards, or chips and dips. Use a crockpot or slow cooker for meatballs. Small sandwiches or cooked and peeled shrimp on ice are always a hit. Finger foods are the easiest to serve and eat.
Make a signature cocktail or mocktail for guests to enjoy.
Set out plenty of wine glasses next to a big punch bowl with ice. Guests can put their wine bottles in it and then serve themselves.
Provide plenty of water and non-alcoholic options for guests who don't drink. Personally, I like to have a big pitcher of iced water rather than plastic water bottles.
Here are 5 simple ways to have a party on a budget and have fun, too.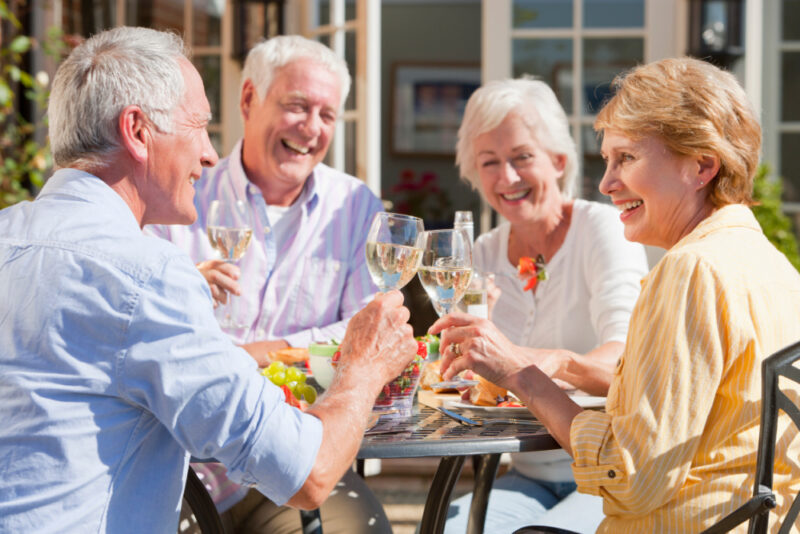 Summer Party Tools
Do you have party tools for a summer party? Some items work especially well outdoors:
unbreakable dishes, glassware, and serving pieces
pieces that keep food cold
tools for grilling and barbecue
outdoor linens
outdoor party decorations
pool "toys"
I really had fun shopping for summer party essentials.
You'll love this list of my favorite must-have party essentials.
That maven of everything entertaining Martha Steward has just three mistakes hostesses make throwing a summer party.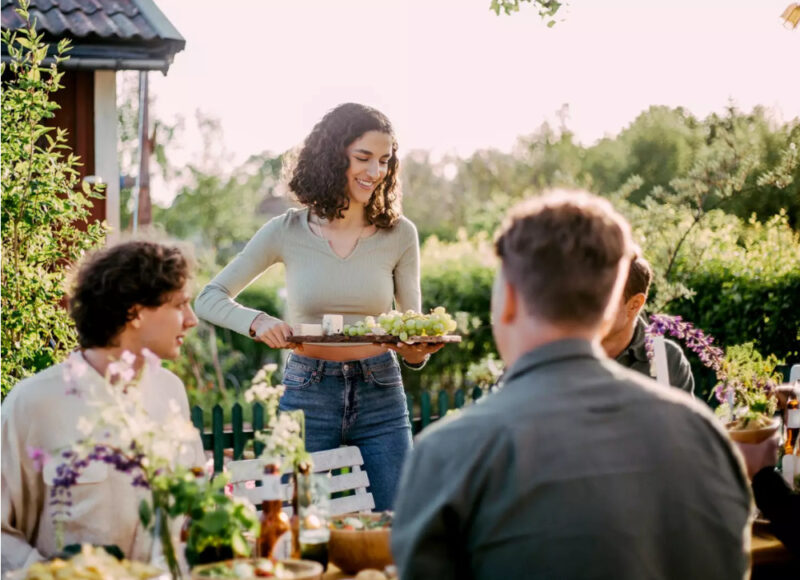 I found a new resource with great suggestions for easy and special summer parties – for you and your guests.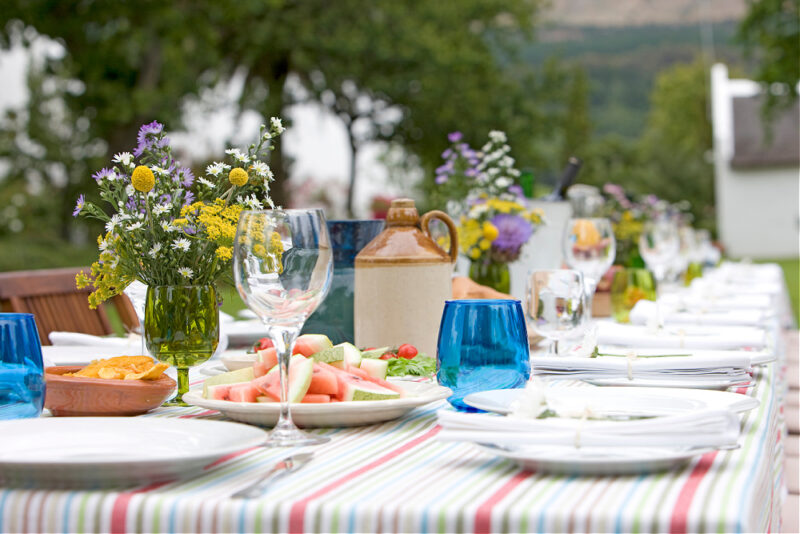 Let's recap all the fun summer ideas and resources I've shared with you:
summer tips for a successful party
summer party mistakes to avoid
kid summer party ideas
summer shopping suggestions
barbecue party menu ideas
tropical or luau party ideas
summer pool party ideas
summer backyard picnic
summer French garden theme
I'd love to know what subjects you are most curious about. Let me know in the comments and I'll search browse for them. Be sure to PIN to keep these ideas handy.
Want more summer party ideas? Check out my Party Ideas Pinterest Board.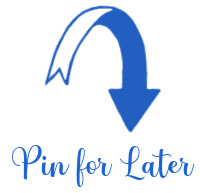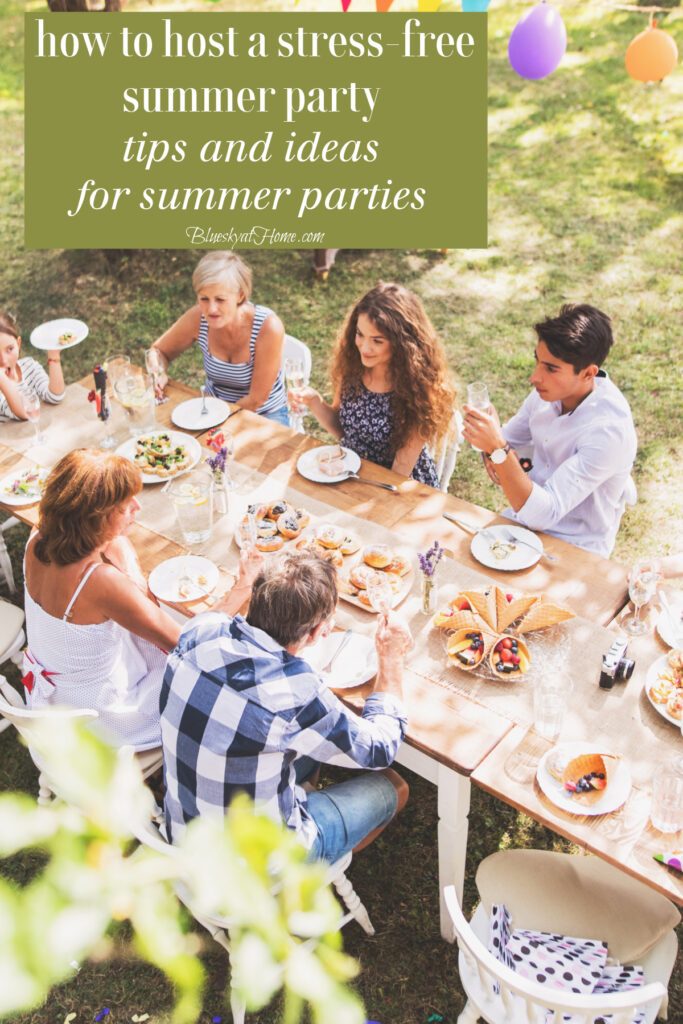 In between writing posts, listening to podcasts, reading, doing various blogging tasks, walking Nola, and playing tennis, I'll be browsing away.