New 4th of July Decorations and Some Oldie Goldies
Red White and Blue Blog HopCan you believe that 4th of July is less than 2 weeks away? That means that summer is almost halfway over or depending on your point of view, we have half a year to look forward to.  We just passed the summer solstice, and the days are going to start getting shorter, which is hard to believe since the heat of summer has really settled in. Last weekend we brought our 4th of July decorations down from the attic and I've covered the house in red, white, and blue. I'm using some decorations from the past 2 years and created a few new ones.
Although 4th of July is a one day or one weekend holiday, I like to put up our decorations a week or 2 early so that we can enjoy them. This year our older daughter and our 2 granddaughters will be here for the week before the 4th and our grandson flies in on Friday so I wanted most of the 4th of July decorations to be up for the kids to enjoy. I know they love putting the flags out and what kid doesn't like to wave a flag.
New 4th of July Decorations and Some Oldie Goldies
An American flag is always part of our patriotic holiday decorations. I think the American flag is the most beautiful thing with its red, white, and blue. And the symbolism of the stars and the stripes always makes me choke up a bit. Makes me want to salute.
Oldie~Goldie 4th of July Decorations
We always have American flags in the flower beds in the front yard. You can pick them up at the craft store or The Dollar Store. This pic is from last year. I'm going to let the grandgirls put them out when they arrive on Monday.
Last year I found this 4th of July pin wheel with stars and stripes and I stick it in the planter by the front door. It's  the easiest 4th of July decoration.
Last year I made this banner for the mantle. You can see how I made it from Target dollar section supplies.
I moved this banner to our second story walkway. Pre~purchased banners are so easy to incorporate into your 4th of July decorations. Having some "ready~to~go" decorations gives you time to create a few of your own DIY decorations. I think it's nice to have a mix for any decorative endeavor.
On our breakfast room chandelier, I hang these cute red, white, and blue pin wheels in different patterns. Another purchased decoration that required very little DIY assembly, but made quite a statement when you walk in the room.
A couple of years ago I found decorative stars, streamers, and pin wheels at various places: Target, the Dollar Store and one of our local party stores. I love the sparkle of the stars. I've had the bright blue pail for years. I cut a piece of styrofoam to fit inside and pushed all the stars, pin wheels and other sparkles into the styrofoam. Then I covered the styrofoam in red shredded paper left over from my daughter's wedding. We used it in the Texas welcome bags for out-of-town guests. Some burlap ribbon with an overlay of stars and stripes ribbon tied around the pail finishes off the centerpiece.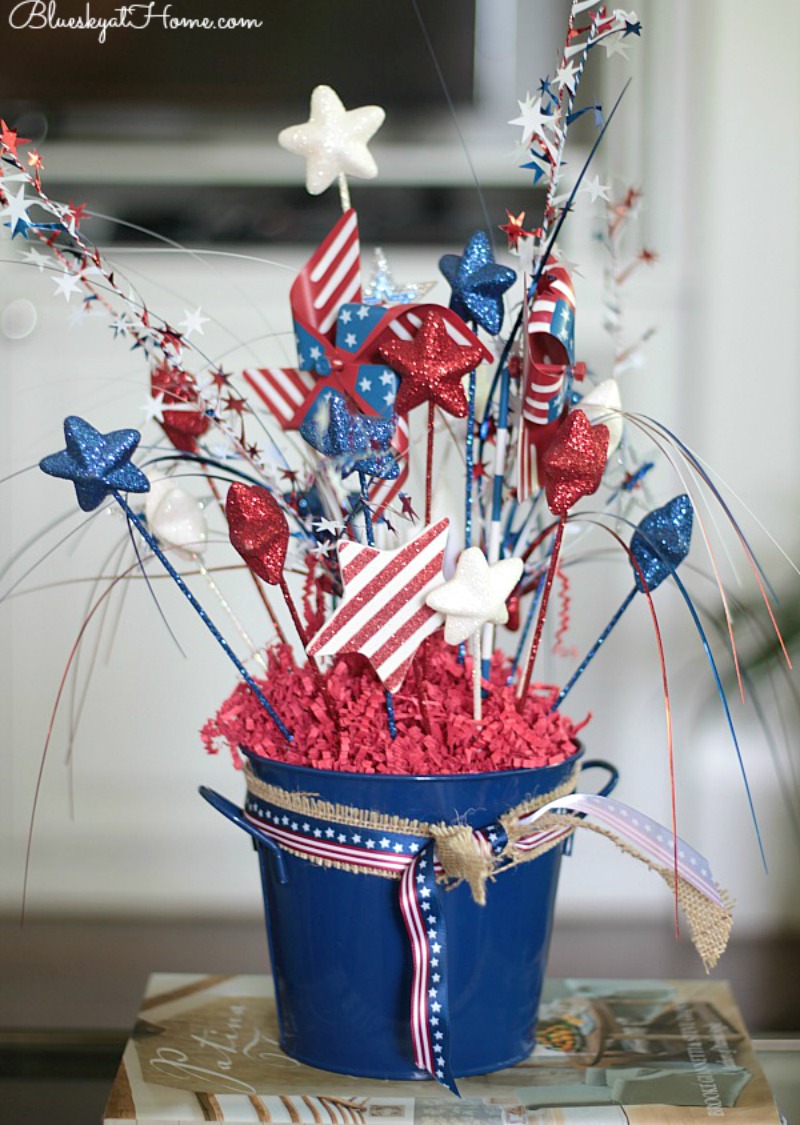 I repeated the same arrangement in a taller bright blue pail for a side table. I think repeating a motif such as a centerpiece in a slightly different size or shape continues the theme and creates a sense of cohesiveness in your decorations. I wrapped both arrangements in plastic before packing them away and they come out of the attic, dust~free, so I am using them again.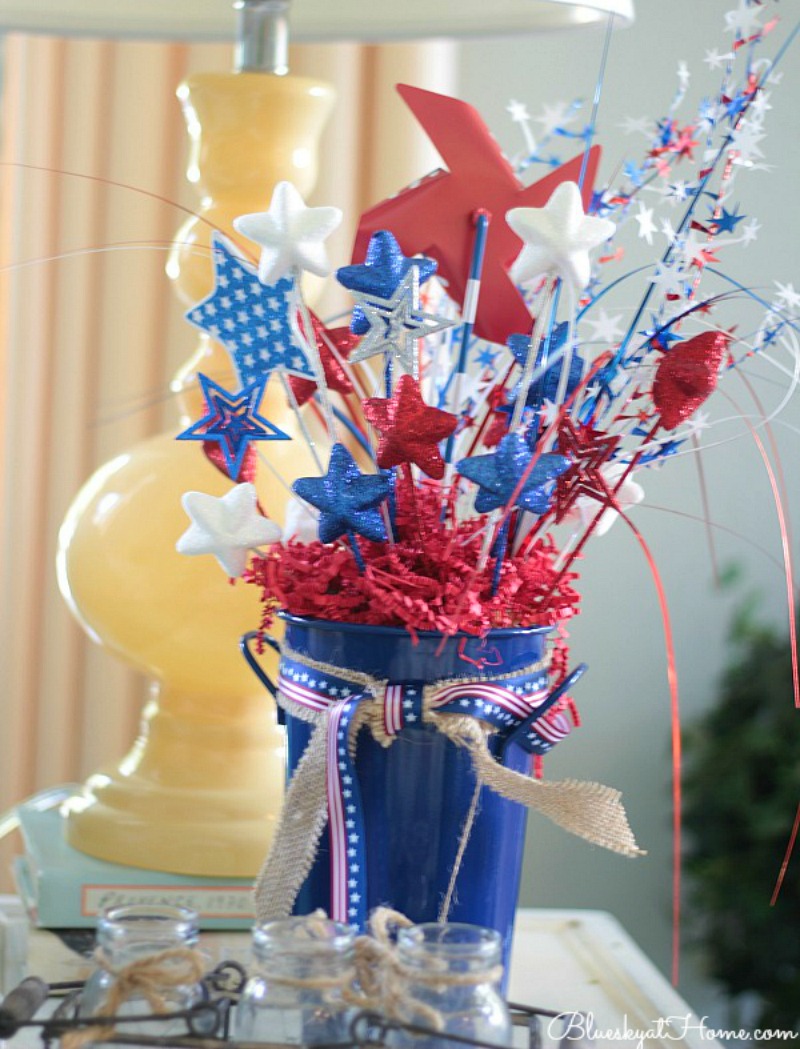 Another new 4th of July decoration last year was this DIY wreath for our front door.
It was still in really good condition, so I decided to display it on the mirror in our entry ~ always a good place for seasonal decor.
New 4th of July Decorations for 2018
Although I love reusing decorations from holidays past (If they are in good condition.), I love creating a few new DIY projects each year. The biggest project for 4th of July 2018 is the large American flag that I painted and shared last week. I think this will be a decoration that we use for a long time.
I decided to bring back the HAPPY 4TH OF JULY banner to the mantle. I'll probably add a few more items to the mantle.
The Front Door Gets a New 4th of July Wreath
With last year's wreath moved to the entry, I needed a new one for the front door. I used the boxwood wreath that I've already used a few times. I would need a new bow so I bought some red and blue ribbon at Jo~Ann ~ 40% off. I attached 2 medium size flags using metallic blue curly ribbon from my stash.
The ends of the sticks had some dirt from sticking them in the flower beds so I used the curly ribbon to wrap the sticks and attach them to the wreath. Last on was a the bow.
I really like how this wreath looks on our front door and it only cost me the price of the ribbon.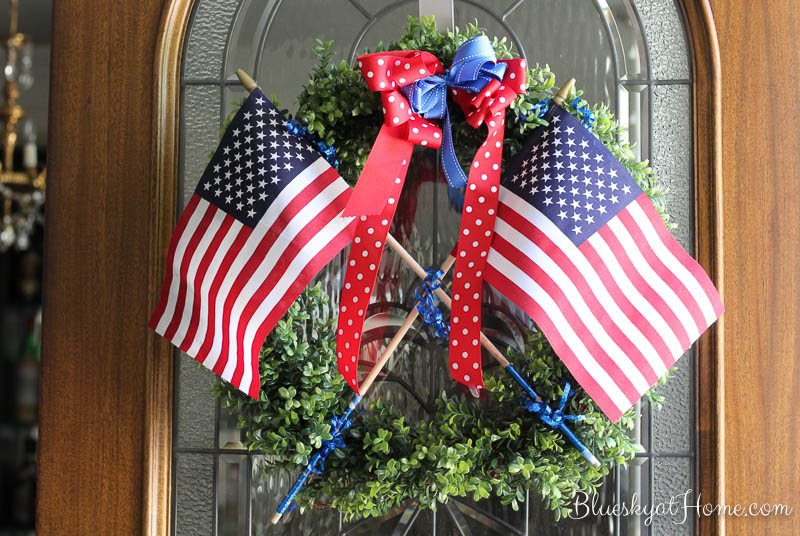 Candle Holders Become 4th of July Decorations
A few weeks ago I stopped in my local Sample House, a Dallas institution for decades. This eclectic shop started specializing in candles, but now carries a wonderful variety of decorations, gifts, and home accessories. It's 2 doors down from Layla's vet so I stop in every 2 weeks when I pick up her arthritis medicine. On this trip I found the cutest votives. I loved the square shape and they were only 35¢. I bought 6 because I immediately had an idea in mind for them.
My next stop was Jo~Ann for some Cricut vinyl in red and blue. I love using vinyl for DIY projects, but I've never used this sparkly type before. Do you know what this project is going?
Using my trusty Cricut, I cut out 24 1 1/4~inch stars, 12 in red and 12 in blue. I was so pleased that the stars peeled away from the vinyl adhesive very easily.
Each votive got 4 stars, 2 red and 2 blue.
Do you think I'm going to put a candle in them? Nope, I filled them with sand left from the Broadway Mamma Mia! Tablescape Blog Hop from spring of 2017 (one of my very favorites.).
And then the last step ~ each one got its own little flag.
Because as so0n as saw the candle holders, I knew that I would make them into 4th of July decorations. Next week is the Red, White and Blue Tablescape Blog Hop for 2018 and I thought they would be a great addition. You'll have to visit again next Friday, July 29th, to see the complete table. We will use it for family dinner on July 1st when 3 of our 4 kids will be here. Can't wait.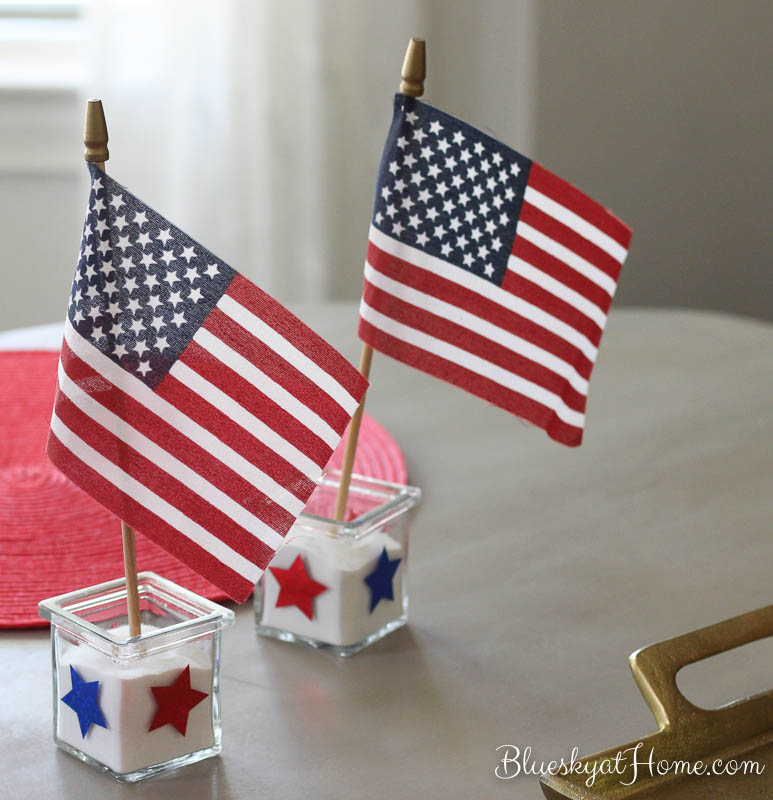 I'm not finished with our 4th of July decorations for this year, but I'm close. I have a feeling that 2 little girls will want to help me. My grandson will be flying in later in the week and I'll have to leave something for him to do too.
As I mentioned, the Red, White and Blue Tablescape Blog Hop starts on Monday, June 25th. These events are always full of wonderful ideas and pretty table settings and I can't wait. I hope you'll drop by to see what my fellow bloggers have created.