How to Style a Spring Birdcage Vignette
Spring decor and adding spring touches in our homes are very popular right now. What fun to style a spring birdcage vignette in a special place in your home.
We love including hints of spring inside our homes until we can fully enjoy the spring outside. I think a birdcage evokes birds and birds are a wonderful addition to a springtime vignette.
HOW TO STYLE A SPRING BIRDCAGE VIGNETTE
For inspiration, this spring vignette features a birdhouse centerpiece, courtesy of Doreen of Hymns and Verses,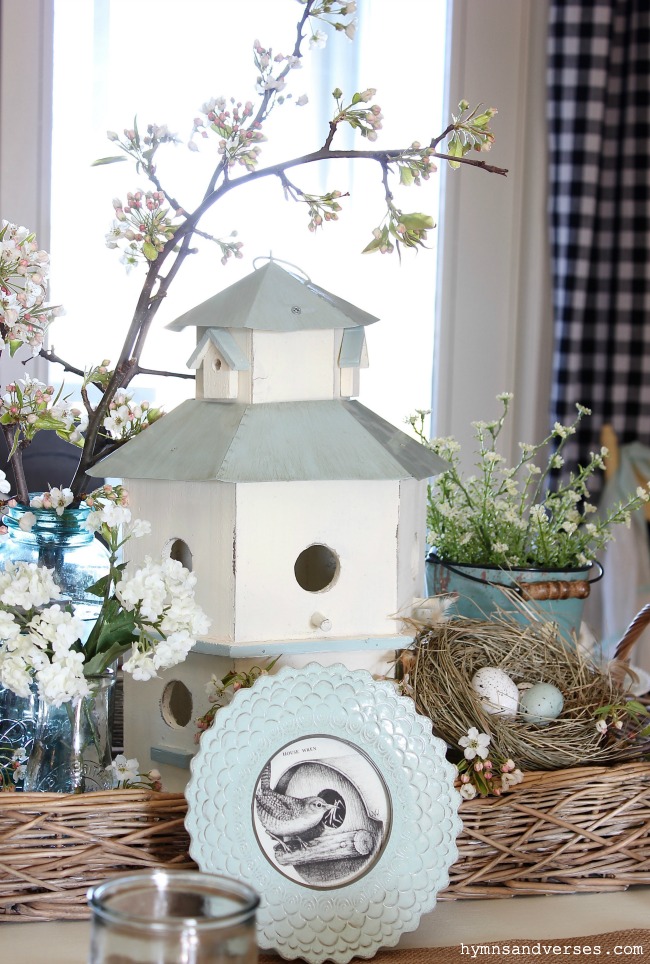 I love the blue tones, the interesting elements, and the rustic quality of this spring centerpiece.
The main ingredient of this centerpiece is a blue and white birdhouse. Let's look at all the ingredients.
birdhouse
woven basket
mason jars
white flowers
nest
Easter eggs
blue bucket with white flowers
plate
MY SPRING BIRDCAGE
I don't have a birdhouse, but I do have a birdcage. In fact, I have three birdcages:
A large white square birdcage that hangs from a tree outside. It was a flea market find that I painted white. I put a plant inside every spring.
A metal birdcage that I bought last fall. Right now it is part of my spring sofa table vignette.
A small white birdcage purchased at an antique mall in Atlanta several years ago.
That is the one that I'll be using in this spring vignette.
I do have a woven tray, blue mason jars, plates, a nest and blue Easter eggs, and I know where to get white flowers.
Doreen used her birdhouse centerpiece on her dining table as part of a tablescape. Since I already created my spring tablescape, I'll be using my birdcage arrangement on our living room coffee table.
STARTING MY SPRING BIRDCAGE VIGNETTE WITH PLANTS
Before assembling the spring vignette, I first put together my flowers. I made a trip to Trader Joe's for flowers.
We don't have any white blooming flowers like Doreen used. Instead, I used baby's breath in my blue vintage mason jars. I have collected several over the years and I love the color.
I needed a small green plant to go inside my birdcage. A maidenhair fern was the right size and provided the airy look I wanted. I didn't want a grocery store container so I transplanted the fern to one of my vintage clay pots.
To finish it off, as usual, I added moss to cover the dirt.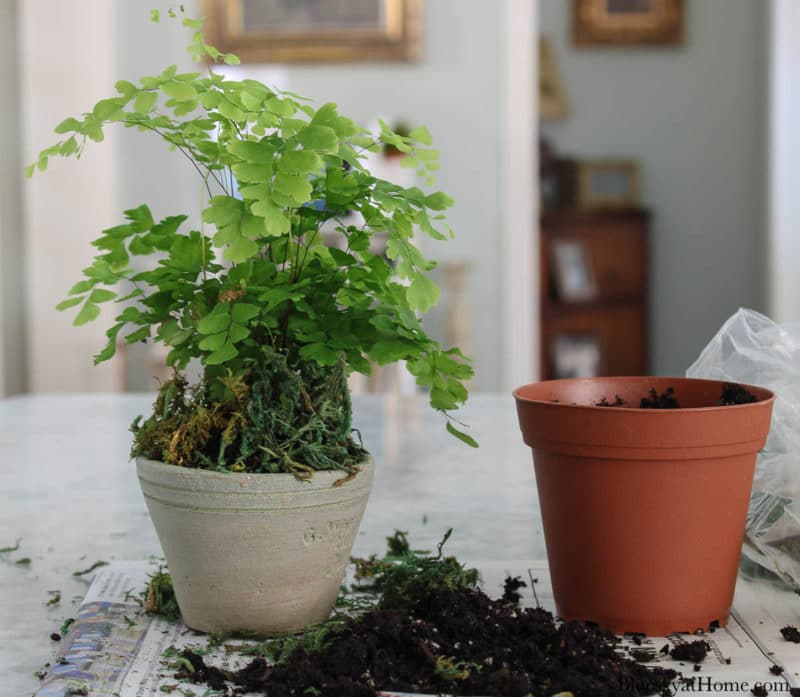 MY SPRING BIRDCAGE VIGNETTE
Now that I had my main plants, I was ready to "build" my birdcage vignette.
Step 1 ~ Let's start with the base. I'm using a rattan tray that I bought years ago at a flea market. Here's what it looked like when I bought it.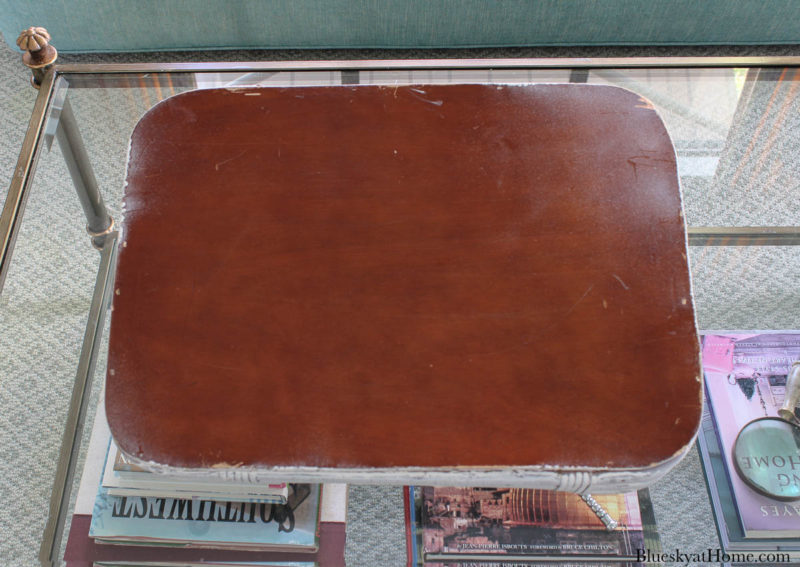 Here's how it looks after I spray~painted it white.
Step 2 ~ Next came a stack of fruit (peaches, plums, cherries) plates with blue rims. I have six total, but just used four here.
Step 3 ~ Then came my three blue mason jars.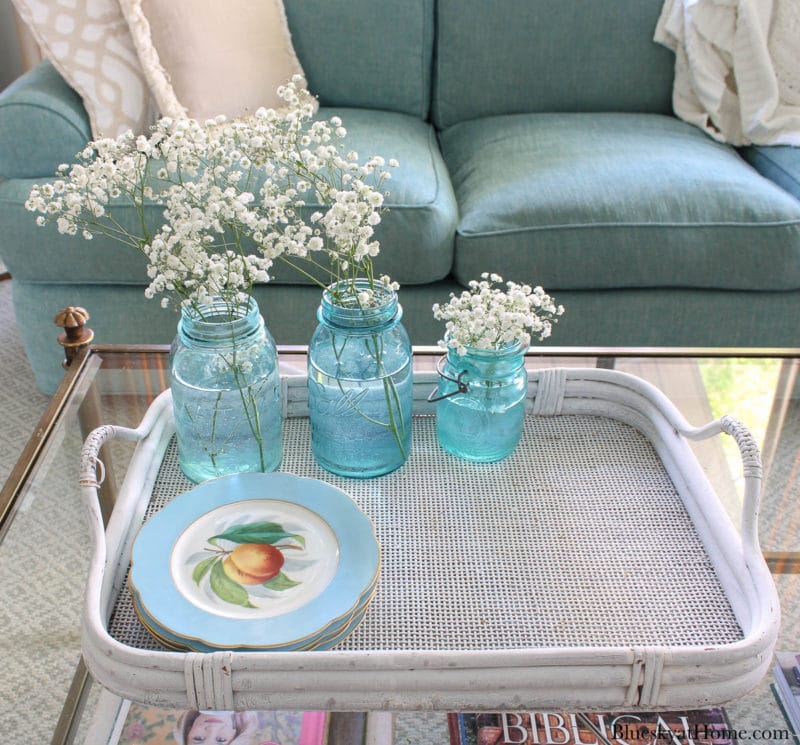 Step 4 ~ This nest was on my rustic Easter tablescape, so I borrowed it. I changed out the eggs to blue.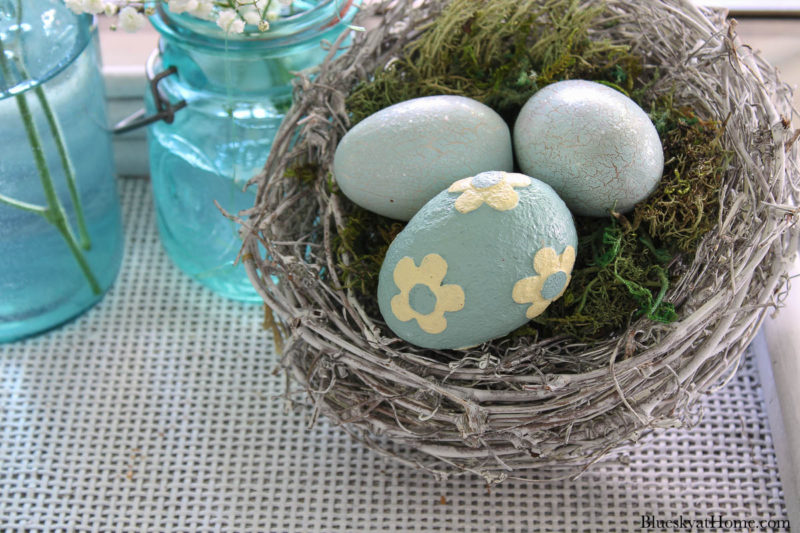 Step 5 ~ Now comes the birdcage. I'm so sorry ~ I forgot to take a picture of the birdcage all by itself. The birdcage is white and the open metal top comes off the base. There is a little latch to connect them. And you'll see the sweet topper on it. First, I placed the base on the fruit plates.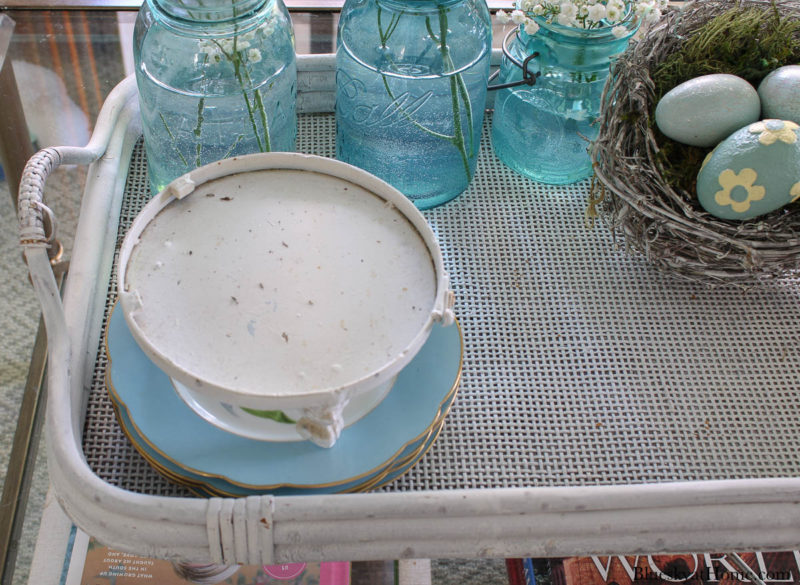 I covered the base with moss.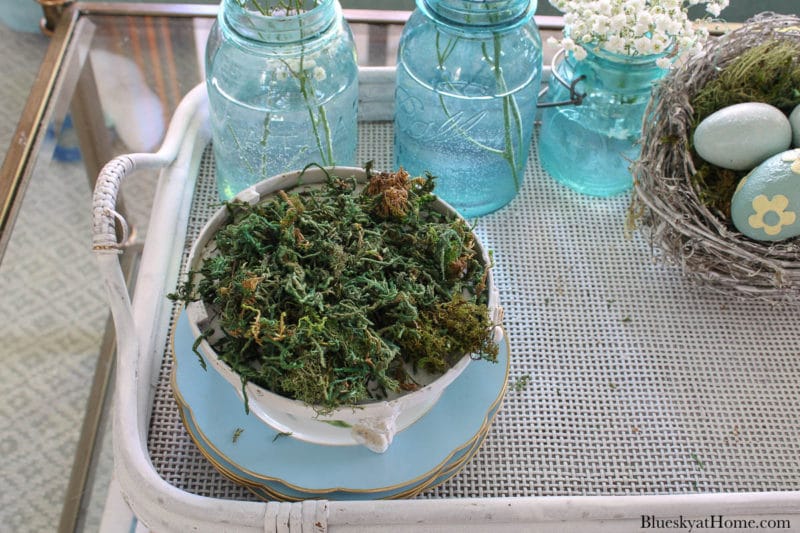 Next came the maidenhair fern.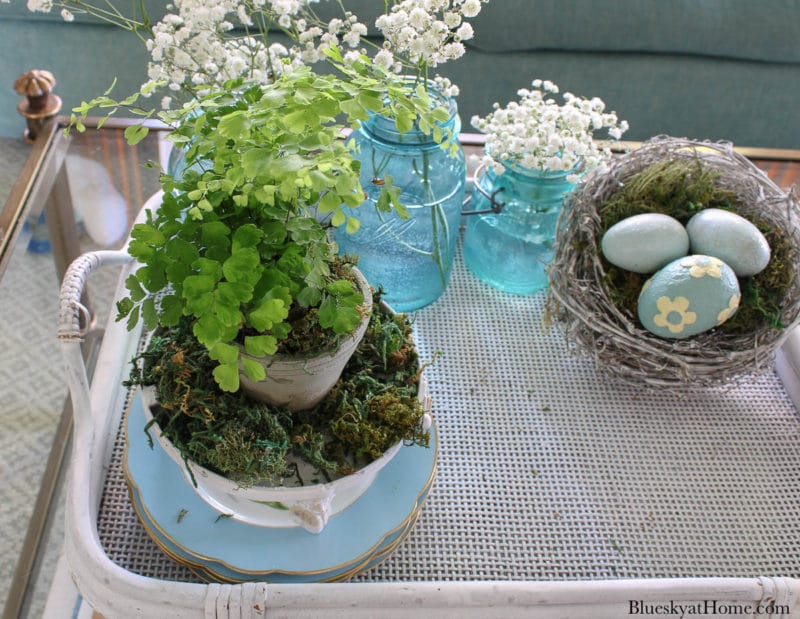 Finally, I placed the top of the birdcage on the base. There is a small latch at the base of the wired cage.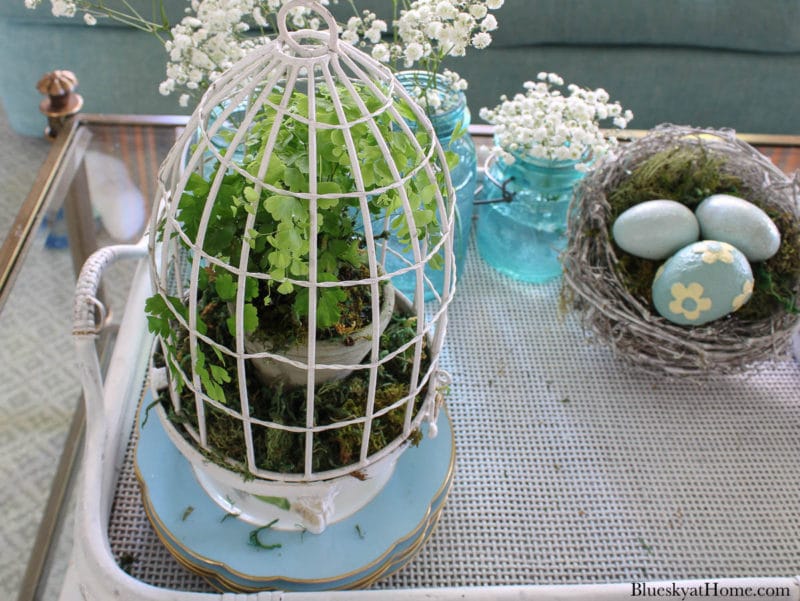 Step 6 ~ To fill in the fourth corner of the tray, I used two of my favorite things: my burlap~covered books and vintage clay pots.
I love the rustic texture of the burlap and the garden vibe of the clay pots.
Step 7 ~ The finishing touch to the spring birdcage vignette was to fill the clay pot with moss and sprinkle it around the elements on the tray.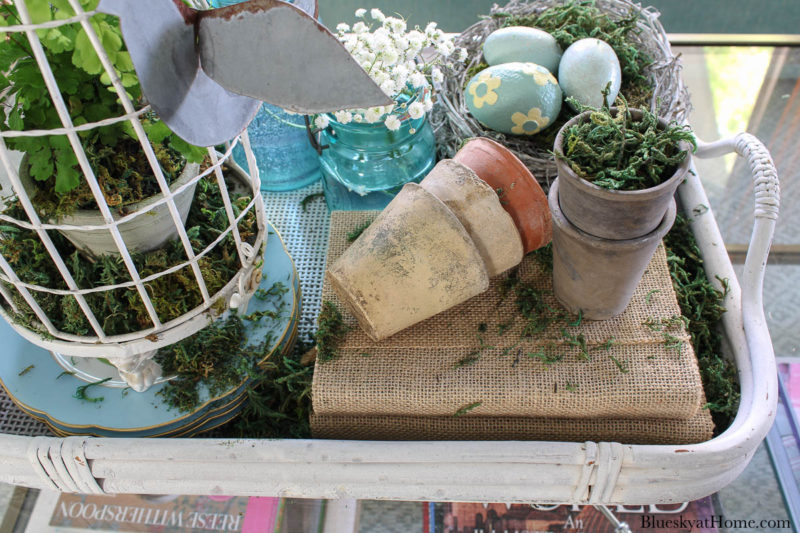 Do you notice the bird on the top of the birdcage? How about the metal bird on the outside of the cage? It's another flea market buy. It's been hanging in a tree in the backyard.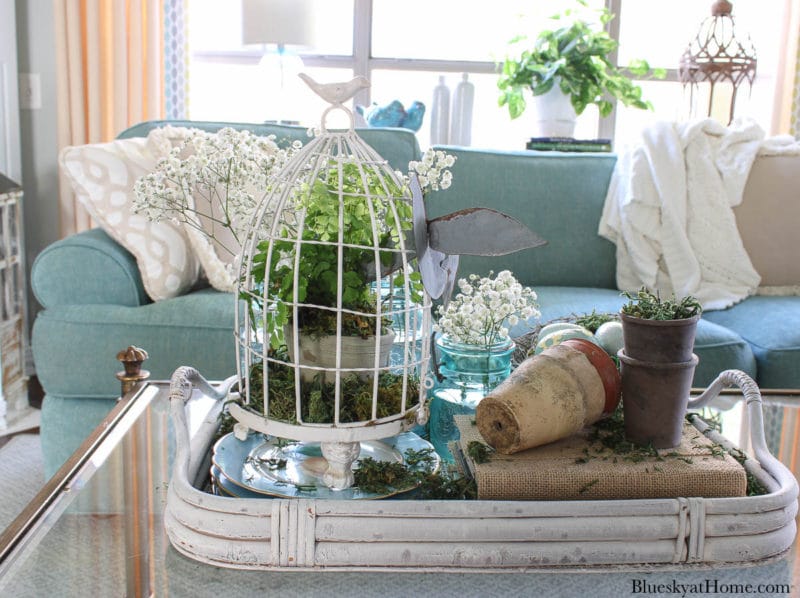 Here's a view of the other side of the table. You can see both birds better here.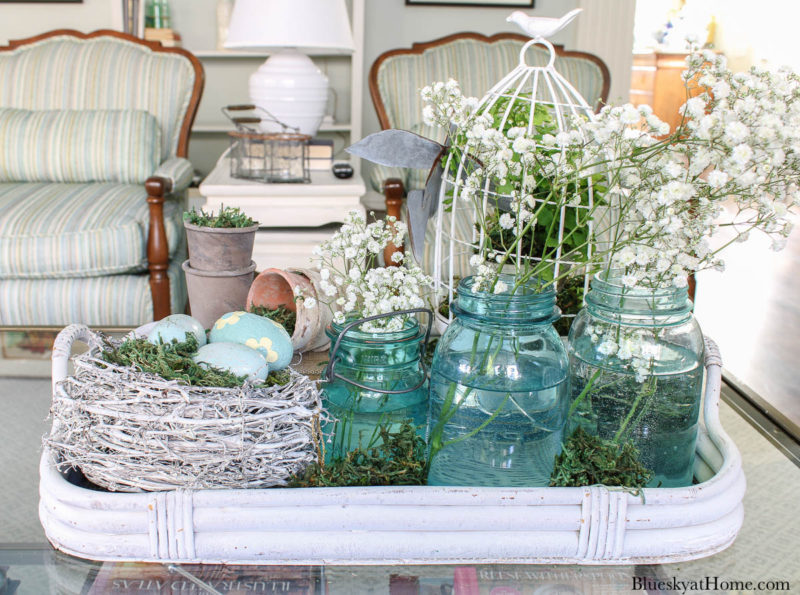 FINISHING THE SPRING COFFEE TABLE
To finish the other side of the coffee table, I first added another flea market find ~ a shallow platter with a farmhouse vibe. Of course, I love blue and white.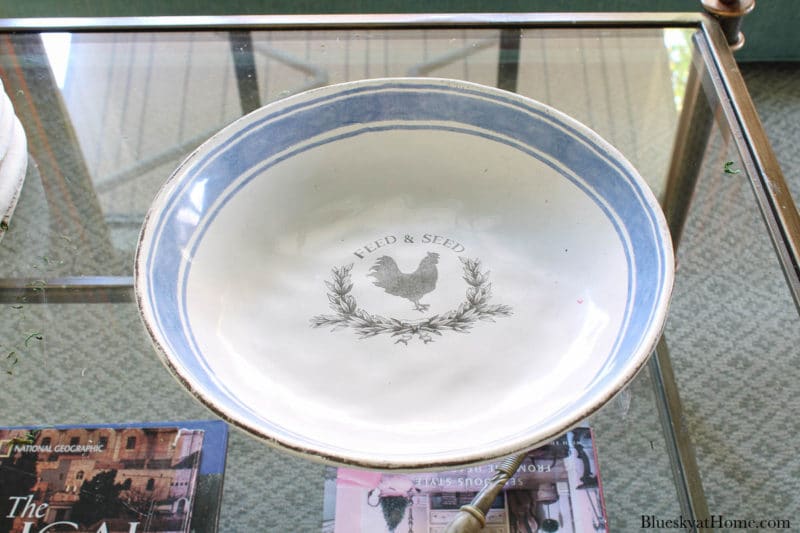 I added the light blue hydrangeas I bought at Trader Joe's. They are my favorites. The white crock is a FLF (flea market find).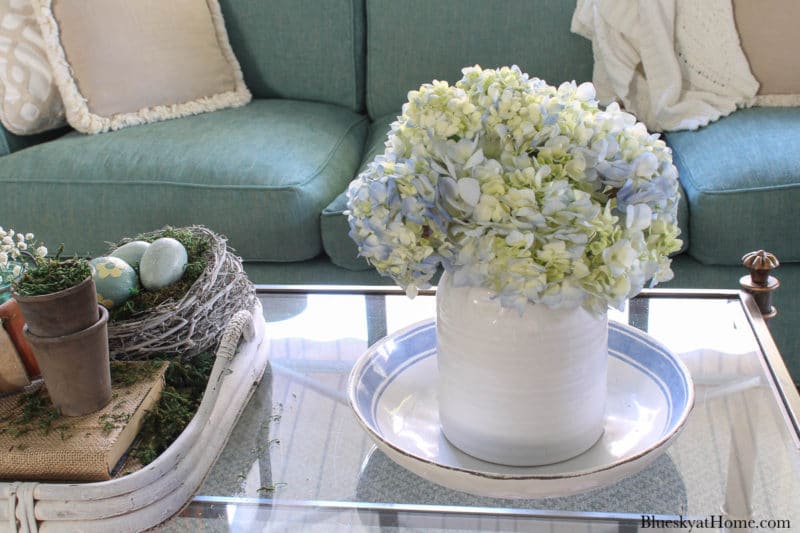 Since it is almost Easter and to tie into the eggs in the nest, I surrounded the crock with painted wood eggs.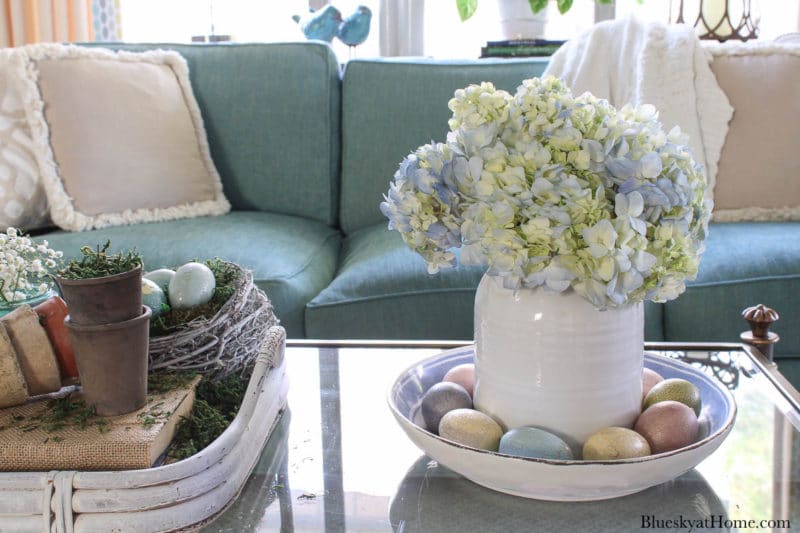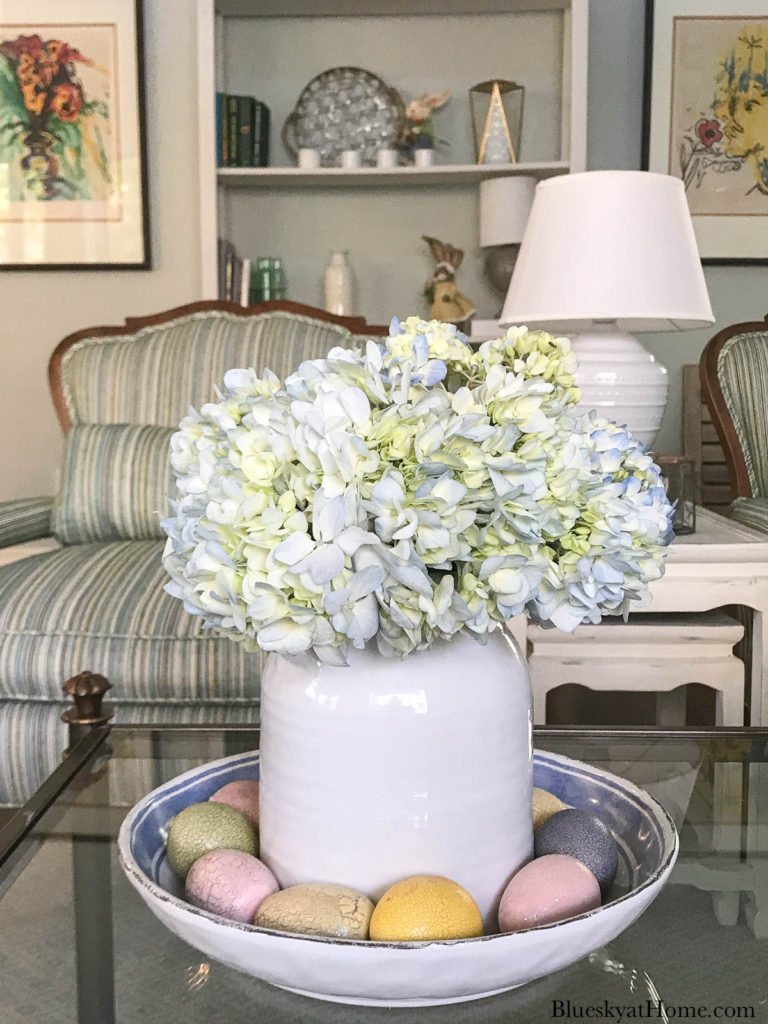 Not just my spring birdcage vignette is complete, but the spring coffee table is now finished. The rectangle tray works with the round platter.
I hope you enjoyed seeing how I styled my spring birdcage vignette. I'm enjoying it in our living room. I'm happy that I was able to use my vintage birdcage again.
Did you get some ideas for your own spring birdcage vignette? If you love it, PIN it.