How to Use a Canvas Print to Decorate Your Home
When you think of decorating your home, do you think about including art in your decorating plan? Art is a major accessory we shouldn't forget. Let me show you how to use a canvas print to decorate your home that doesn't break the budget.
Usually, we think of adding accessories, such as pillows, baskets, trays and flowers to our home decor. But art is another perfect way to add beautiful focal points with style, color, and design. Art can be expensive, but using a canvas print to decorate your home is a great alternative.
Shopping for the perfect style, color, and size of a piece of art can be time~consuming and frustrating. I'm here to show you a really easy way to get just the style, color, and size of the art you need and like.
And even better? You don't have to leave your house. And you don't have to spend a fortune.
Decorate Your Home with a Canvas Print
This post contains affiliate links to products used in this project. If you should order any item, I may receive compensation, but you won't' pay a penny more.
First, do you know exactly what a canvas print is? Here is a simple explanation.
A few weeks ago I was contacted by Photowall, a design company based in Sweden. They design and produce all types of wall decor, from wallpaper to canvas prints.
Would I like to pick out a canvas print for my home? YES!
Why was I so interested in seeing their art products? A couple of reasons.
We have very tall ceilings in our home. Art needs to be big to fill the spaces. And big art means a high price tag. Our current home has 10 and 14~foot ceilings. Our living room ceiling is 20 feet. I needed art that was larger.
Our current home has a much lighter, more coastal feel, than our previous home. We have several pieces of art that we bought for our previous home ( You can see some of the art here.) which had 8 and 10~foot ceilings. Although these art pieces are lovely and have beautiful frames, the design feel is heavier.
So I was ready for bigger, lighter, more modern art ~ that was affordable.
PICKING OUT YOUR CANVAS PRINT FROM PHOTOWALL
I've been to local design stores walking around looking at art is frustrating. I find a piece I like, but it's the wrong size or the price is way more than I choose to spend.
Shopping online at Photowall was pleasantly easy and fun. YOu can even custom design your own canvas print, wallpaper or poster.
First you can narrow down your search by style, color, and shape, such as portrait or landscape.
I knew before even searching that I wanted something blue, something organic, and yet with a modern feel. Using the search feature, I found this botanical print that I loved. It's one of a series, which I liked in case I wanted to have additional complimentary prints.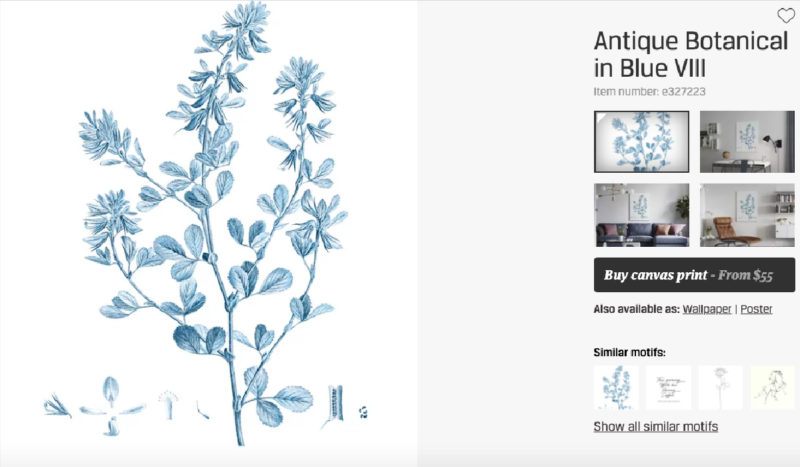 The next step is to pick your size, using the slider. As I mentioned I needed larger art pieces, so I chose the 27.56 X 34.5~inch size.
With the click of a button, I ordered my canvas print. The print has to be printed in the size ordered.
NOTE: Don't forget to order the canvas frame kit!
UNPACKING THE CANVAS PRINT AND FRAME
I have never stretched a canvas print myself. Years ago I paid to stretch a canvas that we brought back from Hong Kong. Just mounting and stretching the canvas print cost $100. I think we bought the canvas print for $20 US.
The package arrived in about four days which I thought was really fast.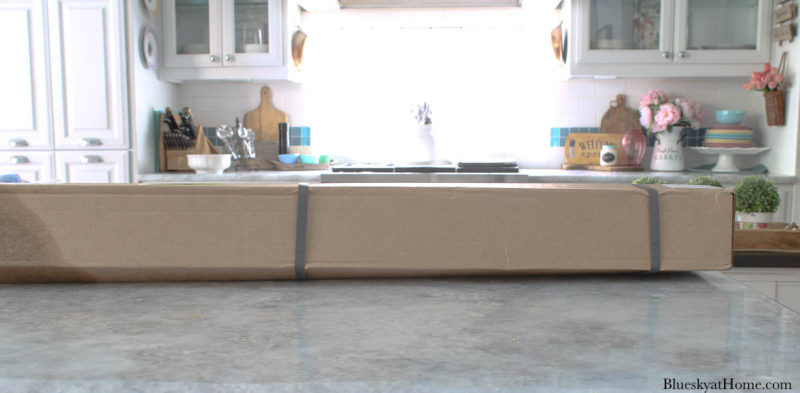 Opening the package, I found the 4 wood frame stretcher pieces, the package of hardware to assemble the frame and the directions.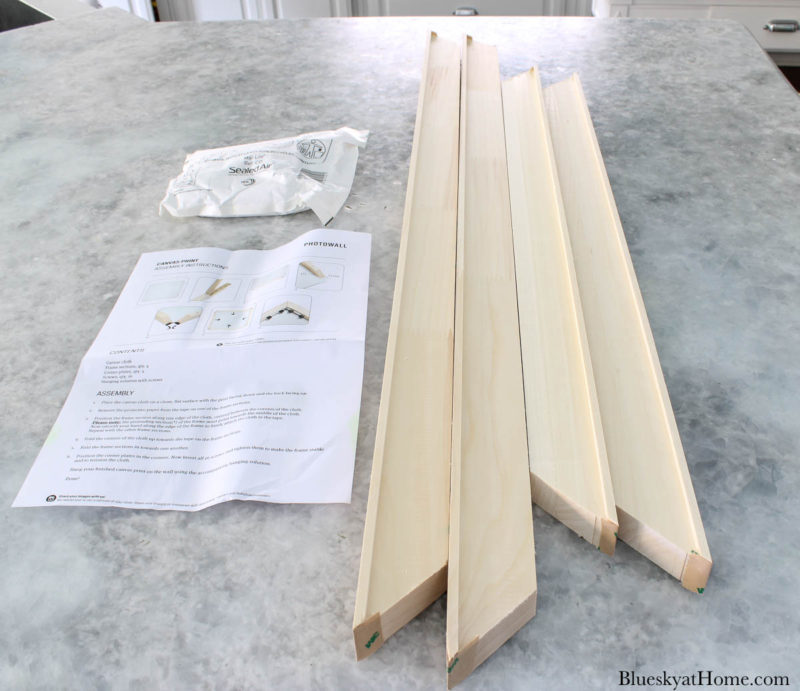 The instructions suggest laying a cloth down on the workspace. I used a sheet from one of our guest rooms.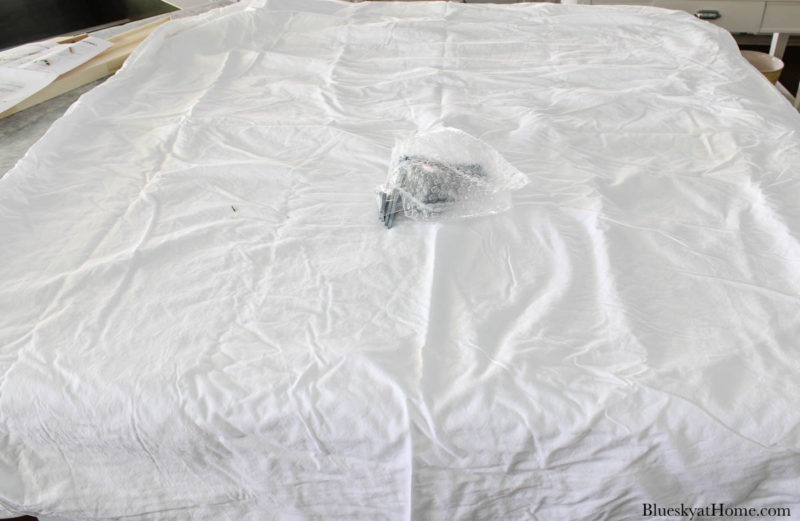 Before proceeding I watched the video that shows how to mount the canvas print. I realized that this would be a simple process.
Now I was ready to assemble the canvas print. Could I put an unstretched canvas print in a frame all by myself?
HOW DO YOU MOUNT A CANVAS PRINT?
First, always follow the instructions. This process is so easy!
Unroll your canvas print from the protective paper.
Here you can see the 4 corner brackets on the right and the hanger for the completed project on the left.
Unroll the print ~ and ooh and aah over how pretty it is!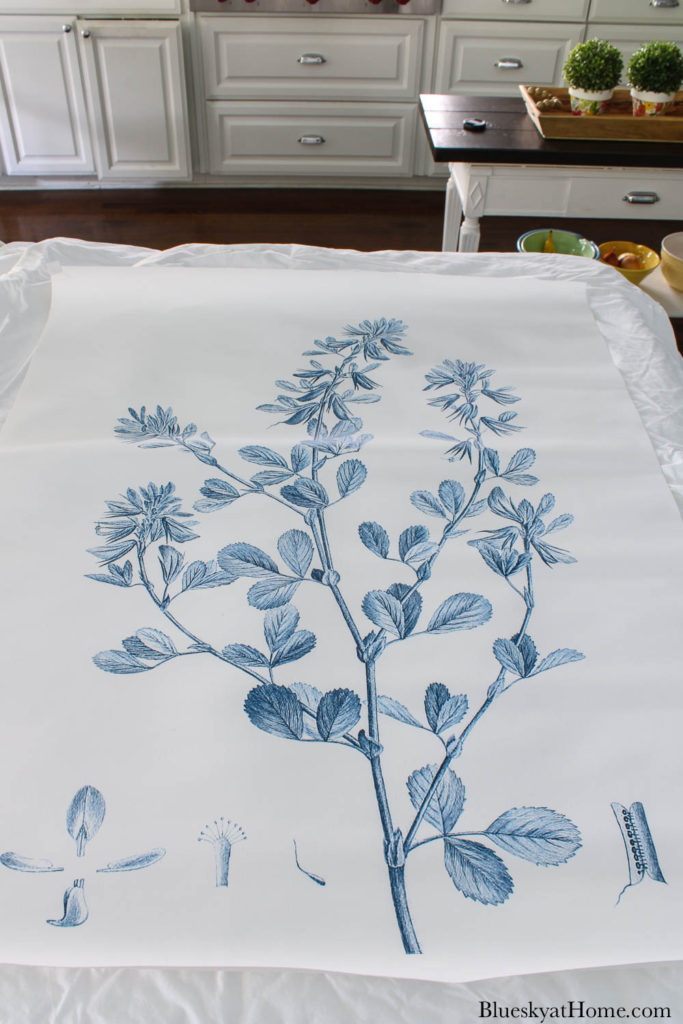 Turn the print over face down on the work surface.
Select one of the wood frames. You will notice that they all have a paper strip along the side. Peel it back and discard it. There will be a very sticky edge.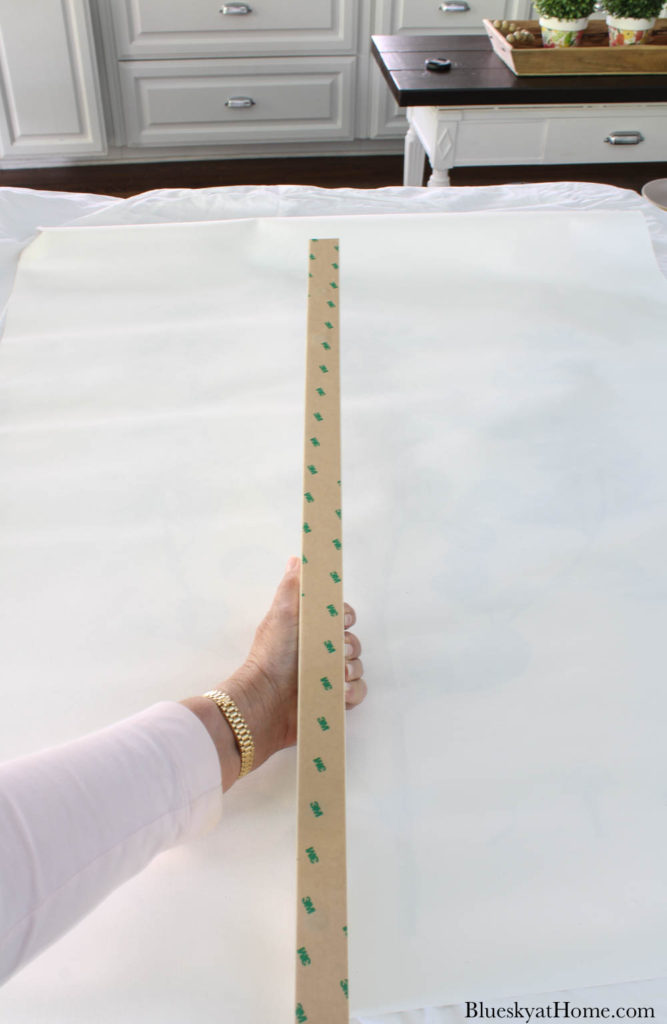 Align the wood stretcher along the outer edge of the canvas between the notches on each end. The video shows this step very well.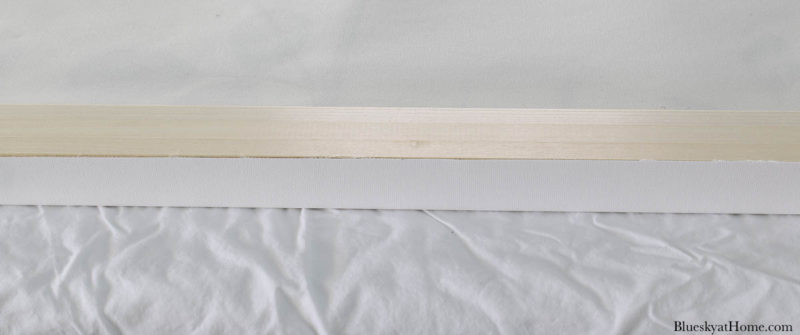 Fold the edge of the canvas up onto the wood stretcher and smooth it down to adhere.
Repeat with the other 3 wood stretchers. This is what the back of the canvas print will look like when you have all the wood frames installed.
Now, attach the 4 L~shaped brackets to each corner using the 16~screws to stretch and assemble the frame. The holes for the screws are pre~drilled. You do not need any tools. You use the black piece to screw them in.
NOTE: I screwed in the opposite corners. I also screwed them in halfway. Once all 4 corners were done, I screwed them in all the way.
That was it. It took me less than 30 minutes.
Now I was ready to hang the canvas print. Photowall provides the screw and hanger. You will need an electrical drill (I love to use mine) or a screwdriver.
THE CANVAS PRINT DECORATES OUR LIVING ROOM
Did I tell you that the canvas print would go in our living room? I had just the place ~ the wall between the drapes and the door to the patio. The botanical print fits in the setting this time of year. With all the green from the trees, shrubs, and ferns, the natural design of the botanical fits just right.
This space is such a focal point. We can see it from the living room and the kitchen. We had a piece of art there that had been in our previous home. It was pretty but much darker and heavier.
I love the lighter, more up~to~date look of the botanical print and the light shades of blue. The quality of the canvas is excellent and the print looks hand~painted.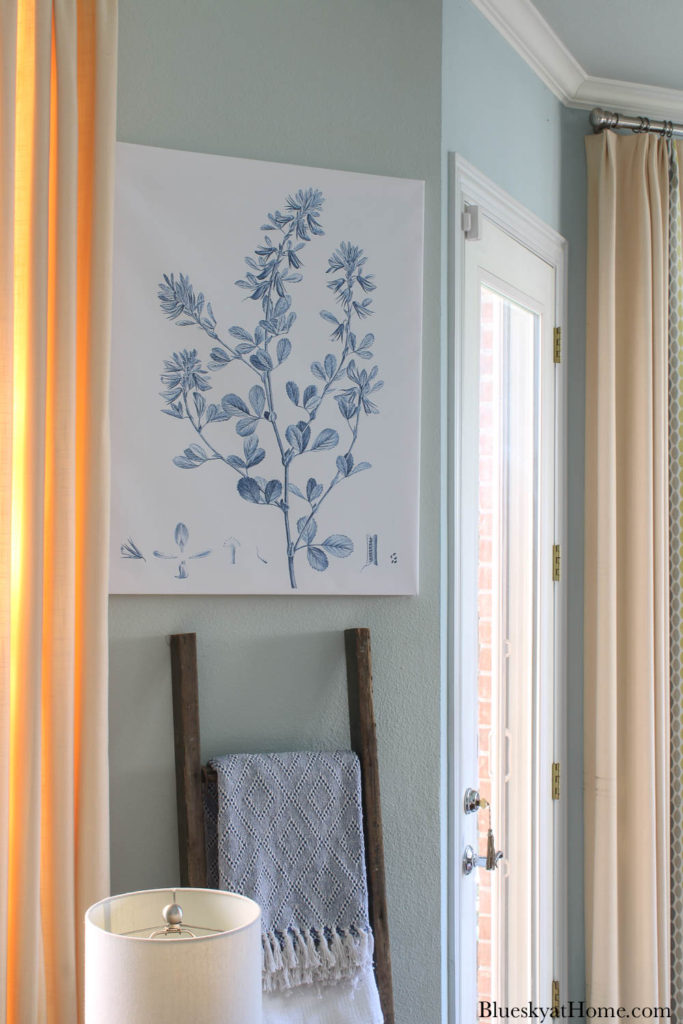 The blue botanical goes so well with the blue and white throw on my vintage blanket ladder.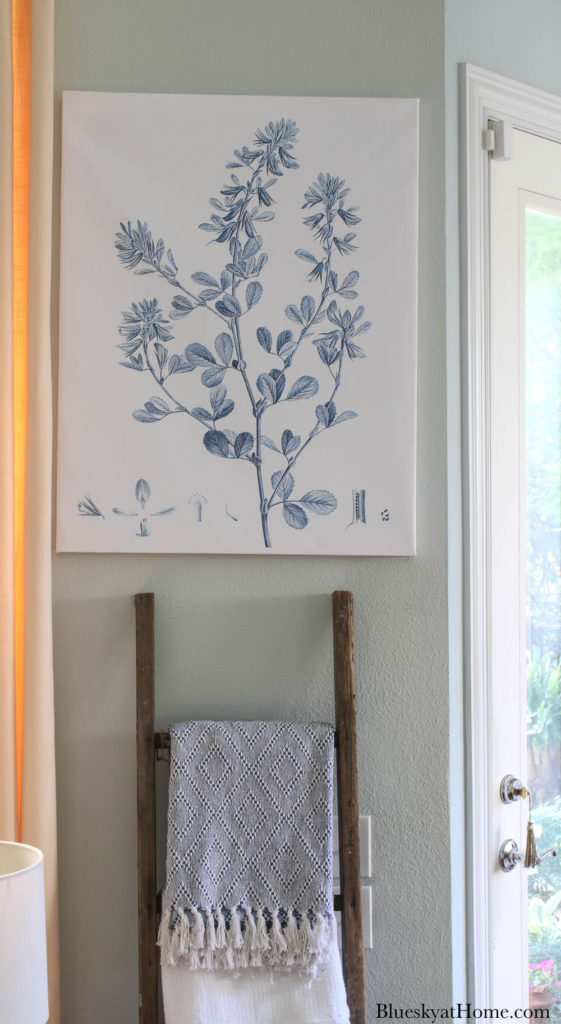 I took these photos in the morning with the east light streaming in the big picture window.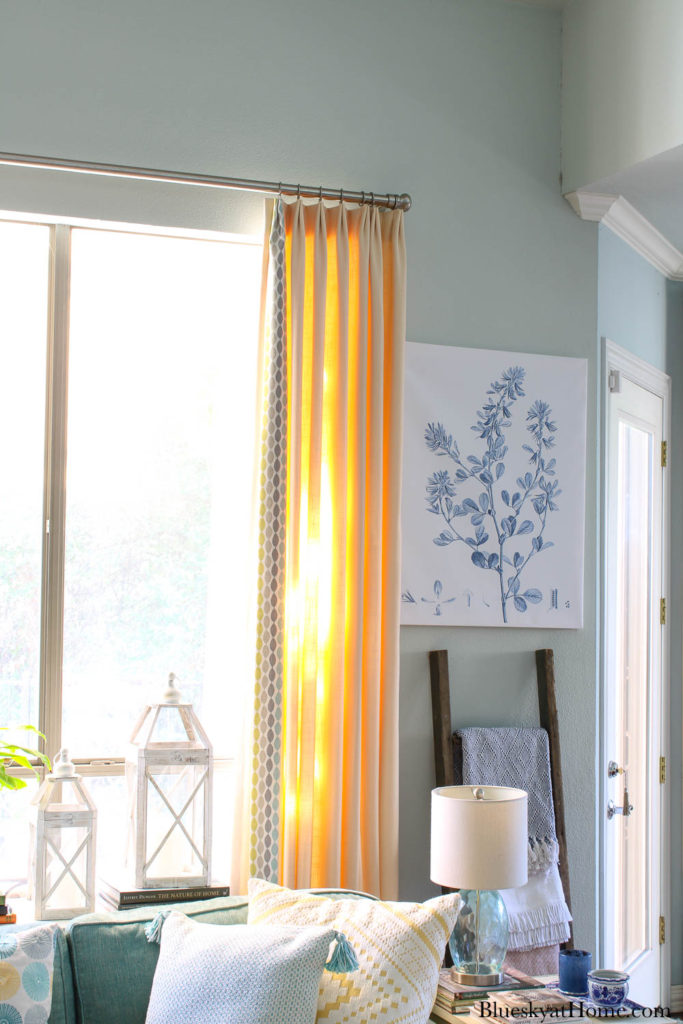 I hope that you have seen how easy it is to mount the canvas print of your choice. And how easy it is to decorate your home with a canvas print ~ or two or three.
GIFT FROM PHOTOWALL
And guess what? Photowall has asked me to share a discount code so that you can choose your own canvas print and use it to decorate your home. This code will give you a 25% discount on any product on the Photowall website and is valid for 2 months.
Here is your PHOTOWALL GIFT CODE. Use the code blueskyathome25.
I can't wait to order and assemble my next canvas print. I realize now the design possibilities and how easy it is to order and assemble the prints. I already have some other ideas to decorate with canvas prints in our home.
Love this pretty art project? PIN it so you don't forget!