2 Simple Ways to Decorate Your Christmas Table
After setting our dining room table for a festive Christmas tablescape, I decided that a little extra embellishment was needed. Besides the centerpiece and place settings, your napkins are another way to add holiday decorations. Since the backs of your dining room chairs are showing their "backside", that is also a great place to add some holiday cheer. So I'm going to show you how to make 2 simple ways to decorate your Christmas table that will add an additional holiday vibe.
Extending your tablescape theme and vision to your place settings and the backs of your dining room chairs adds more color and interest when guests see and enter the dining room. It's a little extra whimsy and charm that guests almost see first ~ before they actually see your table. It's like the first course of your tablescape. It's like beautiful food that whets your appetite. So join me as I show you how easy it is to make 2 simple holiday decorations for your Christmas table.
2 Simple Ways to Decorate Your Christmas Table
Your Napkins
Napkins aren't just for laying in your lap and discreetly wiping crumbs on your mouth. Your napkins and how you display them can add color, texture, and pattern to your table. A pretty napkin display can make your guests smile. My theme for my tablescape this year was red and gold. I began my napkin display for this year with napkins that we have had for years. Since I use them about once a year, they have stayed in pristine condition.
NOTE: I send them to the dry cleaners for cleaning and pressing. When I bring them home, I take them out of the plastic bags and remove any cleaning tags. Then I lay them flat in a very large heavy gift box. That box goes inside a zippered plastic blanket bag. This way, there are minimal wrinkles and the napkins are protected from dust.
These napkins are white with a gold trim. The gold added the right metallic to my plate setting, but I wanted to bring out more red since our china pattern has some red in it. To achieve that color scheme, I purchased some Christmas red taffeta at Joann. The price point was low and 50% off so I bought 2 yards. I cut lengths of the taffeta in 5 inch X 15 inch lengths. Lastly, I cut each tail into a V. I heard recently that is prettier than a diagonal cut.
I thought a little greenery would be nice to add ~ there is green in our china and green softens and cools the palette; like a bridge between the red and the gold. I already had branches of good quality greenery, which I cut using sharp tin snips. To add to the gold theme, I also used some metallic "balls" on stems, a purchase last year that I never quite found a place for. I cut the metallic balls with about 3 inches of stem from the main branch.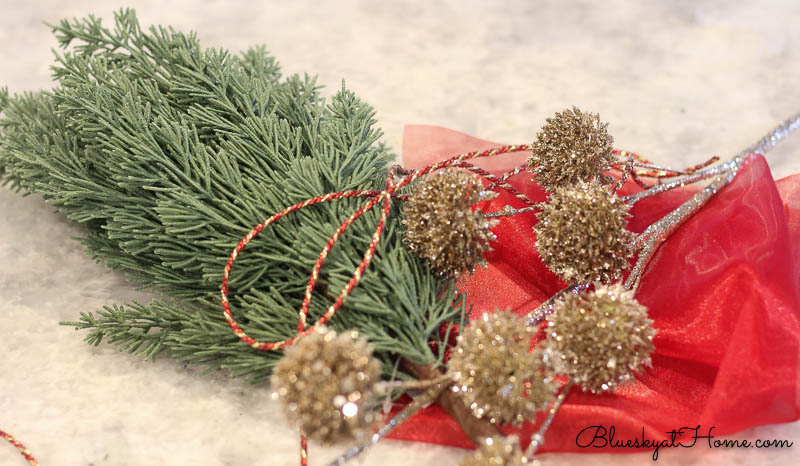 I used a bolt of red and metallic gold twine to attach metallic balls to the greenery with a simple bow.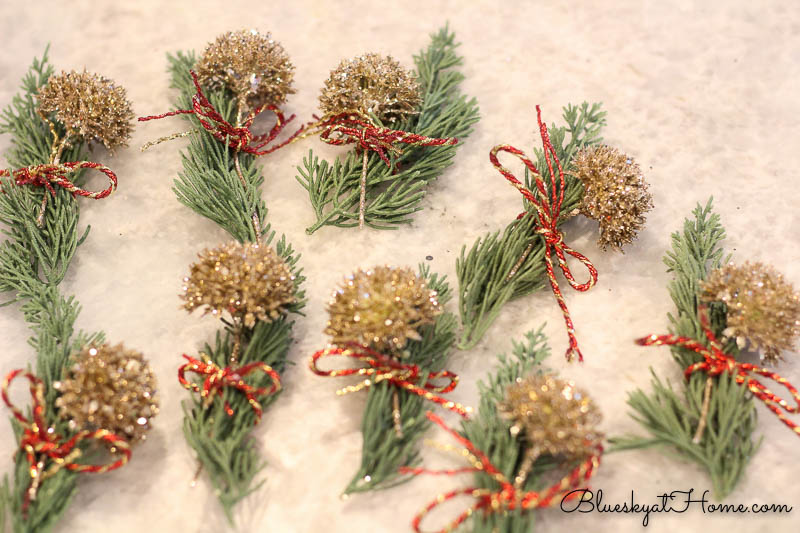 Folding the napkins in half and loosely gathering them, I made a loose know with the taffeta. Then I slipped greenery/metallic ball under the knot, attaching it to the napkin.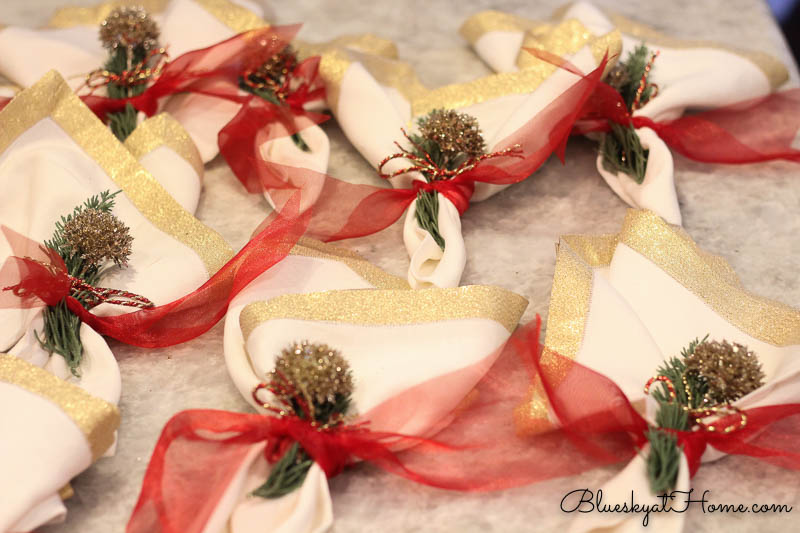 Just the right amount of gold and red, with the greenery pulling the 2 colors together. Each napkin was placed on the top of the salad plate, serving as a focal point that would attract the diners' eyes when they entered out dining room. My napkin "ensemble" is what pulled the whole place setting together in terms of color and texture.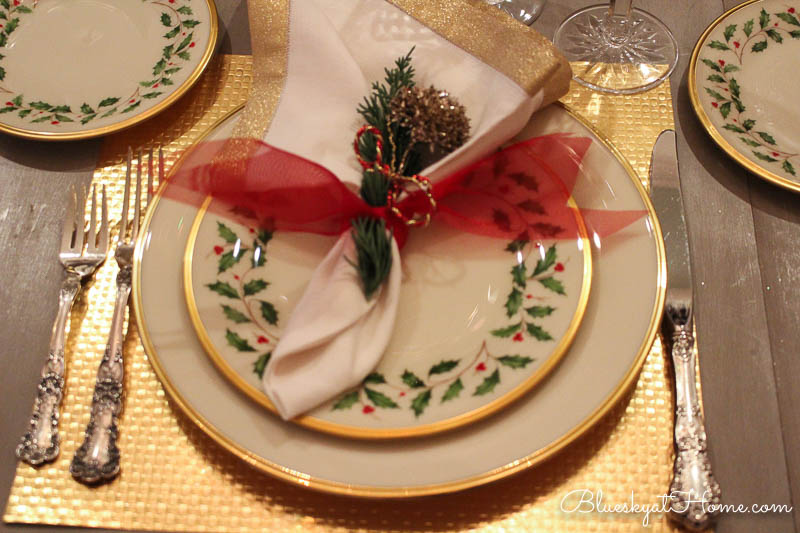 Here's some more ideas for embellishing your napkins for the holidays. I love the naturalness and simplicity of this cranberry napkin ring from Made with Happy.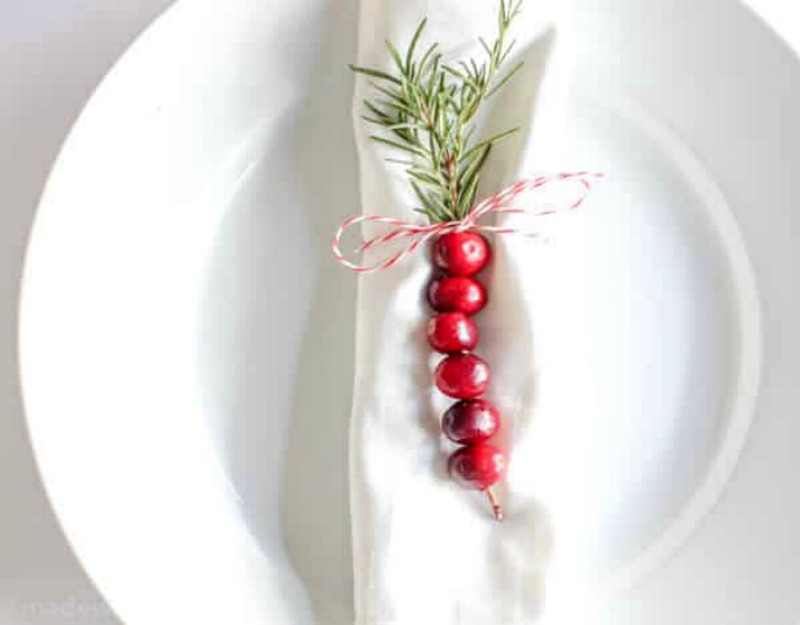 I think this napkin style from Lisa at Celebrate Creativity has some great elements with stripe fabric, berries and pine cones.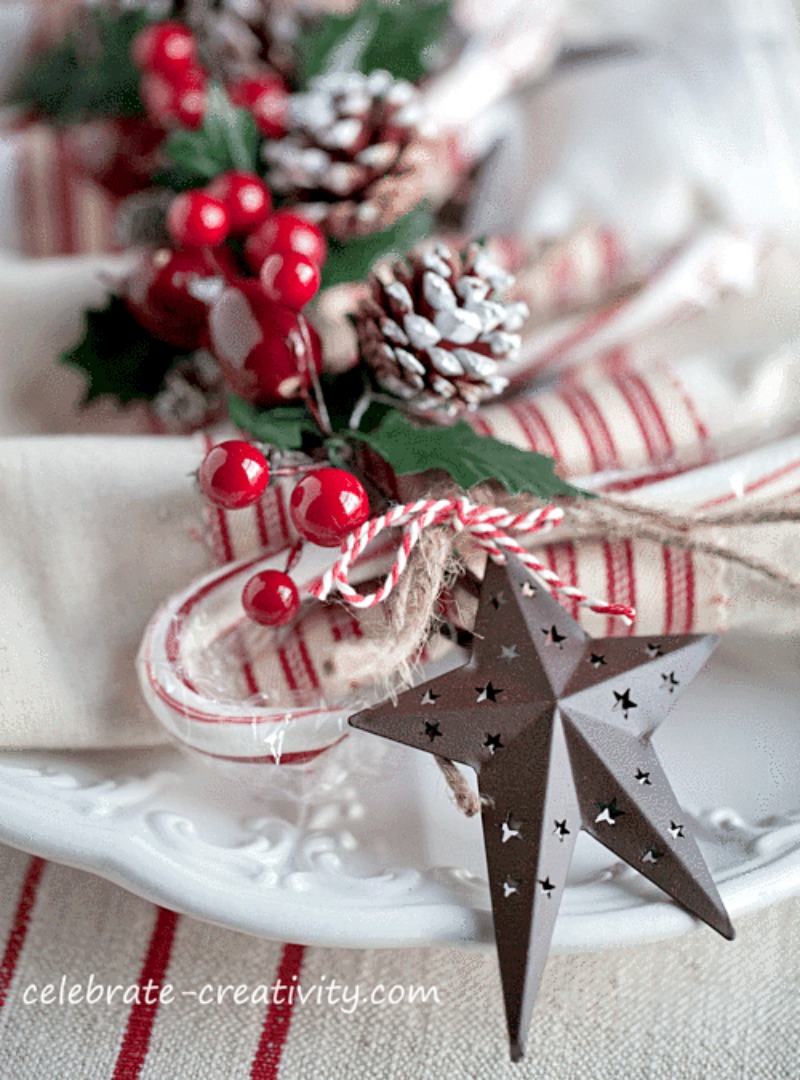 And finally, I love this pretty napkin decor from A Spoonful of Sugar Designs. So festive and happy.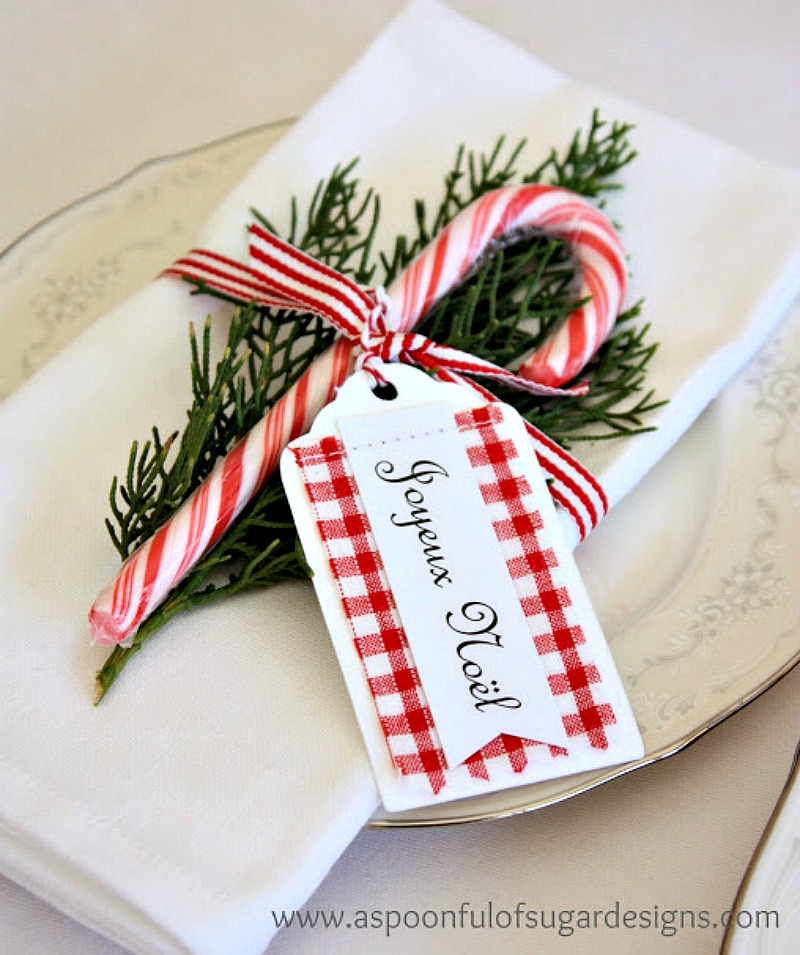 Decorating Your Dining Chairs
Depending on the style and size of your chairs, the view from the back can be attractive ~ are not. Some chair backs are solid wood or fabric and some are open with wood slats of different design, like our side chairs. Your dining room chairs can continue the theme and colors of your table. Using similar elements ties the whole theme together and makes for a more cohesive tablescape Embellishing the backs of the dining chairs can create another decorative element for the eye to see. A flat chair back can look bare and any "garnish" adds to the overall theme of your tablescape.
Since we had a large group of 10 and we have 8 chairs that match our dining table, we bring in 2 of our breakfast room chairs (which actually stay in an upstairs guest room when not in use). We have a dilemma because our dining room chairs are very wide. To fit 4 chairs on each side of the table, I have to use 4 of our dining room chairs and 4 of our breakfast room chairs. The chairs are not the same in finish (the dining room chairs are painted and the breakfast room chairs are stained) or style ~ the breakfast room chairs, although vintage, are taller and more casual. The only similarity is that both chairs have the same fabric on the seats.
After staring at the backs of the chairs for a few days, I knew that something was needed to bring some interest to them and tie the different styles and sizes together. I had a bunch of the taffeta fabric left that I could use. I didn't have any metallic balls, but I did have some real Christmas tree branches (picked up at the nursery) and 2 cans of snow that had not been used. First, I cut 10 6~inch wide strips of fabric the width of the fabric ~ 54 inches.
I made a bow around the center vertical slat of each side chair and one around the 2 extra chairs on the dining room wall.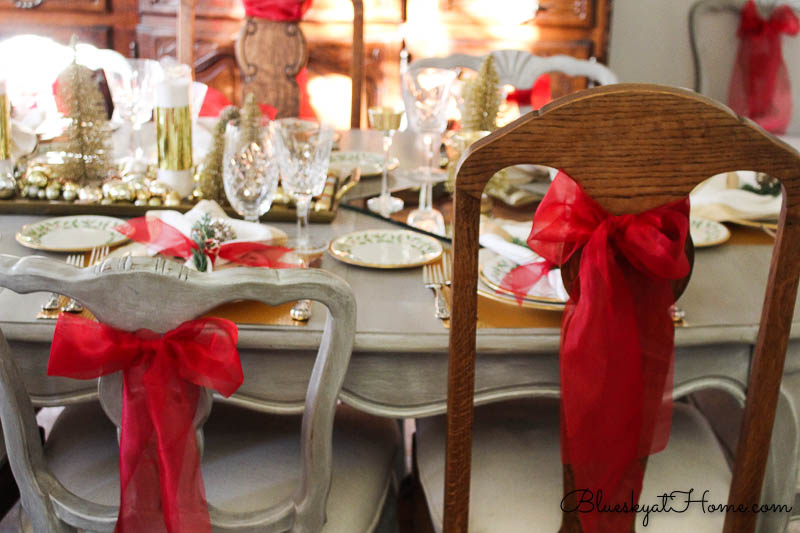 Next, I cut 20 small branches ~ about 6 ~ 8 inches long. I found a small box in the garage and that was my "snow box". I place one branch at a time in the box and gave it a spritz of snow, but not on the stems. I let the branches dry for a few hours (made a run to the grocery store). Then I tucked a branch into each side of the bow and tightened it. The final step was to made the V in the tail of the bow.
Stepping back into the entryway, I could better see the backs of the 4 chairs. I thought this addition of holiday decorations for the table was definitely a great improvement. The bow/greenery with snow added color, a focal point and drew the eye away form the different chair styles. Two simple holiday decorations for your Christmas table that are easy to make and inexpensive. If all your chairs are the same, then this idea is still a winner since it brings color and charm to the backs of the chairs.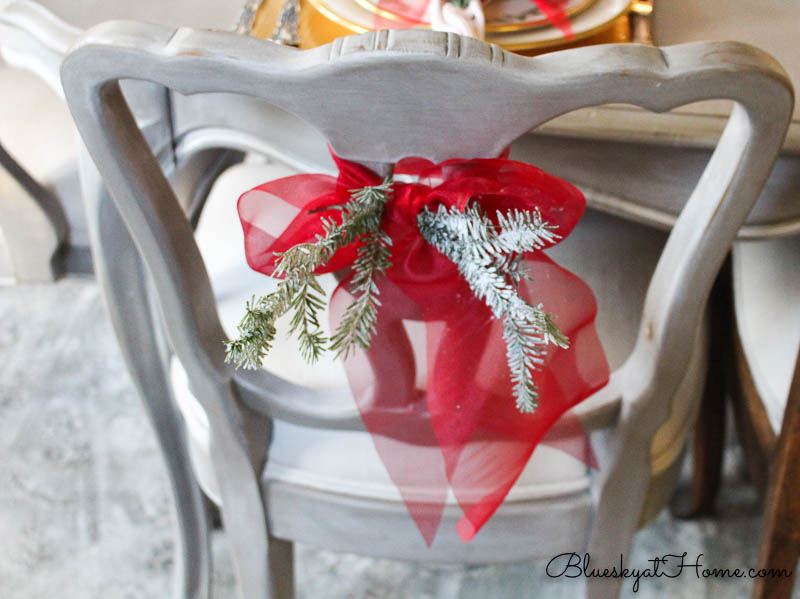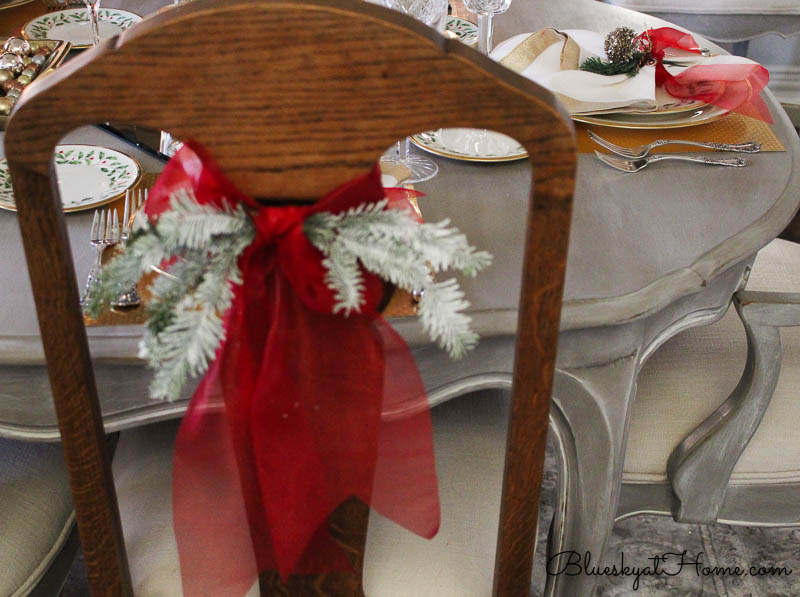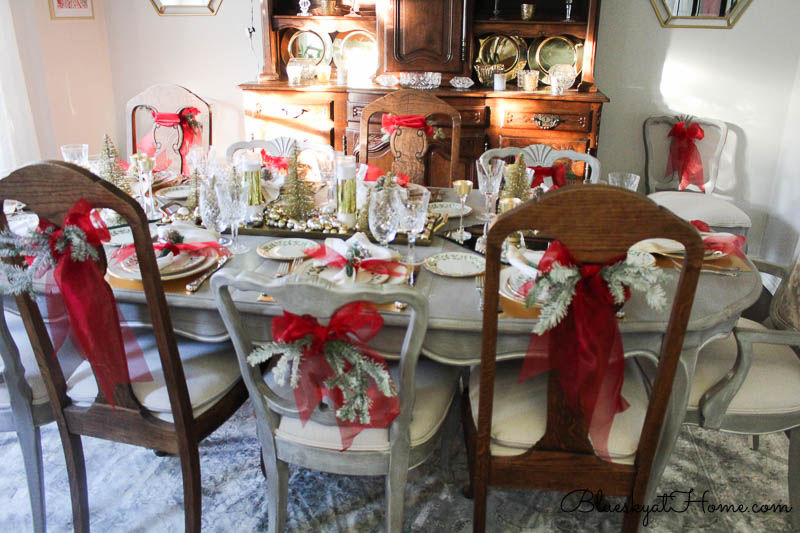 I found a few other great ways to decorate the back of your dining room chairs.
I'm in love with how Beth from Home Stories A to Z embellished her kitchen bar stools. Definitely a fun way to add color and pizzaz.
This elegant decoration on the back of Amy from Living Locurto says dress up and celebrate.
Who doesn't love black and white check ribbon? My sweet friend Yvonne from Stone Gable used ribbon and holly on her chairs for a bit of farmhouse flair.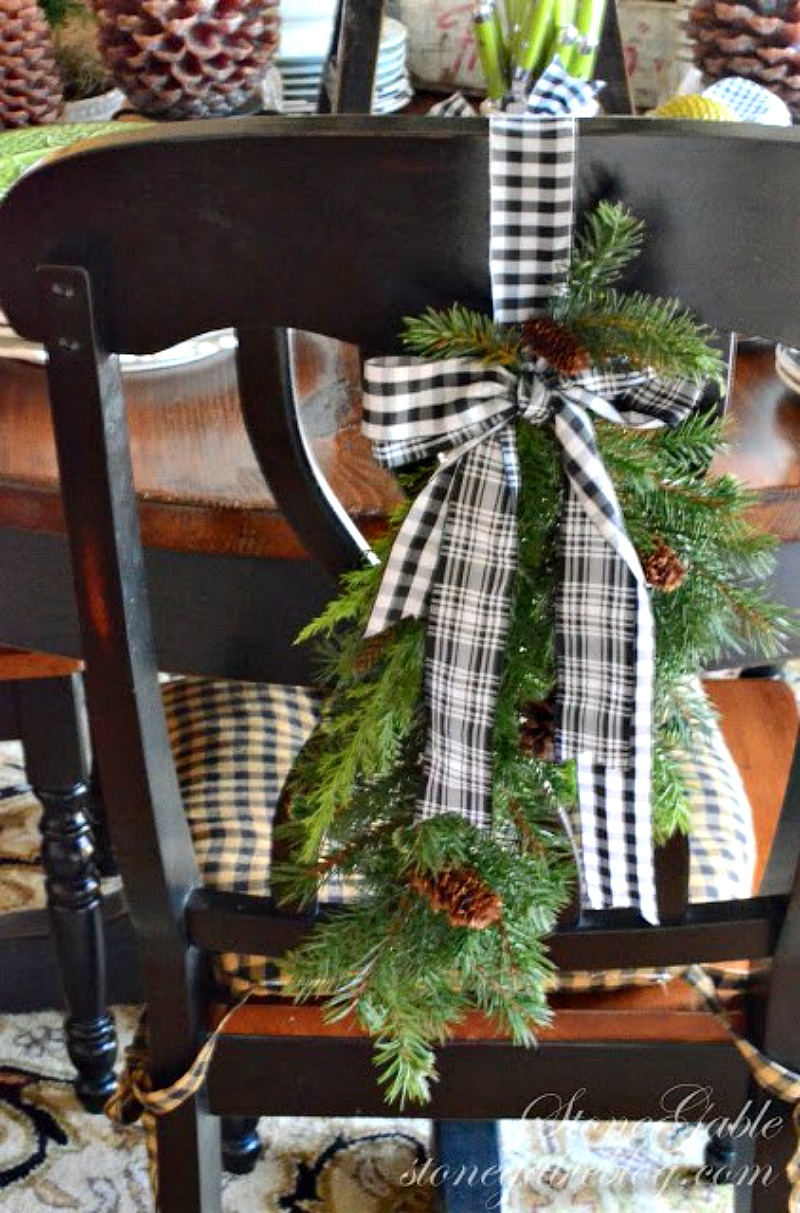 What ideas do you have for enhancing your napkins? Have you ever added a decorative element to the backs of your chairs? Please share because we can never have too many ideas.
Keep on creating, shopping, partying and enjoying this Christmas season. And PIN these ideas for later.