5 Glam & Gorgeous Girl Room Makeovers ~ A ORC Round~Up
I promised one more One Room Challenge Round~Up and here it is: 5 glam and gorgeous girl room makeovers.
As I went back through the rooms of the rest of the 229 guest participants, I honestly didn't know what type of makeover I would focus on. I actually thought it would be a miscellaneous collection.
Suddenly I knew what this finale to my One Room Challenge Round~Ups would be: The theme was feminine and girly and pretty as could be, but oh so practical. Who wouldn't love to see 5 glam and gorgeous girl room makeovers?
These rooms range from offices to playrooms to craft rooms and a sewing room. And not just for big girls (that would be you and me). Some young ladies were included too. I'm really excited to share these girl room makeovers because they are just so darn wonderful.
5 Glam and Gorgeous Girl Room Makeovers: A ORC Round~Up
The Cutest Little Girl Playroom Ever
Albertina of Mimosa Lane took an overcrowded and stuffed playroom/TV room and turned it into a bright, cheerful space for her daughter ~ a space that will grow with her into her teenage years. It's more functional, still has a ton of storage, and offers designated work space. With all the bright colors, what little girl would love to spend her time in this girl room makeover?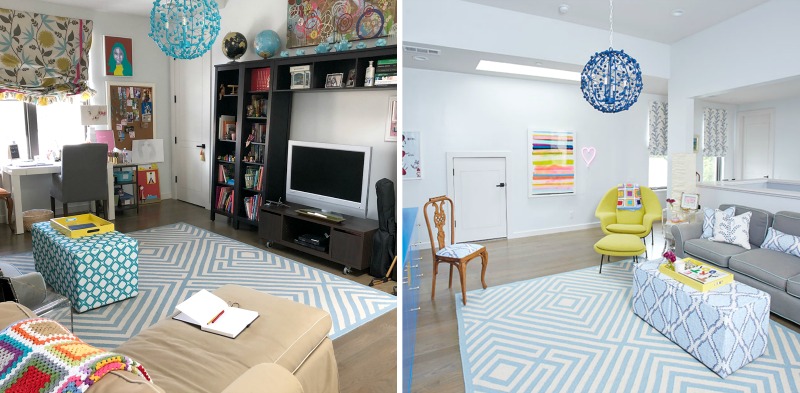 The bright blue set of bookcases provides plenty of storage and a beautiful focal point. The desks offer a great place for drawing, coloring or painting. The sofa is the perfect place for cuddling white reading a story book. All the fun art is eye~catching and the super cool light fixture is whimsical and sweet. This will one day be the perfect girl sleepover and hangout spot in years to come.
Serene and Relaxing Office
A basic office of caramel and white was given the girl room makeover treatment. It's now a serene and stylish workspace with plenty of storage in a minimalist setting.

The barn door entrance reveals a functional workspace with a sleek desk, a bit of greenery, and a rug for warmth on the tile floor. The art on the wall is a good place to rest the eyes while working.
A She~Shed Never Looked So Good
Amy of HomeGlow Design transformed a cluttered storage shed into an elegant, gorgeous work space and craft room. This girl room makeover created an attractive and very useable environment for work and creativity.

This girl room makeover is one any working girl (including this one) would live to spend time in. From top to bottom, It's pretty with a new chandelier, window treatments, rug and comfy desk chair. Lots of storage drawers keep everything is its place, but easily accessible.
From Garage to Creative Craft Studio
Repurposing a garage into a glamorous girl room is the brainchild of Jessica of PetalandPly. Once again, an under utilized space is now organized and pretty with paint, accessories and lots of open shelving for creating projects and all sorts of crafts.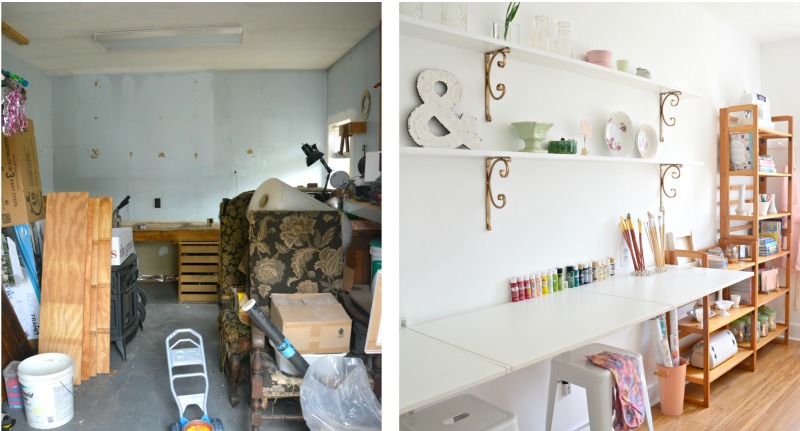 New paint, new hardwood flooring, lighting and functional display and storage space makes this girl room makeover a wonderful place to create. Every inch is used to the max. I'd love to spend time here thinking up beautiful projects for the home.
Simply Stylish Sewing Room
If you are a seamstress, you know that it takes a good deal of space for supplies, fabric and tools. Suzanne of Markova Design transformed a bedroom into her own girl room makeover in a black and white theme.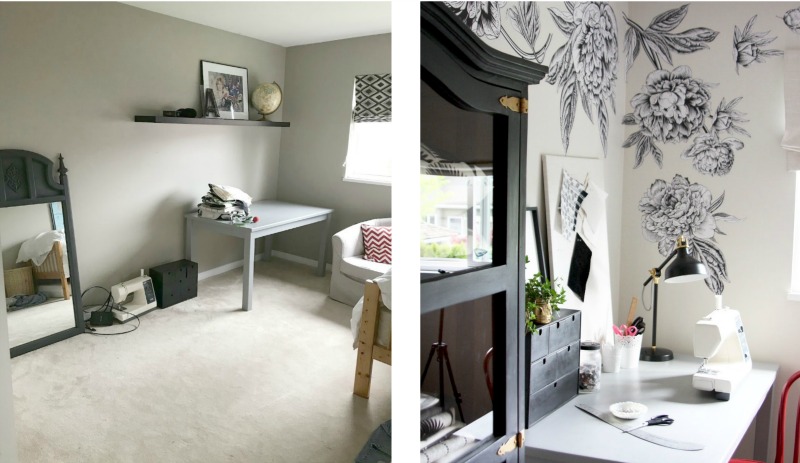 Painting the glass front wardrobe to use as fabric storage was a great idea for this girl's room. The huge floral cut-out flowers provide a dramatic look in the room. The red Turkish rug gives the floor a nice pop of color and warmth. What a lovely place for creating pretty things.
It's the little things that make such a difference in all these girl room makeovers. From floral window treatments to bright upholstery to wallpaper and flowers, all these girl room makeovers will have all the rest of us girls green with envy.
Now I have a girl space all my own too. 18 months ago we created my small (65 square feet) office by combining 2 closets and a little bump out from our garage. It's my work space, craft space, and it's definitely a girl room. You can see where I spend most of my time in my very girly office space.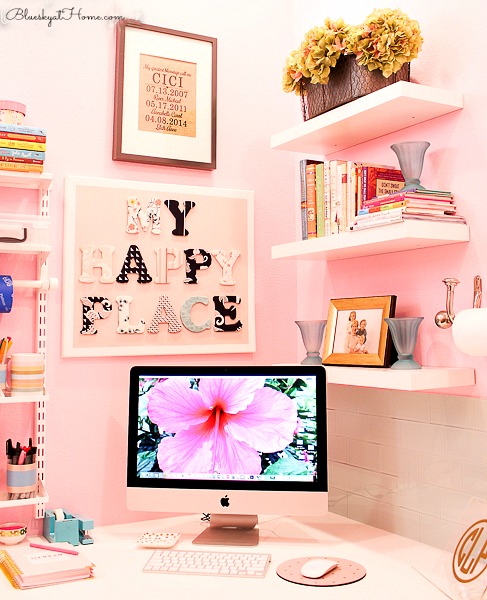 Once again, thank you for coming along on this ORC journey. From a personal standpoint, I'm so glad that I started this series because it allowed me to go back and see so many fabulous makeovers and "meet" so many talented and creative bloggers. It's been a pleasure to share their one-room challenges with you. Hope you enjoyed it too. IF you would like to see the early ORC Round~Ups here they are:
5 Creative DIY Backyard Makeovers     5 Fabulous DIY Kitchen Makeovers 
 5 Divine Dining Room Makeovers    5 Lovely Living Room Makeovers     5 Beautiful Bedroom Makeovers
5 Beautiful Bathroom Makeovers