How to Style a Sofa Table for Early Spring
Do the words "early spring" make your heart beat faster? If you have a table that serves as an entry table or sofa table or any table, I have some ideas about how to style a sofa table for early spring.
After a week of bitter cold and snow, power outages and burst pipes and no water, everyone I know is ready for hints of spring decor. Since all tables are great spots for decorating, let's start with how to style a sofa table for early spring decor.
Tables come in all shapes, sizes, and styles. There are side tables and coffee tables and dining tables. For this early spring decor project, we are focusing on skinny tables.
Sometimes called console tables, these tables are perfect for entries, narrow hallways, and behind sofas. I have a sofa table that I decorate with seasonal and holiday vignettes.
Last week while the world outside was blanketed in snow, inside I shopping the house. My early spring sofa table needed items that would give a fresh, barely spring feel.
HOW TO STYLE AN EARLY SPRING SOFA TABLE
It's the last Tuesday in February (The month when we say goodbye winter, hello spring.) which means it's Pinterest Challenge time. If you are joining from Kristin of White Arrows Home ~ lady who really knows what cold weather and snow are like, then welcome.
Cindy of County Road 407, my fellow Texas blogger, picked another great idea to inspire us. The idea for this early spring sofa table came from Amanda Marie of Sincerely, Marie Designs.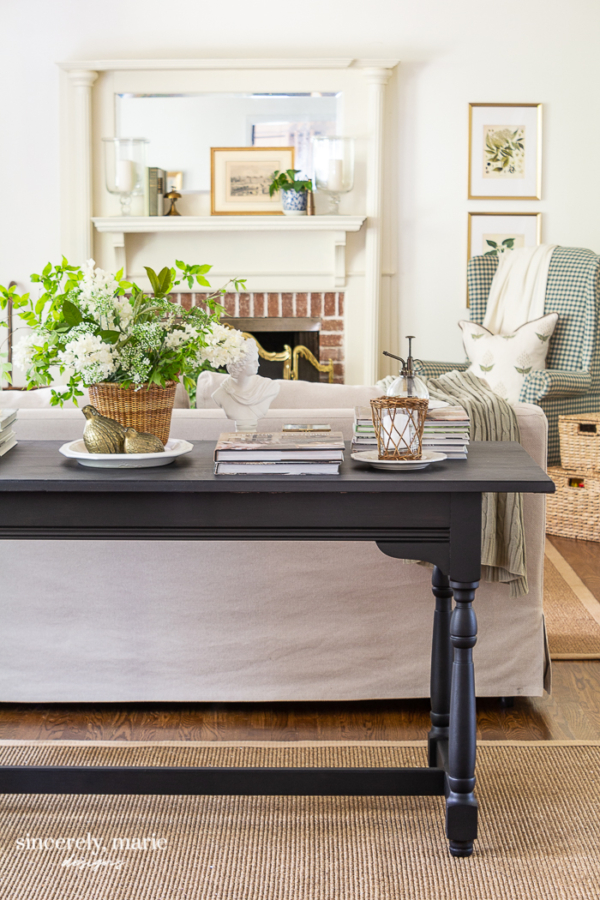 ELEMENTS OF THE EARLY SPRING SOFA TABLE
Let's look at all the different elements that Amanda Marie includled in her early spring sofa table
white tray
birds
fresh greenery
white flowers
books
candle
baskets
With those elements in mind, I thought about what I had on hand to include in my early spring sofa table. I addition to what was Amanda Marie included, I would add:
a lamp
a lantern
white ceramic vases
Now I was ready to style my sofa table.
THE HISTORY OF OUR SOFA TABLE
Years ago I had this table made from reclaimed pine. It was 7 feet by 3 feet. For years, it was a breakfast room table. Then when Sweet Shark and I married and remodeled his home to accommodate our blended families, it was used in our gameroom.
When my son was on his own, I took over his bedroom as my office and used the breakfast room table as my large desk.
When Sweet Shark and I downsized, we were in an apartment for a year while we shopped for and then remodeled our current home. I placed the breakfast room table in an extra bedroom and used it again as a desk.
Once we found our current home, I thought about the furniture we had and could be reused or needed to be sold. I thought the pine table would be perfect as a sofa table ~ if it were cut down to a narrow width. I had a furniture woodworker cut down the table to 18 inches wide. You would never know that it was cut down.
Pine was not part of the style for our new home. So, of course, I painted the table in a two~toned (cream and sage green) with a textured finish on top. The table was usually in front of the window in our breakfast room.
Last summer I was so over the textured look and repainted the top a fresh white. Then we moved it behind the sofa in the living room.
You can see the table so much better in this photo.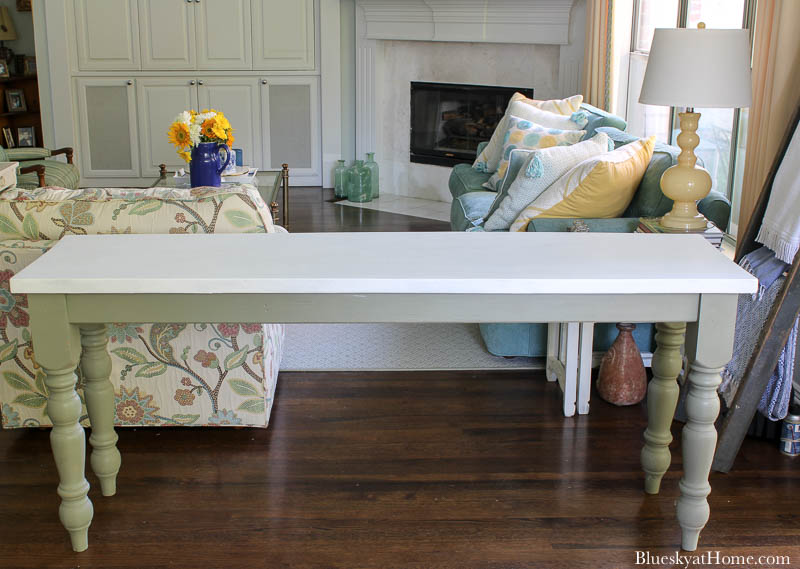 THE "BEFORE" OF THE SOFA TABLE
There was one big difference between our inspiration photo and my sofa table. Amanda Marie's sofa table is seen from the back of her sofa.
My sofa is also behind our sofa, but it's between the sofa and the large picture window in our living room. You can't really see the sofa table, just what is on it.
To be honest, I haven't done much with the sofa table since Christmas. Here's what it looked like before last week.
First, I pulled the sofa away from the table so I could get behind it for styling. You can see that I use this space for basket storage.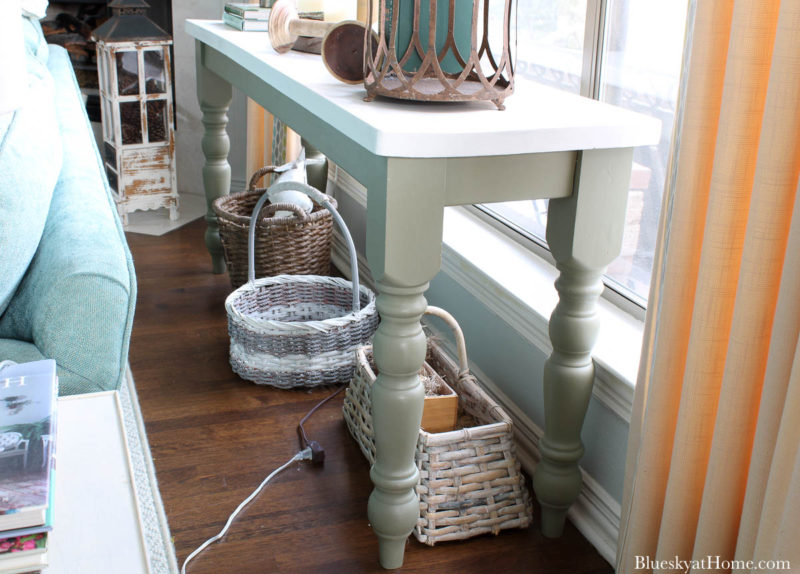 TIP: Now is a good time to sweep behind the sofa.
It was also a good time to turn the cushions and straighten them.
Next, I removed almost everything from the table.
Just FYI, the entire backyard was covered in snow on this day. The sun was so bright and reflecting on the snow.
STYLING THE SOFA TABLE
It was now time to give the sofa table some early spring style.
Since driving to the store was out of the question last week. I had to use what I had.
LEAVING THE LAMP
I did leave the lamp. We have to have the lamp on that side of the table as a reading light.
THE GREENERY AND BOOKS
For my greenery, I didn't have a basket the right size, so I added a white ceramic pot of real pothos to the table. White and green is always a fabulous color combination for home decor this time of year.
More coffee table books raise the height level.
Check off books on the elements list.
Our picture window is so big, I quickly realized that I needed a bigger plant. Fortunately, I had another pot of pothos. This one isn't real ~ it's a $5.00 buy from an estate sale.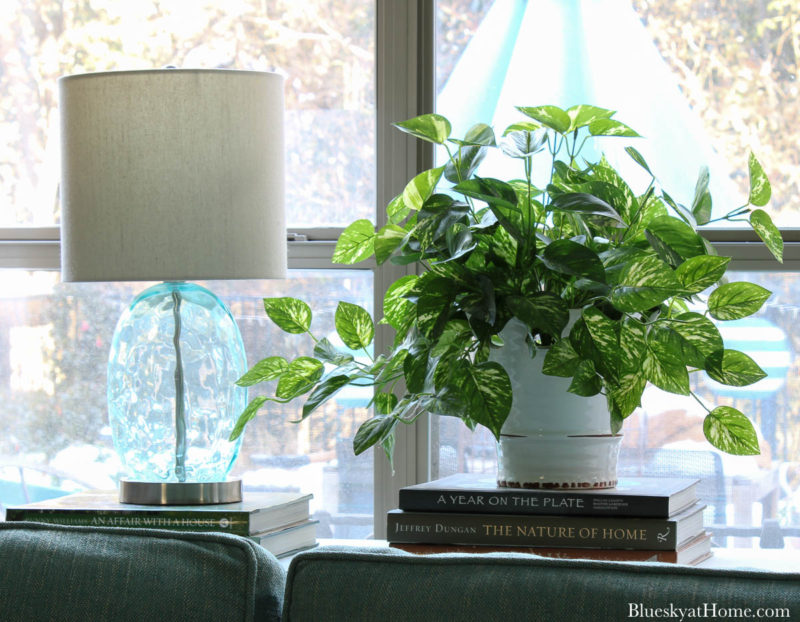 This plant has a little more presence on the sofa table. I also added more books to raise the height.
Check off the greenery from the list of elements.
THE LANTERN AND CANDLE
To anchor the other end of the sofa table, I used the awesome metal lantern that we bought last fall in Granbury, Texas. It's shape and style adds interest to my early spring sofa table.
I also added a candle inside and set the lantern on more coffee table books.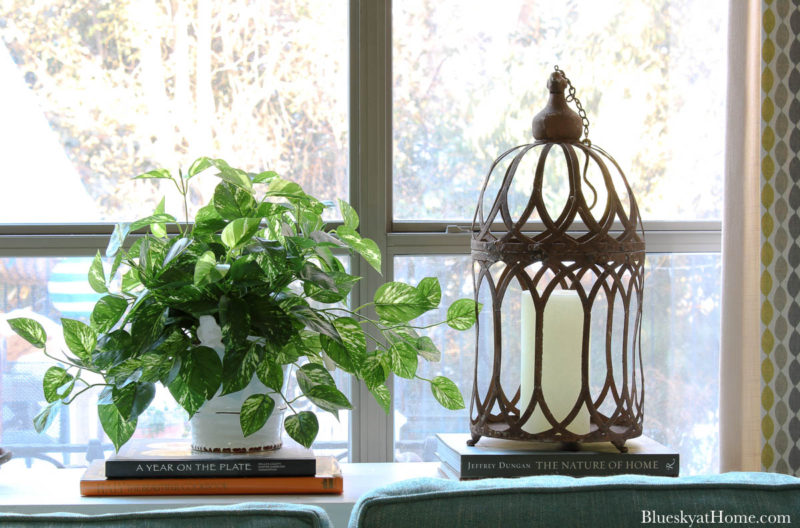 Check off the lantern and the candle from the list.
TRAY, WHITE, FLOWERS, AND WHIMSY
Next on the list of elements was a white tray. Rather than use a white tray, I used a tray with a natural finish. A white vase provided more height and a pop of white.
Some of my vintage clay pots and a small nest added springtime items.
I was just about through with the sofa table. It did need a little more spring fauna. I had some faux white tulips on hand and added those to the pot of pothos.
Check off spring flowers from the list.
Now was a good time to change out a few pillows on the sofa. I removed the white fluffy ones with pom~poms (my favorite DIY winter pillows) and added a couple more neutral ones. The colors go well with my oatmeal~colored cable sweater throw from Target.
I declared my early spring sofa finished. I liked the varying heights, the different materials and the pop of spring green. The nest and the vintage pots add whimsy.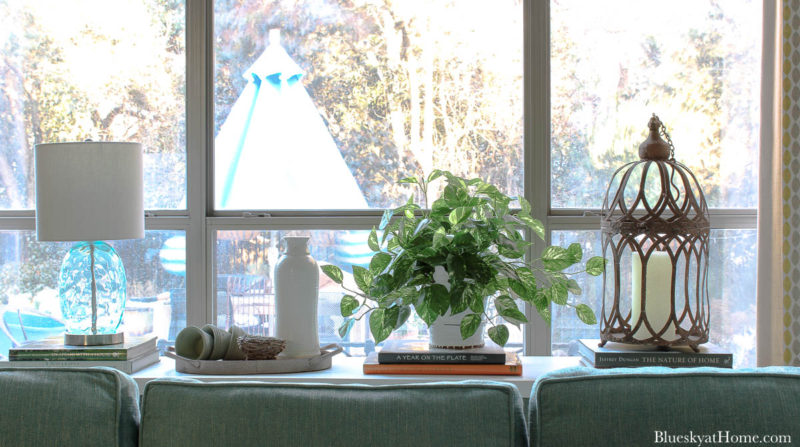 THE LAST ELEMENT
Then, I realized I had left out an important element. Can you guess what it is?
Yes, the birds! I love my teal ceramic birds, especially their metal feet. I bought them several years ago at a design store in McKinney, Texas.
I also changed out one of the vases for a skinnier one. I also had to remove the vintage pots.
Check off the birds from the list.
Finally, the early spring coffee table was done ~ for now. In the coming weeks, the sofa table, as well as other areas of our home will get more spring touches.
Are you ready for more Pinterest Challenge sofa table inspiration? It's time to visit Lora B. Create and Ponder for some spring transitioning.
If you like it, PIN it!!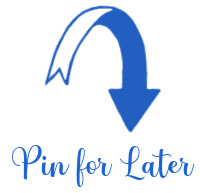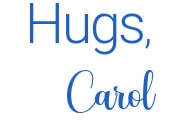 You are invited to the Inlinkz link party!