10 Easy Ways to Warm Up Your Home for Winter
When it's cold outside, we want our homes to feel cozy and welcoming. These easy ways to warm up your home decor for winter will do just that.
Is it a little chilly where you live? Snow, ice or sleet on the ground? Cloudy days got you down? Does your home feel like you live in a cold little cabin in the woods? Does your home evoke a feeling of welcome and warmth?
Getting warm and creating a sense of warmth and coziness in your spaces will get you through until spring.
Yes, I know you can turn up the thermostat and wear multiple layers of socks, throw more wood on the fire and seal up the doors and windows with duck tape.
Today, I'm not sharing mechanical or handy~man ideas for making your home feel warmer. I'm talking about the things you can do to give your home a real sense of comfort and warmth.
The feeling you want family and friends to have when they walk into your home. Like you just gave them a big hug and a teddy bear to snuggle with.
So, curl up on the sofa with a snuggly blanket, light the fireplace, grab a mug of your favorite hot beverage (mine is hot chocolate) and take a look at my 10 easy ways to warm up your home for winter.
10 Easy Ways to Warm Up Your Home for Winter
You can spend money to implement these easy ways to warm up your home decor that I'm going to show you. Or you also use what you already have and a little ingenuity and not spend a penny.
Many of these ideas are ones I already use in our home decor, but I did do a little research on the web too.
Idea Number 1 ~ Use Blankets and Throws
Blankets and throws all insulate a room for a cozier and warmer space. They are your cold~weather must~haves. I try to have throws on just about every surface ~ sofas, chairs, a bench.
Either in bright colors or soft pastels, there is a blanket throw for every color palette.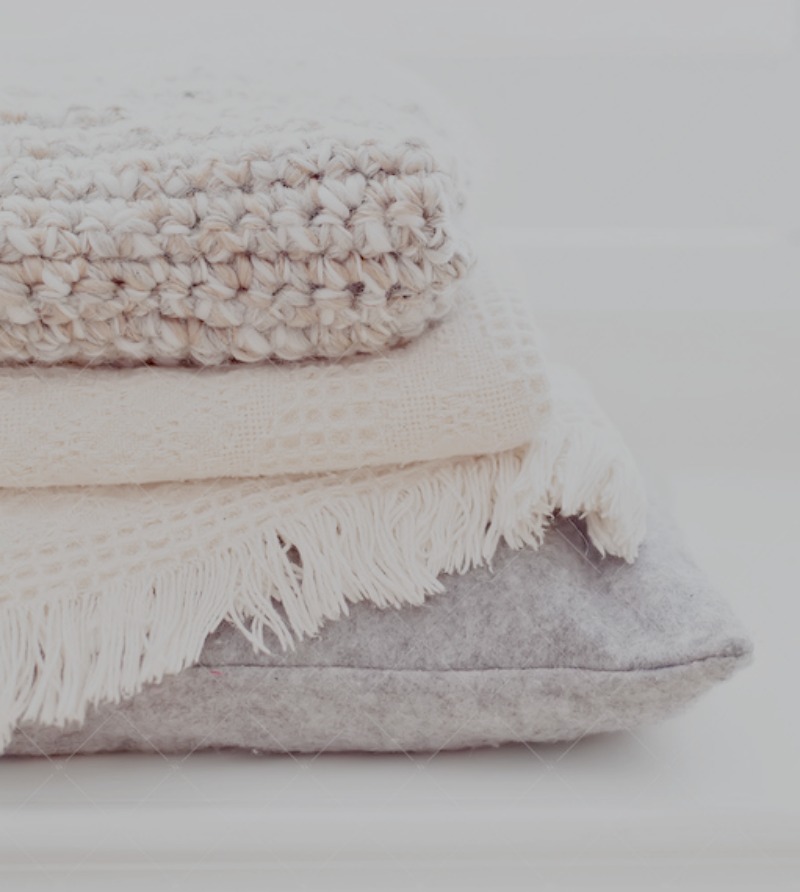 This cable knit throw on the sofa in our living room is new this year.
Curling up on your sofa when the temperature dips is pleasant enough; curling up under a cozy blanket, however, is nothing short of heavenly. Drape cozy throws in warm winter fabrics like wool, fur, flannel, and fleece over your beds and seating.
I think leather tends to be a cold surface; draping a throw and a pillow on this one immediately warms it up.
Throws aren't just for putting your feet under. They add texture, pattern, and color to a bleak winter season.
Idea Number 2 ~ Warm Up Your Bedroom
Getting your home ready for winter also means adding comfort to your bedroom in the form of heavier textiles.
Swap your sateen or percale sheets for flannel or microfiber. Cotton flannel, velvet flannel, or heavyweight Egyptian cotton sheets are all warm alternatives to your average thin bedding and can make your home cozier and you will sleep a lot more comfortably.
TIP: Several years ago on a cruise to the Bahamas, we bought bamboo sheets, They have a feel like flannel, but are much lighter and feel cool, but keep you warm They are our favorite sheets
Add a down comforter and layer your bed with extra blankets for a cozy feel. A down (or down alternative) comforter will hold your body heat in best on cold nights. Layering is key in winter to warm your home decor. Then add a throw on top for warm winter naps.
For our winter bedroom, I added a quilt and a super soft, chunky throw on top of our down comforter. I covered our bench with a white faux fur throw for extra softness and warmth.
And, of course, pillows.
This bedroom layered more blankets, a faux fur throw, and several pillows to create a cozy winter feel.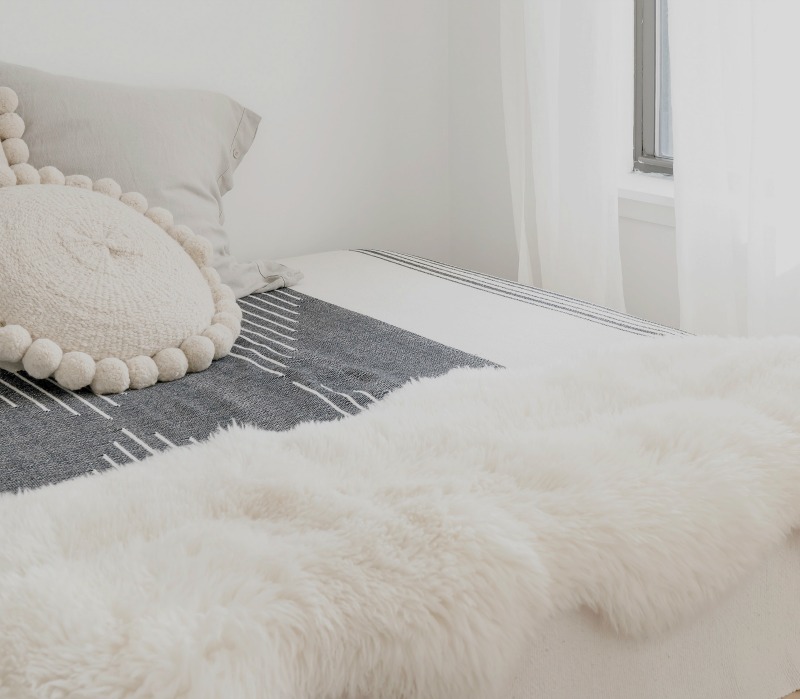 Here are some ideas for decorating your winter bedroom.
Idea Number 3 ~ Add Area Rugs
The feeling of bare feet on a cold floor can make anyone hate the winter.
If you're eager to sidestep that all-too-common~ and highly unpleasant ~ sensation, try covering any uncarpeted areas of your home with plush throw rugs to make things a little more comfortable.
No shame in leaving your warm slippers out.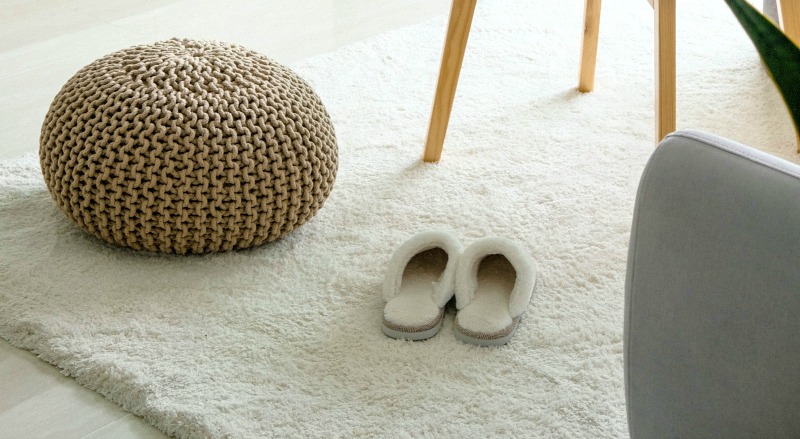 A small runner next to your bed, a large area rug in the living room or bath mat in front of your bathroom sink will keep you and your feet away from the cold floor.
They'll feel warmer to the touch and insulate better. You can drastically improve the overall feeling of warmth and the actual physical warmth of your room by including rugs.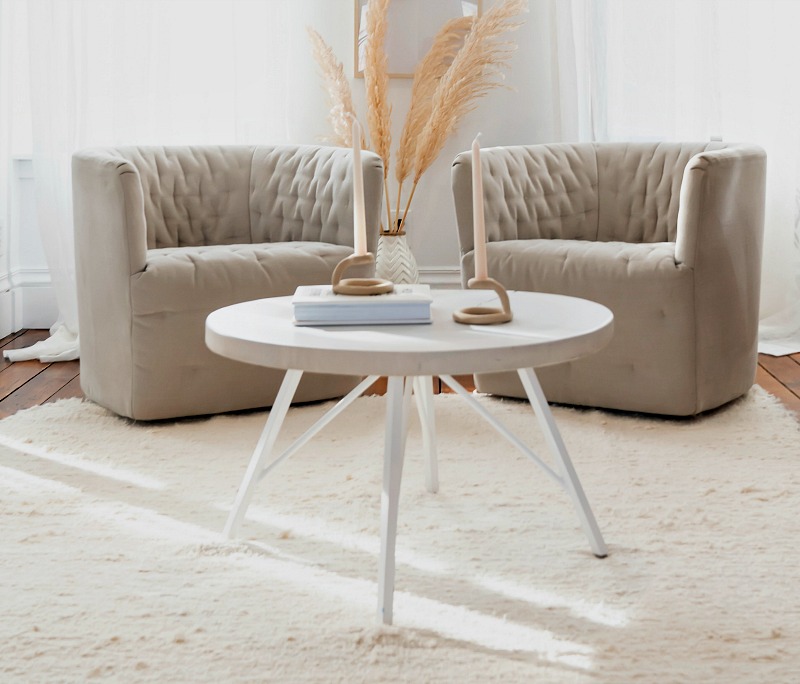 Idea Number 4 ~ Rearrange Your Furniture To Make Your Home Warmer
Here are some ideas for physically making your furniture arrangements more conducive to enjoying the indoors in the winter:
If possible, move seating, sofas or chairs, away from cold, drafty windows for comfort. It's time to get strategic on where your room's furniture sits to avoid cold air from windows and vents to enjoy the few days of warm sun.
If you work from home during the day, place your desk near a sunny window to take in the sun's heat.
Bunch seating groups closer together to facilitate warm, intimate conversation. Float furniture eight to 12 inches away from walls to create a feeling of space and lightness and move seating areas slightly closer to warming elements, like fireplaces.
Idea Number 5 ~ Add Some Comfy Throw Pillows
Despite your need and intentions to leave the house, many of your winter days will inevitably be spent indoors. With that in mind, it's important to have plenty of spots to curl up with a cup of tea or hot cocoa.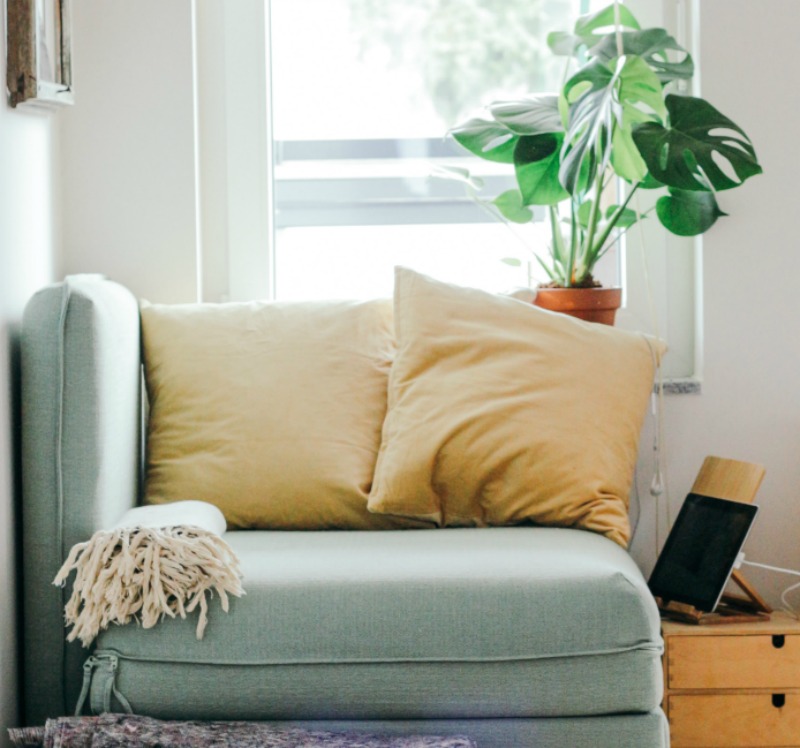 The easiest way to make every space in your home better for lounging? Add some throw pillows. This softens and warms a room instantly and bumps up the comfort level.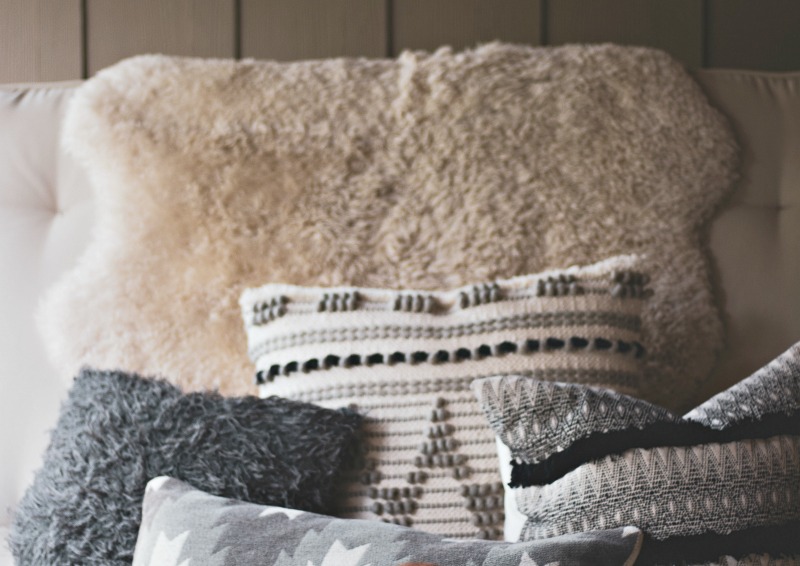 Pillows with texture, such as velvets, thick cotton, flannel, and faux fur can instantly warm up your home decor for winter. I love all the textures of these pillows, from nubby woven to sweater to shag.
Adding a blanket and pillows to wood surfaces, such as a bench warms it up instantly ~ and makes it more comfortable.
Idea Number 6 ~ Use Softer Lighting and Add Lamps
If you want to make your home feel cozier during those long winter days, upgrade your lighting. Softer lighting provides a warmer environment to relax in the evening and on weekends.
Adding dimmer switches to existing outlets will immediately give your home decor a warmer, more inviting feel. When we remodeled our home, almost every light was put on dimmers and we changed out every light to LED bulbs.
While it may be dark and gloomy outside, you want your home to feel warm and cozy inside. Instead of turning on the overheads, simply switch on some table lamps instead. Floor or table lamps nestled close to the sofa, tall buffet lamps, or candelabras on a console table are flattering and elegant.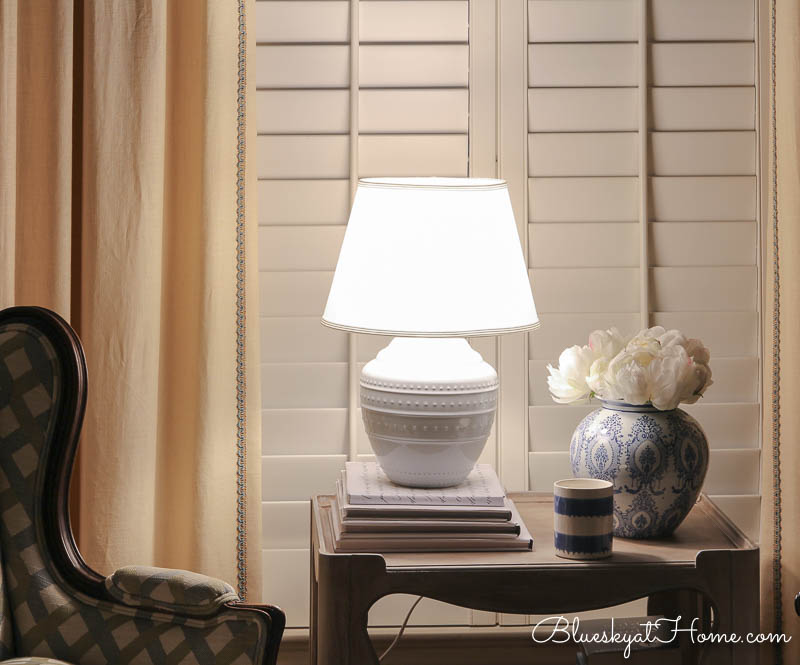 Add some lighter lampshades, too. The right lampshade can make all the difference between a home that feels cave-like in the winter and one that feels cozy and welcoming. Paper or linen lamp shades diffuse light better, making it easier on the eyes.
BIG TIP: Even during the day, on a cloudy day, turn on all your lamps. Just that one thing will definitely warm up your home decor for winter.
Idea Number 7 ~ Fill Empty Space
Empty space creates a cold feel which is not aesthetically pleasing. Do you have empty, unused corners in your home? Try adding a small table and a lamp, a chair or a plant.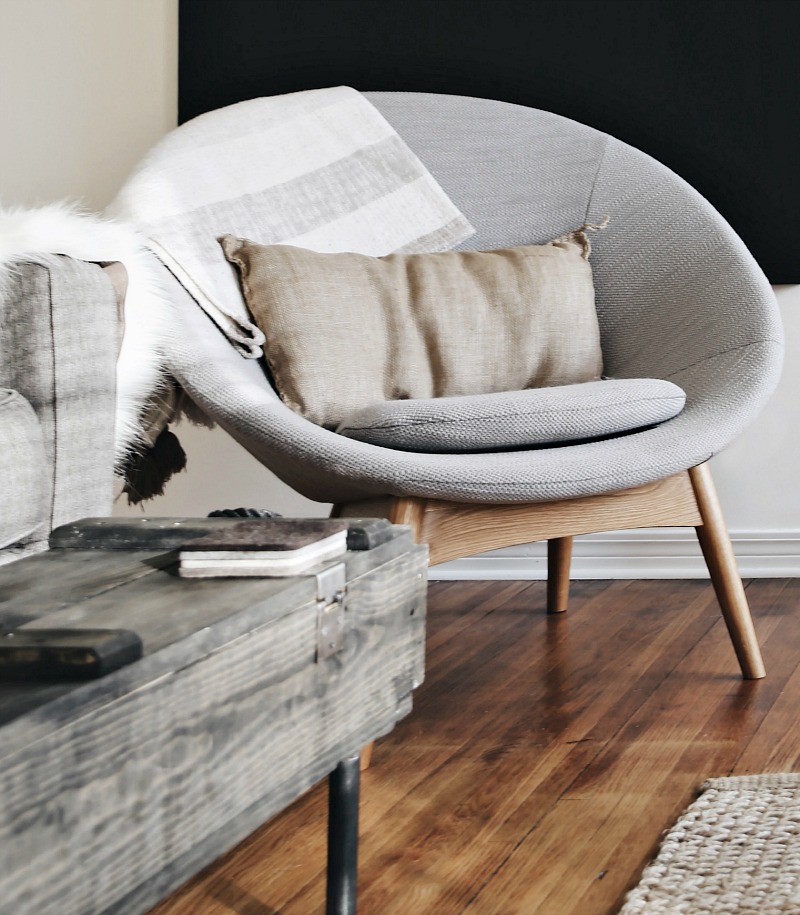 Those corners of your home without furniture can look especially bleak when under the harsh winter light. Do you have an extra chair in a guest bedroom that isn't being used? Maybe even an extra dining room chair with arms?
Use those to create a reading nook. Repurposing furniture costs you nothing, and nothing is more enjoyable on a cold day than sinking into a good book.
Spruce up any empty corner with a comfortable small~scale chair, a reading lamp (#6), a blanket (#1), and a throw pillow (#5); that's all you need to create that sense of warmth in your home decor for winter. Add a footstool and a plant if you have room to create a cozy haven.
Idea Number 8 ~ Add Greenery
Just because everything outside is brown or blanketed in snow doesn't mean your house has to look drab inside, too. Bringing home a few easy-to-care-for plants, like succulents, can instantly add vibrancy to your space.
We all know that having green indoor plants can reduce psychological stress. And when we have several cloudy days in a row, our moods can definitely take a downward spiral.
TIP: Place your plants near a window to take advantage of sunny winter days.
No green thumb? No problem! Buy a faux plant or tree. You can drape faux greenery on banisters, stairways, across mantels, and around chandeliers.
TIP: Be sure to save some of your garland that looks more winter than Christmas for winter decorating, as I did here for our winter mantel.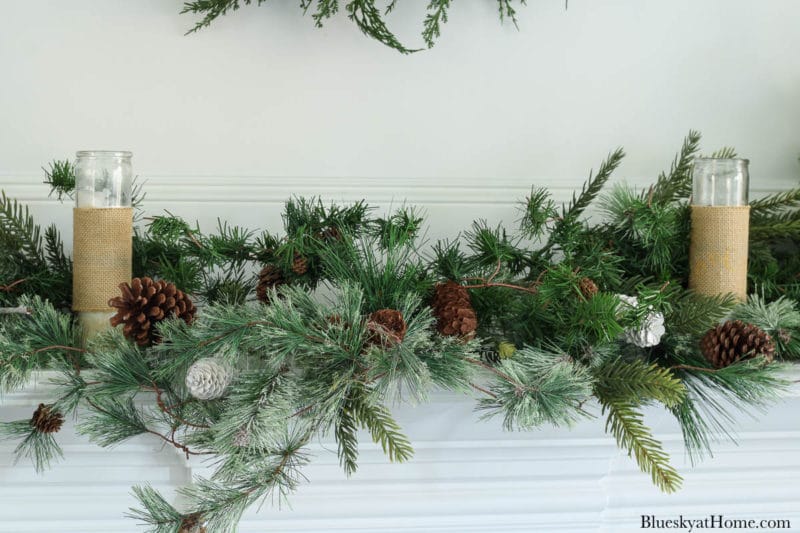 Idea Number 9 ~ Winter Color
Cold, dark winter days can make your home feel just as dreary as your mood. Winter colors should be vibrant, dramatic and sophisticated. Blue-based cool colors are best accented with white, gold or platinum to bring in warmth. They should be in clear colors and sharp contrasts—never muted or powdered.
Since everything outside tends to be muted and grayed, even snow can look off~white. Now is when you want to bring in clear colors. Try these in your winter home decor.
Green
Pink
Yellow and gold tones
Browns and rusts to warm up the winter
Eggplant touches ~ this fluffy blanket with black lamp shades is dramatic against the all~white background.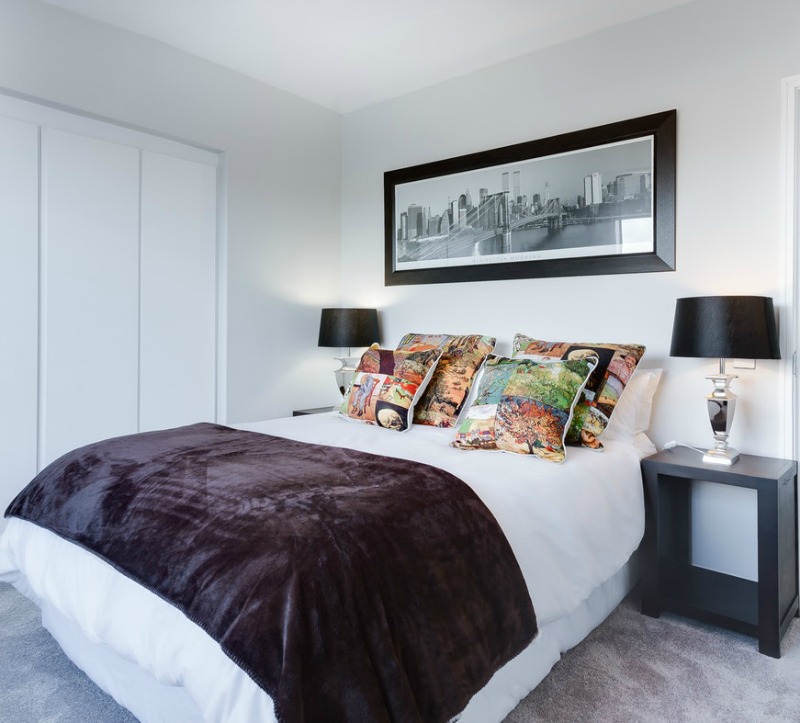 Red
Black is back
Alabaster White
This is where adding pillows, blankets, throws, and accessories in rich colors can add brightness to the winter interiors of your home.
Here this plush rug in blue and white, 2 throws and pillows, a green plant, and a winter vignette combines several ways to warm up your home decor for winter.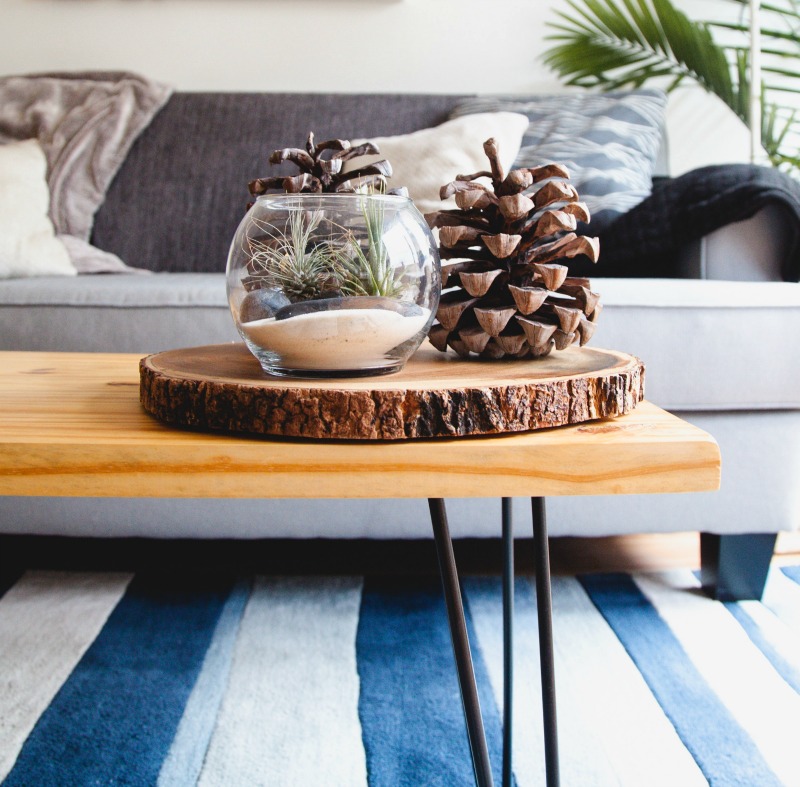 Idea Number 10 ~ Add Candlelight and Scents
We all love a glowing fireplace. But who says that's the only way to make your home cozier this winter? A fire might seem like an obvious way to warm up your spaces, but a simple grouping of candles on a coffee or buffet table adds beautiful light and ambiance to a room.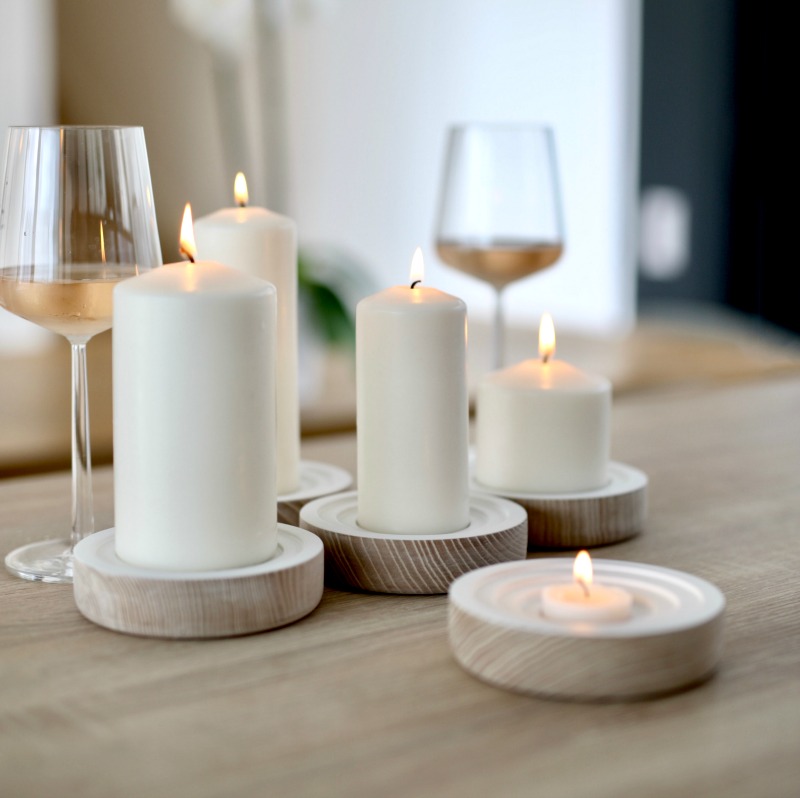 Adding to your home's visual landscape isn't the only way to make it feel cozy. Diffusers offer natural aromatherapy and help humidify the space. Scented candles in soothing lavender, spicy cinnamon, or sweet vanilla will help to keep your home feeling cozy and warm.
You might enjoy these tips for burning your candles.
Do you love these ideas? Have they been helpful? Are you already using some of these easy ways to warm up your home for winter? Have some ideas of your own? Then, please share in the comments.
You can implement so many of these ideas to warm up your winter decor just by shopping your home and some rearranging.
I do hope that you will share and PIN to spread these ideas.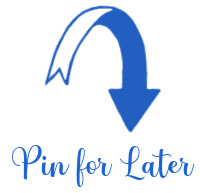 Stay warm!!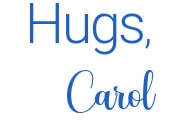 2021 Link Parties February 1 ~ February 7
All About Home Anything Goes Pink Saturday Beautifully Made Busy Monday Celebrate Your Story Charming Homes and Gardens Creative Crafts Creative Muster Creatively Crafty Embracing Home and Family Farmhouse Friday Friday with Friends Grace at Home Handmade Monday Happiness is Homemade The Happy Now Hearth and Soul Link Party Home Matters Inspire Me Monday Inspire Me Tuesday Keep in Touch Little Cottage Link Party Love Your Creativity Party in Your PJ's Saturday Sparks Share Your Style Simple Homestead Blog Hop Sunday's on Silverado Thursday Favorite Things Vintage Charm Party Waste Not Wednesday Wednesday Link Party Wednesday Centerpiece Link Party Wonderful Wednesday Wow Me Wednesday