7 Wonderful Winter Mantel Decorating Ideas
Are your Christmas decorations neatly organized and packed away? Winter is here and one of the first places to decorate is your fireplace area. I have 7 wonderful winter mantel decorating ideas for you.
After all the emphasis on color during Christmas, I love the calmer approach to winter decor. These seven wonderful winter mantel decorating ideas will give you a process to help you create a softer, natural look.
Although I am not a cold~weather girl, I do love creating a warm, cozy feel for our home during the winter months. Any room with a fireplace creates a focal point that is a natural place to decorate.
Where do we begin decorating for a winter mantel? With our Christmas decorations. Let me show you how to create a wonderful winter mantel.
7 Wonderful Winter Mantel Decorating Ideas
This post contains affiliate links to products used in this post. If you should order any products from this site, I may receive compensation, but you will not pay a penny more. year.
A couple of years ago, as we were organizing and packing away our Christmas decorations, I intentionally looked for items that could be recycled for winter.
Every one of my 7 winter mantel decorating ideas uses items that have been used in our Christmas decor.
I found many ideas on Pinterest, which I saved to my Winter Home Decor Board. Then, because I love to share, I gathered my favorites in a post, 13 Winter Decor Accessory Ideas.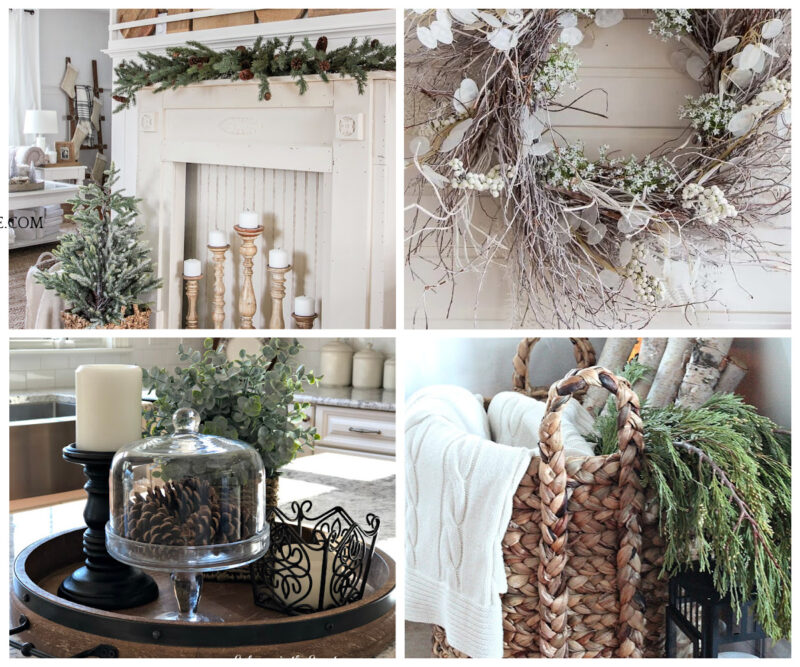 I used several of these ideas as I planned and created our winter mantel.
REUSE YOUR WREATH
Any type of green wreath can be reused to decorate a winter mantel. All you have to do is remove the bows, any ornaments on the wreath, and colored lights. The wreath above our mantel has a very soft wintery look ~ I'll call it cypress.
Since our lights are white, I left them on. This gives the living room a bit of winter magic in the evening.
NOTE: By the time we returned from our Christmas trip to Atlanta, Fairhope, Alabama, and Biloxi, the lights were really dim, so we replaced the batteries.
REUSE YOUR GARLAND
My favorite color scheme for winter decorating is white, green, and neutrals. Evergreen trees evoke a natural, organic sense. I think of the quietness of walking through a forest during winter after a snowfall.
Disclosure: I do not have a forest near me and we don't get much snow. Our home does back up to a tree~filled greenbelt. This is about creating a feeling.
Most of us use garland in our Christmas decor. Some of that garland has a more earthy, winter look than traditional garland. Pine, cypress, and juniper garland lends themselves to winter decor.
You can use any garland that you have on hand to get the winter look. Whatever type you use, remember to remove the lights. That's the trick to a soft winter feel.
For this winter mantel, I removed the Santa Clauses and multi~colored lights.
I left these two strands of garland that are perfect for winter mantel decorating. One strand is just green and the other has a hint of white on it. I mixed the two strands together on our mantel. This garland already has a few pine cones attached, but you can add more.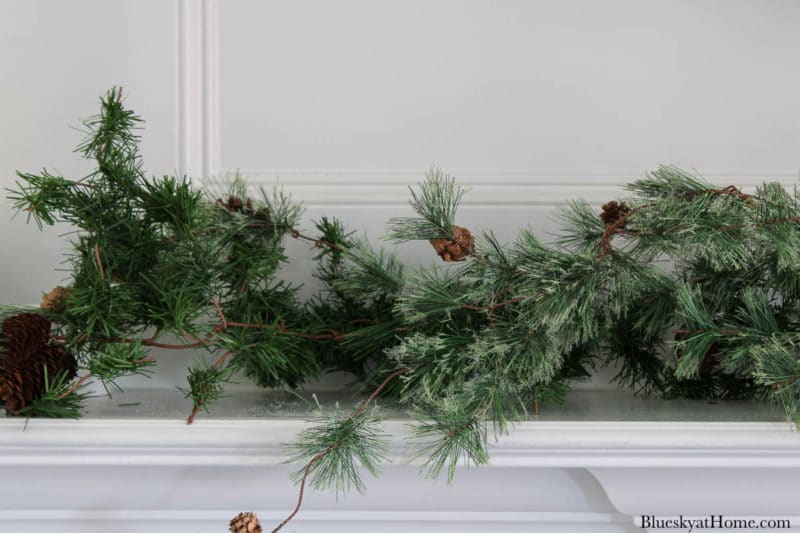 You may like a sparse look for your garland, which fits the winter feel. I decided to give my mantel a more lush green look.
Last Christmas I bought several different types of green picks on sale. I cut all the branches off and used them as filler on our bedroom tree and to create a bowl of greens in our kitchen.
This year I'm recreating the same base look of garland for the mantel.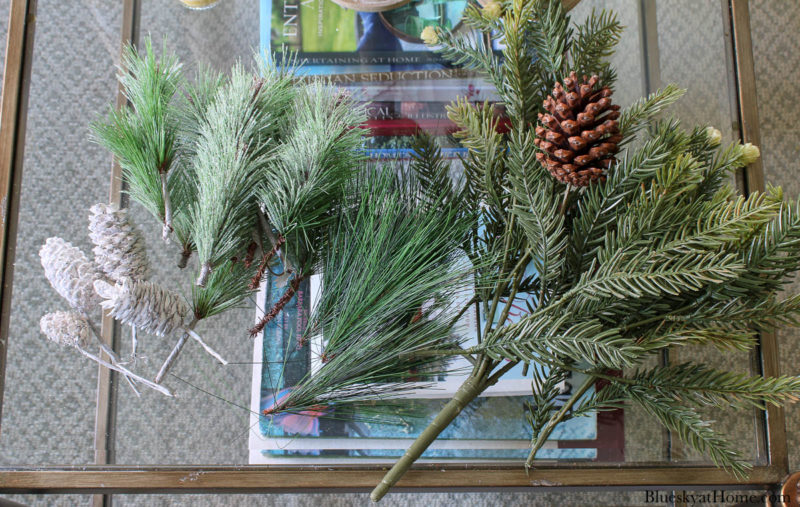 I used these green pieces to fill in the garland on the mantel for a fuller look.
TIP: Use a variety of foliage for a more natural look.
REUSE FAUX CHRISTMAS TREES
If you have small Christmas trees, they will be a great addition to winter decor. I had 3 small trees that I used in our entry and kitchen.
First, I removed the lights and the ornaments. One tree had a snowy look to it with a burlap wrapper~ perfect for a soft winter mantel with texture.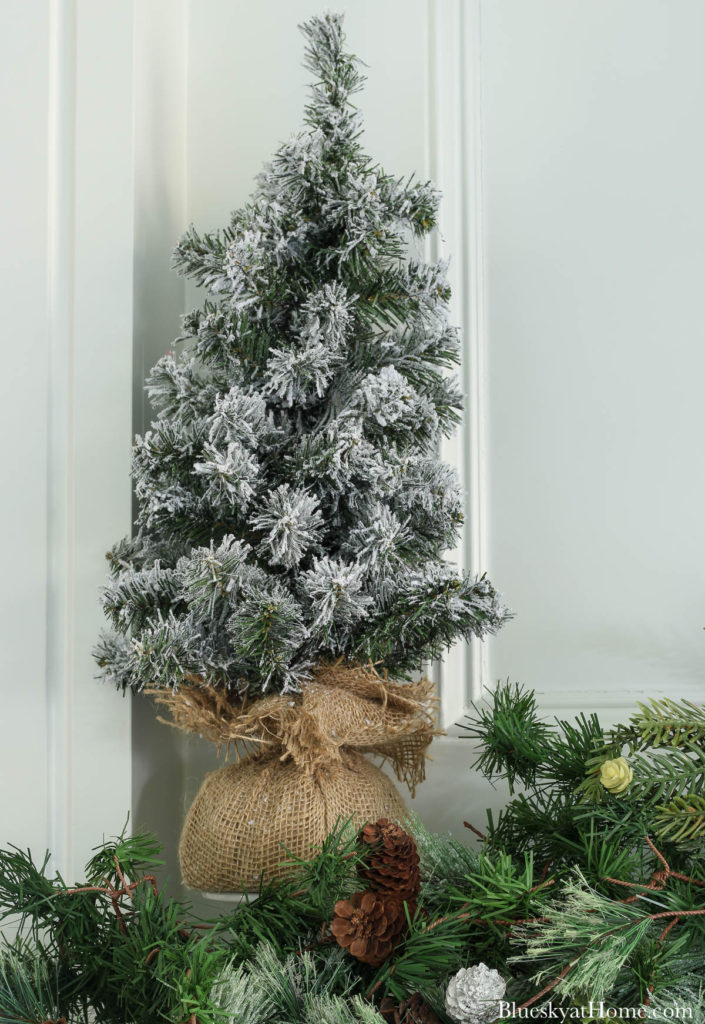 TIP: When your trees are against a flat background. flatten the branches on the back of the tree. That way they will fit better and the front will have a fuller look.
I used two smaller trees to balance on the other side of the mantel.
USE WOOD FOR A NATURAL ELEMENT
Wood always adds a natural, organic feel to any setting. I used two vintage wood candlesticks on each side of the mantel.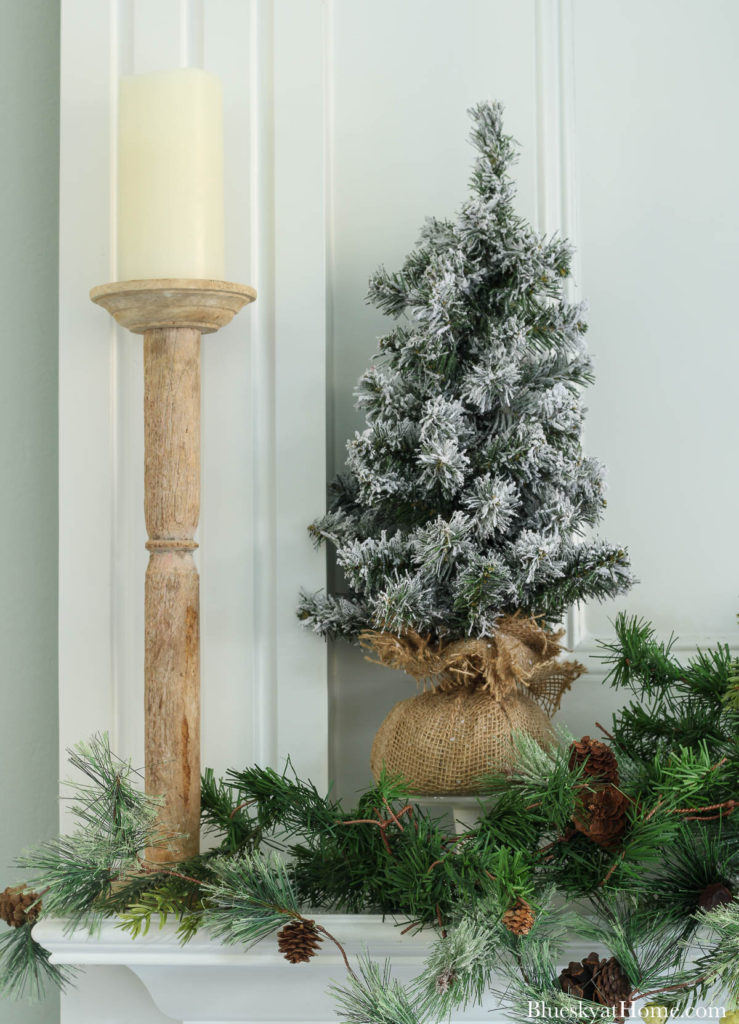 USE CANDLES ON YOUR WINTER MANTEL
Nothing creates a warm winter glow more than candlelight. For my tall candlesticks, I used 2 battery~operated candles for areas that are harder to reach. In the images above you can see these candles. They are on timers and have a remote control.
On the mantel, I used real candles (from Dollar Tree) that had been elsewhere during the holidays. Last summer I wrapped adhesive burlap ribbon around them. The texture and natural color of burlap work great for winter, too.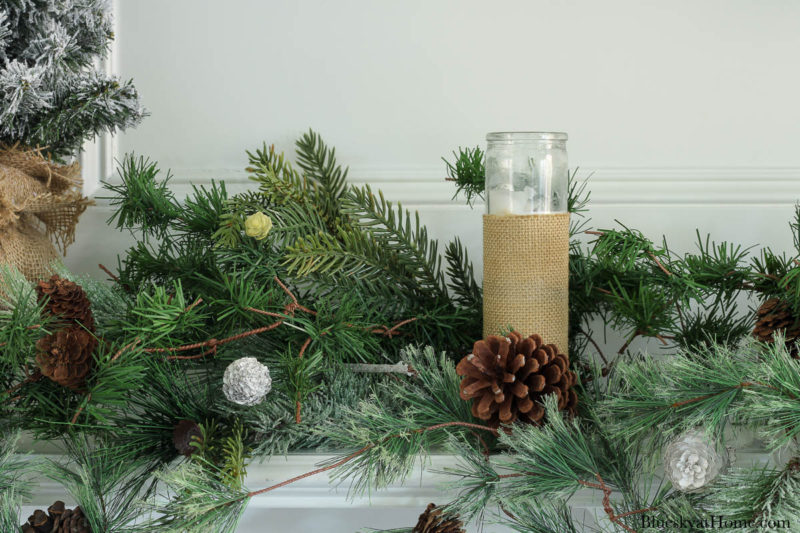 The mantel creates a lovely, warm glow at night.
USE PINCONES FOR AN ORGANIC LOOK
Pinecones are such a natural element in winter that they should definitely be a part of your winter mantel. My garland had a few pinecones attached. I added some small pinecones that added a pop of white softness to the winter mantel.
DON'T FORGET TO DECORATE YOUR HEARTH
In addition to the area above the mantel, the area below the mantel ~ the hearth ~ should also be part of your winter mantel decorating.
Here's one way to decorate your hearth.
USE NATURAL BASKETS OR LANTERNS
If you have lanterns or baskets, use them to add ambiance to your winter fireplace decoration.
In this area, I combined baskets, lanterns, greenery, wood, and candles.
For winter mantel decorating, I used a large basket filled with faux greenery. I added the white birch logs (which I did not use this year for Christmas.) and a couple of winter owls.
If you can find white, grey, or natural colored animals, they are wonderful accessories for winter decorating.
The lantern that was in our entry filled with bright gold balls and a big red bow is now filled with natural pinecones on the hearth.
On the other side of the hearth, I used 2 wood and glass lanterns that were in the dining room during Christmas last year.
More candles in the lanterns complete the winter decorating on the hearth.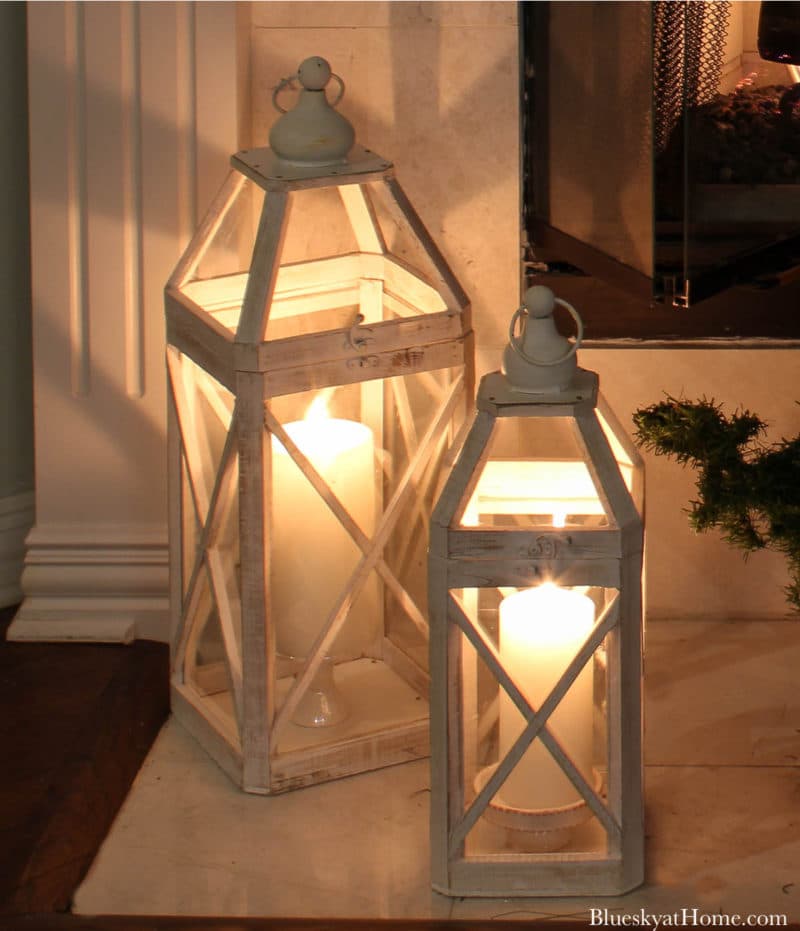 Using a combination of these different winter elements creates a cozy feel for winter.
Let's recap the 7 winter mantel decorating ideas:
reuse wreaths ~ remove colored lights, ornaments and bows
reuse garland ~ remove colored lights, ornaments, bows and other Christmas decorations
reuse small faux Christmas trees ~ remove colored lights, ornaments, bows and other Christmas decorations
use wood ~ candlesticks, logs, branches and boxes
use white candles ~ both battery~operated and real
decorate the hearth of your fireplace
use baskets, lanterns or other natural containers
Love these ideas? I hope that you will take these ideas and use them to inspire your own winter mantel decorating. Be sure to PIN this post ~ you don't want to forget them.
I'd love to know what you think about these mantel decorating ideas? Do you decorate for winter? Which ideas would you use? Do you have other winter mantel decorating ideas to share? Let me know in the comments.