3 Beautiful Easy-to-Use Trends in Spring Home Decor
Spring home decor is on everyone's mind. Spring is almost here and it's time to start thinking about how to decorate our homes with a springtime look. Can you feel it? See it? Smell it? Taste it? I'm seeing pinks and blues and greens with some navy popping in. Whether your weather is still chilly or snowy or if your days are getting a bit warmer, we are all feeling like we could reach out and touch spring. Tulips are popping up everywhere ~ ours have just bloomed. Our hydrangea has proven that hope springs eternal by peeking up through the dirt and putting on new leaves. I recently discovered 3 beautiful easy~to~use trends in spring home decor that deserve looking at.
I always think of March as a transition month, a passage from winter to spring, the time to shake off winter's blanket and move, literally and figuratively, toward warmth, lightness, and color. This is the time when we are all itching to put away our winter pillows, throws, bedding, candles and other accessories (not to mention our sweaters and coats) and bring out the pastels, neutrals and whites.
Last year I went on a research trip to scope out a few of my favorite local home decor stores and see what was being displayed in spring home decor. I loved what I saw and it gave me some inspiration for moving forward. I specifically found 3 beautiful and easy~to~use trends in spring home decor. Now I have some ideas about how to put my best spring home decor foot forward. So far this year, I've seen many of the same trends. I'm seeing pinks and blues and greens with some navy popping in. So come with me as I show you the what's being offered again for this year's spring home decor.
3 Beautiful Easy-to-Use Trends in Spring Home Decor
My first stop was Mary Cates and Company, a longtime Dallas design store. This is where I have bought my beautiful glass Christmas balls and other holiday decor. Mary Cates and Company is primarily a design store, featuring furniture, bedding, and accessories and their spring home decor offered great inspiration. If a color or materia is current, but not trendy, Mary Cates will feature it.
Color
This bedding ensemble first attracted my attention. Notice the blue~green tones in the art, the pillows and the lamps. And there are little pops of pink mixed in. Lots of pattern in the pillows, duvet and in the lamps provides interest. I like that the painting would work in a contemporary or even a neutral, farmhouse setting to provide an awesome pop of soft color. What a contrast with the teal wrought iron headboard. But it all works so well together.
This bedding arrangement continued the blue theme, but now it's definitely leaning in a darker, almost navy direction. Again, different patterns ~ stripes, floral, and almost ikat feel in the artwork. Not only is pattern on display, but all the different textures in the pillows. The large rectangle grain sack~looking pillow in the center has given me an idea what to do with and where to put my own grain sack linen.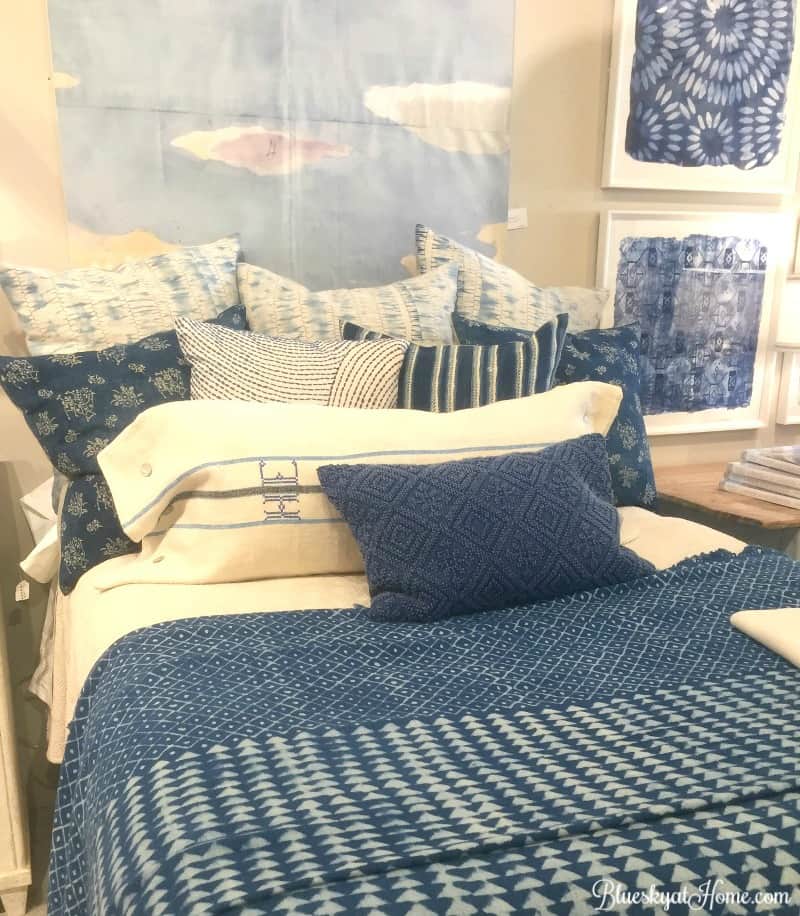 A couple of doors down from Mary Cates is Wisteria. We are so lucky that Wisteria's signature store is here in Dallas, as well as its outlet store. Another color for spring home decor was front and center ~ green. I love this bright shade shown here in pillows and throws. These green pillows were also displayed lounging on a black and white checked settee and it was very dramatic.
The fringe almost looks like rawhide, but it's not.
Texture and Materials
Everywhere from bedding to accessories, there seems to be a contrast in texture ~ from the softness of the bedding, pillows and throw above to shiny and slick. Glass in shades of blue and green is the accessory material of choice. I love these green glass bottles for their color and shape. They would be gorgeous on a coffee table, a mantle or bookcase. Here they are displayed on a mosaic table in what else? Blue and green, with just a touch of gold, which tells you that metallic is still here in this year's spring home decor.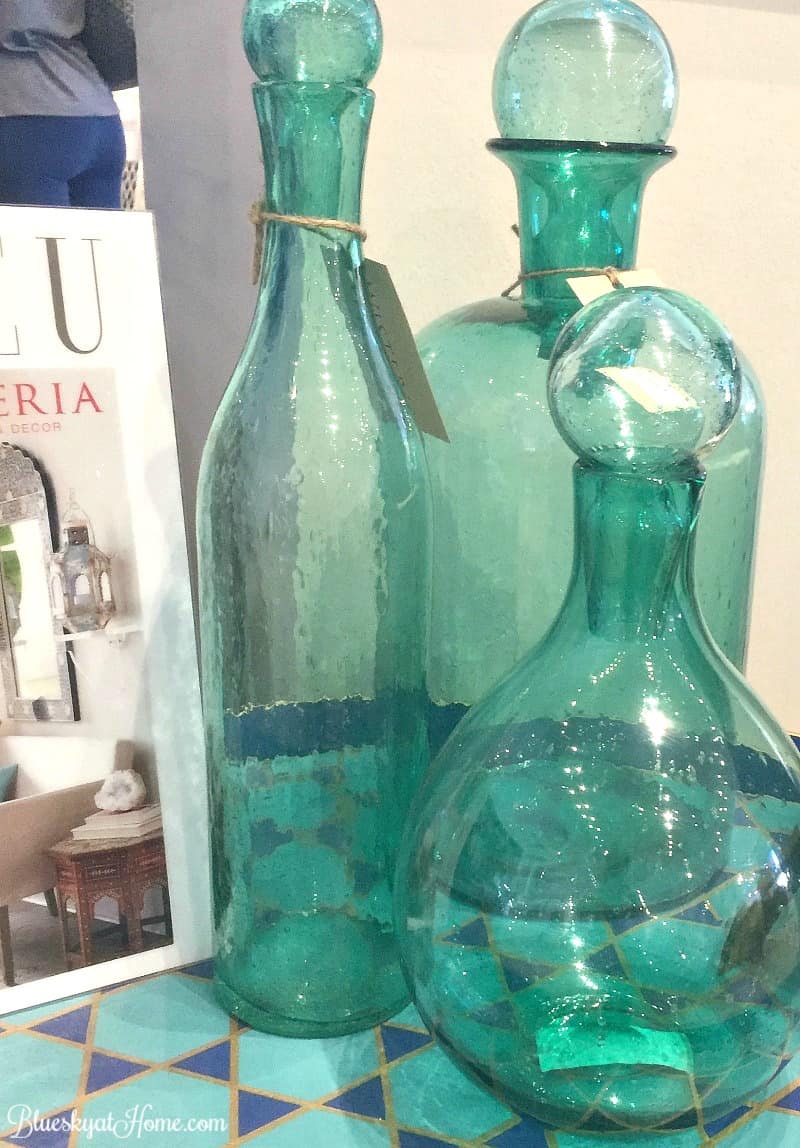 More large glass bottles, but now in shades of blue, sitting on an acrylic console table in another shade of green. Notice the blue sofa and the green card box. Different shades of blues and greens but in different textures ~ soft velvet on the sofa and smooth glass in the table and bottles.
Wow, aren't these glass balls in shades of blue and green gorgeous. Some are transparent and some are opaque, which just adds to their interest and beauty. A bowl or tray holding these glass balls would be stunning on a coffee table or dining room table. I'm thinking maybe I could use some of my Christmas glass balls in the same way.
Another use of blue and shine is this pair of acrylic lamps. I would love these in my bedroom, but they are a bit pricey for my budget. But I can tell you that I'm going to be looking for something similar at a lower price point. Did you notice the rustic wood chest the lamps are sitting on? That's farmhouse style for sure. I love how the 2 textures ~ glass and wood ~ work together.
At a stop at my closest Pier 1, I discovered this large beautiful mosaic~style bowl. I can see it on a coffee table by itself or filled with glass balls, wooden spools or burlap balls. It was sitting on a navy placemat. Remember the navy bed ensemble from Mary Cates? Navy is still in play for 2018.
Faux Flowers
Everywhere I went flowers are displayed for spring home decor. Not not real flowers ~ faux flowers. I've never been a fan of artificial flowers because well, they look artificial. But today's faux (that's what we call them now.) flowers look so real ~ the colors and materials are so lifelike. I've mentioned the gorgeous faux peonies and hydrangea that I bought at Pier 1 that I used in my office .
I fell in love with this peony wreath at Wisteria. Wouldn't that beautiful on your front door?
Flowers in vases were abundant.
That's a quick view of some spring home decor trends that I saw. I hope you have some ideas for your own spring home decor from my little shopping excursion. Color, texture and materials, along with high~quality faux colors, are definitely as the top of the list. I used them all in our home last spring and I plan to use them again this year. I went back to shop for real after taking inventory of what I had before giving our home a punch of spring home decor. Next week I'll show you how I used these 3 trends in my own spring home decor.