How to Style a Fall Mantel with DIY Projects
The weather outside has finally turned cool. The leaves have started to fall in a mixture of reds, oranges, and yellows. If you are ready to cozy up before the fireplace, then I'm excited to share how to style a fall mantel with with DIY projects.
One of my absolute favorite things about this season is the opportunity to transform our homes into warm and inviting havens that celebrate all the beauty of autumn. What better place to start than with your mantel?
We'll style our fall mantel decor with some DIY projects that'll not only add a touch of seasonal charm but also allow your creative side to shine.
Why all the fuss about a mantel? The mantel is more than just a shelf above your fireplace; it's the heart of your living room, the focal point that draws everyone's attention.
It's where we gather, where we sip our hot chocolate, where we showcase our most cherished decorations.

During the fall, it's the perfect canvas for displaying the warm and vibrant colors of the season. So, having a beautifully styled fall mantel isn't just a nice-to-have; it's a must-do to infuse your home with that unmistakable autumn magic.
Today, I'm walking you through how I styled our fall mantel with some fantastic DIY projects, both new and reused.

We're talking about bright and cheerful DIY pumpkins, delicate paper leaves on branches, and a gorgeous leaf garland that will make your mantel the talk of the town.
Prepare to get creative styling your fall mantel.
As you will see, I used several DIY projects in this fall mantel. Reusing and recyling decorative accessories and previously-made DIY home decor projects is a great way to save money and make good use of these items.
Reusing DIY Projects to Style this Fall Mantel
The first thing we did to style this fall mantel was remove our large abstract painting on canvas. This had been our very simple mantel for the last part of the summer.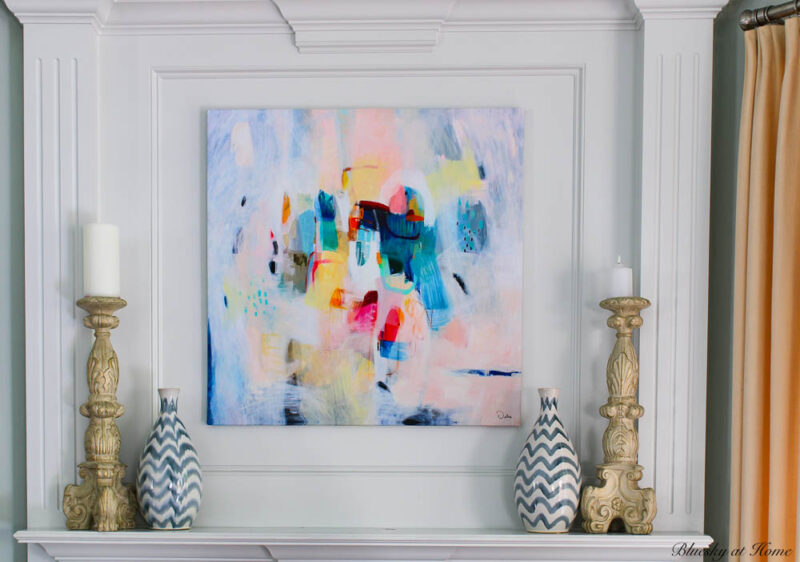 We brought in our natural wood-framed large mirror from an upstairs guest room. Moving items from room to room is one decorating solution.
I began the fall decor with a set of three wood block pumpkins that I painted and stenciled. This was a fun project and I loved bringing in the colorful and whismical pumpkins.
For a trial, I attached two of the paper leaves that I've been making.
The next step was to balance the wood pumpkins with a set of three decoupaged pumpkins that I made with fabric scraps. The only problem was that I couldn't find the largest of the three pumpkins. Although we have been through all our fall, Halloween, and Thanksgiving boxes, I'm sure it will turn up when fall is over.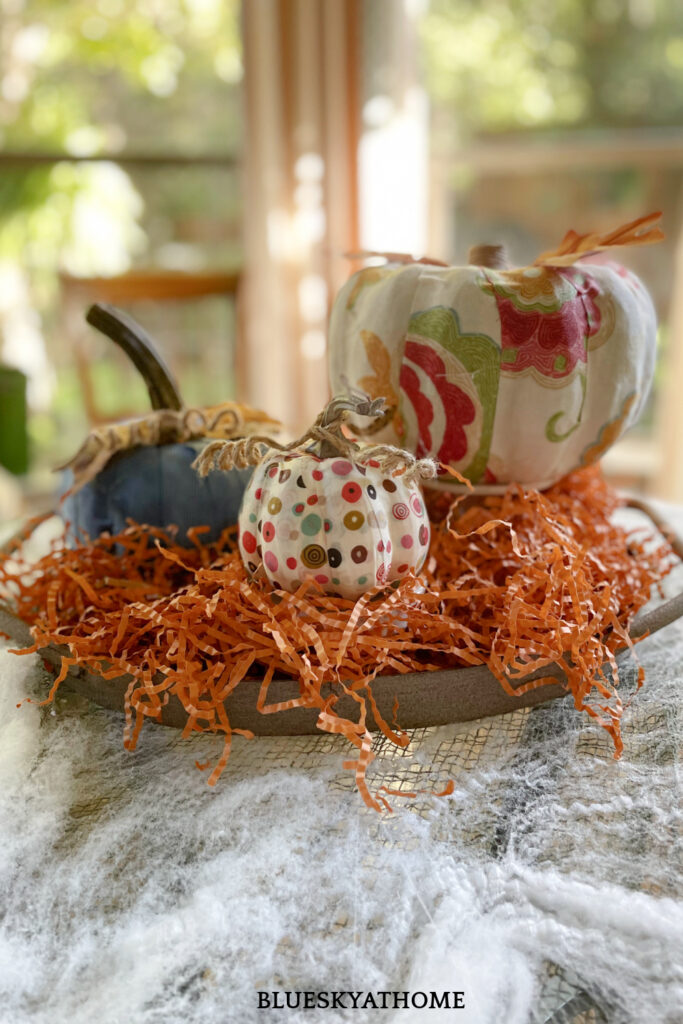 To fill in for the large fabric pumpkins, I used one of the new yarn pumpkins I've been making. I'll share that DIY project soon. I love this new method and ill be sharing it soon.
As you will see, I'm working from the center of the mantel to the outer edges.
I do like the combination of fall colors. It's cheerful and in keeping with the season.
Next, I wanted to use something a little rustic. My two metal egg baskets would be perfect to hold a collection of fall twig balls and small balls. I bought the egg baskets several years ago at the Roundtop Antique Market.
As you can see, I'm using a balanced and mostly symmetrical approach to this mantel.
At this point, I decided to change out one small fabric pumpkin for another new yarn pumpkin in navy. I'm loving making these yarn pumpkins and I can't wait to share the project with you.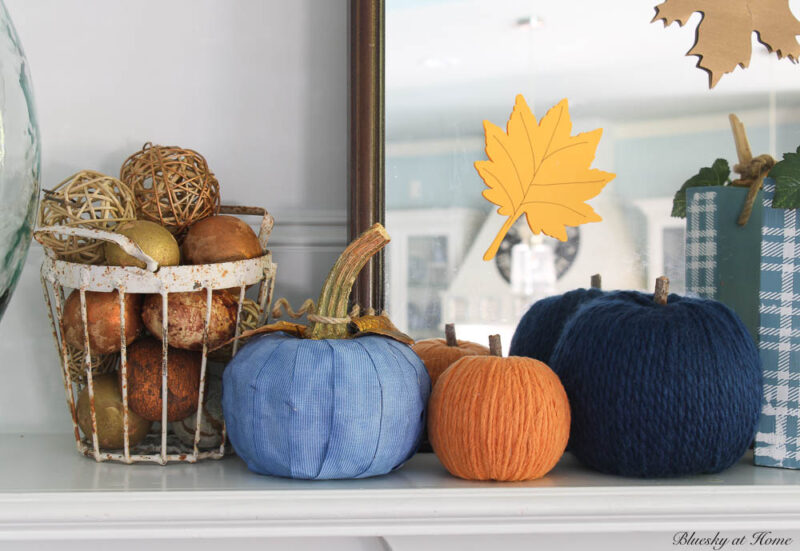 Adding Glass Jars with Leaf Branches
Mantels, being long and flat surfaces, need what we call an endcap – items at both ends of the mantel to enclose the decor.
A few weeks ago at Home Goods, I found these two large glass vases. This is one item that we do not have in our home decor accessories "pantry".
Since our mantel and fireplace are so tall, these tall jars would be a great addition. As you can see, the price was too good to pass up.
The taller one is about 2 1/2 feet tall and the shorter one is about 2 feet.
How would I use these to style our fall mantel?
I had made paper leaves on my Cricut for the fall wreath in our entry. Why not make more paper leaves and use them to make a "fall tree"?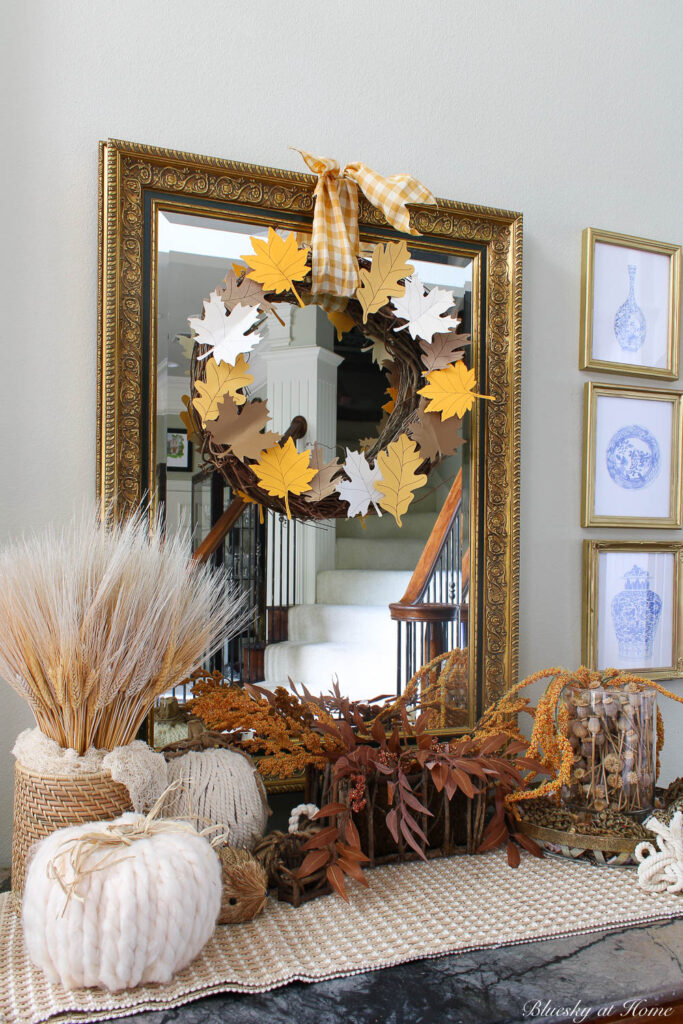 I wanted to create an abstract, whimsical version of a fall tree.
The glass jars finish the mantel and provide more color and much-needed height. Making the fall trees was easy and fun. DIY tutorial will come soon.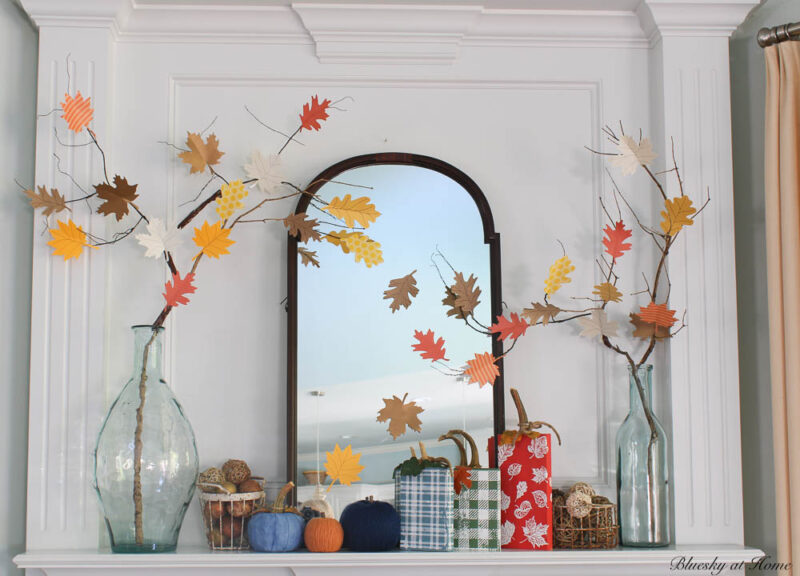 I also added more leves to the mirror in a falling pattern.
Finishing Touch for our Fall Mantel
After stepping back from the mantel for a good look I decided more color was needed. I made more paper leaves with my Cricut to add that final touch of color and pattern. Another DIY fall paper leaf project to share.
Since my DIY pumpkin projects were already made, I made the paper leaf projects as I went along. Styling the fall mantel actually didn't take that long. I think it will transition to Thanksgiving easily.
Love decorating your mantel? Want a fun, festive and colorful look? Then PIN this mantel styling to get all the ideas. Check our my Pinterest Fall Mantel Board for more ideas.
Look out for all the DIY projects used in this fall mantel coming soon.