How to Use Paper Leaves in Fall Decor
As the leaves outside change their colors, why not bring that warm and cozy autumnal feeling indoors? One of the most iconic symbols of fall, leaves are perfect to use in this season. I'll show you how to use paper leaves in in fall decor.
I have five delightful projects that will help you infuse your home with the spirit of fall. We'll share how to craft leaves in various shapes and colors, both solid and patterned.
I think you will have a fun and creative journey into the world of fall home decor using paper leaves. So, grab your crafting supplies, and let's get started on these charming fall decorations using paper leaves!
I've created these paper leaf projects for use in the dining room, the entry, and the living room. But you can mix them up to fit your needs.
5 Projects for Using Paper Leaves in Fall Decor
Today is Creative Craft Blog Hop where a group of DIY bloggers share some amazing projects to inspire you. If you are joining me from Niki of Life as a Leo Wife, then I'm so happy you are here. The complete list of crafters is at the end of the post.
But first, join me as I share 5 ways that you can use DIY paper leaves in your fall home decor.
Supplies for Making Paper Leaves
This post contains affiliate links to products used in the creation of this project. If you should order any item from this site, I may receive compensation, but you do not pay a penny more. Your purchase is greatly appreciated as it helps support the continued publication of this site.
The supply list you need for making paper leaves is short and sweet. Since I'm sharing five different ways to use paper leaves, this list covers supplies for all five options. A larger list (affiliate links) is at the end of the post.
I'll include specific supplies for each paper leaf project.
cardstock, scrapbook paper or craft paper in assorted fall colors and patterns
adhesive or double-stick tape
glue gun and glue sticks
fine-medium tip marker in dark brown
small sharp scissors
Cricut cutting machine (with spatula – part of Cricut accessories; set below in shopping list)
Making Your Paper Leaves with a Cricut
First, I know that not everyone has a Cricut or other cutting machine. I love using my Cricut for paper projects because it makes the job of choosing, sizing, and cutting paper so easy and efficient. It also speeds up the process considerably and is easier on your hands if that's a consideration for you.
You can find fall leaf images online, in coloring books or other resources. If that is the route you use to make these fall leaves, you will a pattern, pencil and small sharp scissors for cutting out each leaf.
TIP: Search on Google: I used "images of fall leaves clip art" and came up with dozens of leaf images. Just make sure you can copy them.
If you do have a Cricut, then let's make some leaves.
FYI: I subscribe to Cricut Design Space for $10/month. It is the most cost-effective way to access all of the features and designs on the platform.
NOTE: There are different ways you can go about this process, but I think this is about as easy as it gets.
Step 1 – In Cricut Design Space, click on NEW PROJECT in the upper right-hand corner.
Step 2 – On the left menu bar, click on IMAGES. Enter FALL LEAVES in the search bar.
There will be thousands of options. Choose ones that are simple outlines and don't have cutouts. You want a solid leaf for these projects. Don't worry about the colors. That's determined by the paper you use.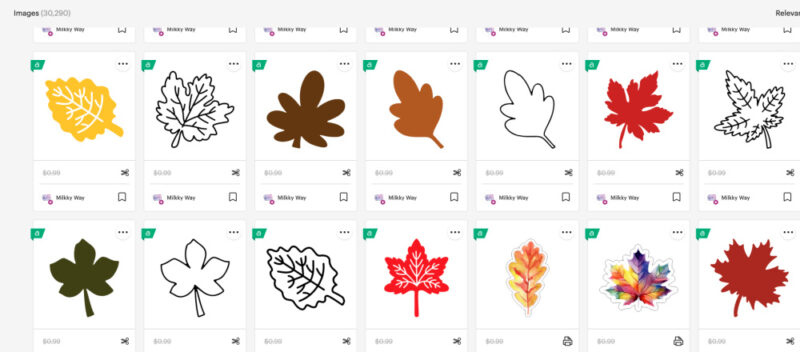 Step 4 – Choose 3 – 5 different leaf patterns. This will give you variety for your projects. I chose these three leaf shapes.
Step 5 – For each leaf, size it to your choice. I made mine about 5 X 5-inches. Then duplicate the leaf. I made four leaves per page.
Step 6 – Follow the Cricut prompts to cut out your leaves. I should have used a darker color paper for this example.
For my first leaf, I used brown craft paper, which is lighter-weight paper. It curls up which I like. Then I used cardstock in solid colors (already in my paper stash) to make the other leaf shapes.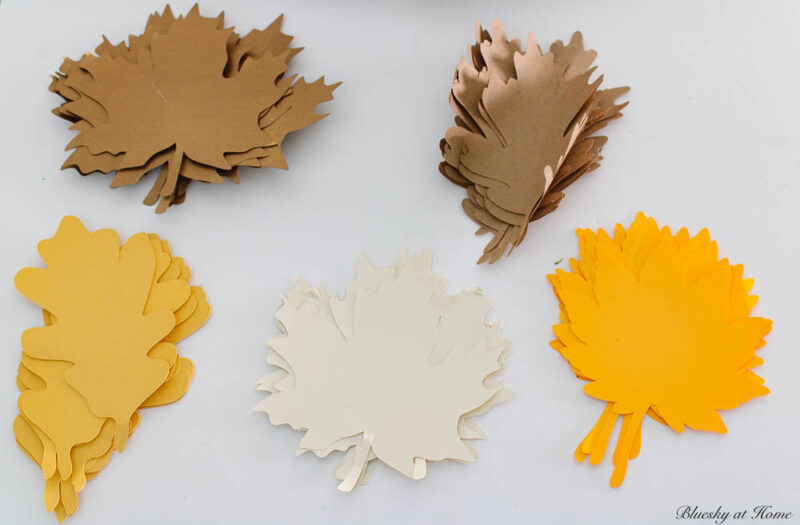 Step 7 – Optional – Use your dark brown marker to make veins in the leaves.
I made eight each of the four cardstock leaves (32) and sixteen of the craft paper leaves for a total of 48 leaves to use on projects.
Now, you are ready to use your leaves in different projects?
Project 1 – Fall Wreath with Paper Leaves
My first project with leaves was to create a stunning fall wreath that welcomes guests with a burst of autumn colors. I made this easy new wreath for our front entry.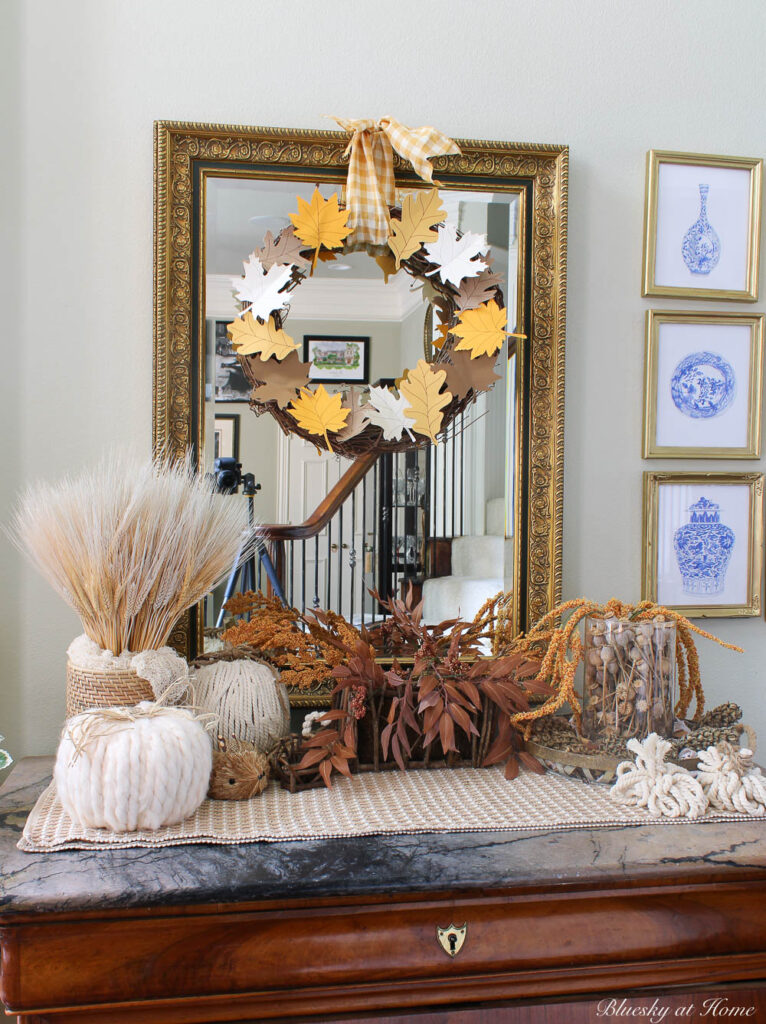 Supplies for the Paper Leaf Wreath
wreath form – grapevine, straw or styrofoam
adhesive
ribbon for hanging wreath
Making your Paper Leaf Wreath
Step 1 – Decide on your wreath base. I wanted a rustic, natural look so I used my favorite grapevine wreath. It still had some moss and wired twine wrapped around it from the last time I used it. I removed those things first.
Step 2 – Use your adhesive to attach the paper leaves to the wreath. I used a random pattern of my five leaf patterns and put them fairly close together.
NOTE: I did not want to use a glue gun because I wanted to reuse the wreath for future seasonal decor. I started out using glue dots on the back of the leaves.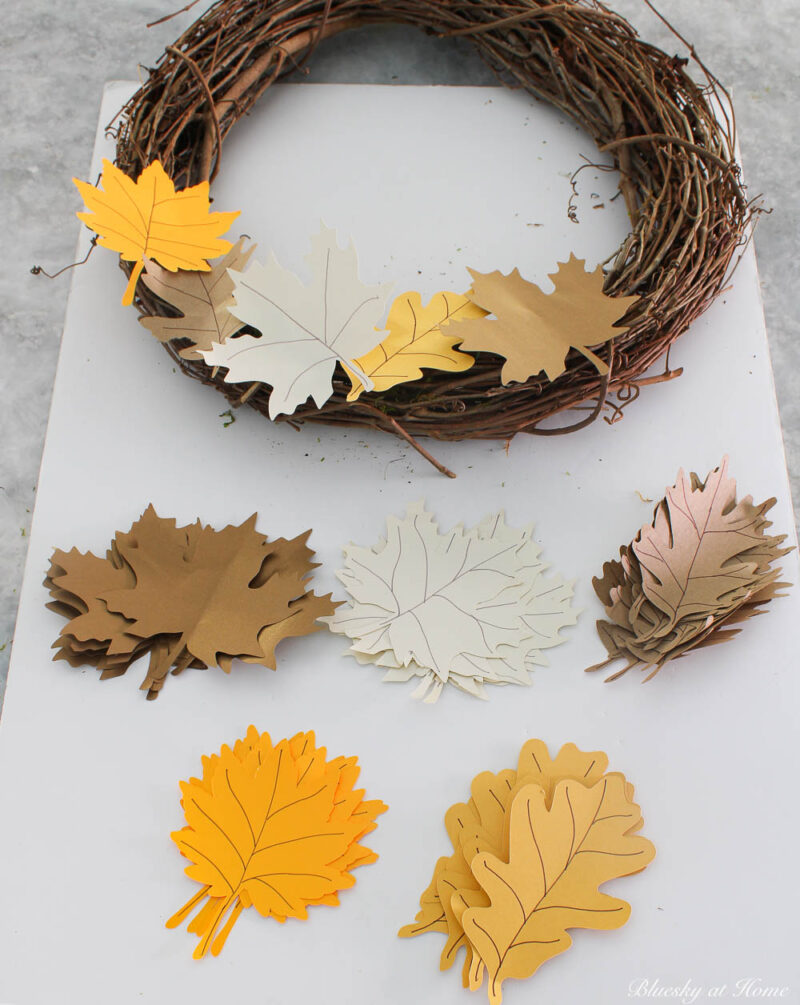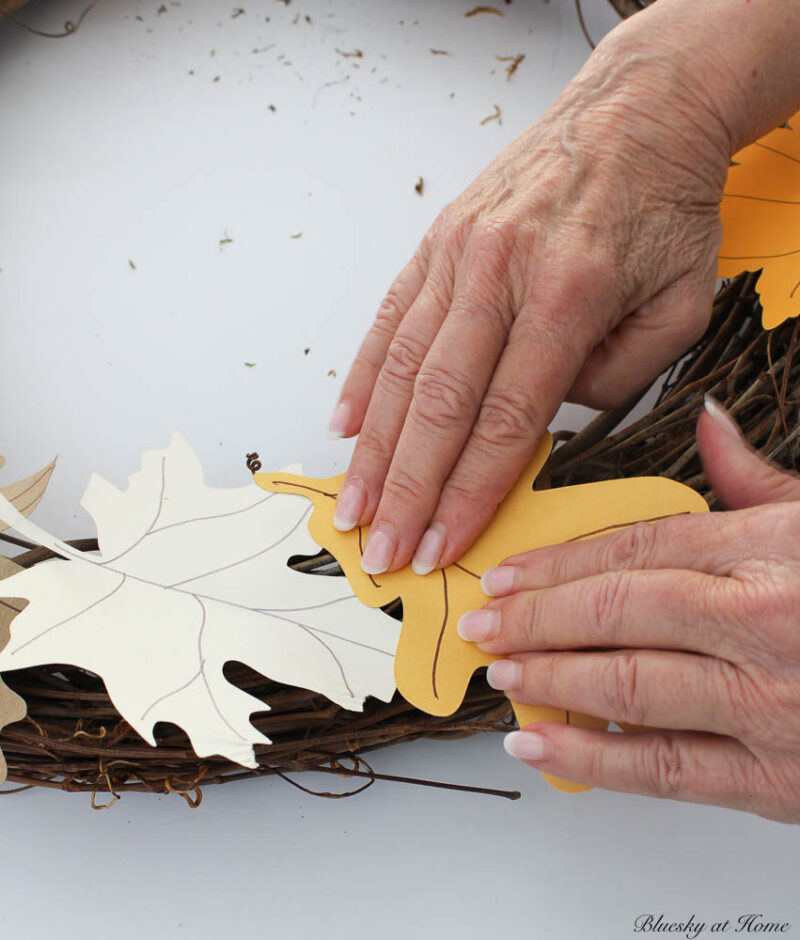 Unfortunately, the leaves didn't stay put with the glue dots. I switched to using double-stick tape and that worked great.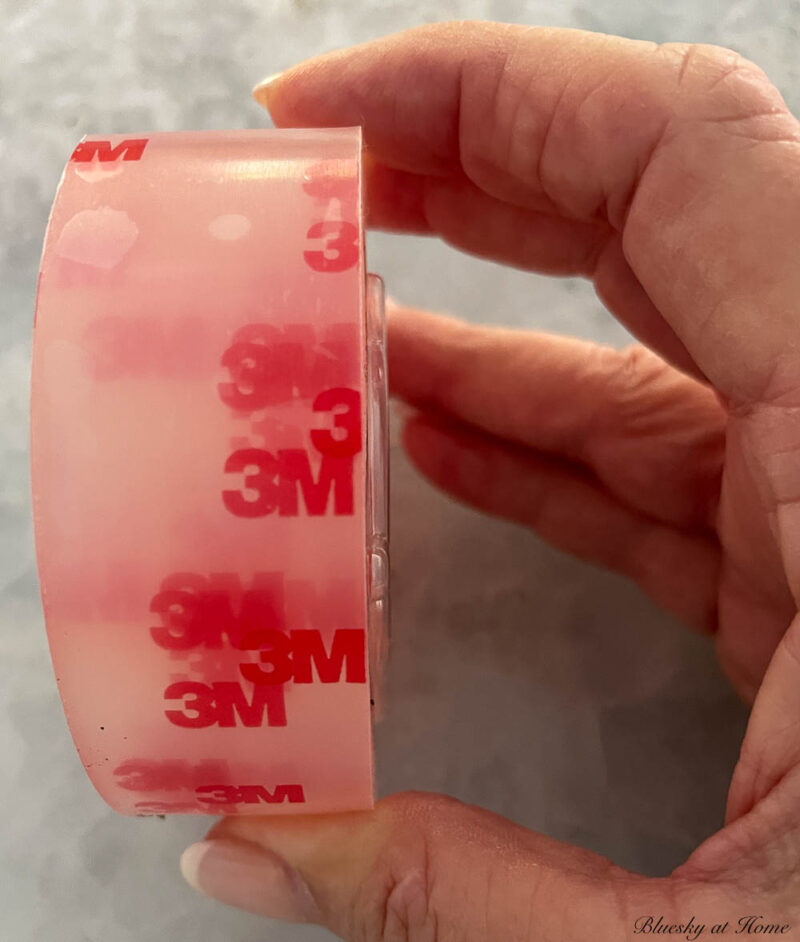 FYI – I used 14 leaves to cover my wreath. I had plenty left over for other projects.
Step 3 – Hang Your Wreath with Ribbon
I had a piece of leftover gold and white gingham ribbon. I didn't have enough for a bow so I just tied it at the top. We have a little nail in the top of our mirror frame just for wreaths or other seasonal decorations.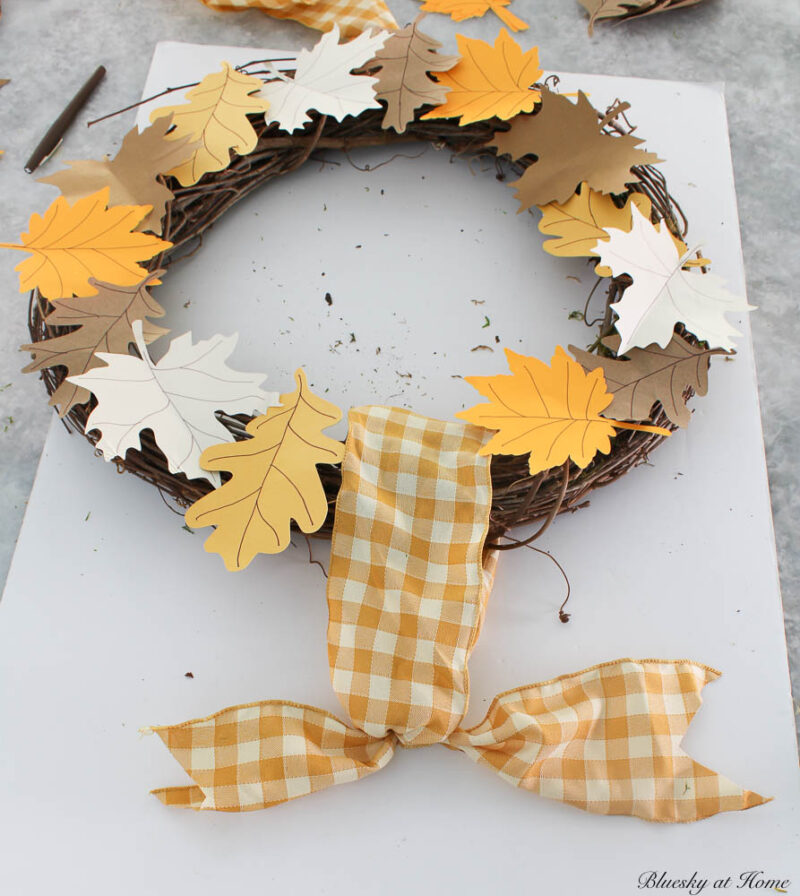 The wreath has been up for a couple of weeks and all the leaves are staying put and it looks great. This paper leaf wreath provides an inviting touch of fall in our entry. You could hang a paper leaf wreath anywhere in your home!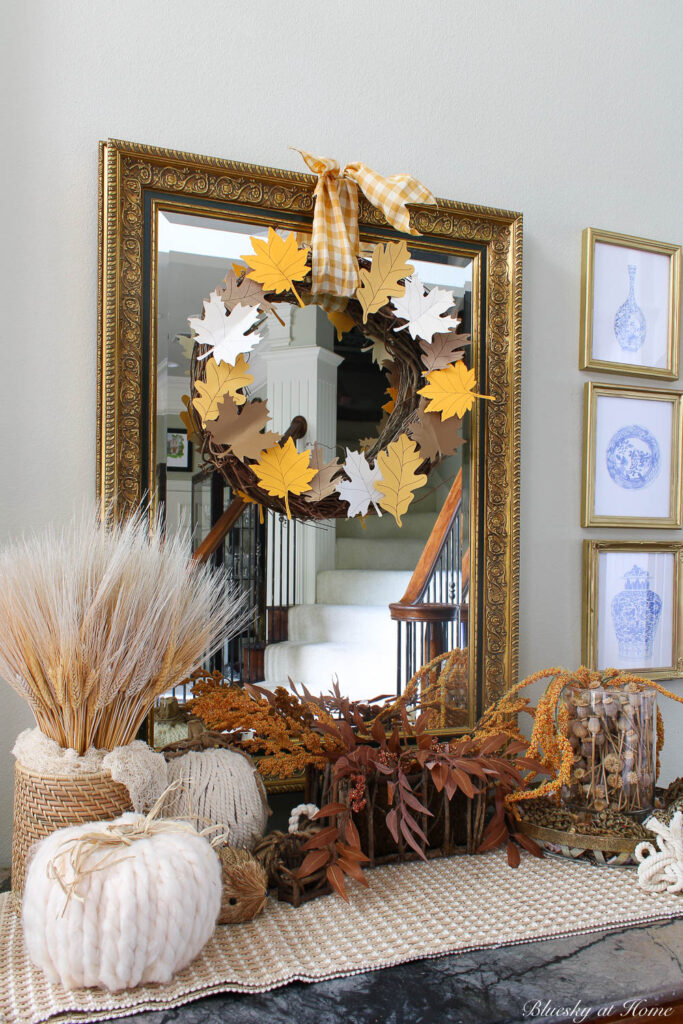 Project 2 – Fall Tree with Paper Leaves
This project using paper leaves was inspired when I found these 2 large glass jars at Home Goods.
The taller one is about 2 1/2 feet and the shorter one is about 2 feet. They would be perfect on our very tall fireplace and mantel.
Unfortunately, I couldn't find the ones I bought at HomeGoods on their website, but I did find this pretty set of 2 decorative jars.
Making Your Tree Branch
My idea was to make a magical-looking fall tree with my extra paper leaves.
Step 1 – You can use real branches from your yard or faux branches. I used a combination.
Because of the height of these jars, I would need tall branches as the base of my tree. I found two in the creekbed below our backyard.
With a bit of clipping and trimming, they became a perfect fit.
Step 2 – To make the top of my tree fuller and have more places to put the leaves, I attached faux bendable branches that I bought last year. I had one package left over. There are 3 stems in this package.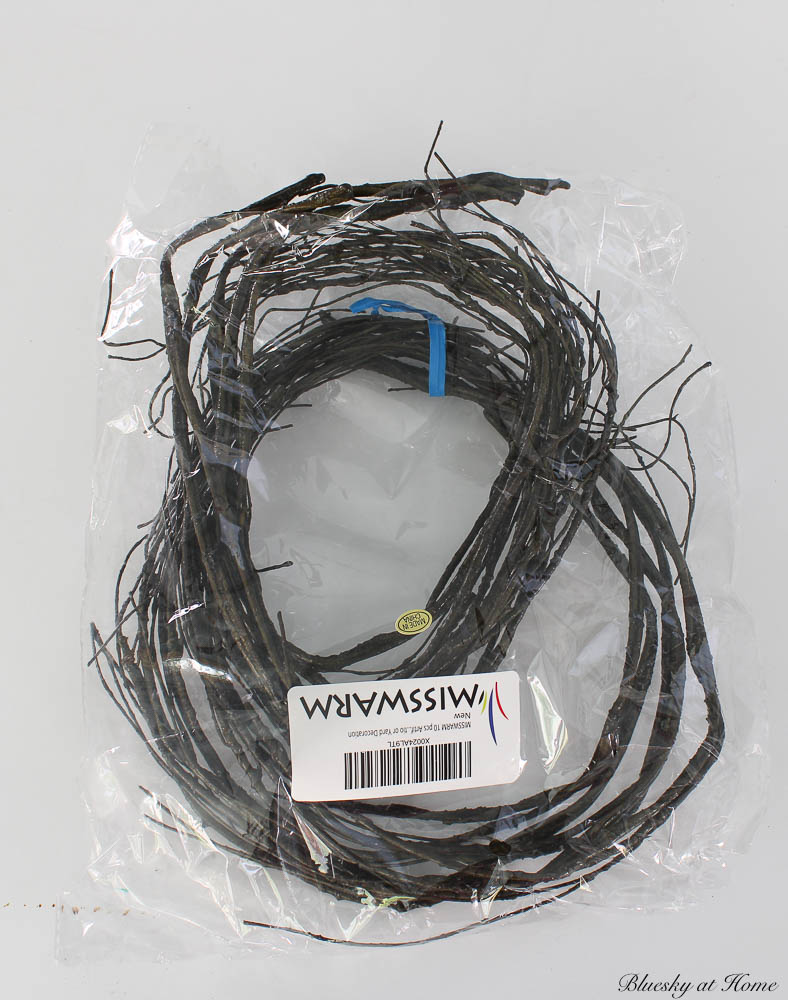 Unwound the faux branches and spread each branch and stem apart.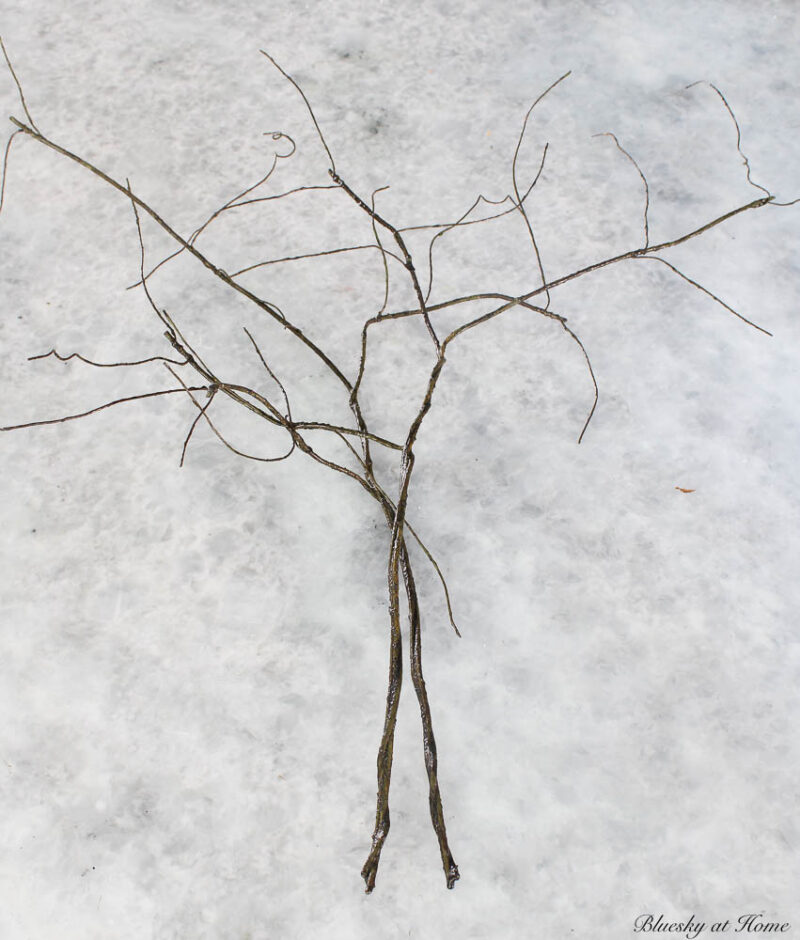 Step 3 – Attach your faux stems to the real branches.
I thought duct tape or painter's tape would work, but I didn't think blue or green or silver would look good on my fall tree so I ordered brown duct tape and it blended in very well. I have enough to duct tape the Titanic.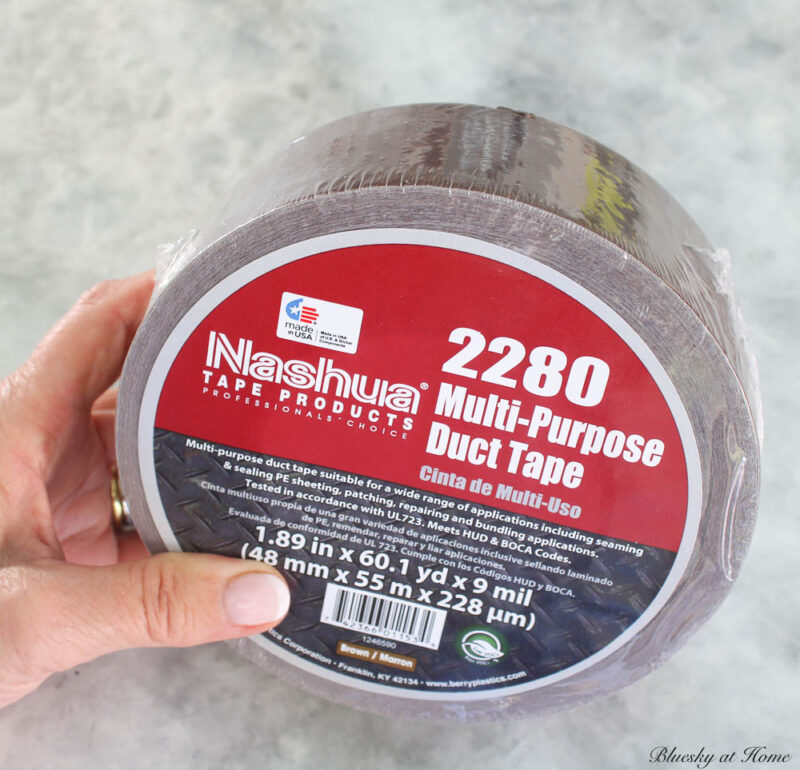 Decide where you want to connect the faux branches to the real branches. Cut off 6-inch pieces of the duct tape Wrap it tightly around around the stems where they come together. I needed multiple pieces of duct tape because each "attachment" was about 6 inches long.
FYI: I used one faux stem on one of the trees and two stems on the other.
The duct tape was very visible up close, but once the jars were on the mantel, you don't notice it at all.
Step 4 – Adjust the bendable faux leaves so that one side of your branch is flat (up against the fireplace).
Attaching Your Paper Leaves
I had plenty of solid leaves left over from the fall wreath, but for the leaf tree, I wanted more variety, color and pattern. I drove to Joann and found scrapbook paper in some cute fall colors and patterns. All the cardstock and scrapbook papers were on sale for 60% off.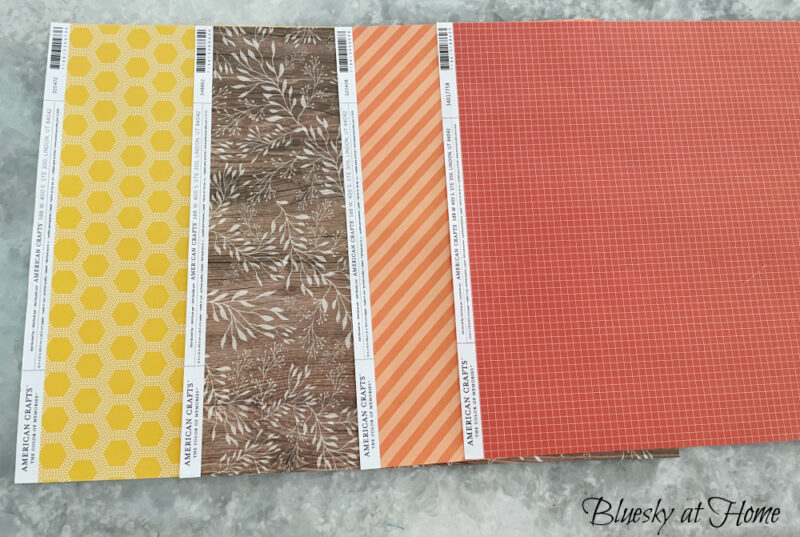 I thought these leaves would give my tree a more whimsical look. I ended up not using the brown leaf pattern.
Then I cut the three remaining papers in the same leaf patterns as the solid colors.
To attach the leaves to the branches, I used my Ryobi hot glue gun. This part was really easy. I used a random pattern of leaves on the branches, mixing the solids and the patterns.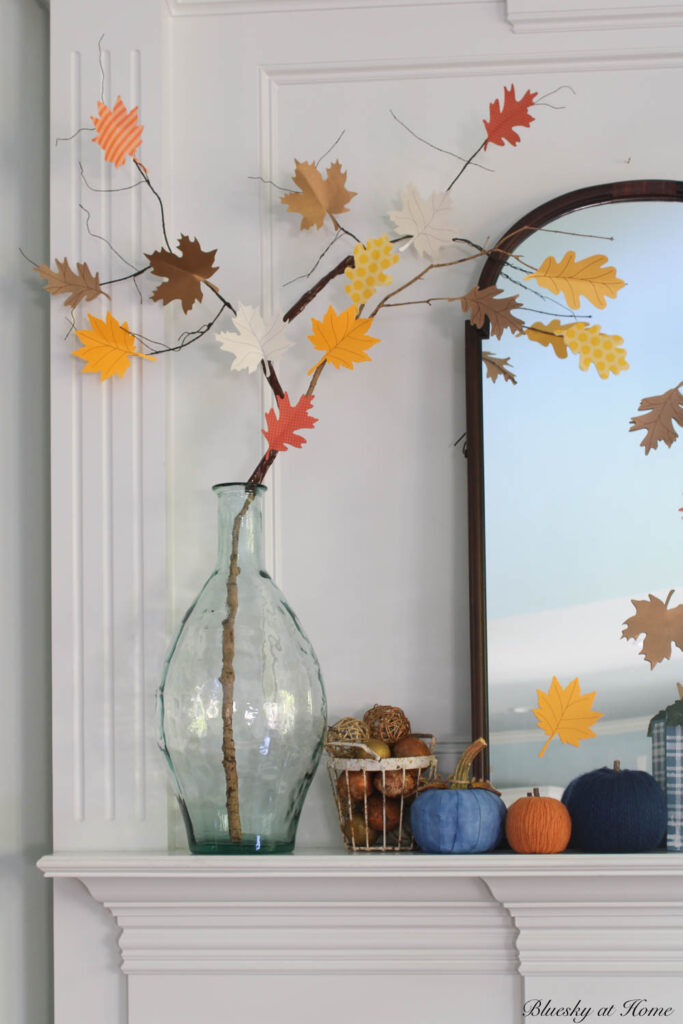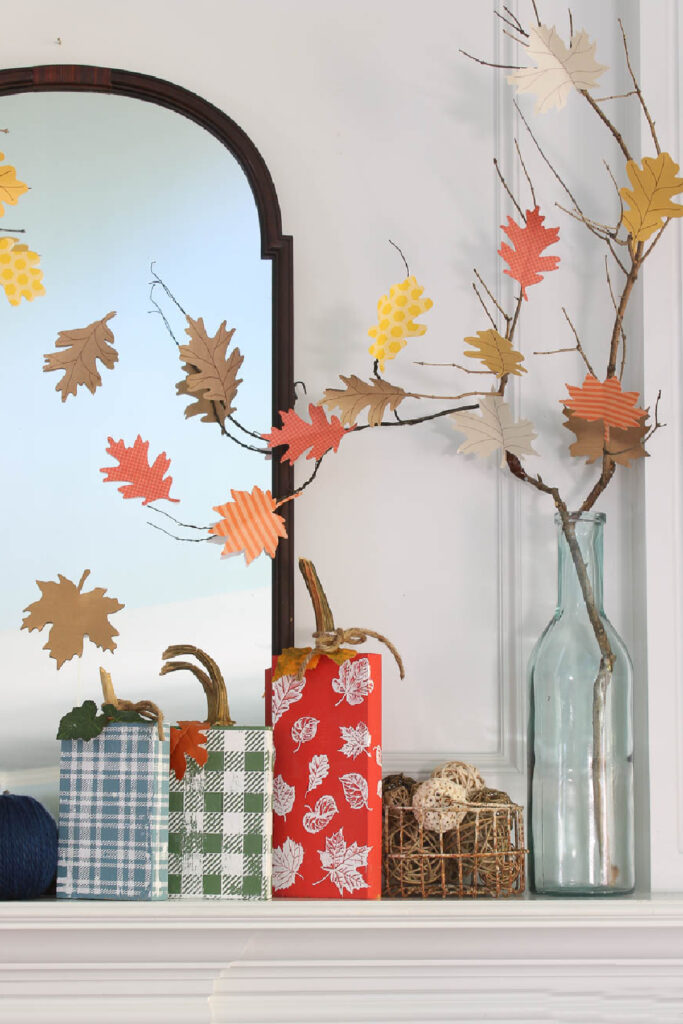 I absolutely loved how the paper leaf tree branches came out. They provide the height and color contrast against the white fireplace that is so needed. They are also a great focal point. It was a fun project that was easy, too.
Project 3 – Fall Leaves on the Mirror
Falling leaves are great to add to mirrors, walls, doors and more. I had plenty of leaves so I attached several to the large mirror on the mantel.
For this project, the glue dots worked perfectly. This was the easiest and fastest project. Do you think I need more leaves on the mirror?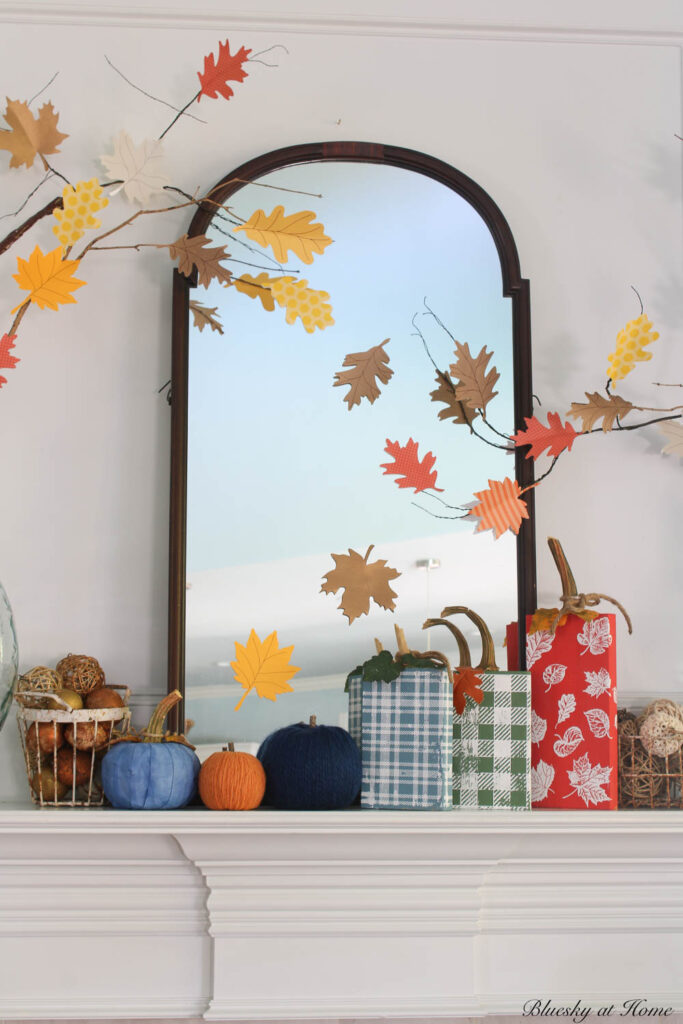 Project 4 – Fall Paper Leaf Garland
After viewing the mantel, I decided it wasn't quite finished. More color and pattern at the base of the mantel would give the mantel a truly finished look. With plenty of leaves left, I thought why not make a garland?
Originally, I thought I would hot glue the leaves to a piece of jute twine. Then I remembered a bunch of cute little clothes pins in a kitchen drawer. I have had these for years and never used them. Why not now?
This approach would also allow me to remove the leaves and reuse them in another way later on.
Step 1 – I measured the width of our mantel and added several inches and cut my jute twine.
Step 2 – I laid the twine on our kitchen counter and attached the leaves to the twine with the clothes pins, spacing them evenly across the twine.
Step 3 – I tied each end of the twine to one of the egg baskets on the mantel. Then I adjusted the leaves for even spacing. It was so easy and I'm so glad I had plenty of leaves.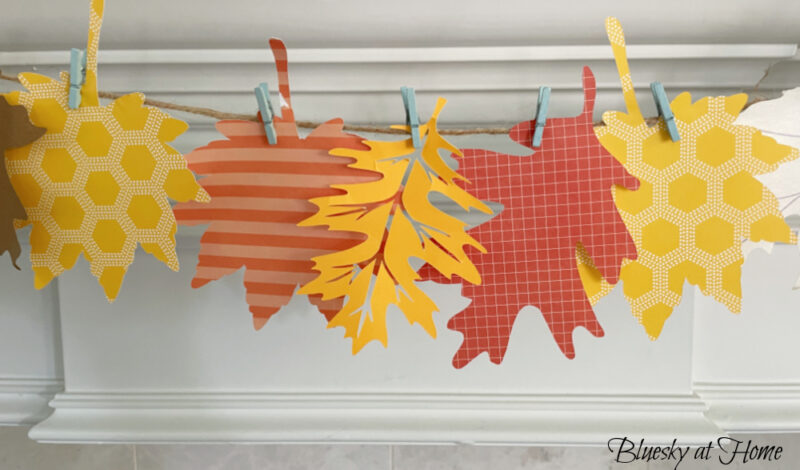 I did have one more leaf shape that I had made, but not used. It had cut outs and that's why I didn't use it in the previous projects.
You could also adjust the length of the garland and hang it on a staircase, across a cabinet or hutch or on a wall. Wherever you hang it, enjoy the whimsical fall atmosphere it creates!
Project 5 – Paper Leaf Placecards
Tomorrow I'm hosting several neighbors over for a casual lunch. Since our table was set for a fall tablescape blog hop, I didn't want it to go to waste.
I love to add place cards to a tablescape. They give you an opportunity to repeat a theme or color on your table. Guests can take them home if they like.
Step 1 – I picked a leaf design for this project and cut out six leaves using the same process described at the beginning of this post.
Step 2 – I could have just written my guests' names on the leaves, but that wouldn't be as much fun as using my Cricut Air Explore. I picked out a font, sized it, and typed in the six names (only 5 show here).
Step 3 – I had several sheets of metallic-colored vinyl. I picked a bronze shade for my place cards. I followed the Cricut process to cut out the names for the place cards.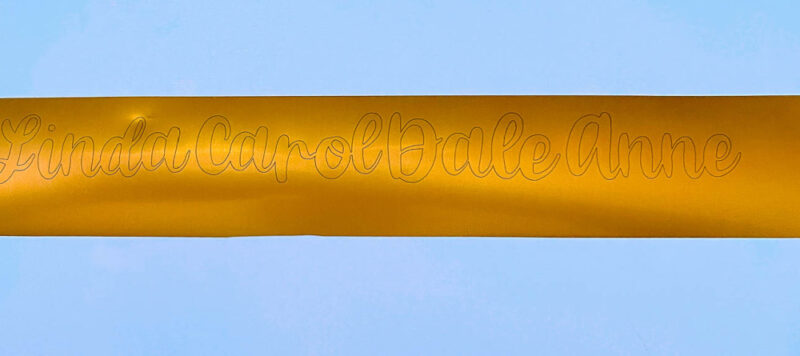 Step 4 – Remove the vinyl, leaving the names behind. Use the Cricut weeder to remove the pieces in letters like a, A, o, D, l, etc.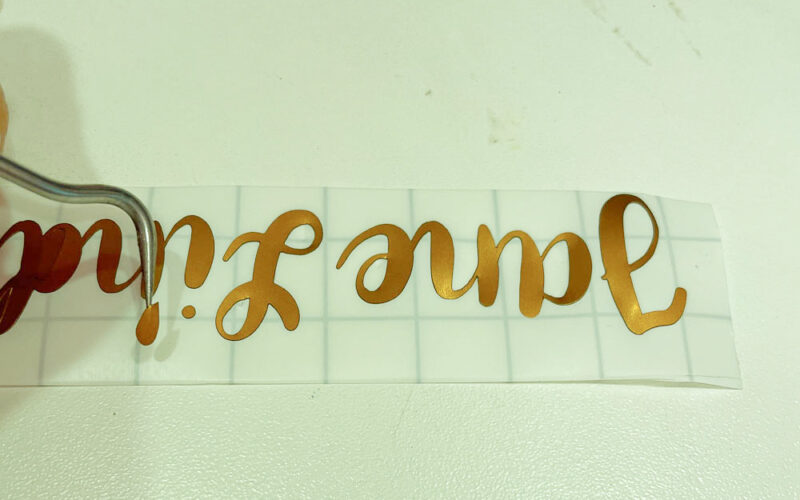 Step 5 – Cover the vinyl names with transfer tape.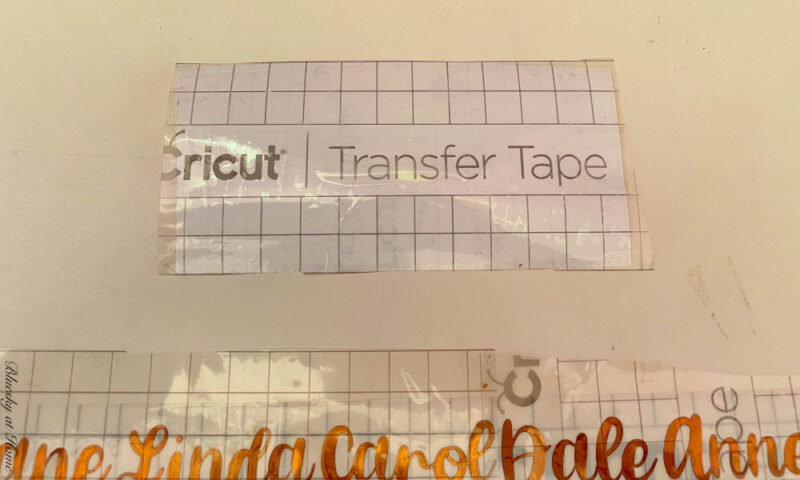 Step 6 – Cut the names apart.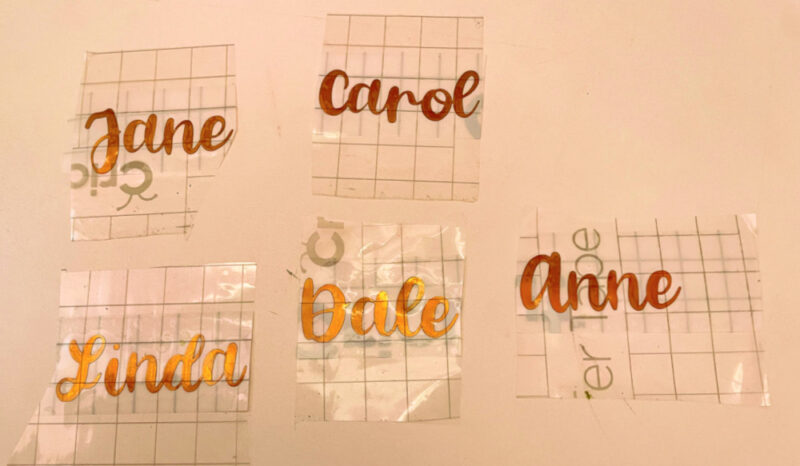 Step 8 – Remove the vinyl backing and position the vinyl name on the leaf. Burnish the vinyl and transfer tape with a large Cricut spatula. This step makes sure the vinyl comes off the transfer tape and sticks to the paper.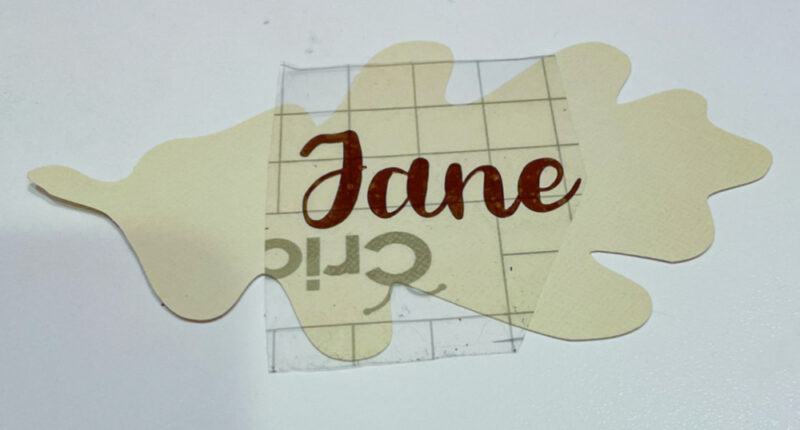 Step 9 – Peel off the transfer tape from the vinyl. Repeat with the other paper leaf place cards.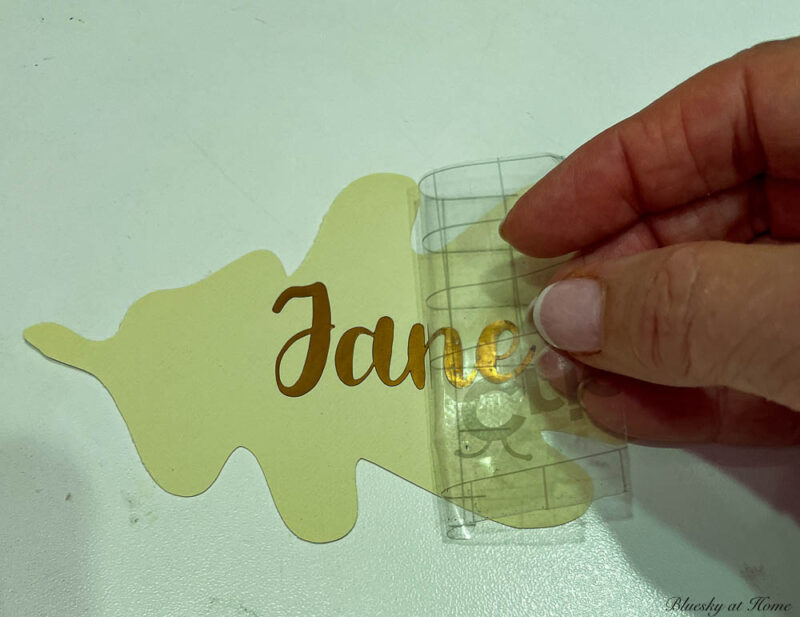 Step 10 – To make the place cards stand up, I used wine corks (which we have a big bowl of). I heated up my glue gun and placed a line of glue across the cork. Then I place the cork on the back of the paper leaves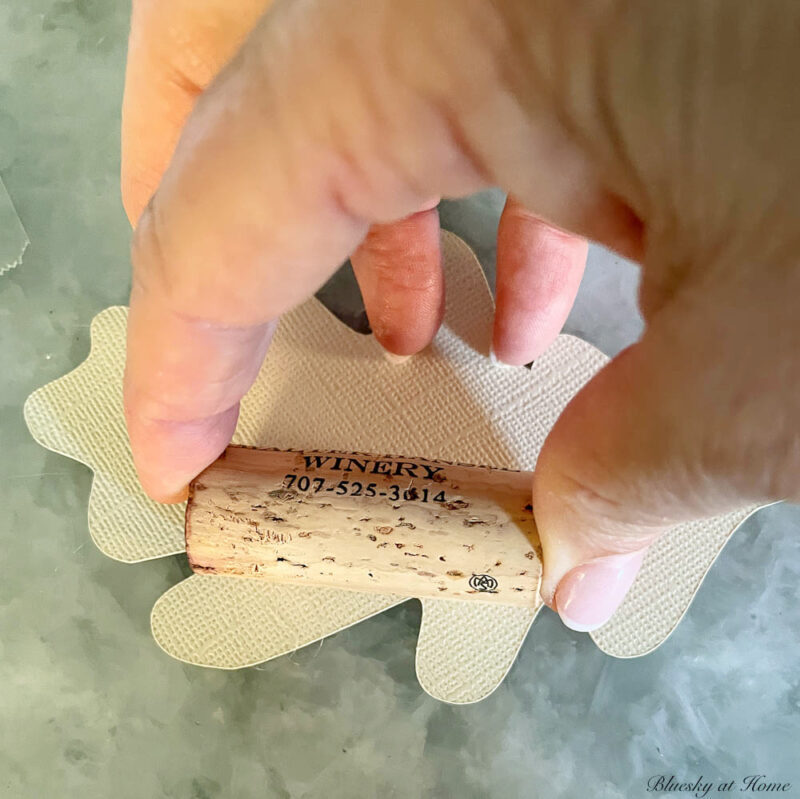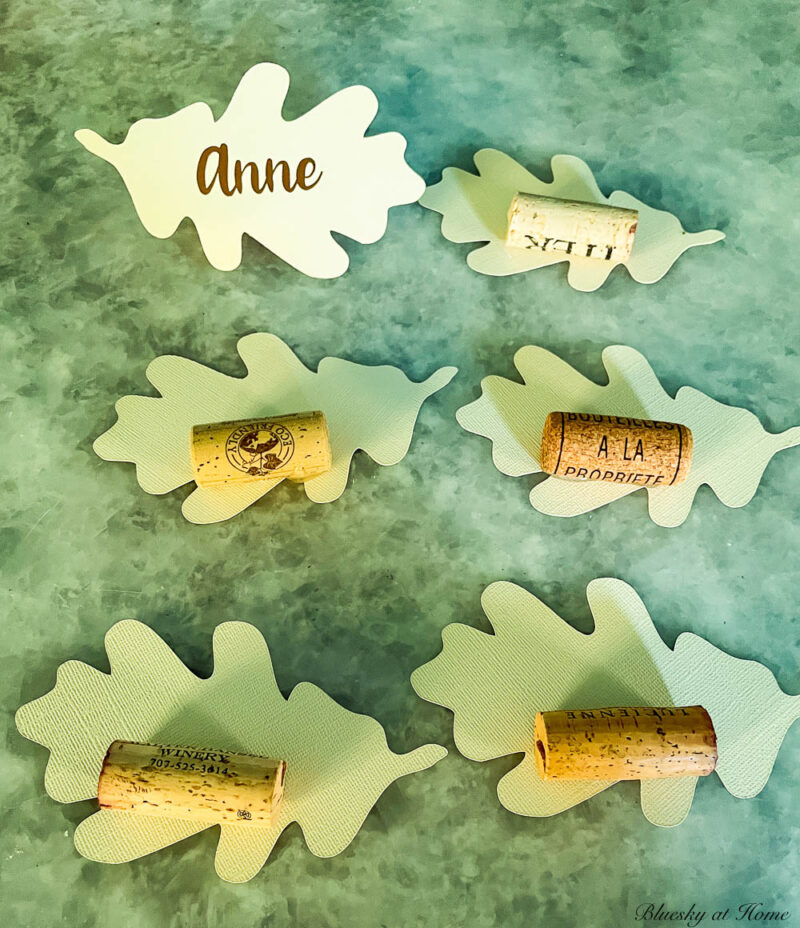 The final step was to put the place cards on the table. My table is now ready for my guests.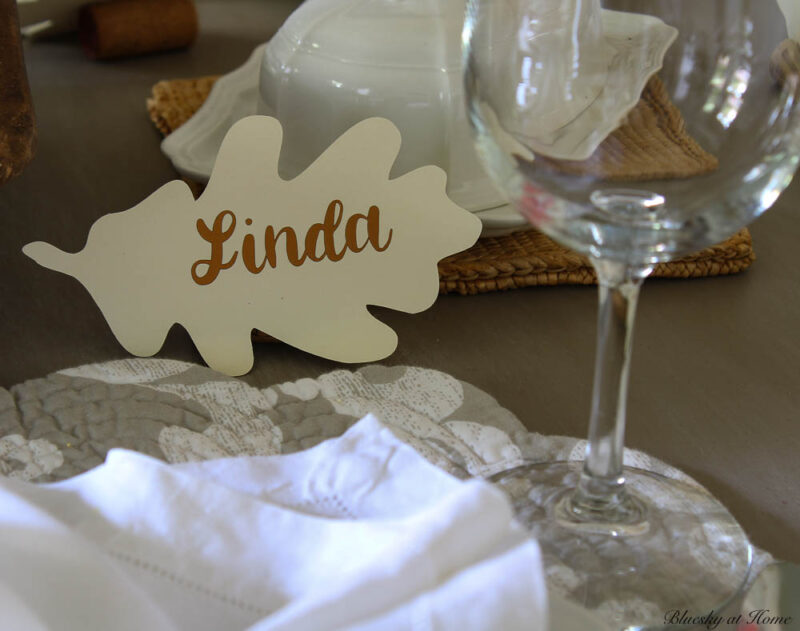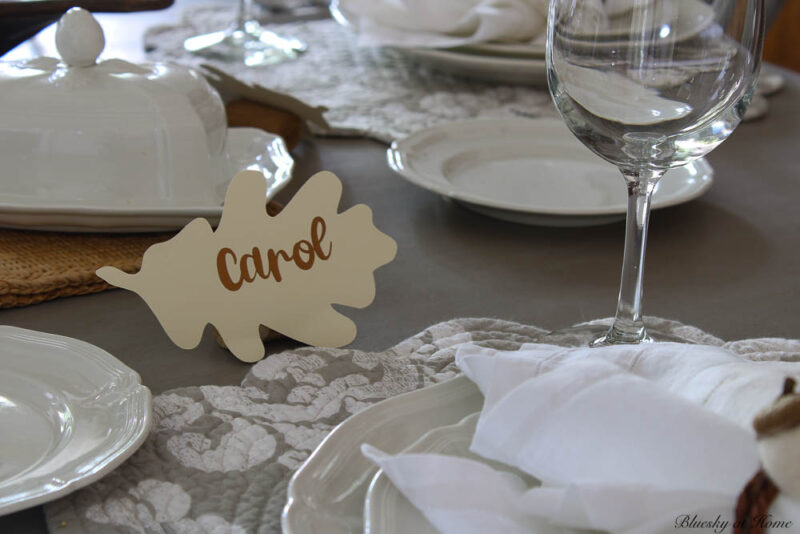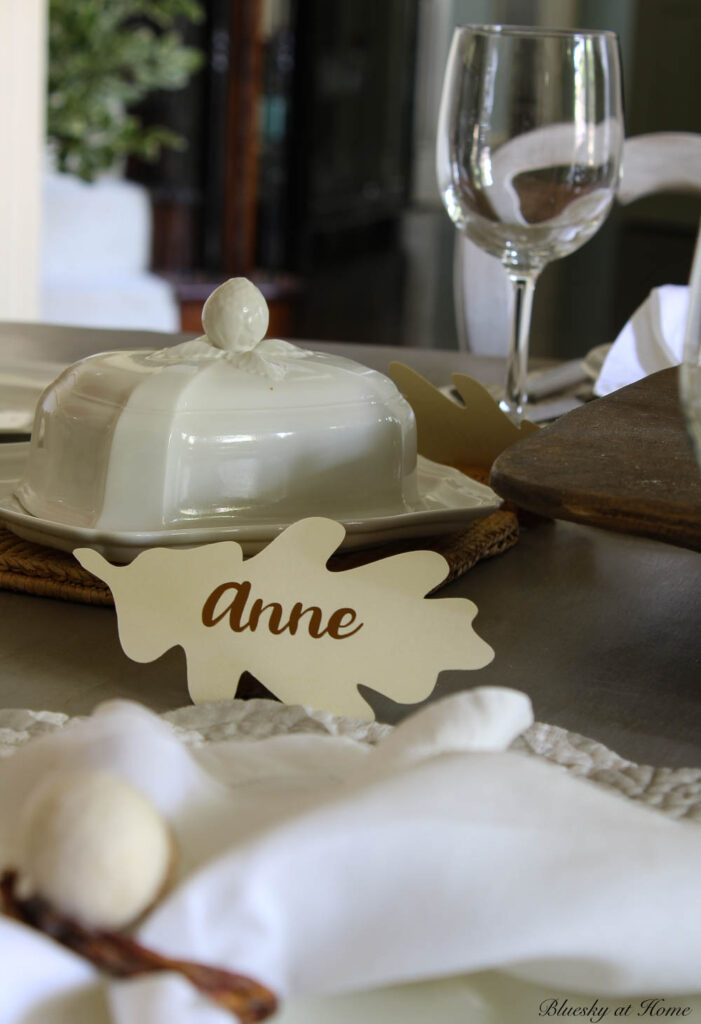 That's my 5 ways to use paper leaves in your fall home decor. They are each different, have different uses, but can all be made using your Cricut or cut out individually.
With your trusty Cricut Air Explore and a dash of creativity, you can craft stunning paper leaves that infuse the season into your fall home decor.
From wreaths to garlands, mirrors to place cards, the possibilities are endless. Not only will these projects infuse your home with the warm and welcoming spirit of fall, but they'll also give you the satisfaction of handcrafting fall decorations for your home.
I hope you liked learning how to use paper leaves in fall decor. Except for the leaves for the place cards, I made all the leaves in one session. I hope they bring warmth and joy to your home this fall.
Shop These Supplies for Paper Leaf Fall Decor
I hope you will PIN this post to keep all these paper leaves projects. That way you'll have all the instructions handy for future use.
Ready to see what projects my Creative Craft friends have to share. See the complete list below. You can start with Terrie of Decor and More with Tip.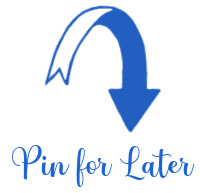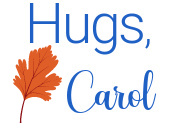 Cecilia of My Thrift Addiction – Coppery Stemware Refresh in 3 Simple Steps
Niki of Life as a Leo Wife – Halloween Ceramic Book Makeovers
Carol of Bluesky at Home – How to Use Paper Leaves in Fall Decor
Terrie of Decor and More with Tip – DIY Fall Olive Wreath
Donna of Modern on Monticello – Easy DIY Fall Ribbon Wreath
Jenna of Painted Apron – Blooming Pumpkin
Gail of Purple Hues and Me – Decorative Chenille Trim Ribbon Pumpkin