How to Give New Terra-Cotta Pots a Vintage Look
Do you like terra-cotta pots? I wanted to figure out how to give new terra-cotta pots a vintage look.
Since I'm not a big fan of orange terra-cotta pots, I wanted a softer, more natural look. What to do? Find a way to give new terra-cotta pots a vintage look.
Most of the time, orange terra-cotta pots are not my favorite look. I've used them occasionally, but I usually paint them.
I love to make DIY projects for our home decor, my tablescapes, and patio. This project, giving new terra-cotta pots a vintage look, gave me pots I could use in different ways.
We all seem to love the vintage look rather than burnt orange (except for Halloween, maybe?). 
After I found a style of terra-cotta pot that wasn't the traditional shape and didn't have a rim around the top, I knew that this style was perfect for a transformation. It just took me a few minutes to figure out how to give new terra~cotta pots a vintage look.
Now I know that there are many ways to transform plain orange terra~cotta pots from, well, orange to something more stylish for today's home decor. I've done it before myself.
Give New Terra-Cotta Pots a Vintage Look
This post contains affiliate links to products used in this project. If you order any product from this site, I may receive compensation, but you don't pay a penny more.
I actually saw a few terra-cotta pot transformations on Pinterest and they gave me the idea for my fall tablescape centerpiece. I've saved several transformations on my Pinterest DIY board.
I didn't have any extra pots on hand, so I made a trip to the home improvement store. I just loved this rimless style that I have never seen before. I bought 3, knowing that the style and size would be just right for a centerpiece or pots for the patio.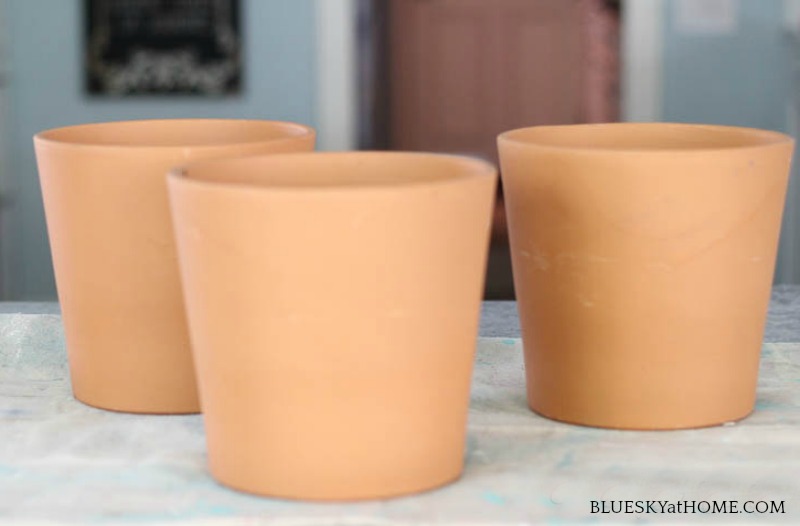 Have you ever had a DIY epiphany? You have a vision, but aren't sure how to accomplish it?
I knew the type of paint and the colors I would use. I just didn't know how to make them look old. They needed texture, something to make them look like I dug them out of an abandoned garden (maybe in a French country cottage?).
And then it hit me. I knew what would give them a roughness, a texture, a grittiness that spoke to the vintage look I wanted. Here's how I changed the pots from new and orange to old and neutral.
Supplies to Give the Terra-Cotta Pots a Vintage Look
Obviously, you need terra-cotta pots in the size and style you like. Maybe you have some pots that need a major change or you've picked up at some garage sale. If not, you may have to make a trip to the home improvement store as I did.
terra~cotta pots
paint in neutral colors
synthetic chip brush
plastic cup and spoon for mixing paint
drop cloth or other protective material for painting
something to set your pots on (I used 2 cans of Bush's Beans!)
mystery ingredient (saving this for later!)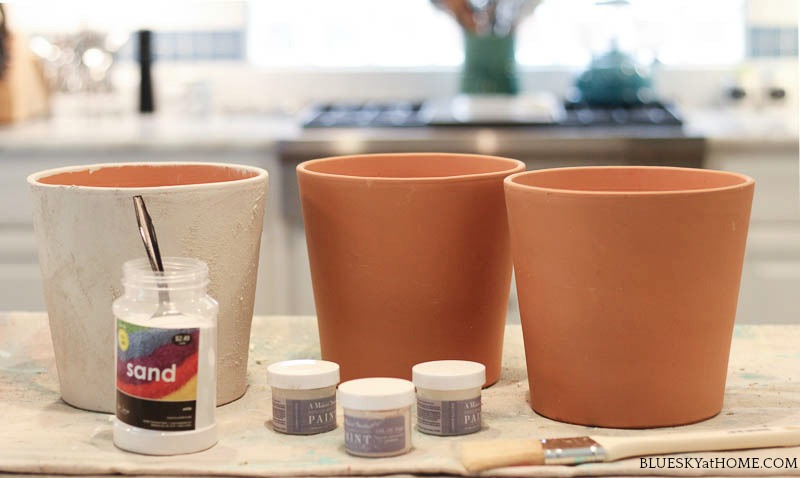 O.K. that picture just gave away the mystery ingredient.
Paint for This Project
I'm using Rescue Restore paint from A Maker's Studio. You could use another brand of paint, but I have absolutely fallen in love with this paint for several reasons:
the excellent coverage
the ease of application
the quick drying time
it's water~based
has no VOCs
smells good so you can use it inside.
I used 3 colors ~ Paris Flea Market, Biscuits & Gravy, and Bella's Blush ~ which are all soft, neutral colors.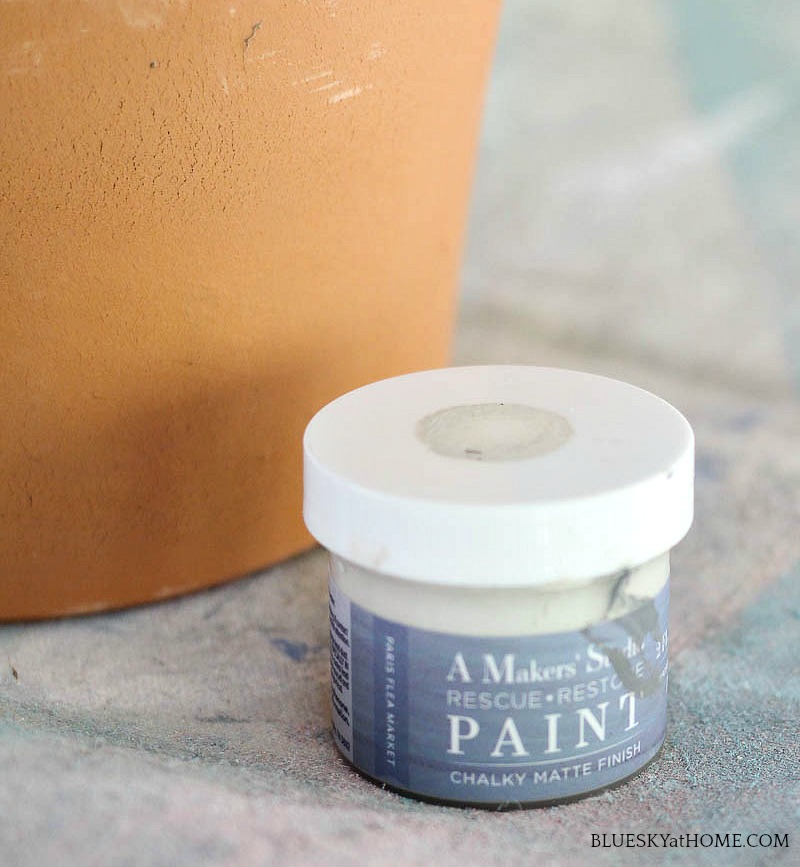 Steps to Painting your Terra-Cotta Pots
Set up your work area with a drop cloth or other protective covering.
Gather your supplies.
Set your pots upside down on the cans.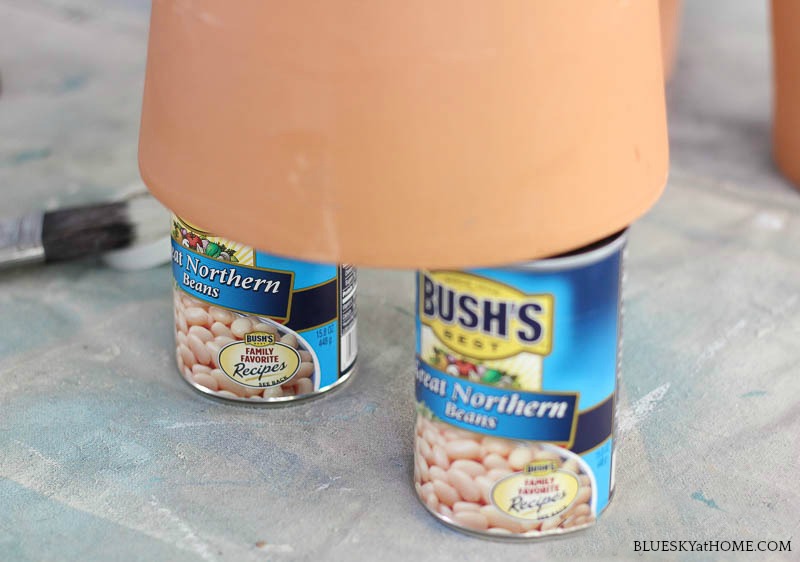 4. Paint in a hashtag pattern; you don't have to completely cover the pot. Set aside to dry for about 10 minutes.
NOTE: if you are using Rescue Restore paint, it dries quickly and terra~cotta is porous, so the first pot dries while you paint the second pot.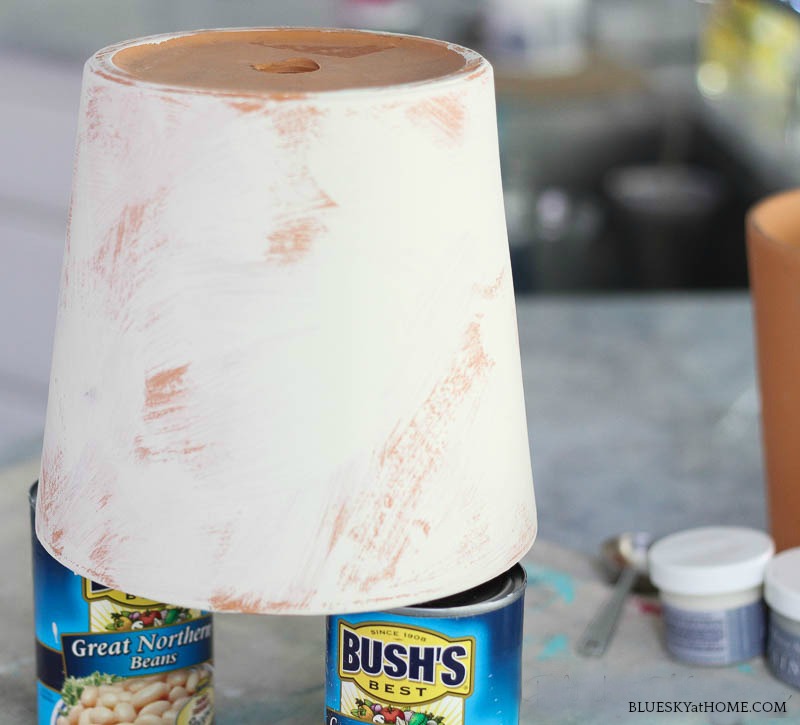 How to Give the Terra-Cotta Pots Texture
One article on Pinterest suggested using a grout compound or plaster paste to give the terra-cotta pots an old, textured finish. I really did not want to buy something I wasn't familiar with that would take up space in the garage when I was finished transforming the pots.
As I finished painting the first pot, I suddenly thought of sand (I almost shouted Eureka!).
I had a jar of white decorative sand that I bought at Joann a couple of years ago. I've used it for tablescapes a couple of times. When I'm through with it, I just pour it back into the jar, so I had plenty.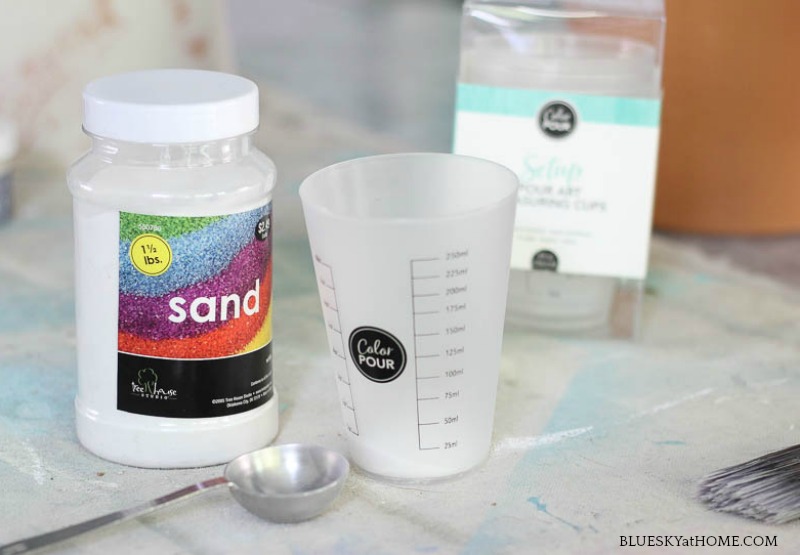 I found these cool plastic mixing cups at Joann a few weeks ago and they were perfect for mixing the sand and the paint. I know I'll find other uses for them.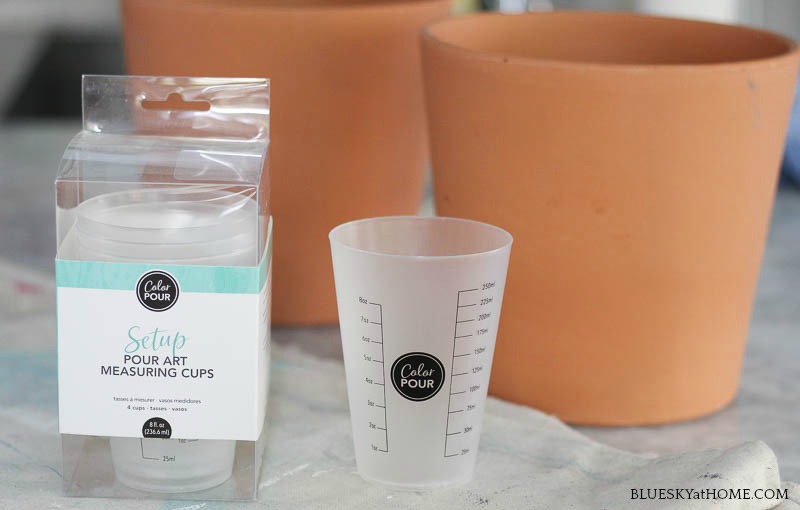 I mixed 1 tablespoon of the sand and 1 tablespoon of Rescue Restore paint in Paris Flea Market in the plastic cup and stirred to combine. The paint became gritty (you'll hear the grittiness) as you stir.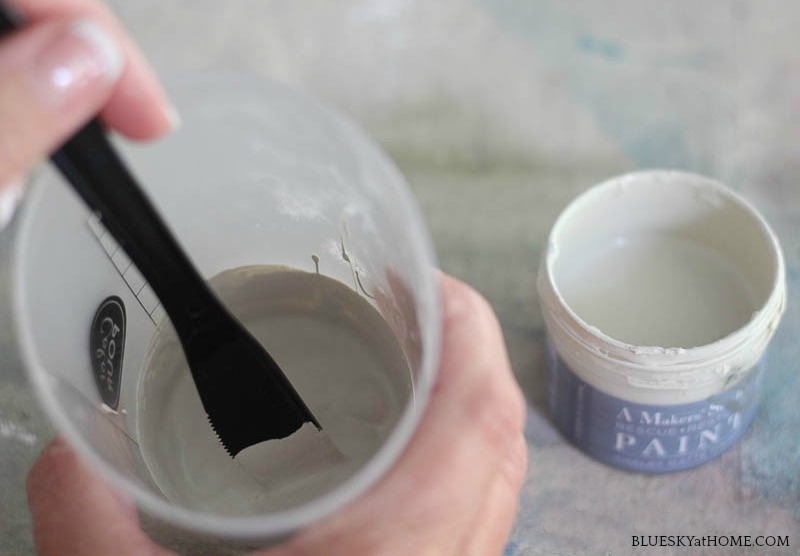 I used my chip brush to apply it to the pot in a "slap~dash" motion, placing it randomly over the pot.
This technique gave me exactly the textured, old vintage look I wanted. The application was easy and fast ~ I literally finished the first pot in 15 minutes and 10 minutes of that was waiting for the first coat of paint to dry.
I love how they turned out. No sealing, no wax. Just let the 2nd coast of "sand~paint" dry. Then you are ready to add whatever plant you like.
I used the pots as part of a fall tablescape centerpiece.
The cost of this project?
The 3 terra-cotta pots were $3.69 each minus our 5% Lowe's discount so my total cost was $10.52.
I know that if you had to purchase all the supplies just for this project it would be more, but you would have plenty of leftovers for other projects. If you needed to purchase the other items, here's the breakdown.
I already had the paint (Rescue Restore 2~ounce jars are $7.99 each) and I have plenty left over for other projects.
The decorative sand ($2.49) which I had already used several times.
The plastic mixing pots which can be used over and over.
Adding Plants to the Vintage Pots
The first time I used these vintage terra-cotta pots was for a fall tablescape. I wanted plants that mimicked that same soft, natural feel.
I made a trip to my favorite nursery and picked out 1 pot of sage and 2 pots of lavender. Both had a pale green color and soft texture that contrasted the rough texture of the vintage pots.
Have you ever thought of mixing sand with paint to give terra-cotta pots a vintage look? I gave myself a pat on the back for thinking of this treatment. The result was just the old~world, vintage look I wanted.
I hope you'll want to try this DIY project. Save it, PIN it, share it.