Blue and Gold Bedroom Decor for Fall
Do you change the style of your master bedroom with the seasons? I like to update our bedroom with the season for interest. This year, I styled a blue and gold bedroom decor for fall.
Since we spend so much time in our bedrooms, I want ours to look pretty and in keeping with the current season.
The predominant color of our bedroom is blue, but the shades change with the seasons. For fall, I want the blue to be deeper and stronger. As a complementary color, I choose golden hues.
Why did I decide to use shades of gold? Because the bedding for blue and gold bedroom decor for fall was sitting right under my nose.
PINTEREST CHALLENGE FALL BEDROOM INSPIRATION
This week is Pinterest Challenge. Our hostess Cindy of CountyRoad 407 chose a lovely fall bedroom as our inspiration.
Unfortunately, Cindy's son was involved in a motorcycle accident last Friday (Please put him on your prayer list.). Cindy is with him in the hospital so my good friend Paula of Virginia Sweet Pea is handling hostess duties this week.
If you are joining me from Lora of Lora B. Create and Ponder, then thank you for hopping over.
The list of participating bloggers is at the end of this post.
Our lovely fall bedroom inspiration comes from Courtney of Golden Boys and Me. I love Courtney's soft shades of orange and the shelf above her bed. Unfortunately, I don't have a shelf above our bed and I don't have any shades of orange to use in our bedroom.
Fortunately, our Pinterest Challenge is for inspiration and we can interpret the images as we like. Courtney does use pale blues, so I'm just intensifying the color.
MY BLUE AND GOLD INSPIRATION
This past July, my older daughter and son were in town. I asked them to help me rearrange the closet in our large guest room as a place designated for my extra home decor accesories and fabric.
Since we moved into our home 8 years ago, Sweet Shark had used the closet for all his golf clothes with a little space left for me. I convinced him that the smaller closet in the grandkids' guest room would serve him well. He agreed so we added an extra hanging bar for his golf shirts and shorts. That now gave me the much larger closet to use.
While the kids were helping me, they decided to clean out the linen closet in the upstairs guest bath. Out came things I have forgotten about, including the custom~made bedding for our bedroom when we moved in our present home. I had not used the bedding in a few years.
When I started thinking about restyling our bedroom for fall, I decided to bring out this bedding. The deeper shades of blue with pops of yellow~gold would be perfect for fall.
DECORATING THE BED WITH "NEW" BEDDING
First, let me show you what our bedroom looked like over the spring and summer. You can see that the theme was blue and white.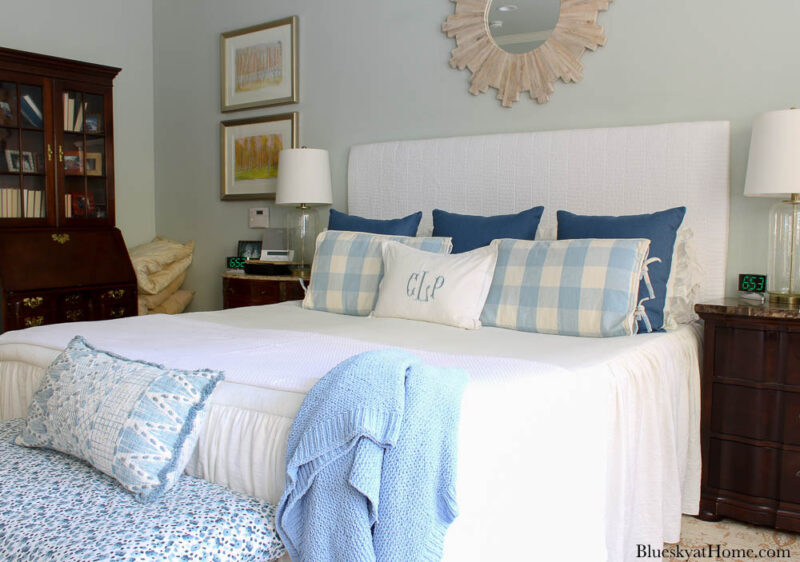 The first step was removing all the bedding. Now that we have a new white headboard, I feel I have more leeway to use any colors I want. We love the white comforter so it's staying.
You might also notice that I removed the blue pattern fabric from the cushion. Remember how I showed you how to make a no~sew cushion cover? The golden yellow of the original cushion cover would work with my vision.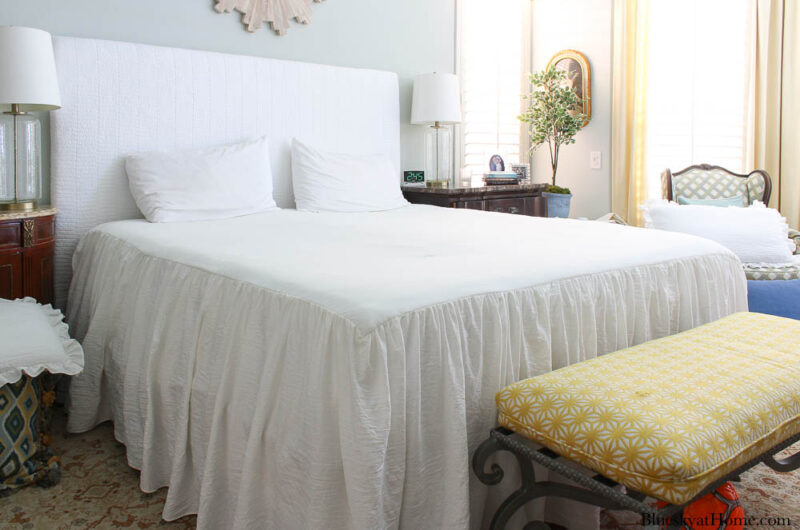 Next, I removed the navy pillow covers from the three Euro pillow inserts. I put the original pillow covers on the inserts and placed them across the head of the bed.
Can you spot the "pumpkins" in the design?
I remember when shopping for bedroom fabric, I thought the abstract design had pumpkins in gold and blue. You might not think of the pattern and the colors as fall, but I think it has a fall~leaning vibe in a soft way.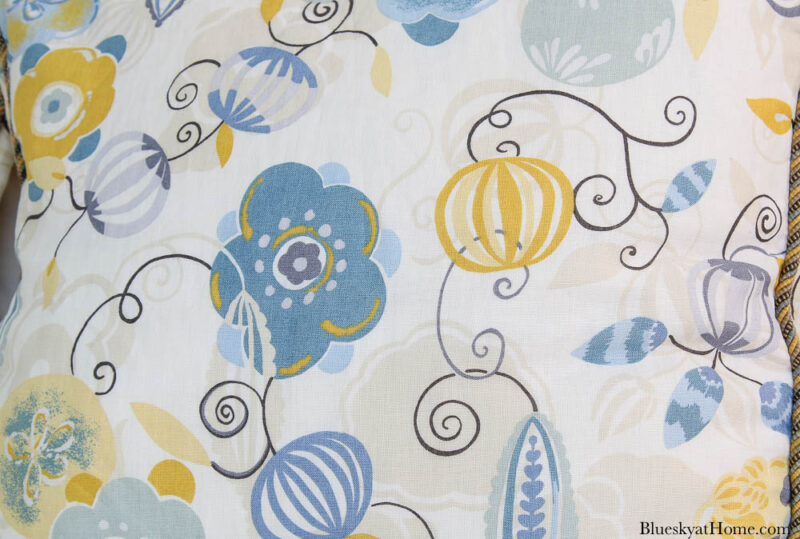 Next came the pillow shams. This fabric has the deeper blues and the golds that bring the look together. It's a strong pattern and a heavier fabric so it is only used for these two pillows.
We had a few yards of fabric leftover so I used some of it to make a boudoir pillow. See the "pumpkins"?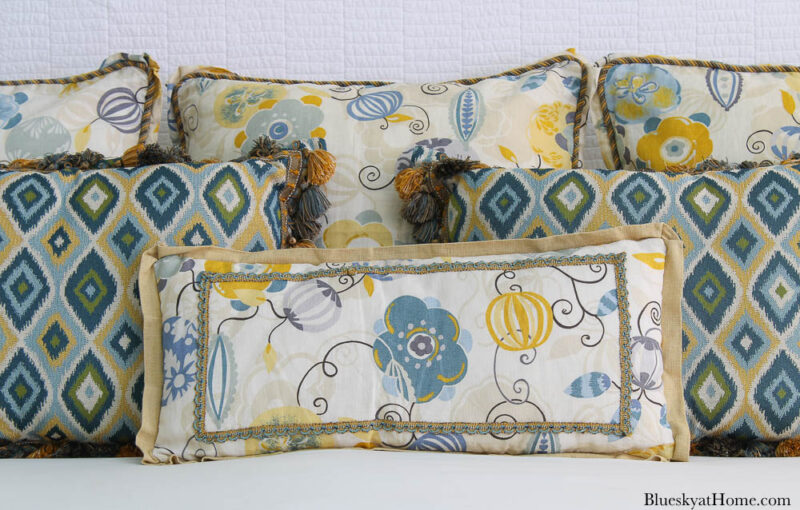 To bring in more blue and layering, I added a medium blue flannel throw. I made this by buying 4 yards of flannel and fringing the ends.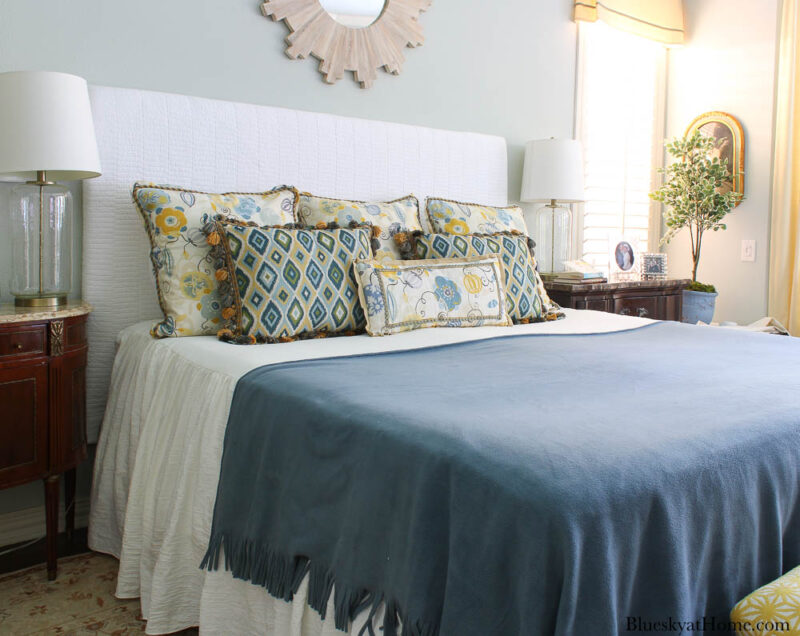 With the other leftover fabric, I made a topper for the bed. More color, pattern, and cozy layering.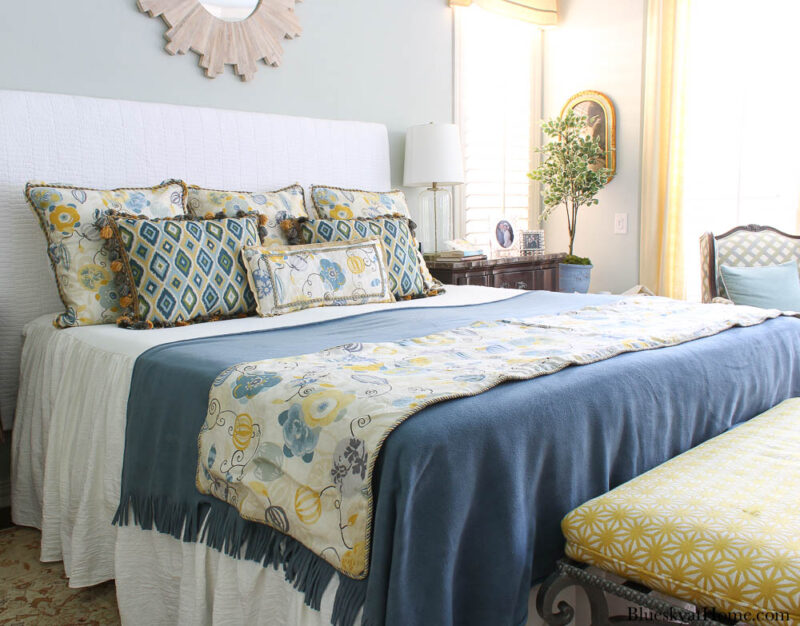 We always have pillows on the bench (Courtney does have a bench in her fall bedroom.) for back support and decor. I first tried these pumpkin pillows. The colors are OK, but I didn't quite like the look.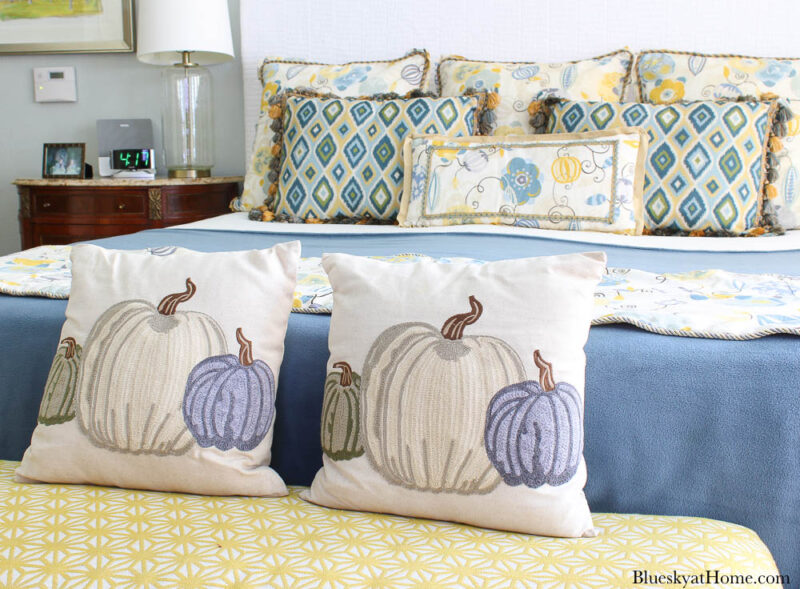 I moved the pumpkin pillows over to our wing chairs. The colors and the patterns work much better.
I had two more dark blue pillows. This look is much better.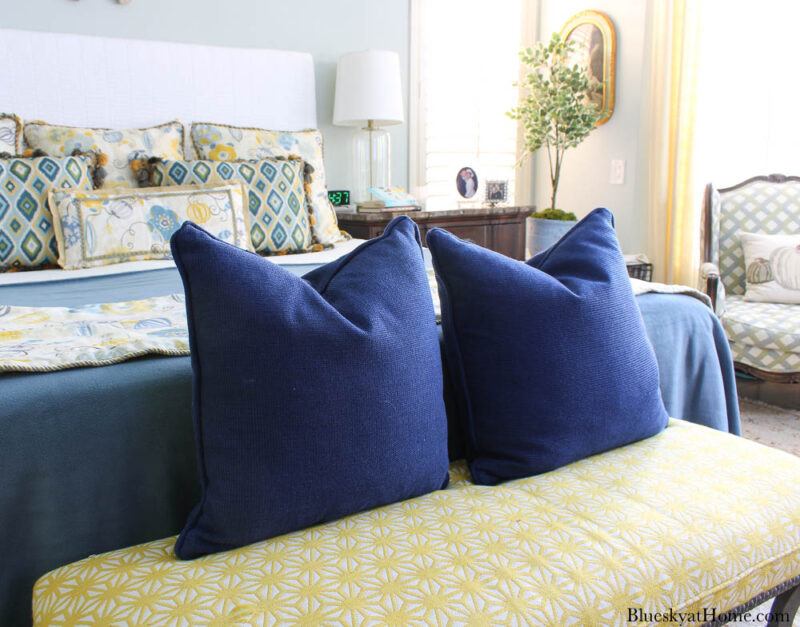 The bedding for my blue and gold bedroom decor for fall was complete. I love how the color scheme continues from the head of the bed through to the cushion.
ACCESSORIES FOR OUR FALL BEDROOM DECOR
It is often the accessories that bring the elements of a room together. That is definitely true for our blue and gold fall bedroom accessories. This is when the real fall vibe comes in.
I first removed a potted plant and blue candle from the table between our two wing chairs in the bay window. The white books definitely needed to go.
I started the fall vignette by adding books in shades of brown and tan.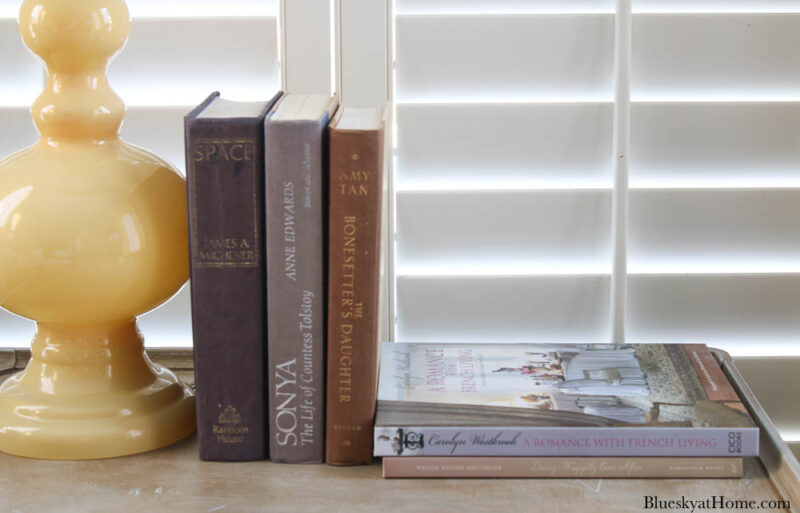 Sunflowers are the perfect flower for a fall design. The vase is an impulse buy from Target. I'm so glad I bought it. I love the style, size, and vertical design.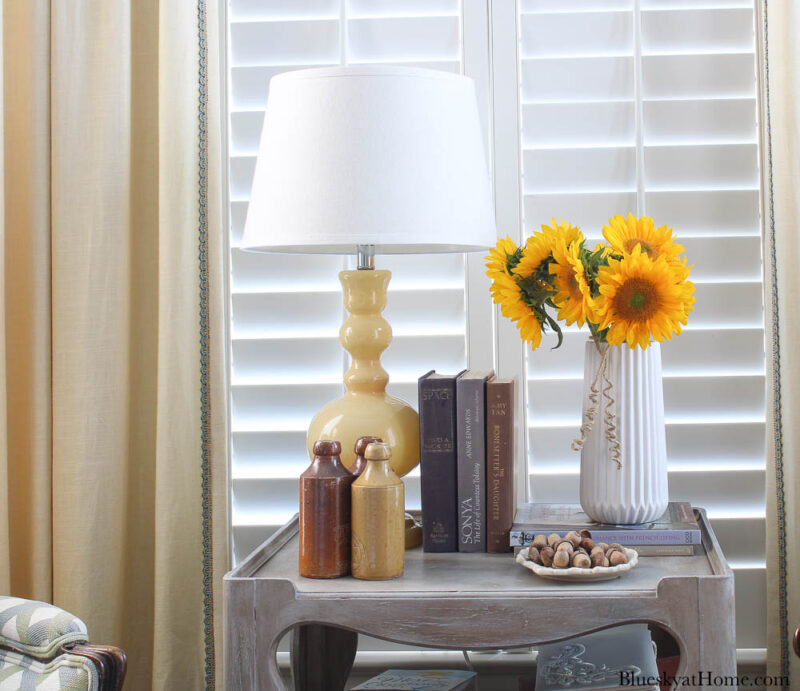 The glazed jars are from a local antique store. I bought them on a shopping trip a couple of years ago with guess who? Cindy of Country Road 407!
Next came a leaf plate filled with acorns. I picked them up last fall on our walks through the neighborhood and saved them in a zip~lock bag. I just hope Nola doesn't discover them.
Our fall bedroom seating area is now complete.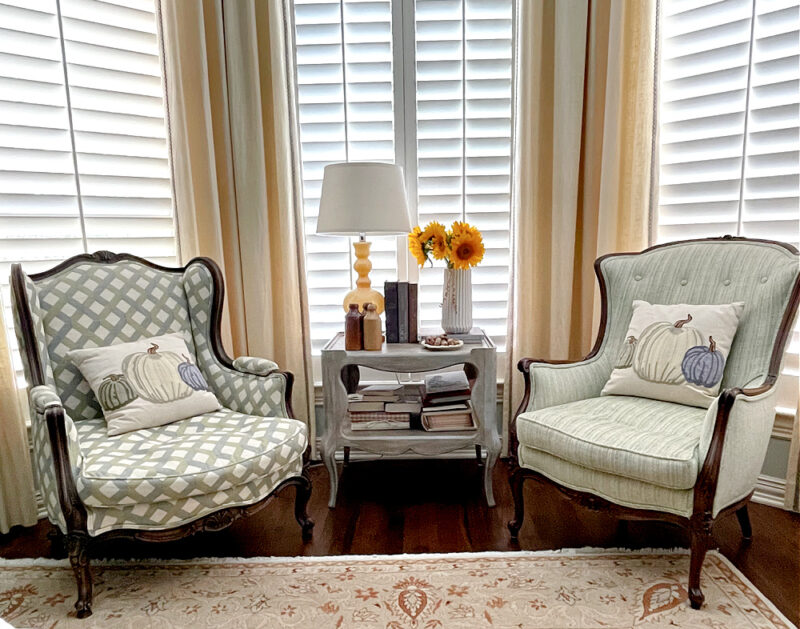 On my nightstand, I created a vignette consisting of a painting with fall fruit and colors, a small hay bale, faux florals, and another pumpkin I made.
A dear friend's mother, who was a founding member of our church, painted it. She and I also attended a year~long Bible study together. She was the first person to ask me if Sweet Shark and I were seeing each other. I bought the painting at an art sale at our church.
This dear lady passed away a few years ago and I treasure the painting.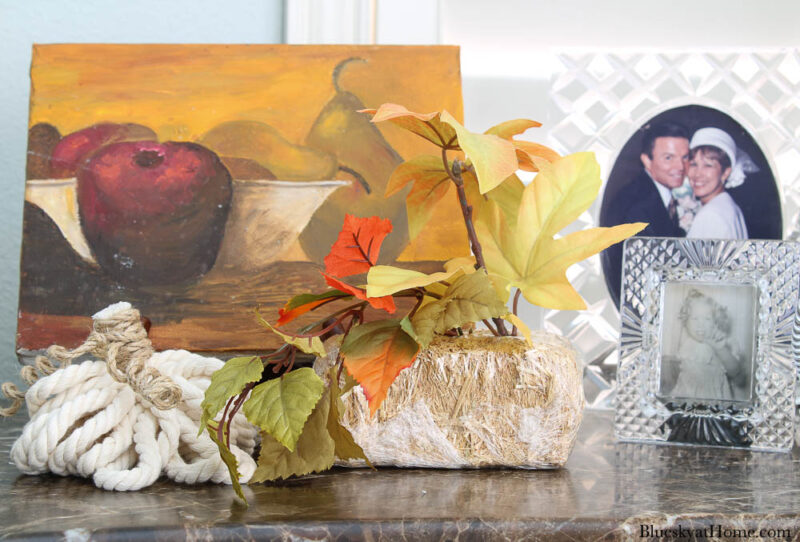 If you saw my DIY project, making pumpkins with rope and twine, you'll recognize this pumpkin. I had plenty of white rope left over so I made two more. This time I made a different stem by twisting wired twine around the rope.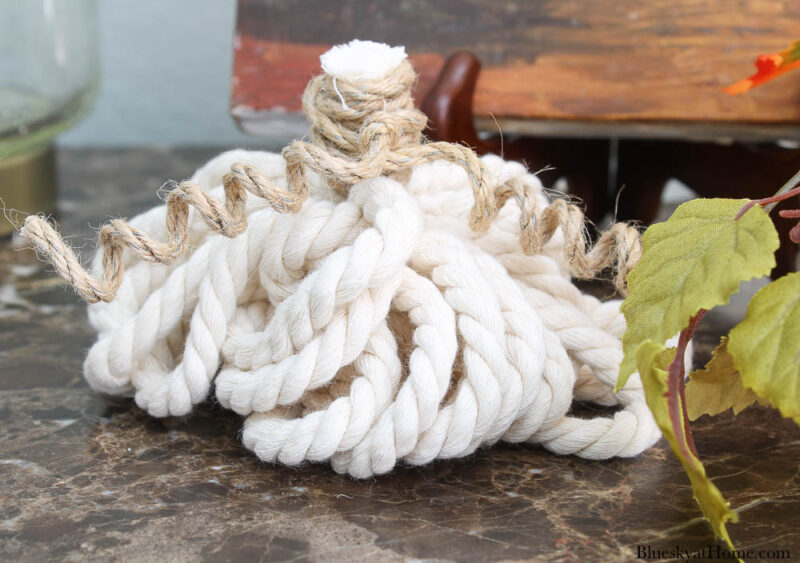 On Sweet Shark's nightstand, I repeated the pumpkin and the small hay bale. More faux fall florals filled a stone vase that I bought at an antique mall in McKinney, Texas last summer.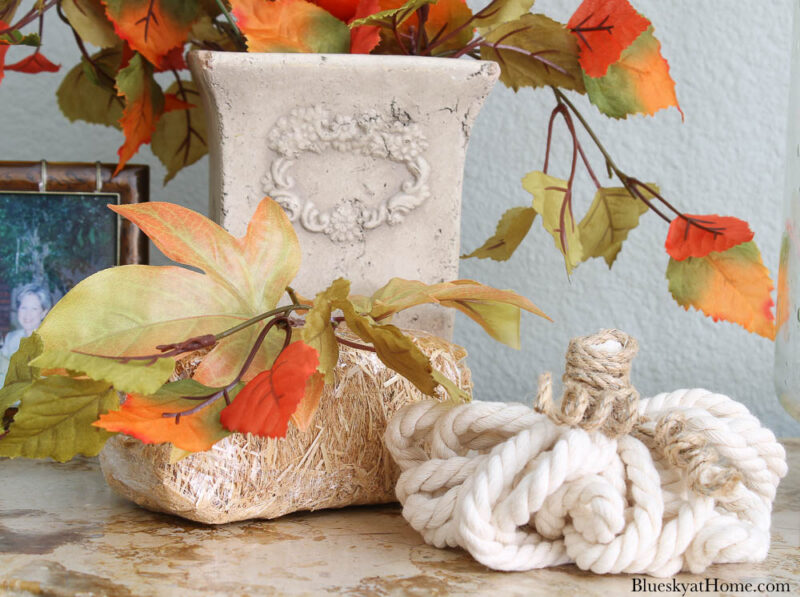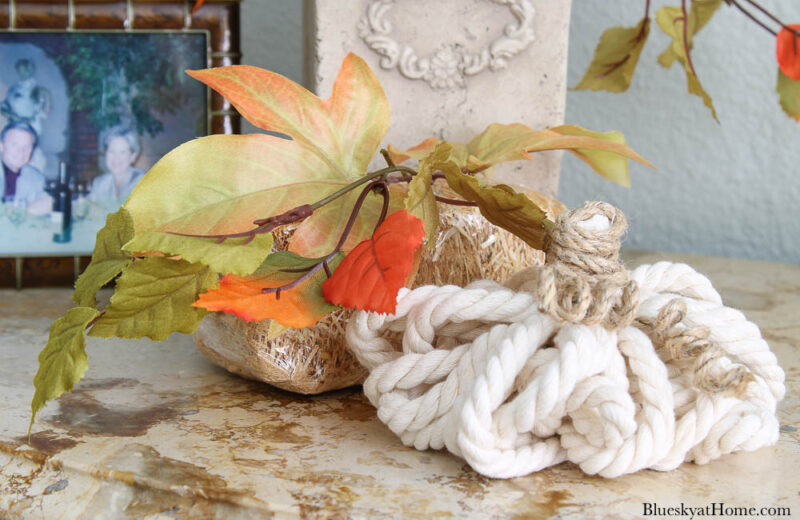 The last area to decorate in our bedroom for fall is the console table across from our bed. Courtney decorated a shelf above her bed. I used this console table for more fall bedroom accessories.
A combination of fall~themed accessories creates a simple arrangement:
wood beads ~ I made these a few years
books with brown bindings
multi~colored mini~pumpkins in a wire basket
faux gourds in an egg basket
golden leaf faux florals in a white~painted terra cotta vase
I had to include one last accessory. This one loves to pose.
Did you see any ideas you can use for your fall bedroom? My blue and gold bedroom decor for fall is done and we love it. Will you PIN it, please?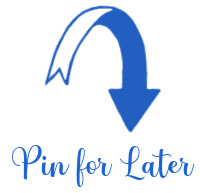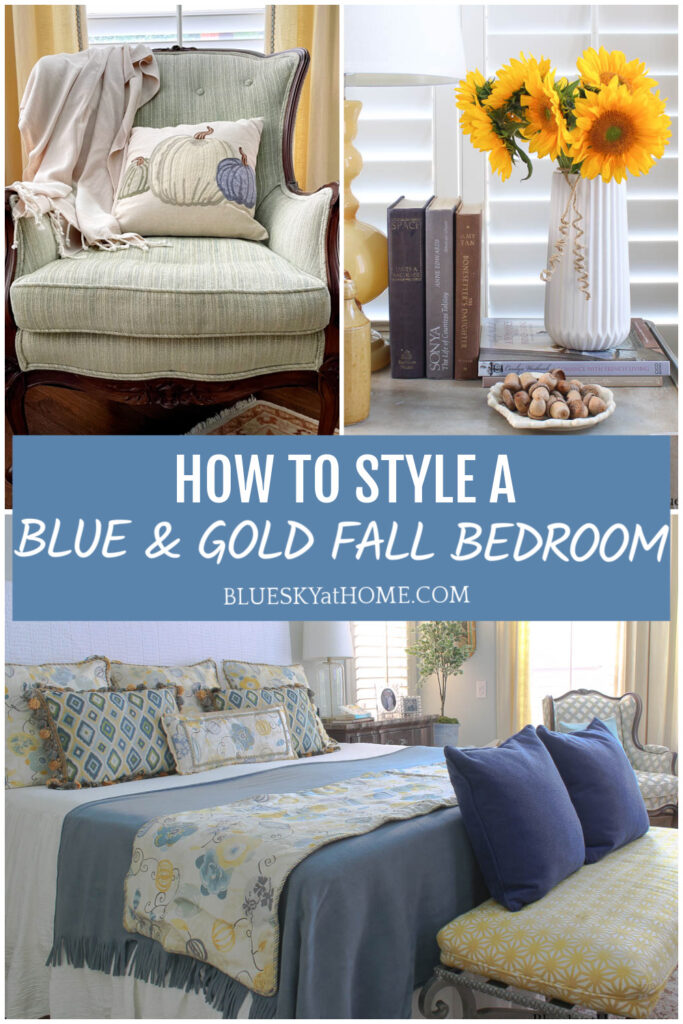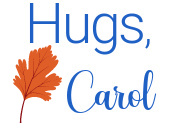 Please check out the fall bedrooms of my blogger friends, starting with Niky of The House on Silverado.
You are invited to the Inlinkz link party!