9 Easy Steps to Set a Thanksgiving Table
Do you need ideas for setting your Thanksgiving table? I have 9 easy steps to set a Thanksgiving table. Hopefully, they will help you.
It's getting closer to turkey day. It will be so wonderful to gather around the table with family and friends.
When you set a pretty Thanksgiving table ~ or any table for that matter ~ the occasion seems more special.
Do you feel overwhelmed when planning a larger gathering? Whatever the size of your gathering, planning ahead for any event is crucial.
With a large group, a meal like Thanksgiving can seem overwhelming.You want to enjoy your party and your guests. Getting the table planned and set early is always a good idea.
I follow almost the same process for any special occasion tablescape. Here are the 9 steps to set a Thanksgiving table any hostess will appreciate.
SHARING THANKSGIVING TABLESCAPES
Today I'm joined in sharing our Thanksgiving tablescapes by twnety~two other bloggers who have a knack for this type of creativity. We are gathered by Rita of Panoply as our hostess.
If you are joining me from Shannon of Belle Bleu Interiors, then welcome. Shannon is a sweetheart with a lovely style.
Click on the box below to receive a checklist I made for you to help you with setting your tables.

STEP 1 ~ CHOSE YOUR LOCATION AND STYLE
Before you start to set your Thanksgiving table, decide the location and the style. This step guides everything you do, from your centerpiece to flowers to dishes.
TIP: Don't hesitate to mix styles (casual and elegant, for example) because that can make a table setting more interesting.
MY LOCATION: For this Thanksgiving table, I want to again set my table outside. Since our backyard update, we have been using the backyard more for dining and relaxing.
Some of you who live in colder climates may think I'm crazy, but Thanksgiving in Dallas can be sunny, cool, and beautiful. Since the Thanksgiving meal would be served between 2 and 4 (depending on the Cowboy game), the day would be at its warmest.
You might have seen the outdoor Thanksgiving table for my friend Robin that I shared a few weeks ago.
MY STYLE: Casual with a bit of elegance was my theme. Texture would be my focus.
The day I styled this Thanksgiving table was perfect: sunny and cool in the morning to barely warm in the afternoon with no wind. It would be wonderful if Thanksgiving day were this beautiful.
Our teak table would be the setting. I pulled the table out from the fence so that four people could sit around the table. I also lowered the umbrella since I wanted as much sun as possible.
TIP: Regardless of the location of your table, pull your chairs away to give yourself plenty of space to work.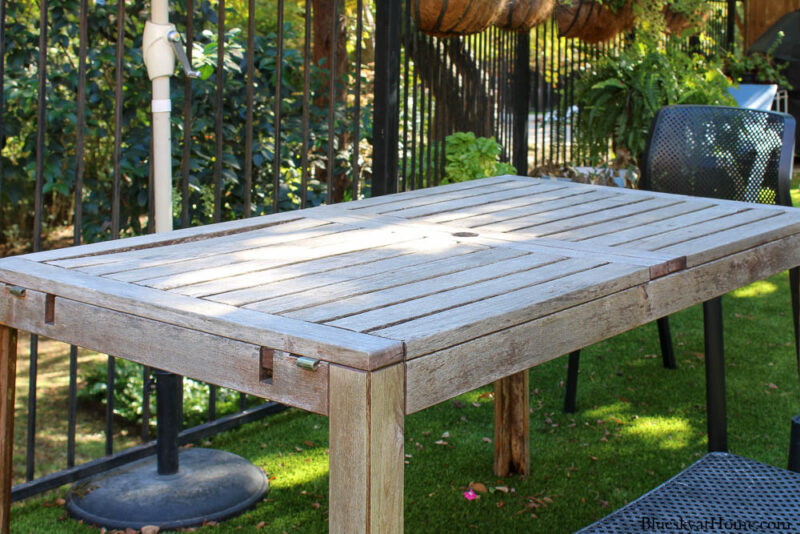 STEP 2 ~ GATHER YOUR "INGREDIENTS"
Before starting to set the table, I find it best to gather as many of the items you will need as possible. This will make the process of setting the table go faster and easier. Here is a list of items to gather:
tablecloth and/or placemats
containers for centerpiece
items for centerpiece
dishes for placesettings and serving
silverware and serving pieces
glassware (water, wine)
napkins and napkin rings
placecards (if using)
embellishments (decorations for the table)
salt and pepper containers
STEP 3 ~ TABLECLOTH AND /OR PLACEMATS
For our outdoor Thanksgiving table, I wanted to use my burlap tablecloth. The tablecloth set the casual and rustic style I wanted. Here is another burlap tablecloth.
You can tell from the picture that the tablecloth is quite long. I liked that it drapped to the grass.
Guess who was helping?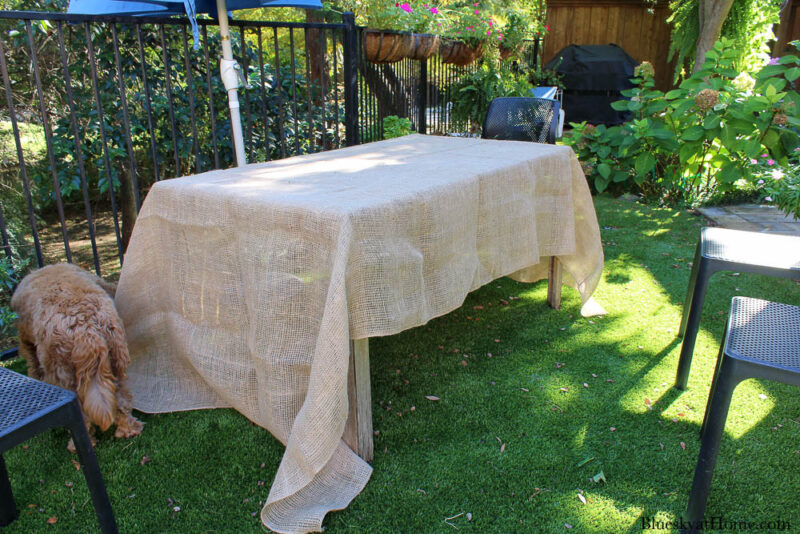 For more texture and layering, I added my favorite round woven placemats. (I used these when I set Robin's outdoor Thanksgiving table.) You can see the beginning of my "centerpiece".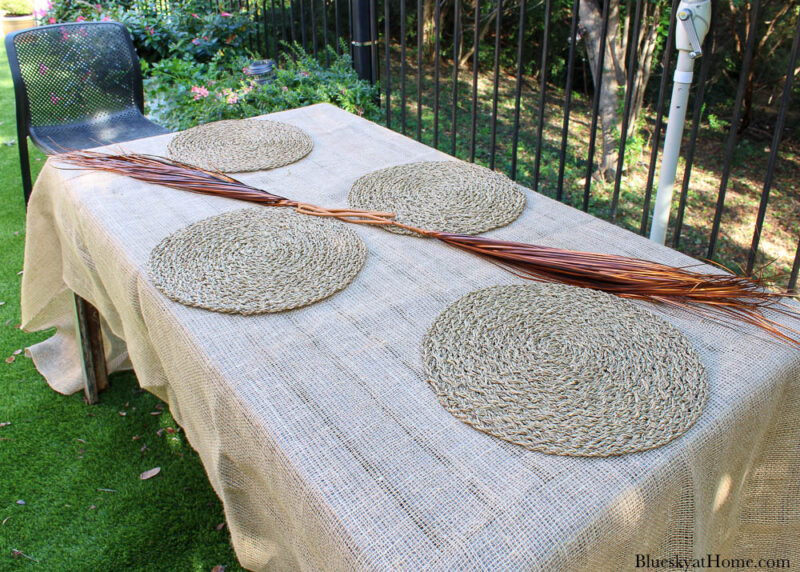 STEP 4 ~ CENTERPIECE/TABLE DECORATIONS
Centerpieces can be anything you want, from a beautiful flower arrangement to a collection of items like candles, lanterns, vases, jars, or seasonal decorations.
The size and shape of your table will to some degree dictate the size and shape of your centerpiece.
Our table is narrow. I intended to use a rectangle wood tray with bead handles. It was obvious when I placed it on the table that it was too big.

I needed something that didn't take up too much space. I searched through my fall decor stash and found two copper "sheaves of wheat".

The metallic finish would contrast nicely with the matte texture of the tablecloth and placemats.
TIP: don't hesitate to adjust your tablescape plan if necessary.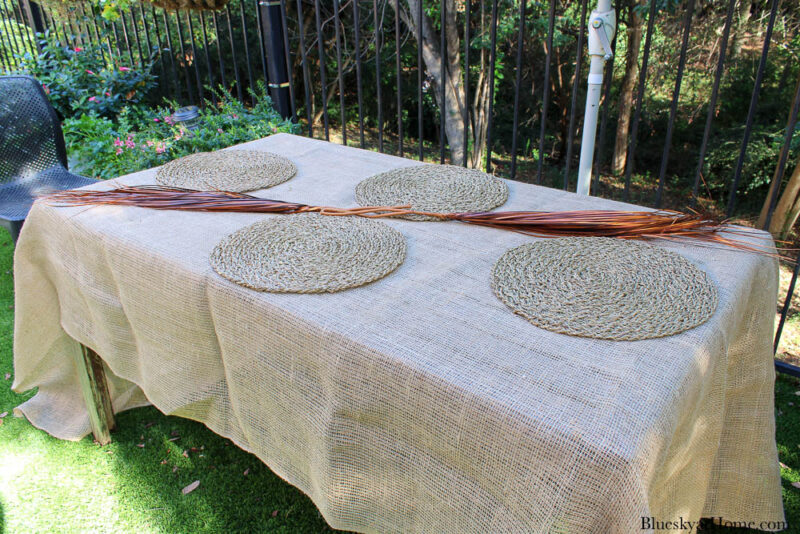 To fill out the center of the table, I used small real and faux pumpkins of various colors. The finishes were metallic, matte, painted, and ceramic. This also covered the stems of the metallic "wheat".
This simple centerpiece only took a few minutes to assemble.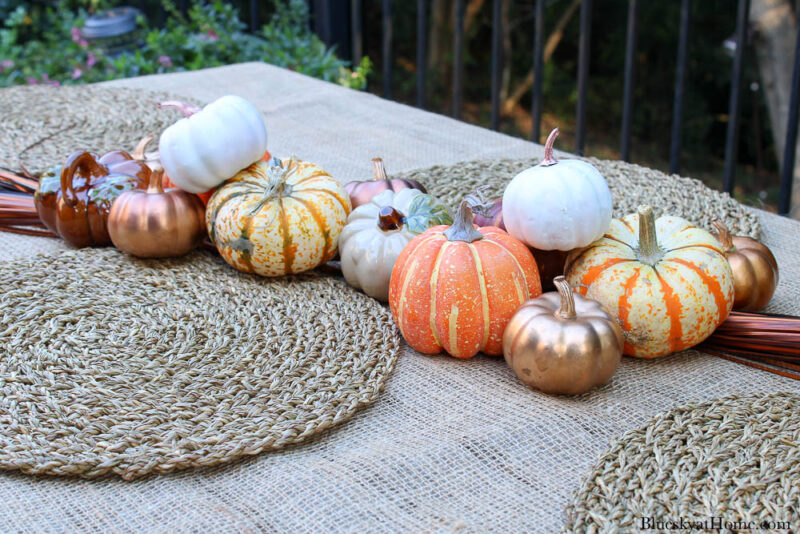 STEP 5 ~ ADD YOUR DISHES AND SERVING PIECES
Now is the time to add dishes for your individual plate settings. Your menu will determine what dishes you need: salad plates, dinner plates, bread and butter plates, dessert plates.
I bought the green Thanksgiving plates years ago at Tuesday Morning. Bringing them out every year is a tradtion. I also have a large platter and a serving dish.
In my vision for this outdoor Thanksgiving table, we would serve the meal buffet style from the island in our kitchen. Therefore, I didn't need serving pieces for the table. I also decided not to use bread and butter plates.
I love this Thanksgiving set of dishes.
When dining outdoors, I think it's best to keep the items on the table to a minimum.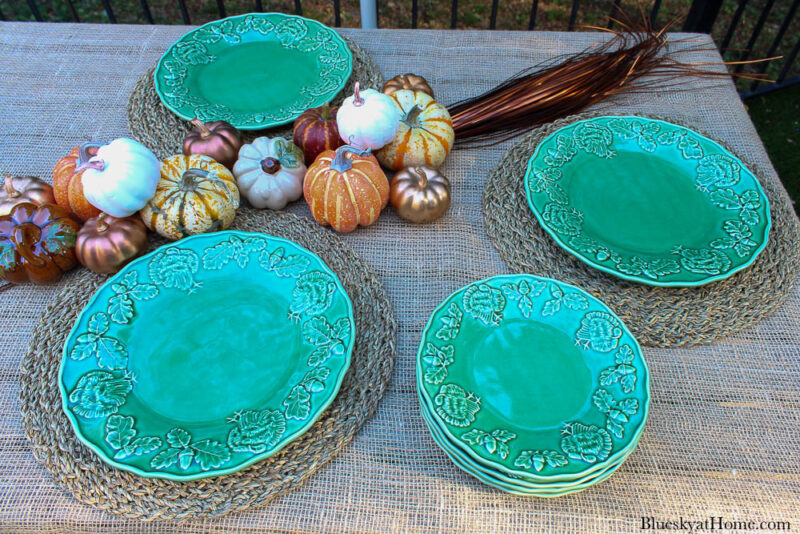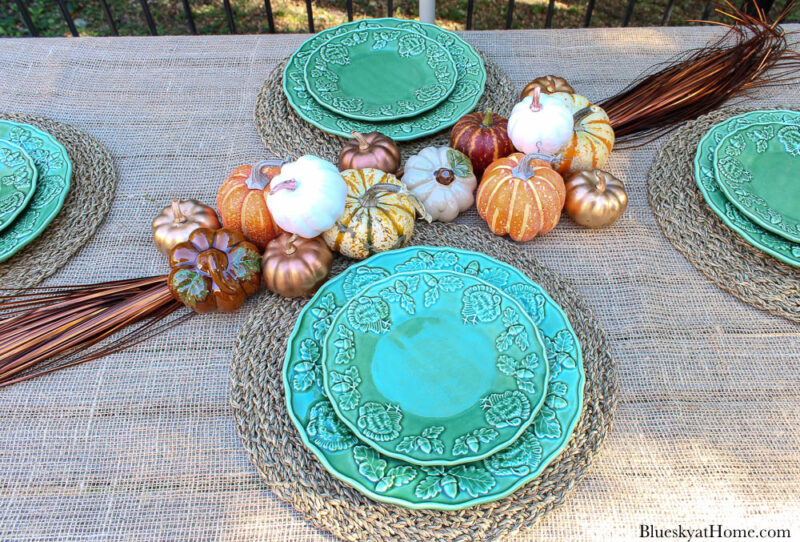 STEP 6 ~ SILVERWARE
Here's where you can bring in the elegance factor to a casual table setting. I love using our sterling silver in a casual setting. It always makes a meal special.
This pattern is Buttercup by Gorham and I love it. Fortunately, we inherited twelve place settings from Sweet Shark's mother.
Just like with dishes, your menu will determine what silverware you need. I just put out the dinner fork and knife to make the table simple. At dessert time, I'll bring out dessert forks.
TIP: Always have extra salad forks on hand. They can also be used for the dessert course and cocktail parties.
If you want to use silverware that is less expensive and good for outdoors, try this set of gold flatware.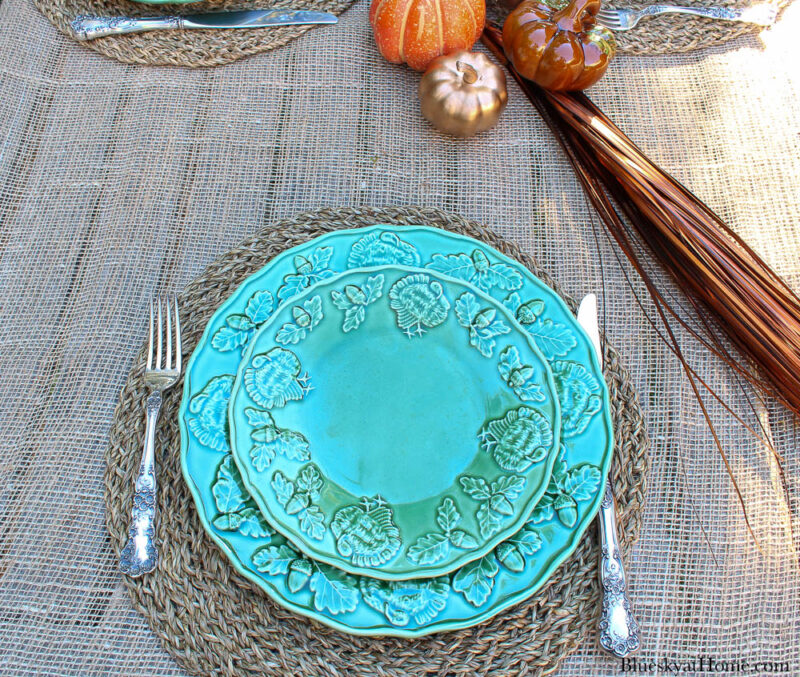 STEP 7 ~ GLASSWARE
If we were having Thanksgiving dinner inside, I would have used water and wine glasses. Since we are outside, I just used one wine glass. Also normally, I would use some of our crystal glasses.
I recently bought some beautiful gold glasses online. I intended to use them for Thanksgiving, but I decided I didn't want to take a chance with breakage. I'll save them for Christmas.
Instead, for outdoors, I used Dollar Tree glasses with a leaf motif.
I have used these glasses so many times. When you don't want to have a heart attack if a glass breaks, this is the way to go.
Here is a similar wine glass with a pretty leaf motif.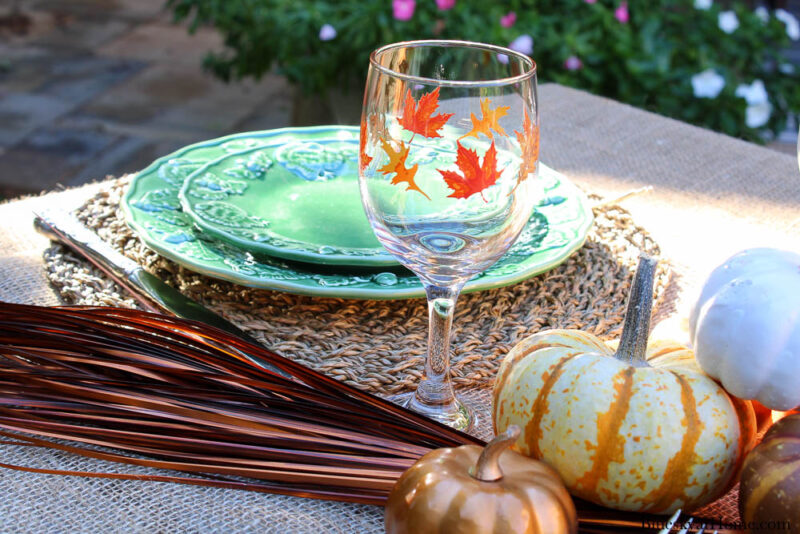 STEP 8 ~ NAPKINS AND NAPKIN RINGS
Napkins are not only for dabbing your mouth and wiping your hands. They also add color and/or pattern. You can add napkins to your place setting in many different ways, using different folds or placement. Having napkin rings is another option.
I decided to use napkin rings. First, I needed to make a cute napkin ring.
I bought the white felt balls last fall and I had been dying to make acorns with them.
Our neighborhood is full of live oak trees, so acorns are everywhere. On my walks with Nola, I took a baggie and gathered about two dozen large acorn caps. All I needed was a glue gun.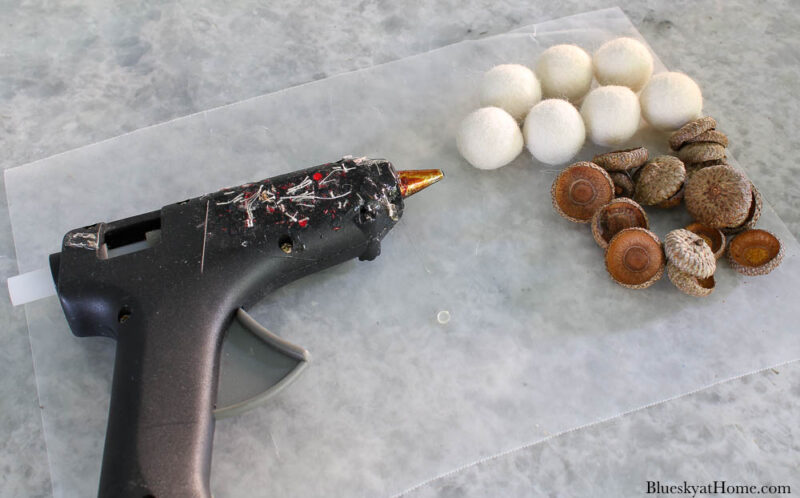 With a little glue, it was easy to attach the acorn cap to the felt ball. I made about a dozen, just for fun.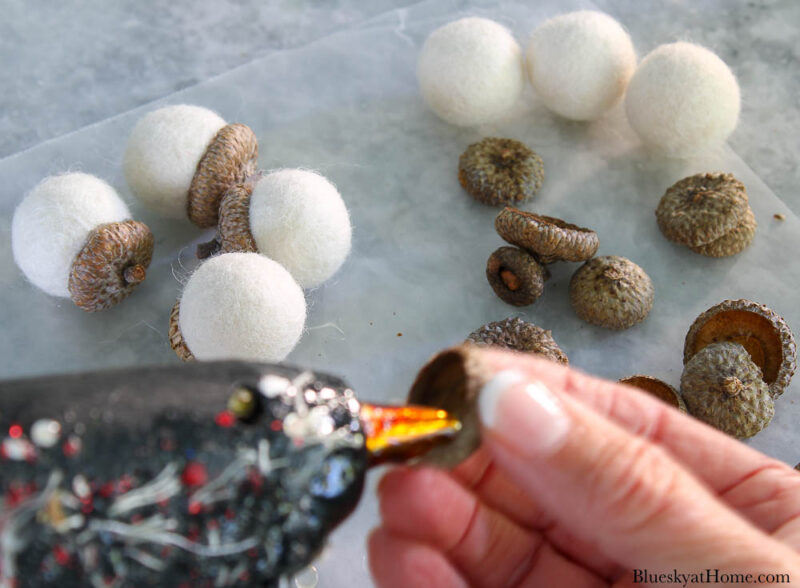 Aren't they cute! These little acorns could be used in many ways for decorations.
Next, I needed to make the ring. I had two colors of wired twine. Which color to use?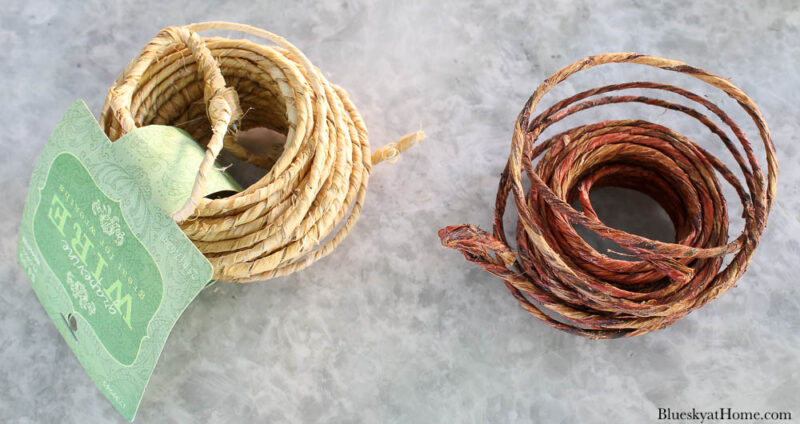 For this Thanksgiving table, I'm using my fall plaid cotton napkins. Setting the twine on the plaid napkins, I decided to use the darker wired twine. This set of Thanksgiving napkins is really cute, too.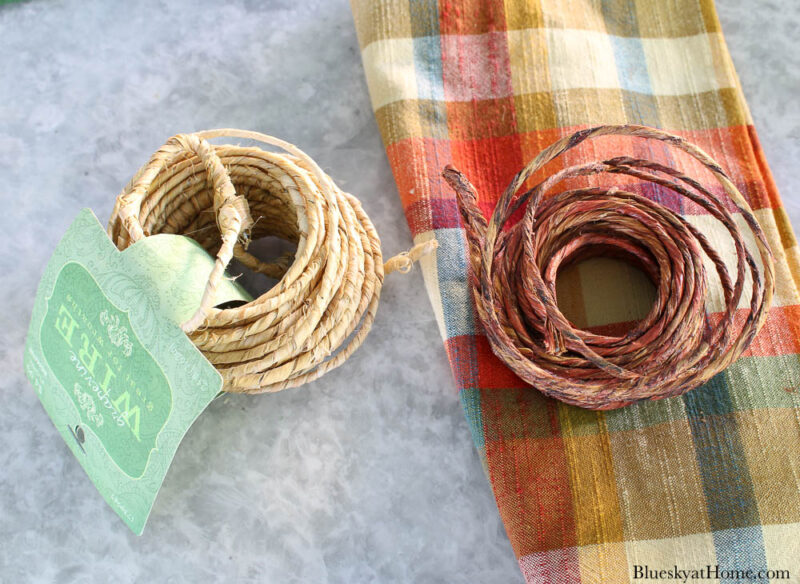 I made two loops with the wired twine and cut them with wire clippers.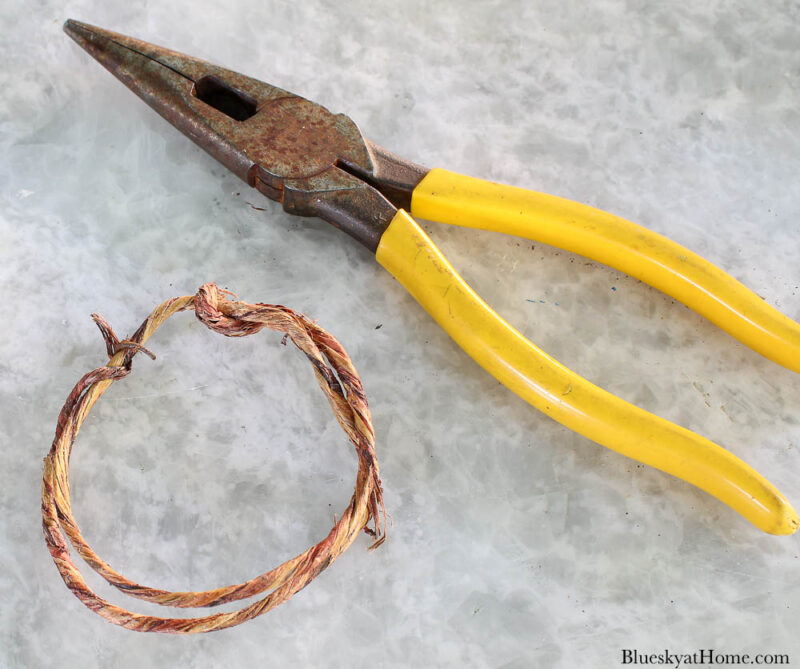 Then I used the glue gun to attach the acorn to the twine. Finally, I rolled up the napkins and slipped them into the napkin rings.
TIP: You need to allow the wired twine to be loose enough to slip the napkins in and out.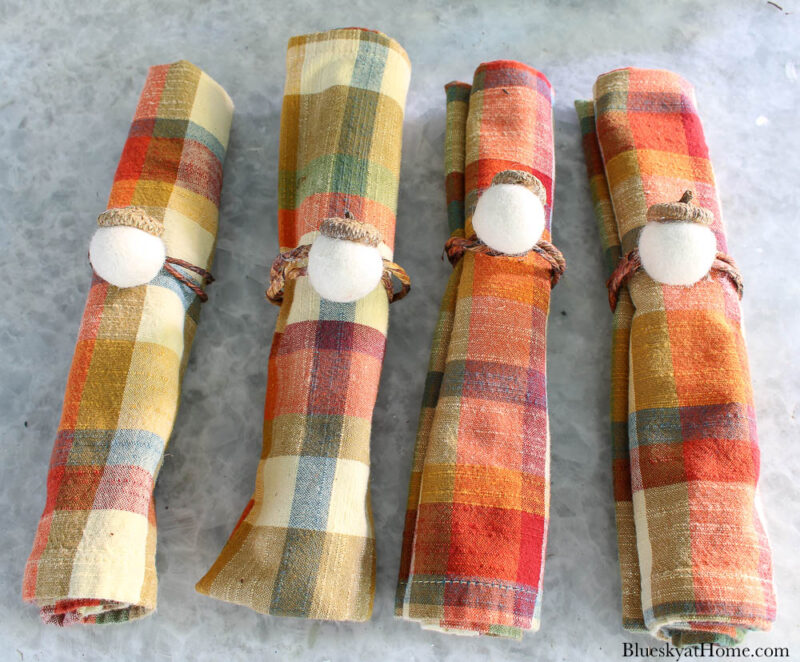 Now, add your napkins to your table.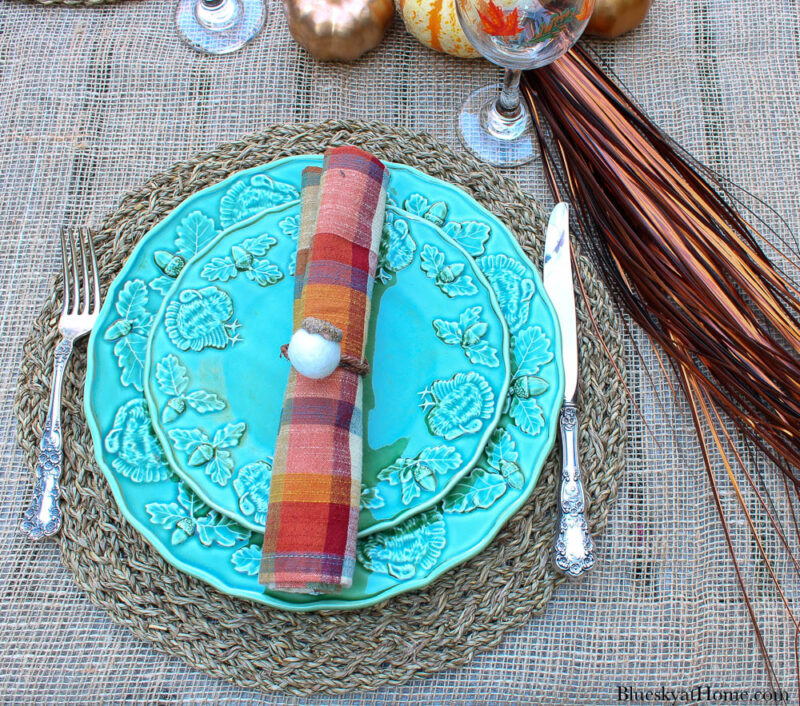 STEP 9 ~ EMBELLISHMENTS
Embellishments are those additional items that add a little interest, pop of color, whimsy, sparkle, or an ah~ha moment to your overall tablescape.
For this Thanksgiving table, I decided to add some more acorns to the table ~ just a few at two corners.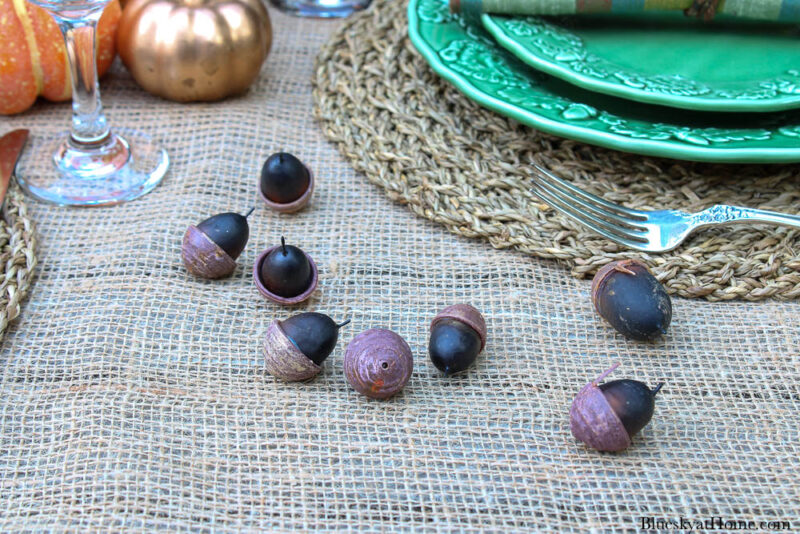 After stepping back to get an overview of the table (another good idea that I recommend), I reallized one thing was missing.
Yes, the Thanksgiving table needed a turkey. We have so many in our collection. I chose this one for its size and the colors.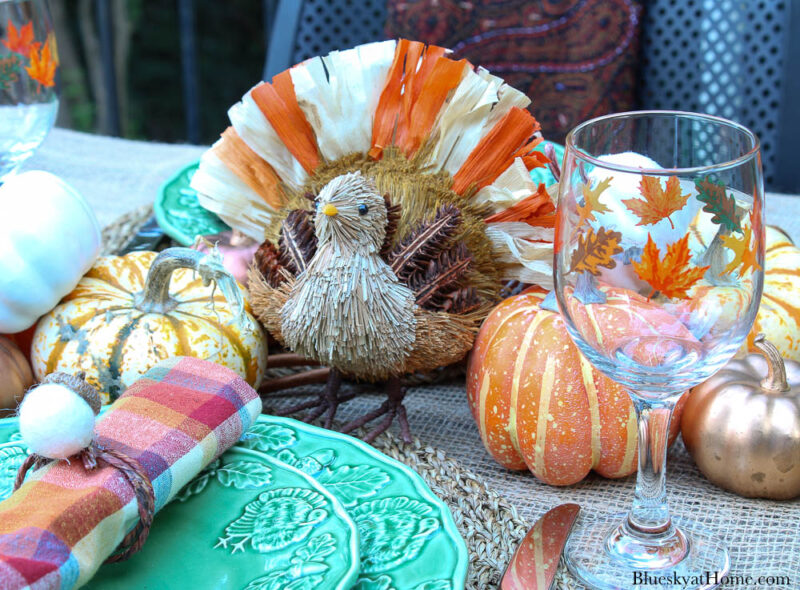 After following these 9 steps to setting a Thanksgiving table, I was done. My casual, rustic table setting with a touch of elegance is done.
SHOP THIS THANKSGIVING TABLE
I hoped these 9 easy steps to set a Thanksgiving table ~ or any table will help you as you plan and set your table. After you PIN it, please visit the tablescapes that my friends have created. Sandra from Dinner at Eight is next on the list. The entire list is below.

Have fun visiting.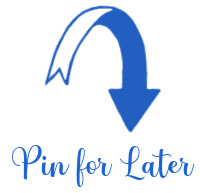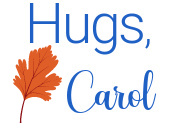 Debbee's Buzz – Liberty Blue Thanksgiving Table with Turkey Napkins
My Hubbard Home – Thanksgiving Table With Brown and White Traditional Colors
Everyday Living – We Gather Together
Home is Where the Boat Is – The Softer Side of Thanksgiving
Panoply – Thankful
Tablescapes at Table Twenty-One – Home for the Thanksgiving Holiday 2021
Pandora's Box – Leopards and Checks
Hyacinths for the Soul – A Place at the Table – A Harvest of Ideas
Celebrate and Decorate – Set a Heartwarming Thanksgiving Table with Neutral Colors and Natural Elements
My Thrift Store Addiction – Vintage Thanksgiving Breakfast Table
The Little Yellow Corner Store – Celebrating Thanksgiving a Little Differently
Me and My Captain – Football AND Thanksgiving
Life and Linda – Thanksgiving with Elegance
Sweet Sensations – Dining with the Gents for Thanksgiving
The Painted Apron – Pumpkins and Pickups
Corner of Plaid and Paisley – Thanksgiving 2021 – A Bit Boho
Living With Thanksgiving – Blessings at Thanksgiving
Belle Bleu Interiors – A Heart Full of Thanksgiving
Bluesky at Home – 9 Steps to Set a Thanksgiving Table
Dinner at Eight – A Seasonal Table for Thanksgiving
The Bookish Dilettante – We Gather Together
Zucchini Sisters – Vintage Thanksgiving Table Setting