Festive Christmas Decor in the Living Room and Kitchen
If the front door and your entry welcome guests into your holiday home, then it's probably the living room and kitchen that makes them want to settle in for a long winter's nap and visit during the holidays. So welcome to our festive Christmas decor in the living room and kitchen.
Whatever your style, whatever your color scheme, Christmas decorations make everyone feel like enjoying the holiday spirit. Our festive Christmas decor in the living room and kitchen will give you tons of ideas for your own home.
Do you have boxes and boxes of Christmas decorations that you have had for years? Collections of Santas and snowmen and reindeer; maybe angels and gingerbread houses.
You want to use these treasures every year because they have meaning and memories. And, let's be honest, we've invested a good amount of money into them.
Do you like to keep your Christmas decorations in the same place year after year? Maybe because the placement evokes memories? Or a certain place is the just right and only place that particular decoration fits? Our Christmas tree is in the bay window of our breakfast room because that is, literally, the only place it will fit.
Otherwise, every year I mix things up, moving Santas from the bookcase to the living room mantle or whatever spot strikes me. In the end, the festive Christmas decor in the living room and kitchen evokes the merry and bright decor that we love.
Festive Christmas Decor in the Living Room and Kitchen
I have included links to projects used in this post. If you should order any product from this site, I may receive compensation, but you don't pay a penny more.
So far this Christmas season, I've shared our merry and bright master bedroom and our front door, entry and dining room with you. So let's step into our living room, breakfast room and kitchen, which are really one great big room.
You may want to visit and PIN some awesome Christmas vignettes from last year.
Our Christmas Living Room
As you enter our living room, you will pass on the left a small vintage table that gets a new look every Christmas. This year it got a Santa and 2 Christmas bears.
You will next see our living room and into the breakfast room where our Balsam Hill Christmas tree is all decked out.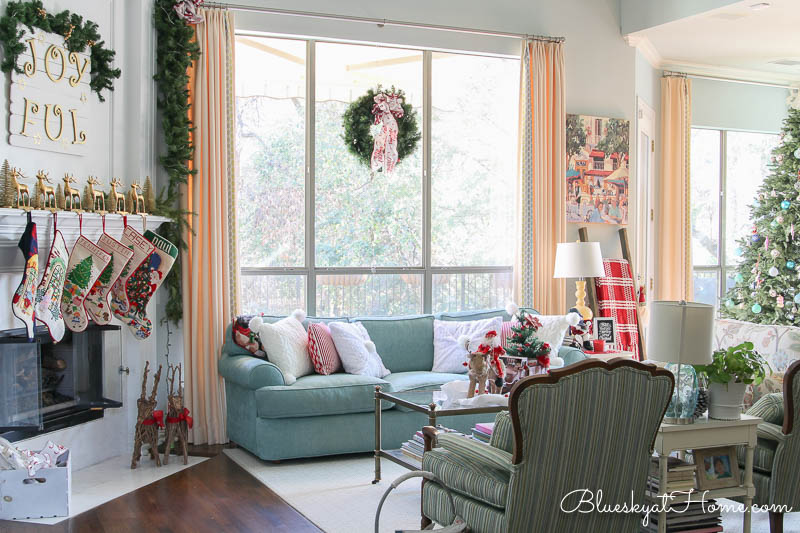 Let's start on the left with our fireplace and mantle decked out with garland, reindeer, gold bottle brush trees, and stockings. This year I used real cedar garland across the mantel.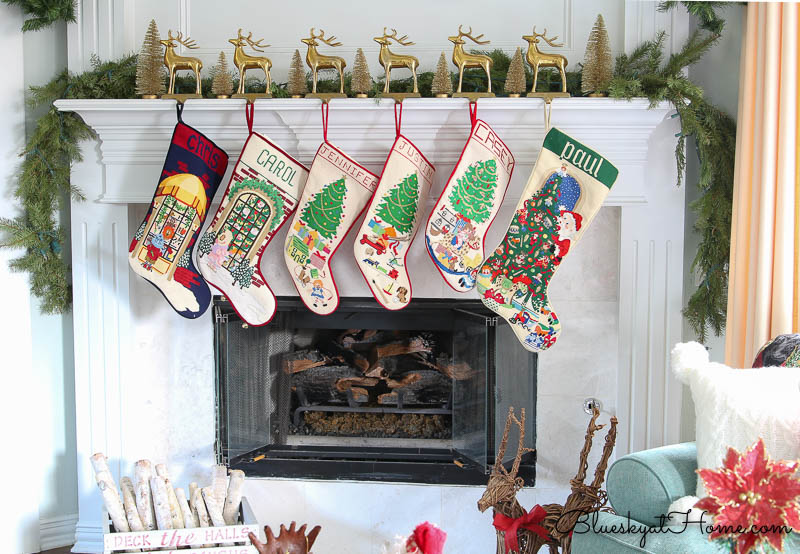 Above the mantle is more garland and bows and and my JOYFUL sign that I made last year.
In front of the fireplace is the crate I painted and stenciled a few years ago full of cut logs that I added some glitter to. This is the last bit of Merry Christmas ribbon that I had.
Our twig reindeer have stood guard in different places during the holidays. They always get a big bow to wear.
You may remember my red truck and Dollar Tree Christmas tree vignette from the DIY Challenge a few weeks ago. It's one of my favorite things holiday season.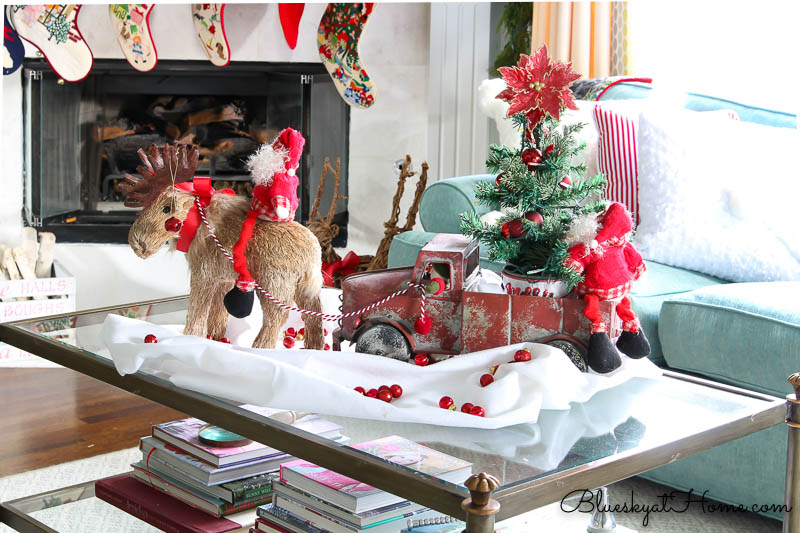 On the side table, a snowman sits next to my chalkboard easel (a freebie from Haven a few years ago) with a new Christmas stencil from A Makers' Studio. The Christmas pillows that I bought at Target last year, but sewed on new pom~poms and Christmas pillows that I made several years ago add to the cozy, but merry decor I wanted this year.
I couldn't wait to use my vintage ladder from Atlanta this Christmas, especially when I found this wonderful Christmas throw at HomeGoods. It is so cozy and warm for cuddling up to watch "It's a Wonderful Life" with a cup of hot chocolate and popcorn. Our door hanger Santa is a good old friend.
On our other table, I used the last of the decorations I hadn't found a place for. The pinecones and silver beads went perfectly with the little birds nests and penguins ~ they are all actually place card holders.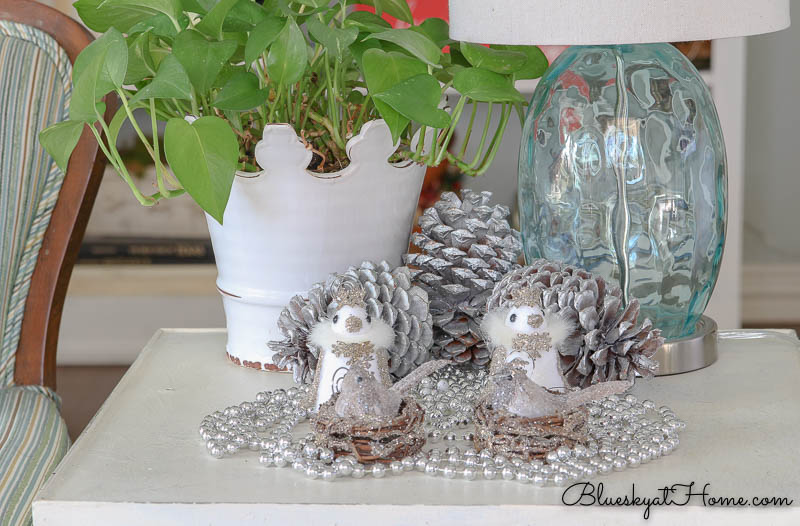 I'll show you our bookcase decorated for the holidays in just a minute
Our Christmas Kitchen and Breakfast Room
I think the first thing you will notice in our kitchen is the large wreath with the plaid bow on the stove hood. I really do need to add more balls to it, but it does have lights ~ of course! This year the red, green, and gold bead garland returned, but the red felt stockings with green ribbon from Dollar Tree (great buy at 12 for $1.00) are new.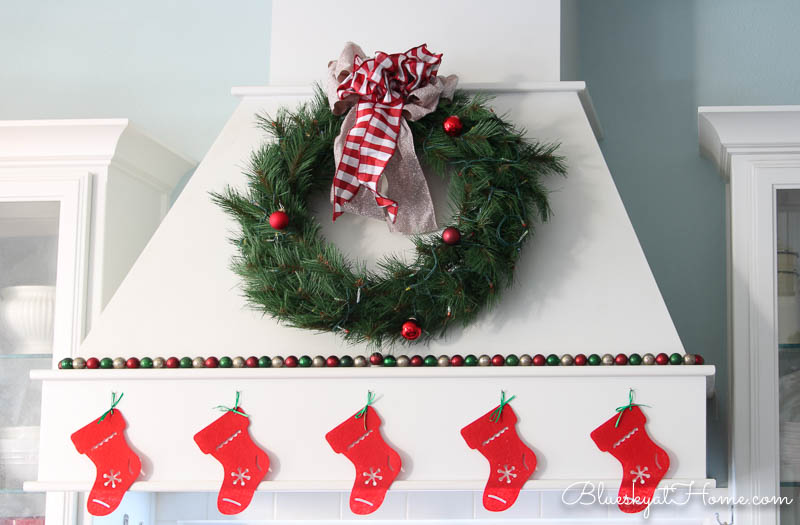 To the right of the stove top, the glass cabinets hold everyday dishes; they get a boost of Christmas with some of our Lenox Christmas china serving pieces and some cookie tins.
Some of our favorite Christmas mugs and figurines form a kitchen Christmas vignette with a cake stand in the center. I've had the books for quite a while.
The Holiday Cookbook ornaments are gifts from a very good friend. The Vietri plate and olive oil dispenser are from my sister~in~law, and the brown snowman was a gift box.
On a trip to Target (I must make 3 a week during the holidays!), I found these candles with a little bit of Christmas holly and berries for $4.99, which I thought would be perfect for our small console island in the kitchen. I placed them in my rectangle wood tray from Kirkland's and filled in with cinnamon~scented pinecones. (The same ones I used for my Christmas dinner place card holders.)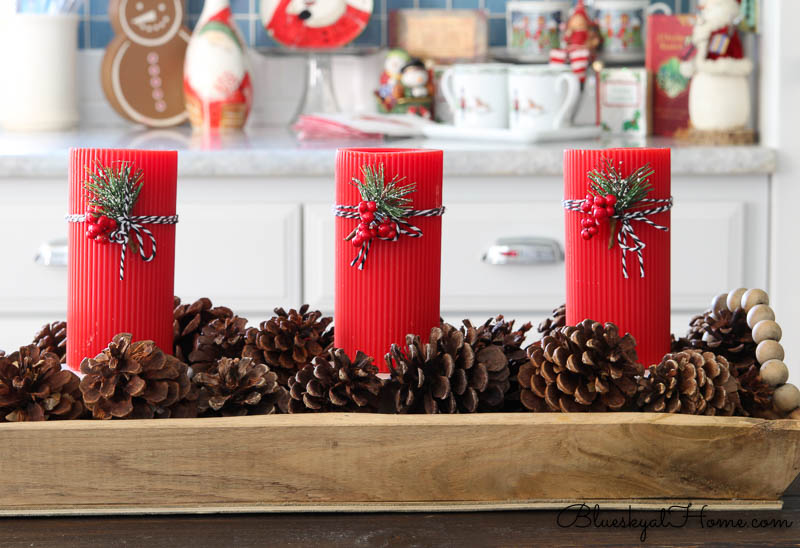 The console table sits on another favorite item: the Christmas rug we had custom made at Louisiana Loomworks in New Orleans a few years ago. We have 3 rugs from there ~ one for summer, fall, and Christmas. Unfortunately, Rhonda retired earlier this year.
On the other side of the kitchen, I decorated the shelves with a few Christmas figurines. On the countertop are parts of the hot chocolate bar Pinterest Challenge from last month. I love having Christmas M & M's for the Christmas color, but I really do need to stop snacking on them.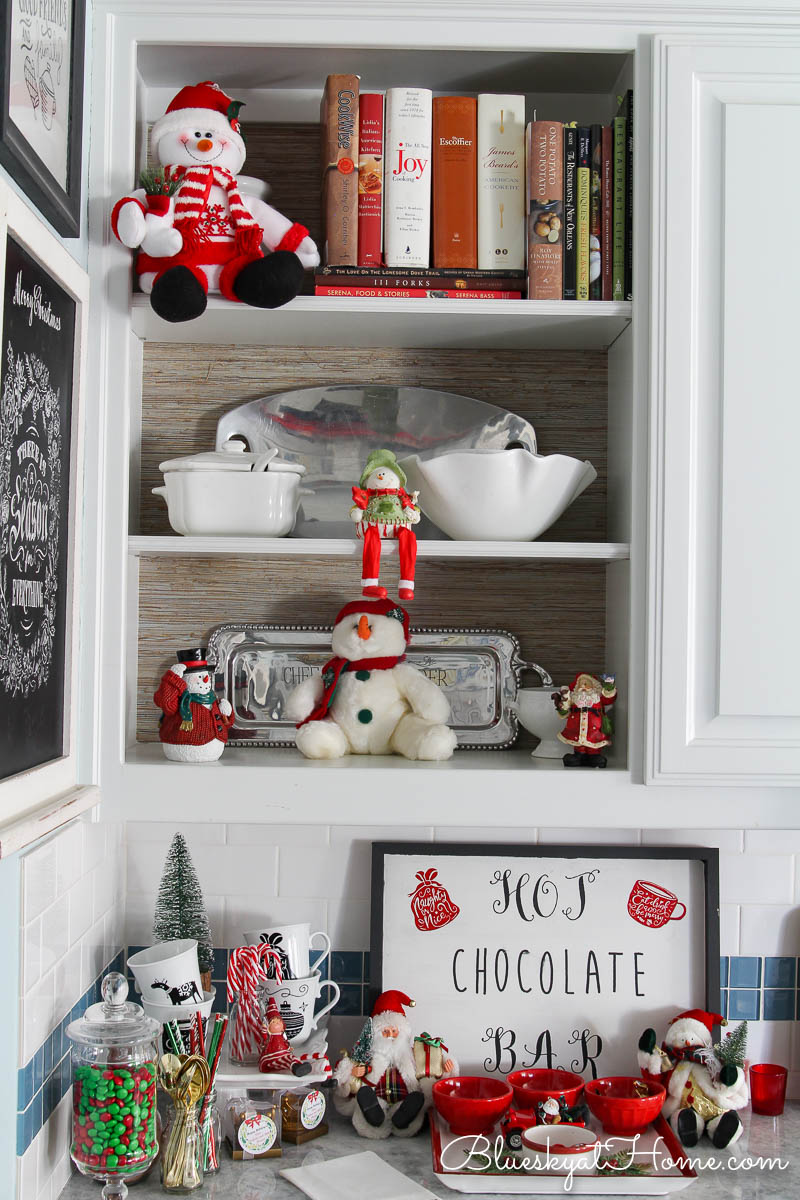 On the wall is my chalkboard with a new stencil sign from A Makers' Studio. The stencils are from last year's Christmas collection, but I love that I can use them over and over again.
My 2 vintage cutting boards also got the stencil treatment with stencils from this year's collection. They all were so cute. I would grab any that are left for next year.
On the kitchen island, a small tree wrapped in ribbon sits on a cake stand with my favorite soap and lotion from Michel Design Works.
Dish towels in seasonal colors are an easy way to add color, pattern and cheerfulness to your Christmas kitchen decor.
I forgot to take a picture of this year's Christmas tree not lit up, but this is the place that it sits ~ right in the middle of our breakfast room. Layla had to get in the picture.
My Dicken's Village found the perfect spot under the tree. BOL on timers means I don't have to get down on my hands and knees to turn them on every night.
Lighting Up our Festive Living Room and Kitchen Christmas Decor
As pretty as Christmas decorations look during the day, it's at night when all the lights come on that the magic happens. In the past few years, we've discovered that battery~operated lights with timers make lighting your home so much easier ~ and in a way, more magical. Having the lights come on automatically seems like fairy dust was sprinkled or a magic wand waved over your home.
Every year for the past 3 years, we have bought more BOL with timers and replaced plug~in lights. At first, we bought BOL until I discovered ones with timers. This year I bought 28 new packages of BOL with timers. There are only 4 places in our home where we use plugin lights and 4 places that we don't use timers ~ for now!
So let's start as you walk into the living room and I'll let the pictures speak for themselves.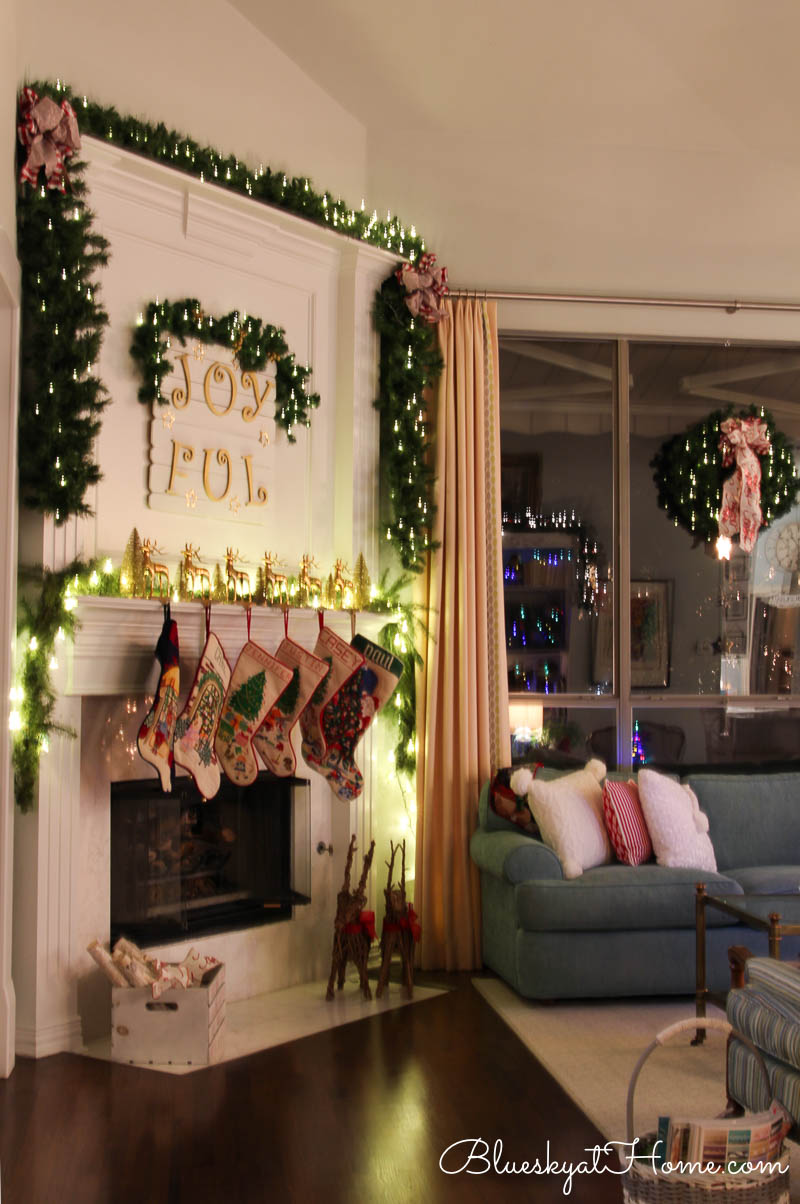 This wreath hangs by fishing wire. The lights in the reflection are the bookcase lights.
On the only wall in our living room, the bookcase always gets garland and lights. This year I used 2 signs that I made last year along with most of our Santa collection. The reindeer and Christmas tree on the top shelf is a DIY project from last year. I love not having a plug showing. Colored lights provide the fairy look.
And finally our Christmas tree. The tree lights have a remote control. We love how the lights reflect in the windows in the breakfast room. It looks like we have Christmas trees outside.
So that is our festive Christmas decor in the living room and kitchen. I wish you could see it in real life. I think it's even prettier and more magical. As the fire crackles, Christmas music playing in the background creates a warm and enchanting atmosphere.
If you came to our home, we would offer you a glass of champagne to share as we enjoyed the Christmas decor surrounding us. We might dance or sing along to a favorite Christmas carol. We would smile and wish you a Merry Christmas. And then we would give you a hug goodnight and wish you safe travels home.