7 Awesome Tips for Hosting Christmas Parties
If you need awesome tips for hosting Christmas parties that will help you enjoy your own party more, I have some for you.
Whether it's friends you see all year round or friends you only see at Christmas time, a party is just a nice way to say you care. It helps if you have some awesome tips for hosting Christmas parties.
We love hosting parties during the Christmas holidays. It's the most wonderful time to bring friends and neighbors together for some holiday cheer. But let's face it: hosting a party is work ~ but fun work.
Why are the holidays a great time for hosting Christmas parties? Well, for one thing, the house is already decorated. It's Christmas and you don't have to come up with another reason to host a party. You don't have to think about what playlist to plug into your BlueTooth. Everyone is in a festive mood. And, don't you want to share your pretty decorations with friends?
Yes, I know hosting a party requires preparation. There's shopping to do, food to prepare, ice to buy. Over the years, I've discovered some helpful, if not, awesome tips for hosting Christmas parties that I know you will want to store in your hostess toolbox.
7 Awesome Tips for Hosting Christmas Parties
Not only will these awesome tips for hosting Christmas parties be helpful right now. They are great ideas for party hosting any time of year.
And remember: parties are about people, gathering friends to enjoy each other's company. Yes, great food and drinks and pretty decorations help to make the season party bright, but hospitality is about making people feel welcomed and comfortable in your home.
TIP 1: Host Back~to~Back Parties
What, you say? I can barely host 1 party, much less 2 at Christmas!! I know, but think of this: your house is already party~ready. All you have to do is plan ahead. This approach lets you maximize your grocery shopping and food preparation. You can double up on party supplies, like napkins.
Here's one example:
Last week, I hosted a Christmas dinner party and 2 days later a Christmas cocktail party. I planned it that way. I knew that I could piggyback part of the menu, cutting my prep time in half.
For example, for the dinner party, I prepared the entree, pork tenderloin, which I cut into filet mignon~style pieces for serving. For the cocktail party, I also made pork tenderloin, but this time I sliced them into thin slices for little sandwiches.
I bought 4 pork tenderloins, seared and roasted all of them at once. After letting them cool, I wrapped 2 of them in plastic wrap and foil, and put them in the freezer. The other 2 tenderloins, I covered with foil on a sheet pan and placed in the refrigerator. About an hour before the dinner party, I set the sheet pan on the counter. When my guests arrived, I placed the sheet pan in a low oven to warm up. For serving, I sliced the tenderloins into 3~inch thick portions.
For the cocktail party, I took the tenderloins out of the freezer midday. When they were defrosted enough, we sliced them thinly for sandwiches, rewrapped them and put them back in the refrigerator. They were ready for the cocktail party.
After Party #1, just put any leftovers in the refrigerator (can they be used for Party #2?), pick up all the dirty glasses and plates (or use paper, if you like), throw away the napkins, wipe down your tables, put everything in the dishwasher you can and be sure to start it before you go to bed.
TIP 2: Set Your Table Early
For my Christmas dinner party, my table was set days ahead. I didn't have to do anything the day of the party. Setting a table takes time, especially if you have to wash dishes or polish silver or track down a missing serving piece.
Having your table set a few days early will give you a sense of accomplishment and get you started on other party preparations with a good feel. Plus, you will have your pretty table to look at.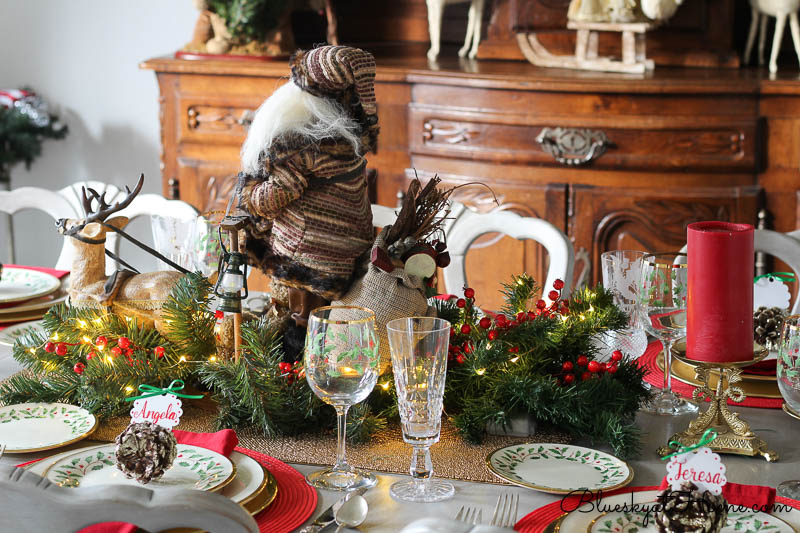 TIP 3: Double Up on Grocery Shopping
This tip goes hand~in~hand with Tip Number 1. Make your shopping list for both parties and make one trip to the grocery store. We are lucky enough to have an extra refrigerator in our garage just for extra food, not to mention wine, beer and water.
If you don't have an extra fridge, fill a large cooler and put items in it that are not highly perishable, such as fruit, vegetables, cheese, butter. We're only talking about an extra day or two.
TIP 4: Clear and Reset Your Table for Party #2
You have one party under your belt. If you are hosting a second party, as soon as Party #1 is over, clear off and clean your table. Remove everything that you don't need for Party #2. As soon as the last guest left on Thursday night, I put away placemats, chargers, and salt and pepper shakers and wiped down the table.
My centerpiece was already in place. I did move it slightly off~center so that I would have more room for my buffet serving pieces.
The next morning I set out all the serving pieces and utensils on the dining room table for the buffet cocktail party. This helps you visualize exactly what serving pieces you need for each food item. Since our menu would be fairly simple, I didn't get fancy with my table arrangement. I also added the stack of dinner plates, silverware and napkins.
MINI~TIP: always place napkins and silverware at the end of a buffet line. You don't want your guests juggling plates, napkins and forks while they were placing food on their plates.
The day of the cocktail party, I added a few food items that I could quickly dispense into the serving dishes.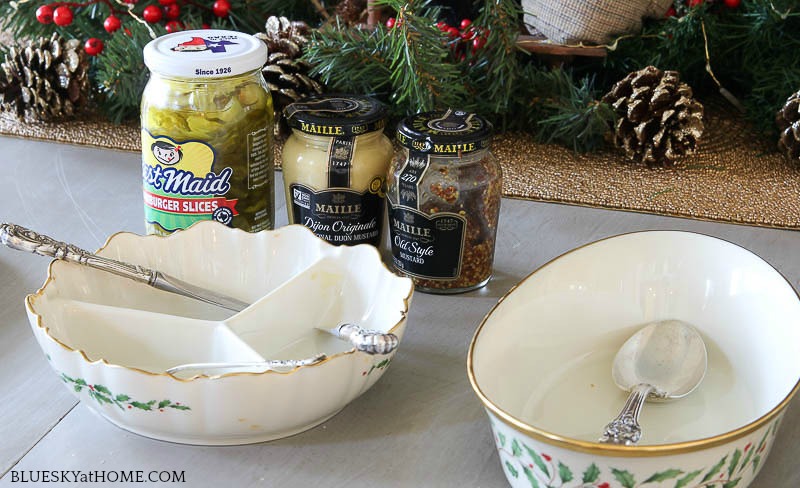 The table was ready to go hours ahead of the party.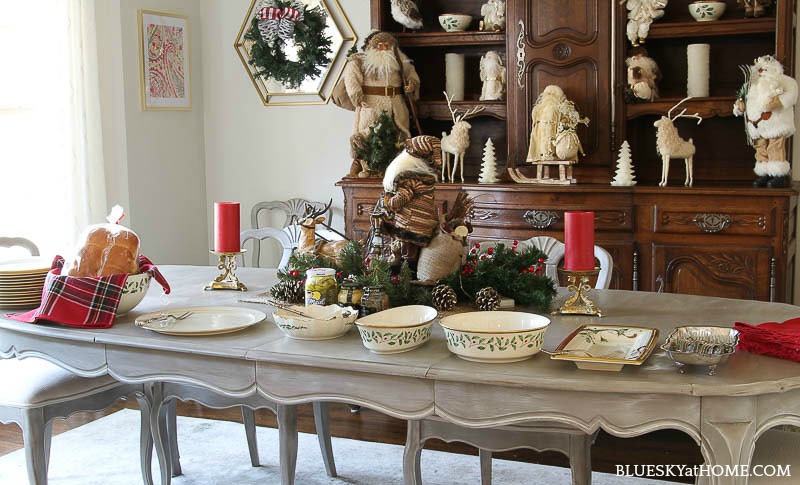 Before the guests arrived, I left the serving utensils on the table, but gathered the serving bowls and platter and bought them to the kitchen to fill them with food.
MINI~TIP: If guests ask if they can fill a bowl, open the rolls, or carry something to the table, then let them. Everyone likes to help!
TIP 4: Accept Guests' Offer to Bring Food
This idea took me a long time to practice. As a chef and cooking instructor, I always felt I had to make everything.
For our Christmas dinner party, everyone brought a part of the meal. In fact, I even sent out an email about what was needed and everyone signed up. It was wonderful!! I was less stressed and enjoyed the party more. And it's fun to see what other people like to cook or bake.
At our tennis Christmas dinner, my sweet friend Teresa bought all the makings for a cheese board and Bru bought a fabulous homemade onion dip. I didn't lift a finger and could greet everyone and focus on the entree.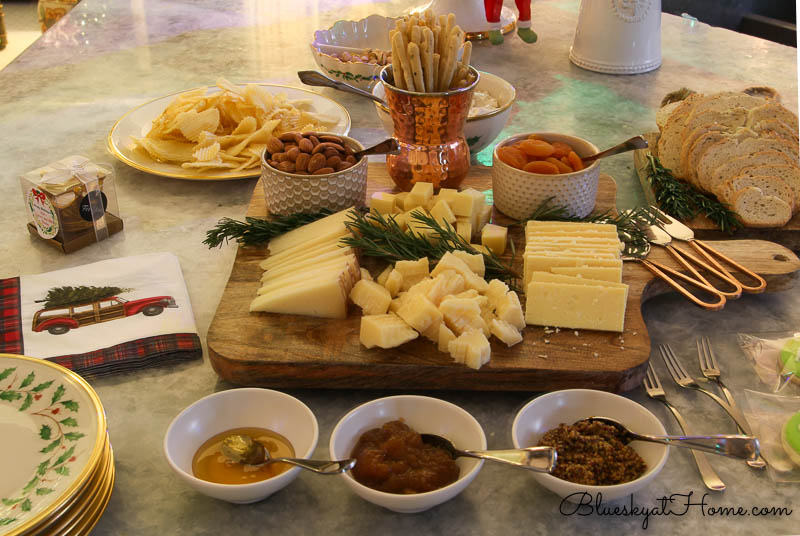 I wish I had taken a picture of our beautiful salad from Angela, the delicious green beans from Valerie, and the amazing apple pie from Searri. Everyone had a great time.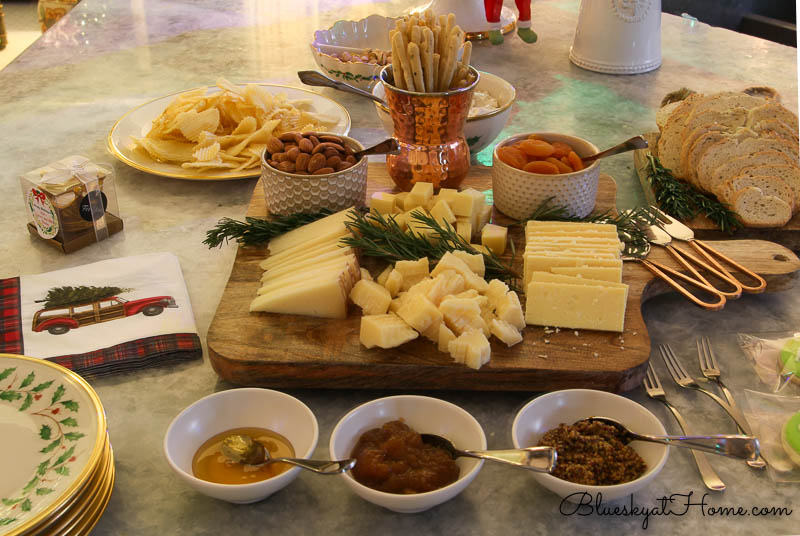 TIP 4: Don't Make Everything Yourself
This tip goes hand~in~hand with Number 3. Sweet Shark has been after me for years not to make everything from scratch. It's hard for me to do, but for our Christmas cocktail party, I decided to follow his advice.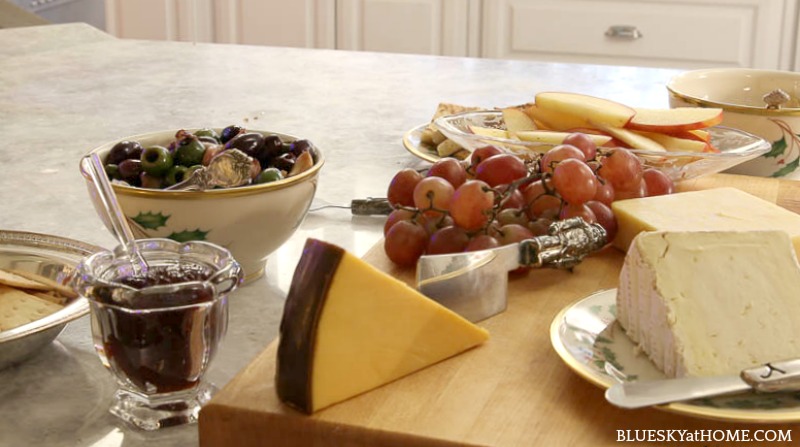 Here's What I Did:
I bought cheeses, crackers and fruit for a cheeseboard.
I bought hummus, but I did grill naan for dipping.
I bought pitted olives, warmed them up in a saucepan with olive oil and lemons.
Bought peeled shrimp and cocktail sauce.
As I mentioned. I did prepare the tenderloins (Tip 1) ahead and bought rolls for the sandwiches.
Instead of making rosemary roasted potatoes, I bought enough for both parties at our Central Market, which is like a gourmet grocery store throughout Texas.
I bought a fabulous Brussels Sprout slaw.
I bought a delicious chocolate sheet cake and sliced it into large squares.
Normally, I would have made the roasted potatoes and the Brussels Sprout slaw from scratch. I would have made the hummus from scratch. I would have baked the cake from scratch.
And you know what? I would have been crazy and stressed.
Did it bother our guests that I didn't make everything from scratch? Absolutely not. They were having a great time, visiting and catching up. This approach was so much better.
Don't feel like you have to make everything yourself. Put your store~bought items on your own pretty platters and serving dishes. When my guests asked how I made my dishes, I just said Chef Mar~ket made it. They were just as happy and raved about the food.
TIP 7:  Get Ready Early
My goal before a party is to be ready (that means showered, make~up on, and dressed) 45~minutes before my guests are scheduled to arrive. I don't always make it, but I try. It feels so much better to be ready to go earlier rather than later.
Here are all the things you can do in those last 45 minutes:
put something in the oven to warm
recheck that you have enough silverware, napkins and glasses
slice the rolls or bread
take out the cheese to come to room temperature (It will taste much better.)
check the bar for ice, lemons, limes, glasses, cocktail napkins*
turn on the music*
light the candles*
dim the lights*
fill the serving bowls with room~temperature items
walk around and admire your beautiful home and your lovely table
put on your lipstick and a smile
*Actually, these are Sweet Shark's jobs
MINI~TIP: have the oven set at 200 ~ 300˚ to act as a warmer
Now it's party time. Take a big breath. You have created a warm and welcoming atmosphere. You are ready to greet your guests with a smile, a hug, and a cocktail of the day or a glass of wine. The appetizers are sitting out, ready for a first bite.
This was my tennis team enjoying the cocktail of the day that Sweet Shark made. Sorry, the picture is so blurry. I think I forgot to focus the camera for Sweet Shark. But, you get the idea: everyone was having fun.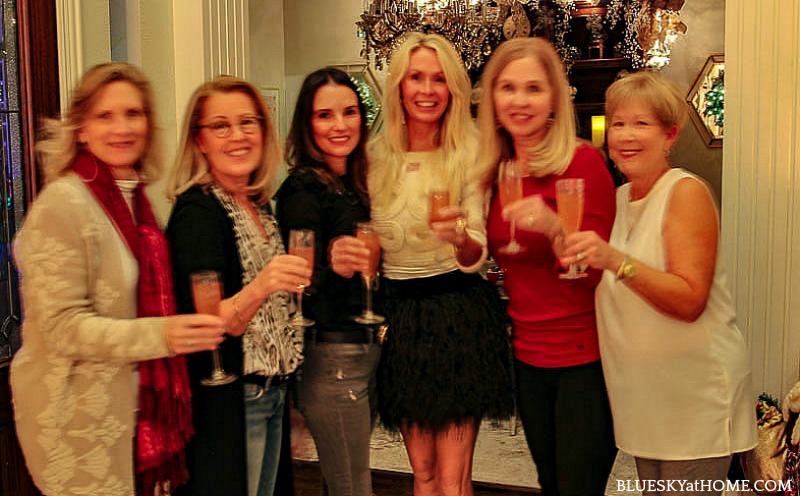 As a little gift, here is the Drink of the Day, a Poinsettia.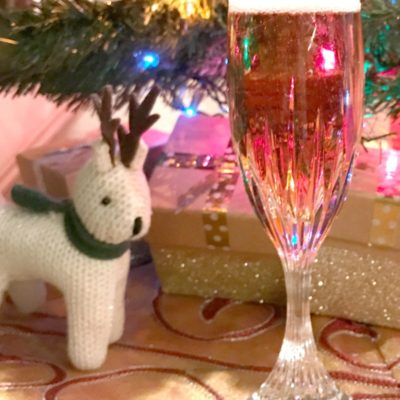 Poinsettia
A delicious and festive champagne cocktail perfect for the holidays.
Ingredients  
1

ounce

Southern Comfort

1/2

ounce

Pomegranate Liqueur

1/2

ounce

Triple Sec

3/4

ounce

orange juice

Champagne

or Prosecco or sparkling wine
Instructions 
Combine all ingredients except Champagne in a cocktail shaker.

Add ice to shaker and stir.

Strain liquid into Champagne glass.

Top drink with Champagne or sparkling wine.
If you are a novice party hostess, then I hope that these 7 awesome tips for hosting Christmas parties will encourage you and help you to host your own parties. If you are an experienced party hostess, then I hope that you've learned a new tip or trick. Be sure to PIN these ideas so you'll be prepared for this season and the coming year.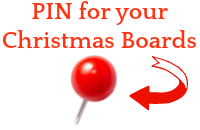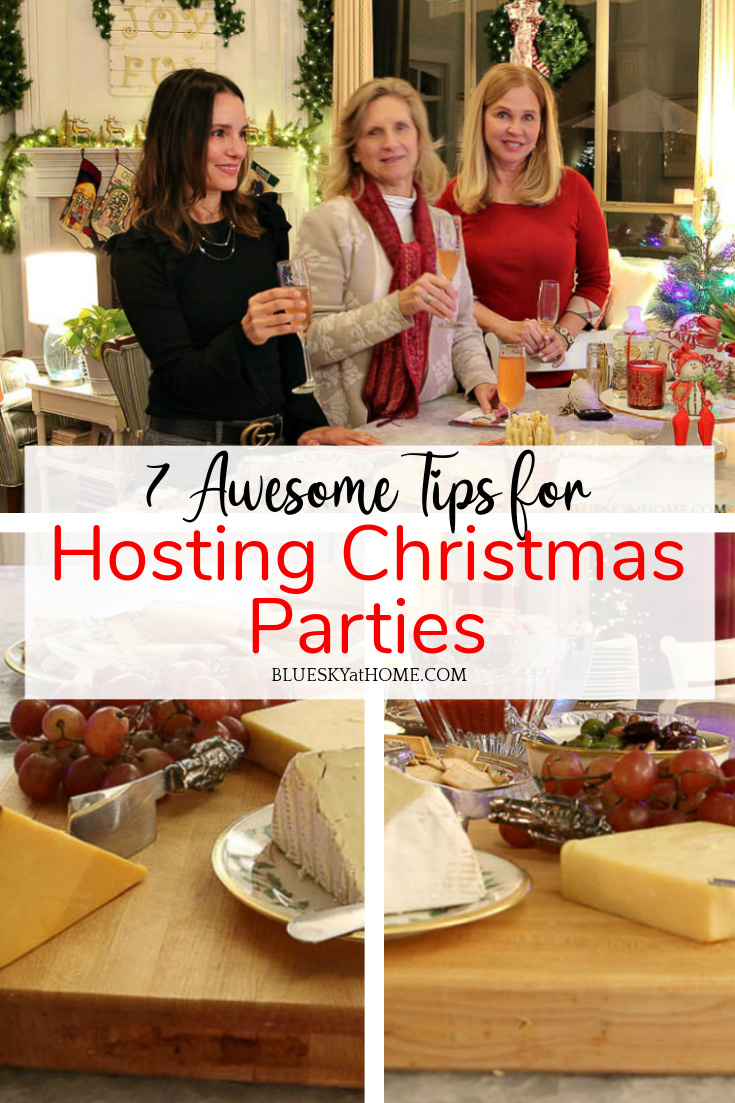 Enjoy these last days before Christmas. As much as I love hosting a party, I love to be a guest too.