Christmas Home Tour from the Front Door
Last week I shared the beginning of my Christmas home tour, starting with our bedroom. Now I want to start back at our front door and head on inside to our entry and staircase and little bit of our dining room. So here's our little Christmas home tour from the front door.
Decorating your home like we do takes days (this year over a week), but I'm so glad that we put in the extra effort this year. We added more lights, a few more vignettes, and decorating our master bedroom added a couple more days to the decorating extravaganza.
I admire those who start decorating for Christmas in early November, but we (especially sweet Shark) want to enjoy each holiday to the fullest, so we started the Saturday after Thanksgiving. We are loving our Christmas decorations and enjoy sharing with friends ~ we had 2 parties last week!
Greeting your guests at the front door sets the welcoming tone ~ maybe that's why everyone has a wreath on their front door; it's the best way to say welcoming and cone on in. So let me welcome you to our Christmas home tour from the front door.
Christmas Home Tour from the Front Door
This post contains links to products used in this post. If you should order any product from this site, I may receive compensation, but you don't pay a penny more.
We don't have a front porch, unfortunately, but I love to adorn our door and our coach light with Christmas bows. I made this Christmas bow from ribbon that I bought last year and didn't use. The wreath is real from Whole Foods. The ball ornaments are also from left year. The timer battery lights are from Target.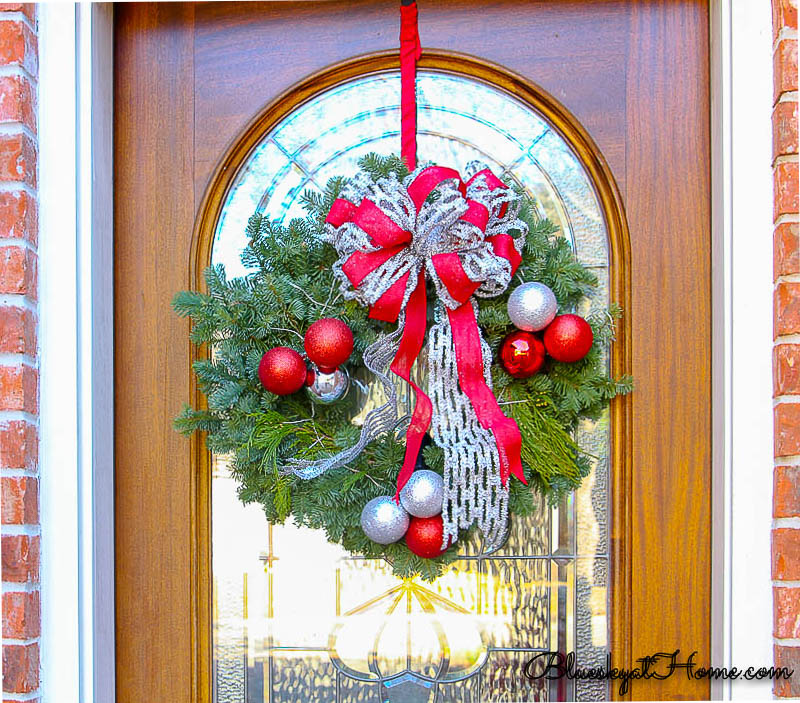 For the swag over our coach light, I made a bow from red check ribbon that I bought this year on sale at Joann. I love that big red check. The real greenery is also from Whole Foods.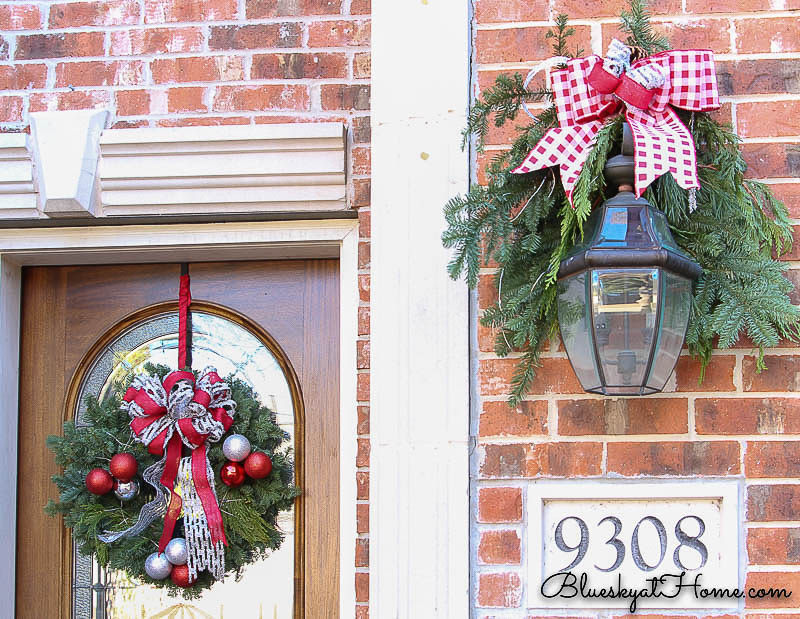 Although we don't have a front porch, I try to make our entry as welcoming as possible using the sleigh that I found in the attic of a home we bought over 30 years ago. My kids actually used this sleigh if it snowed enough when they were kids.
I added a faux greenery garland that I have had for years and new battery~operated lights from Target. I made another bow with the same red check ribbon as the swag over the coach light. The red berry stem is also from Joann. I just bent it in 2 directions.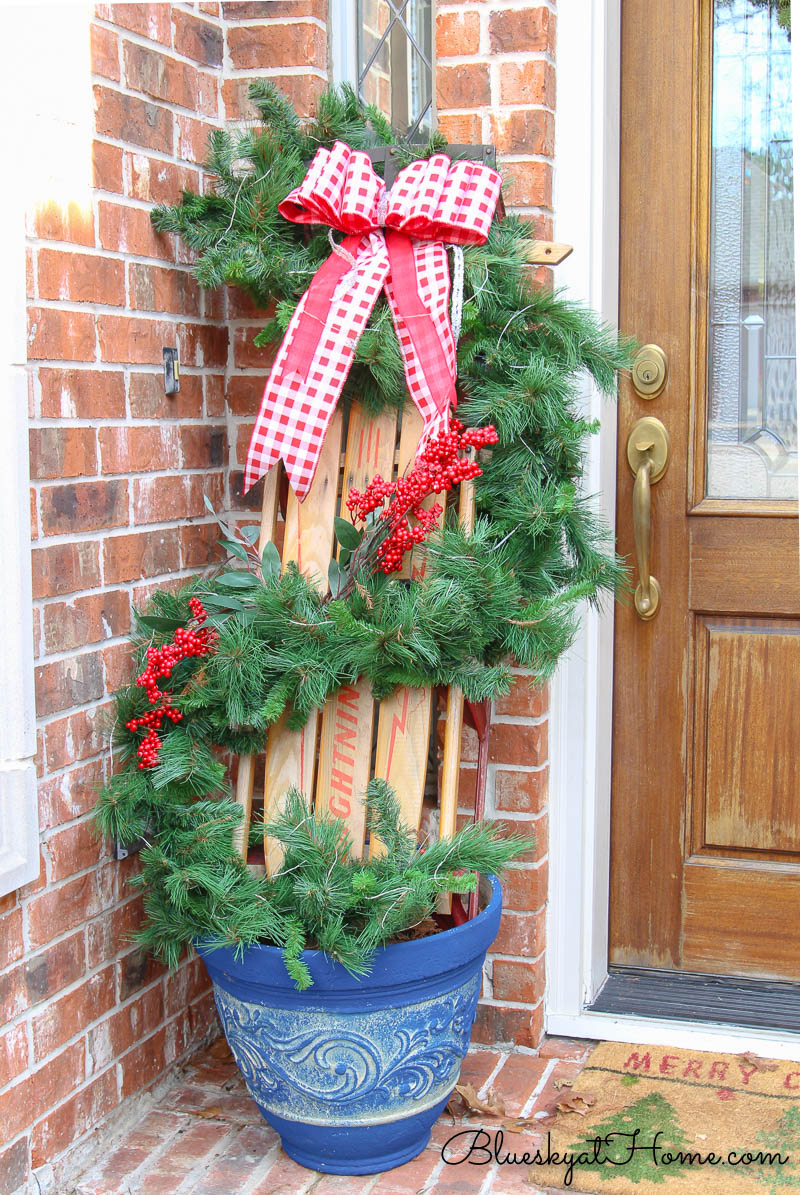 Now come on inside to our home. The holiday decorations are waiting for you. One of our larger Santas is ready to welcome you to our home.
Above our entry commode, I made a holiday message using brown craft paper and this awesome transfer ink sign from A Makers' Studio. I made a similar sign for Thanksgiving so you can see the tutorial here.
A Christmas tree, a Santa from our collection, a reindeer, a bright red candle and small furry goats from Target on a wood slice complete our entry Christmas vignette. With the mirror's reflection, there's no way to keep my tripod out of the picture.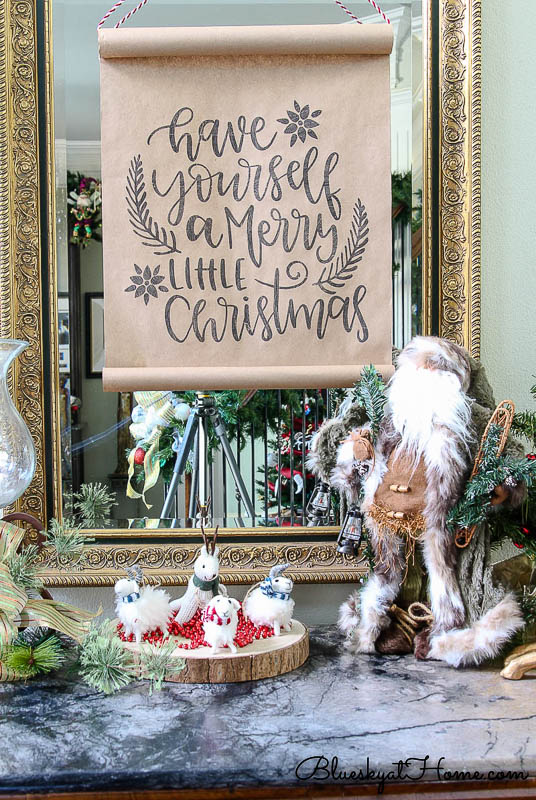 On our bannister, lights, big bows and red, green, and gold balls tell any guests that this is Christmas central at our home.
Last year we added a 3~foot tree on a table to the right of the bannister. It sits on the table that is usually in our bedroom. The table skirt was the one we had around our tree at our first house together.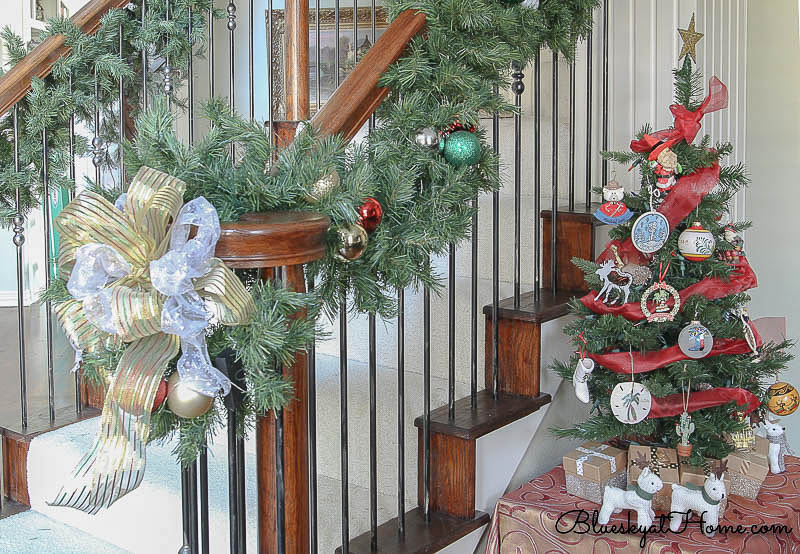 The ornaments for this tree are from our travels over the years. I made the the brown boxes adorned with glitter and washi tape a few years ago for a Christmas tablescape. The little fabric deer are a past purchase from Target. It's nice to see a Christmas tree at the front of the house.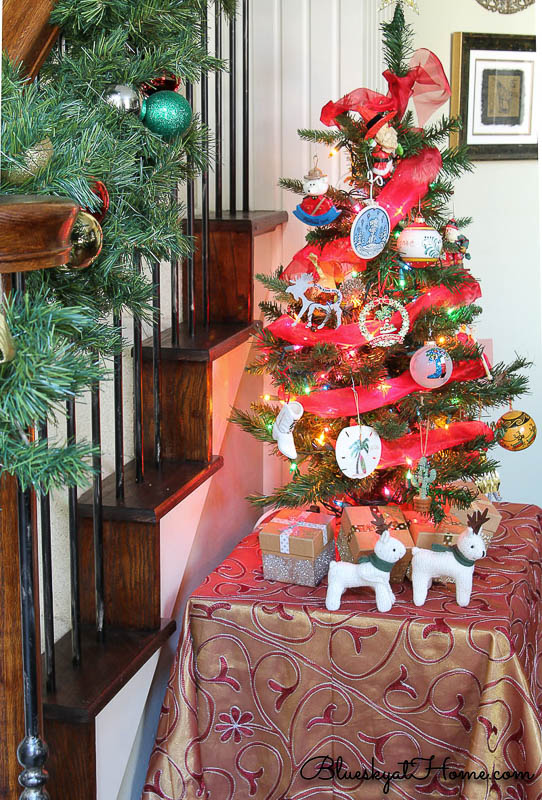 To the left when you come in the front door is our dining room, which I shared a bit of during the Christmas Tablescape Blog Hop a couple of weeks ago. The focal point of the dining room is our antique vassilier all decked out with snow~flocked garland, tinsel, lights and silver and gold bows.
This year I added all our white and snowy Santas and one owl to the shelves. The fabric deer are new (actually bought last year in New Orleans after Christmas). I filled in the top shelves with some of my rose bowls and a couple of bowls from our Lenox Christmas china.
Last year I bought two extra bolts of silver ribbon in wide and skinny because I loved it so much and it was on sale. I'm so glad I did because I used the entire bolt this year. (See the bows at the front door.)
I used two faux green wreaths, which have been recycled several times over the years, to make decorations for the mirrors that flank the vassilier. New bows, using the wide silver ribbon and the last of my plaid ribbon, lights and a silver ribbon to hang the wreath complete the dining room wall decor.
Our bar cart also received some greenery and matching bows. You can see how much the lights add to the magic at night.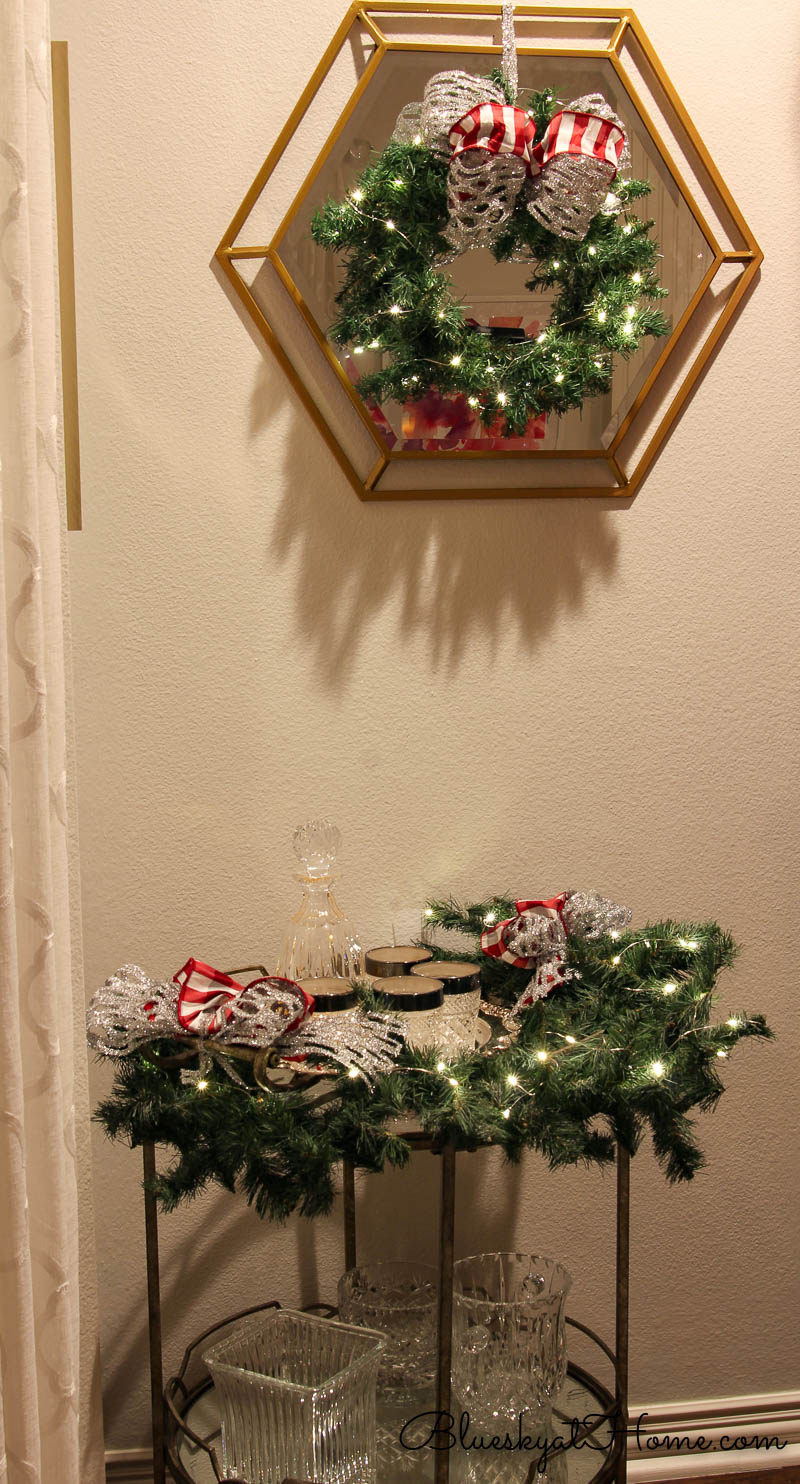 This is how our Christmas home tour from the front door to the entry and bannister with a peek into the dining room. It's what you would see if you visited. Since we had two parties last week, I can tell you that our guests loved the decorations and had some really sweet things to say. Having your guests feel welcomed and comfortable when they visit is the best feeling ~ a little Christmas magic helps.
I'll be sharing our living room and kitchen Christmas decorations soon so please drop back by. I want you to feel welcomed and comfortable too.
Please PIN this post for ideas and inspiration.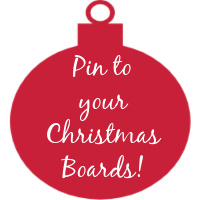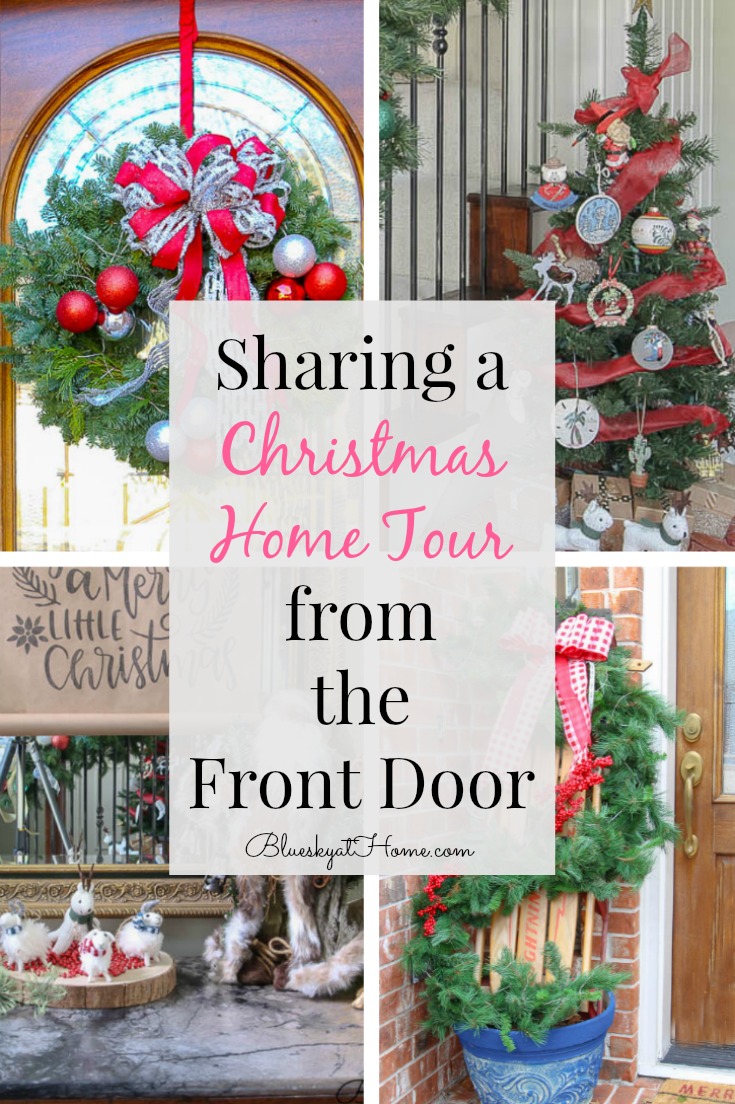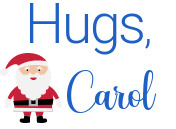 Link Parties

 

December 9 ~ December 15
Bloggers: Don't forget to add your posts to Happiness is Homemade Link Party 301 through Thursday.
All About Home   Beautifully Made   Celebrate Your Story   Creative Muster    Happiness is Homemade  Inspire Me Monday Inspire Me Tuesday  Keep in Touch   Make It Pretty Monday   Oh My Heartsie Girls Wonderful Wednesday   Party in Your PJ's   Reader Tip Tuesday   Saturday Sparks  Share Your Style  Tuesday Turn About Vintage Charm Party  Wednesday Link Party  Wonderful Wednesday    
Thank you so much to these Link Parties for Featuring one of my posts last week. I'm truly honored.
 Tuesday Turn Around
 Vintage Charm Party
Wonderful Wednesday