21 Fabulous Valentine's Day Gift Ideas
Do you give Valentine's Day gifts to the special people in your life? Valentine's Day gifts don't have to be big or expensive, just thoughtful. Here are my suggestions for 21 fabulous Valentine's Day gift ideas.
I love Valentine's Day. It's a celebration that doesn't have to be about romantic relationships, although that is what girls always love. Who doesn't love flowers, candy or a romantic dinner?
Valentine's Day is also a time to let friends and family members know that you care about them.
Do you have to send a gift? No, a sweet card will do.
But, if you want to go the extra mile, a little gift would be such a nice surprise. And so appreciated by the recipient.
In all honesty, I picked Valentine's Day gift ideas that I would love to give and receive. Let's see what you think of these 21 Valentine's Day gift suggestions.
I'm excited to share with you these awesome Valentine's Day gift ideas. I hope you find the list helpful.
Welcome to 10 Fabulous Finds at Bluesky Browsing #72.
Think of Fabulous Finds as a home decor/DIY/Craft/recipe Readers' Digest.
In case you are new to Bluesky at Home, what fabulous finds do I share at Bluesky Browsing?
ideas to help you in your home decor efforts
fun holiday decoration ideas
ideas for better organization and efficiency
a yummy recipe or cocktail
fun DIY projects
the latest trends in home decor
a quirky new find or two
Focusing on finding new projects, resources, tips, new ideas, and inspiration for you is my main task. I'm constantly discovering fabulous finds to inspire us. My goal is to help you find ideas for your home decor, your crafting, your home organization, and anything about home.
Are you a new or intermediate blogger? Every week I share valuable blogging resources and tips. If you would like to receive The Blogger Bulletin, please join the Blogger Bulletin. It's just once a week and is a quick read.
Valentine's Day Gifts: 21 Fabulous Ideas
Here are my 21 favorite suggestions for Valentine's gift ideas – that don't involve diamonds, a trip to Paris or boxes of chocolate.
Valentine's Day Gifts for a Friend who Loves to Entertain
This pretty and useful heart casserole dish.
This set of heart ramekins.
These darling pink heart ramekins.
This heart-shaped pudding/souffle bowl.
This set of Valentine's appetizer plate.
These cute Valentine's cocktail napkins.
A set of heart cocktail napkins in a bright pink/red theme.
This set of 4 pretty Valentine's Day tea towels. Give them all to one friend or one to four different friends.
These precious pink small heart-shaped plates.
Valentine's Day Gifts for a Friend who Loves to Bake
These heart-shaped cake pans.
Heart-shaped mini-tart pans with removable bottoms.
Another set of heart-shaped mini-tart pans.
Valentine's Day Gifts for the Friend who Loves Home Decor
These gifts are for the one who loves to decorate her home with a little love, but may not be a DIYer or for a daughter off at college.
This cute Valentine's Day book stack.
These cute wood bead tassels.
Valentine's Day Gifts for the Friend who Needs a Warm Cuddle
These fluffy, cozy pink slippers.
This cozy pink robe with pockets.
This soft velour tracksuit for lounging around the house.
Valentine's Day Gifts for the Friend who Loves to Snuggle
This pretty chevron throw.
This classic buffalo check in pink and white.
This may be my favorite – a chunky sweater throw blanket with pom-poms!
That's my 21 Valentine's Day Gift Ideas for just about anyone you would want to give a gift to – except the under-12 group. There are a few that are perfect for my daughters.
Did you find some to put on your Valentine's Day gift list? I'd snatch those gifts right now.
I bet you don't want to forget where you saw that cute throw with the pom-poms or the pink ramekins. Be sure to Pin this gift post.
I'd love to know what subjects you are most curious about. Let me know in the comments and I'll search browse for them. Be sure to PIN to keep these ideas handy.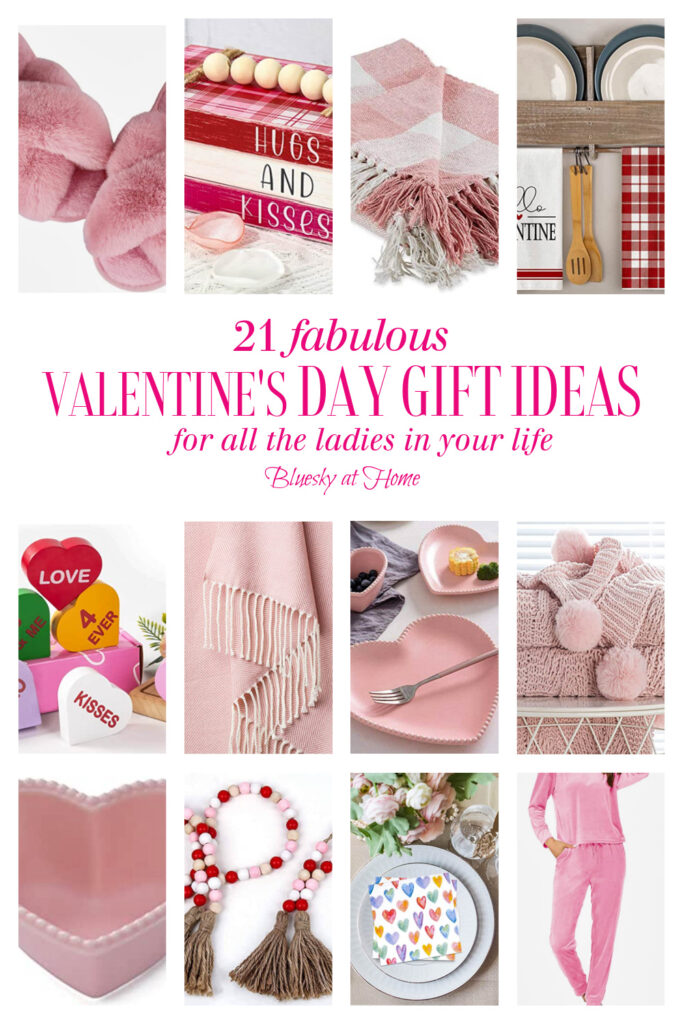 I'll be browsing away between writing posts, listening to podcasts, reading, doing various blogging tasks, playing tennis, and walking Nola.