3 Ways to Style a Box for Christmas Decor
What is a box? Five~sided container, with or without a top. Perfect to use in decorating. Let me show you 3 ways to style a box for Christmas decor.
Have you thought about using a box in your Christmas decorating? Why not? I bet you have a box of some sort laying around your house. Need an idea? I can show you a few ways to style a box for Christmas decor.
Boxes can be new or old, wood or glass, metal or cardboard. Maybe your box is a crate. Maybe it has a lid or not.
Whether you use a crate or a box, whether it's made of wood or cardboard, the result is the same ~ a wonderful container for Christmas decorations.
3 WAYS TO STYLE A BOX FOR CHRISTMAS DECOR
I have boxes, I have crates, and I am ready to roll.
The inspiration for this wood box Christmas decor was created by Jennifer of Grace House.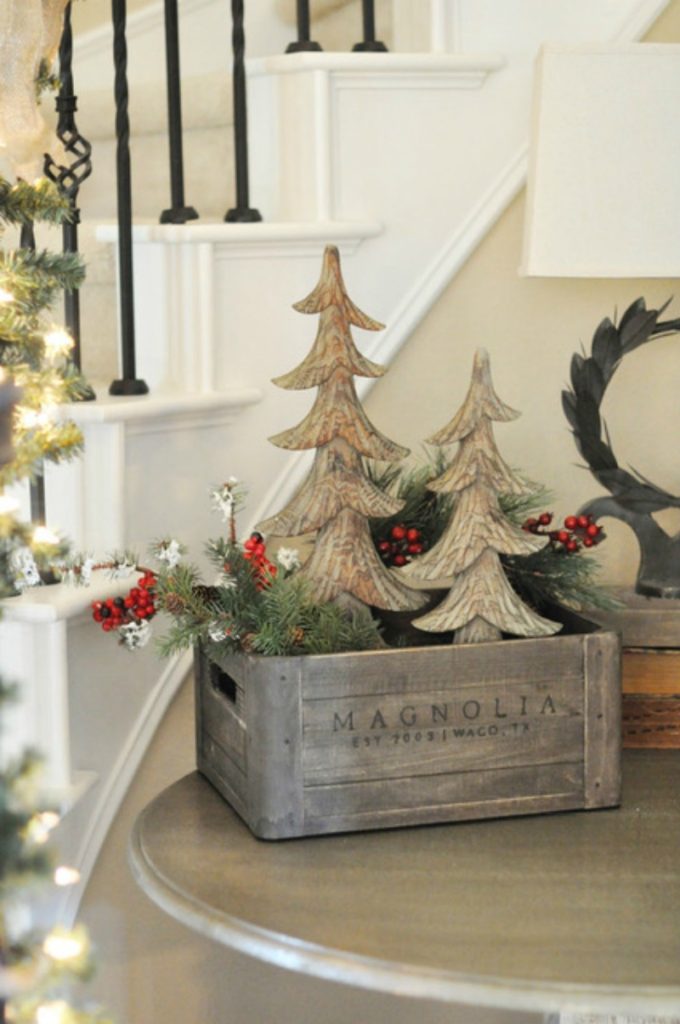 What does this Christmas vignette have going for it?
the box (duh!)
greenery
Christmas trees
red berries for a pop of color
MY BOXES FOR CHRISTMAS DECOR
I didn't have to buy a box or crate to create these Christmas vignettes. I had two boxes and one crate that would be perfect. In fact, I had everything I needed to create 3 ways to style a box for my Christmas decor.
I hope that these 3 approaches will give you ideas to search your home for boxes to use in your Christmas decorations.
VINTAGE BOX FOR CHRISTMAS DECOR
When you find vintage boxes at a flea market or estate sale, you feel like you have hit the vintage jackpot.
I found my Remington Sure Shot box at an estate sale several years ago. It's one of my favorite finds. This old box is perfect for adding a vintage vibe to my Christmas decor.
I've used this box in different seasons in different settings.
I have used this vintage box all during the year, but it seems special for the holidays.
This Christmas, I decided to use my Sure Shot box as part of our entry decorations. Styled on our entry commode ( In case you were wondering, a commode is a chest of drawers or chiffonier of a decorative type popular in the 18th century.), it provides the focal point every entry needs.
I set it on our commode and filled it with greenery, a Santa, and a reindeer.
The Santa is one of our extensive collection. We have had this reindeer for over 20 years. He got a new bow with ribbon that I bought a few weeks ago for our new Christmas bows.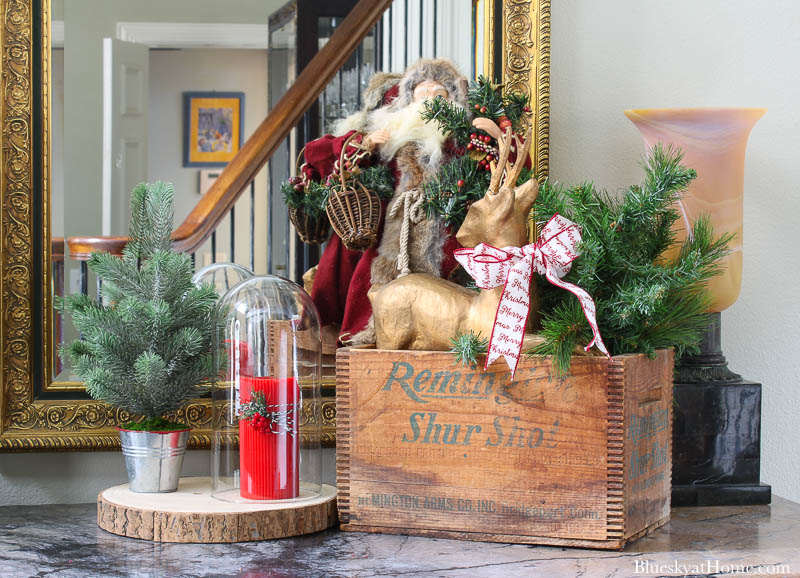 I added my large wood slice as a base for a Christmas tree in a galvanized container and red candle in a cloche.
The vignette needed more color so I added a string of red beads to the greenery and some red jingle bells to the Christmas tree. A couple of white bottle brush trees completes this box Christmas vignette.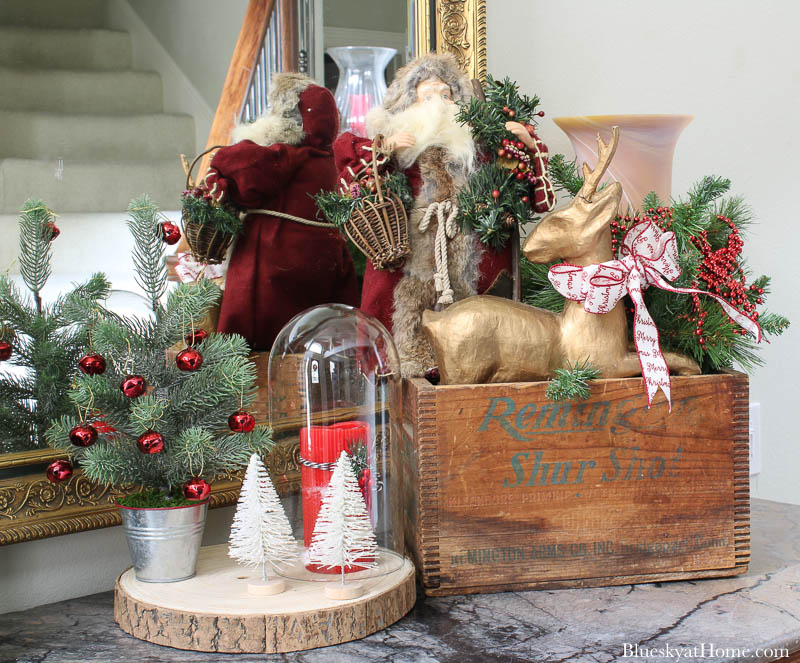 I wanted to be sure that this entry could be candle~lit, so I exchanged the cloche for an open vase.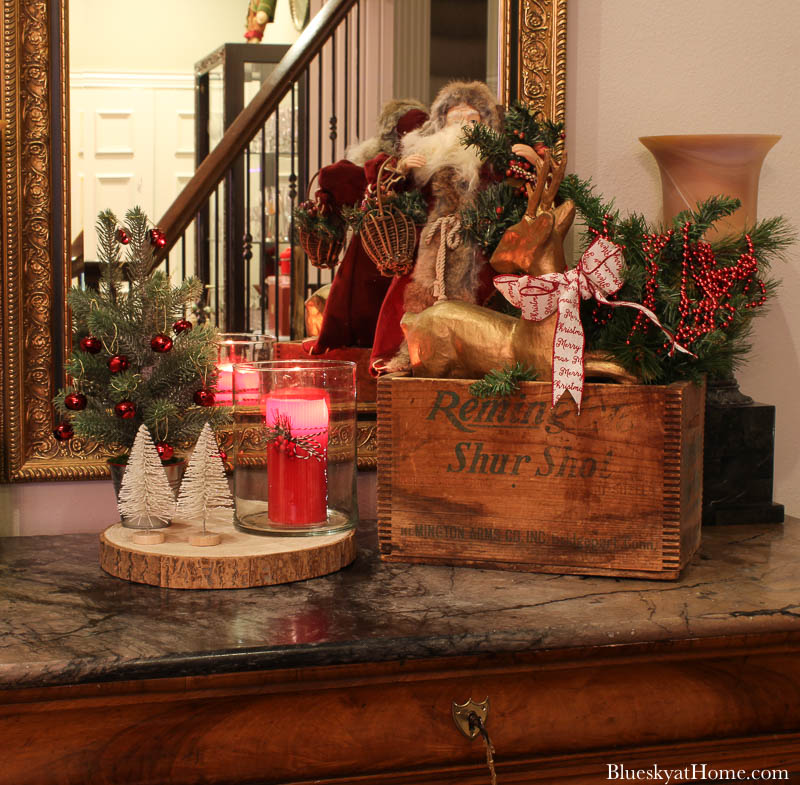 CAPTAIN'S BOX IN THE ENTRY
Across from the entry is our staircase. Next to that, we have a tall metal candle stand. Below the candle stand is another vintage box. This is my second way to style a box for Christmas decor.
I bought this one in Jefferson, Texas, decades ago. Supposedly, it is a traditional ship captain's storage box. Over the years, it has held everything from legos to DVDs to blankets.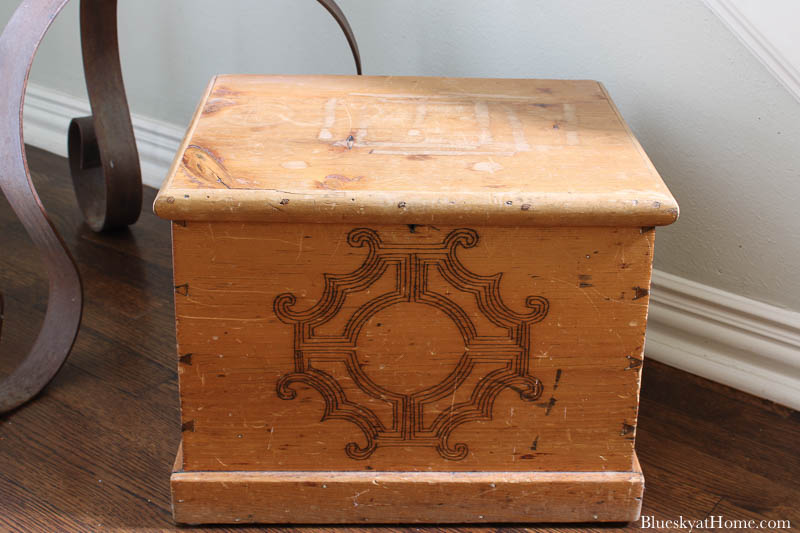 We have a tall metal candle stand with a glass insert next to one side of the staircase. The first thing I did was wrap a garland of greenery and fairy lights around the candle stand.
Next, I opened the lid and filled it with cardboard boxes. Then I draped a piece of Christmas plaid flannel that I bought at Joann on the lid and over the cardboard boxes. My plan is to add either fringe or pom~poms to the flannel, but that will wait for now.
The tall snowman gives height to the scene.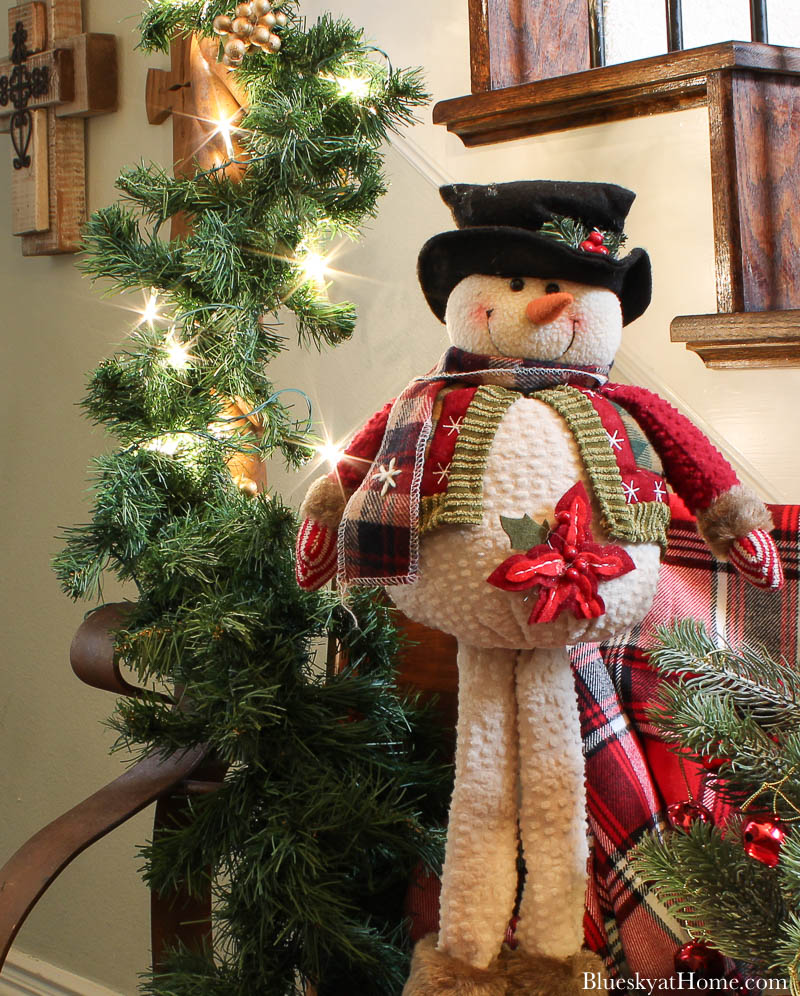 I added another tree in a galvanized pail.
My favorite thing was getting to use the little vintage truck that Sweet Shark and I bought last year on our anniversary weekend in Granbury, Texas. Of course, I stuffed fairy lights inside. A couple more bottle brush trees and I have my second way to style a box for Christmas.
You may be thinking, "but I can't see the box". This is Christmas ~ imagine the pretty box under the plaid flannel.
USE A CRATE FOR CHRISTMAS DECOR
Now your box doesn't have to be vintage from an estate sale or flea market. It doesn't have to be old. It doesn't even have to be a box. A crate from the craft store will work ~ I have painted and decorated one of those.
I have had this crate for several years. (Long before I knew what a blog was, I was painting and DIYing ~ wish I had taken pictures of all those projects for future blog posts.) You can find this type of crate at craft stores or online.
I painted it a light grey and used some old~style vinyl stencils (This was long before A Makers' Studio) to add Christmas words in red on both sides.
Later I found some birch branches at my local Central Market. I bought 5 of them and then sawed them into 12 ~ 14~inch lengths.
Next, I sprayed them with adhesive and sprinkled glitter on them. I'm not sure I would recommend that as the glitter is always leaving sparkles on the floor.
TIP: Be sure to do this outside or protect your surface and surrounding area.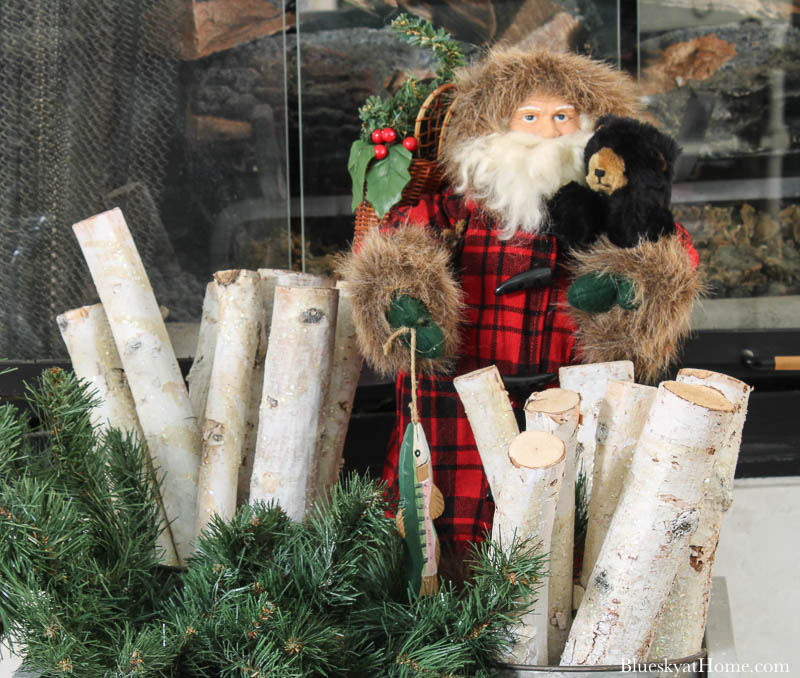 Another Santa is the center of this box vignette.
I divided my birch logs into 2 parts and used galvanized pails to hold them. Then it was easy to "stuff" a piece of greenery in the crate.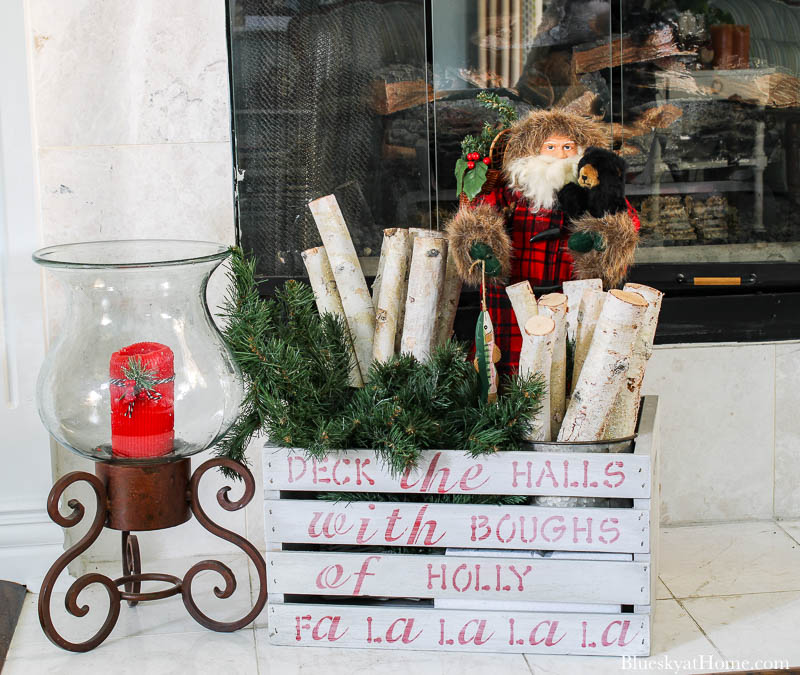 The red candle in my large candle holder finishes off this final way to style a box for Christmas decor.
When we light the fireplace, I may have to move this box vignette away from the fireplace.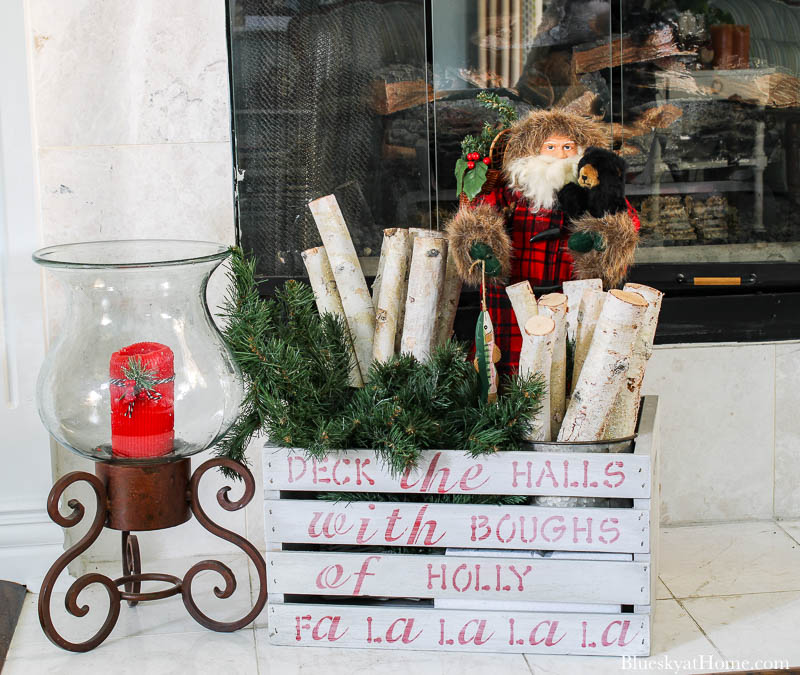 Thanks so much for stopping by to see my ways to style a box for Christmas. I actually have a few more boxes to decorate for Christmas.
IF you don't have a box for this Christmas, then save one for next Christmas.
Please PIN this post for your own inspiration.