Farmhouse Decor Online Shopping ~ Clocks, Signs and Animals
I love a little farmhouse decor. The vintage, whimsical accessories that give a home such a warm feel. If you have farmhouse decor that is real and authentic, then lucky you. I've shared many of the items that I have purchased at flea markets and antique malls. Fortunately, the retail market is a virtual flea market of farmhouse decor.
From big box stores to small boutique shops, farmhouse decor is everywhere. If you don't have shops locally that offer an abundance of farmhouse accessories, then online shopping is a must for you. Last week I needed to take a break from decorating our home for Easter so I decided to do a little farmhouse decor online shopping. I discovered some new resources with amazing farmhouse decor.
I found some great vintage~looking farmhouse decor that I decided to share with you. Maybe these resources are new to you too. Maybe you'll find the perfect accessory to add farmhouse decor to your home. Maybe you'll spend a few minutes browsing and discover something wonderful that I missed. My advice? ~ just have fun and enjoy the exploring.
Farmhouse Decor Online Shopping ~ Clocks, Signs and Animals
This post contains links to products that I think you will really enjoy and appreciate. If you should purchase any product through this site, I may receive compensation, but you don't pay one penny more.
For the most part, my farmhouse decor has been purchased in real life, such as the farmhouse items I shared for my kitchen last year. When I first started my farmhouse decor online shopping excursion, I couldn't believe the volume of choices in so many categories. I realized I needed a plan or I would be online all day. I decided to focus on 3 of my favorite farmhouse decor accessories ~ clocks, signs and animals. That kept me busy exploring and focused.
My thoughts for each item go Top left, right, Bottom left, right.
Farmhouse Clocks
I know we all rely on our phones and digital devices to tell us the time, but there is something so nostalgic about an old clock ~ or one that just looks like one. A clock that has a soft tick~tock, like a wind chime or notes to a lullaby. A clock with big hands and a weathered frame or a metal frame.
This rustic round clock makes me think of a time gone by when there was a such thing as a General Store.
And how sweet is this blue (teal or aqua, your choice) clock with the patina of age and a leaf motif? Oh, and those little birds!
I love the barely green of this square rustic carriage clock, with its chippy finish and cute little legs.
The metal face and metal beaded hands of this windmill clock remind me of an ancient sundial.
Farmhouse Signs
Of course, signs, the more vintage the better, have been popular for a few years. I wonder if the companies that made them or the stores that displayed them years ago (maybe grandpa's general store?) had any idea how coveted the real old ones would become. Fortunately, we have resources for reproductions that look like the real thing.
Do you remember my farmhouse pig I showed you a few weeks ago?
Hot summer days will be here before you can say "April, May and June". We will be looking for lemonade stands to quench our thirst. This lemonade sign is all about lazy summer days and ice cold lemonade in tall glasses with sweat coming off of them.
I love the blue background of this sign advertising farm fresh eggs. My kitchen walls are blue and I'm so tempted to hang this sign. I've mentioned our friends who raise chickens. I gave my friend a vintage egg sign a few years ago for her chicken coop. I wonder if she would like another one.
Every cow needs a sign, especially one in galvanized metal with a vintage advertisement. This sign reminds me of the one I bought in Atlanta a couple of months ago. Mine was a pig, not a cow, but you get the idea.
I have a friend who is known for her deviled eggs; if fact, she always brings a couple of dozen to our Kentucky Derby party. They don't last long. I may have to buy this wicked chicken sign for her. What a cute saying to bring a smile to your family or friends.
Farmhouse Animals
No lions and tigers and bears around here. Give me a chicken, a rooster a pig, or a lamb anyday. I already have a few camping out with us, but every now and then I get a hankering for another animal to add to our menagerie. Here's a few that I found online, oh my.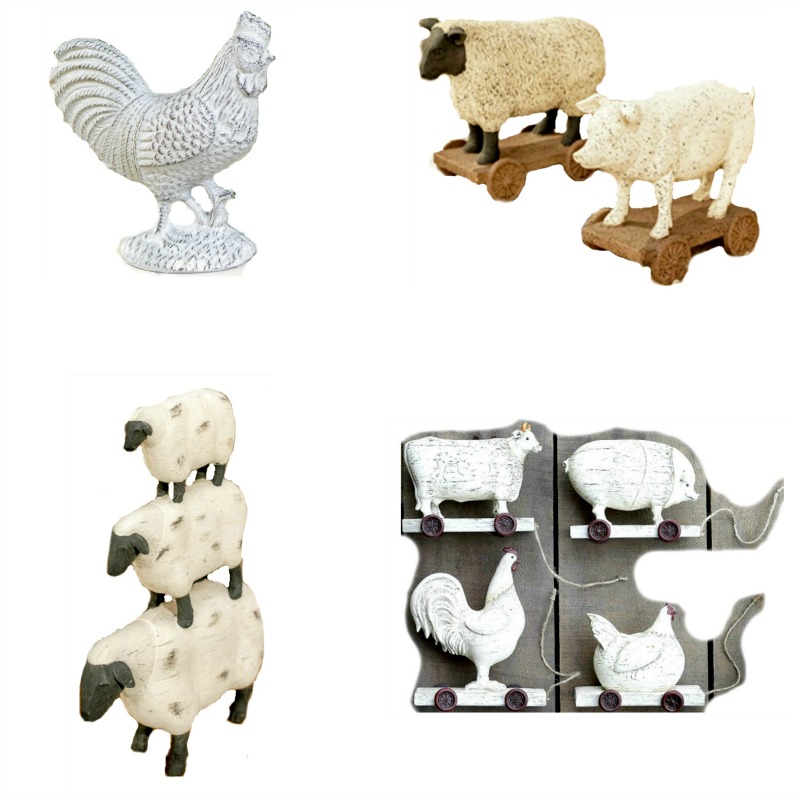 I love a rooster that doesn't cock~a~doodle~do early in the morning. This cast~iron rooster with his detail and rustic finish would definitely last for many, many years in your backyard.
This pair of sheep and pig farmhouse friends have a definitely rustic finish. Baa and oink~oink ~ they would be give a sense of whimsy to any room in your house. I love the little wheels
Can sheep do acrobatics? Can they stand on each other's shoulders? Evidently, this wooly trio can. What a sweet addition to any farmhouse decor for spring.
Oh, these wooden farmhouse animals ~ sheep, pig, rooster, cow ~ how do I pick? They remind me of vintage children's toys with the rope handles for pulling behind little feet. How cute on a shelf or mantle.
Tell me what your favorite farmhouse accessory is. Whether you collect clocks, signs or farmhouse animals or something entirely different, I'd love to hear what it is. It's so fun to compare decorating notes. Do you enjoy shopping online? I'm realizing that the number of items to choose from far surpasses anything one store could hold. Shopping from the comfort of my home may become a new hobby!