How to Make the Cutest Easter Basket Cupcakes
Everyone, everywhere seems to have an obsession with cupcakes. When I was introduced to these Easter basket cupcakes, I couldn't wait to make them.
A few years ago, an article in our local paper highlighted the number of bakeries featuring cupcakes in one area shopping center. Fortunately, this open-air shopping center is less than 10 minutes from my house and I either pass by it or shop at it (Tuesday Morning, Office Depot, DSW) at least once a week.
If you, me or anyone needs a cupcake fix, this is the place to be: Sprinkles, Susie Cakes, Carlo's Bakery (which has since closed), Panini Bakery, Unrefined Bakery, The Hospitality Sweet, not to mention a local grocery store. It's cupcake heaven just down the street.
I haven't been to every one of these bakeries, but I'm trying to make the rounds, but not all at once. (A girl has to watch her figure, right?). My new favorite is about five minutes away at Tiff's Cakes.
Over the past few weeks, it's been a whirlwind of pretty Easter decor and Easter tablescapes, Easter decorations and decorating ideas. (All these posts are perfect for Pinning!) Now I'm ready to share this recipe for the cutest Easter basket cupcakes I've ever made.
The Cutest Easter Basket Cupcakes
Ready to learn how to make these cupcakes? First, a little history.
These cute little Easter basket cupcakes have a story. For almost 5 years, I wrote a column for a local neighborhood magazine (I gave it up a few years ago to devote more time to Bluesky at Home.) I would interview a resident who shares a recipe.
The candidate for April one year shared these cupcakes and I thought they were precious. She used a store-bought vanilla cake recipe and store-bought icing in a container.
Well, I'm a bake-from-scratch girl most of the time. I have my favorite go-to vanilla, chocolate, strawberry and lemon cake recipes. I turned to my tried-and-true vanilla cake and frosting recipes for this Easter basket cupcake.
But I cannot tell a lie, the decoration suggestions are courtesy of my new friend.
How to Make Vanilla Cupcakes
This recipe comes from my favorite little baking cookbook, Sweet Chic by Rachel Schifter Thebault. If you can find this little book (It literally is little.), grab a copy.
What I like is that Rachel shares standard cake making procedures – just like I learned in culinary school – but she gives you ideas for variations and the yield for different size pans. For example, this recipe will make 1 3-layer, 8-inch cake or 36 cupcakes.
This recipe follows a standard vanilla cake procedure, but here are a few tips for cake and cupcake baking.
Tips for Cake or Cupcake Baking
Take out your butter and eggs before you do anything else so they can come to room temperature.
Measure all the dry ingredients into one bowl and use a small whisk to blend them together before adding to the rest of the batter.
Be sure to scrape down the sides and bottom of the mixing bowl for both the cake batter and the frosting to make sure all the ingredients are thoroughly combined.
Use a large ice cream scoop to place an equal amount of batter in each cupcake liner.
Fill the cupcake liners just barely over half full.
Allow the cupcakes to cool completely before frosting and decorating them.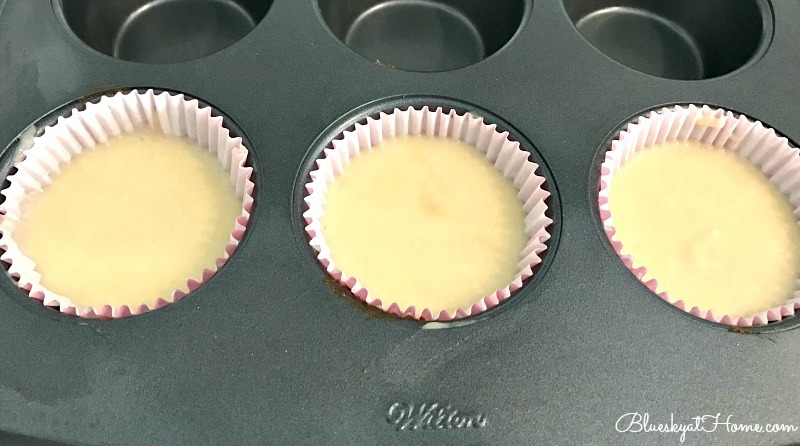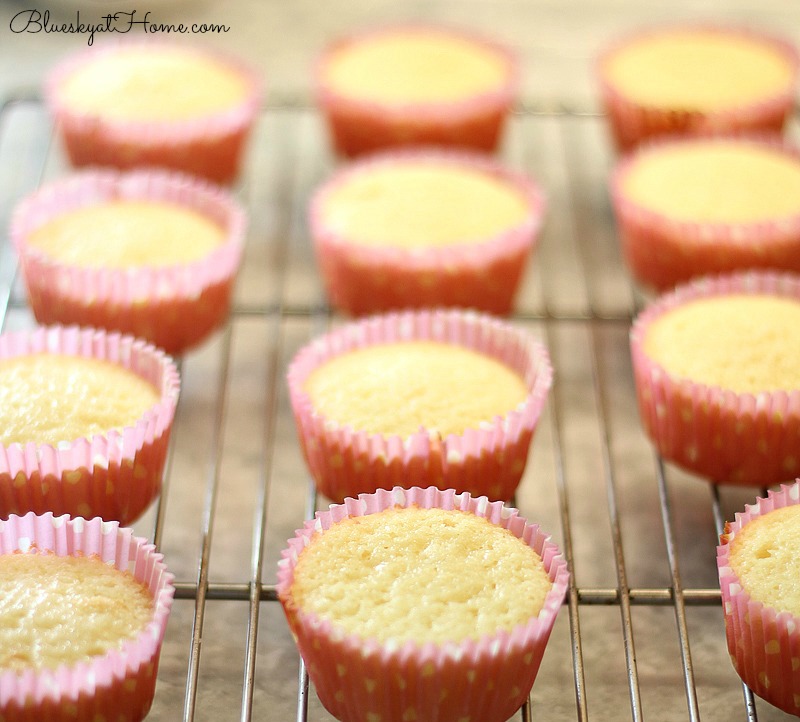 This recipe can be doubled or tripled by clicking on the 2x or 3x button below.
Easter Basket Cupcake Recipe
A delicious and super cute cupcake recipe and decoration for Easter.
Equipment
measuring cups

measuring spoons

electric mixer

rubber spatula

6-or 12-cup muffin tin

cupcake liners

wire cooling rack

ice cream scoop
Ingredients
2 ½

cups

all~purpose flour

1

tablespoon

baking powder

½

teaspoon

salt

16

tablespoons

(2 sticks) unsalted butter

at room temperature

2

cups

granulated sugar

5

large

eggs

at room temperature

2

teaspoon

pure vanilla extract

1 ¼

cups

buttermilk
Instructions
Preheat the oven to 350˚F.

Place a cupcake liner in each tin.

Sift the flour, baking powder, and salt into a mixing bowl. Use a whisk to combine the dry ingredients.

In the bowl of standing mixing mixer fitted with a paddle attachment, beat the butter at high speed until it is light and fluffy, about 3 minutes.

Add the sugar and mix on medium~high speed until smooth, about 1 minute. Scrape down the sides and bottom of the bowl with a rubber spatula halfway through to ensure that the butter and the sugar are well~mixed.

Add the eggs, one at a time, mixing thoroughly after each addition. Again, scrape down the sides and bottom of the bowl.

Add approximately half the flour mixture and mix at low speed just until the flour is incorporated, about 30 seconds. Add the vanilla and buttermilk and mix until combine, about 15 seconds.

Add the remaining flour and mix until combine, about 15 seconds. remove the bowl from the mixer and scrape down the sides and bottom of the bowl with a rubber spatula to make sure that the flour is fully incorporated.

Use an ice cream scoop (or 1/4 cup measure) to divide the batter evenly into the prepared cupcake tins. The batter should come about halfway up the sides of the pans.

Bake for 20 to 22 minutes, rotating the pans once halfway through until the centers of the cupcakes spring back to the touch.

Remove the cupcakes from the oven and let them cool slightly in the pan. Remove the cupcakes from the pan and allow them to finish cooling right side up on a wire rack until they reach room temperature.

Once the cupcakes are at room temperature, ice them. Once iced, the cupcakes can be kept covered or in an airtight container in the refrigerator for up to two days. Bring them to room temperature before serving.
Notes
Uniced cupcakes may be frozen individually wrapped in plastic for up to 2 weeks. The frozen cupcakes can be allowed to sit for 15 minutes before icing. Allow about 1 hour for the iced cupcakes to completely thaw before serving.
ANOTHER TIP: Easter is just around the corner, so make your cupcakes ahead of time and freeze them. Make your frosting up to 3 days ahead. Then the night before or the morning of Easter, frost and decorate them.
How to Make the Vanilla Icing
This recipe will make enough for 1 3-layer cake or 36 standard cupcakes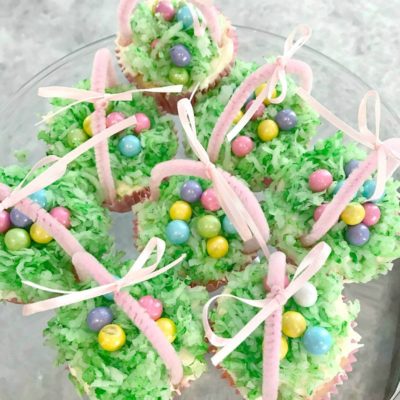 Vanilla Icing
This recipe uses less sugar, but it is still inherently a very sweet icing.
Equipment
measuring cups

measuring spoons

rubber spatula
Ingredients
1

pound

(4 sticks) unsalted butter

at room temperature

6

cups

confectioners' sugar

1

tablespoon

pure vanilla extract

2

tablespoons

whole milk

food coloring

optional
Instructions
Beat the butter in the bowl of a standing mixer fitted with a paddle attachment on high speed until it is light and smooth, about 3 minutes. (See Note below.)

Add the confectioners' sugar and mix on low speed until incorporated, about 2 minutes. The mixture will be somewhat thick and pasty.

Add the vanilla and milk and mix on medium~high until the icing is smooth, about 2 minutes.

Use the icing immediately or keep it in an airtight container at room temperature for up to 3 days. Before using, beat the icing in a mixer, or stir vigorously with a rubber spatula, for about 2 minutes.

Tint with food coloring, if desired.
Notes
Since this icing recipe uses less sugar, it has a more naturally yellow color. If you want to get a bright white or if you're planning to tint it to a different color, beat the icing in a standing mixer until it is colorless ~ the more you incorporate it, the whiter it will become.
Be sure that there are no lumps in the confectioners' sugar. You can use a sifter or fine~mesh sieve.
Decorating the Easter Basket Cupcakes
For the decorations, you will need:
1/2 bag sweetened coconut flakes

green food coloring

decorative pastel candies

pipe cleaners in your color of choice

1/8 to 1/4-inch wide ribbon
After the cupcakes have cooled completely, use a small offset spatula to ice the tops of the cupcakes.
Place the coconut in a small bowl. Add a very small amount of green food coloring and use a fork to blend the food coloring with the coconut until you get a grassy color. Be careful to start with just a little bit of food coloring or you'll end up with black grass.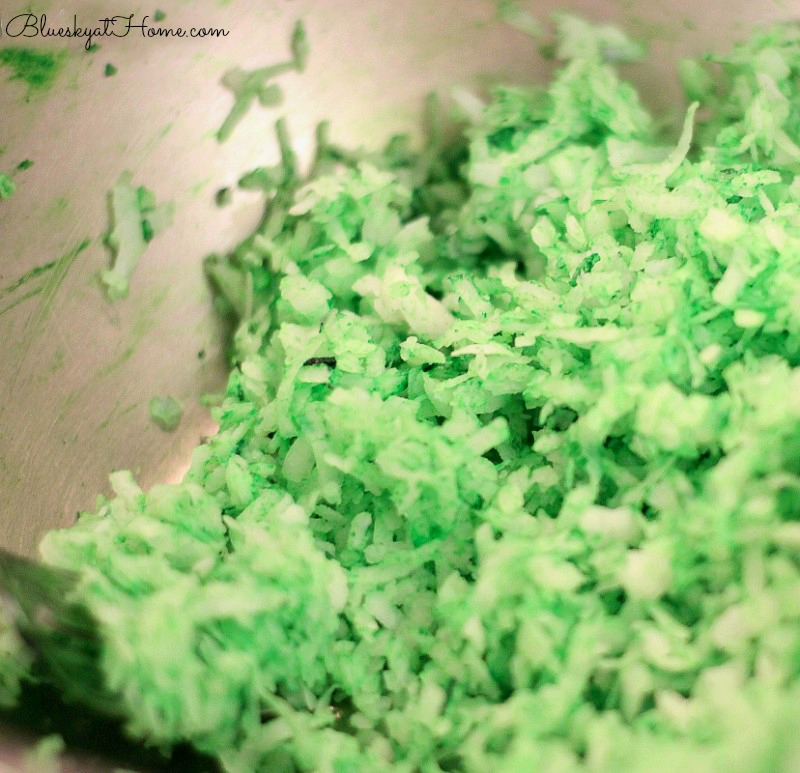 3. Place a small amount, about 1 tablespoon of the colored coconut on top of the frosting, pressing it down just a bit.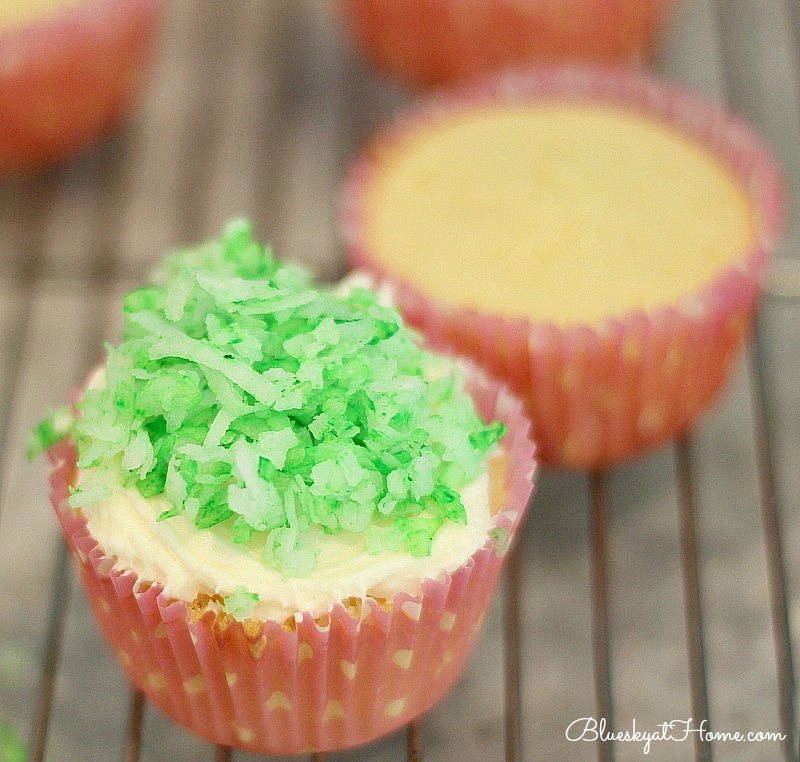 4. Place 6 – 8 of the pastel candies on top of the "grass", pressing down to stick. Use a variety of colors for the best look.
5. Cut each pipe cleaner in half – about 6 inches.
7. Bend the pipe cleaner into a half circle to make the basket handles and place on each side of the cupcake, gently pushing into the cupcake.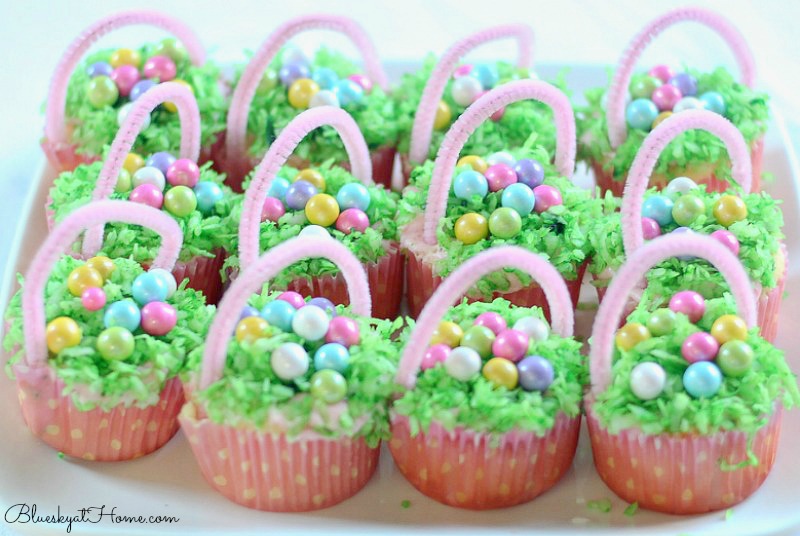 8. Cut a piece of ribbon about 6 inches long and tie in a bow at the top of the pipe cleaner handle.
TIP: You could add a name card to each cupcake and use it as a place card for your Easter dinner table.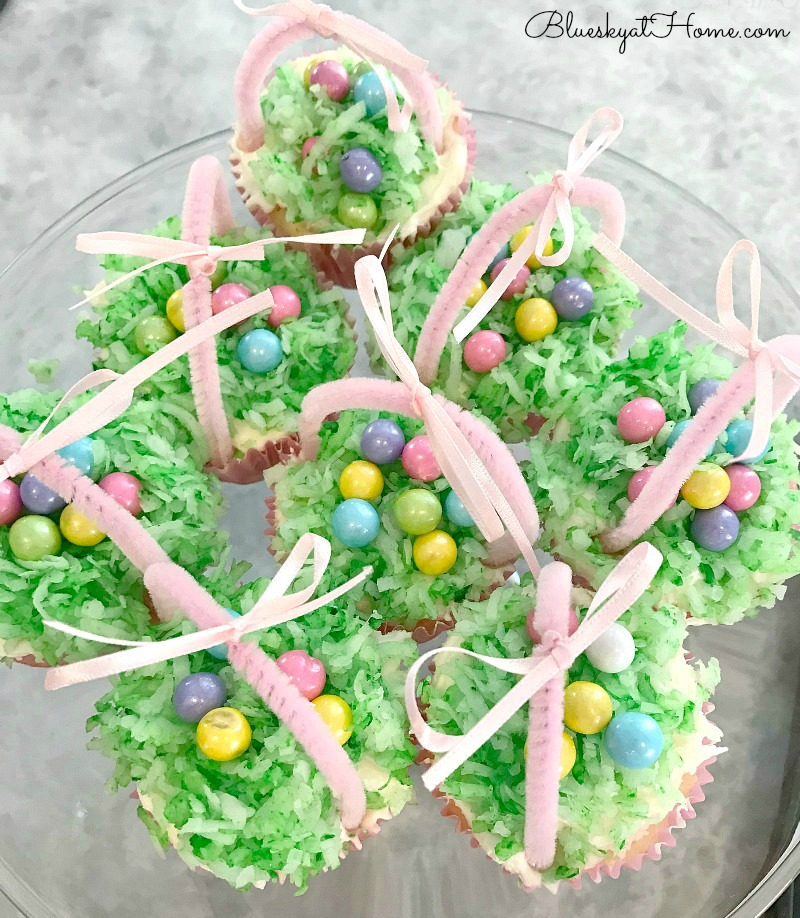 That's it. How simple, but absolutely precious, don't you think?
I love the idea of using the Easter basket cupcakes as name cards for your Easter dinner. If you are having Easter dinner elsewhere, I think you should make these adorable Easter basket cupcakes as dessert and take them to amaze your friends and family. And make all the kids happy, too.
Pin this recipe so you always have it on hand.