15 Awesome Autumn Decorating Ideas
When does fall start for you? After Labor Day? When the kids go back to school? When the calendar officially switches from summer to fall? Everyone seems ready to say goodbye to summer and hello to fall so I have 15 awesome autumn decorating ideas to inspire you.
It's still so hot in Texas even into September that, for me, fall starts on October 1st.  Even though that's over a month away, it's never too early to plan ahead. This year, I am ready to embrace the changing of the seasons and start decorating the house for fall.
Although we have a ton of decorations for the holidays, I always like to get some new inspiration and ideas.  Our home really has a spring and summer color palette, so I'm always searching for ways to bring in the warmth, coziness and color of fall. I need some awesome autumn decorating ideas.
Normally, today would be 10 Fabulous Finds #51. Instead, it's 15 Fabulous Finds #51. A streamlined version. (No On the Home Front.)
Since we just returned from the mountains of North Carolina where the temperatures were in the 60's and 70's, I'm really in the mood for fall.

Here are some really cool (or should I say warm) fall decorating ideas that are inspiring me and I hope they will do the same for you. I think these 15 awesome autumn decorating ideas are creative choices for fall decorating.
Fall Inspiration: 15 Awesome Autumn Decorating Ideas
I've shared round~ups of fall decor ideas (like last week's 10 Fabulous Fall Home Decor Ideas), but this list is totally different! There is so much to share on the topic of fall decor and decorations.
As I searched for fall decor ideas, I looked for classic decorating ideas that last for several years. There are no tablescapes here and almost no DIY (You know how much I love DIY.). I focused on decor from other bloggers because I wanted honest-to-goodness, down-to-earth fall decor that anyone of us could put together in our own homes.
I'm sure you will notice some trends that all these fall decorating ideas have in common. And, of course, you can guess my own design preferences in color and style.
Autumn Front Porch
Let's start at the front door, shall we? First of all, I have to admit that I am constantly jealous of anyone who has a front porch. We don't; we don't even have steps, just the area around our front door. So I'm always coveting (please, forgive me, Jesus) other people's front porches.
This one from Randi Lynn of Randi Lynn Blog stopped me in my tracks. It's not big, but it's covered so all the sheaves of wheat, the baskets of mums and kale, the bales of hay, and the pumpkins won't get soaked in the rain. It's so welcoming. I could sit on the front porch steps with a cup of hot tea and swoon.
Small Fall Kitchen Vignettes
Don't you love gathering small groups of items ~ we call them vignettes ~ together to make a pretty setting in your home: a perfect example of "the sum is greater than the parts". Here are a few awesome autumn decorating ideas that you can quickly put together, but have a big impact on your kitchen.
The simplicity of this kitchen vignette from Liz Marie Blog would work for any kitchen style. Don't you love her use of copper (the color and the metal) to evoke a warm fall feel? Isn't that candle awesome? The natural wood rolling pins and the cutting board with a pear are oh-so fall.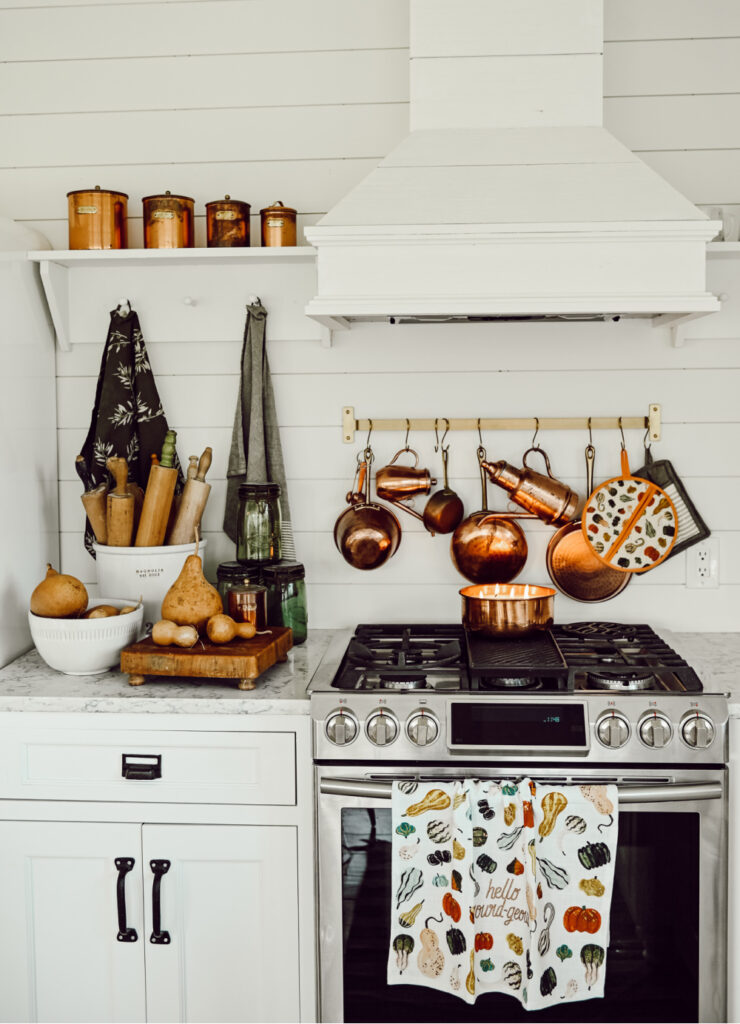 Shannon at Fox Hollow Cottage must also love copper as much as I do. (We actually have several pieces in our kitchen.) Her vintage island sports several pieces of copper as well as a few pumpkins and greenery climbing on twigs.
The candle in an orange tin repeats the metallic tones of the copper and the orange pumpkins and rustic trays in the background. Do you notice how just the hint of black and white check adds a little pop of contrasting color and pattern?
More apples give this little corner kitchen vignette its pop of color. The "apples" sign, apple basket and wheat bundle tell you that fall is on its way. What a cute tea towel. The round wood tray pulls it all together. Thank you to Jenn at Clean and Scentsible for showing how easy it is to create that sweet touch of autumn.
Autumn Decorating in the Living Room
What conjures up fall more than cuddling up with a plaid fall throw and a good book? A tray of cookies and cocoa or hot tea to enjoy as the weather cools down definitely adds to the enjoyment created by Roxanne at The HoneyComb Home. Love the woven basket with rustic charm. Don't forget to light the candles!
Erin at My Texas Home (Happy to have her as a fellow Texan.) knows how to style. This setting is grounded by the awesome console table surrounded and laden with white pumpkins. The beautiful leaf motif artwork flanked by the tall lamps really brings your eyes in. There is just a touch of green for contrast. Oh, and I want that chunky throw in the basket for cold evenings by the fire ~ when it finally gets cold!
Be sure to visit Erin's other fall rooms.
Our entries set the tone and style for our homes. This fun fall entry arrangement from Carissa at Bless This Nest. has a definite cozy farmhouse feel. Isn't that sign surrounded by wheat and greenery gorgeous?
Fall Mantels
We all know that mantels are one of the best places to decorate in our homes. One of the best focal points ever for autumn decorating.
With a shiplap background and a wonderfully chippy mirror, this mantle is ready for fall. Love how the black and white check pumpkins perk up all the white and sage green pumpkins. Stacey at Wilshire Collections tops this fall mantle off with 2 awesome urns full of lamb's ear and a harvest sign.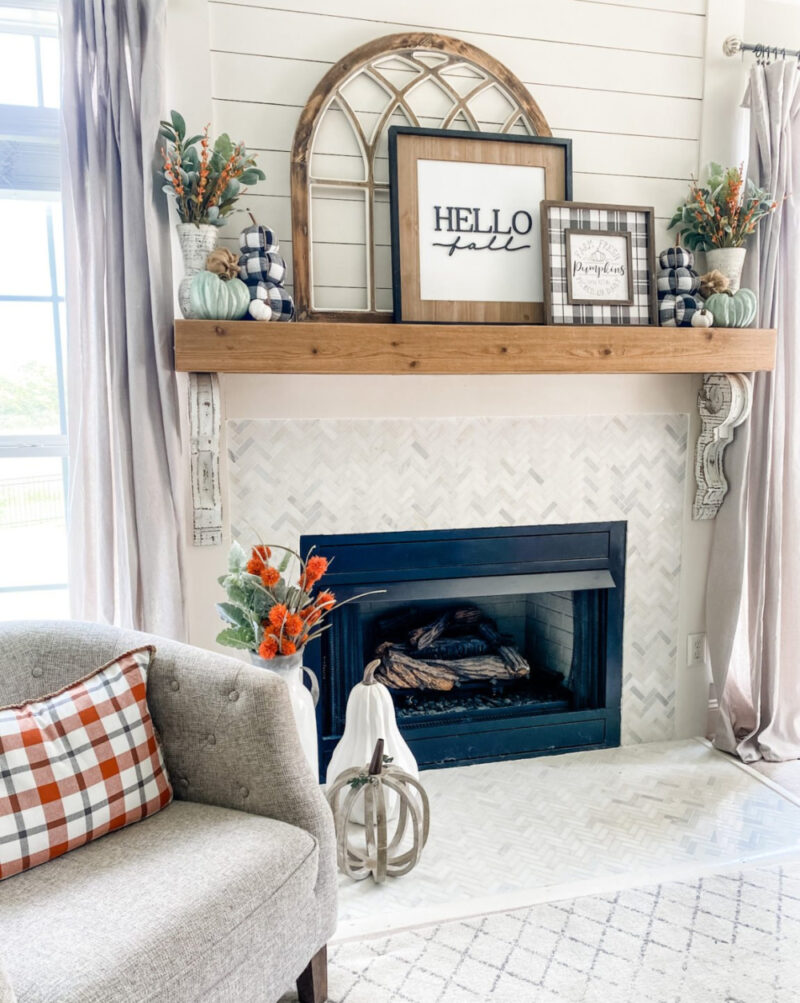 Even if you don't have a real fireplace, you can still create the autumn mantle of your dreams. Lots of fall color, even a rustic mirror, and vintage brown bottles give you so much to enjoy, who needs a fireplace?
Alicia of Thrifty and Chic has gracefully combined those textures and shapes in this farmhouse fall mantle.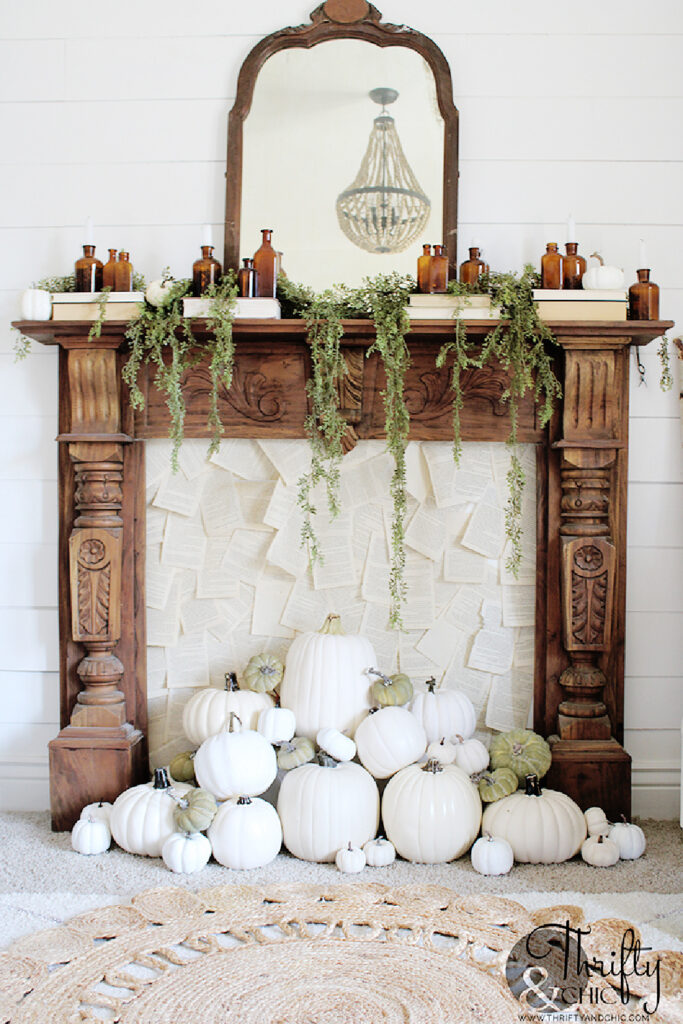 If you have visited Bluesky at Home, you know I love blues. Chelsea at Making Home Base designed a gorgeous coastal-inspired mantle. Who says that pumpkins can't be blue?

The blue pumpkins work so well with the blues of the beautiful painting above the mantle. Goes to show that simplicity can be your best friend.
I love a white~painted brick fireplace. Another fireplace scene using a rustic chair ~ do you see a trend here? Heather at Beauty for Ashes artfully combined a rustic basket with the woods of the chair and the picture frame. Again black and white buffalo checks in the pillow, sign and throw add a classic feel. And, of course, the pop of green (We call that plant mother~in~law's tongue.) is always welcome.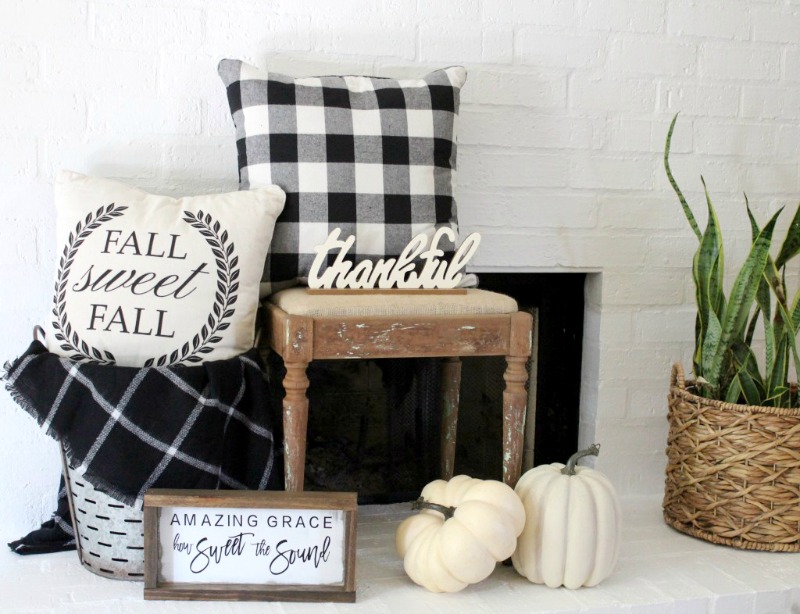 Do you love cloches? Jamie at So Much Better with Age has decorated her mantle with cloches and faux fall foliage. So simple, so classy. The wood bases, wood cake stand, and wood picture frame provide the warm, natural colors that fall needs. The hint of metallic copper in the scones gives great balance to this mantle.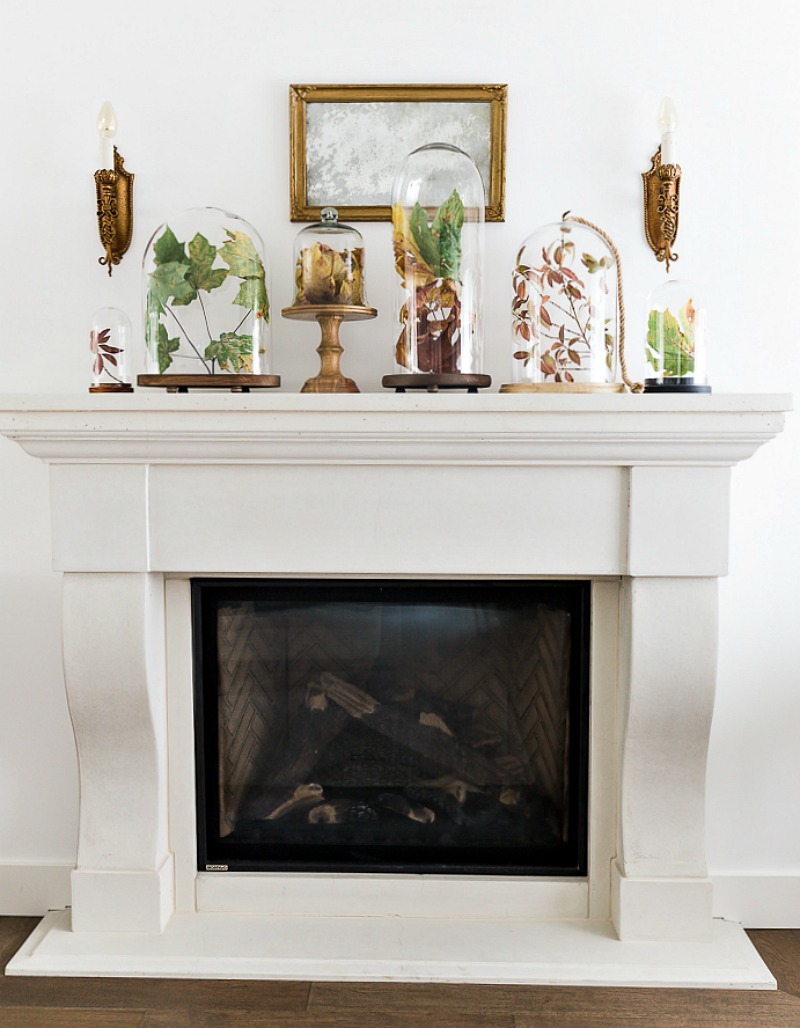 Decorating Bookcases for Autumn
Can you have too many baskets? No! Especially in fall when the natural colors and textures are so perfect for the season. Here's how Krista of The Happy Housie shows us how to use a lot of baskets in a smart way to decorate bookcases for fall.
I love this chippy bookcase and Emily at Le Cultivateur has used accessories that pair so nicely for fall: the rustic wood box, the fabric pumpkins with tree stems, and the vintage books. Love the collection of brass candlesticks. This is vintage styling at its best for fall. 
One Last Fall Vignette
Yvonne at StoneGable always amazes me with her classic style. Yvonne is known for her love of neutrals. I couldn't resist the simple styling of her entry (she also shares her living room) with limelight hydrangeas and just one pumpkin.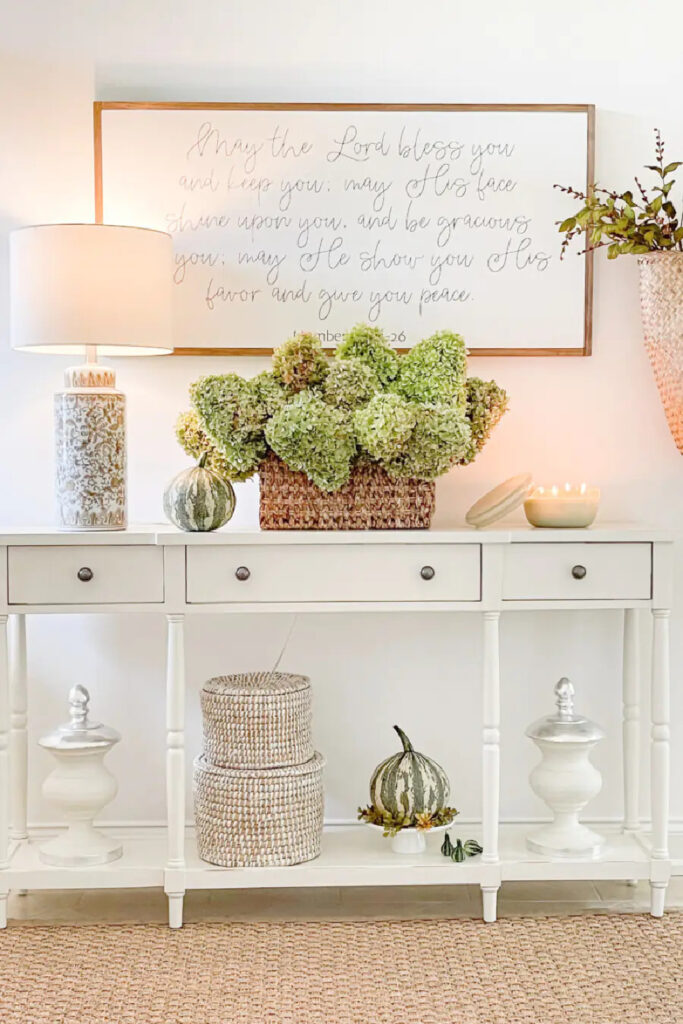 I can't resist sharing one of my fall decor ideas: 5 Ways to Decorate with Fall Foliage.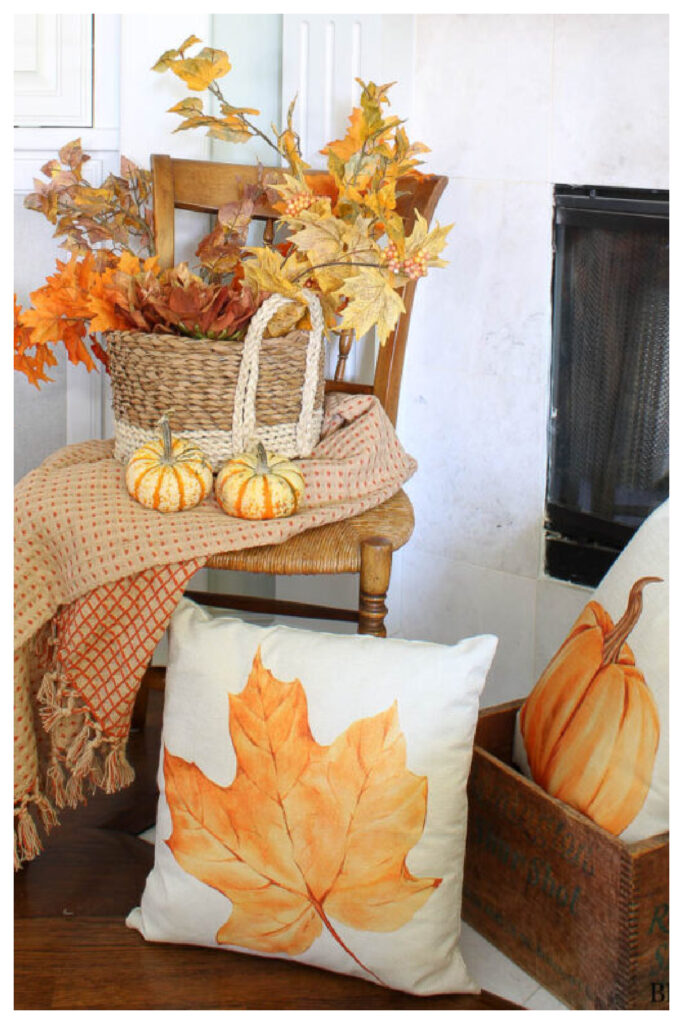 All of these fall decorating ideas are on my Pinterest Fall Home Decor Board. I'd love for you to drop by and follow for more ideas.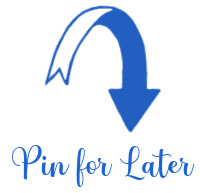 I hope you like these 15 autumn decorating ideas. Now the challenge is narrowing down my favorites. I would love to know which ones are your favorites.
When do you start decorating for fall? What are your biggest decorating challenges for fall?
Check back next week because fall definitely gets underway.
Would you like classic ideas for styling your coffee table? Try my 11 Tips to Style your Coffee Table Decor. Click on the image below.