How to Style 7 Super Simple Fall Vignettes
With fall decorating on our minds, let me show you how to style 7 super simple fall vignettes. These fall decorating ideas will give you inspiration for your own seasonal decor.
We may have to pretend that leaves are falling, we are wearing sweaters, or we're drinking hot tea. (Well, I drink sweet iced tea even if it's snowing, so don't count that one.) So you will have plenty ideas at your disposal, I'm going to show you how to style 7 super simple fall vignettes that are fun to create.
Hopefully, these fall vignettes offer amazing ideas and inspiration for your home. You can save them (yea Pinterest!) for when you need to look again at a vignette you want to copy.
We all have areas throughout our homes to decorate for the seasons and the holidays: mantels, coffee tables, entry consoles, end tables, and breakfast room tables.

I keep mentioning tables, but any flat surface is ripe real estate for a gathering of pretty items. 
My hope is that you will find inspiration for a fall vignette for your own flat surface.
7 Fall Vignettes: Super Simple Styling Ideas
For all 7 of these super simple fall vignettes, I used my breakfast room table as a staging area. It's easy to work around a round table, I have plenty of light and I can see my work~in~progress from all sides. Once the fall vignette is created, I can take it anywhere in my home that I want. You can too.
Before I show you these 7 super simple fall vignettes, you might want to print off my checklist of 11 Tips for Styling a Coffee Table because many of those guidelines will help you style a vignette for any space.
I'll give you more TIPs throughout to point out "to~do's" in your own vignettes.
By the way, I didn't spend a single penny for any item for these vignettes. I already had everything I needed. I pulled items from different areas of the house that I already was using. Some have been around our home for quite a while and some are newer. You may even recognize some items.
Style 1
For almost any vignette, you have to start with a base, such as a tray, which is just about the perfect base. It "contains" your vignette and gives it boundaries ~ like the frame of a picture.

For my vignettes, I chose a woven rectangle tray with handles. I bought it at a flea market several years ago for under $10. I have definitely gotten my money's worth.
TIP: Start with a base, such as a tray of any material, size, or shape that fits the style you want for the space you have.
Originally, the basket was stained dark reddish~brown. Of course, I painted it white. I'm not sure what paint I used. Any white will do.
I always like to vary the height of items for interest. My glass jar (vase, urn?) with the beaded handle from Kirkland's just keeps on giving great decor juice.
It's been sitting on a side table in the living room for a couple of weeks filled with textured balls. It has height and bulk without appearing too heavy.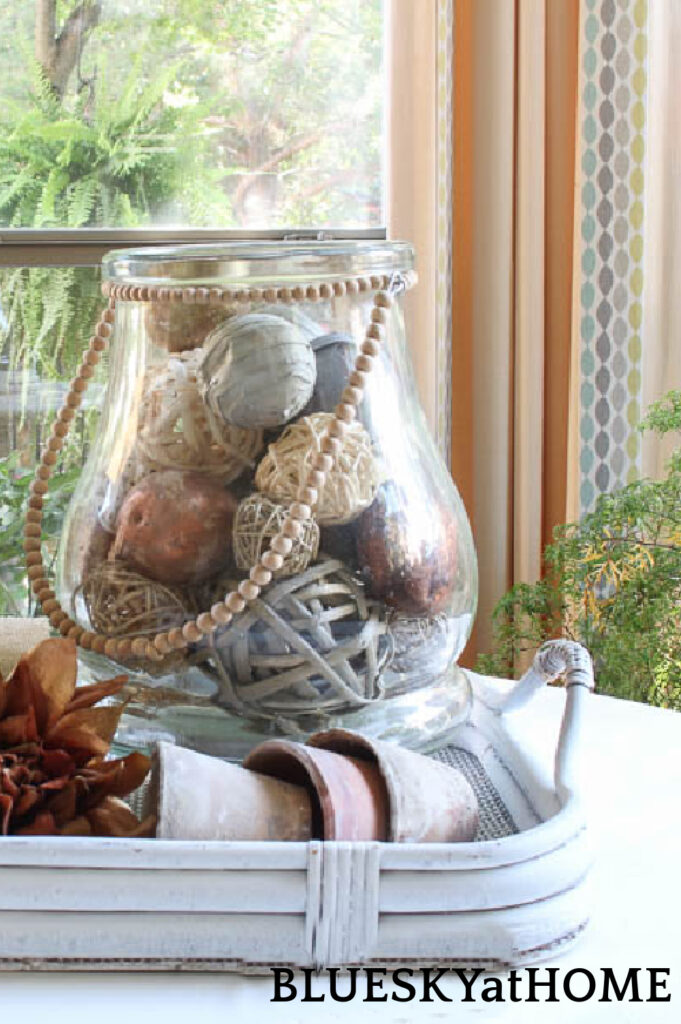 TIP: Start with your biggest item on your vignette and work around it.
The only items that are "newish" are the small clay flower pots that I bought at a vintage shop. I used 4 of them on my Fall Patio Tablescape. Laying 3 on their sides adds a natural and whimsical touch.
TIP: Try to include something quirky, personal, or whimsical in your vignettes.
I love to include a book stack if possible. This stack of 3 burlap~covered books was on our fall mantle. A simple cupcake stand with a candle gives texture and warmth.
In front of the books are the two napkin rings that I used on my console table display. They act as a filler but also provide fall color, shape, and texture.
TIP: Try to include an odd number of items in your vignettes for interest.
FYI: The books count as 1, the clay pots count as 1, the floral napkin rings count as 1.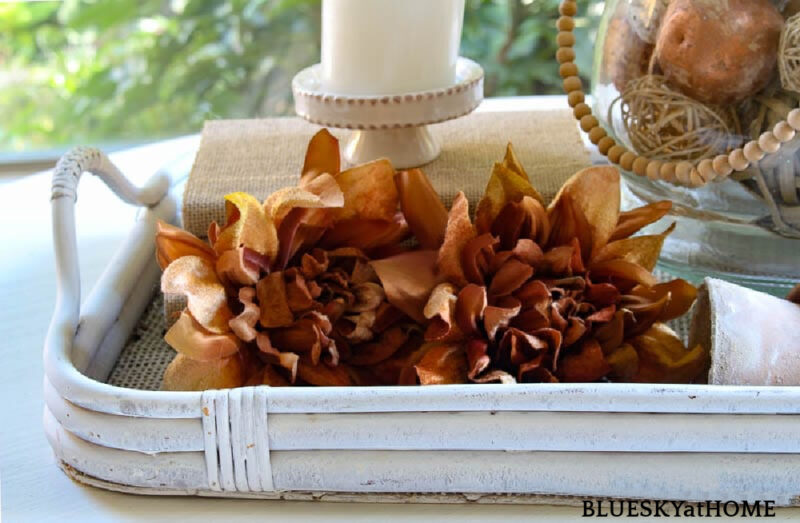 Style 2
This next fall vignette would be slightly different. I kept the woven basket and removed everything except the book stack.
I love this brass lantern (from Pier 1 several years ago) filled with textured spheres. It had been on our breakfast room console table so I included it. I placed it in the basket, but it needed more height. A large ramekin acts as a riser.
Everything from the first fall vignette came back: the candle, the clay pots, and the napkin rings, which hid the ramekin.
Style 3
Navy is dominant in this fall vignette.
This super simple fall vignette gets a big pop of color from the navy and copper pumpkins that I made for a fall tablescape.
I used the large ramekin to give one of the pumpkins a little more height. Can you see it barely peeking out?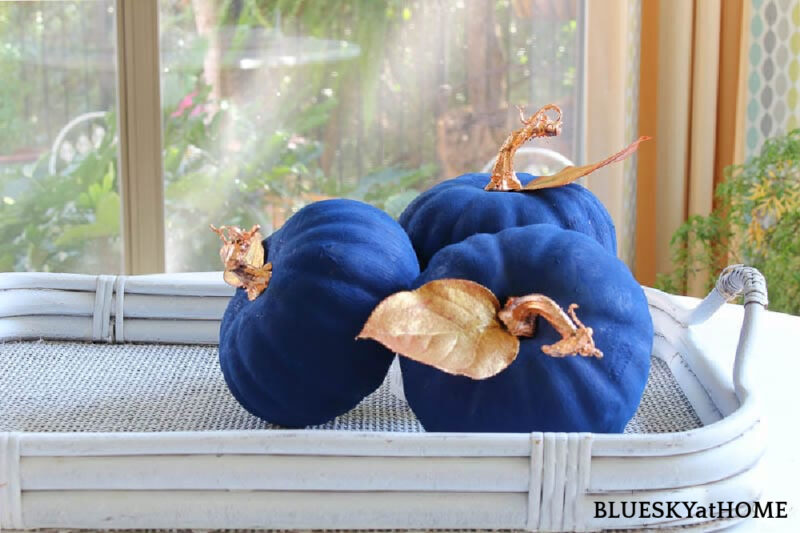 From the console in our bedroom, I brought in 3 books covered in blue with gold embossed print.
I added one of the tall navy candles from the fall mantle to sit on a cupcake stand and an interesting-shaped dish of copper and gold as my whimsical object.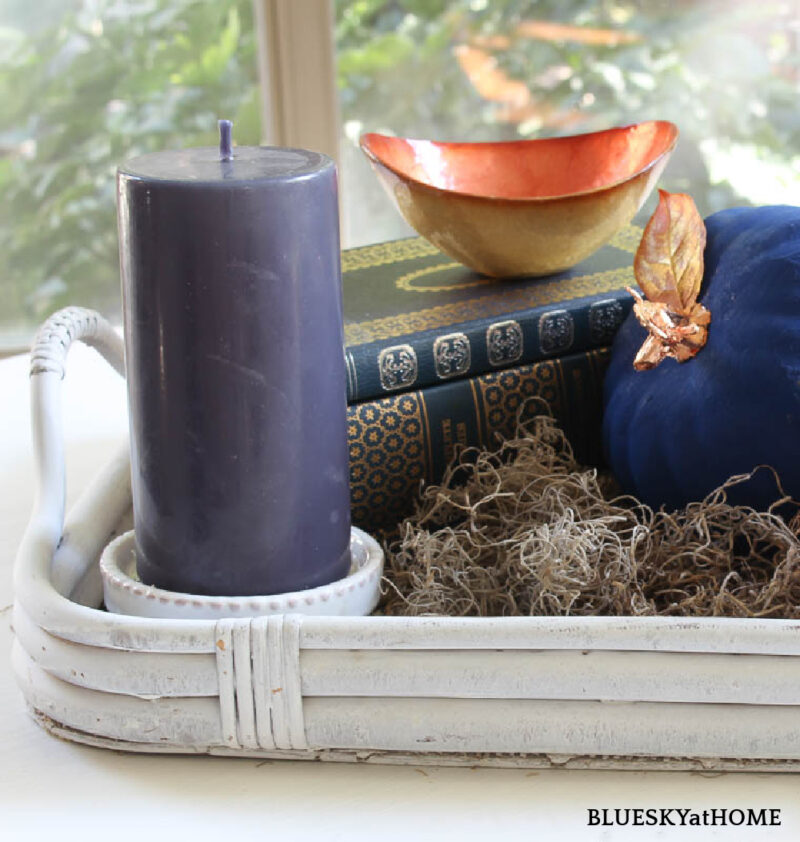 For filler, I used Spanish moss nestled all around the other objects in the tray. You've heard of "thriller, spiller and filler" for creating a flower~filled planter?
Here my thriller is the navy pumpkins, the spiller is all the other objects, and the filler is the Spanish moss.
This fall vignette has a feeling of "tightness" and closeness. I love how the blues and copper/golds work so well together.
TIP: Try one big pop of color in your vignette as a focal point.
TIP: Vary your shapes. This trick provides a ton of interest.
In addition to the pops of color and the metallics, this fall vignette makes use of different shapes (sphere, oval, rectangle, cylinder) and different textures (smooth, rough, organic, woven).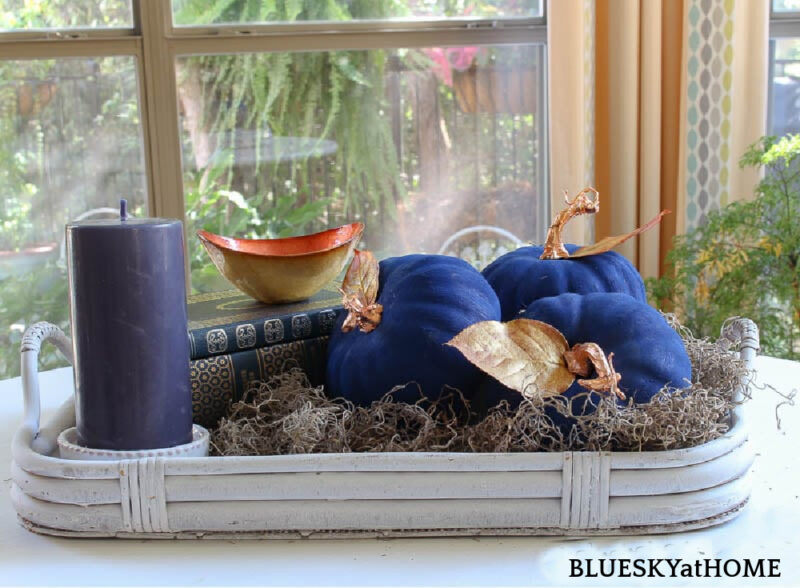 Style 4
For this fall vignette, the navy plays a more subtle role.
The tall candle stays but gets a big boost of height with the vintage wood candlestick (1 of 2 that has been on our mantel). Two smaller candles in a glass and wire container add more blue and more texture. I love the combo of the glass and wire.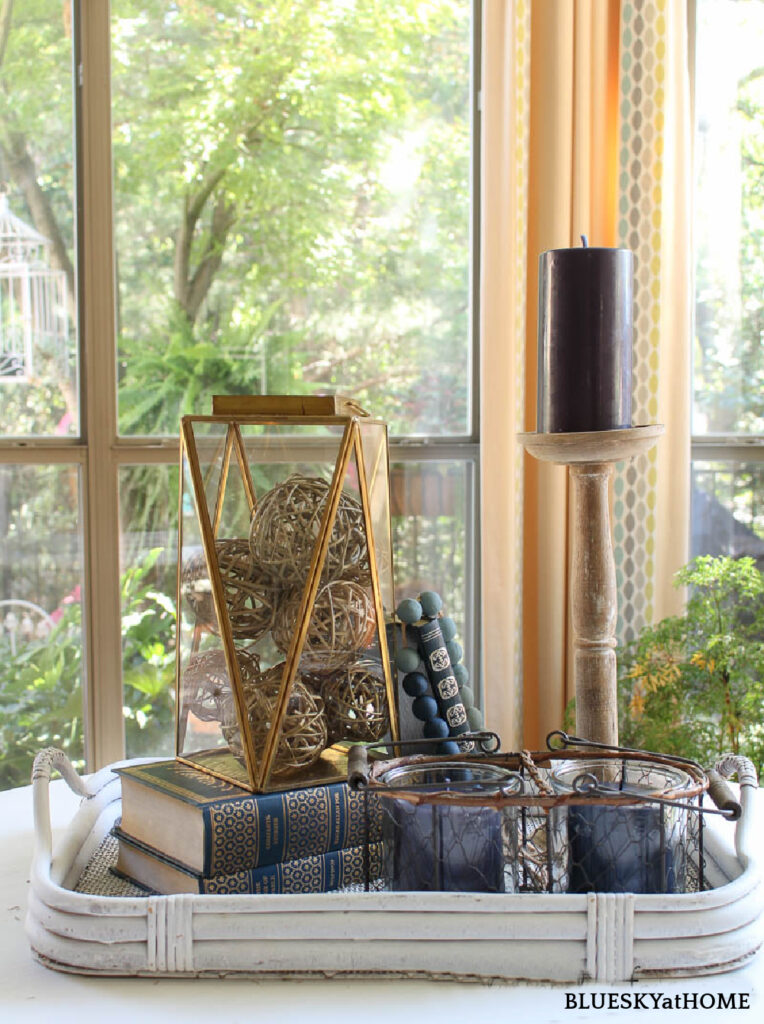 The blue books are back and the gold lettering on the binding picks up the brass of the lantern.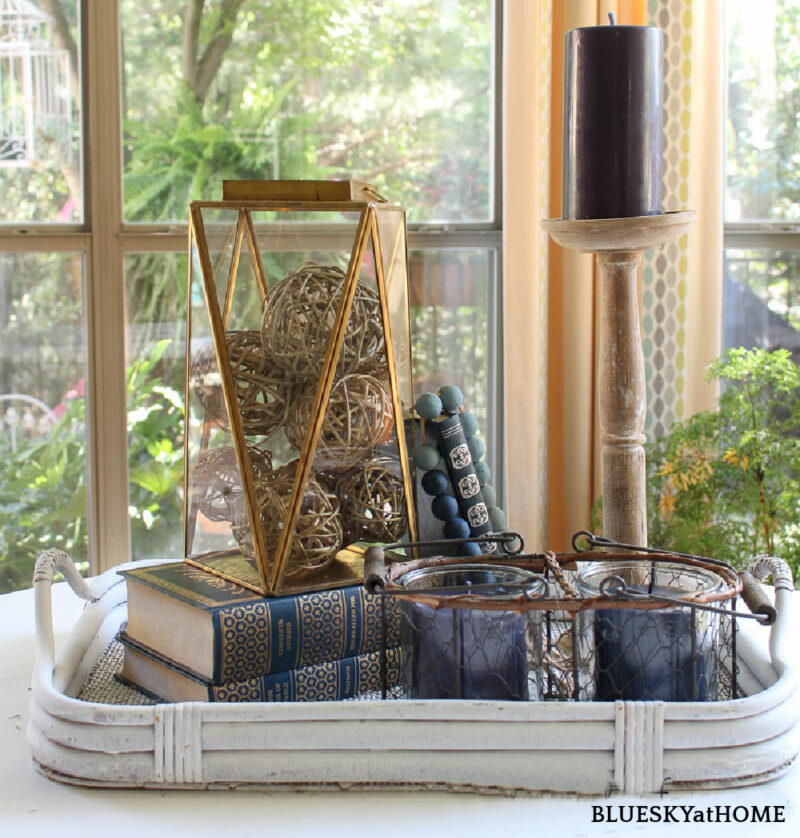 You may remember my DIY blue beads from the fall coffee table post. I moved one book from the stack to lean against the lantern and hung the beads over it. I didn't feel like this vignette needed any filler, so no Spanish moss.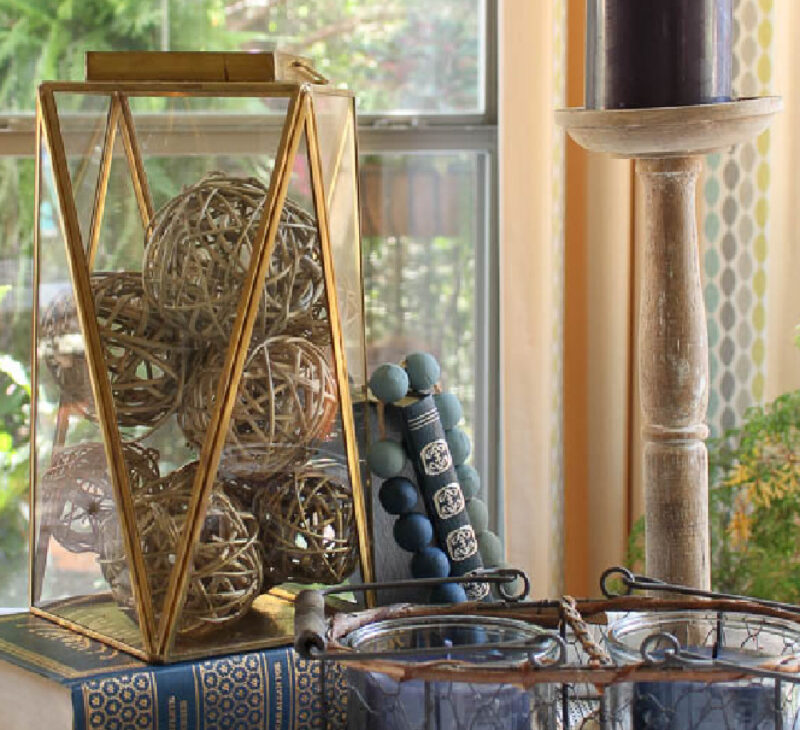 If I had another string of blue beads, I would have added it to the tall candlestick.
Style 5
For this super simple fall vignette, I replaced the white woven basket with a galvanized square container (or is it a tray, a bin?).

This was another item from a little blogger lunch and shopping spree a couple of years ago at Uncommon Market. They had several dozen of these.
There is a handle on both ends. It had been on our bookshelf with white ceramic fruit in it.
This is the grey and white fall vignette. Obviously.
Since it is so deep, I needed more ramekins to raise up my display items. Again, ramekins came to the rescue.
TIP: Ramekins, upside~down bowls, cardboard boxes, plastic containers, cake stands, and cupcake stands are great for adding height to your vignettes.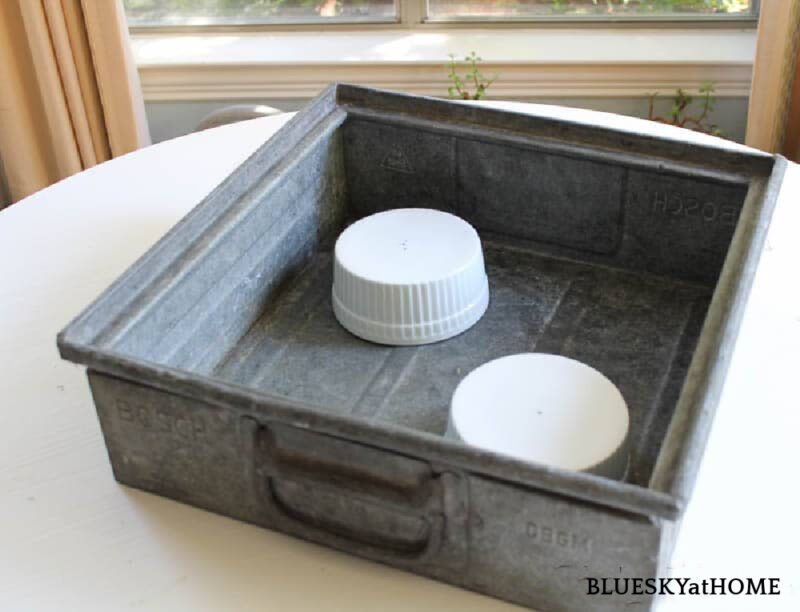 As it turned out, I didn't use the ramekins. I snatched up 3 different sizes of galvanized pails on hand and turned them over. On top of one, I placed the grey bird's nest that I bought in Atlanta. Isn't it the coolest thing?
The tall vases are vintage flea market finds from who~knows~when that have been on the living room bookshelf since last spring. I love the 3 ceramic pumpkins. I keep moving them around.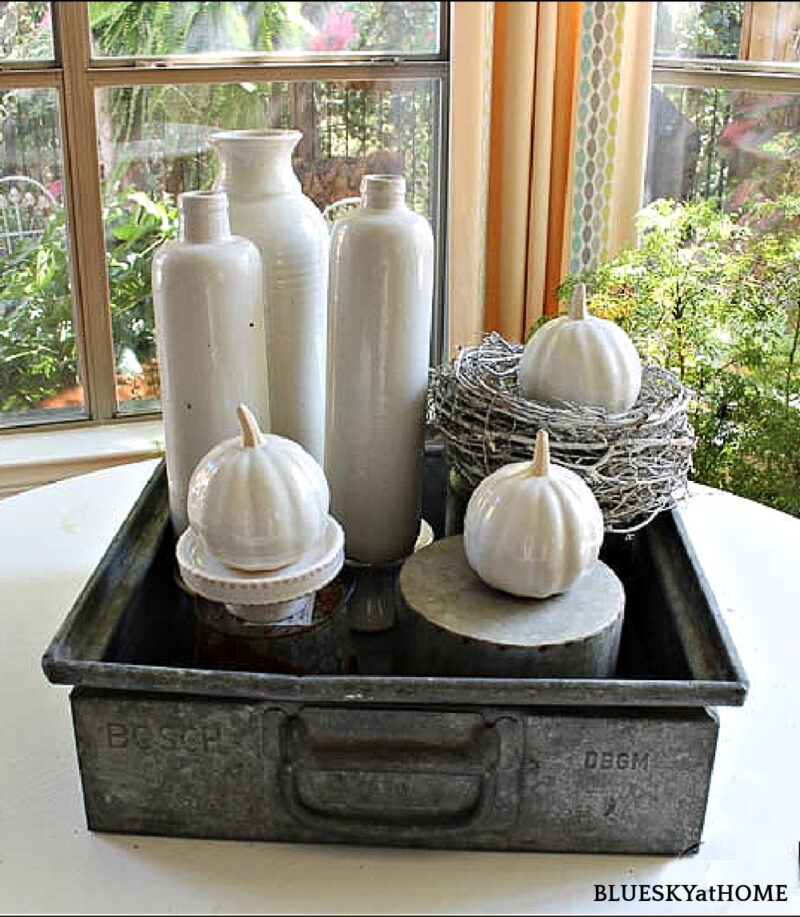 Although the 3 vases are tall, I wanted more height, so they are sitting on 3 cupcake holders.
This fall vignette definitely needed filler, so back came the Spanish moss. This vignette is obviously very neutral but has enough texture and different heights and shapes to make it interesting.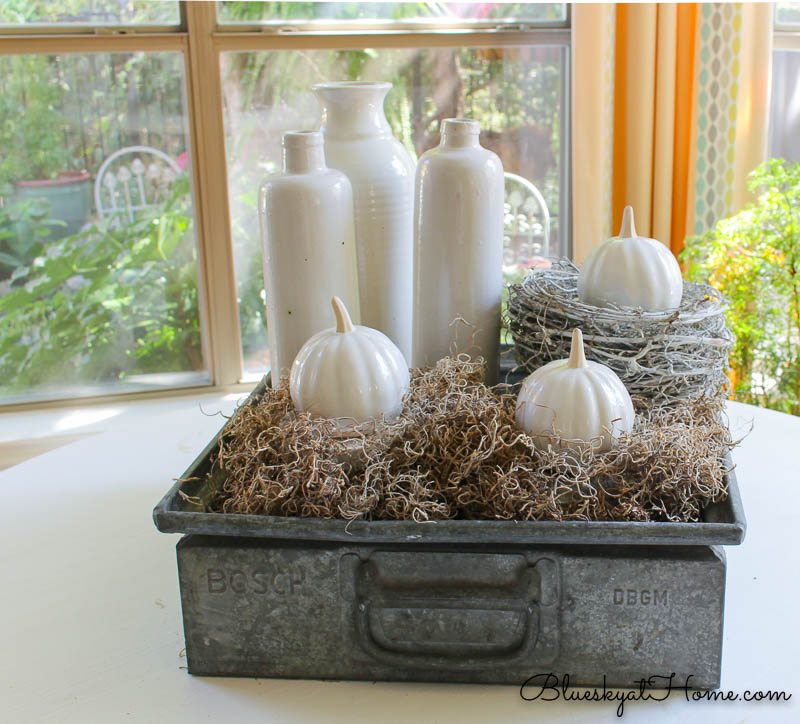 Style 6
Have you ever thought of turning a tray or a container over for a different look?
I turned the galvanized container over to use as a flat surface. One of the shawls that I bought at Target and used as part of our fall mantle display gives soft texture, a sense of warmth (not that we need warmth around here), pattern, and color.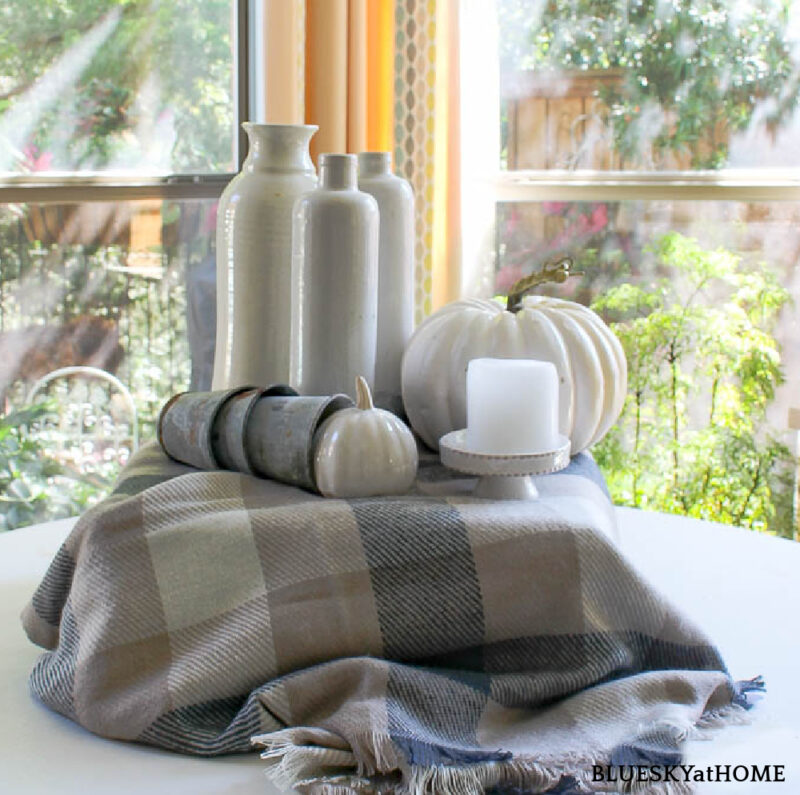 I added one large spray~painted pumpkin and one small candle. (Candles are always a great item to include in a fall or winter vignette.)
The set of 3 tin cups is still one of my favorite vintage finds from Atlanta. Laying on their sides, they remind me of a cornucopia. One of the small ceramic pumpkins finishes off this fall vignette.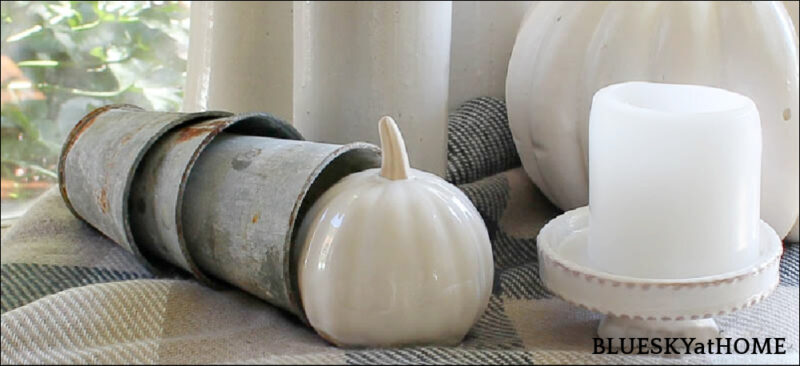 Again, different textures (wool, ceramic, metal) and shapes (sphere, tall, circle) provide contrast with a bit of color and pattern from the shawl.
Style 7
You may remember this copper vase from my fall patio tablescape. It is still one of my favorite things.
As soon as that tablescape was done, I brought it inside so the flowers wouldn't wilt from the heat. Two weeks later, they are still going strong as I've been changing the water every other day.
I used the copper vase with the white flowers in this vignette. So back came the woven basket and the copper vase was the first thing I placed in it.
As you can see, my next addition was the grey nest and several white spray~painted pumpkins. This time I placed the grey concrete pear from my Atlanta shopping spree in the nest.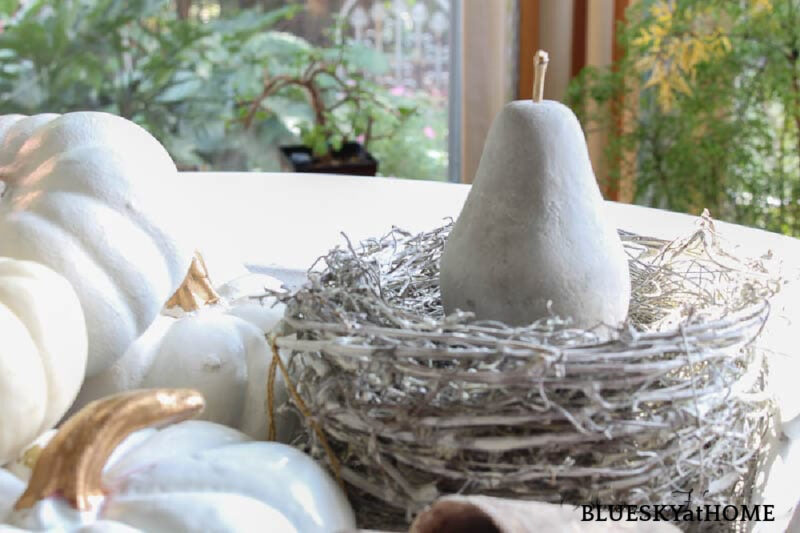 The clay pots reappeared again to complete this super simple fall vignette. The gold~painted pumpkin stems provide a touch of bling to this otherwise matte-textured vignette.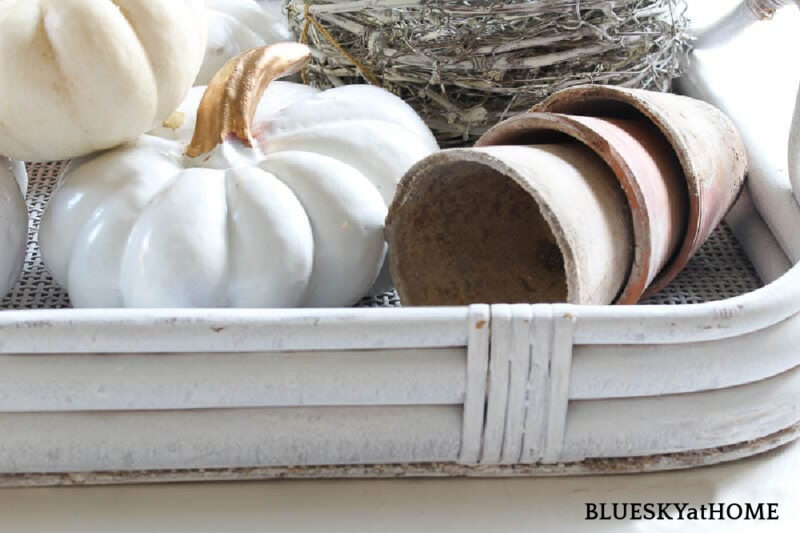 Which of these 7 super simple fall vignettes is your favorite? Which one do you think is still on our breakfast room table? Please let me know in the comments. I'd love to know what you think.

Please PIN this post for later in your favorite decor boards.
Want more ideas for fall decorating and projects? Try these.
Fall Farmhouse Sign Project
How to Reuse and Restyle Fall Decorations