How to Set Up a Sweet Holiday Hot Chocolate Bar
One thing that I love when it's cold outside is a cup of hot chocolate. And nothing sounds more fun than setting up a sweet holiday hot chocolate bar.
A sweet holiday hot chocolate bar is a great way to share a favorite seasonal beverage. Kids and grown~ups alike love the ambiance of a whipped~cream topped cup of hot cocoa.
Nothing is more romantic after skiing than stopping in a ski chalet and having a mug of hot chocolate with whipped cream on top. Or sitting by the fire at home, curled up with a good book, a cuddly blanket and a hand-warming cup of hot chocolate.
Since Christmas is the biggest entertaining season of the year, as my Christmas in July Day 4 project, I want to share this hot chocolate bar with you. It's one of my favorite holiday creations. This is a perfect way to kick off the holiday or winter season with this entertaining idea.
If you love a party that is easy, can be put together in a jiffy, and requires little planning, this one is for you.If you want a casual, festive reason to invite friends over, then a hot chocolate bar is a great party idea. Both kids and grown-ups can enjoy gathering to make their own personal versions of hot cocoa.
Whether you have in mind a neighbor party, an after~caroling warmup or a let's welcome in the Christmas season, let me share with you how to set up a hot chocolate bar for friends and family.
How to Set Up a Hot Chocolate Bar for the Holidays
This post contains affiliate links to products used in the creation of this project. If you should order any item from this site, I may receive compensation, but you do not pay a penny more. Your purchase is greatly appreciated as it helps support the continued publication of this site.
I do love sweets, especially chocolate ~ in any form ~ so planning a party around one of my favorite cold-weather beverages is so appealing.
Shopping for the ingredients for this party table is like being a kid in a candy shop. Like Willie Wonka. Like being on the Good Ship Lollipop. Remember this poem? It's always been a favorite of mine.
Animal Crackers by Christopher Morley.
Animal crackers and cocoa to drink.
That is the finest of suppers, I think,
When I am grown up and can have what I please,
I think I will always insist on these.
Thoughts of sleigh rides, warm, cozy evenings by the fire, a ski chalet in the mountains come to mind. What a fun thing to create
Elements in the Hot Chocolate Bar
Here is what you can include in your hot chocolate bar:
hot chocolate bar sign
mugs
wood box or basket are storing ingredients
cake stand
wood slice
Christmas tree
straws
lots of sweet goodies
pretty napkins
Christmas plates
I already had on hand a cake stand, the wood slice, my estate sale vintage box, and straws. The sweet goodies, of course, came last.
This party idea brings out the holiday feel. You can add any Christmas items into your hot chocolate bar setup. I had a few elements that I've been waiting to use that definitely would make the scene more Christmasy.
A blank framed wood sign that would be perfect as the bar sign was just waiting to be painted and stenciled.
a red truck from Decor Steals that I bought back a couple of years ago (no longer available)
a moose I bought on sale a couple of months ago at Joann (no longer available)
frosted LED Christmas trees that light up from Joann
red and white dish towels (the same ones I used at 4th of July!)
white mugs from IKEA
wood frames waiting to be stenciled
tartan and truck Christmas napkins from Joann
sweet goodies from Central Market
I usually take you step~by~step through my design process, but this time, I'm going to walk you through the completed hot chocolate bar. To say that I love it is an understatement.
My Hot Chocolate Bar Decorations
The location for my hot chocolate bar was the console table in our breakfast room. The table is long which means I can include both decorative items and hot chocolate sweet treats.
The star of the party scene had to be the hot chocolate bar sign. You know me ~ never buy something that I can make better myself for less. And since I already had all the supplies on hand, I was ready to paint and stencil. I made the large sign using my favorite products from A Makers' Studio:
The 2 small signs are part of another project, but at the last minute, I added them to the setting.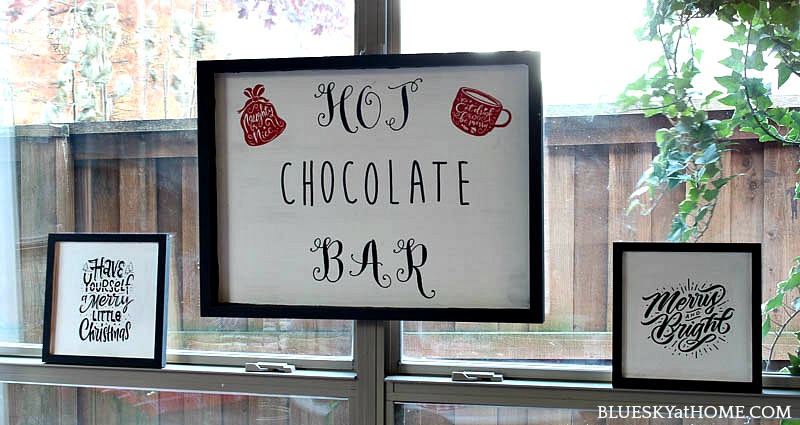 Isn't it the cutest? I love that not a million other people have my sign, but you could! I'll take you through the steps of making these signs in a future post.
Below the signs, front and center is the darling red truck that I bought months ago from Decor Steals. (This one is no longer available, but I found another really cute truck at the same price point.)I filled it with a small Christmas tree, a vintage Christmas card that I just found at the antique mall, and, of course, my hot chocolate mix from my neighborhood Central Market.
I bought the moose on sale at Joann several weeks ago. Some red and green ribbon from my ribbon box became reins and a bow.
As soon as I knew I would be setting up a hot chocolate bar, I knew that I would make customized mugs with my Christmas stencils from A Makers' Studio. I'm in love with how they turned out. Don't you think your guests would be all jolly and merry over them?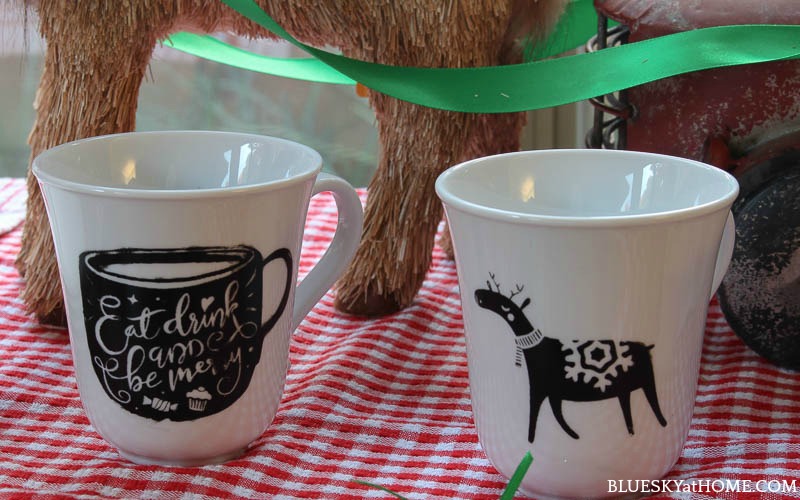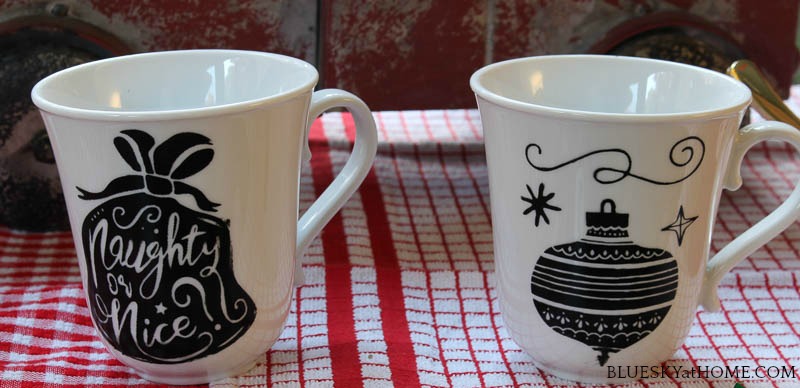 The red felt stockings were a spur-of-the-moment buy at Dollar Tree. They come in a package of 12. After tieing a little green bow to the already punched hole, I used double stick tape to attach them to the mantle table.
Sweet Treats for the Hot Chocolate Bar
On one end of the table, I used my vintage box, draped with a red check dish towel, to hold my small plates. The napkins from Joann fit the theme perfectly: red truck and a red station wagon.
For snacking goodies, I included two different types of chocolate candies and delicious little iced wafer cookies topped with crushed peppermints, all from Central Market.
Some people like spoons and some like straws for sipping their hot chocolate, both of which I had on hand. The candy canes from Dollar Tree are just for looks.
On the opposite end of the table, I used a large gold~trimmed white cake stand and my wood slice to hold some sweets for the hot chocolate: mini~marshmallows, Christmas gumdrops, and sliced almonds.
The Christmas tree is also from Joann.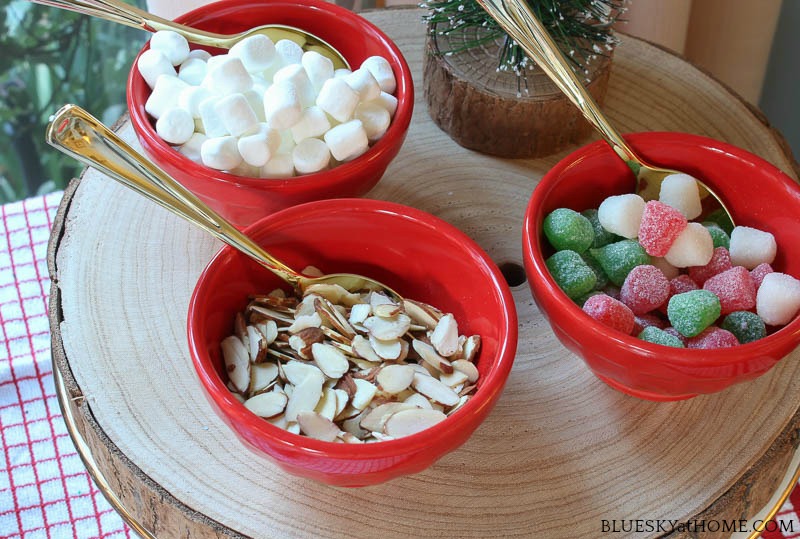 At night, the Christmas trees light up.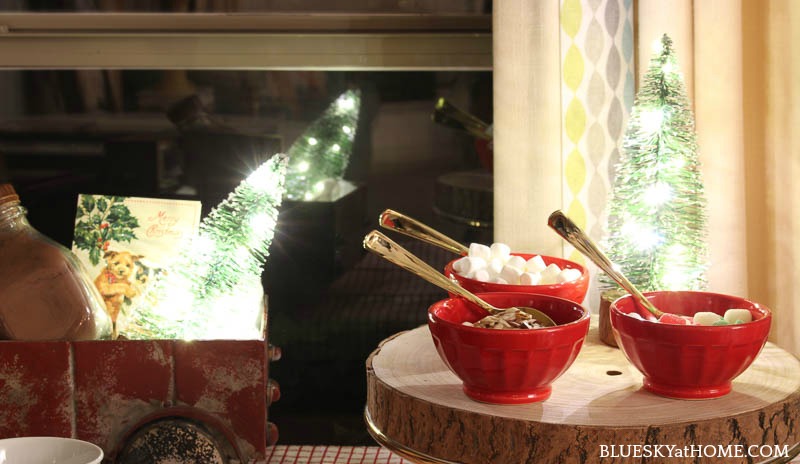 I hope you love my hot chocolate bar and it will inspire you to set up your own.

PIN this hot chocolate bar for future inspiration and so you don't forget how.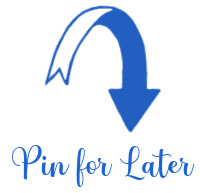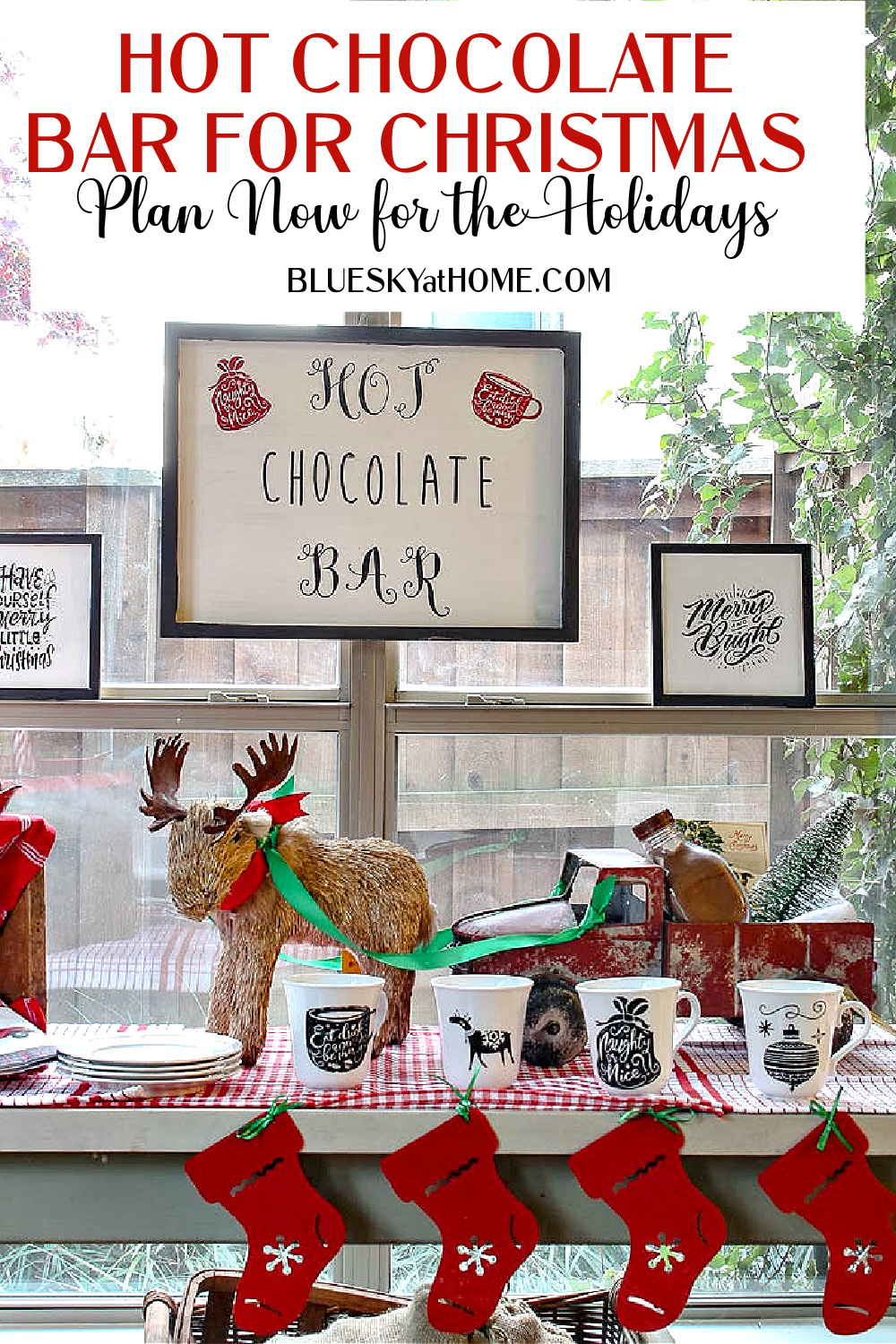 It's not too early to think about hosting a Hot Chocolate Bar at Christmas. You could look at the calendar and decide which day would be good for your party. Set a date and you will have the pleasure of anticipating the party. December will be here before you know it.