Christmas in New Orleans, 2015 ~ Part 2
Hi there and welcome back to our Christmas in New Orleans, 2015 travelogue.  If you missed Part 1, you can read it here.  Let's get started on the second half of our Christmas in New Orleans, 2015 ~ Part 2.
Day 3 (December 28)
We have a big day planned for Monday with several places to visit on our to-do list.
Our first stop is another NOLA institution, The Court of Two Sisters on Royal between St. Peter and Toulouse.  We go there for the Brandy Milk Punch which is our favorite.  Just about every New Orleans restaurant has its own version and I shared one with you here.  Other folks like a Bloody Mary or Mimosa in the morning, but I like a good BMP ~ not too thick (Mr. B's version is made with ice cream) and not too thin.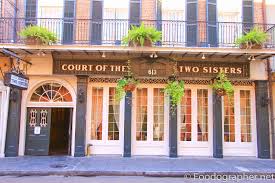 Our next destination is Antiques de Provence at 623 Royal.  This beautiful shop full of tables and chairs, armoires, mirrors, and gorgeous pots imported from France is owned by Cindy Nixon. Several years ago we bought 2 duck confit pots from Cindy and a few years later we added a dough bowl, 2 of our favorite possessions.  We always try to drop in and say hi to Cindy, who is a New Orleans native and fun to talk to.  Years ago she lived above the store when it was on St. Louis and she invited Sweet Shark and me upstairs to visit her gorgeous apartment.  What a treat to see a real French Quarter home.
It's time for a little food, so we head over to Tableau at the corner of Chartres and St. Peter.  We went here for the first time last year and really enjoyed the experience.  We arrive right at 11:00 and share an order of fried oysters (I guess this is brunch.).  Very tasty, but not as hot as we would prefer.  We would still go back for the pretty bar and courtyard.
A major stop on our list is Louisiana Loom Works at 616 Chartres, owned by Ronda Rose.  For years we would stop in Ronda's loom shop and I would swoon at the rugs, the fabric swatches, gorgeous thread and dream about having one of Ronda's custom rugs in our home. When we started the remodel on our current home, Sweet Shark and I knew it was time to visit Ronda and order one, which we did in December 2013.  Our kitchen is quite large and we thought a rug in the middle over the hardwood floors would ground the space and be a beautiful focal point. I showed Ronda pictures of our kitchen, we talked about the colors, the look I wanted and the size.  She promised we would have it before our Kentucky Derby party the first of May. As promised, mid-April, the rug arrived and we could not be happier; it was perfect. (I shared a picture of the rug in my Kitchen Home Tour here.) Sweet Shark thought it would be really cool to have Ronda make us a rug just for the Christmas holidays. Once again, we talked about fabric, thread colors (it's the threads that give the rugs their distinctive patterns and stand-out color), pattern and size and placed our order. We probably won't see the rug until next November, but it will be something to really look forward to. Just so you know, Ronda has about a dozen cats in the store.
Our rug shopping made us hungry and we wanted to celebrate our purchase, so we headed over to Mr. B's at Royal and Iberville for another of our favorite snacks, the Duck Spring Rolls.  These are the best, crispy and crunchy with a teriyaki~soy dipping sauce. We meet a nice couple from Florida and talk food with them.  You meet the nicest people sitting at a bar in New Orleans.
Next we head across Canal Street, 1 of the boundaries of the French Quarter, to The Roosevelt Hotel. One of the grand dames of New Orleans, the Roosevelt covers an entire city block.  Why do you want to go there? First, the Christmas decorations in the block-long lobby are the most beautiful and magical you will ever see.  People come just to see the lighted trees and have their pictures taken. Second, the Sazarac Bar, one of the most famous in the city.  The bar is known for 2 drinks, the Sazarac and the Ramos Gin Fizz. Can you guess which one I order? Usually we come for a pre-dinner cocktail since we are dressed up for the evening.  In the past, the patrons were dressed up and elegant: ladies in cocktail dresses and men in suits and ties. Unfortunately, the last 2 years the bar has been so crowded and some of the clientele look like, as my mother used to say, "they just came off the banana boat". The drinks and the bartenders in their short tux jackets (they really put on a show) are still wonderful, but it just doesn't have the same special feel.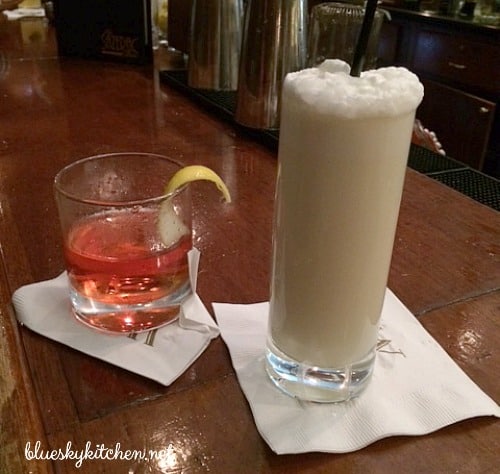 Can you believe we are hungry again? We discovered years ago that we can visit more restaurants and sample more great food by just sharing an appetizer.  Also, we don't get stuffed during the day. Back across canal and up Chartres to Kingfish at the corner of Conti. Kingfish was opened a few years ago by Chris McMillan, considered one of the renowned cocktail historians in the city.  We discover that he is no longer there, but has opened a new restaurant, Bar Uncommon, outside the Quarter. We'll try to visit it on another trip. We share some hush puppies and a glass of wine before heading back to the hotel to get relax and get ready for dinner.
Tonight is another special reservation, our second to one of the historic restaurants of NOLA, Antoine's. Located on St. Louis between Royal and Bourbon, Antoine's has been an institution since 1840.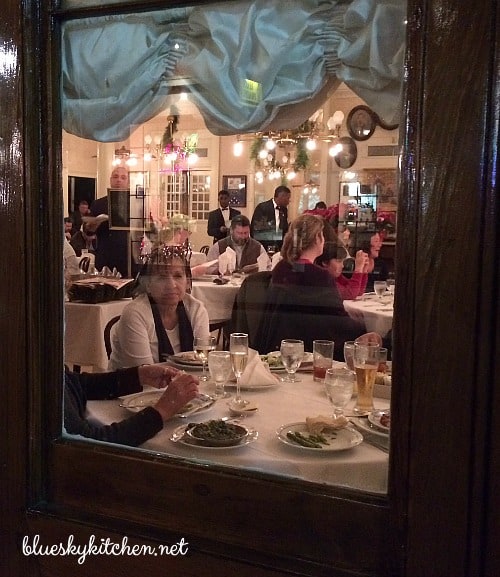 With 14 dining rooms to choose from, any diner can find one to please. We start next door in the Hermes Bar for a pre-dinner cocktail.  We are a little disappointed: the three bartenders (girls, by the way) seem rushed and a little unprofessional in their demeanor and delivery. The drinks are O.K., but we were ready to move into the dining room for dinner.  We are seated in the large, bright main dining room.  It's very pretty and decorated for Christmas, but I almost wish they would dim the lights just a bit for some more ambiance.  I order the Escargot in Bourguignonne Sauce and Sweet Shark orders Baked Oysters with three different sauces, recommended by our waitress. We were both disappointed: my escargot are submerged in the heavy sauce that overpowers them and Sweet Shark's oysters are buried in so much sauce that the oysters seem like an after thought.  We deviate from our usual M.O. and each order an entree instead of sharing (bad decision). I order the soft-shell crabs, one of my very favorite dishes and Sweet Shark orders Filet of Gulf Fish. Sweet Shark's fish is once again covered in too much sauce.
About my soft-shell crabs: they are some of the best I've ever had, sweet, crisp, hot and well-seasoned.  Here's the drawback: there are 3 of them piled high on a small plate. I'm afraid one may crawl off the plate. One, maybe two, would have been enough, with a little less butter pooling on the plate.  I ask for some remoulade sauce and the waiter brings me cold cocktail sauce. A better presentation, a little something else on the (larger) plate to compliment the crabs and itwould have made this a much better dish.
Ironically, this is our least favorite meal, but our most expensive. A bit of sticker shock.  I won't tell you not to go, but I will tell you we've had much better meals, for a lot less in New Orleans.  In our experience, for the historical restaurants, Arnaud's or Broussard's are much better.
Day 4 (December 29)
Our plan for Tuesday is to spend the day on Magazine Street, starting at Canal, running past the Garden District 6 miles for dozens of blocks, all the way to Uptown. Magazine is full of residents, restaurants and shops selling everything from clothes to jewelry to silver to home decor to art and precious antiques.  I highly recommend getting the map and brochure at your hotel and reading through it to determine which blocks you want to visit. Be prepared to walk, but you can hop on a city bus or catch a taxi or Uber. Also, most stores are closed on Sunday and Monday; that's why we saved Magazine until today. One year, we took the trolly up St. Charles and walked across the Garden District to Magazine.  I don't recommend it; we were exhausted.  About 10:30 we take a cab to the 3000 block and start walking from there. Fortunately, today is the nicest day we've had, sunny and cooler, so a jacket and sweater are in order. As we stroll up Magazine, I pop in shops that look interesting and Sweet Shark just follows me.  He's really good at that.  Many of the shops are in old, restored shot-gun houses so, in addition to shopping, you can see what the old New Orleans houses looked like. We come to Dunn and Sonnier at 3433 Magazine.  This is a beautiful store, still decorated with gorgeous Christmas trees, beautiful ornaments and decor.  And everything is 50% off!  My kind of store.  Their selection of ornaments is amazing and they have the most beautiful French ribbon.  I start collecting silver and gold ornaments and select a bolt of silver ribbon. (I haven't even taken our tree down and I'm already thinking of next year's decorations.) I'm really afraid to carry the ornaments on the plane so we arrange to have them shipped.
Shopping wears us out, so we are ready for a bite to eat and fortunately, we have reached Lilette, a lovely restaurant at 3637 Magazine. (I should mention that most of the blocks on Magazine are fairly short, not long city blocks.) Lilette has a pretty dining room and an outdoor courtyard where we ate lunch years ago.  I have a glass of Prosecco and Sweet Shark has a glass of white wine. We share the Duck Confit Landaise, a thigh and leg on a bed of escarole with duck fat potatoes and marrow fritters, with a red wine vinaigrette.  It's a wonderful dish and perfect for 2.  What a great way to start our day. (Sweet Shark started slicing before I took the picture.)
More shops and more walking and we come to La Petite Grocery at 4238 Magazine.  I wrote about our dinner there in 2014 here.  The restaurant is full, but we find a seat at the bar and choose 1 of the specials suggested by our bartender, grilled shrimp on a bed of kale with shitake mushrooms.  It is delicious and just enough to share. LPG has redeemed itself from our so-so experience in 2014.
We turn around and head back to where we started, stopping at Bremmermann's (3943), Julie Neill Designs (3908), and Balzac Antiques (3506), arriving back at As You Like It Silver Shop at 3033.  This is where we bought our china and silver soup cups abut 10 years ago and we are thinking about getting a few more.  The owners, Tammy and Duncan Cox, are so knowledgeable about silver and keep a record of anything you have bought or want to buy.  Duncan doesn't have any cups and saucers like ours in stock, but promised to keep an eye out for us.  I do buy their fabulous silver polish and a silver cloth that Tammy assures me will keep silver that is kept out tarnish free for months.
We are not up to walking 10+ blocks back to the Quarter, so Sweet Shark calls Uber and 6 minutes later, we are one our way to Peche at the corner of Magazine and Julia.  We went there for the first time last year and loved it.  Monica, our server recommends the seafood salad for me and Sweet Shark orders, guess what?, raw oysters.  The seafood salad is amazing: shrimp, diced sashimi tuna, avocado, cilantro in a light vinaigrette. We sit next to the nicest couple from New Orleans and talk about restaurants (their local favorites) and they want to know where we have eaten. Monica is in the light blue shirt.
We've had three of the best little meals today, but the day isn't over.
Our dinner tonight is at GW Fins, where we go every year and I wrote about here.  Bartender Anthony makes me a Lemon-Drop Martini (kind of like a spiked lemonade) that is as tasty as it is pretty.
Once again we share 1/2 dozen of the to-die-for smoked, grilled oysters, the ones that even I absolutely love.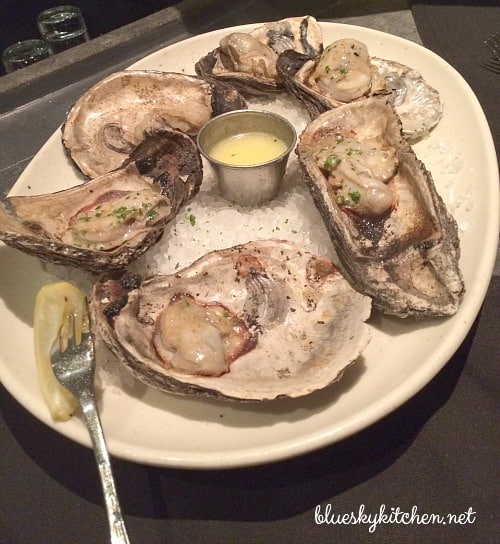 I'm dying for a salad so Sweet Shark and I share an excellent Caesar Salad.
For our entree, Anthony recommends one of the specials, Sea Bass in a broth with bok choy.  I'm not a fan of bok choy, but the fish is delicious and moist.
I told you about GW Fins' famous biscuits here and they are still so good, hot and crumbly and sweet. Later this week, I'll share the recipe with you.
Day 5 (December 30)
Today we head back to Dallas, but we have a little bit of time for some more shopping.  We stop to pick up some pralines at the Magnolia Praline Company.  Then we walk to Sucre on Conti between Royal and Chartres.  The original store is on Magazine and I was so happy to see that they have opened a shop in the Quarter. They make the most beautiful sweets and pastries.
I love their macarons and we buy a small box of 8 different ones to bring home.
Since my purse was stolen on Sunday and in it was a book I'd just purchased, I make a quick trip to the Faulkner House Books on Pirates Alley.  I've share more about the store in a later post, but I did buy a book to take home.
We have time for a quick bite before heading to the airport so we stop at Dickie Brennan's Bourbon House on Iberville. We share a really delicious shrimp po' boy and great French fries.  The best part is the bread.  We ask if we can buy a few loaves to take home and the bartender brings us 2 hot, just-baked loaves.  Later Sweet Shark tells me that the bartender didn't charge us for them.
We take a taxi to the airport and arrive home in the late afternoon, tired, full and smiling, just thinking about the wonderful 4 1/2 days we spent in the special city of New Orleans.
I enjoyed sharing our trip with you and hope that you enjoyed reading about it.  It's so nice to relive a special vacation and have a record of it, too.