10 Awesome Things to Do in Savannah
I have to share a little secret. Sweet Shark and I are back in Savannah, one of our favorite cities. This is our second trip here so I have to share 10 awesome things to do in Savannah.
We were first here in May 2016 when I first shared our 10 awesome things to do in Savannah. At that time, we had flown to Atlanta, celebrated our now 11~year~old granddaughter's birthday dinner, visited with our daughters, son~in~law and grandkids, and then we headed east to Savannah, the Hospitality City.
Then in 2017 we left Dallas on Labor Day and flew directly to Savannah. We spent 2 great days revisiting this beautiful, park~filled city.
We drove to Sea Island, Georgia to spend the rest of the week with family. We had never been to the coast of Georgia or stayed at a house on the beach. To say that I was excited is speaking mildly. We got to know Savannah even better than on the first trip.
Then in October 2021, we made another trip to Savannah. After spending three days with friends on Hilton Head, we then stayed again in Savannah for two more nights. Another opportunity to learn more awesome things to do in Savannah.
This post contains affiliate links to products recommended. If you should order any product from this site, I may be compensated, but you do not pay a penny more.
Before we get to the 10 awesome things to do in Savannah, let me tell you one thing I would do BEFORE you go to Savannah: read Midnight In the Garden of Good and Evil by John Berendt.
Although I count myself an avid reader, I had never read this book about Savannah. When I told friends that we would be traveling to Savannah, everyone told me to read the book and so a month before we left, I did. Published in 1994, this bestseller recounts a true murder story. But that's not why you should read it.
Read it for the deep understanding of the history and culture of Savannah the book shares: why it's the City of Hospitality, the city of squares and grace and quirky characters. You'll appreciate the beauty of Savannah and its unique place in Southern mentality. Sweet Shark is reading it now and when he finishes, we're going to watch the movie.
Savannah: 10 Awesome Things to Do in the Hospitality City
In no particular order.
Stay in an Historic Savannah B & B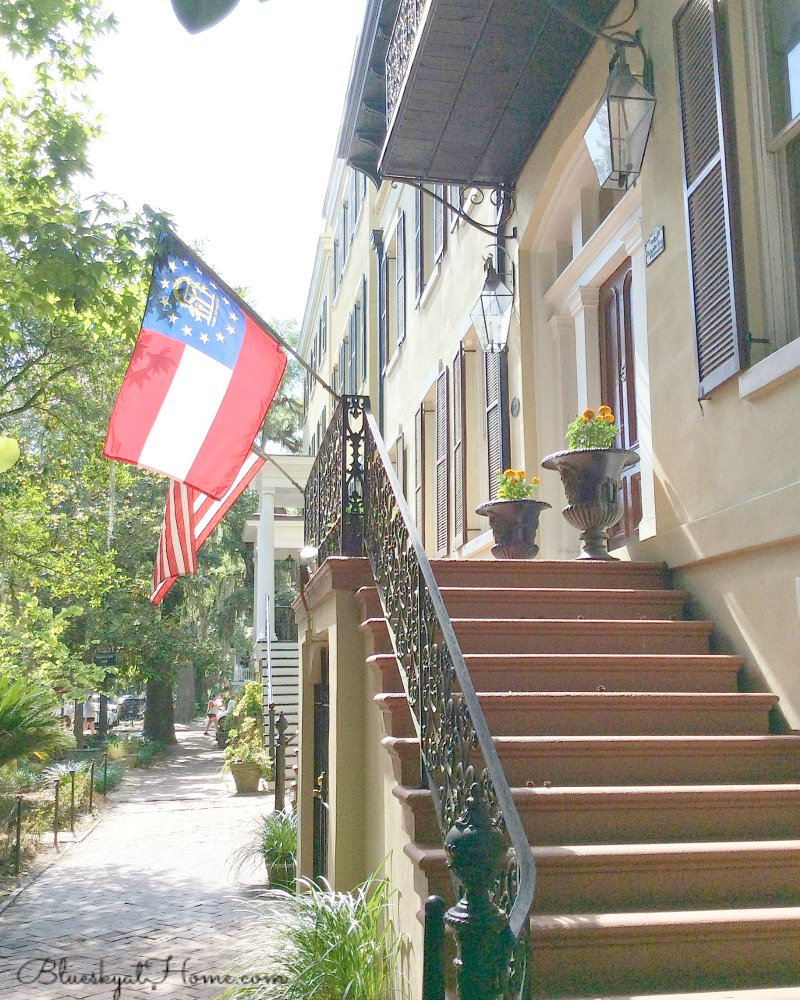 Savannah is just the place to stay in a historical home that has been converted to a bed and breakfast.
After searching on the Internet (that was the first tip I gave in Top 10 Things to Do when You Travel), we selected the Eliza Thompson House at 5 West Jones Street just off Bull Street on a quiet residential street.
When you enter the reception area and the beautifully appointed parlor, you immediately feel that you have traveled a bit back in time. Built in 1847, it has all the modern amenities. What makes it special is the hospitality. We were given a tour of the house and grounds and shown to our room off the courtyard.
In the evenings, wine and hors d'oeuvres are complimentary for guests as well as desserts (chocolate cake, lemon pie and cookies) later in the evening. The delicious homemade breakfast in the courtyard with the calming sounds of the fountain and the lovely flowers make for a nice way to start your day.
Be sure to ask for Kelly, the afternoon and evening guest services representative. She is full of personality, will make dining suggestions and reservations for you, and tell you all about Savannah. Be sure to tell her, I said hi. Eliza Thompson House (the location is perfect) is part of a group of six historical bed and breakfasts in Savannah that you can find at bedandbreakfastsofsavannah.com.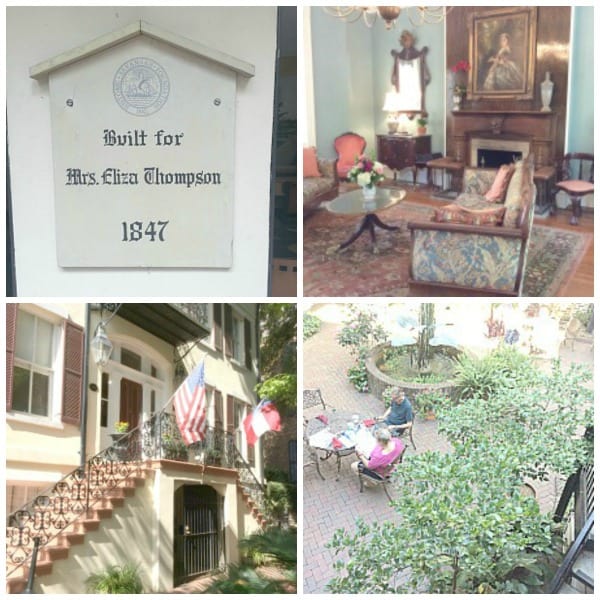 On our trip in 2017, we stayed at the Kimpton Brice Hotel down near the river. The location was great. We loved the funky, but charming decor in the lobby. This boutique hotel has a beautiful courtyard where we ate breakfast. The Italian restaurant, Pacci, located off the lobby, is really good and a great place for happy hour.
Take a Trolly Tour
Another one of our Top 10 Things to Do When You Travel, the trolly ride is the perfect way to be introduced to Savannah. We were picked up in front of our B & B (Eliza Thompson made our reservations and charged the fare to our room for us.) by a shuttle bus and taken to the "trolly station" near the Savannah Visitor Center.
The trolly is really a small bus with open air windows which makes taking pictures easy. The day was beautiful and the breezes were delightful.
Our guide Rick was funny and full of information about Savannah. We went from one end of town to the other at a slow enough pace to absorb the sights and enjoy the commentary. You will really get a sense of the city and the layout on the trolly. Can't recommend enough.
Shrimp and Grits at The Public Kitchen and Bar
After we arrived in Savannah and checked into our B & B, it was 2:30 and we were starving. Walking down Bull Street, looking for a place that was still open for lunch, we dropped in The Public Kitchen and Bar.
We are always attracted to places that have good atmosphere and a nice bar. Two spots at the bar were open and we quickly decided that shrimp and grits were the thing to order.
I can't tell you how absolutely delicious this dish was. While raving about the dish, we were told it was voted Best Shrimp and Grits in the area by the local newspaper. I'll tell you more about the dish in a later post, but right now put it on your "must eat while in Savannah" list. You will thank me.
NOTE: On our two subsequent trips to Savannah, we stopped again at The Public. Guess what we ordered? The Shrimp and Grits. It is still awesome.
Tour the Squares of Savannah
As I learned from reading Midnight in the Garden of Good and Evil, Savannah is laid out on a grid and was designed around 24 squares by James Oglethorpe. Twenty~two are still in existence.
The intent of the squares was to add beauty to the city, but also to slow down carriages (and now cars) from running amuck. Although we didn't make it to every square, the ones we either walked through or drove around are filled with Spanish moss hanging from live oak trees, beautiful gardens, statutes and pathways.
The squares are surrounded by beautiful homes, churches, museums and shops. In fact, Savannah has hundreds of beautiful homes, from small one~room~wide cottages to mansions and some of the oldest churches in America. Chippewa Square was made famous as the spot where Forrest Gump sat on a bench ~ the bench is now safely displayed in one of the local museums.
Walk through Monterey Square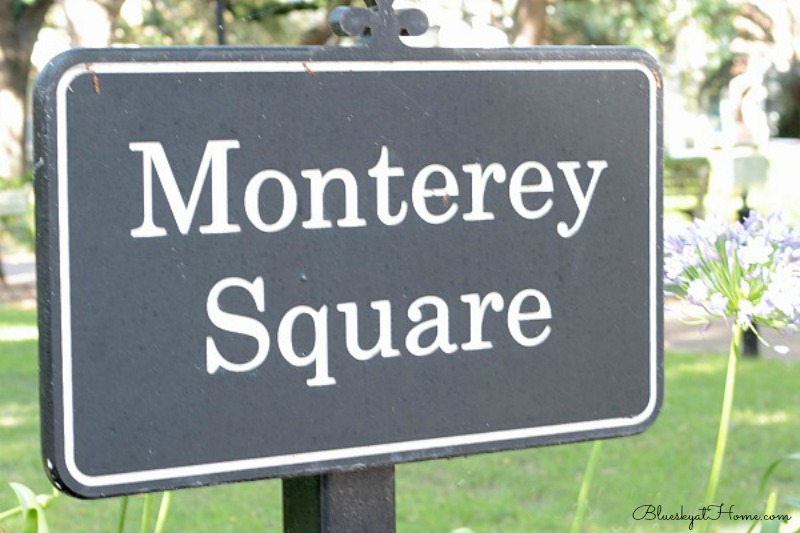 We drove around Monterey Square on our trolly tour and I made a mental note to return on foot. It is absolutely gorgeous. Surrounded on all sides by mansions from the 1700 and 1800's that are still lived in and beautifully maintained, the square is an oasis of towering trees and flowers in an already quiet and beautiful city. Take your time, sit on a bench and enjoy the peacefulness.
Tour Mercer House
While you are enjoying Monterey Square, drop in and tour Mercer House, the site of much of the story of Midnight in the Garden of Good and Evil. It is still lived in by Jim Williams' sister.
We ran out of time (darn!!) to tour, but I would definitely plan to go next trip. Although the book helped put Savannah on map, it's also evident that old~time Savannahians don't talk much about the events with outsiders (that would be you and me).
Visit Forsythe Park
The center of local events, Forsythe Park is a beautiful 30~acre park first built in the 1840's on the south side of the historic district.
Walk around, enjoy the coolness of the beautiful and unique fountain (It is dyed green on St. Patrick's Day.), an outdoor concert or other recreational event.
The Saturday of our trolly tour was the annual 5~K Color Run and the park was full of locals and visitors. There is also a Farmers' Market every Saturday. Beautiful homes that must be restored and maintained in historic fashion line the sides of the park. It's a beautiful place to visit.
Walk Along Savannah River Street
It may be full of some touristy shops, but we would still walk along River Street again. It has a beautiful view of the Savannah River, boats and really nice places to eat and stay. The street is made of ballast stones that were used by British ships while crossing the ocean and then left in Savannah when they returned home. The statue in the picture is of a young lady that stood by the shore every day and waved her handkerchief at the sailors.
The historic buildings, some over 100~years old, now house museums, galleries, restaurants, hotels, and shops.
Eat at The Olde Pink House
I was told by a friend to be sure to go to The Olde Pink House near Reynolds Square. We couldn't get reservations for lunch or dinner, but we did snag two seats at the downstairs open air bar for an early light lunch. As I've said the weather was springtime perfect and the light and breeze coming in through the open French doors to the sidewalk was refreshing.
Housed in a late 18th~century mansion, the restaurant's exterior really is pink stucco, hence the name. Walk through the restaurant and you can see how the dining rooms would have been rooms in the former mansion.
We had delicious Fried Green Tomatoes on Grits with Pickled Red Onions and Bacon. My drink was a Pink Lady.
Tour the Owen~Thomas House
If you enjoy history and like seeing how the well~to~do lived, this home built in the early 1800's is well~worth the time to visit. Homes were named after the families who lived in them and the Owens~Thomas House reflects the prominence of the former owners.
You enter through the slave quarters and see the original blue paint on the ceiling (meant to ward off spirits). Crossing the English garden, we entered the lower level and saw the basement bathing area ~ it looks like an underground Roman bath ~ and the original kitchen.
Upstairs in the public and private areas, the architecture of the time is so impressive. Beautifully maintained with some original furnishings, the home features a double staircase and an upper bridge which connects the front bedrooms to the back bedrooms. Our guide was excellent and you could tell that she loves this home and the family stories and history. I highly recommend taking this tour.
I took the photo below from the side porch of the home looking at the garden. The building in the background is the original slave quarters.
We covered quite a bit of ground in just 1 1/2 days. We left Sunday morning, wishing we had just one more day to explore this beautiful Southern gem of a city.
Savannah is truly beautiful, the people are so hospitable and the Southern cuisine is so good. And I didn't even mention shopping on Broughton Street or at City Market. Or the fact that Savannah is one of just a few cities where you can walk around with a drink in hand. Count those as #11 and #12.
Until next time.
If you have been to Savannah, I'd love for you to leave a comment and share your experience. It's always fun to compare travel notes. Here is my Travel Board on Pinterest, if you would like to see some of our other travel destinations. PIN this post to your Travel Boards for future reference.