Flea Style ~ Shopping a Dallas Flea Market
Hi there.
I've often mentioned that I love shopping flea markets, antique malls, garage sales ~
Anywhere I can browse and search for vintage finds or items that just look vintage ~
Or get ideas for paint projects or DIY ~
Or inspiration ~
Or just have fun.
Last weekend, my friend Susie and I went to Flea Style ~ which used to be called Dallas Flea, a pop-up flea market. Now that it will be expanding outside the Dallas area into Houston ~ maybe coming to a town near you ~ the name has changed to Flea Style, a twice yearly market with over 100 vendors. This spring it was held in the Automobile Building at the State Fair of Texas. I have "fond" memories of the Automobile Building ~ reluctantly following my parents around as a kid looking at the newest automobiles, wow, remote windows! ~ gee, dad, can we go ride the ferris wheel or see the cows or Big Tex?
Sorry, got carried away on memory road.
Susie and I arrived at 9:30 and immediately started scouting out the booths. I love events like this ~ entrepreneurs, DIYers, woodworkers, jewelry makers, bakers, collectors, young folks, old folks, couples selling whatever their passion is to folks like us.  America at its best.
Here's the Flea Style folks I snapped. I tried to get business cards and names for the places I really liked.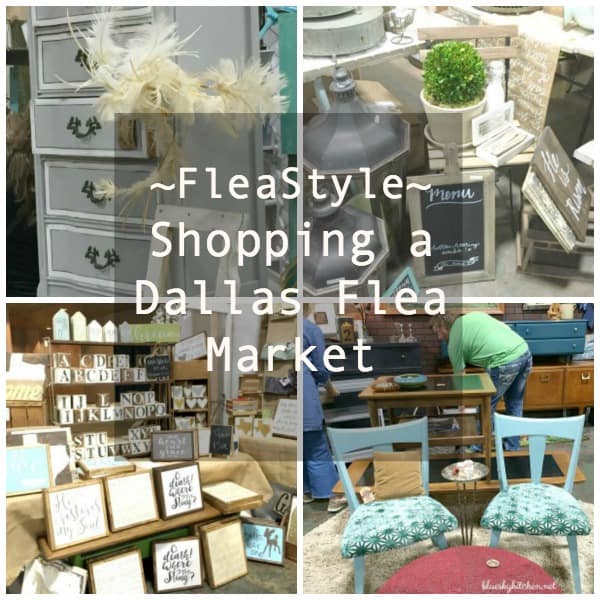 Typography was everywhere. This sign reminded me of my Your Inspired Design tribe mates.
One of my "wish-fors" was white ~ white anything. I  loved these bottles that could be vases or just sculpture at the Sabon Home booth.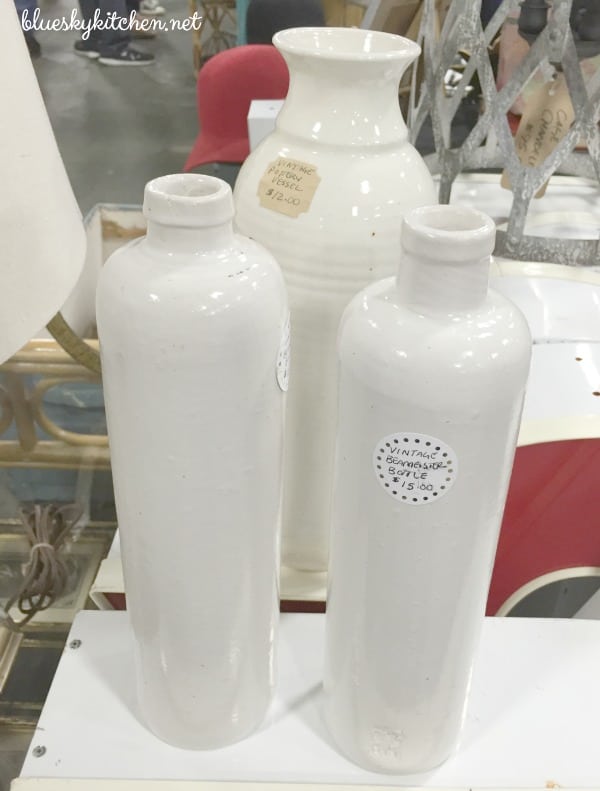 The label says "vintage beameister bottle". We had no idea what that was, but I bought them anyway. When I got home, I looked it up. Beameister are German wine bottles. I'm glad these didn't have labels on them.
Susie and I loved this blue buffalo, but we passed on it.
Susie did buy this beautiful horse head painting on burlap.
Emily and Alex at Gaston Made produce and sell their beautiful wood items, such as planters and coasters and knife racks on etsy.
I loved their gorgeous cutting boards.
More typopgraphy. Lasso the Moon had a great booth and Anne struts her stuff on etsy.
Isn't this display darling? The girls at BisousBisous were handing out samples. Yummy.
Susie and I loved these burlap pillows from Meggan at Dinham Designs.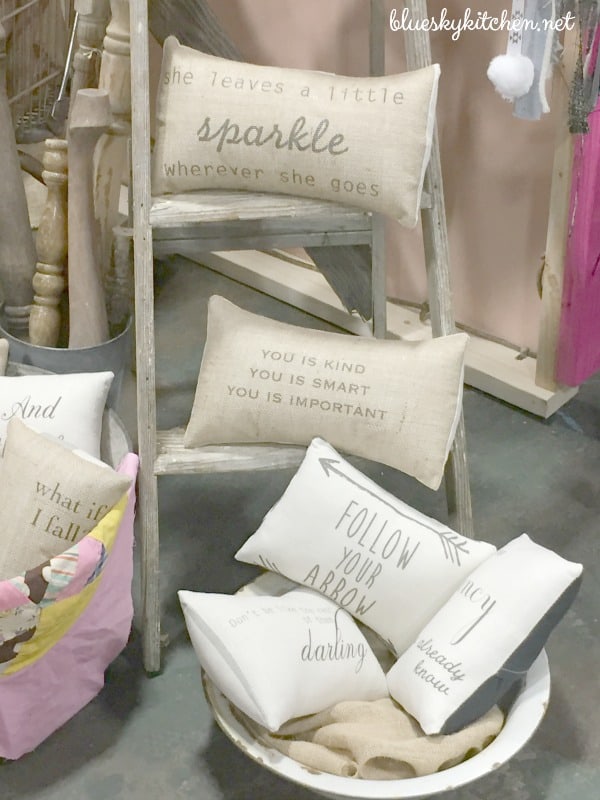 Susie bought a pillow for her sister and I bought a framable burlap sign for my grandson.
Loved this chalk painted dresser. Inspiration!
I think my favorite booth was Beautiful Home Furnishings. Cammie has just my kind of "vintage" accessories that she uses for her Beautiful Wedding Events business. I already have the little 6-pack of small milk bottles.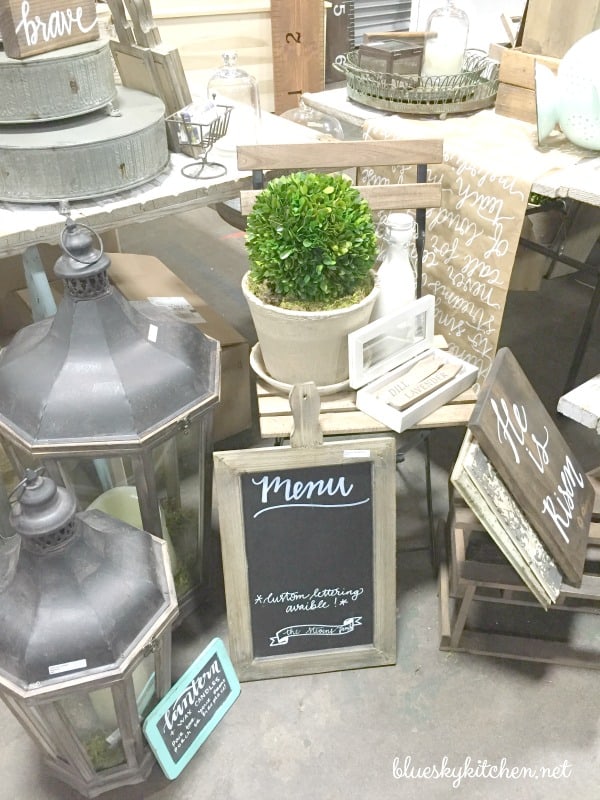 I couldn't resist the set of stacked baskets and the aqua colander.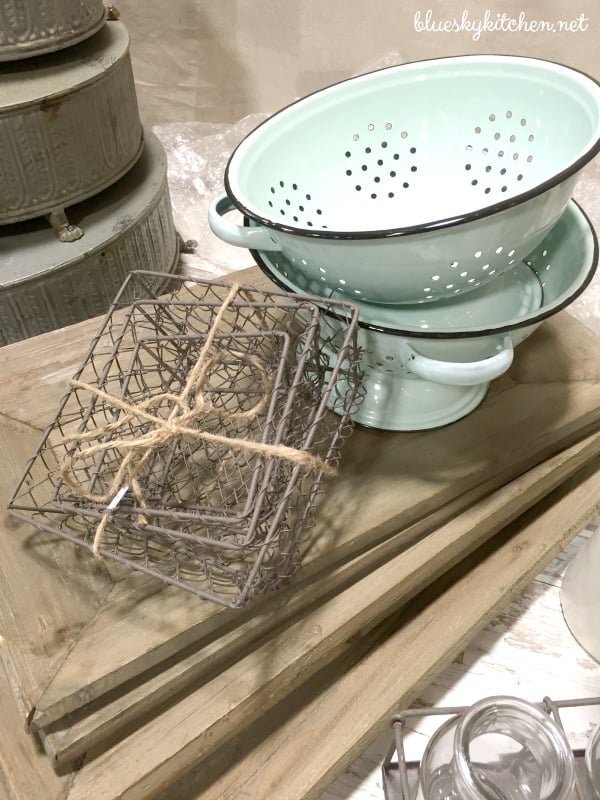 I also love Uptown Country's vintage vibe.
I found a white tureen there for $15.  The purple flowers and ribbon were a bonus. When I got home, I found a Goodwill sticker on the inside that said $3.90. Oh, well. I still love it.
I'm not a mid-century modern fan, but I did like these funky blue chairs. No room for them at home.
I really loved these old wrought-iron fence panels. I already have 4 at home. They were a little pricy and I realized I just couldn't carry them back to the car.
After a few hours, Susie and I were ready for lunch and our bags were full. Here is my flea market haul. I found the little white bowl as we were leaving and had just enough room to carry it home.
We had such fun and made some great purchases. Do you love flea markets, too? What are some good ones that you have been to? Share, share!