Top 15 Best Dishes in Charleston and Savannah
One of the joys of travel is discovering new foods, new cuisine, new restaurants. On a recent trip to the Southeast, we dined very well on local cuisine. And we love to share our favorite places and our favorite meals, so here's our top 15 best dishes in Charleston and Savannah.
Whether in Barcelona, Venice, San Diego, Scottsdale or New Orleans, Sweet Shark and I have always sought out great places to eat (Not to mention our hometown of Dallas, which has stellar restaurants.)
It doesn't have to be expensive, but our top 15 best dishes in Charleston and Savannah come from restaurants that have met our 3 criteria for places we like to eat.
great food ~ duh
great atmosphere
great bar with friendly, helpful bartenders
If you read Top 10 Travel Tips, you know we think bartenders are one of the best references for great places to eat in a new town. Although we had many recommendations from personal friends and our friend Google, bartenders pointed us to several great places.
We just fell in love with both Savannah and Charleston. One of the reasons is the food. From Savannah to Charleston low~country cuisine is king. It's just one type of Southern cooking ~ which is the best American regional cuisine, I think. Whether you are from Texas, Alabama, Louisiana, Georgia, Virginia or South Carolina, Southern cooking is just darn good. With a long growing season, fresh fruits and vegetables play center stage.
We don't apologize that we love meat, whether it be from a cow, a pig, or a chicken. We don't mind fried and barbecue is king.  With abundant coasts from Virginia to the Gulf of Mexico, we love shrimp, oysters and anything else that you can bring out of the water. Ask a 100 Southerners what is southern food and you'll get a 100 different answers. But I bet you'll hear corn, okra, tomatoes, peaches, greens, squash, beans and peas, rice, grits, biscuits, bourbon, sweet tea, and roux.
So what is low~country cuisine?  According to most culinary historians, the coastal regions of South Carolina and Georgia ~ 10,000 square miles of rich marshland flush with oysters and more plant species than all of Europe is a subset of Southern cooking rich in one-pot stews, heaps of seafood, and an abundance of long-grain rice. That's good enough for me.
Top 15 Best Dishes in Charleston and Savannah
Caveat #1: I'm not saying that these are the absolute 15 best things to eat in these cities; they are just our 15 favorites on this trip. Also, Sweet Shark and I share almost every dish, so it's not like we are stuffing ourselves. Most of the time. Next time we visit, we'll try new places and new dishes. Yippee. Can't wait.
Caveat #2: This original post was written in June 2016 after our first trip to the Southeast. Since then, we have been back to Savannah for a few days in 2017 and 2021. I returned to Charleston for Haven Conference 2018. Sweet Shark flew in after the conference was over. We again visited some of the places that are part of our top 15 best meals in Charleston.
Caveat #3: I wrote this post when I had been blogging for less than a year and was just using my iPhone 5 for photos. I apologize for the quality of some of these photos. Three years later, I not only use my DSLR, but I know how to take better images with my phone. I've tried to reedit them as best I can. I hope you can still see the dishes well enough to whet your appetite.
NOTE: Links to the restaurants are in the title and all restaurants are still operating (Goody!)
NOTE: The restaurant names are in BOLD and are clickable.
If Sherman had tasted this version of shrimp and grits, with chorizo, sherry cream, peas, bacon and tomatoes, he might have surrendered when he came to Savannah. It was unbelievably good and I'm happy that it was the first meal of our trip. Do not, I repeat, do not go to Savannah without trying this dish.
I'm still thinking about how good it was. When we returned in September of 2017, The Public Kitchen was the first place we ate and this dish was still just as good. The same for our trip in 2021.
Fried Green Tomatoes on Grits with Bacon and Pickled Onions @The Olde Pink House
The Olde Pink House is an iconic restaurant in Savannah and we snagged a seat at the downstairs open~air bar for an afternoon snack of fried green tomatoes on a bed of creamy grits (This was not the first grits on the trip and it was not the last.) topped with pickled red onions and sprinkled with bacon. Very, very good.
We couldn't help it ~ we went back to The Public on our second day in Savannah and shared this delicious salmon BLT.
The crunchy toasted bread (We call it Texas toast.) was a great "holder" for the moist salmon. The slaw with a vinegar base was really yummy too.
Another couple was eating what looked like delicious mussels and we asked about them; they said they were some of the best.
That night we ate dinner at Local 1110 and got PEI mussels, which we thought were some of the best we had ever had. It was so dark that I couldn't get a good picture.
Fried Green Tomatoes on Grits with Pimento Cheese and Tomato Jam, She~Crab Soup @82 Queen
Please don't judge: our first meal in Charleston was amazing. This time the fried green tomatoes on cheesy grits were served with a dollop of pimento cheese and tomato jam. The she~crab soup, a low country specialty was wonderfully rich and full of crab flavor.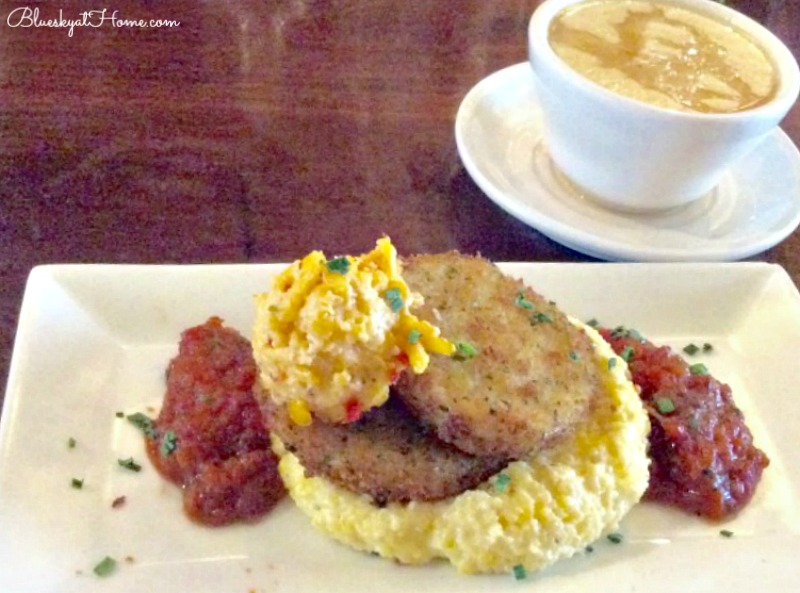 The bartender at 82 Queen told us about Amen Street. After walking all afternoon south of Broad, we were hungry enough for another dish. The shrimp were sweet and spicy and the sauce was a great flavor enhancer.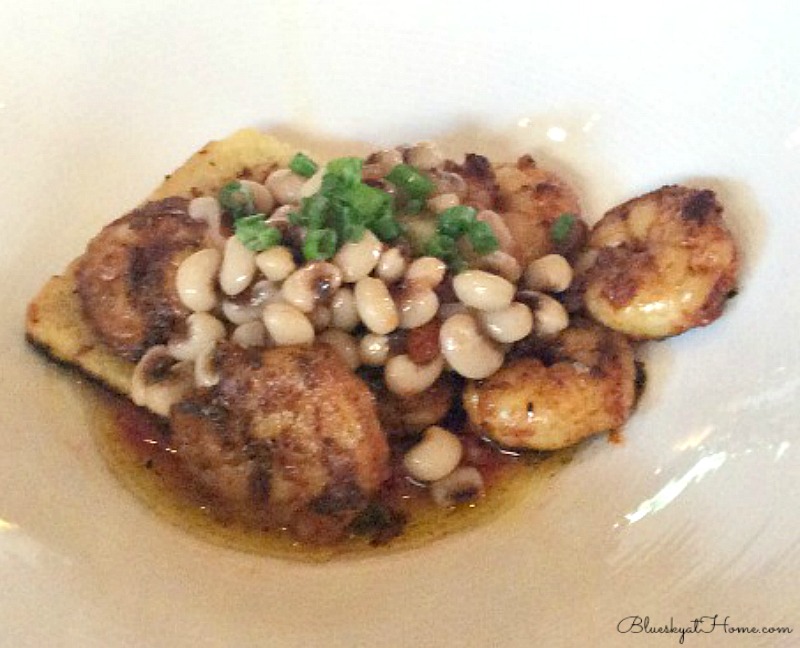 Sweet Shark loves raw oysters and he wasn't disappointed by the local oysters. He raved so much about how sweet they were that I was tempted to try one. I love fried and grilled oysters, but I've always been hesitant to try them raw. But I took a breath, tried one, and asked for another! Wow, what have I been missing! The mignon sauce was delicious with the sweet brininess of the oysters.
She~Crab Soup with Deep Fried Soft Shell Crab @Anson's
This was one of the biggest soft~shell crabs we had ever seen and yet one of the most tender. The batter was light, crispy and well~seasoned. On a bed of fresh corn kernels, it was a delightful Southern meal. The She~Crab (it's made with crab roe) soup was chockful of crab goodness.
Pulled Pork Sandwich and Slaw with Pork Hash and Carolina Gold Rice @Poogan's Smokehouse
We knew that we had to have barbecue while in Charleston and Poogan's was highly recommended. The pulled pork was delicious, but it was the pork hash ~ made with the pork leftovers and simmered to melting tenderness and the Carolina Gold Rice had a nutty flavor.
Fried Oysters with Arugula Salad @High Cotton
The bar at High Cotton is part of a beautiful restaurant. Dark woods and a clubby atmosphere was just right for an afternoon stop~in. These fried oysters were so light and fluffy and the arugula added a little bit of bitter bite to the dish.  One of the best fried oyster dishes we've ever had.
Cornmeal Catfish with Baby Squash, Fennel, Broccolini, Spiced Pecans @Husk
Husk is one of the most highly regarded and popular restaurants in Charleston. The focus is on locally sourced ingredients. Everything was beautifully seasoned and presented; every bite was absolutely delicious. We were not disappointed with the food, the service or the beautiful old house.
This was the only time that Sweet Shark and I ordered separate meals. A must~go, but be sure to make reservations.
North Carolina Chicken Breast with Golden Zucchini, South Carolina Peaches, Broccolini, Heirloon Kale @Husk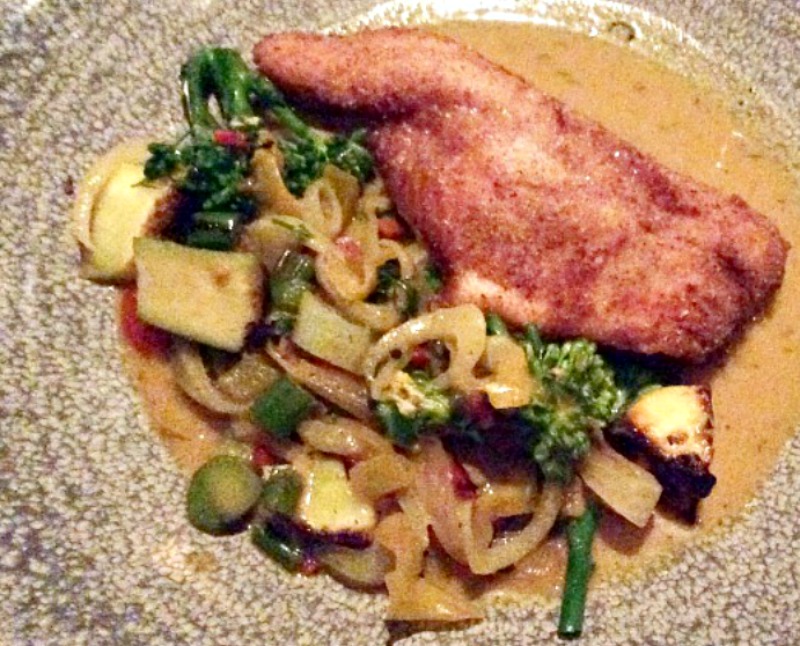 The Peninsula Grill is located in The Planter's Inn, our hotel. Each evening we dropped in the beautiful Champagne Bar for a glass of wine before going to dinner.
One of the most popular items on the menu is the 11~layer Coconut Cake. After dinner one night we dropped in the bar and ordered a piece of cake. The beautiful presentation is only bested by the moist coconut flavor of the cake.
While we were sitting there, 3 people came in and ordered a slice to take to their room. We couldn't finish so we had the rest of the cake wrapped and we took it to our room. The next morning we ate the rest for breakfast (don't judge) and it was even better. Another must~have dish.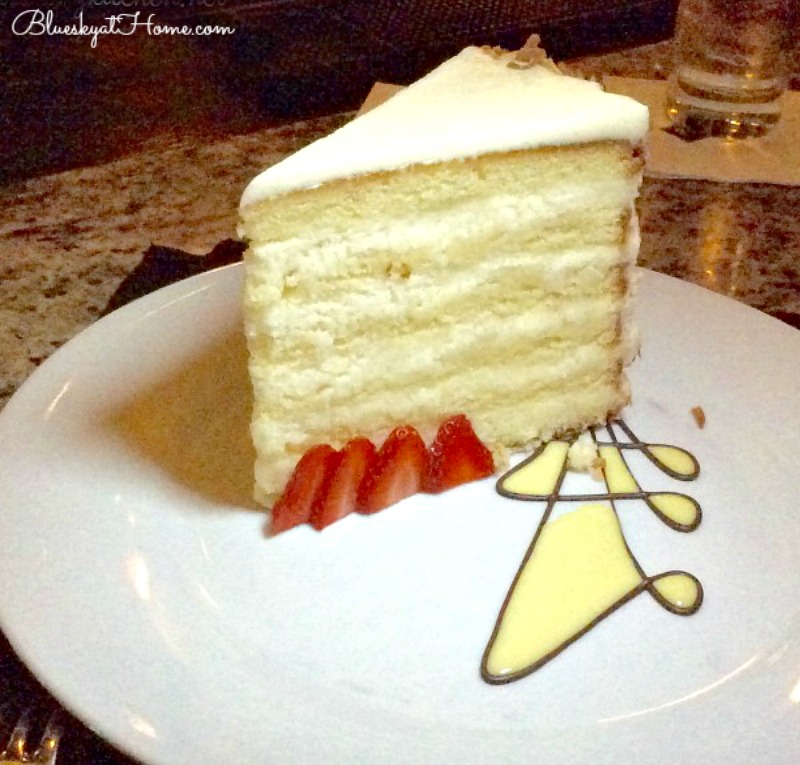 Friends had told us about Jestine's, and since fried chicken was also on our list, we stopped in after our carriage ride and walk down King Street
. Jestine's can best be described as a diner. What it lacks in decor it makes up for in moist, tender, well~seasoned fried chicken. We shared a basket with 1 breast and 1 leg that came with a side of slaw. As our other side, we ordered fried okra and it was spot~on. I could eat okra any way you serve it ~ fried, sautéed, grilled, roasted. And this version was wonderful.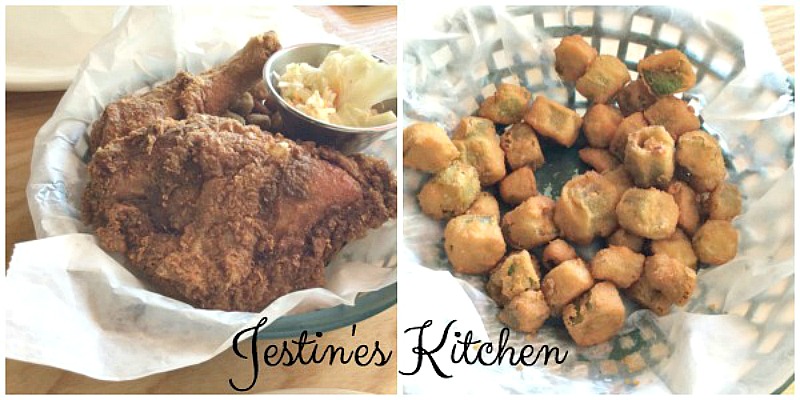 Yes, I know that beef carpaccio is not low country or even Southern, but Scott the bartender talked us into it and we were so glad he did. We love carpaccio. This was a stellar example of this dish: super thinly sliced melt~in~your~mouth beef with a Dijon mustard sauce drizzled, sprinkled with capers, a little arugula salad and grilled bread. OMG. The restaurant is also known as SNOB.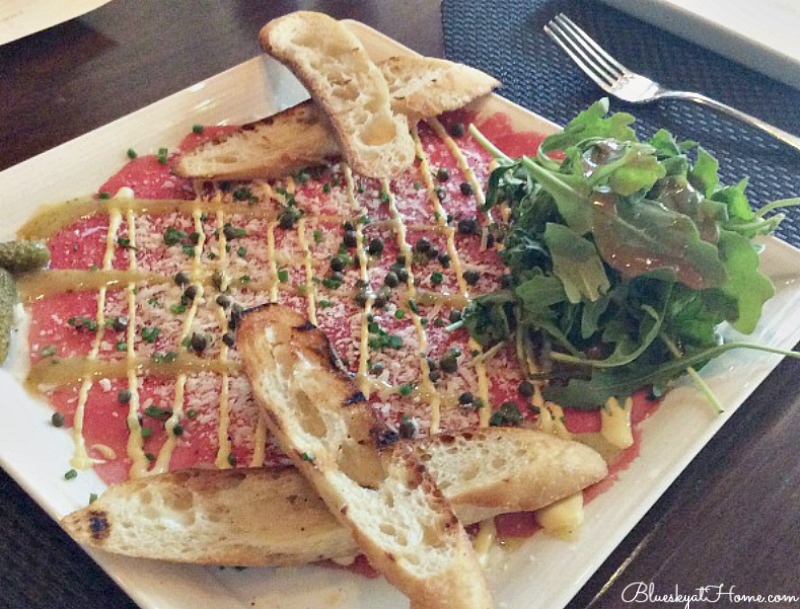 On our last morning in Charleston, Sweet Shark suggested we eat a big breakfast as we had a long drive to Asheville.
We crossed Market Street, walked around the front of City Market and landed at Another Broken Egg and got one of the best dishes of the trip: City Grits with smoked gouda, roasted garlic and onion, topped with bacon, diced tomatoes and sliced green onion. It was heavenly. I'm so glad that it was our last meal in Charleston. What a way to go out!
These top 15 best dishes in Charleston and Savannah weren't the only ones we had ~ I didn't mention 3 dinners and another snack for various reasons ~ but any of the ones I shared could be #1 on anyone's list.
Have you been to Savannah or Charleston? Had a favorite dish? Please share.  Have I made you hungry? I hope so. Want to remember all these dining suggestions? Be sure to PIN this post.