Easy Outdoor Summer Table Decor Ideas
Friends, the summer season is here. That means more outdoor dining. Do you want to see how to set a simple table for your outdoor dining this summer? I have an easy outdoor summer table decor idea to share with you.
After spending the past two weeks in Alaska (put it on your bucket list ASAP) in beautiful 50 – 70-degree weather, we are now back into summer weather reality. I'm putting outdoor summer table decor ideas at the top of my "get-back-in-summer-mode" list.
I've had a few ideas for outdoor summer table decor for several weeks. I can't wait to actually use them now.
Like styling any space in your home, tablescape styling is an evolving process. Your original idea may not work out or you make changes as you go. It's all OK as long as you are happy with your finished table decor.
Let me take you along as I style our first outdoor summer table decor this year.
Ingredients On Outdoor Summer Table
You will quickly surmise that the color scheme for my outdoor summer table decor is blue and white. It's not the first time, nor will it be the last time, I use this color combination.
As you'll see, there are a couple of shades of blue. What gives the table decor interest is the variety of patterns.
A few months ago at Target, I found 4 gingham check blue and white placemats on a random shelf. I loved the shade of blue, the pattern and the ruffled edge.
There were only 4 and I grabbed them. I later looked for more, but never saw them again in the store, but they are available online.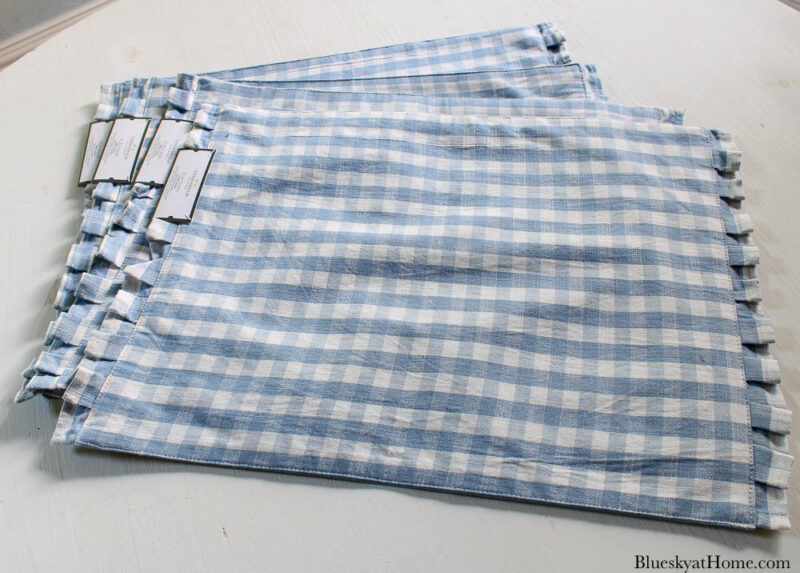 Here are some similar ones, like this navy gingham that is reversible or this set with fringed edges. Both come in multiple colors.
Since this would be a simple outdoor summer table, I used my white World Market dinner plates as chargers.
Months ago I found these beautiful blue and white floral paper plates online. I ordered the 9~inch luncheon size and the 7~inch dessert/salad size.
I am so excited to finally be using them. The chinoiserie-style pattern will contrast nicely with the lighter blue gingham check of the placemats.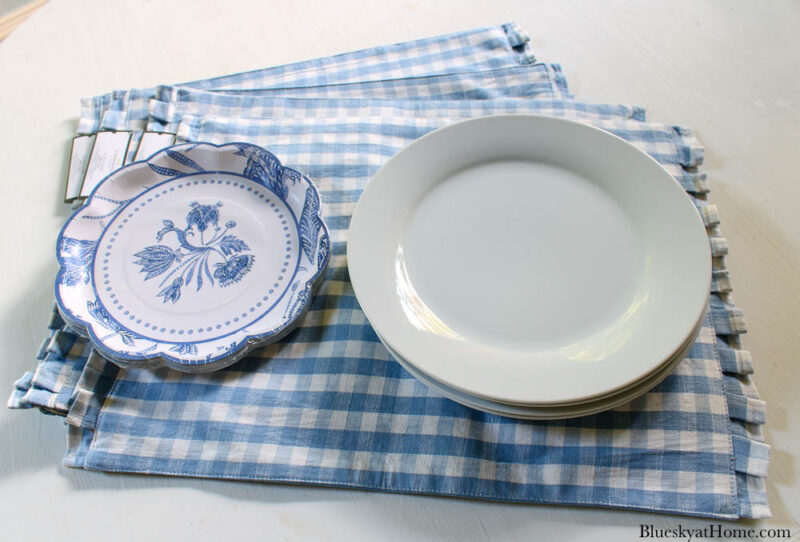 These 10-inch white dinner plates would work well, too.
For silverware, I thought our white-handled picnic forks and knives would provide a fresh, crisp look.

I love this set of 6 which comes in several colors, including two shades of blue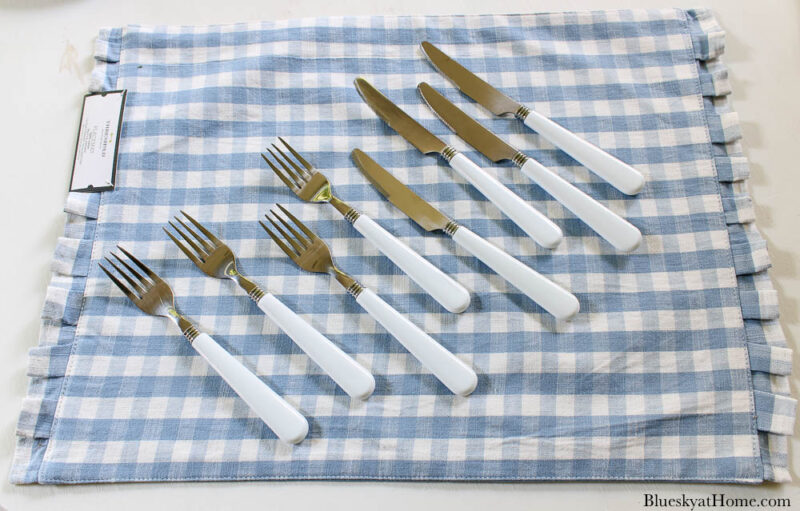 When I was in Atlanta back in April, my older daughter Jennifer gave me three sets of blue and white paper napkins – just because. She knows how much I love blue and white. This shape is actually called a guest towel.
The only problem? Which pattern to use? What's your favorite?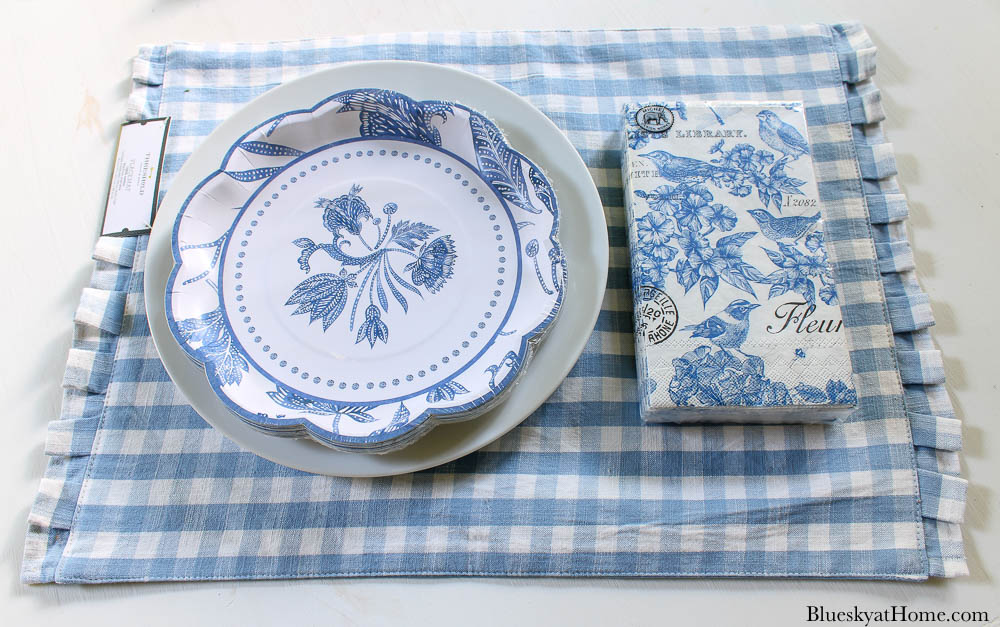 For glasses, I brought out a set of four martini/margarita glasses with deep blue stems. They were a favor at our younger daughter's high school parents' auction party. We found two that people had left on a table and I grabbed them. Wish I had grabbed a few more.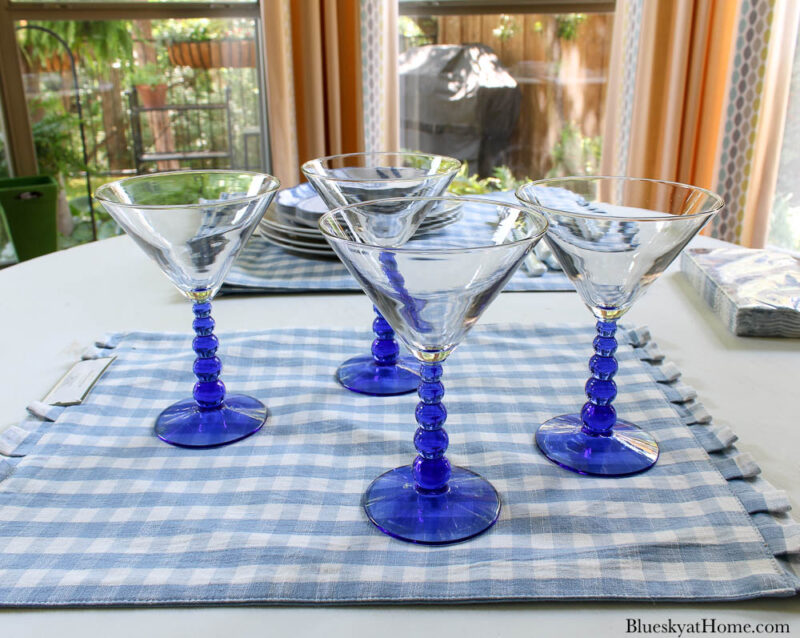 This set of margarita glasses would be so pretty on a table with a blue theme.
For a simple centerpiece, I chose three of my estate sale chinoiserie cache pots. The style and deeper blue color will dress up the table.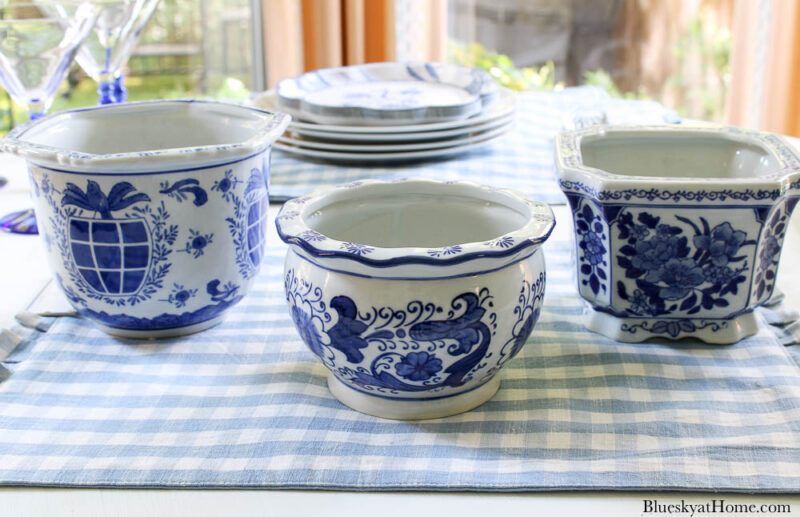 If you don't have any similar cache pots, then use any blue and white containers you have. Or check out one of these.
With the right accessories, these planters can work almost any time of year.
Preparing Your Outdoor Summer Table
The first step to styling any tablescape is to clear it off the table, especially if it is outdoors. You should clean it of dirt, debris, pollen or leaves.
I would be using our outdoor restored teak table, which I've shown many times, as our outdoor dining spot. It was an estate sale find that I cleaned and repurposed.
This picture is from a few years ago, right after I restored the table.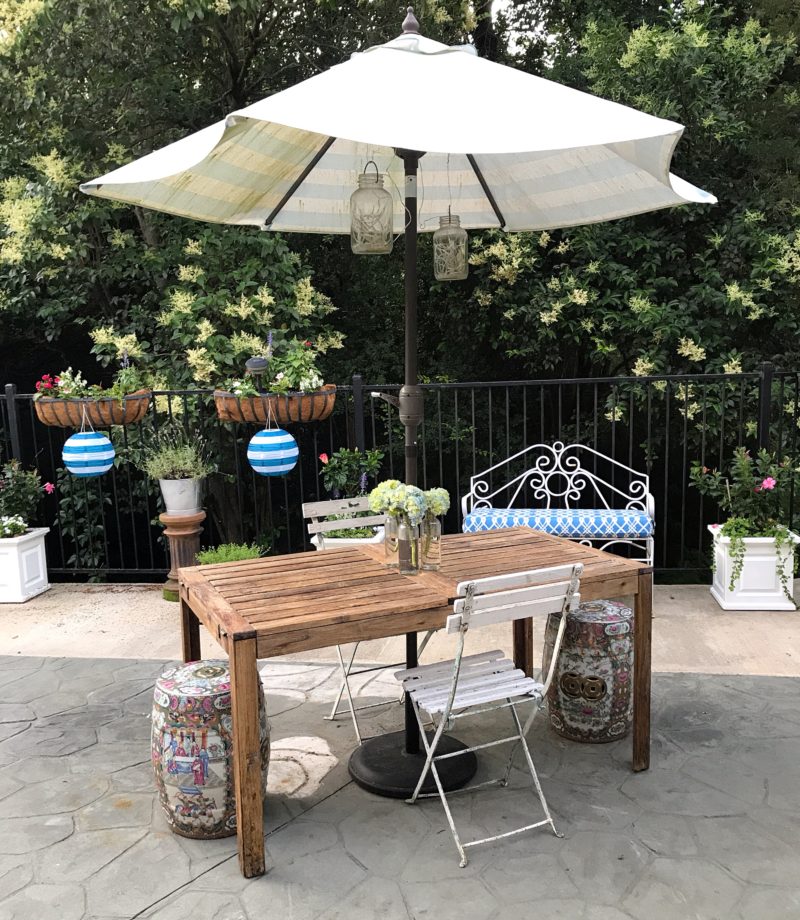 Our backyard looks so different now with the recent update and our new blue and white stripe umbrella.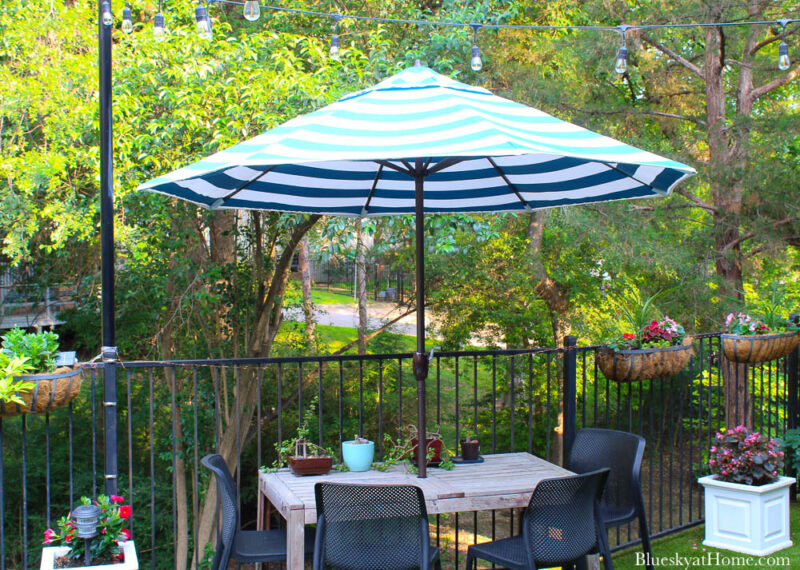 Since we have been on vacation for two weeks, I brushed off the table with a whisk broom.

I intended to give it a new coat of teak oil sealer. Because of the unusually high June temperatures we are having, and my jet lag after our flight home on Saturday, I blew that task off for now.
Because of the vision I had for my outdoor summer table decor, I planned to cover the table with two white rectangular outdoor tablecloths. I have to use two to accommodate the umbrella pole in the center of our table.
Now I was almost ready to style our outdoor summer table.
Flowers for Our Summer Table
To be honest, it was hotter than blazes when we returned from Alaska. We had gorgeous weather the entire trip with temperatures from 45 at night to mid-60's in the afternoon – and no humidity!
There was no way I could style this outdoor summer table decor until very late in the afternoon.
At least, I had all my ingredients gathered and ready to go.
I went to Trader Joe's for three bunches of white hydrangeas. I wasn't about to let them get wilted in the hot Texas afternoon. Another reason to wait until the evening.
In the meantime, I cut off the stems and removed the leaves.
TIP: Fill your kitchen sink with cool water. Place the blossoms upside down in the water. Let them sit for a few hours to make sure that your hydrangeas are fully hydrated. Shake off the excess water and place them in your container with tepid water.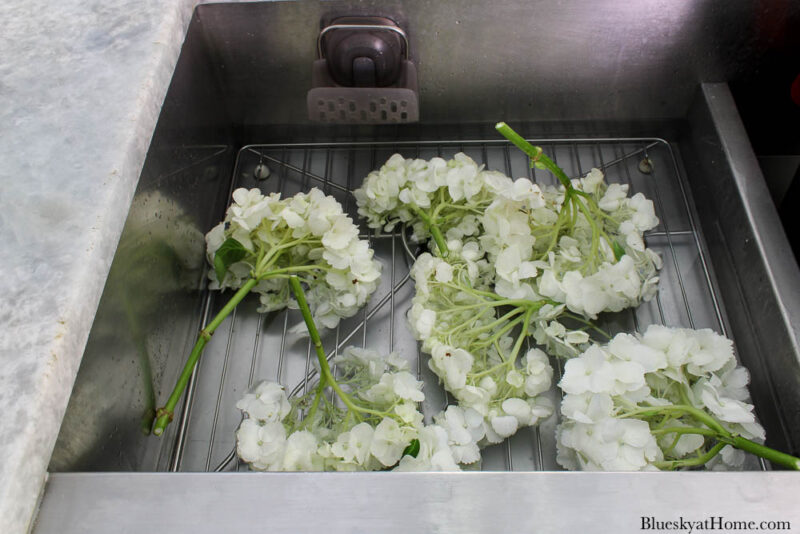 I let the hydrangeas sit in the sink for a few hours while I waited for the sun to go down and for Sweet Shark to get home.
Styling Our Summer Outdoor Table Decor
Now everything was ready to set our summer table decor – or so I thought.
Remember, I was going to cover the table with white tablecloths first? I quickly realized that wasn't a good option. Flowing tablecloths around our feet would be too heavy for our current heat wave.
Then, as I was about to set the placemats on the table, I realized I had a problem. We currently have the table up against our fence, meaning we have two chairs on one side.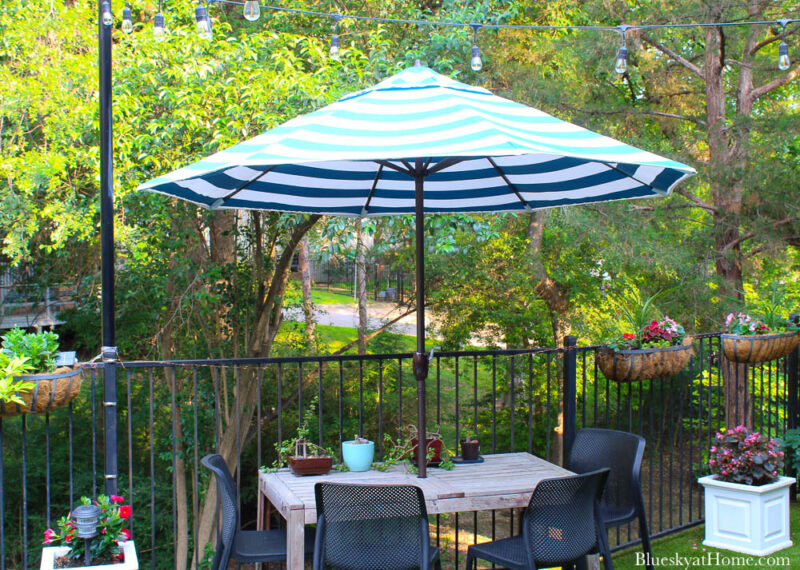 That arrangement wouldn't work for this tablescape. The placemats are large and I needed one on each side of the table.
I can't move the table with the umbrella in it. Another reason to wait until Sweet Shark got home from work later in the day.
We took the umbrella out of the hole in the table and placed it against the fence. Then we pulled the table away from the fence, allowing room for a chair to fit on that side of the table.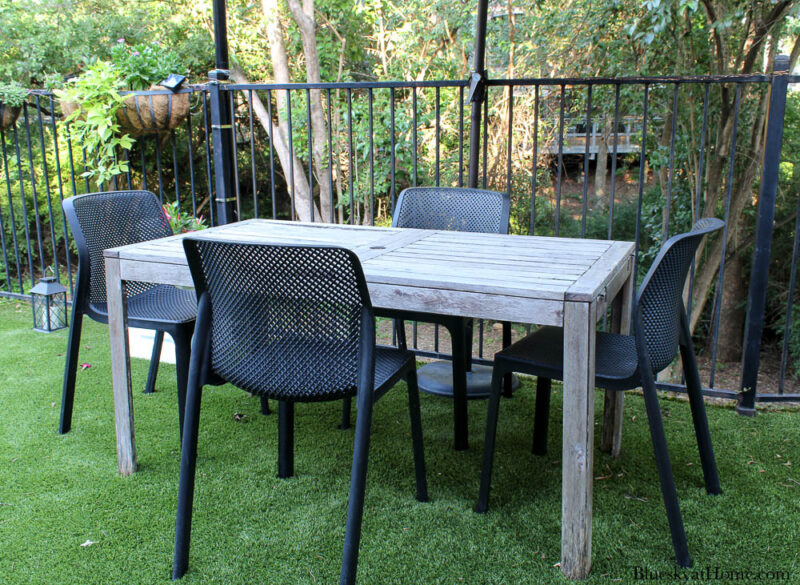 From now on, we'll leave the table and chairs like this. We can move the chairs and push the table closer to the fence when we aren't using it for dining. It also gives us more room without the umbrella in the hole on the table.
Now I was ready to proceed with setting the summer table.
FYI: Normally, I place the centerpieces on the table first, but I wanted to wait until the last minute to add the flowers.
First came the placemats.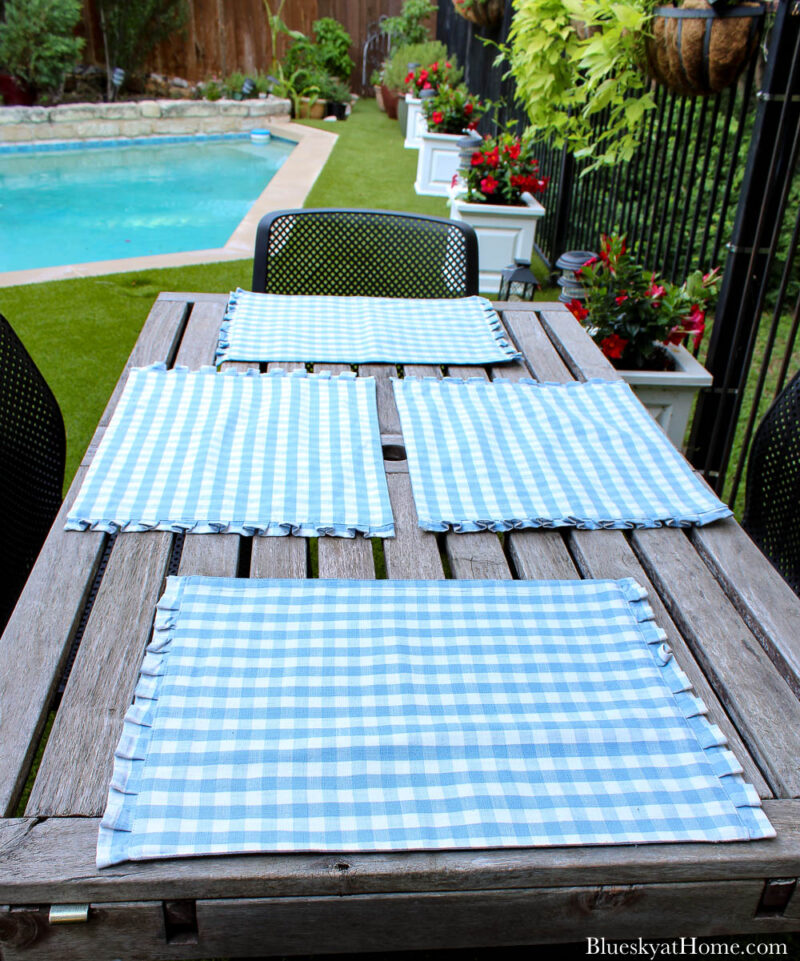 Then came the chargers and the floral plates. Guess who found a stick to play with?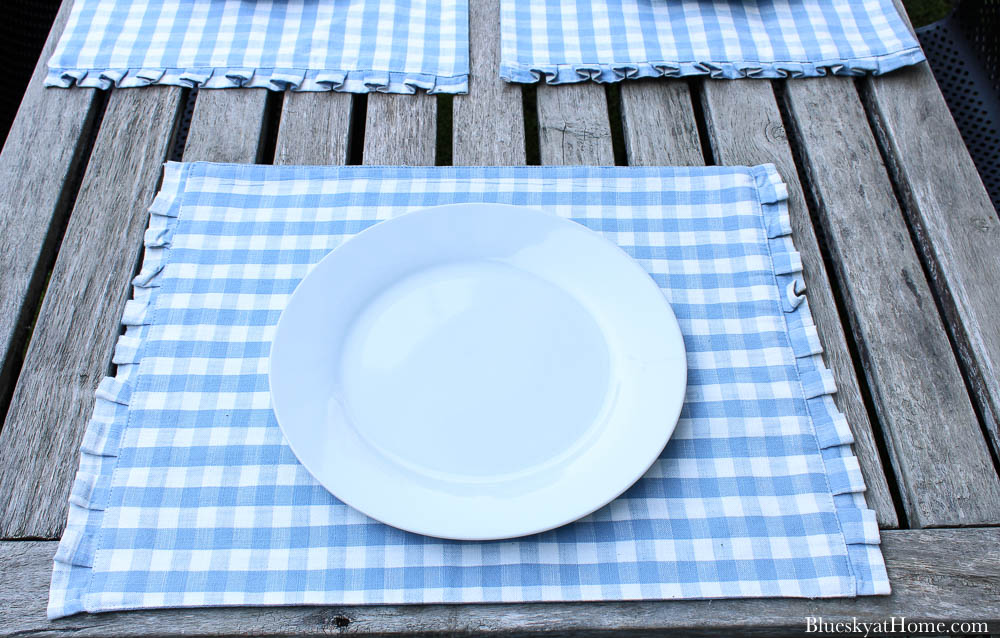 Then came the silverware and the napkins. Guess which one I chose?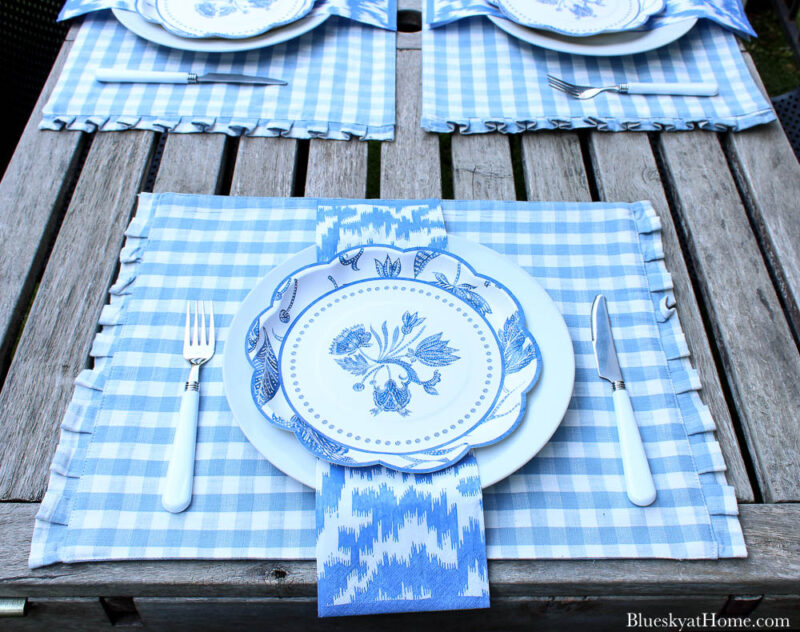 I choose the Modern Moire because I liked how the shade of blue worked with the paper plates. The pattern is a total contrast to the other ones.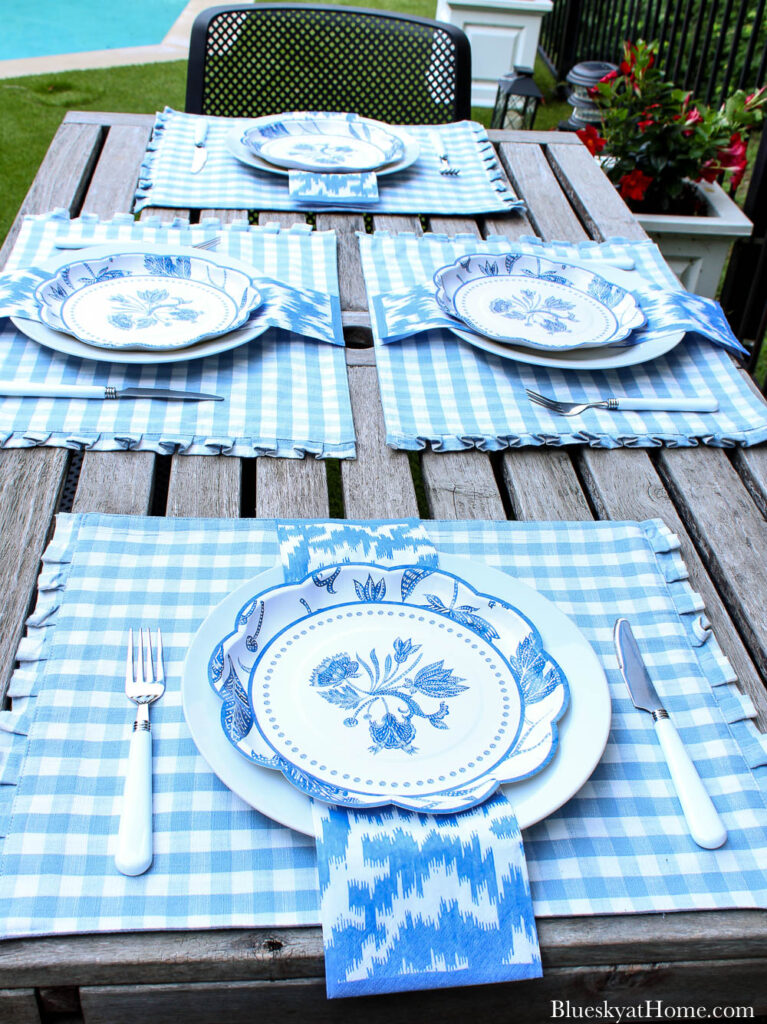 The blue-stem glasses completed the summer place setting.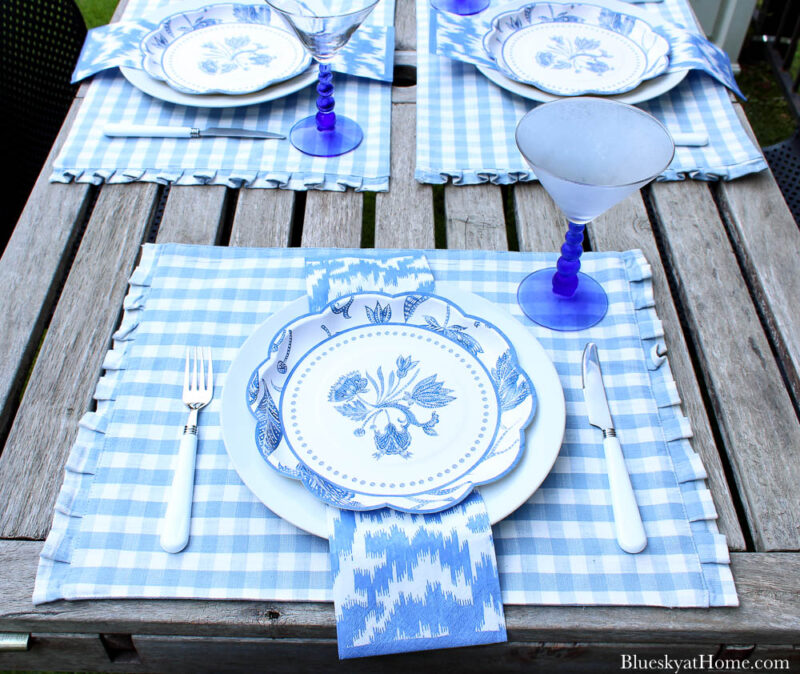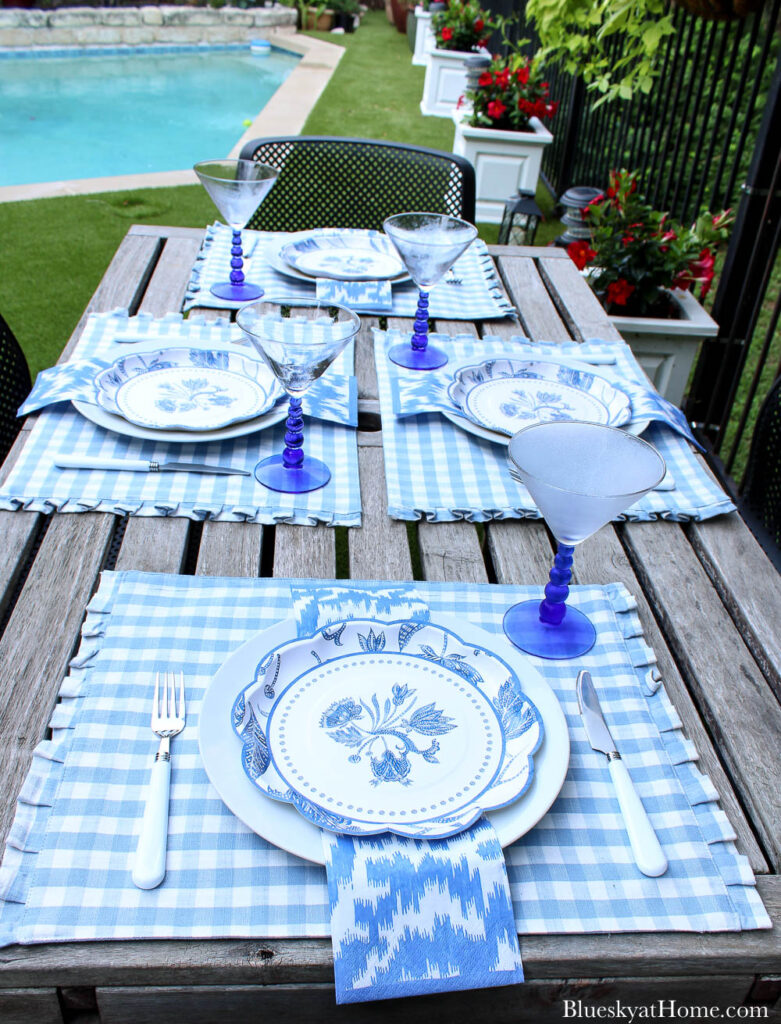 When I was ready to add the hydrangeas to the planters, I realized one of them had a hole in it. I decided to use just the two that were estate sale buys.
Finally, I arranged 3 hydrangea stems in those two pots.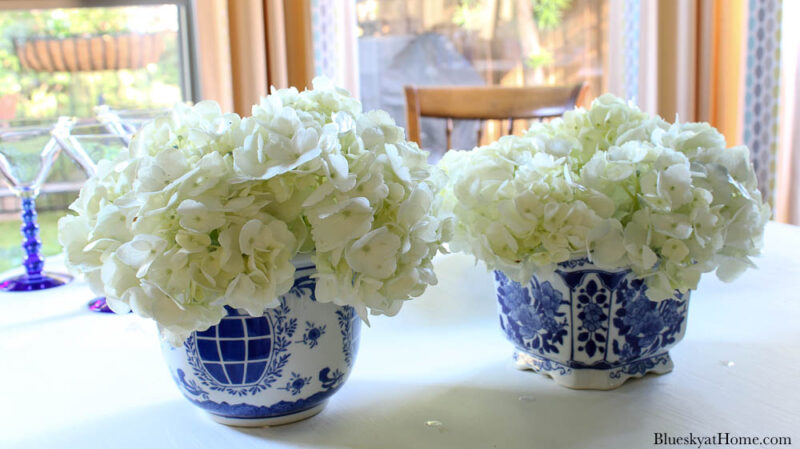 Without the umbrella pole to contend with, I placed the planters in the center of the table.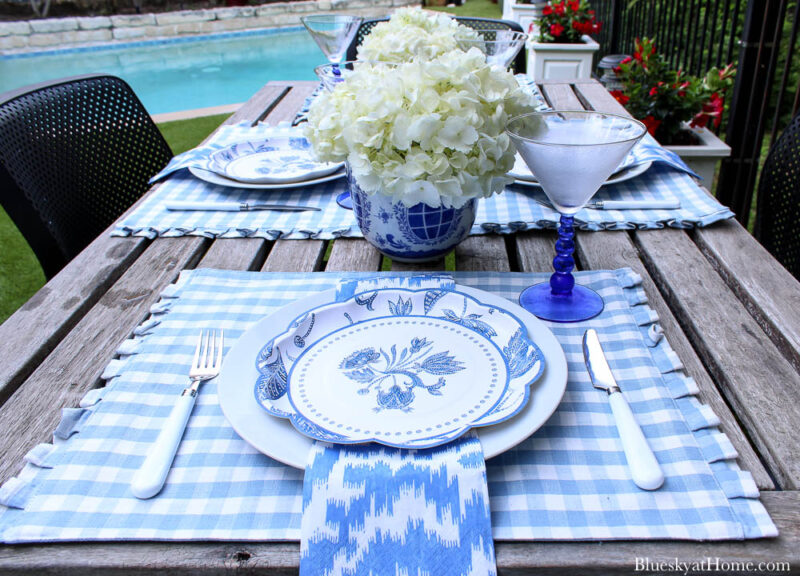 Did I say that this summer table decor was so easy to style?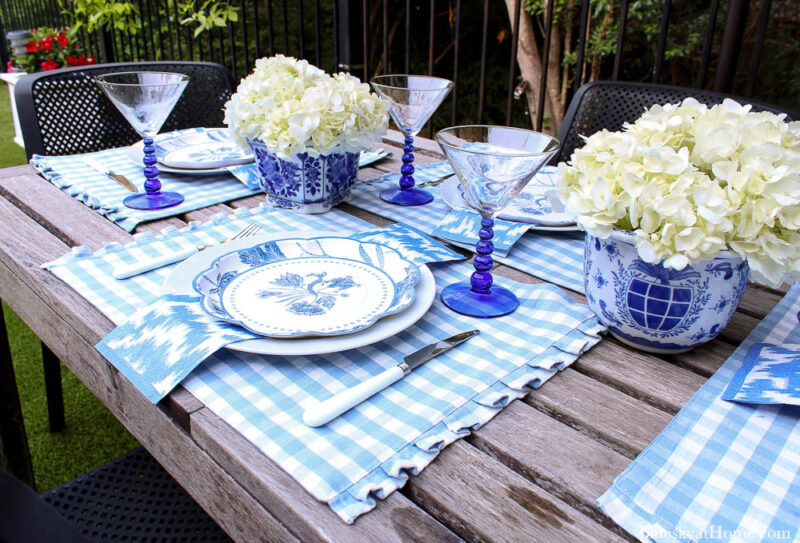 I wanted a simple outdoor summer table decor, nothing fussy or crowded. The flowers in the backyard provide a beautiful backdrop.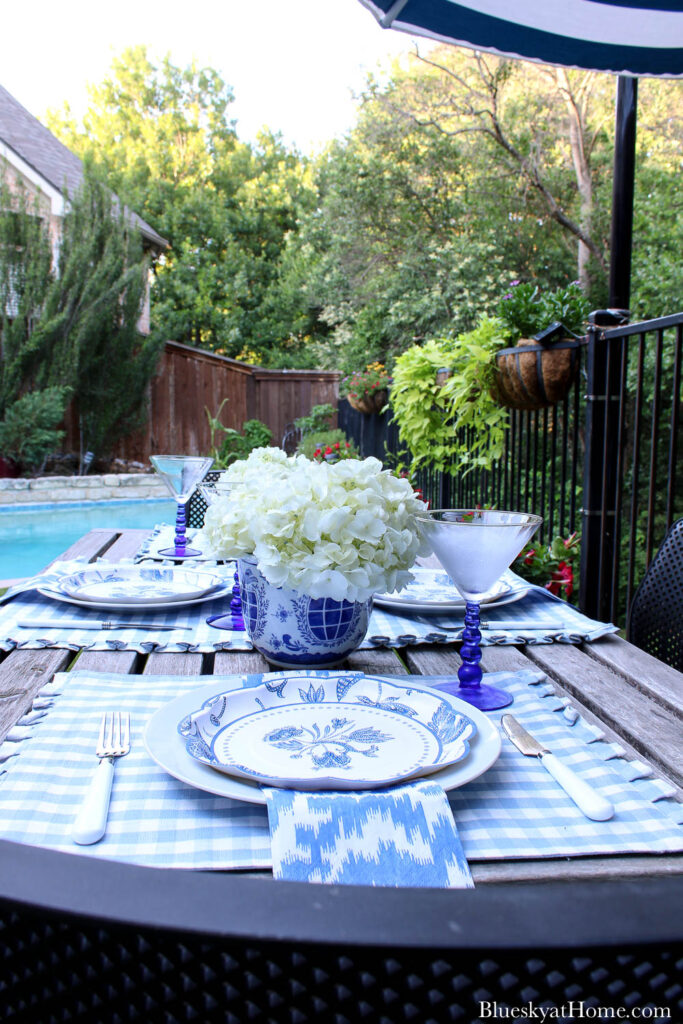 For other options, blue mason jars would make great centerpiece planters with daisies or gerber daisies. Use red, pink or yellow flowers for another pop of color.
As a last-minute addition, I added four blue and white pillows for more color and pattern. The pillows also make the chairs more comfortable.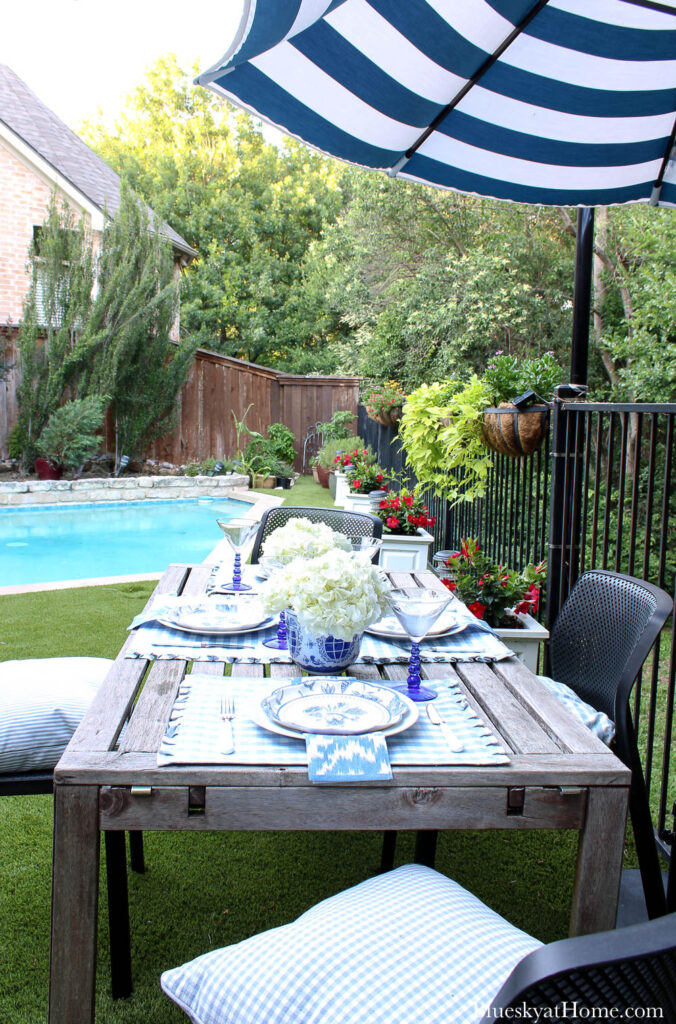 Nothing is more refreshing on a warm summer night than a glass of cold sparkling rosé. A silver ice bucket adds a little shiny touch.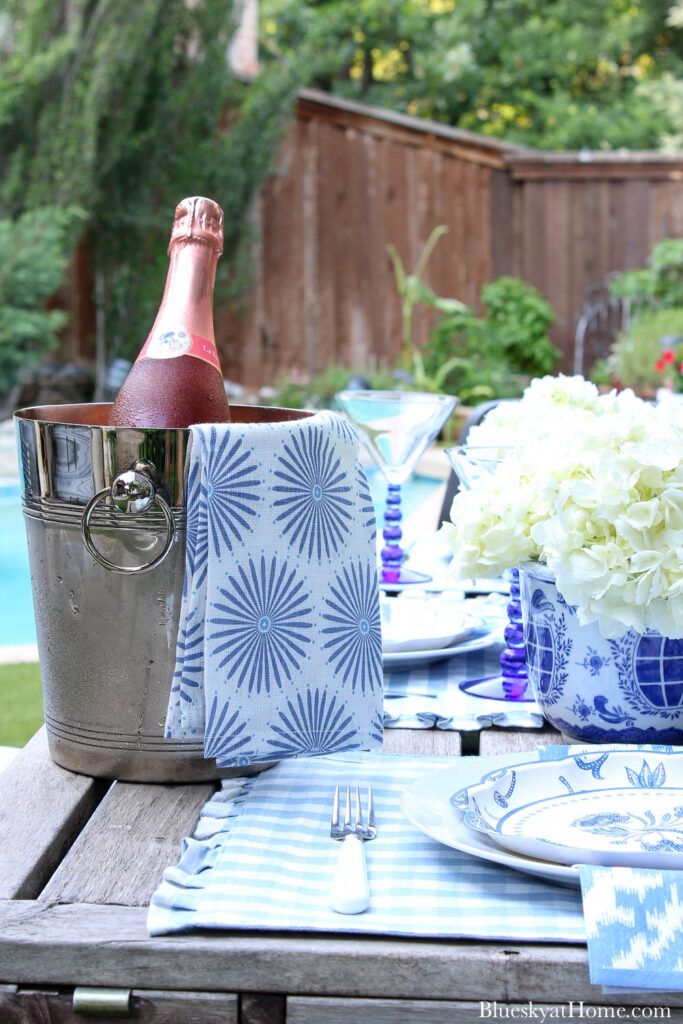 Here is the scene from the patio.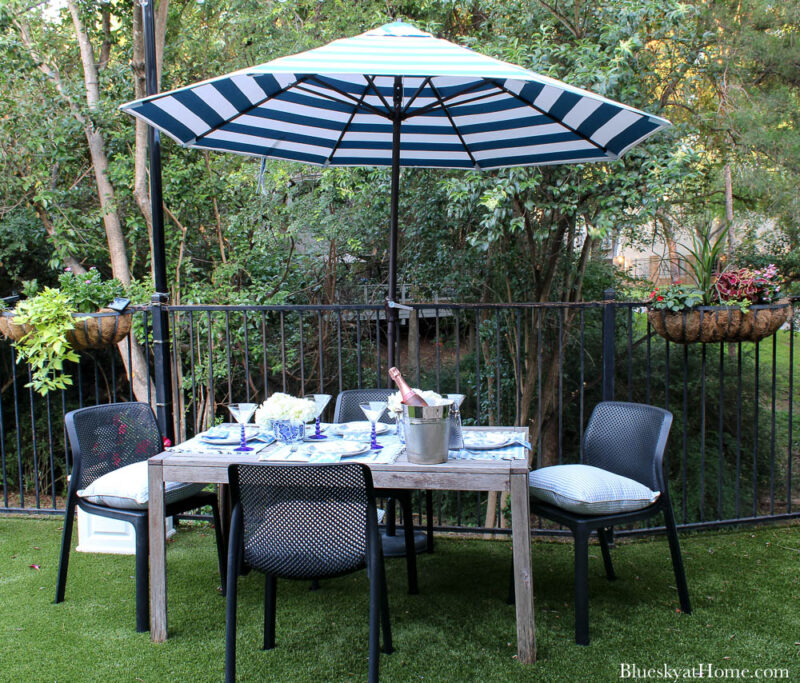 Shop this Look for Outdoor Summer Table Decor
I love the simplicity of this summer outdoor tablescape. I hope you like it as much as I do and have new ideas for your own decor and for summers to come. PIN it to refer back when you need a fresh idea.