14 Fabulous Christmas Dessert Recipes
Christmas is the time for delicious things to eat. Especially sweet desserts. I've gathered 14 fabulous Christmas dessert recipes that you will want to keep, make and share.
I've been watching my sweet intake for over a year. I'm so happy to say that it has made a difference in how I look and feel. I've been saving my "cheat time" until I can indulge in a few yummy Christmas desserts.
I don't consider myself a baker, but I do love to bake desserts for special occasions. There is no bigger or better special occasion than Christmas. Who can resist a pretty and fabulous Christmas dessert?
Whether your favorite Christmas desserts are cookies, candy, cakes, cupcakes or something in-between, I know you'll find here a Christmas dessert recipe that you will want to PIN, save, print, share and make.
I'm sharing 10 wonderful Christmas dessert recipes that I found on Pinterest – plus four of my own recipes.
I feel certain that you will want to savor these 14 fabulous Christmas dessert recipes.
Welcome to 10 Fabulous Finds at Bluesky Browsing #67.
Think of 10 Fabulous Finds as a home decor/DIY/Craft/recipe Readers' Digest.
In case you are new to Bluesky at Home, what fabulous finds do I share at Bluesky Browsing?
ideas to help you in your home decor efforts
fun holiday decoration ideas
ideas for better organization and efficiency
a yummy recipe or cocktail
fun DIY projects
the latest trends in home decor
a quirky new find or two
Focusing on finding new projects, resources, tips, new ideas, and inspiration for you is my main task. I'm constantly discovering fabulous finds to inspire us. My goal is to help you find ideas for your home decor, your crafting, your home organization, and anything about home.
Are you a new or intermediate blogger? Every week I share valuable blogging resources and tips. If you would like to receive The Blogger Bulletin, please join the Blogger Bulletin. It's just once a week and is a quick read.
This post contains affiliate links to products used in the creation of this project. If you should order any item from this site, I may receive compensation, but you do not pay a penny more. Your purchase is greatly appreciated as it helps support the continued publication of this site.
ON THE HOME FRONT
Well, finally, our home is completely decorated, inside and out, for the holidays. Sweet Shark listened to my pleas and we did tone it down a bit this year. Two fewer garland, one less wreath, and several Santas are going to be taking a very long nap this year. The house still looks beautiful. No one will ever miss a single Christmas decoration that didn't come out of its box.
I had a lovely Christmas lunch with my group of sorority sisters. Last year we switched from dinner at someone's home to lunch at a restaurant. We all were ready not to drive all over town at night. For my little gift, I gave everyone a little bottle brush tree with a bow. So simple, but cute.
Last night Sweet Shark and I had one of our favorite couples over to see all the Christmas decorations and share a cocktail before we went to one of our neighborhood restaurants for dinner. We love having friends over for the holidays, but we also love going out for dinner with all the restaurants decorated for Christmas.
This Sunday is our neighborhood Christmas party. I'll be taking one of the desserts I'm sharing below as my contribution. You can guess which one.
This week, the blog was, of course, about Christmas: 28 Gifts and Stocking Stuffers for your Favorite Baker (After reading all these delicious Christmas dessert recipes below, you may want to order some of these items for yourself) and 9 Ideas to Add the Christmas Spirit to Your Home.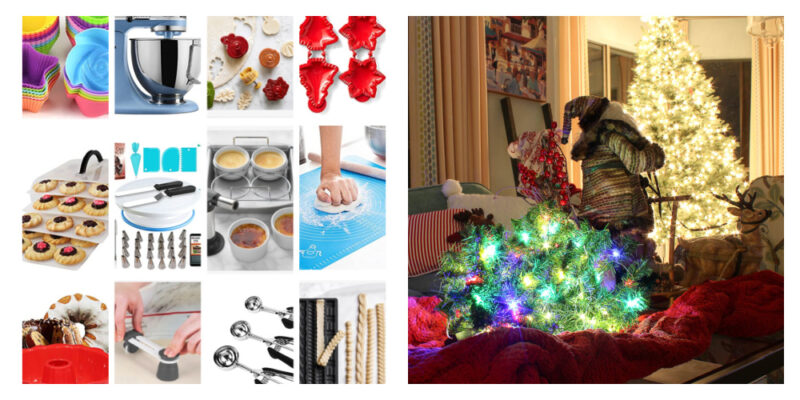 14 Christmas Dessert Recipes: Delicious Sweet Treats
Here we go with Bluesky Browsing #67.
Looking for some new Christmas dessert recipes made my mouth water. "Cheat time" can't come too soon.
The first thing I look for in a dessert recipe is appearance. A Christmas dessert just has to make you smile and want to take a bite.
Second, I look for great photography and great instructions. As a former cooking instructor, I appreciate clear directions with little tips and notes.
After you finish visiting these 10 new Christmas dessert ideas, I'm sharing four of my own. That's a total of 14 fabulous Christmas dessert recipes that you can add to your recipe box.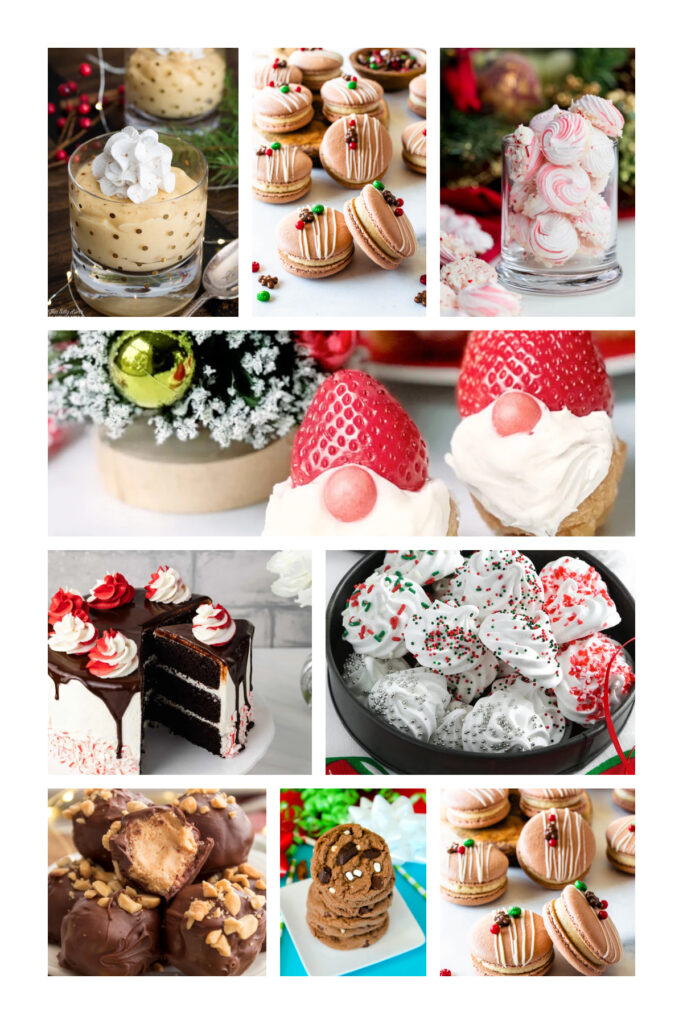 Enjoy them all.
Christmas Dessert Recipe Ideas for You
My Own Favorite Christmas Desserts
Here are some awesome Christmas dessert recipes that you will love – straight from my own kitchen.
Visit these Christmas Pinterest Boards full of delicious Christmas recipes – sweet and savory. I would love for you to FOLLOW one or all of these boards.
I hope you PIN this post, visit each selection, and PIN each one.
What do you think of this new roundup format? From a creator's standpoint, I love it. Here you find out more about Tasty Roundups.
I'd love to know what subjects you are most curious about. Let me know in the comments and I'll search browse for them. Be sure to PIN to keep these ideas handy.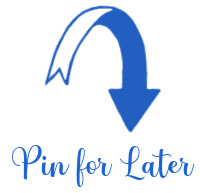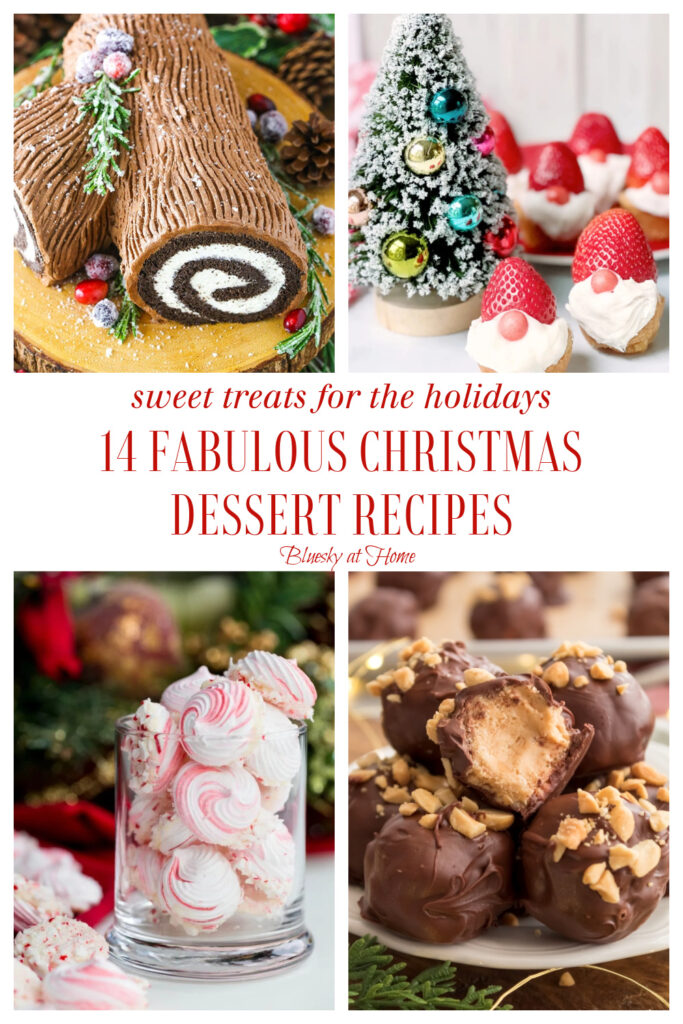 I'll be browsing away between writing posts, listening to podcasts, reading, doing various blogging tasks, playing tennis, and walking Nola.