Cherry Cheesecake Tartlets for a Special Holiday Dessert
After sharing a decadent chocolate dessert, I have to share another perfect holiday treat. Who doesn't love cheesecake? Although delicious, a slice of this rich, cream cheese dessert can be filling at the end of a meal. But what if you made a super small version? The just~right size dessert that provides a satisfying finale to a holiday meal, but doesn't leave you feeling like Santa Claus after a night of milk and cookies. So here it is: cherry cheesecake tartlets that are not too sweet and topped off like Rudolph's red nose.
These cherry cheesecake tarts just have a feeling of Christmas to them. You know me. I love mini~desserts. The great thing about the cherry cheesecake tarts is that they contrast beautifully with the
brownies with raspberries
that I shared on Monday, both in flavor and presentation. Nervous about making cheesecakes (I've heard that from students over the years.) ? Don't be. I'm going to walk you through the preparation and at the end of the post, I have a
PRINTABLE of CHEESECAKE TIPS
for you.
Cherry Cheesecake Tartlets for a Special Holiday Dessert
How easy can a 6~ingredient dessert be? And most of these ingredients are ones you may keep in your pantry, fridge or freezer.
This post contains affiliate links to products that I use, love, and highly recommend. IF you should purchase any product from this site, I may receive compensation, but you don't pay a penny more.
Ingredients for the Cherry Cheesecake Tartlets
Crust Ingredients
Filling Ingredients
Equipment for the Cherry Cheesecake Tarts
A regular size cheesecake requires a cheesecake (It has solid sides with a pop~up bottom and at least 3~inch sides.) pan, but these cheesecake tarts use a 12 cup mini cheesecake pan, readily available online or at your local kitchen store. Each cup has a removable bottom, making getting the cheesecakes out a breeze. I've also used this pan, each cup lined with foil, to make individual cakes.
A food processor is the best tool to make your graham cracker crumbs. I've had my Kitchen Aid for about 15 years and it is just a workhorse.
An electric mixer is used to make the filling. Mine is also a Kitchen Aid and it's the best mixer I've ever had.
Making the Cheesecake Crust
Make the graham cracker crumbs. Break the crackers up as you put them in the processor bowl. Pulse several times first and then turn to ON to process into fine crumbs.
Pour into a medium bowl.
Melt 1/4 cup unsalted butter (1/2 a stick) in the microwave.
Add the melted butter to the cracker crumbs and stir until completely moistened. It may not look like there is enough butter, but I promise there is.
Spray the cheesecake cups with cooking spray.
Spoon about 2 tablespoons of cracker/butter mixture into each cup. Equally divide any remaining crumb mixture among the cups.
Using a tart tapper, press the crust down until firm in the cup. (I love this little gadget.)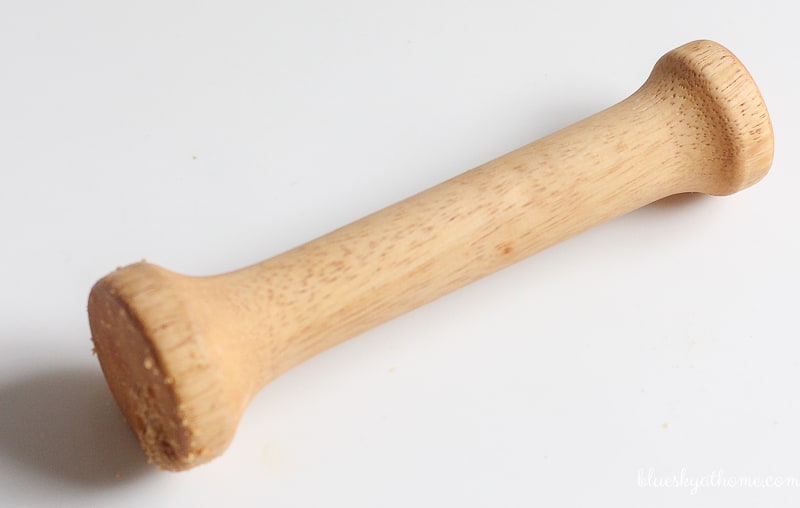 Place in the freezer until chilled thoroughly.
NOTE:  The crust can be placed in the freezer several hours ahead, if necessary.
Making and Baking the Cheesecake Filling
Make sure that all your ingredients ~ the cream cheese and egg ~ are room temperature. It make take a few hours. It's O.K. to leave out overnight if you are planning to bake in the morning.
Beat the cream cheese in the electric mixer with the paddle attachment until light and fluffy, scraping down the side of the bowl, about 2 minutes.
Gradually add the sugar and beat another minute.
Add the egg and beat until completely blended. The batter will turn a pale yellow.
Stir in the vanille extract.
Evenly divide the filling in the 12~cup pan.
NOTE:  I like to use an ice cream scoop for this job. Each cup will be need a little over 2 tablespoons of filling. Use it all!
Bake the cheesecake tarts for 20 minutes in the preheated oven.
Remove the cheesecake pan from the oven and allow to cool for 20 minutes.
Using a small metal spatula or paring knife, go around the edge of each cheesecake tart, loosening the cheesecake from the side of the cup.
Using a wooden spoon handle or your finger, push up the bottom of the cup to release the cheesecake tart. Use the tip of a paring knife to separate the metal bottom from the cheesecake. But sometimes the bottom just falls off.
Set the cheesecake tarts on a parchment lined sheet pan and place in the refrigerator for several hours or overnight.
Garnishing the Cherry Cheesecake Tartlets
Using a small spoon, place 1 ~ 3 cherries on the center top of each cheesecake.
Other toppings: fruit preserves, such as strawberry or raspberry.
Return the cherry cheesecakes, covered, to the refrigerator until ready to serve.
Aren't these the prettiest little bites of cherry goodness? I hope that you'll make them. I'm taking them to an annual Christmas dinner for a group of my sorority sisters. I know they'll love them. Wouldn't you?
For your PRINTABLE OF CHEESECAKE TIPS.