9 Pretty Ways to Use Christmas Garland in Your Home
Are you ready to deck the halls for Christmas? We all love garlands for Christmas decorating. I have 9 pretty ways to use Christmas garland in your home.
Garland is an iconic decoration for the Christmas holiday. It comes in different materials, colors, and styles. Garland isn't just for your mantel or staircase, although those are classic places.
Need some new places and styles for your garland?

We use Christmas garlands in several places throughout our home. Maybe you've never thought of one of these places for your own home.
How do you decorate your home with Christmas garland? Easily!
Each year we change up some of the garland decorations. Different accessories combine with the garland for a new look.

Inside we use artificial garland, but outside I like to use real garland.
I'm going to take you through a tour of our home, showing you these pretty Christmas garland decorating ideas from the past couple of years.
Decorating your home with garland will put you in a holiday mood.

Join me as I show you ideas to deck the halls with garland.
This post contains affiliate links to products used in the creation of this project. If you should order any item from this site, I may receive compensation, but you do not pay a penny more. Your purchase is greatly appreciated as it helps support the continued publication of this site.
I'm going to take you through our home, room by room. Let's start at the front door.
NOTE: I will say that we bought all our garland over 20 years ago – I think we have 10 9-ft. pieces. We bought the best, natural-looking garland we could afford and it has lasted for all these years. I think garland is like wine and good shoes: buy the best you can afford.
1 ~ Front Door Garland
By the front door, we usually put our garland on our vintage sleigh – with lights, of course.
For the sleigh, all I did was weave the garland across the sleigh and pop on a bright red check bow and faux holly beads for a pop of color.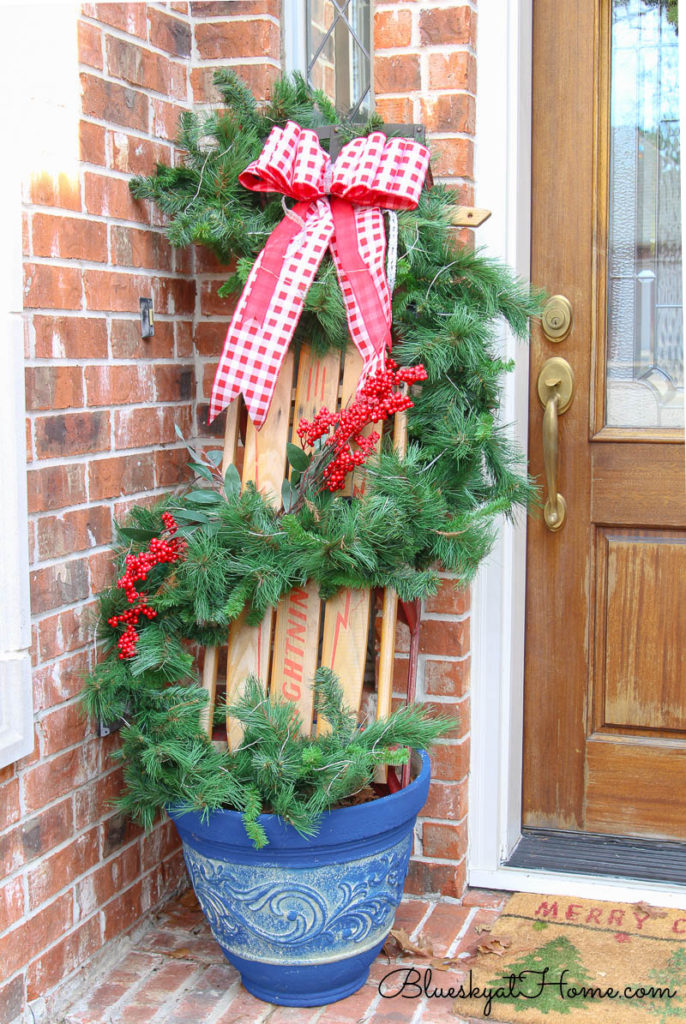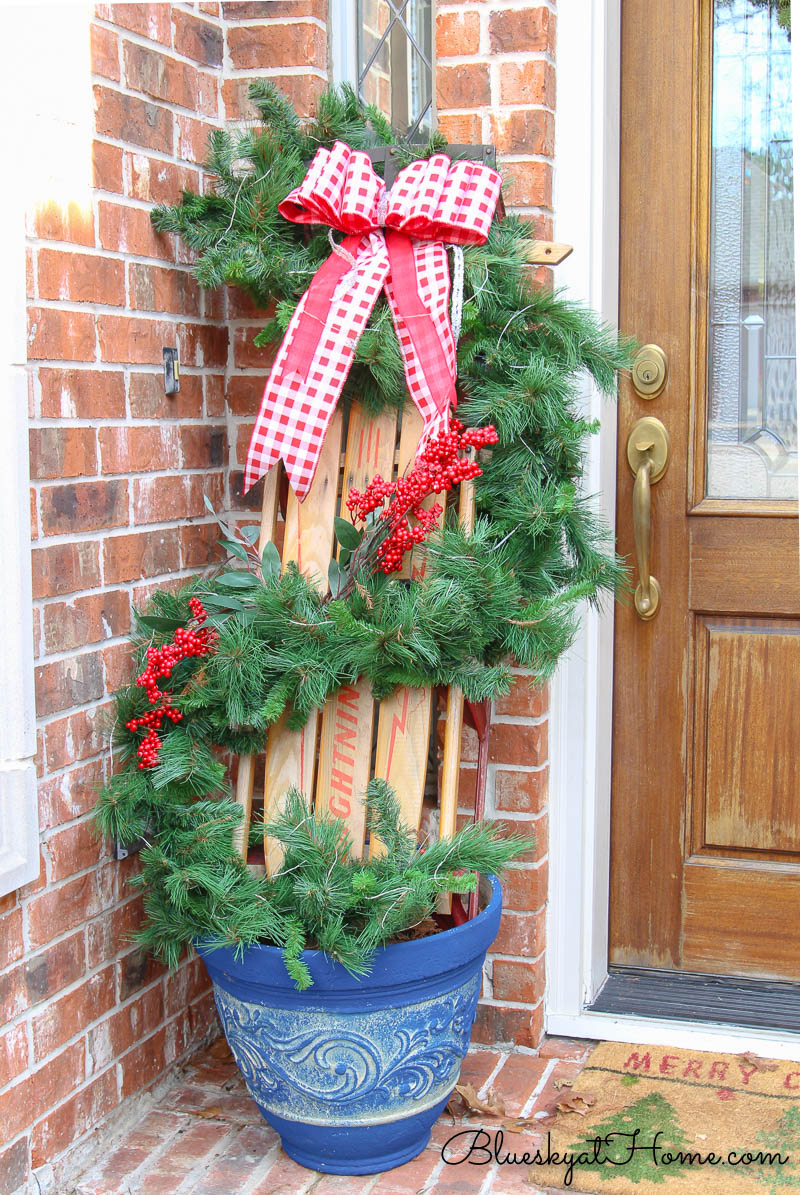 Last year, I used one of our white planters filled with garland.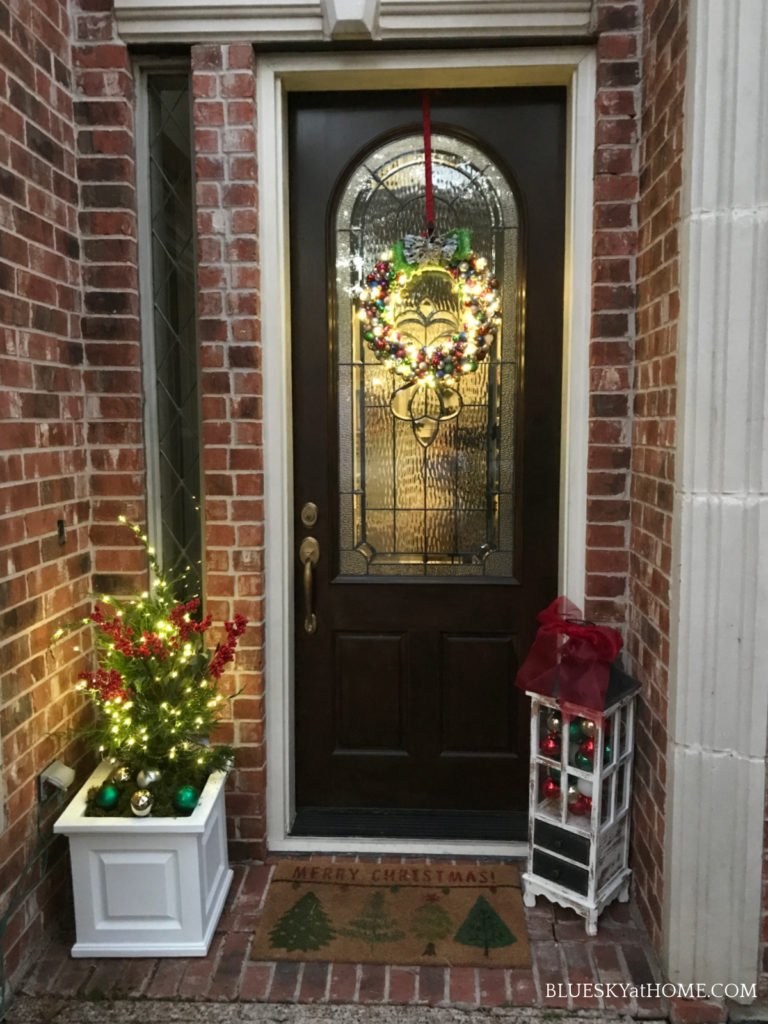 You can see more front-door images here.
We discovered this year that there were screws across the top of our door frame. This year I will definitely have real garland above our front door frame. Of course, I will have lights in the garland.

2 ~ Christmas Garland In the Entry
Your entry, no matter the size, is prime real estate for Christmas garland.
Drape garland across the top of any large mirror or picture you have for a festive look.
You can also drape garland across the top of a console or entryway table.
TIP: Use battery~operated lights on timers any place you can. It will make your life so much easier. I love this option because it comes in silver or gold and it's a great price for a 5-pack.
3 ~ Christmas Garland on the Banister
Banisters are classic places to decorate with garland. I like to embellish the garland for color and interest.
What can you attach to the green garland?
ball ornaments
festive bows
floral picks
stockings
Christmas decorations
lights
We typically add the BOL (battery~operated lights) first.
TIP: Buy lots of batteries. We usually have to replace them at least once during the holidays.
For this garland, I added ball ornaments in red, white, gold, and green.
TIP: I like to gather three ornaments, attach them together, and add them as one piece to the garland. Pipe cleaners or floral wire work well for this task.
Large bows made from two different ribbons bring in color and pull the eye in. Sometimes I also put bows at the top of the banisters.
Last year for the first time, I added our Christmas stockings for a new look.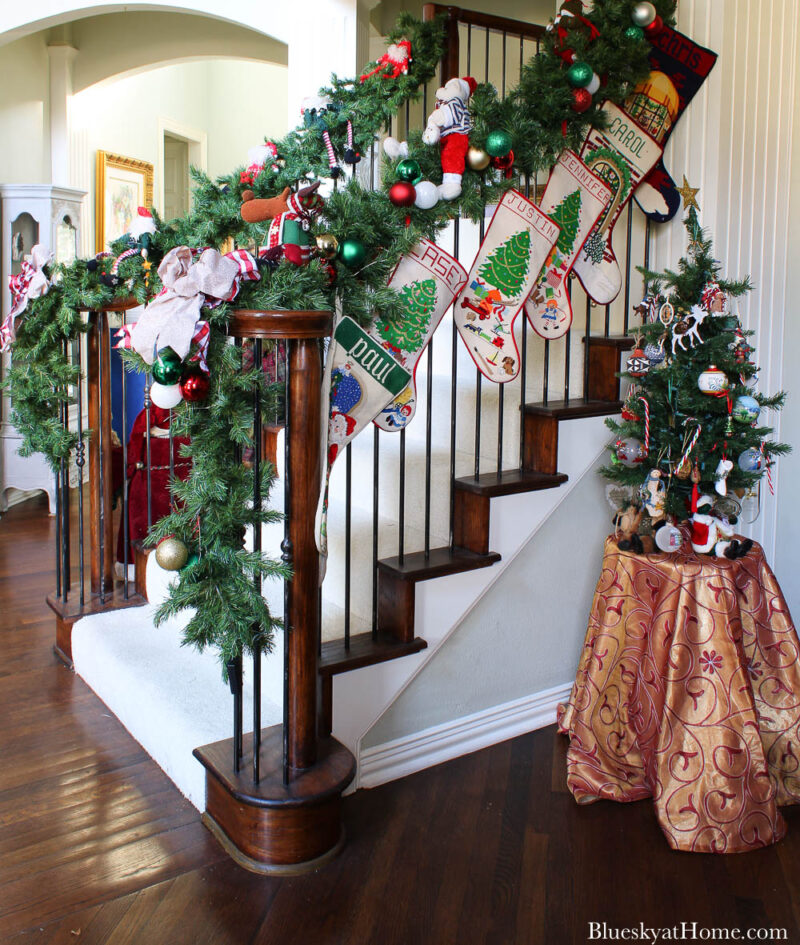 On the other side of the staircase, we have a tall metal candle stand. I like to wrap it with garland and lights.
Here, you can see more of this idea and vignette.
Here's another look at wrapping garland around our candle stand.
4 ~ Sparkling Garland in the Dining Room
If you have a hutch or buffet in your dining room, it makes a lovely place to add Christmas garland.

When I saw this silver and white garland at a local design store several years ago, I knew it would be the perfect way to highlight the vaisselier in our dining room.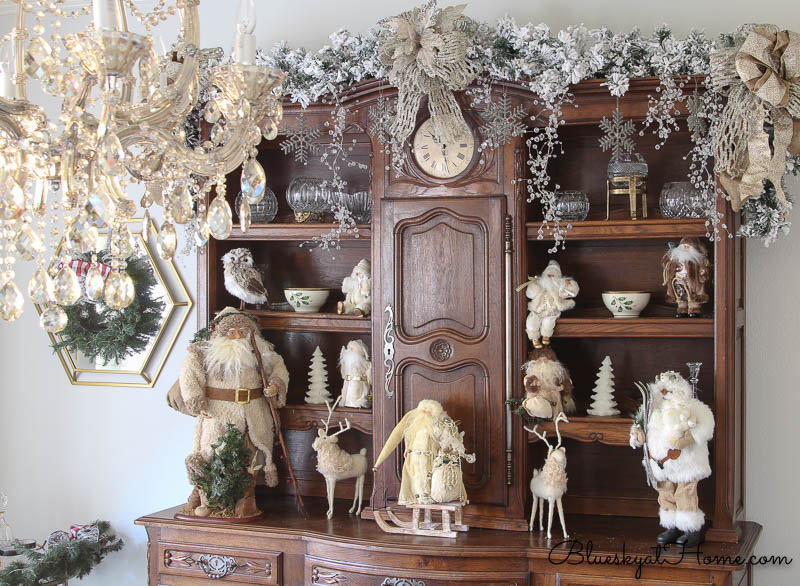 Whatever type of garland you use in the dining room, use other decorations to emphasize your color scheme.

For our dining room, I use a dressier style. Some of our white, silver and neutral Santas reflect the colors of the garland.
I made the large bows using two different styles of ribbon, one in the center and two on the ends of the garland. Bows add so much weight, color, and texture to the garland.
I love the snowflakes and beads hanging down.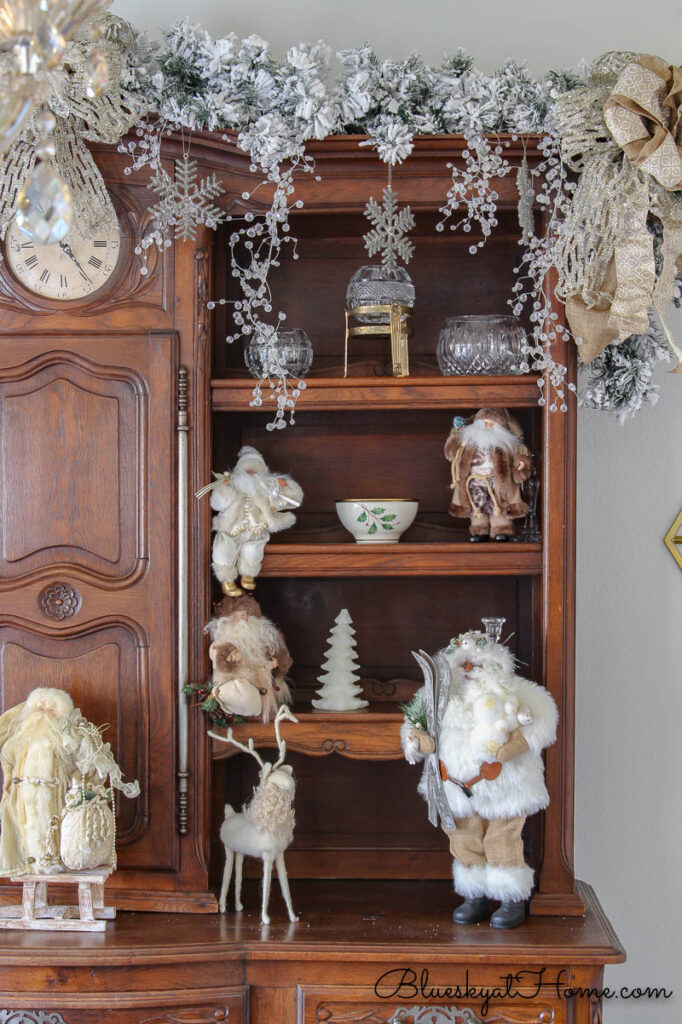 We also use a small strand of garland around the bar cart in the living room. Lights and bows add more festivity.
If you have another side table in your dining room, don't forget to add garland there.
5 ~ Christmas Garland in the Bar
Now I realize that not everyone has a bar in their home. Sweet Shark's bar is always a gathering place when we entertain. It's also where we eat dinner most of the time.
From our first Christmas in this home, Sweet Shark wanted the bar decorated for Christmas.

Garland seemed like the perfect decoration across the top of the wood bar back. Of course, it has colored lights (Sweet Shark's favorite) and each year we add another Mark Robert's Elf to the decorations.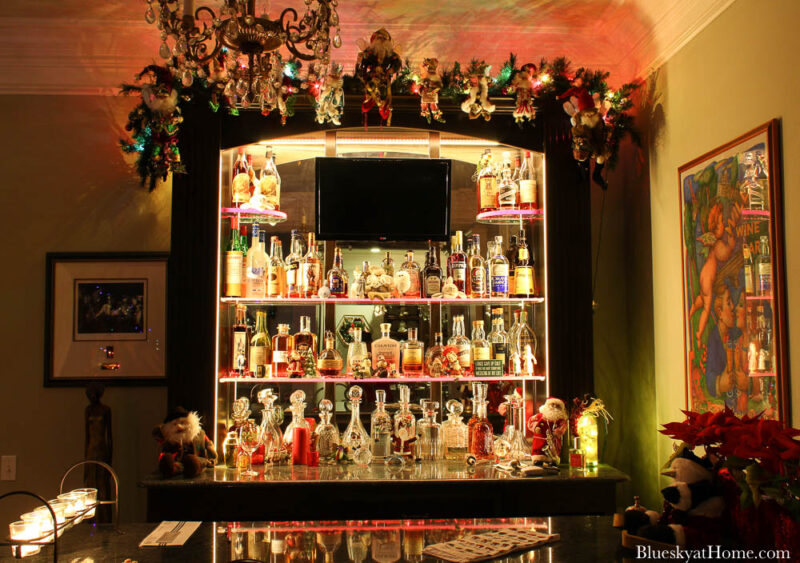 We also add garland across the top of the curio cabinet that holds some of our crystal glasses.
6 ~ Dress Up the Mantel with Christmas Garland
At Christmas time, the mantel is always a focal point. With a roaring fire, a mantel decked with garland and decorations is sure to delight family and friends.
Our fireplace is very tall, so it gets two garlands, one on the mantel and one above. The top garland is made of three pieces.
On this mantel, I added a small piece of garland on the Christmas sign. The green garland adds that wonderful pop of green against the white background.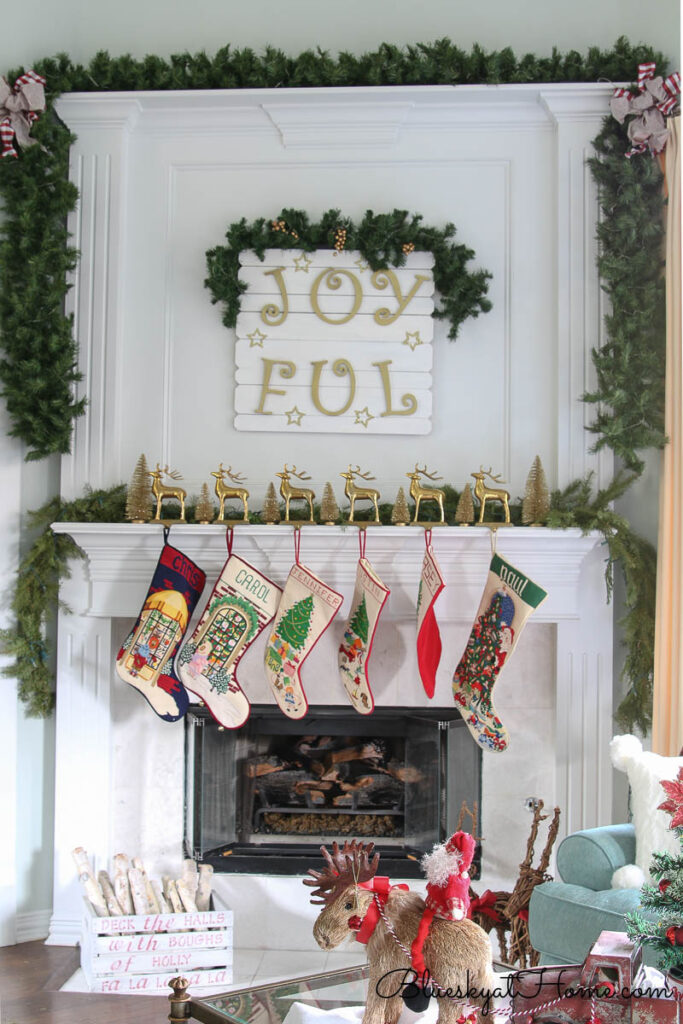 The decorations may change a bit from year to year, but the garland is a constant. We use 6 – 8 strands of BOL to give the mantel a magical fairy look.
Here is a slightly different look from a different year.
Here is last year's mantle with garland. I needed more garland for another area, so we only used half to drape just across the top of the mantel and not down the sides.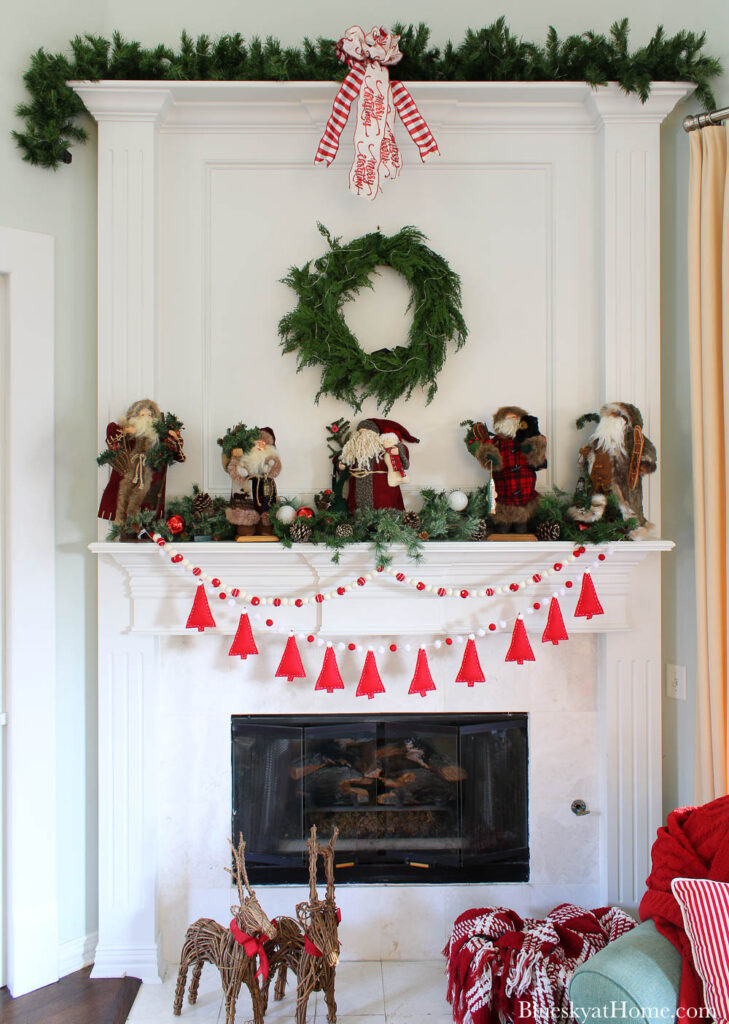 I've even added garland to my favorite Christmas box.
Want more ideas? Here's how to dress up the mantel.
7 ~ Deck the Bookcase with Garland
Do you have a bookcase in your living room or den?
It's a wonderful place to drape a garland. Of course, it is lit. Then you can add whatever other decorations that work with your theme.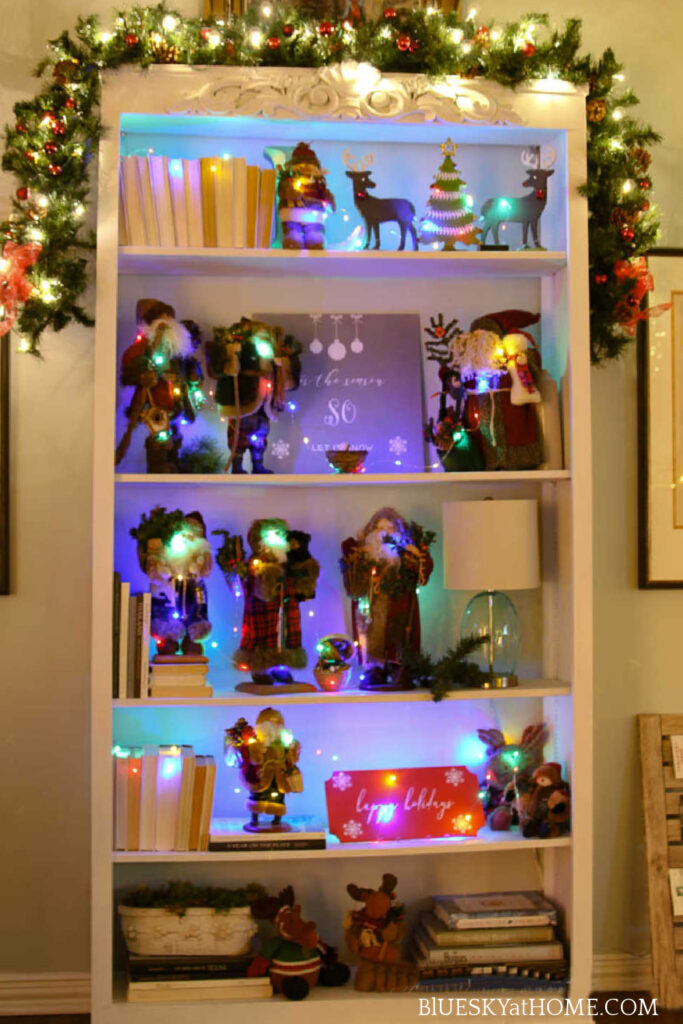 Here's another version of garland on the bookcase. As you can see, this time I used colored fairy lights.
8 ~ Christmas Garland in the Kitchen
We have a large wood stovetop hood that you see as soon as you walk into the living room. It had to have a big wreath on it.
Garland isn't always green and doesn't have to look like it came from a tree.
A string of beads on the stovetop hood ledge adds just the right touch of color and cuteness. The bead garland also ties the wreath to the ceramic tiles I made last year.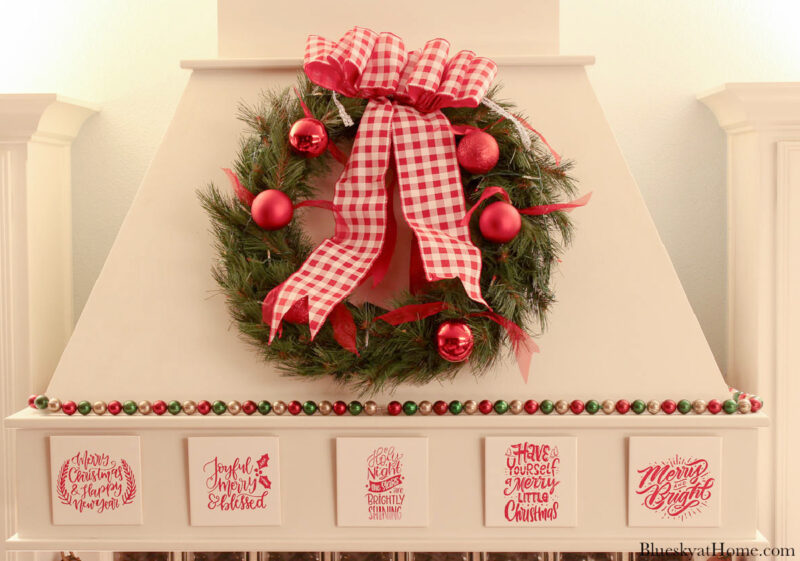 9 ~ Christmas Garland in the Bedroom
We always bring Christmas into our master bedroom. We decorate with Christmas sheets, a Christmas pillow, a bright red throw, and a red cover for the headboard.
Placing a piece of garland across the top of the headboard is a fun way to add the Christmas spirit to your dreams.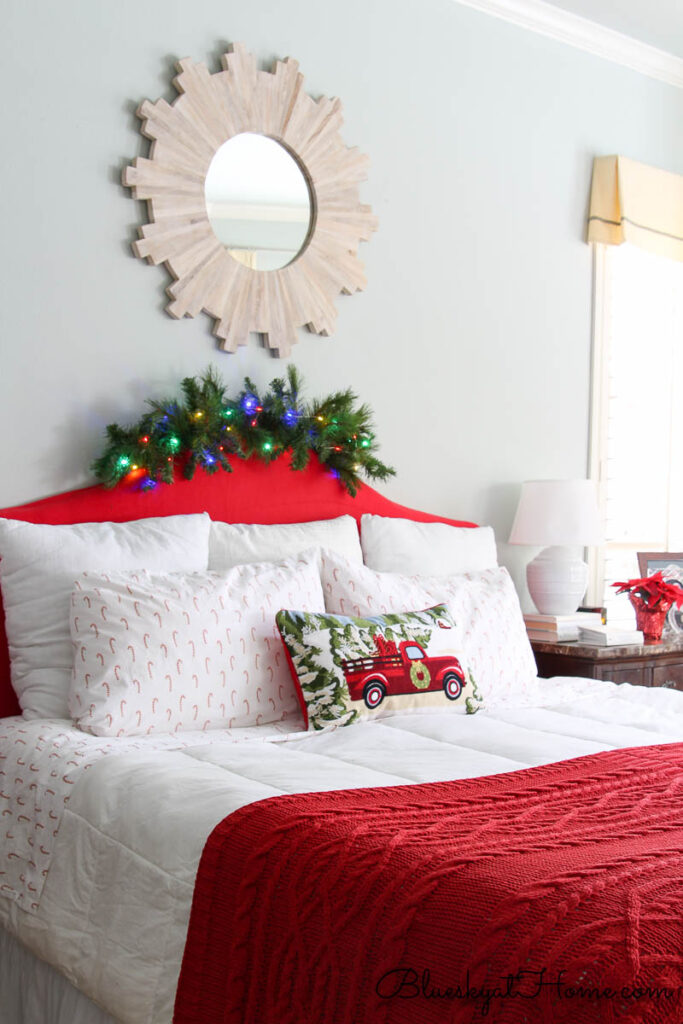 What you can't see is the Christmas tree and other decorations in the bedroom. I invite you to see our complete Christmas master bedroom.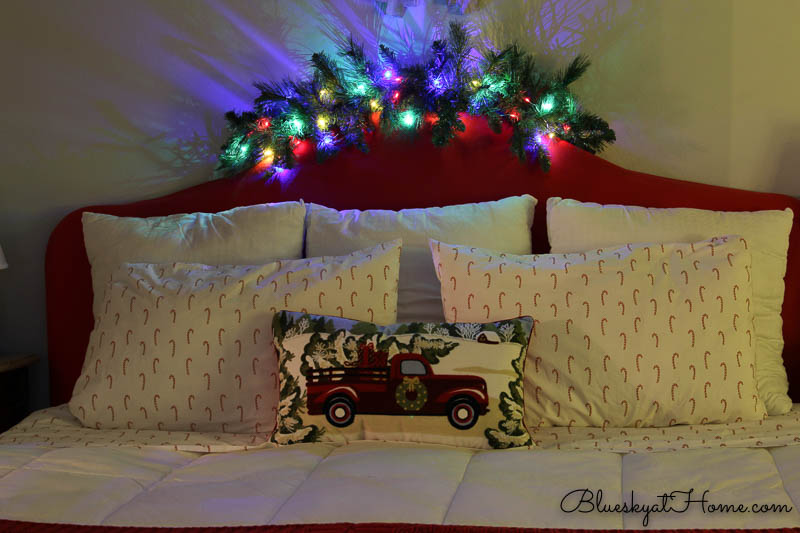 With the new headboard that we made last summer, I will be creating a new look for our Christmas bedroom. I can guarantee that it will include a garland.
I hope this tour of how we used garland in our home gave you 9 pretty ways to use Christmas garland in your home.
Items to Use for Displaying Garland
I'm so ready to unpack all our Christmas decorations and deck the halls with garland, Christmas trees, elves, lights, and Santas.
Please PIN this idea for this Christmas and Christmases to come.