5 Steps to Plan for Your Christmas Decorating
How early do you decorate for Christmas? Regardless of whether you are a "decorate before or after Thanksgiving" person, planning is important for decorating in a stress-free way. I'm sharing my 5 steps to plan for your Christmas decorating.
Now that we are into November, we can make a plan for decorating for this year's Christmas. I used to be in the "never before Thanksgiving" camp. Now, I find myself getting ready for Christmas earlier and earlier.
Last year when we had kids and grandkids here for Thanksgiving, they were surprised to see a mix of Thanksgiving and a little bit of Christmas decorations. Before they left, they helped us set up our tree and organize all the Christmas decorations. It helped me immensely.
It will be the same this year.
How can you be prepared for Christmas? Having a plan is crucial to getting ready for Christmas decorating.
Keep in mind that the earlier you start decorating, the more time you have to enjoy the process. Christmas decorating will be less stressful. You'll be able to purchase new items while the inventory is still available.
Here are my 5 favorite steps to plan for Christmas decorating.
This post contains affiliate links to products used in the creation of this project. If you should order any item from this site, I may receive compensation, but you do not pay a penny more. Your purchase is greatly appreciated as it helps support the continued publication of this site.
Examine Your Decorations
Christmas decorating for this year begins the previous year.
Ideally, as you pack up your Christmas decorations, you examine those that may need to be discarded, mended, or donated.
Here's what I recommend culling out:
Decorations that are obviously broken and can't be mended
Christmas lights that are not working; fairy lights, as much as we love them, don't last indefinitely.
Broken ornaments
Decorations that are very out of date (vintage is great, but worn out is not)
Garland has seen better days. You may be able to salvage parts of the green garland to embellish other garlands.
Most of our Christmas decorations are stored on custom-built shelves in our garage. Years ago we started switching out our Christmas decorations from random cardboard boxes to clear plastic bins. I suggest you do the same:
TIP: We have found the 70-quart are the right size. Any bigger and they are difficult to lift and carry.
This keeps the decorations more secure (from critters chewing in your attic) and dust-free.
Plastic bins last longer.
This allows us to see what is inside each box.
Plastic bins also stack more easily.
This picture from several years ago shows all our decorations gathered in our dining room. This was before we had switched all our boxes to plastic bins.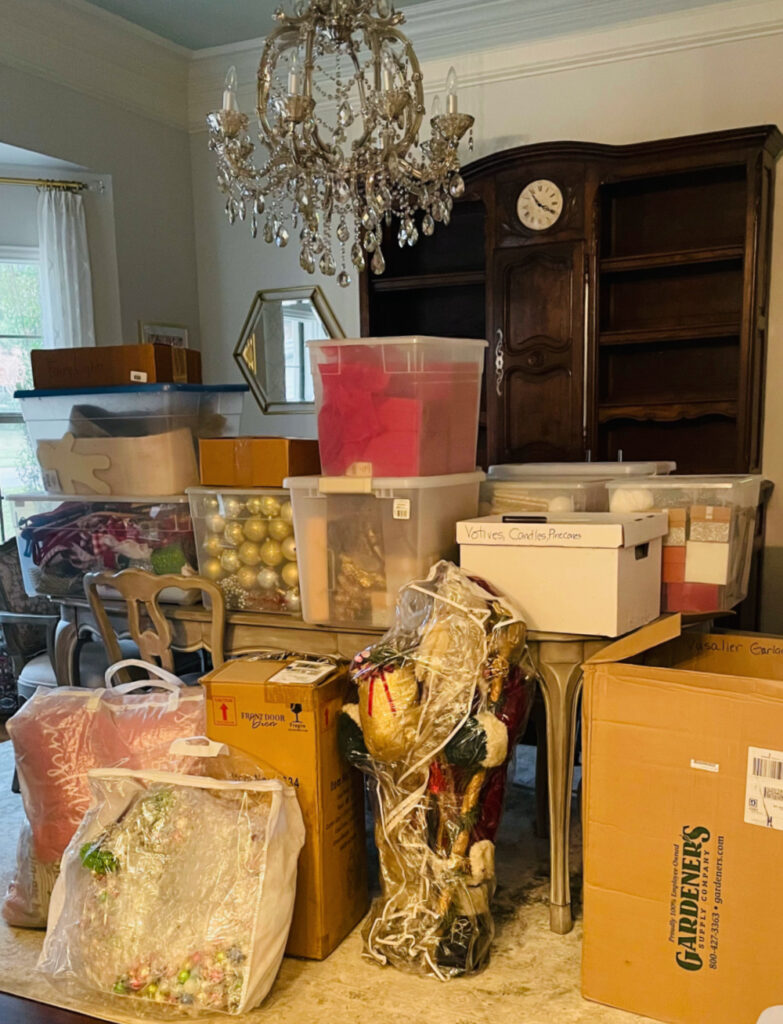 If you have not yet looked at your decorations for this Christmas season, then as you unpack them, take these steps:
Set aside those that don't meet the criteria I listed above.
If you find Christmas ornaments or other decor that need repair, do it immediately.
Set aside supplies that you can use to make new Christmas decorations. I have drawers full of DIY supplies that I haven't used that I plan to use this year.
Make a List of New Christmas Items You Need
Once you have gone through your Christmas decorations, you can make a list of the decorations you need to replace or new ones for the current holiday season.
​Yearly items might include:
Remember, the earlier you shop, the more likely that you'll find what you need.
I had pink Christmas trees on my list. Fortunately, I found the cutest mini-flocked pink Christmas trees at an antique mall last weekend. I'll add these mini trees to our pink and blue Christmas decor from last year.
Choose Your Color Scheme
Unlike days of yore when all Christmas decor was red and green, today we see a wide range of colors from pink, blue, teal, gold and silver, and natural elements.
As soon as possible, decide on the color palette you want to use for the different rooms in your home. This way you can purchase new decorations in your chosen colors.
We have often decorated our living room in Christmas red and lots of garland and lights.
Our color palette has changed over the years. We tend to use red, green and silver in the dining room, entry, staircase and in Sweet Shark's bar. They are all adjacent and can be seen in one view.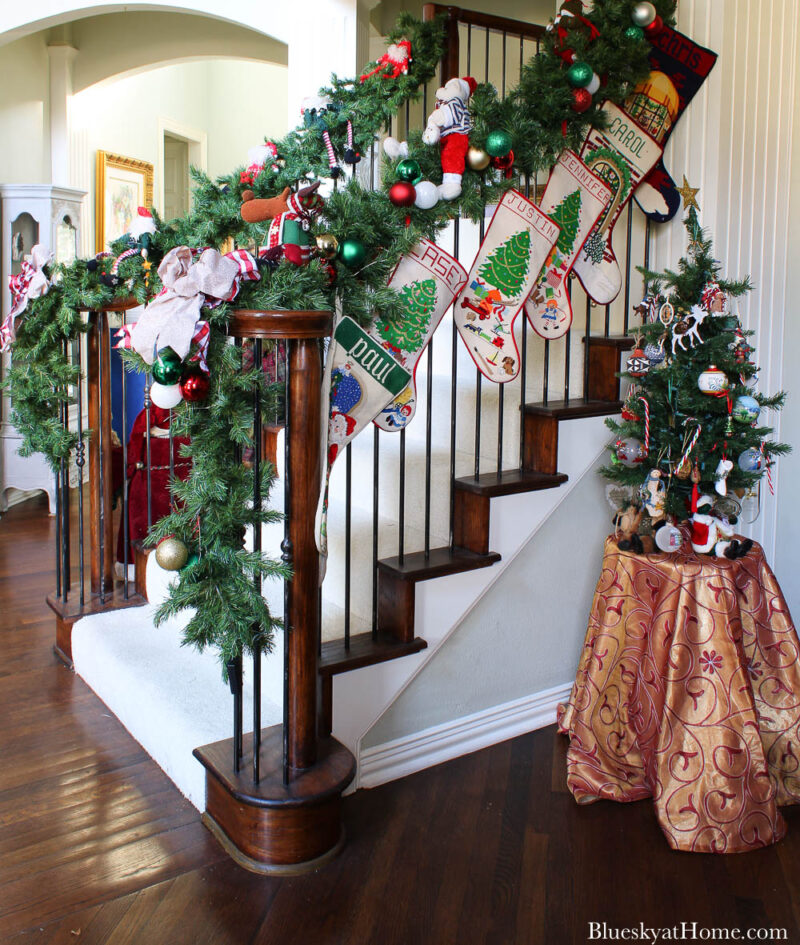 Every room in your home doesn't have to have the same color palette. The master bedroom is a great place to choose different colors.
Last Christmas I bought a new white tabletop Christmas tree for the master bedroom and decorated it in pink. I'm going to continue that color scheme this year.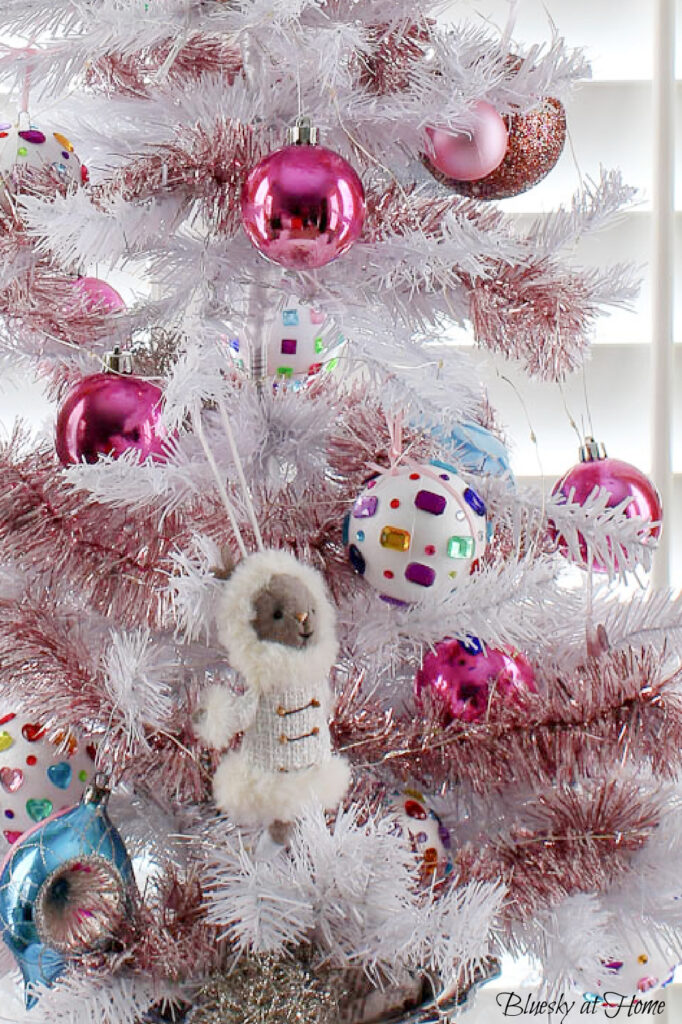 TIP: Decorate adjacent rooms, such as the living room and dining room or the kitchen and breakfast room, in the same or similar color schemes. Decorate separate rooms, such as bedrooms and bathrooms or the family room, in different color schemes.
Remove Fall or Thanksgiving Decor from Rooms
Before you begin decorating for a new season, I always remove any previous seasonal decor before adding new holiday decorations.
TIP: This is the time to examine your fall/Thanksgiving decor for future years. It is also the time to replace cardboard boxes with new plastic bins.
You can do this all at once or room by room, adding your Christmas decor to specific living spaces.
Since we tend to add a lot of Christmas decor, I recommend packing up some of your year-round decorative accessories, such as picture frames, books or coffee table decor. Put these in bins and label them before packing them away.
Organize Your Christmas Decorations by Room
How do you decorate your rooms? There are lots of ways to add your decorations to the various areas of your home.
My favorite way to get started on decorating?
TIP: Before you begin decorating, add batteries to your fairy lights and other Christmas decorations. I find it's so much easier to do this chore all at once before placing items around our home.
Here are my best helpful tips for decorating:
Open all your Christmas bins so that you can see all the decorations.
Take particular decorations to the room where you will use them. I usually place them on the dining room table, coffee table or kitchen island.
Once you have all the decorations for a room, you can begin to place them in your favorite places.
Once you have finished with one area, step back and look around. Rearrange any decorations as needed. You don't have to find the perfect place for your festive decorations on the first go-around.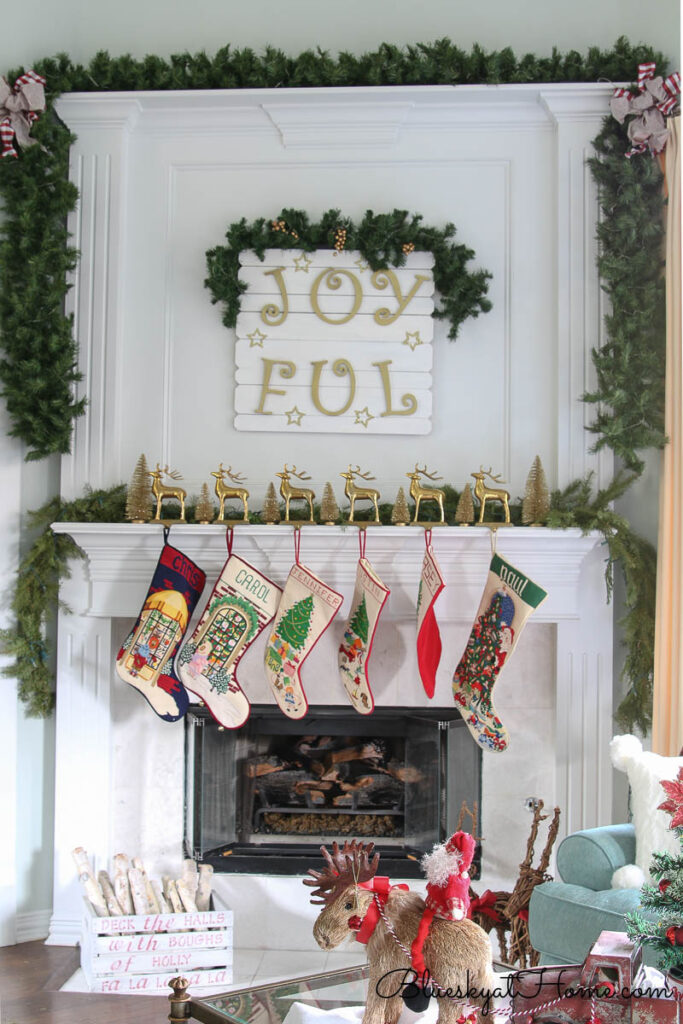 ​Repeat for each room. Once you have completed all your rooms, take a home tour of your home. Don't hesitate to move items from one room to another.
Everyone has their favorite way of decorating their homes. I like to decorate each room. Fewer steps, less time, and that way I feel that I've completed an entire room before going on to the next one.
Speaking of Decorating
I've started a list of great Christmas decorations that I'm excited about. Hope you like these ideas.
For adjacent rooms, you can see how the decor works together and make adjustments.
I hope that these 5 steps to plan for your Christmas decorating will help you get started on this most wonderful time of the year.