Pretty Christmas Sangria for the Holidays
Christmas is the time to toast friends, family and the spirit of the season. This pretty Christmas Sangria for the holidays is the perfect way to celebrate.
Sangria can have a bad reputation when made with less than stellar alcohol, a wine that comes in a jug (college days?) or added sugar. But this Christmas Sangria puts all that in the past.
We love wine, but sometimes you may want something more than just a plain glass of wine before or after dinner. This sangria for Christmas is just the thing that Santa would sip before climbing in his sleigh.
Pretty Christmas Sangria for the Holidays
This post contains affiliate links to products used in the creation of this project. If you should order any item from this site, I may receive compensation, but you do not pay a penny more. Your purchase is greatly appreciated as it helps support the continued publication of this site.
I've shared 5 Champagne Cocktails that you should try (not all at once!!) for New Year's or even right now for Christmas.
I love a festive cocktail for Christmas. But obviously, this Christmas Sangria is not the same type of drink. It's for sipping quietly by the tree or blazing fireplace. Or outside wrapped in a blanket by the firepit.
You can enjoy this Christmas Sangria with a friend, a small group or your favorite Santa. Or you can make a big batch for all the elves you know.
I was never a big sangria fan until a trip to Barcelona several years ago.

As Sweet Shark and I sat at a lovely outdoor restaurant in Old Town Barcelona, we both enjoyed a glass of sangria. I had the white sangria and he had the red. Unfortunately, I can't lay my hands on the pictures of that trip.
I still remember the delightful taste of that sangria. It wasn't too sweet or too strong. It was refreshing and so pretty with just a bit of citrus floating in the glass. It's a luscious memory.
Last year we bought two new stemless wine glasses in our Lenox Christmas pattern Holiday. These glasses are actually bigger than a regular red wine glass ~ about 12 ounces.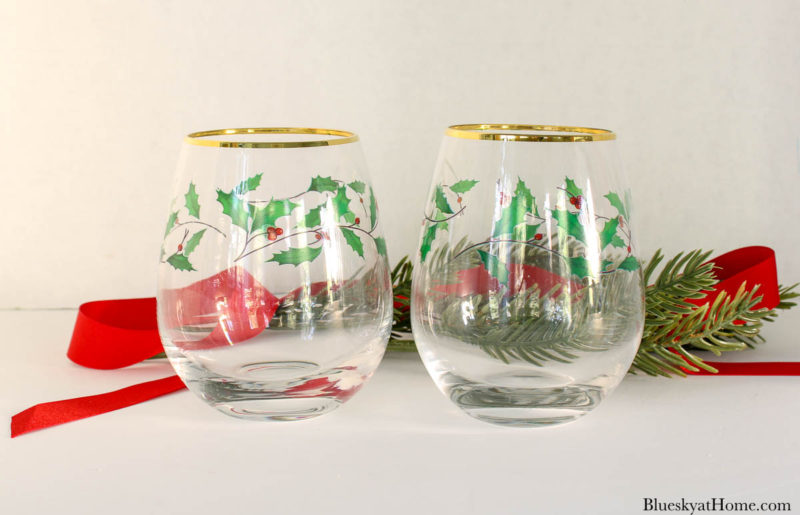 We also just ordered four martini glasses in our Lenox pattern.
A few years ago Sweet Shark said he found a new sangria recipe in the Wall Street Journal that he wanted to try. He thought this drink would be perfect in our new Christmas wine glasses.
As he set the wine glass down, first I noticed how pretty it was ~ a deep red (Christmas colors). An apple and an orange slice gave it that distinctive sangria garnish.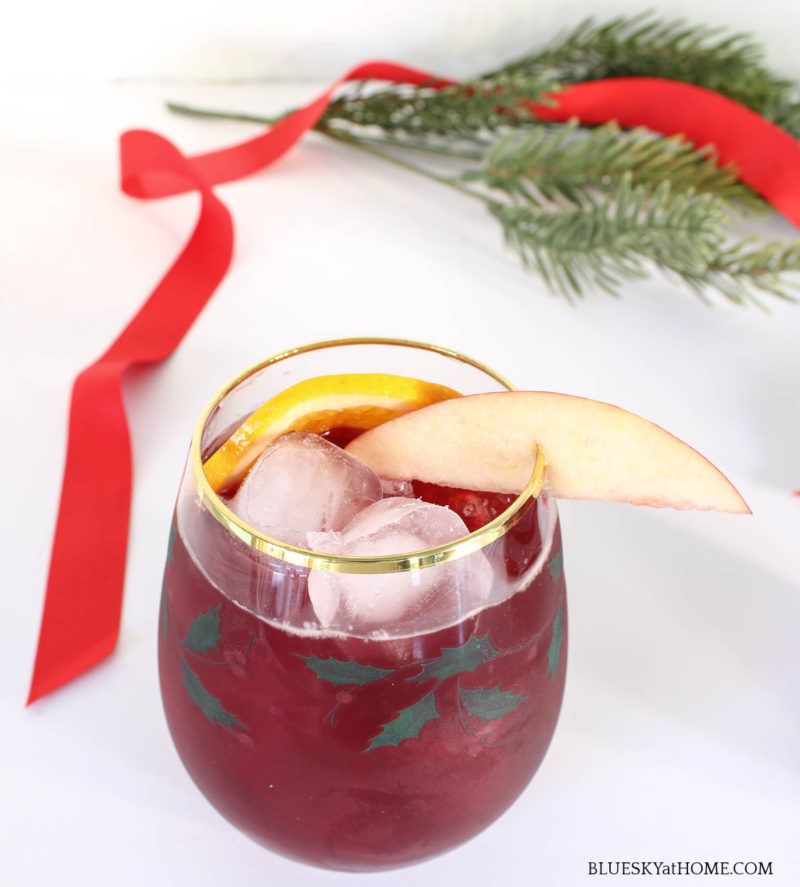 As I picked up the glass, I immediately noticed the soft scent of orange. And finally, I tasted ~ a balanced taste of wine, brandy, and orange liqueur. Topped with a splash of Sprite. It was delicious. A grown~up sangria.

I think this Christmas Sangria is the perfect drink for the holidays.
NOTE: The original recipe calls for seltzer. I am not a seltzer, club soda or tonic lover. So whenever a drink calls for one of those, Sweet Shark substitutes Sprite or 7~UP for my slightly sweeter palate.
What Makes Sangria So Good?
This Sangria strives for a more balanced and sophisticated version of the iconic "drink~as~much~as~you~can~before~the~keg~runs~out" sangria. So here is what makes it so good.
Start with a dry and full~bodied wine, one you would actually drink. The original recipe suggested a Grenache or a Rioja, both Spanish wines. An Argentina Malbec would be nice, too. The night Sweet Shark made me the Christmas Sangria, we didn't have any of those, so he used a really good Pinot Noir and it was delicious.
Don't be tempted to recreate your college days and add cheap vodka as a fortifier. This recipe calls for brandy which is more grown~up and subtle.
A bit of orange liqueur ~ either Triple Sec or Cointreau ~ adds a bright citrus touch.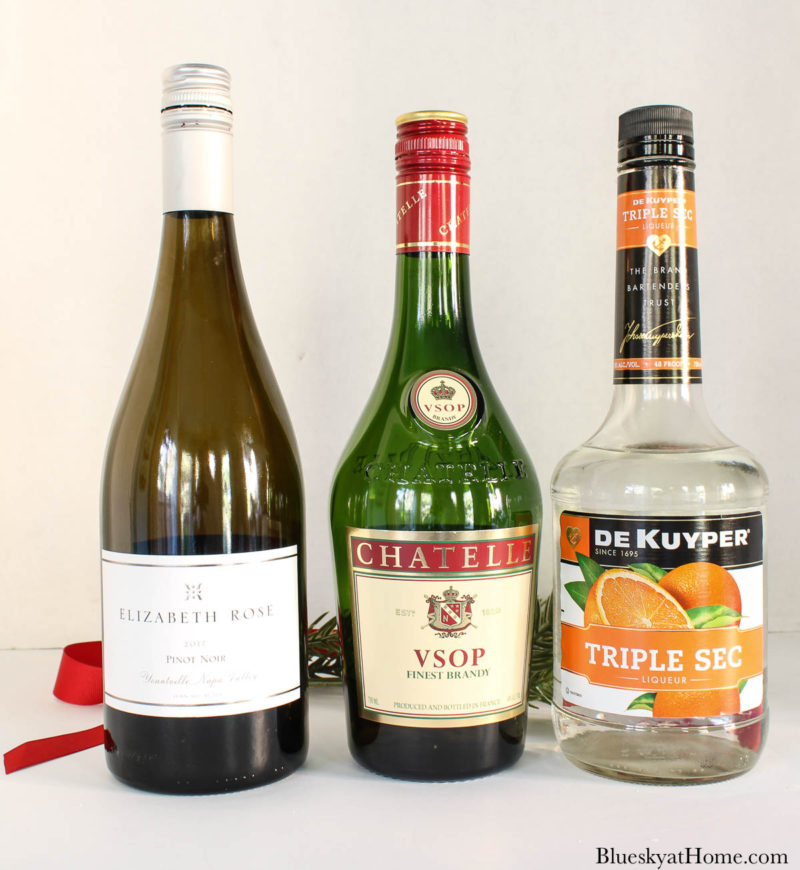 Orange juice is a must. Freshly squeezed if possible and pulp~free gives another infusion of citrus flavor. We buy freshly squeezed orange juice from our local Central Market.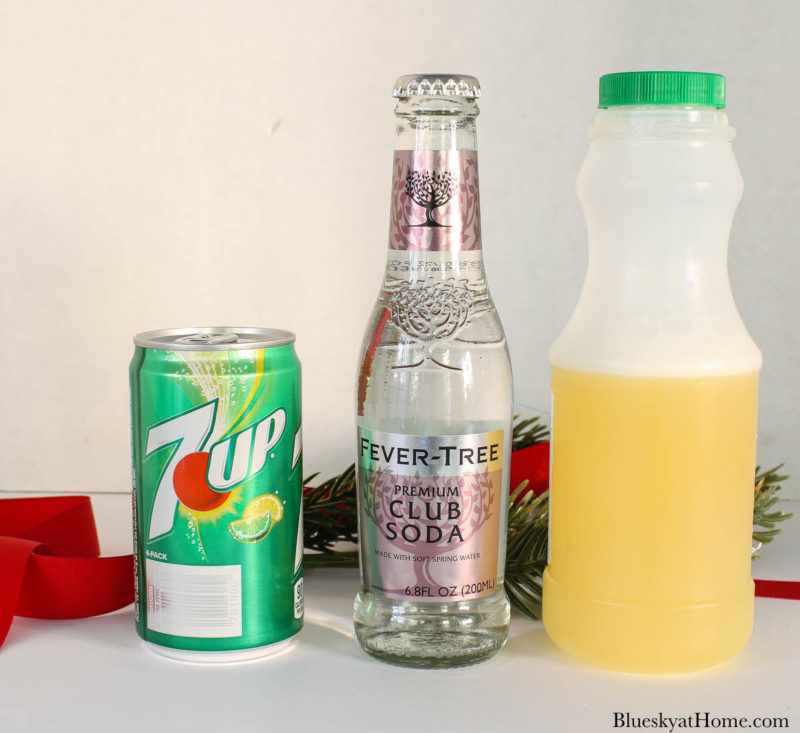 Ready for this Christmas Sangria recipe? The original recipe makes enough for six drinks. Sweet Shark reduced the ingredients for 1 drink. The amounts for 1 serving are in the notes of the recipe. You can easily double it for 2 drinks.
Christmas Sangria Recipe
Christmas Sangria
Delicious and sophisticated wine drink.
Ingredients
1

750 ml

bottle good dry red wine

1/2

cup

brandy

3/4

cup

orange juice

pulp~free

1/4

cup

Triple Sec

1

cup

sliced oranges, apples, nectarines, or plums

for garnish

seltzer, soda, or 7-up

for garnish
Instructions
In a large pitcher, combine wine, brandy, triple sec and orange juice.

To Serve: fill wine glass with ice. Pour in sangria and a spoonful of fruit. Top with seltzer.
Notes
For 1 serving of Christmas Sangria, use the following amounts:
6 ounces good red wine

1-ounce brandy
1 1/2-ounce Triple Sec
1 1/2-ounce fresh orange juice
1 slice orange and 1 slice apple or other fruit
seltzer, soda or 7-Up
1 ounce = 2 tablespoons
If you don't want to make the Sangria ahead, make sure that the dry wine has been chilled first. You can put all the ingredients except the seltzer in the refrigerator for as long as you like.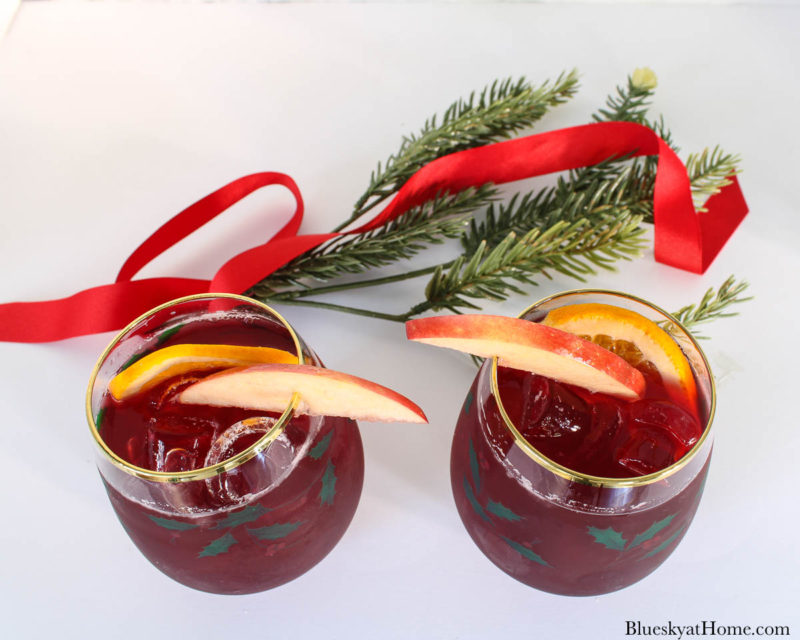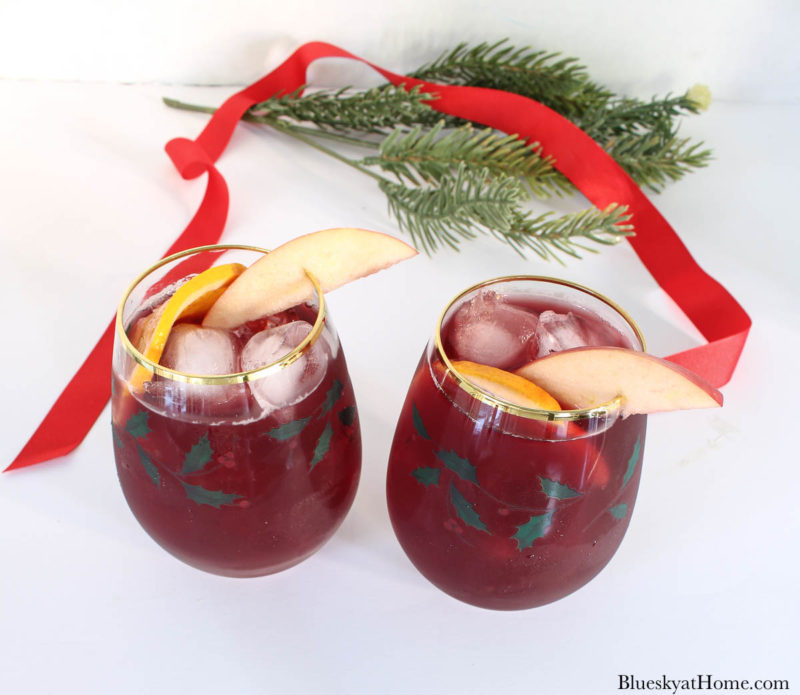 I hope you will try this Christmas Sangria, now, over the holidays or through the winter months. Be sure to PIN it to your beverage or recipe boards so you will have it handy.