Best Southern Potato Salad Recipe Ever
During the summer months, we tend to prepare dishes that are traditional. One of our traditional summer recipes is Sweet Shark's best Southern potato salad recipe. It's a winner, I promise.
Beginning with Memorial Day through the 4th of July and ending with Labor Day, we bring out our best warm~weather recipes. Labor Day is the last of our summer celebrations, and like Memorial Day and the 4th of July, requires a cookout with all the fixins'. This best Southern potato salad recipe is perfect for your summer party.
I know for many folks, just like Memorial Day begins the summer, I always think of Labor Day as the weekend that brings summer to a close. It used to be the day after which you could not wear white shoes or white jeans, regardless of the temperature outside. The kids go back to school.
The other dish that I think of in the summer beside barbecue, coleslaw, and baked beans is potato salad.
Potato salad is one of those dishes that has a thousand versions. Everyone's mother, aunt or favorite barbecue joint has a version of this iconic potato dish.
At our house, it's Sweet Shark's potato salad that rocks. I don't mess with him on this dish. He does it so well that I just stay out of the way, play sous chef (I chop and dice!), and enjoy the fruits of his labor. I really think it's the best potato salad ever.
Best Southern Potato Salad Recipe Ever
Today, I'm sharing the recipe, just in time for you to add it to your Labor Day cookout menu.  I had to pin him down for ingredients and amounts. It's one of those home~made dishes that cooks just make from practice and repetition, never actually measuring out the ingredients or writing down the recipe.
No more. We now have this delicious version for eternity, forever, in perpetuity.
Thank you, Sweet Shark!
THE PROCESS
The first step is to gather all your ingredients. Yes, I know there are a lot of them, but you probably have all the ingredients on hand.
It's the unique flavor and/or texture of each ingredient that gives this dressing such great balance: sweetness from the sugar and Miracle Whip, a little acidity from the red wine vinegar, spice from the Durkee Sauce, crunch from the pickles and green onion, and a creamy texture from the mayo, French's mustard and eggs.
In case you aren't familiar with Durkee's, it's a blend of mustard, mayo, and spices that's been around for decades. The Huffington Post even wrote an article about it. Sweet Shark loves it and I've grown to love it, too. It's also great on roast beef sandwiches.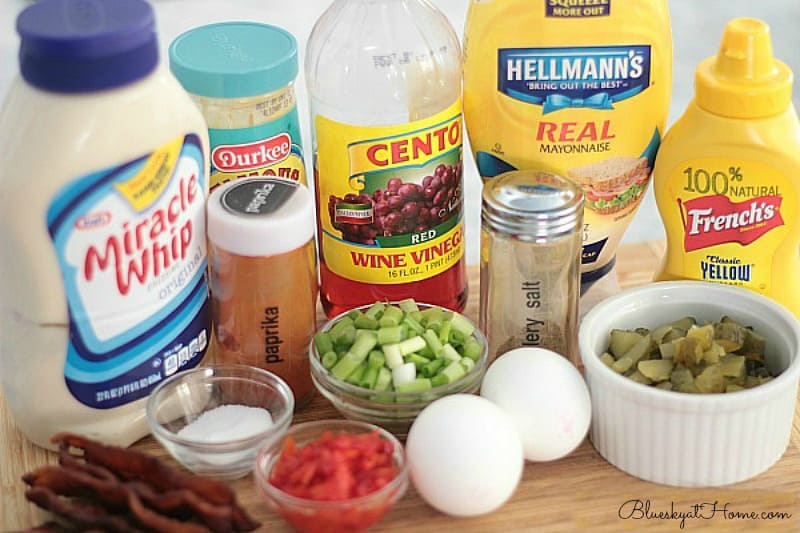 Cook your potatoes. Use a large saucepan and cover by at least 1 inch. Bring to a boil and lower the temperature to a steady simmer. (See TIP 2 below.) At the same time, you can make your hard~boiled eggs.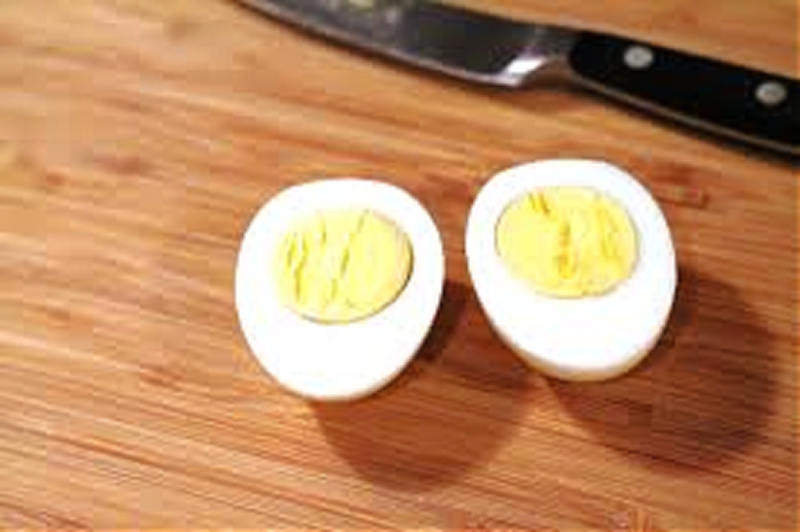 TIP 1: The best potatoes for potato salad are low~starch potatoes, such as round red potatoes. This is the go~to potato when you want a potato that will holds its shape and has more texture. They also have more flavor than a russet. Their higher density keeps them from absorbing too much dressing.
TIP 2: Don't boil the potatoes. The action of boiling is literally too violent for most foods, including potatoes. Cook at a steady simmer; the surface of the water should bubble evenly.
TIP 3: For the prettiest potatoes, cool them on a wire rack in a single layer, rather than piled on top of one another in a colander. The ones on the bottom can get crushed and break. Also, the potatoes on the bottom can steam and overcook.
After you have cooked the potatoes, let them cool enough to handle (see TIP #3 above) and cut into large chunks. Let the eggs cool enough to peel. Place them in the fridge while you are making the dressing. When they are cool, chop into 1/2~inch pieces.
Make the dressing. Combine the mustard, mayonnaise, Durkee Sauce, vinegar, and spices. Add salt and pepper to taste along with several dashes of Tabasco. Let your taste be your guide. Add the chopped sweet pickles, sliced green onion, chopped eggs, and pimento to the potatoes and gently combine. Fold in half the dressing to the chopped hard~cooked eggs and the chunks of potatoes. As you can see, this potato salad is chunky, rather than "mashed".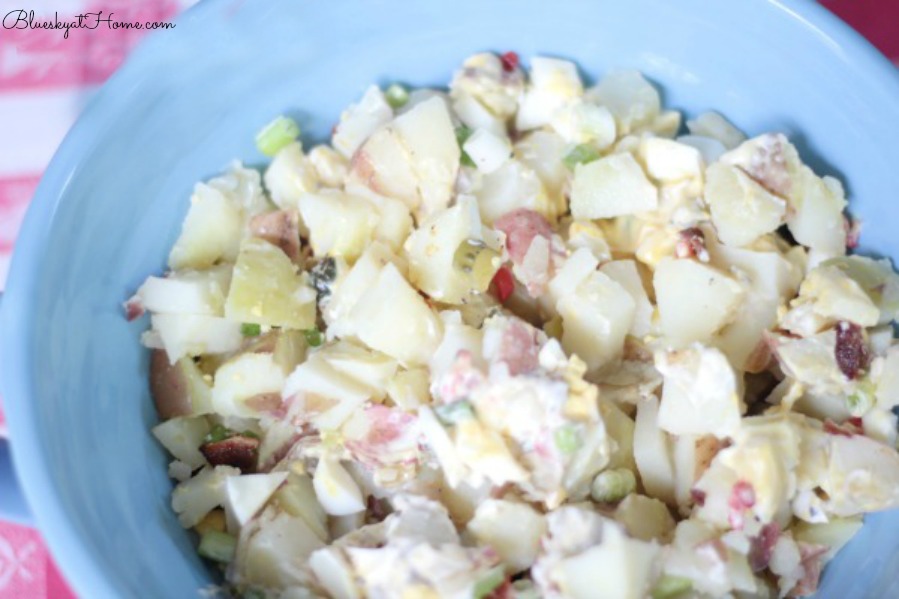 Add the remaining dressing and garnish the potato salad with chopped parsley and sprinkle with paprika. Then cover with plastic wrap and place in the refrigerator so that the flavors meld until you are ready to serve. It's even prettier with the parsley ~ Sweet Shark loves to add a little green as garnish ~ always a boost to the attractiveness of a dish. You can even add some chives.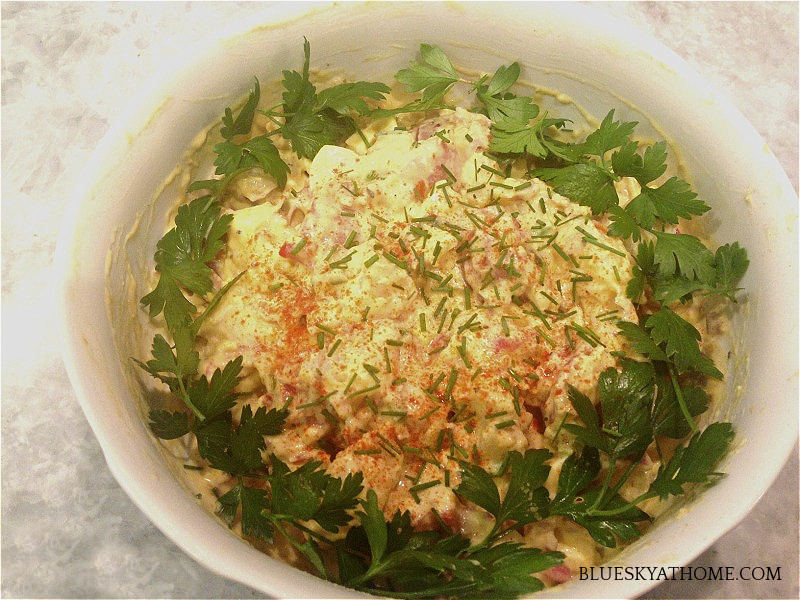 TIP 4: You can make the potato salad up to one day ahead.
TIP 5: We like to take the potato salad out of the fridge about 30 minutes before serving. It tastes better if it is closer to room temperature.
TIP 6: Cold temperatures can inhibit flavor, so unless your dish really needs to be served chilled, a little sit~time before serving will increase the flavor of the dish.
TIP 7: If you like, substitute cilantro for the parsley. Cilantro will give the potato salad a more lemony taste.
THE RECIPE
Best Southern Potato Salad
Traditional and delicious potato salad for all summer parties.
Equipment
measuring cups and liquid measuring cup

measuring spoons

mixing bowl and spoon

medium saucepan
Ingredients  
6 – 7

medium red potatoes

¾

cup

mayonnaise

¼

cup

Miracle Whip

2

tablespoons

yellow mustard

1½

tablespoon

red wine vinegar

2

tablespoons

Durkee's

4 – 5

strips

bacon

cooked to almost crisp and crumbled

2

hard~boiled eggs

diced

¼

cup

sweet gherkin pickles

diced

2

tablespoon

pimento

3

green onions, white and light green parts only

⅛ sliced

½

teaspoon

celery salt or celery seed

2

teaspoons

granulated sugar

kosher salt and freshly ground pepper

to taste

6 – 7

dashes

Tabasco

flat~leaf fresh parsley, leaves only

chopped, for garnish

paprika

for garnish
Instructions 
Place potatoes in a medium saucepan. Fill the saucepan with water and cover potatoes with 2 inches of cold water. Place on high heat and bring to boil. Lower heat to maintain a simmer. Cook potatoes until easily pierced with a skewer. Drain potatoes and place in a bowl to cool.

While potatoes are cooking, combine dressing ingredients in a medium bowl: mayonnaise, Miracle Whip, mustard, Durkee's, red wine vinegar, sugar, Tabasco, and spices. Fold together until thoroughly combined.

Fold in the crumbled bacon, sliced green onion, diced gherkins, eggs, pimentos. Add salt and pepper to taste.

Place potato salad in a serving bowl. Sprinkle paprika over salad. Garnish with chopped parsley. Cover with plastic wrap and refrigerate for several hours.

Remove potato salad from refrigerator 30 minutes before serving.
I understand if you love Aunt Martha's or granny's potato salads. If you don't have a favorite or you are ready to experiment with a new version, definitely try Sweet Shark's potato salad recipe. It really is the best.
Don't forget to PIN this recipe for all your future summer parties.