How to Have an Apple Pie Recipe Party with Your Girlfriends
Do you like apple pie? It's the perfect all~American dessert. I had the best time at a friend's house making apple pies with some girlfriends. Let me show you how to have a pie~making party and make the best apple pie recipe.
Picture a lovely lunch visiting with friends followed by a fun and laugh-filled afternoon making a delicious apple pie recipe with your girlfriends.
Then you get to take the pie home and bake it and enjoy it with your hubby. That's what we did. This is like an old-fashioned quilting bee except we made pies instead of quilts. And the best part? We made new friends, learned about each other, and laughed over absolutely nothing. Want to have a pie~making party? I think you should. Here's how our party came about, what we did and how to make this all~American apple pie recipe.
I think I've mentioned once before that I used to write a monthly column called Resident Recipe for a local neighborhood magazine. I interviewed a neighbor who shares a recipe. We photograph the resident, the finished dish and I write an article and include the recipe. I've wrote this column for over 3 years.
The best part was meeting a great group of ladies and a few men who each have wonderful stories and wonderful recipes. That's how I met Susan, the hostess for our pie-making party. She told me that she occasionally has friends over to her house to make pies. We hit it off immediately because we have so much in common. Susan asked me if I'd like to come to the next pie-making get-together. I, of course, said yes, and that's how I was included in this pie-making party.
Susan was our hostess and she invited me and her close friend Grace~anne. As it turned out, Susan and I had a mutual friend, Valerie, who is a food and travel writer for local publications. As a matter of fact, it was Valerie who suggested that I write the Resident Recipe column.
Susan is a baker and has won awards at our State Fair of Texas – she once cooked with Bobby Flay when he came to town! She also owned her own apparel design company. We both are multi-taskers who love being creative and busy.
How to Have an Apple Pie Recipe Party with Your Girlfriends
We met at 11:00 at Susan's home. Everyone brought something for our lunch and Susan already had the table set. We had pimento cheese sandwiches with Farmers' Market tomatoes, chips, butternut squash soup, French macarons,and Susan's delicious ginger iced tea that I'm becoming addicted to. And I love her beautiful hand~painted glasses.
Here's Grace~anne and Susan.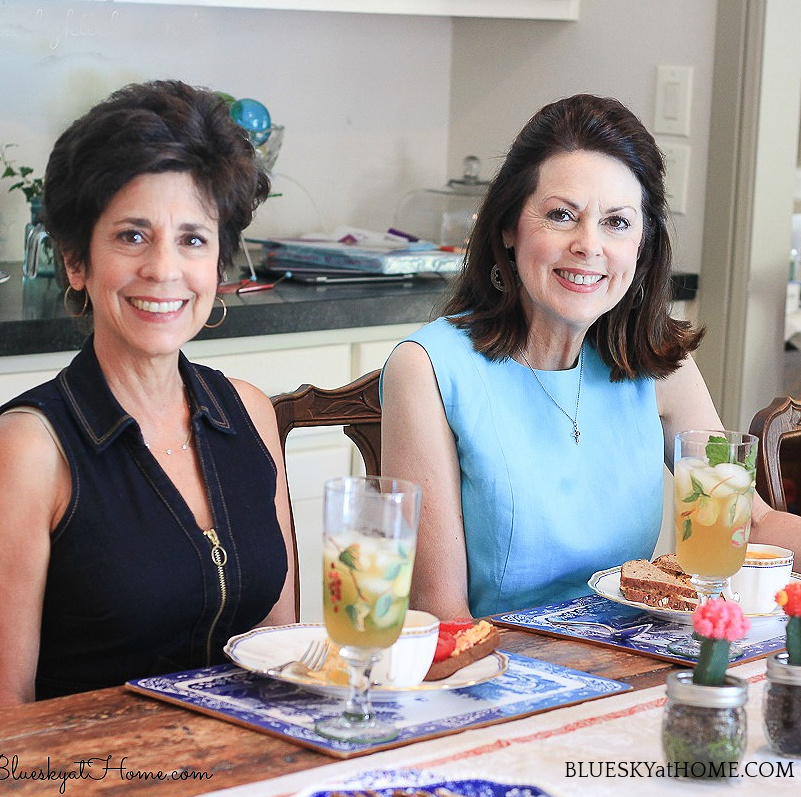 And Valerie and I.
MAKING THE FLAKY DOUGH FOR THE APPLE PIES
This post contains affiliate links to products used in the creation of this project. If you should order any item from this site, I may receive compensation, but you do not pay a penny more. Your purchase is greatly appreciated as it helps support the continued publication of this site.
After a delightful lunch, we cleared off the dishes, put on our aprons, and started making our pies. Susan graciously provided all the ingredients and the equipment (bowls, pie plates, measuring cups and spoons, rolling pins, and Silpats). She provided the apple pie recipe for each of us.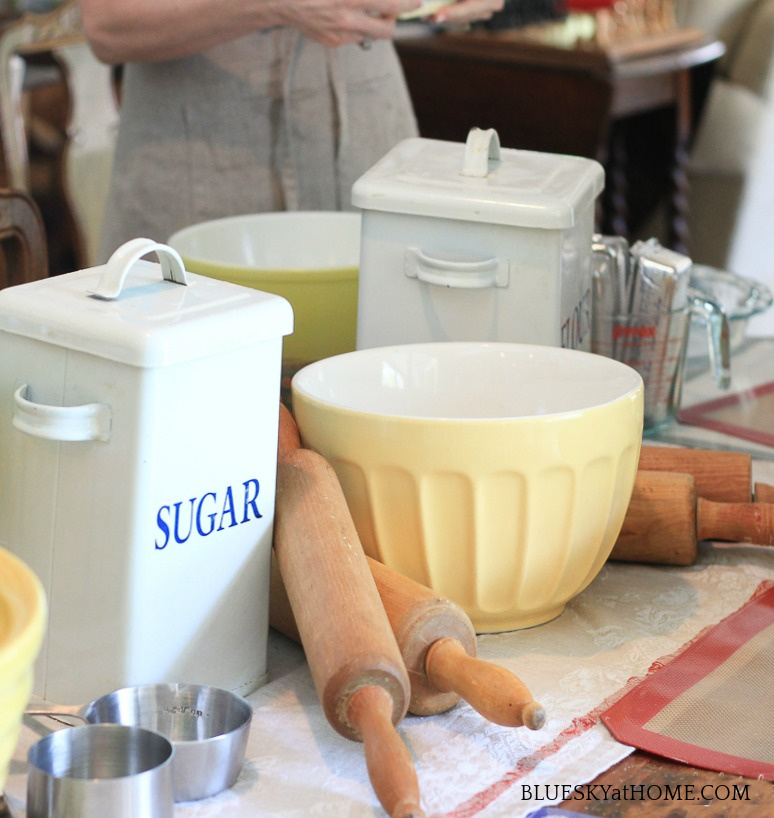 She "coached" us along with the required amounts of flour, salt, and sugar for the apple pie dough. We started by filling our bowls with flour and a little salt.
Then we diced our cold butter and Crisco.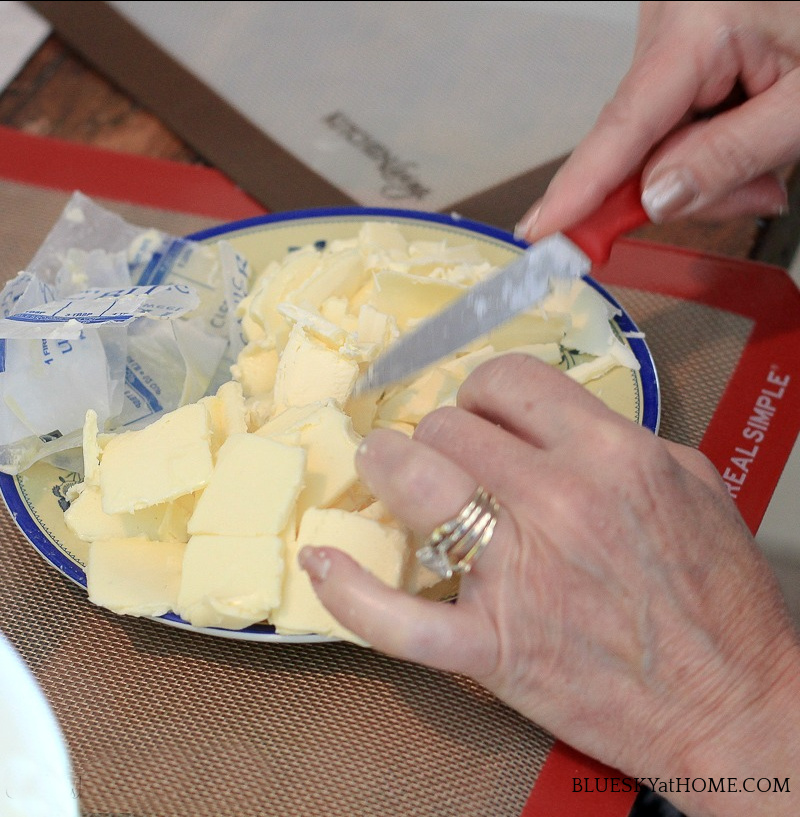 Now the fun part: blending in the fats with the flour using our hands. In my Best Southern Peach Cobbler post, I shared that I like to do this step with a pastry scraper because the heat from your hands can warm the butter too much and too fast. In the past, I have just used my fingers and I know many bakers use this method. Once the mixture is in small chunks, it's time to add the ice water.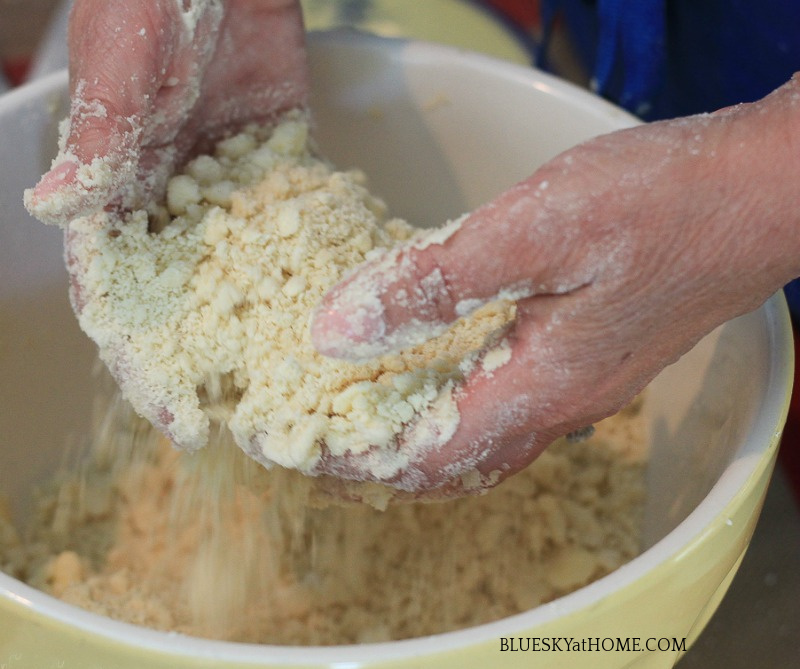 Once we had our dough in a neat ball (I missed a shot of that because my hands were covered in dough.), we placed our dough on the Silpats (a non~stick, silicone baking mat that is also great for rolling out dough) that Susan provided. I have had one for years and love using it for rolling out dough or puff pastry.
Since we were working at her wooden table, we needed a smooth, non~stick surface to work on.  We flattened our ball of dough, cut it into 2 pieces (about 2/3 and 1/3) and placed plastic wrap on top of the large piece of dough.
TIP: This is a practice that I've used for years. Plastic wrap makes rolling out your dough ~ especially if it's a sticky dough ~ so just easier. It's also a great way to smooth and fit dough into a tart pan.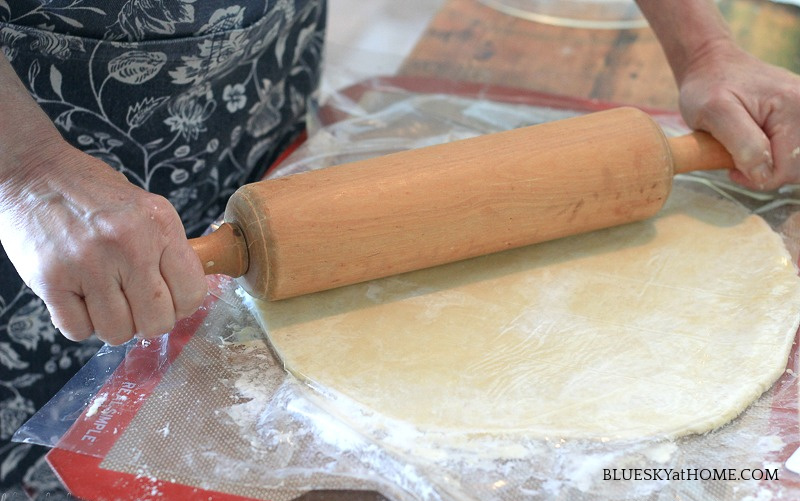 Then we used the plastic wrap to transfer the dough to our pie plates. Again, the plastic wrap makes smoothing the dough to the sides of the pie plate easy and also keeps your hands clean! Once the dough is how you like it, remove the plastic wrap.
Grace~anne worked at placing her pie dough in the pie plate just right. Lifting the dough is much better than stretching it.
Place the pie dough in the refrigerator to chill.
MAKING THE APPLE PIE RECIPE FILLING
The first part of the apple pie recipe was done. Now it was time to fill our pies with the apples. Thankfully, one of Susan's sons who just finished his Master's Degree was home and peeled and sliced 32 Granny Smith apples for us. (That's what you send your kids to college for, right!). That's right 32 apples! Susan likes to use about 8 apples for each pie. As you can imagine, it's a really tall pie, but it just looks beautiful.
We tossed our apples with a little sugar and lemon juice until well combined and then filled our pies. Next, we rolled out the second piece of dough using our plastic wrap and placed it on top of the apples.
Then we crimped the 2 pieces of dough together. We made the edges as decorative as we could and cut slits in the top of the pie for steam to escape.
The last step is to brush the top of the pie with egg wash and sprinkle with sugar.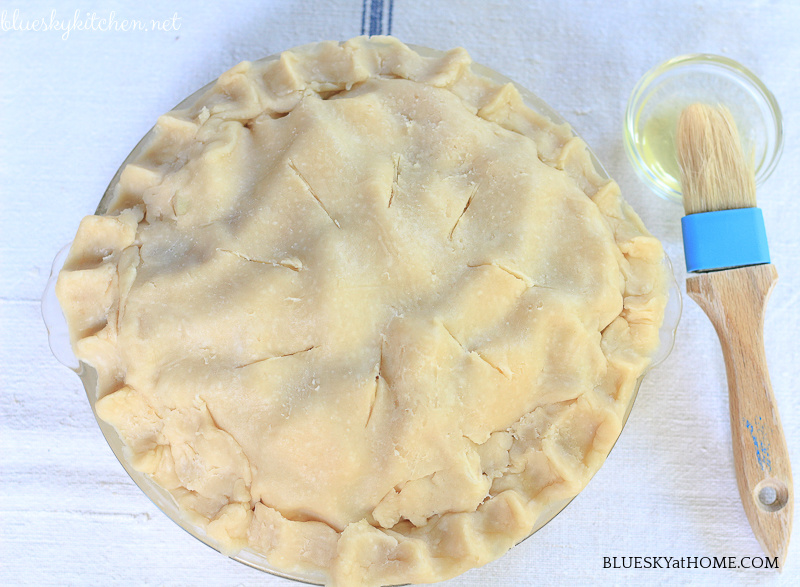 Finally, we cleaned up the table, put away the ingredients, washed the equipment and set out our pies to admire them. The beauty of the pies is that each one is different.
The proud apple pie making ladies.
We each put our pies in a cardboard pie box (Thanks, again to Susan.) for making it easy to take them home to bake.
Suggestions for a Pie-Making Party
Here are my ideas for having a successful pie-making party. Remember, this is about having fun!
Number of People
Limit the number of people to the amount of counter space and equipment you have. 4 people was just right, but I would recommend no more than 6.
Ingredients for your Apple Pie Recipe
As I said, Susan was so gracious to provide all the ingredients. However, you can ask each person to bring one ingredient. For example, 1 person brings flour, 1 person brings butter, and so on. As hostess, it would be easy for you to provide salt and cinnamon since those amounts are so small. Here's what you need:
flour
shortening
unsalted butter
sugar
salt
lemon juice
flour or cornstarch
ground cinnamon
apples of choice*
*ANOTHER OPTION: ask each person to bring the type of fruit they would like to use, such as blueberries, peaches or pears (depending on the season)
Equipment for your Apple Pie Recipe
Susan had more baking equipment than most people. Take inventory of what you have and determine what you can provide and what guests would need to bring. Here is what you need:
1 large bowl for each person plus bowls for the apples
rolling pins ~ 2 people can share one rolling pin;
measuring cups and spoons ~ these can be shared
plastic wrap
large container for ice water
1 pie plate for each person
aprons – another item people could each bring if you don't have enough
box to take home the apple pie
Depending on what type of surface guests will be rolling out their dough on, you may need something like a Silpat. If you have granite or marble countertop, you can just roll the dough out on the countertop. Large wooden cutting boards will also work.
Assuming that you are providing the recipe, have a copy for each guest to take home with them.
Other Pie-Making Options
We ate lunch first (with each person bringing something to share) and then we made our pies. You could also make your pies FIRST. If you have enough space to bake everyone's pie, you could eat lunch while the pies are baking. Then everyone has a baked pie ready to take home ~ just a thought.
Rather than asking everyone to bring ingredients, as hostess, you could provide all the ingredients and ask the guests to chip in $5 or so to cover the cost of the ingredients. You know your guests best and what would be acceptable and appropriate.
Other Cooking Party Ideas
We had such a great time that we thought about other dishes to make that lend themselves to a cooking or baking party – has to be something that everyone can "get their hands dirty". Having taught hundreds of cooking classes over the past 15 years, both demonstration and hands-on, here are my suggestions.
Pasta Making Party

– I've taught several of these and they are great fun and everyone loves to learn how to make fresh pasta. You would need a pasta maker – either hand-cranked or an attachment to your Kitchen Aid Mixer. And the pasta can be your lunch.
French Macaron Party – another great hands-on option.
Puff Pastry and Phyllo Dough Party ~ use store~bought for a variety of desserts that anyone can make ~ they can be dessert after lunch.
Crepe-Making Party – this is another fun one; just remind people that learning to make crepes takes awhile; be sure to have a crepe spatula on hand.
Can you think of some other possibilities?
When I got home, I baked my pie and it was delicious.
Apple Pie Recipe
Susan's Southern Flaky Pie Dough
Light and flaky pie dough perfect for single or double fruit pies.
Equipment
measuring cups

measuring spoons

liquid measuring cup

knife

bowls of different sizes

plastic wrap

Silpat, optional

Rolling Pin

Pie Pan
Ingredients  
3

cups

all~purpose flour

1

teaspoon

salt

3/4

cup

shortening

chilled

3/4

cup

unsalted butter

chilled

3/4

cup

ice water
Instructions 
Measure the flour by scooping it into the dry measuring cup and leveling off the excess.

In a large bowl, stir together the flour and the salt.

Slice the shortening into thin pieces and lightly stir into the flour mixture.

Slice the cold butter into thin pieces and lightly stir into the flour mixture.

Flatten the pieces of shortening and butter with your fingers, being careful not to overwork the mixture.

Add the ice water a couple of tablespoons at a time. Use a rubber spatula to gently combine the flour without overworking the dough. The dough will have dry patches and wet patches. At this point, the dough will be dry and crumbly.

Pour the dough onto a rectangle of parchment paper. Fold the parchment paper over adn gently press the dough, repeating this step several times until the dough is shaped.

Divide the dough into 2 pieces of about 60/40 percent. The bottom crust will need the larger piece of dough. Flatten each dough portion into 2 disks and wrap in plastic wrap. Chill for 30 minutes.

Lightly flour a Silpat or countertop. Place the larger piece of dough on it and sprinkle lightly with flour. Cover with a piece of plastic wrap.

Starting at the center, roll out the dough. Repeat and rotate the pie dough occasionally so that it doesn't stick to the Silpat or counter. Lightly flour if the dough begins to stick.

Lift the dough with plastic and place over the pie pan. Gently press the dough firmly into the sides of the pie pan. Peel away the plastic.

Chill the dough in the pie pan for 30 minutes prior to filling.

At this point, follow the APPLE PIE FILLING recipe and finish assembling the Apple Pie.
Susan's Southern Apple Pie
One of the best apple pie recipes. Full of apple flavor.
Equipment
measuring cups and spoons

2 large bowls

large mixing spoon or spatula

whisk

Rolling Pin

pastry brush

sheet pan

aluminum foil
Ingredients  
3/4

cup

granulated sugar

3

tablespoons

cornstarch

1

teaspoon

cinnamon

½

teaspoon

salt

3

pounds

Honey Crisp, Granny Smith or other baking apples

peeled, cored and cut into 1/4" slices

2

tablespoons

lemon juice

2

tablespoons

unsalted butter

cut into small dice

1

recipe

Flaky Pie Dough

1

egg

lightly beaten

1

tablespoon

water

2

tablespoons

granulated sugar
Instructions 
In a large bowl, whisk together the sugar, cornstarch, cinnamon, and salt.

In a larger bowl, toss the apples with the lemon juice. Add the sugar mixture and toss again.

Pour the apples into a pie plate lined with 1 flaky pie dough. Dot with butter.

Roll out the other smaller piece of dough and place it over the apple pie filling. Turn the edges of the top layer of pie dough under the bottom layer of pie dough, working all around the edges of the pie. Crimp the edges of the pie dough with your fingers as you work around the pie.

Whisk the egg and water together. Using a pastry brush, brush the pie crust with the egg wash. Sprinkle the top with the sugar.

Make 4 to 5 2~inch slits in the top dough, slightly opening each one.

Place the pie on a sheet pan lined with aluminum foil.

Bake the pie in the preheated oven until the crust is golden brown and the juices begin to bubble through the slits, about 45 ~ 60 minutes. Rotate the pie halfway through the baking time. Start checking the doneness at 45 minutes.

The pie edges may be covered with a pie shield or a 3" strip of aluminum foil to prevent excessive browning.
Have fun baking a pie! You will definitely want to PIN this post for the pie-making party tips and the apple pie recipe.