15 Beautiful Ways to Use Blue in Your Home Decor
Do you use blue in your home decor? Blue is probably the most classic color in home decor. I have found 15 beautiful ways to use blue in your home decor.
If you have been around Bluesky at Home for awhile or you just searched ways to use blue in your home decor and found me, then it's no secret ~ I love blue. I'm always looking for inspiration and ways to use blue in home decor.
What makes blue so special? Maybe because it's the color of the sky.

Maybe it's because it's such a versatile color. Some shade of blue seems to work with so many other colors. Even different shades of blue can work together.

Although blue is considered a cool color, it works well with other many other cool colors and most warm colors.

What is the most classic color paired with blue? White. Blue and white will always be on trend. It will never go out of style. In any room, blue and white just works.
15 Beautiful Ways to Use Blue in Your Home Decor
Blue can be used in big ways in your home decor:
walls ~ just one as an accent wall or an entire room
large pieces of furniture, such as a sofa, chair, cabinet, armoire or dresser
large pieces of art or in a gallery
drapery
wallpaper
accessories
rugs

I have an aqua sofa in our living room and a new bright blue cabinet there also. Somehow, they work well together.
BLUE ON THE WALLS
My friend Shelley of Calypso in the Country painted her dining room walls a deep navy blue. It's a dramatic look that gives elegance and formality to the room.

The deep blue vase, blue dishes in the hutch and the blue stripe placemats finish off this room so well.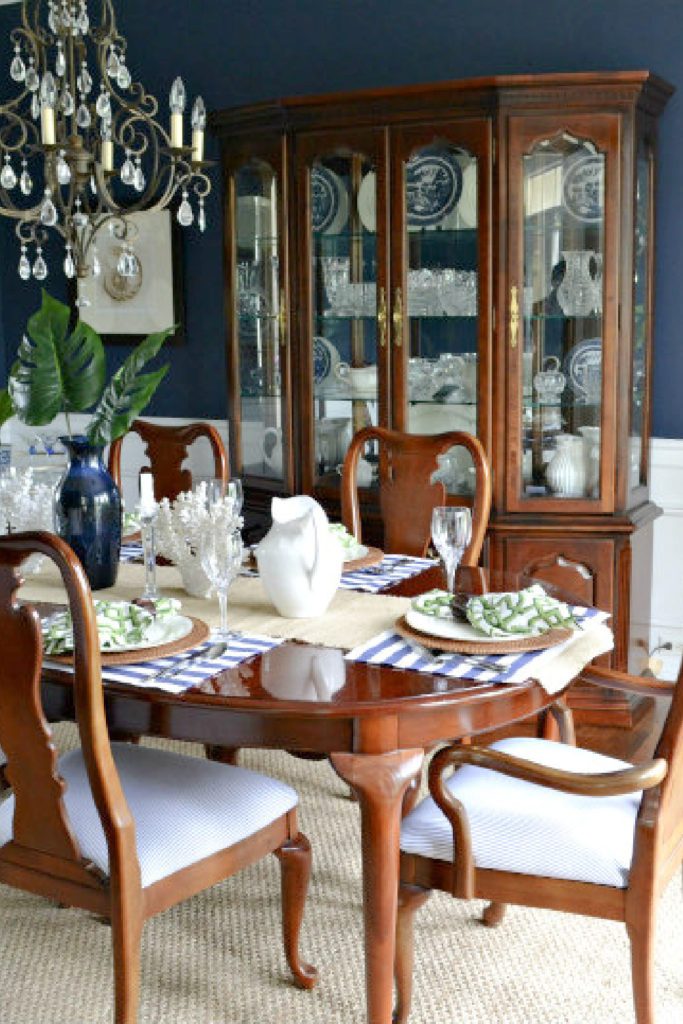 CLASSIC BLUE IN THE LIVING ROOM
Let's start with this beautiful living room from Randi of Randi Garrett Designs. She uses blue in all the accessories, from the rug to pillows, vases, throws.

Even the trim on white pillows. This is such a classic, serene room.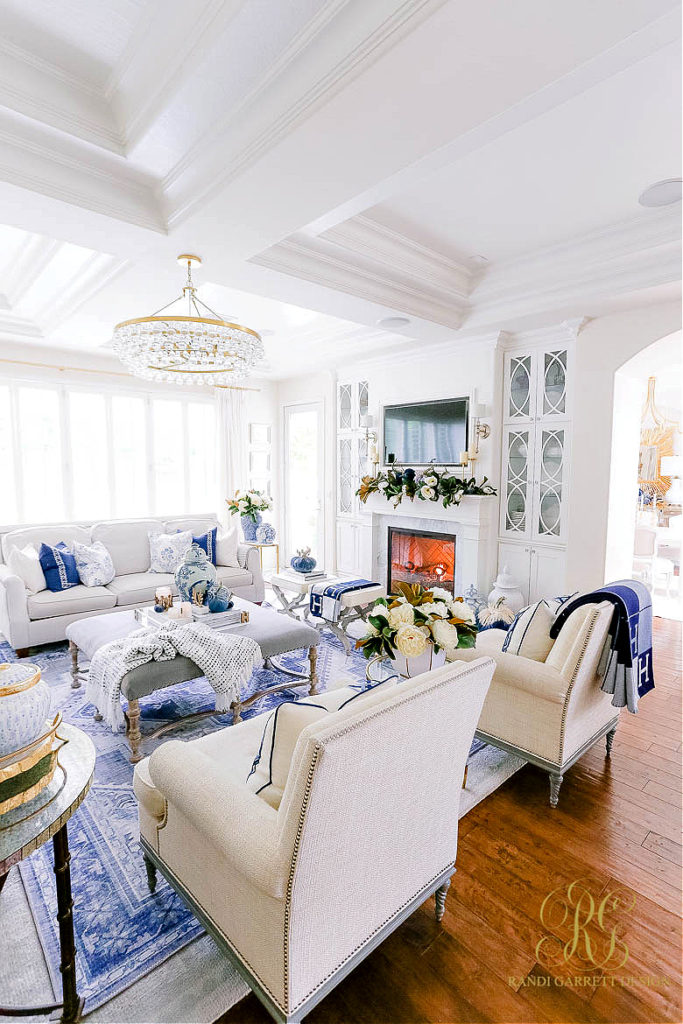 In another beautiful blue living room, my friend KariAnne of Thistlewood Farms used a variety of patterns with blue as the common denominator. Stripes, florals, geometrics, solids ~ it sounds like a lot of pattern, but it all works together for a soft and inviting effect.

The blue dishes and blue art work flank the pretty picture window with soft blue drapes.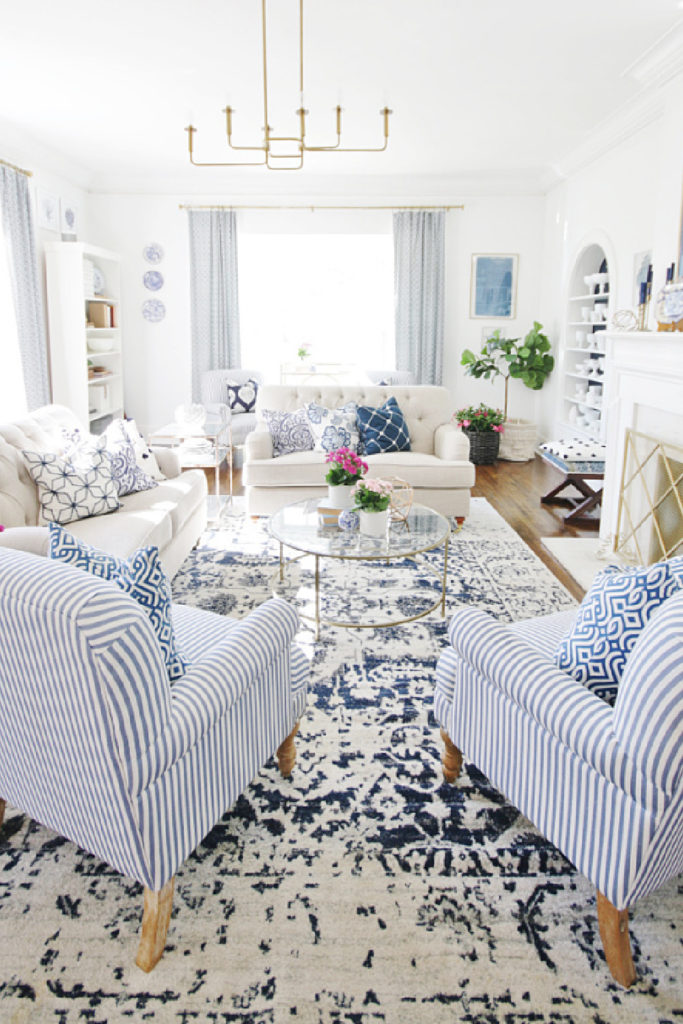 BOOKCASE WITH BEAUTIFUL BLUE ACCESSORIES
This stylish bookcase pops with blues in the books, vases, jars, pitchers, and even picture frames. These blue accessories from Rebecca at Boulevard West stand out beautifully against the white background of the bookcase.
It's not just the blue color. What makes this arrangement work so well?
Vairety of shapes ~ round and square, tall and short
Different sizes
Mix of materials ~ ceramics, porcelain, books, pictures frames, globe
Pops of metallic
Variety of heights
Similar shades of blue
Although there is a large number of items on the bookcase, it doesn't feel cluttered. Plenty of white space between each object keeps the look clean. Each shelf is different, but the entire bookcase is balanced.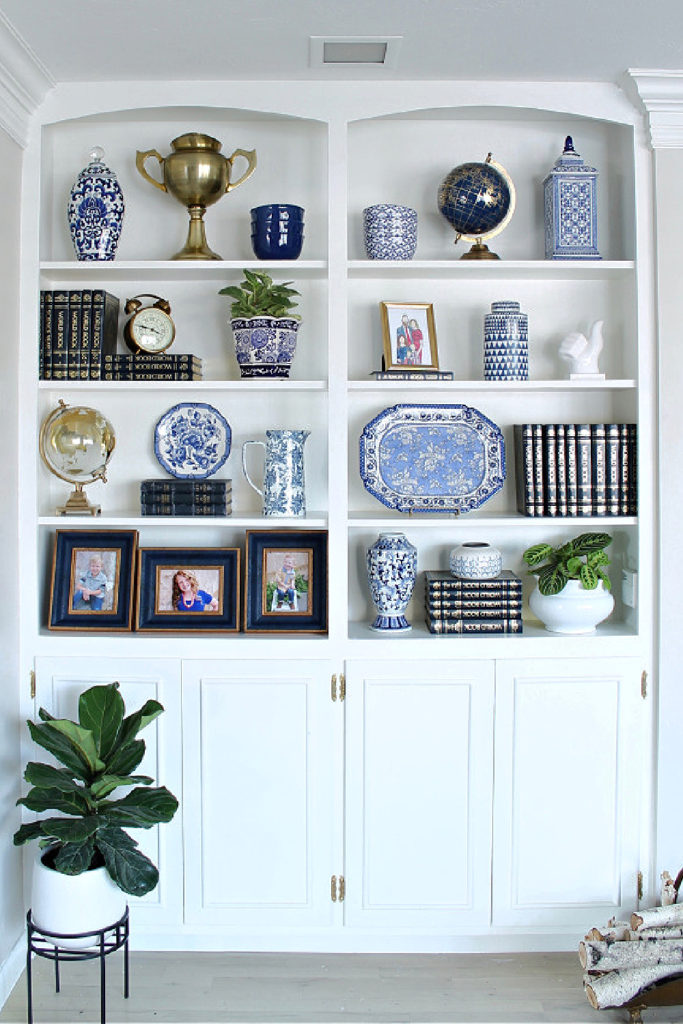 BLUE IN PILLOWS
Pillows are probably the easiest accessory to use in your home. Not just practical, they bring in texture, shape, color, and pattern. No sofa should be without a few throw pillows.

Sheila of Maison de Cinq used a combination of solid blue pillows paired with a beautiful blue crewel pillow as the focal point of her neutral sofa.
The lovely blue ginger jar and the barely blue of the hydrangeas continue the blue theme.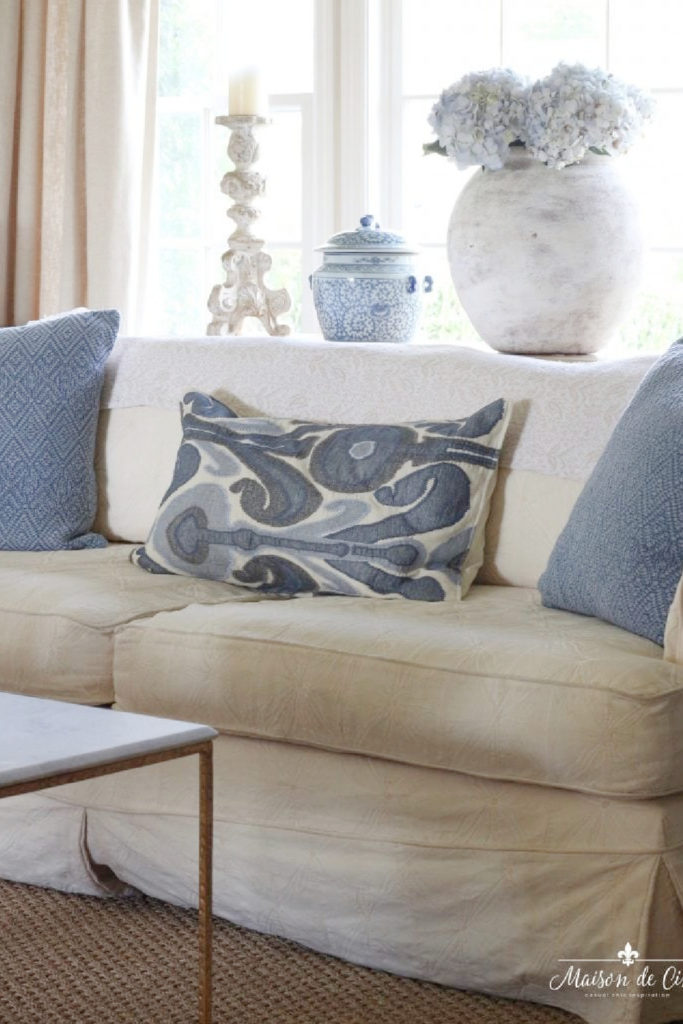 In another use of pillows, here is a combination that also works from Kelly of The Lily Pad Cottage.

Several shades of blue from very light to almost aqua to deep blue grab your eye. Some subtle patterns keep the setting interesting.

I love the small blue jar on the coffee table. I think it's a candle. It continues the touch of blue in the room.
TIP: Continuing your main color in small touches pulls the eye around the room.
The rug has a soft blue stripe, as well as the throw on the sofa.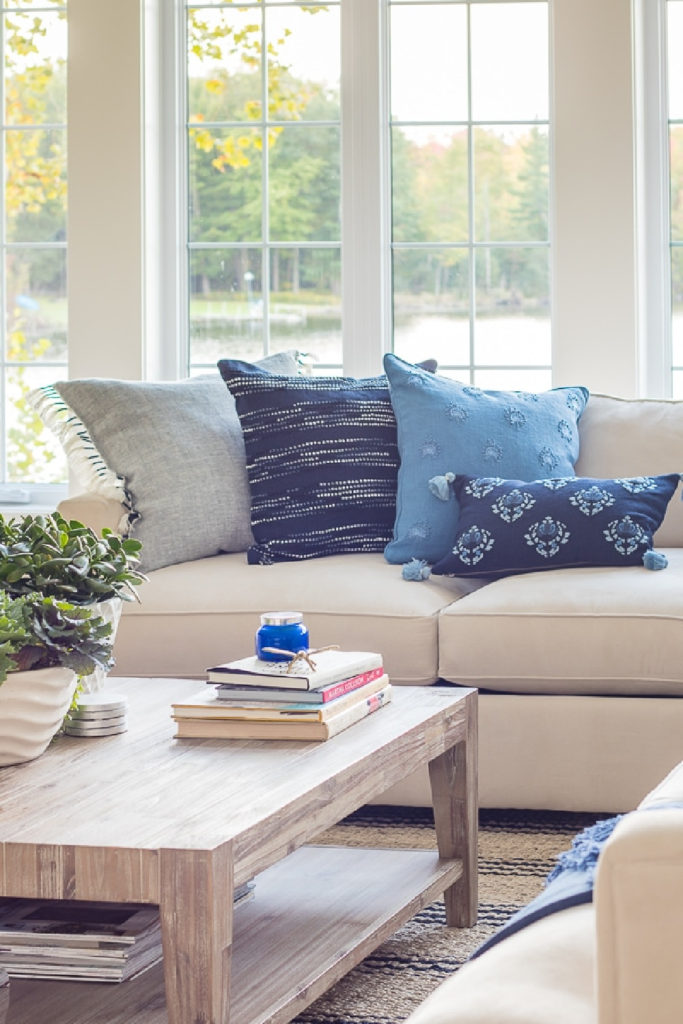 USING BLUE IN FURNITURE
I mentioned using blue on a piece of furniture. This vintage desk became a stunning entry console table with a deep blue refresh.
Brooke of All things Thrifty transformed this stained vintage desk into a gorgeous focal point. I can't imagine it in anything but blue. The metallic gold hardware adds the finishing touch.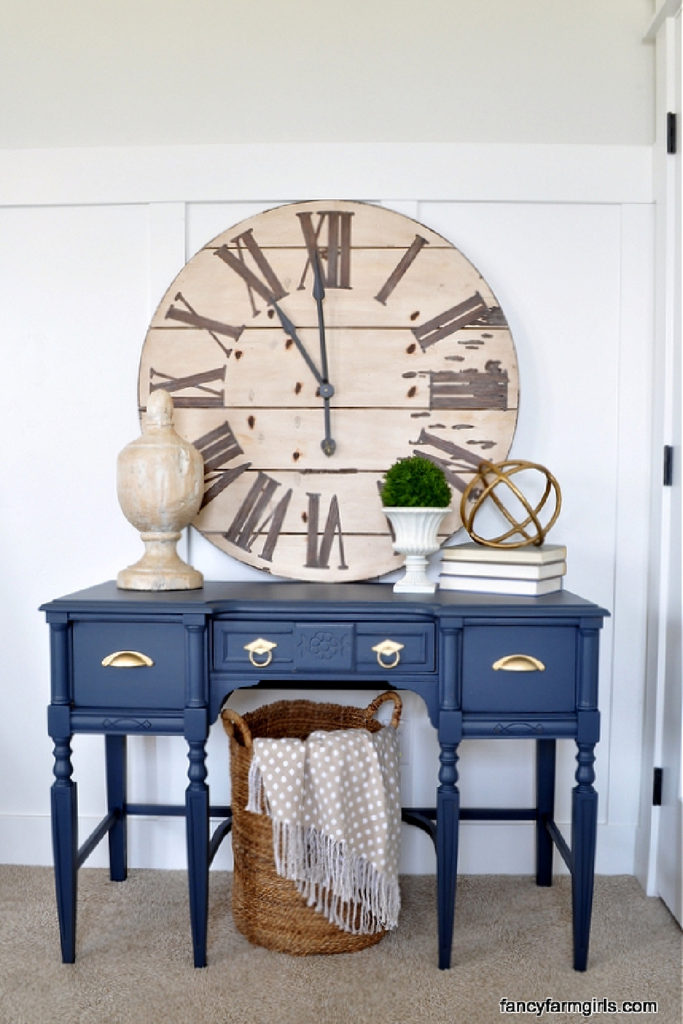 Here is the blue cabinet that I just painted and stenciled for our living room. Gold accents are perfect with blue of any shade.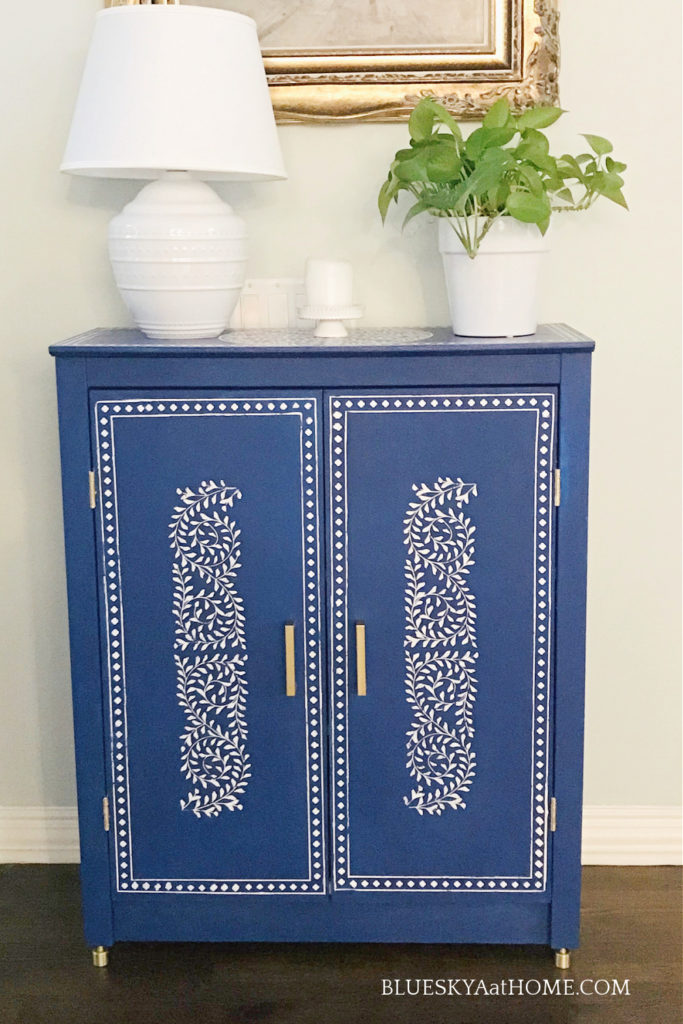 IDEAS FOR BLUE ACCESSORIES
In her bedroom makeover, Jenna Kate of Jenna Kate Design used soft blues.

This cool blue tray filled with a blue vase and white hydrangeas really bring your eye in. Love the diamond blue pattern of the pillow.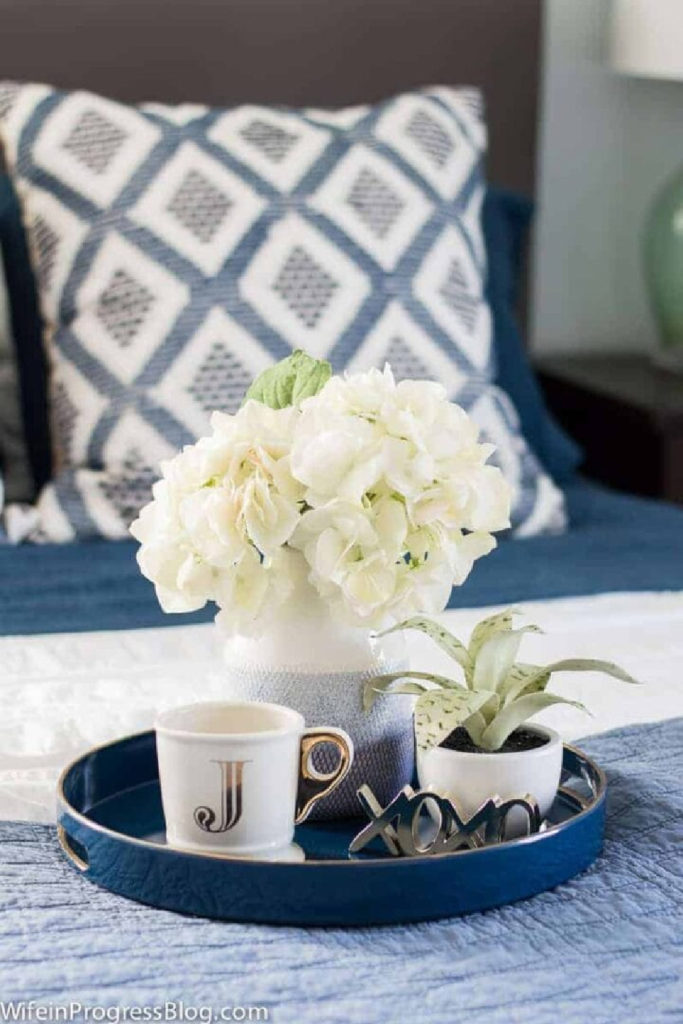 I love these sweet blue fern prints from Danielle of Finding Silver Pennies. It's an impactful look when you step in the door.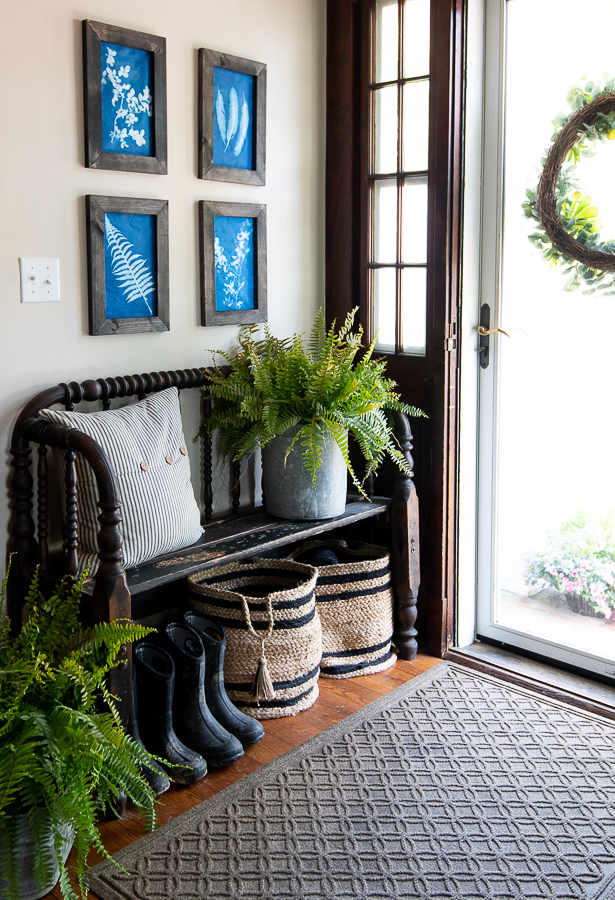 BLUE ACCENTS IN THE DINING ROOM
Don't want to paint your dining room walls blue? Another way to use blue in home decor is in accents and accessories.
This lovely dining room from Cassie of Hi Sugar Plum adds blue in a modern, almost watercolor ikat design in the drapes.

The navy strip rug takes the blue from top to bottom.
At eye level, a collection of clue chinoiserie jars gathered in a white tray on the table adds the right touch of blue accents to this room.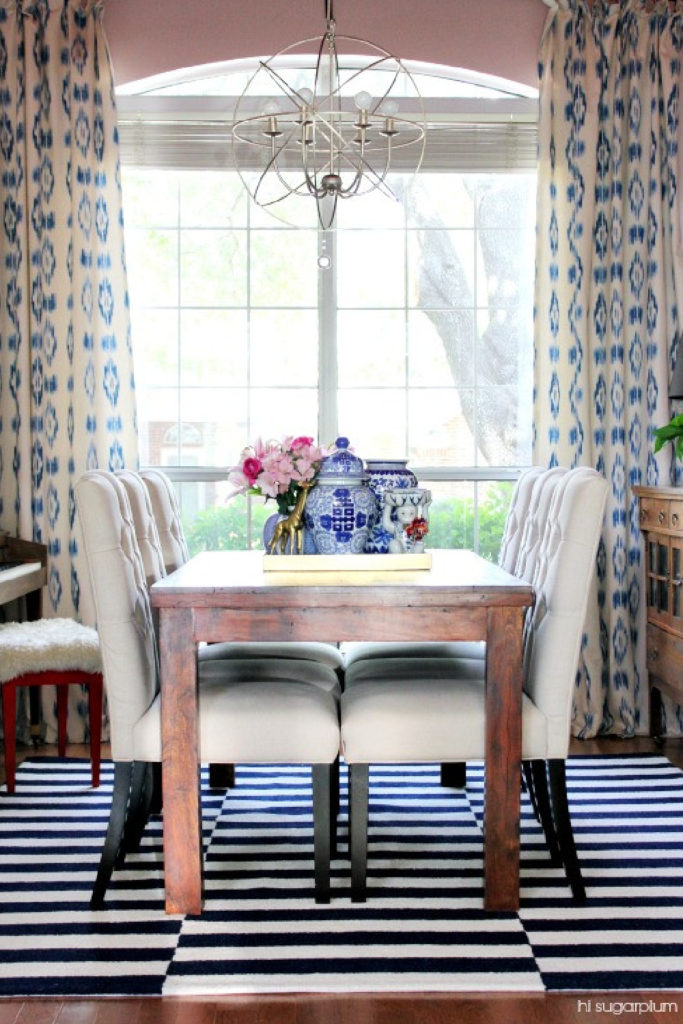 MARK D. SIKES' BEAUTIFUL BLUE KITCHEN
Designer Mark D. Sikes is known for his love and use of blue. I love his book Beautiful ~ it's a must~have for those of us who love blue.
One King's Lane featured Mark's gorgeous kitchen. The blue backsplash seems to reflect on the counters. All the blue accessories are stunning. I don't know if anyone actually cooks in this kitchen, but it is so pretty, who cares?
Notice the blue ceiling? The ceiling in our kitchen is a tint of our wall color and it is so calming.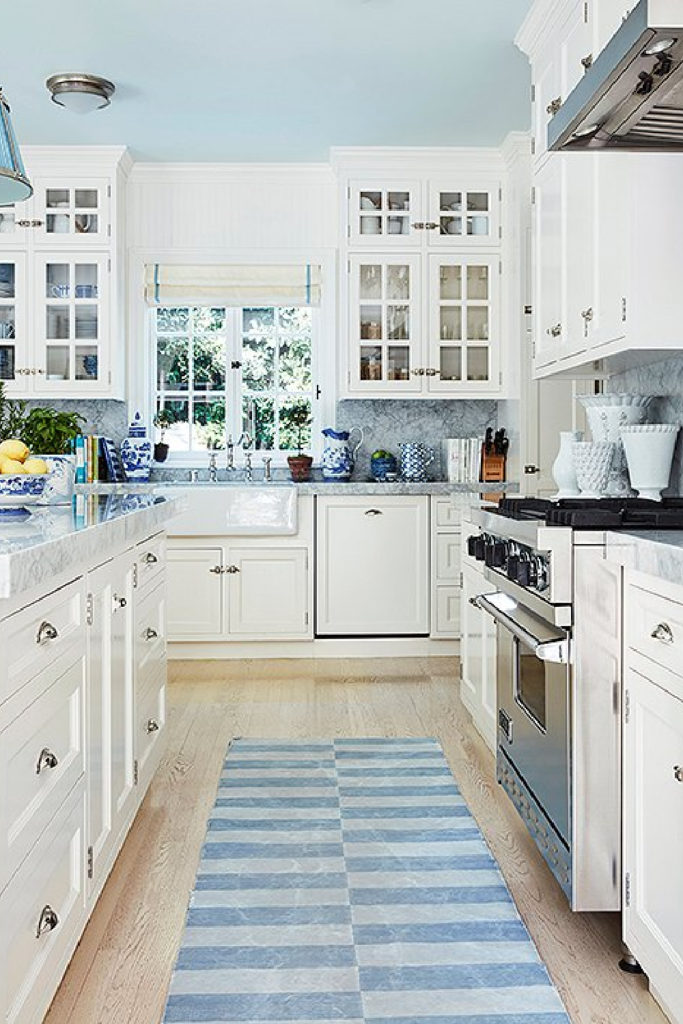 BLUE IN THE BREAKFAST ROOM
I absolutely am in love with this happy blue breakfast room from Ashley from At Home with Ashley.
Let me count the ways:
gorgeous blue wallpaper
blue painted pantry
blue and white buffalo check banquet cushions ~ those are amazing! I used a similar fabric in my bedroom. (See the image below).
beautiful blue vase
blue and white flowers
I'd love to eat breakfast, lunch and dinner in this room.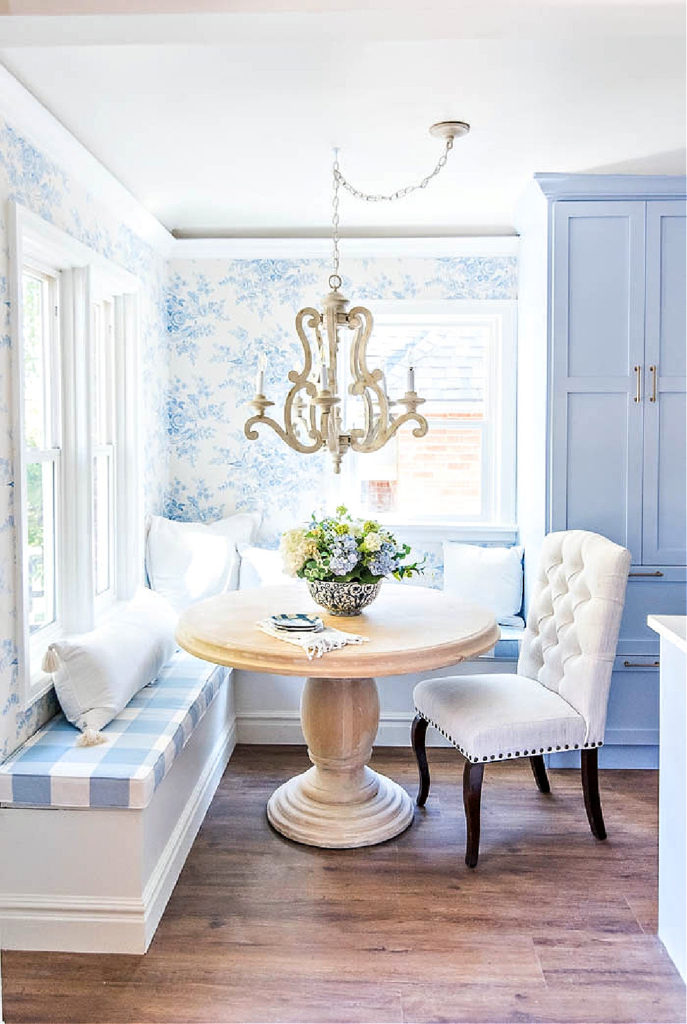 BLUE IN THE BEDROOM
Do you want your bedroom to be a quiet, serene refuge? Do you want colors that calm your mind.

I can't think of a prettier color to go to bed in at night than blue. Waking up in a blue bedroom is lovely, too.
I love everything about this pretty blue bedroom from Lori of Designthusiasm. In what ways does Lori use blue in home decor in the bedroom?
Soft blue on the walls
Blue artwork
Blue chinioserie lamp on the nightstand
The beautiful combination of patterns in the bed linens: florals, stripes, checks, and gingham
A pot of lavender on the bedside table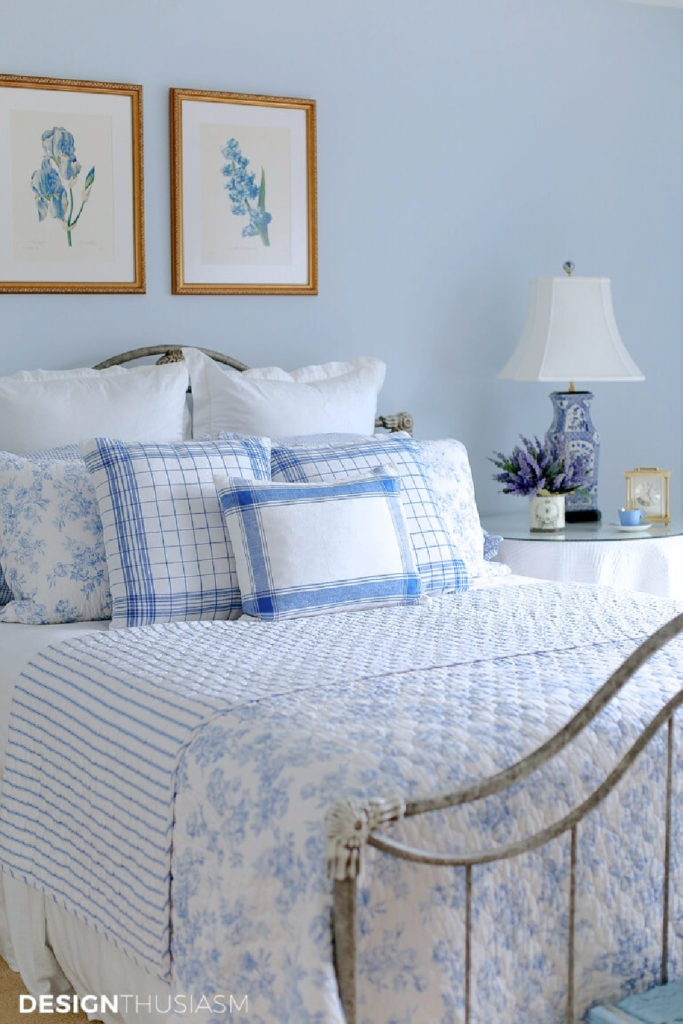 MY OWN BLUE AND WHITE MASTER BEDROOM
I have to share my own blue and white master bedroom that I created last spring. Although, I've tweaked it a bit, I still love it. The buffalo check fabric was my inspiration.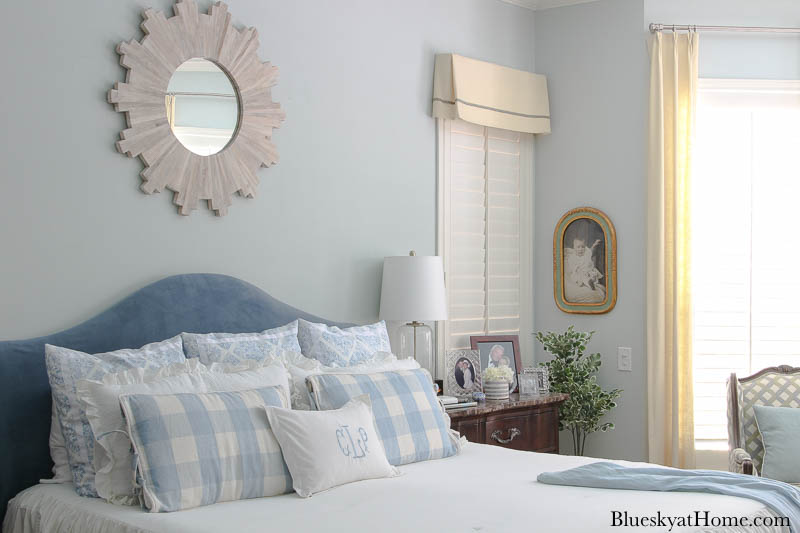 As a bonus, you may remember the many ways to use blue in home decor from this home tour of my neighbor Julie.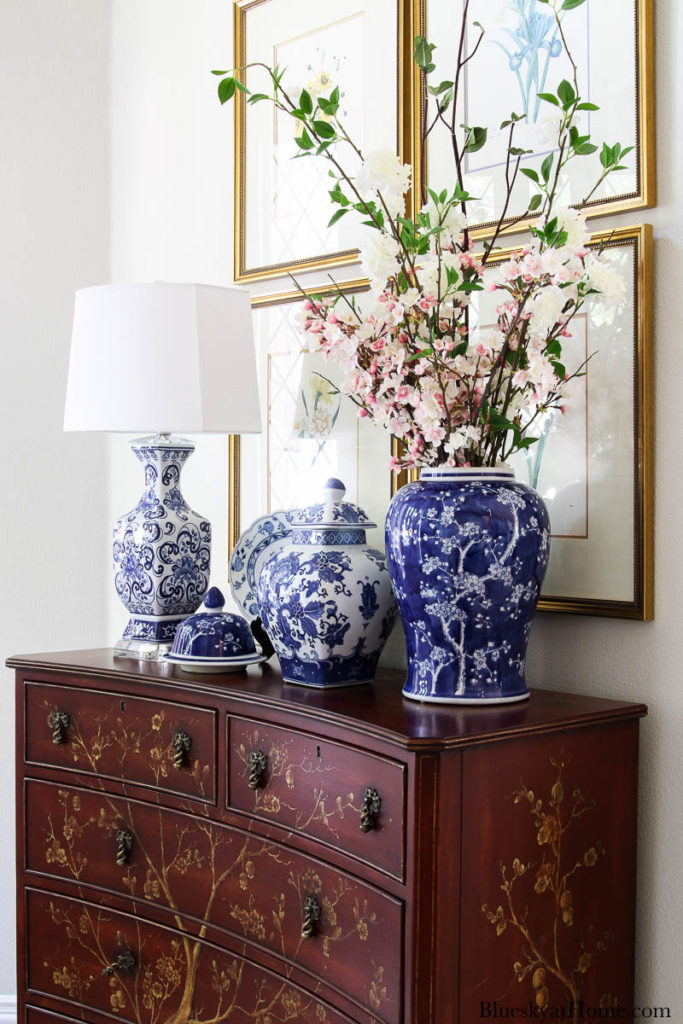 Need more ways to use blue in home decor? Be sure to visit my BLUE DESIGN Board on Pinterest. I do hope that you will PIN this collection of ways to use blue in your home decor.