Top 10 Posts of 2022: Readers' Favorites
How many top 10 lists do you think there will be for 2022? Probably, 100's. We love looking back at the previous year to see what was popular, what worked or what didn't. Here are my top 10 posts of 2022.
Now that all the numbers are in for 2022, I love seeing what blog posts my readers liked best. What were the most popular posts? Were the posts in the past year new posts or older ones?
Although I'm truly not a numbers person, it is important as a content creator to take look at the data we have access to. This is a great way to make our plan and goals for the next year.
Ready to see what were your favorite posts just in case you missed one?
Looking at the Numbers for 2022
This post contains affiliate links to products used in the creation of this project. If you should order any item from this site, I may receive compensation, but you do not pay a penny more. Your purchase is greatly appreciated as it helps support the continued publication of this site.
We all like to know our numbers. I'm sure every blogger on the planet looks at their monthly and year-end statistics.
Before I reveal the top posts of 2022, you might like to know how to determine all the data for the year. It's really interesting and doesn't take long.
I have a plugin on my site called Monsterinsights. It pulls all the data from Google Analytics and presents it in an easy-to-read format. For a snapshot look at your data (page views, sessions, users, top posts, referral sources), it's the best way to look at your numbers. It's also fast and easy.
You can look at the report by month, week, or year or you can customize it. For this report, I asked for the entire year.
This is what the report looks like on your site. (This isn't mine, just an example.)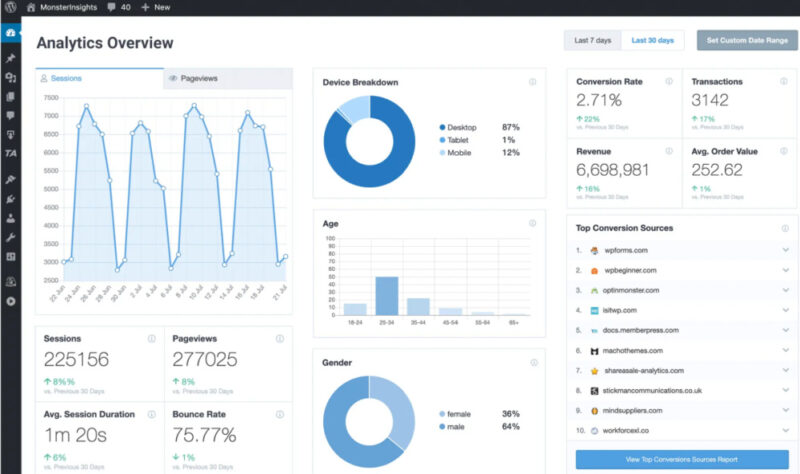 Monsterinsights does a lot more, but that's what we'll focus on here.
I can see at a glance all the data that I need. Then, I can click over to Google Analytics for a more in-depth look.
Was I surprised at which posts were the most popular with readers? Yes and no. It's not unusual to find posts that are from last year or a few years ago. Those are the topics that readers are really interested in.
Since Pinterest is still my top referring source, it's not unusual to see posts you wrote and PINNED in previous years. Those are the posts that keep on giving. That's another reason that I love Pinterest.
What else did the yearly report tell me? That 2022 was my most successful year ever.
In terms of page views, sessions, and users, all my statistics are up significantly. Woop, Woop! Yippee!! What a great feeling.
Analyzing data doesn't end there.
Why Did the Numbers Go Up in 2022?
Just as important as looking at your data for the previous year is determining why the numbers are what they are.
What did I do in 2022 that improved my post numbers?
Here is what I focused on last year that I think contributed to better results. Maybe these actions will help you:
Focused on keyword research for every blog post.
Starting in October, I began using RankIQ to get the best keywords, post length, and Google keyword suggestions. Even for just 3 months, the impact was significant.
Focused on on-page SEO for every post. (I had been doing this for a few years, but did it more intentionally.)
Had a technical audit done back in May which identified dozens of technical errors on the backside of my blog. I fixed what I could. Knowing that correcting the technical issues was over my head, I signed up with Grayson Bell of iMark Interactive for monthly maintenance (which I highly recommend) so all those issues would not become a problem again. Then Grayson corrected the technical issues. It took a few months, but I could see the positive effects as my numbers went up.
Focused on consistently updating older posts for better rankings on Google, a practice highly recommended by the SEO experts.
I was more strategic with Pinterest. I pinned seasonal posts earlier on Pinterest, did Idea Pins consistently (for a while), and worked on creating better Pin images.
Followed the advice of blog/SEO experts, such as Brandon Gaille (The Blogging Millionaire), Mike Futia (Stupid Simple SEO), and the team at Top Hat Rank. These guys really know their stuff. I can't recommend their blogs, webinars or Podcasts enough.
Focused on readers' reactions to posts: what they liked (tutorials and how-to's) the most.
Focused on connecting with all my subscribers via my weekly email newsletter. This newsletter offers extra value since I give a home decor tip – really a short article – every week.
Started a weekly newsletter just for bloggers where I share the blogging information that I've learned. I love this group and if you are interested, I would love for you to join the community (It almost doubled in December!).
That's my own analysis. So, drum roll please, let me share my best posts of 2022. Or more actually, the posts readers liked the most.
Top 10 Readers' Favorite Posts of 2022
I hope the information that I shared with you is helpful in your own blogging plan. If you are not a blogger, then I hope that you will enjoy breezing through my top 10 posts of 2022. Please take a look at each post and PIN it.
And, a big hug and thanks to all my readers. Whether you just happened to drop by, you read Bluesky at Home regularly or you subscribe to my weekly newsletters, you don't know how much you mean to me. I love your comments and enjoy your feedback.
Here's to a wonderful, healthy, happy, and prosperous new year for all of us.