How to Make an Office More than Just a Place to Work
Do you have a home office? If you do, then let me show you how to make an office more than just a place to work.
We all know that a house is not just ceilings and floors and walls. It's the color and furniture, the lighting and the art and the books and the pictures and pillows that make a house a home ~ a warm, inviting place to live and play, relax and entertain  ~ and sometimes work.
An office should be not only a place to be productive, but it can also be a space to feel inspired and invigorated. A place to feel excited about the tasks that need to be completed. A place that gets the creative juices running and lets daydreaming become the stuff that ideas are made of.  
I've shown you the vision for the office and the office storage and essentials that I selected. These are the bones of any space, like a sofa or table or bed.  In addition to being a practical and efficient space, I wanted my office to be a place that made me relaxed, but inspired. A place where I enjoyed being, surrounded by items that I loved and made me happy. (Like the Sweet Taffy pink color I chose for the walls.)
I've shared a couple of DIY projects that are both functional and pretty: a gold polka~dot planter and blue, pink and gold pen holders. But there are several other items that have made this a happy space to be in; so here's how to make an office more than just a place to work.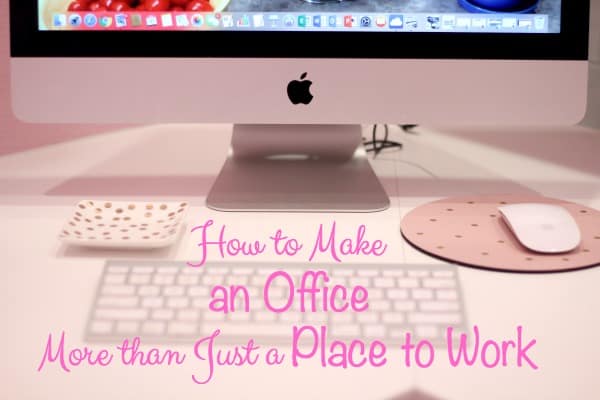 How to Make an Office More than Just a Place to Work
Books
Whether they be of a professional or personal nature always give a space a sense of comfort. I've read every one of these ~ food memoirs, travel memoirs, biographies of some of my favorite people, such as Julia Child, fictional stories involving food and travel, some how~to's ~ all bring back fond memories of stories and places and people. And, in addition, they are colorful.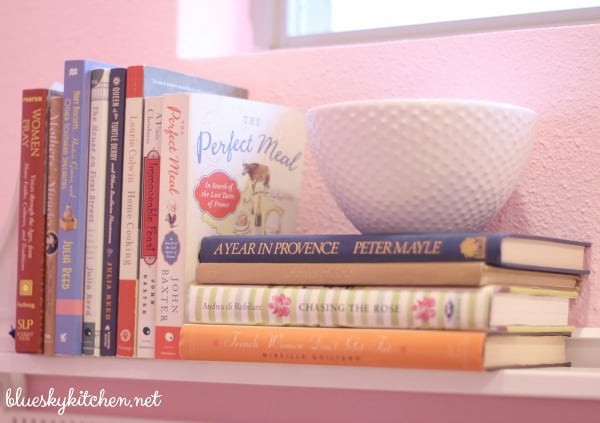 Art and Typography
You may remember this DIY craft challenge from last summer. I had a future office in mind when I accepted the fabric challenge. We all should have a saying that we love. The fabric patterns and colors in pinks, pale greens and blues, along with some black and white, fit the color scheme of the office.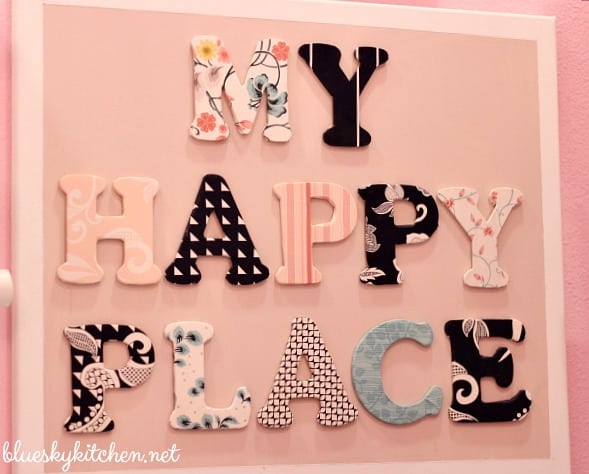 My daughters gave me this framed burlap picture at Thanksgiving. It's so special that it had to find a place in my office.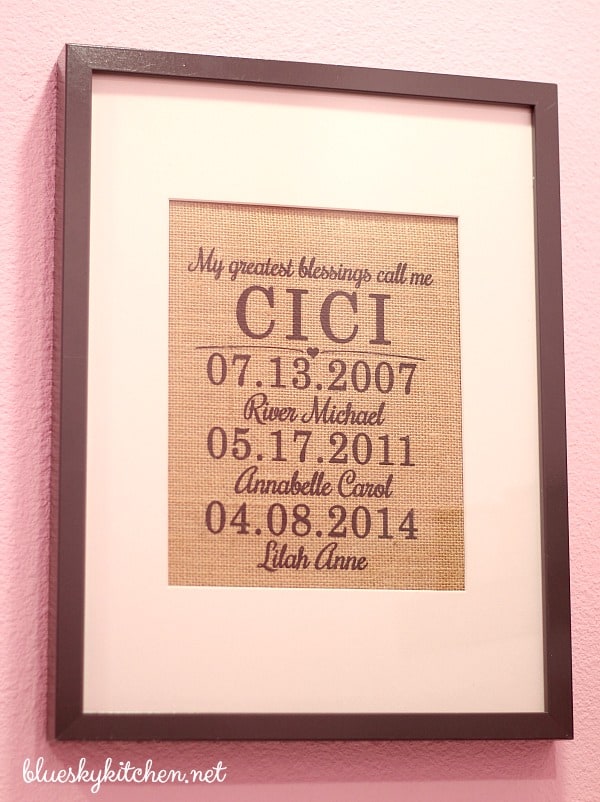 I've been saving this photo for 18 months. My graphic designer created this mood board when she was designing my website.  The photo on the right is my color scheme and font styles for the blog. I made the mat from scrapbook paper (I'll show you how I did that in a later post.).
I wanted a Bible verse in my office to keep me grounded and mindful of where all my blessings come from. My older daughter sent this one to me. I printed it and made another mat from scrapbook paper.
This little chalk board ~ a freebie in our swag bag from Haven, 2015 ~ is the perfect place to write positive affirmations. I love the aqua color, shape and whimsical look of these ice cream dishes. Just for color and whimsy. They were a flea market find in November.
This is the first time I have actually framed a diploma and displayed it. Attending and graduating from culinary school was harder and more intense than any other degree I've earned over the years. I figure I deserved to hang it on the wall and an office is the perfect place.
Flea Market Finds
I found this clock at an antique mall in Atlanta last summer. I loved it at hello ~ the old French vibe, the shape, the rustic metal. It's been keeping time since I brought it home on the plane ~ it was destined for my office.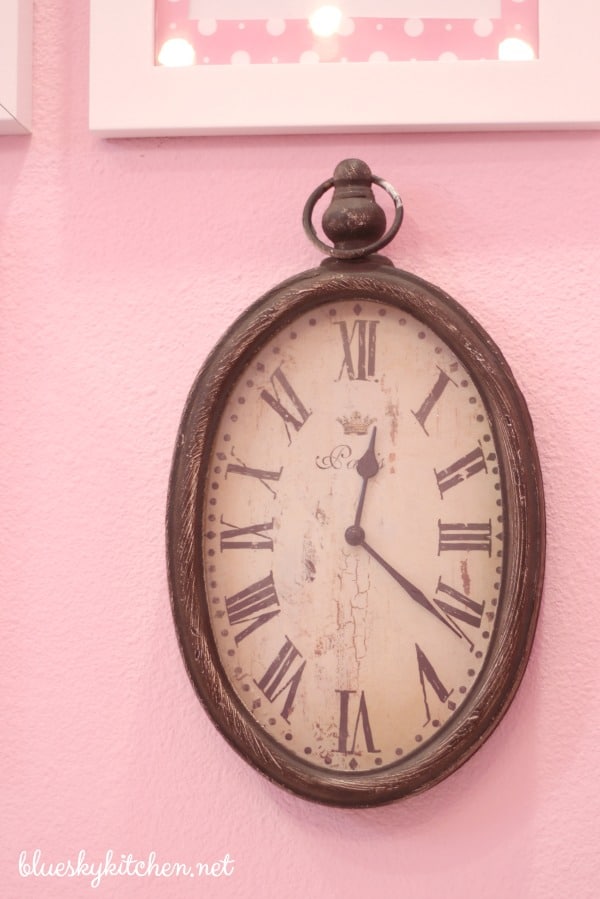 I love the "dots" on this white bowl. I bought 3 last fall at a flea market. This one holds all my chargers.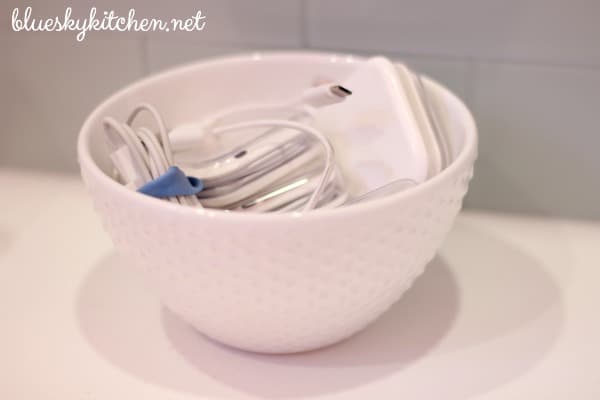 Practical Decorations
I used these little round dishes from the kitchen for holding paper clips, rubber bands, clips, and post~it notes. Rimming the top edge with more washi tape made all the difference between dreary and diva. I especially am smitten with that ruler.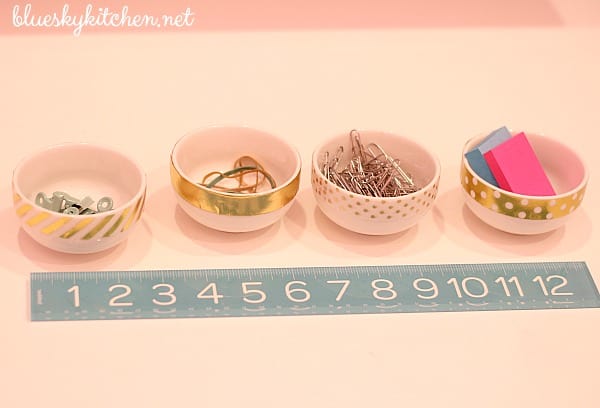 I bought these office must~haves at The Container Store.  Love the aqua. They are from Poppin.
My older daughter gave me this mouse pad for Christmas. Pink with gold polka~dots ~ how perfect.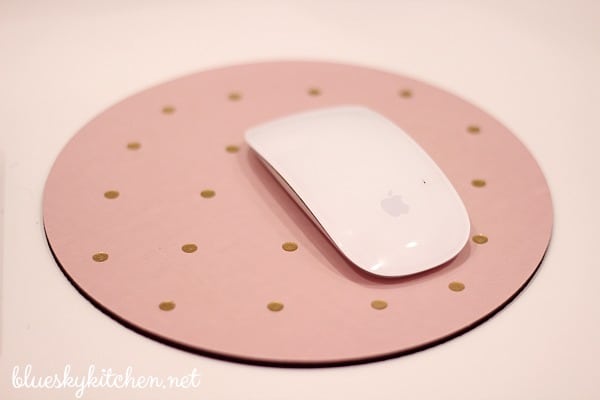 Target's Dollar area yielded this little dish for when I want to take off my ring while typing.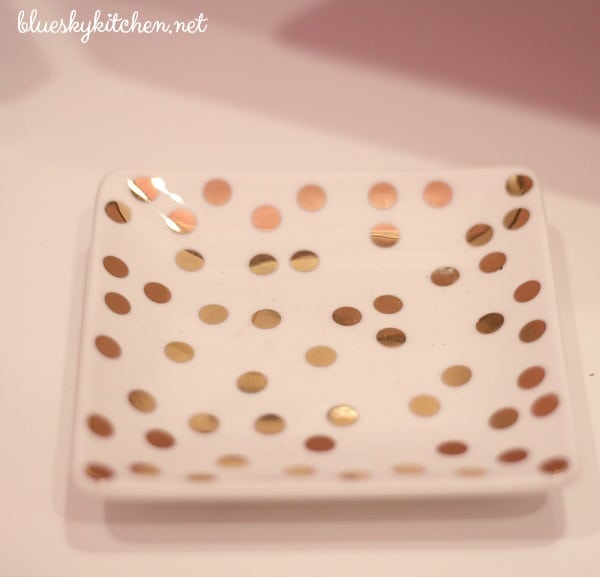 When I saw this plain white trash can at Ikea, I knew that the rimmed pattern would be perfect for spray painting in a stripe. Guess what color? You bet, more gold!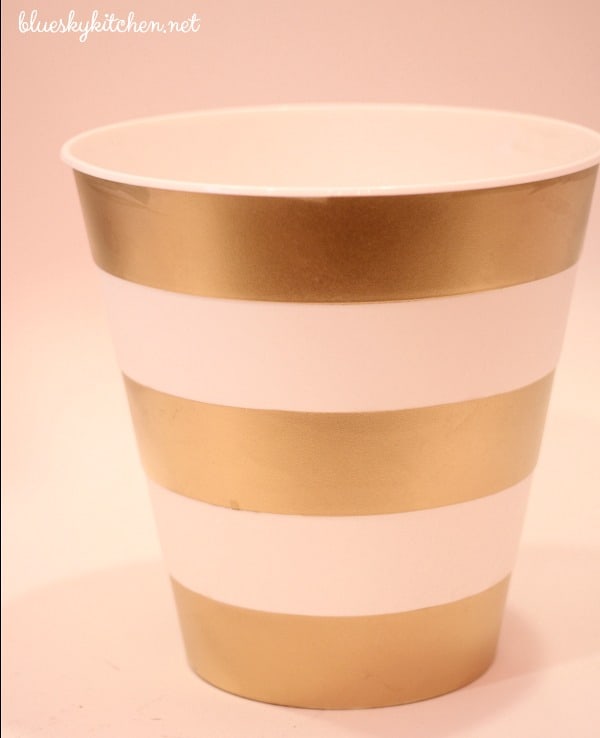 And speaking of gold ~ I had to have a tissue box (everyone in Texas has allergies) and I found a plain wooden one at Michael's. I spray-painted it the opposite of the gold polka~dot planter I made. It's white polka~dots.
I made this acrylic holder for papers and books in a workshop at Haven, 2015. I ordered the monogram from Christy at 11 Magnolia Lane a year ago. Little did I know then that the gold would fit in my office perfectly.
Do you notice the pale blue~green backsplash? I can say I love the color and the bit of shine. I'll share the who, what and how in a future post.
I ordered my weekly planner from J. Lynn Designery back in October. Again, how perfect could the pink and gold design be for my office?
I'm settling in and enjoying my office so much. It's not completely finished (I still have a couple of decorative items to add.), but it is already more than just a place to work; it's a place to be creative, inspired and productive.
Color, pattern, texture, and decorative items all have come together to truly make this my happy place. I hope I've shown you how to make an office more than just a place to work. If you have an office redo in your future, then be sure to PIN this PIN.