23 Things to Declutter Before You Decorate for the Holidays
What's the first thing you should do to get ready for the holiday season? Here are 23 things to declutter before you decorate for the holidays.
With the holiday season approaching (Halloween, Thanksgiving, and Christmas), now is a great time to discard items you don't need before you get out all the decorations. Here are things you don't need and probably won't miss.
As I'm sure you know, we bring in a lot of stuff when we decorate for Halloween, Thanksgiving and Christmas. In addition to decorations, the holidays bring in dust, paper, boxes, and general clutter.
Now is the perfect time to declutter your home. A little bit of preparation now will not only make you feel good, but your home will also benefit from some decluttering.
The best way to declutter is to go through your home room by room. Every room, from the kitchen and living room to the bathrooms and the guest room, will benefit. Let's face it, we have too much stuff.
Preparing to Declutter before the Holidays
This post contains affiliate links to products used in the creation of this project. If you should order any item from this site, I may receive compensation, but you do not pay a penny more. Your purchase is greatly appreciated as it helps support the continued publication of this site.
Before you bring in the boxes of holiday items, here are a few things you will need to declutter your home in preparation for the holiday season:
have storage containers ready for things you will need to put away until after the new year
inventory your home for places to store the boxes you are filling – but remember this is about decluttering and getting rid of items
plastic bags or garbage bags for the things you will be throwing away
wrapping paper for delicate items you will not use in your home decor during the next few months.
plastic gloves to protect your hands
have a marker ready to label the boxes you will use to store items
What are these 23 Things to Declutter?
Decorating your home for the holidays is a big task. Make it easier by starting now by decluttering.
No room should be omitted. However, the first step is to focus on the rooms that get the most traffic, will have the biggest impact, or are used the most during the holidays. Take one area at a time. Pace yourself. You don't want to burn out before you declutter every room.
Decluttering in the Living Room
1. Old VHS tapes. They take up a huge chunk of space. If they're not being watched, there's no point keeping them. Digitize family videos either through an app or a service. Everything else can be found online, on DVD, or on streaming. Toss any DVDs, CDs, or whatever else isn't being watched.
2. Old throws. Whether it's a decorative throw or the fuzzy blanket the whole family curls up under on movie night, when that blanket starts to look ragged, it may be time to toss it. Find new throws that will add to the holiday decor.
3. That Pile of Toys. If you have kids or pets, chances are there's a pile of toys lingering in your living room. To avoid stepping on Lego pieces and Fido's bone, keep just a small selection of favorites in a basket. Move the rest to a playroom or a storage closet until they're needed after the holidays.
4. Old catalogs and magazines. Those stacks of magazines and catalogs take up space and make our homes look cluttered. It's time to recycle. Give your home a fresh look and more space to decorate for the holidays. You will free up your coffee table for books and decor you will actually read and enjoy.
5. Throw out piles of paper and newspapers. They are just collecting dust and taking up space. If a document is really important, then file it where you can easily find it. If there is a newspaper article you really want to read, cut it out and file it.
6. Do you have a collection of old remote controls? Go through the pile and check what works, and what doesn't. Get rid of any that you don't need. Place the remaining remotes in a small basket.
In the Kitchen
7. Expired food in the pantry. With holiday entertaining coming up, you'll need more space for food storage. Now is the time to throw out everything that's past its expiration date.
8. Check the fridge and freezer for moldy strawberries and past-its-prime meats. Throw out the obvious stuff (anything that's expired or moldy). Consider tossing half-used jars of food that are technically still good, but that you have no plans of cooking with during the holidays. Wipe all the shelves and wash out the crisper drawers. You will need that space during the holidays, especially if you entertain.
By the time you're done, you'll know that all of your food is fresh. You'll gain storage space you didn't know you had.
9. Chipped or broken dishes and glasses. Most of us probably have one or two dishes that have cracks, chips, or broken handles. It's not safe to use glasses with chips or cracks. Whether you've been meaning to glue them back together for months or hanging onto them for sentimental reasons, now's a good time to finally repair or toss them. You certainly wouldn't want to use them to serve guests.
10. Duplicate (or triplicate) cooking tools. Two spatulas will probably come in handy for those who cook a lot, but no one needs two can openers. Sort through your cooking tools and get rid of duplicate and triplicate items, keeping the one that works and looks best before donating the rest.
See how I decluttered and organized all my kitchen drawers.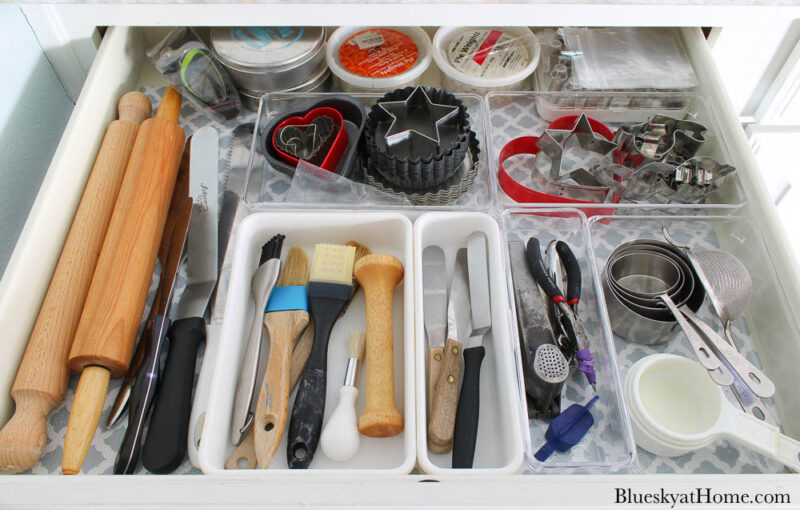 11. Free up kitchen counter space that you will need during the holidays. Remove appliances and decorative items that take up space. Anything that won't be needed during the holiday season should be labeled and packed away.
12. Discard old sponges and scrub brushes. They are nasty and you don't want company to see them near your sink and dirty dishes.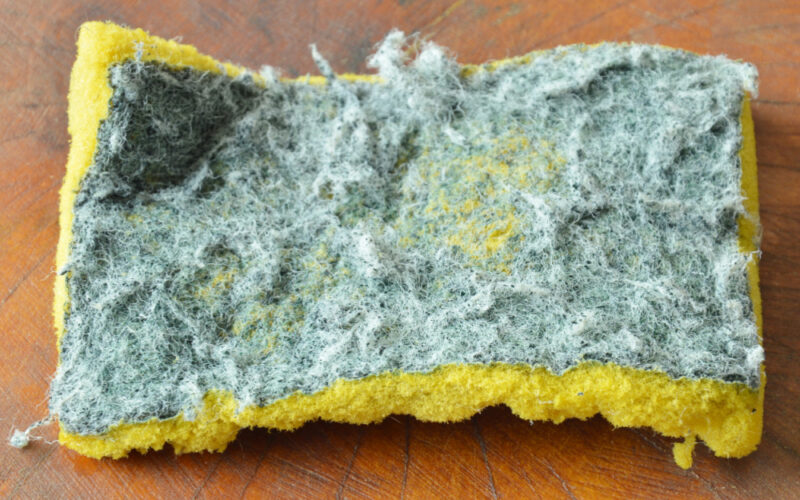 In the Dining Room
First, cover the dining room table. Then remove your dishes from cabinets or hutch and place them on the table. You can examine them better this way.
13. Old tablecloths. Did you inherited them from grandma? If they are stained, the wrong size or shape for the table, or covered in wax drippings, they are doing you no good. Regardless of what's wrong with that stack of rarely-used tablecloths, they need to go (or at least be repaired or cleaned). Heirloom items in good condition should be stored in dustfree, secure storage.
14. Duplicate serving ware. Hoarding extra serving pieces ~ cheeseboards, serving bowls, candlestick holders, baskets, etc. ~ can take a major toll on space availability. Pare the collection down to the essentials, and pass any duplicates on to others (Attending a white elephant party over the holidays?)
15. Heirloom china is beautiful and full of personal meaning. If it isn't used often, it's taking up space. Keep one piece to display and give the rest to a family member who might make better use of it, or make a commitment to use it more often. Store the remaining pieces in zippered dish containers.
In the Bathrooms
16. Toss out any expired products in the bathrooms. Not only will this free up your vanity for fresh products, but also give you space to place a small holiday decoration. Throw out any products left by previous guests in the guest bath.
17. Remove any products with visible cords. Place hair dryers, curling irons, or electric toothbrushes in a cabinet. Eliminating the cords will clear up space and give your counters a neater look.
18. Throw away expired medications. Not only are they dangerous for your health, but they are also taking up space.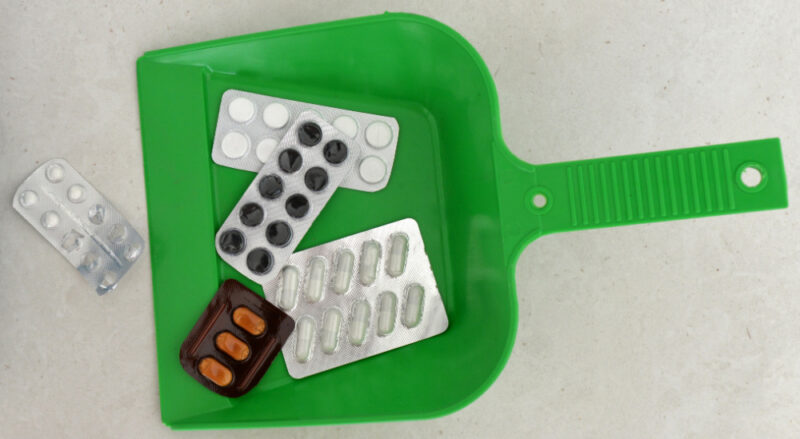 19. Throw out old, dirty toothbrushes and hairbrushes. These items either collect dust or germs. Replace toothbrushes every 3 ~ 4 months.
20. Toss dirty or rusted razors. If you have a razor that's been sitting on your shower shelf for weeks or months, it's time to get rid of it. It depends on how often you shave, but razors should be replaced periodically for safety and cleanliness.
In the Bedrooms
21. Check your bed linens for rips, tears or stains. Are your fitted sheets still fitting the bed? Get rid of any that you wouldn't want the queen (king) to sleep on.
For storing your good bed linens, try these underbed storage containers.
22. Have you used your guest bedroom as storage space? Are you expecting guests during the holidays? Now is the time to either get rid of those extra items or repack them in other places for the duration of their visit.
23. Are the pillows still in good shape? If not, they are best thrown away and replaced.
What to Do After You've Decluttered these 23 Things
These final tasks can either be done as you declutter each room or after you have finished the entire house.
Take those items that are reusable to Goodwill or any other local organization that will redistribute them.
Take items that will be discarded to the appropriate facility for disposal.
Does your city have a monthly bulk pickup? If so, put your larger items out on the curb for pickup.
Clean the inside of the refrigerator.
After you have decluttered, thoroughly clean all the surfaces that are no longer cluttered. Wipe down countertops, the inside of cabinets and drawers.
Place holiday-scented candles around the house to give it a fresh and festive scent.
Once you have decluttered these things, your whole house is ready to decorate for the holiday. Don't you feel good? You have gained so much extra space. Your home feels more spacious. Let the holidays begin!
At Thanksgiving, be grateful you had extra things to declutter. When you bring in the boxes of Christmas decorations, you will feel so good about the decluttering you did.
Are you ready to get started decluttering these 23 things for the holidays? I've already cleared out the cabinets in our butler's pantry. Then we just switched out two cabinets in our living room and bathroom. Miraculously, I gained more storage space in both areas. And the cabinets look so much better in their new spaces.
I hope you'll PIN this POST to refer to it while you are decluttering for the holidays. I really think it's a good thing to do. You will be glad that you did.