How to Make the Easiest Valentine Heart Wreath
Aren't wreaths great home decor accessories to make for any season or holiday? This one has to be the easiest Valentine heart wreath you will ever make.
I love making DIY projects for Valentine's Day. What a fun holiday to add pretty decorations to your home decor, especially wreaths. This one will be the easiest Valentine's heart wreath you could ever, ever make.
Wreaths can be elaborate and time~consuming to make, but not this one. In fact, it only has a few supplies. And you only need a couple of tools. And it only takes about 30 minutes. Ready, set, let's make a wreath.
Guess what? As you'll see below, I'm sharing how to make two of the easiest Valentine heart wreaths you'll ever see. Two for the price of one.
How to Make the Easiest Valentine Heart Wreath
This post contains links to products used in this project. If you should order any product on this site, I may receive compensation, but you don't pay a penny more.
My easy Valentine heart wreath was inspired by this Valentine heart wreath created by Sky of Capital B. Isn't it cute!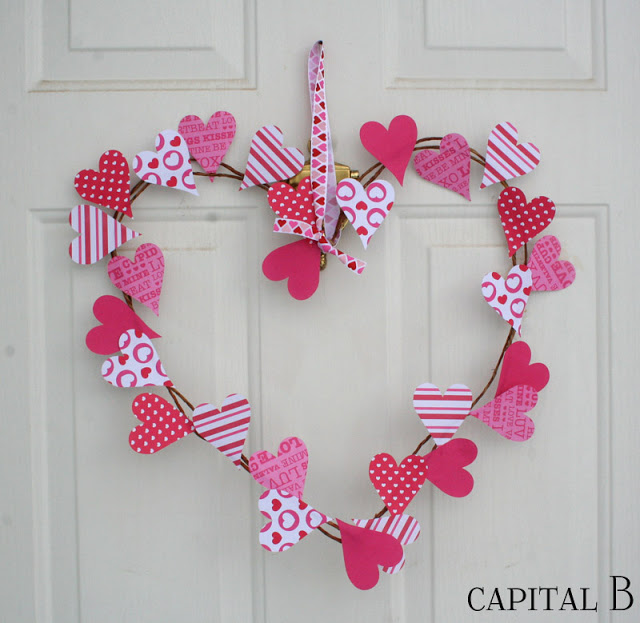 SUPPLIES FOR THE VALELNTINE WREATH
I said that you only need a few supplies to make this easy Valentine wreath:
scrapbook paper or cardstock in your favorite Valentine's color ~ pink or red
wired twine
ribbon for a hanger or bow
I normally don't imitate an inspirations picture exactly, but this one is an exception.
I almost swooned when I saw this wreath. Why? Because it has paper and I love paper! Scrapbook paper, cardstock, you name it, I love it. And even better? I already had all the paper I needed in my paper stash.
I picked 6 different patterns from my box of pink scrapbook paper. All were in shades of pink with different patterns. I've had these for a couple of years, so I was so happy to use them.
The paper with the words is for Breast Cancer, which is appropriate for February.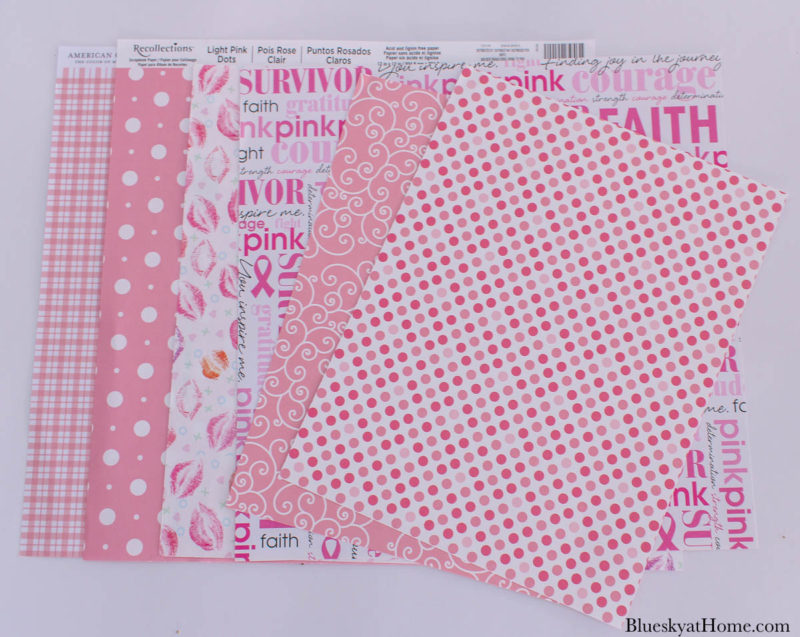 I didn't have grapevine wire ~ in fact, I had never used it. I stopped at Hobby Lobby and found the grapevine wire to make the Valentine wreath. It is about 25 feet long and costs $4.99.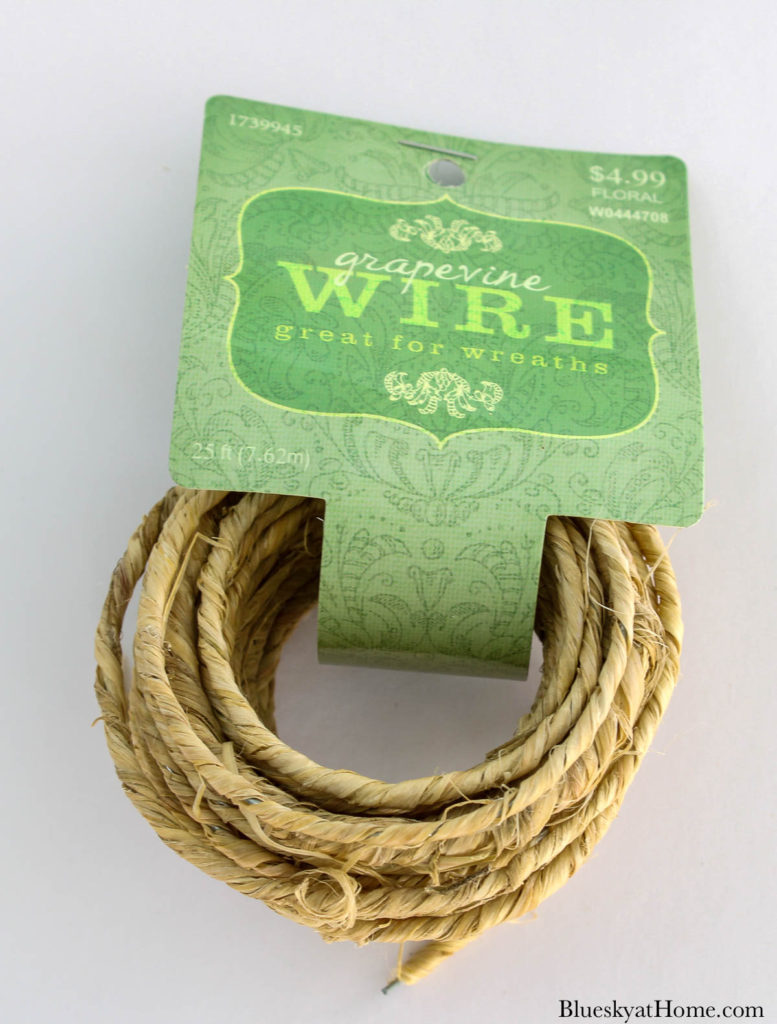 If you want more of this fun supply for future projects, I would go with this grapevine wire option which is a much better buy. And it comes in different colors.
This grapevine wire has been burning a hole in my DIY pocket since the beginning of January. I couldn't wait to try using it.
TOOLS FOR MAKING THE WREATH
scissors
clippers for cutting the grapevine wire
glue gun
Cricut Explore Air or heart pattern
MAKING THE VALENTINE WREATH
I was pretty sure that I would hang my Valentine's wreath on our mantel so I wanted it fairly large.
The grapevine wire is pretty easy to work with.
Unroll it and "stretch" it out until you get it about the size of "valentine" you want. I first made a big circle. Then I made a second circle that I wove around the first. Two circles gave the wreath more stability.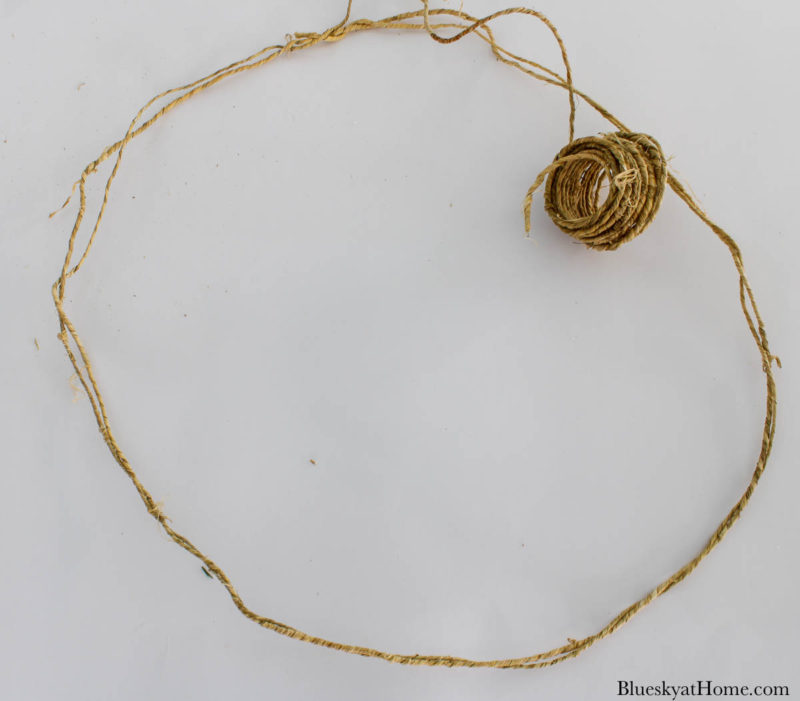 Next, I shaped the circle into a heart shape. Just shape it by bending and smoothing the wire with your hands until you get the shape you want.
Then I used my clippers to cut off the excess grapevine wire and make a loop for a hanger.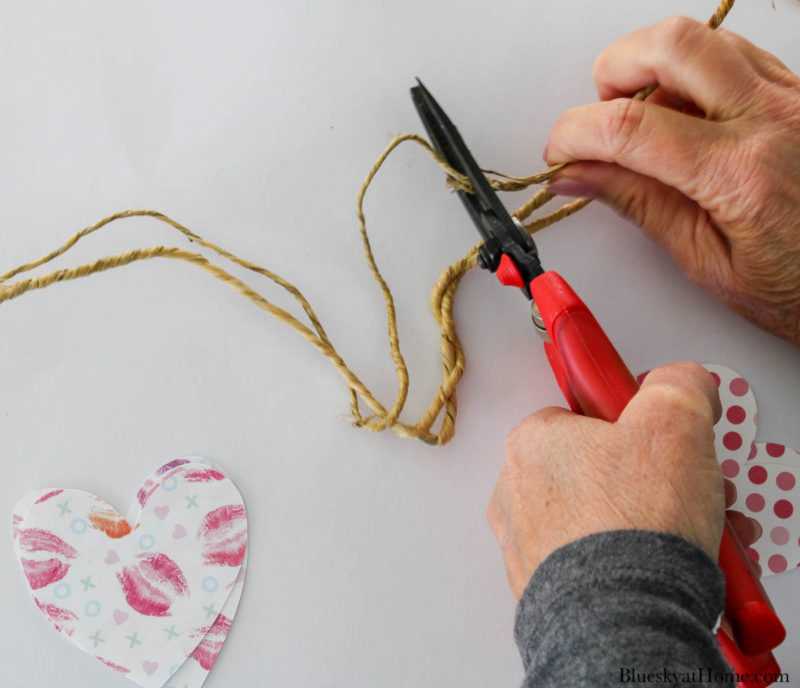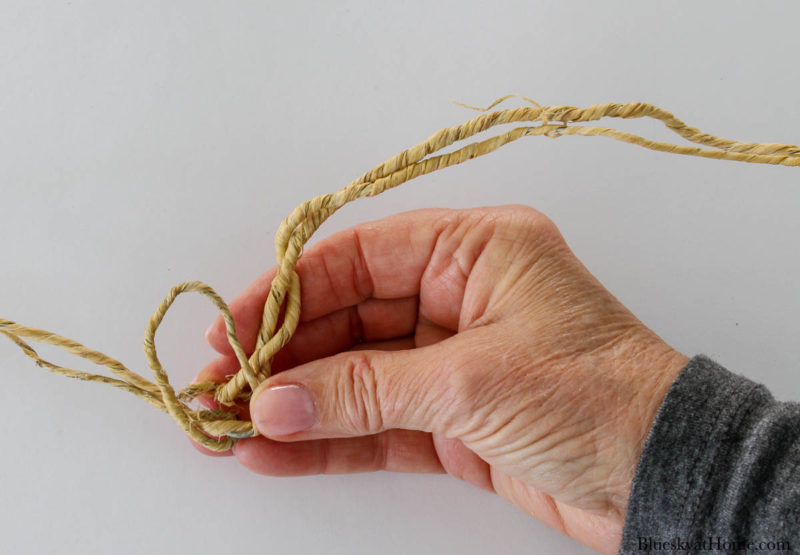 Wasn't that the easiest beginning to a project? My heart~shape wreath was ready. Now it was time to embellish it with paper hearts.
MAKING THE PAPER HEARTS WITH A CRICUT
I knew when I saw this project that I would use my Cricut Explore Air machine to make the Valentine hearts. I opened Cricut Design Space on my computer.
If you need detailed instructions on how to learn how to use a Cricut, I would read this post: Learn How to Use a Cricut.
I went to Shapes > Hearts. Three~inch hearts, which would be the right size for my wreath.
Since I had 6 different patterns of scrapbook paper, I needed 3 hearts of each pattern. First, I adjusted the size and duplicated the heart pattern twice.
Here's what the Cricut Design Space looks like on your computer screen when it is ready to cut.
I placed my first sheet of scrapbook paper onto the cutting mat.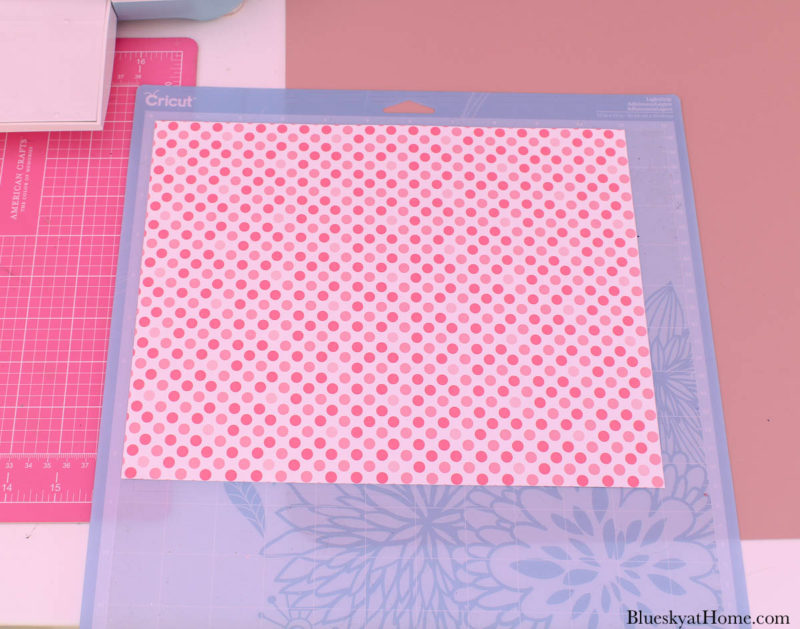 Next, you load the cutting mat into the Cricut.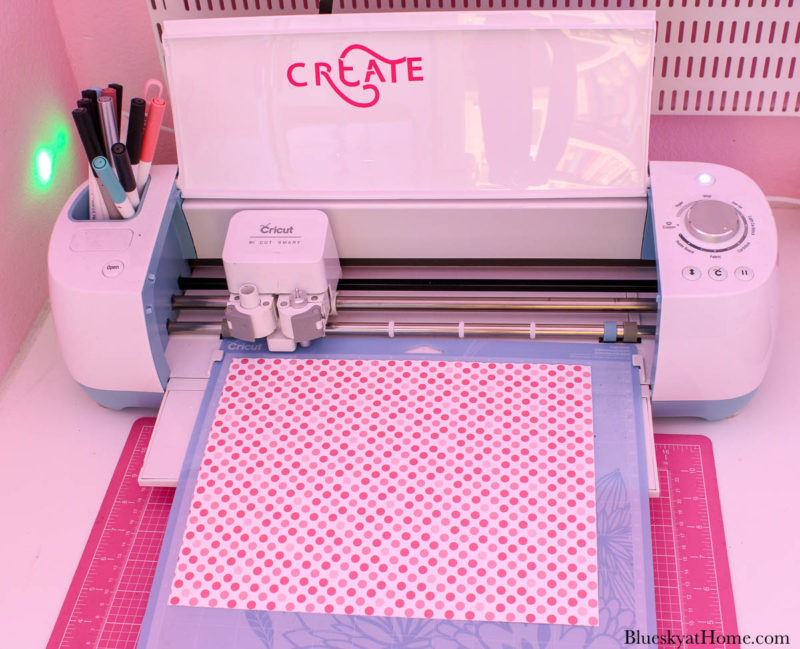 The machine prompts you to feed the cutting mat into the Cricut. Push the cut button and it does the work. In about 10 seconds, I had 3 perfectly cut~out hearts.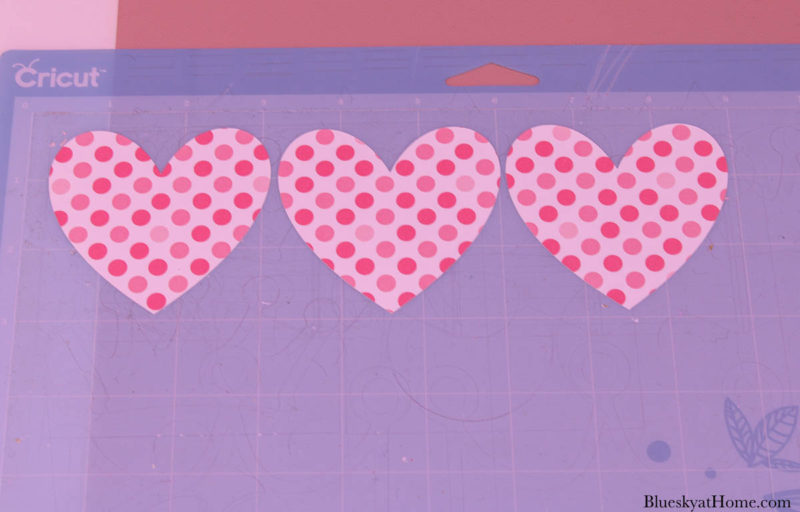 After removing the hearts from the cutting mat, I loaded a new sheet of scrapbook paper and repeated the process. Cutting out all 18 hearts took about 5 minutes.
NOTE: If you don't have a Cricut Explore Air, you can make a heart pattern and cut out your hearts by hand.
Depending on the size of your wreath, you can use more or less paper hearts. You could also overlap the hearts or make them touch each other.
FINISHING THE VALENTINE WREATH
I spaced out the hearts around the wreath and used my glue gun to attach them.
TIP: Add the glue to the wreath in 2-inch lengths first. As you press the heart on the wreath, you can adjust the direction.
As it turned out, I only needed 15 hearts.
The Valentine heart wreath definitely needed a bow. Fortunately, I had a bow already made from last year that was the perfect color match. And it had polka~dots!
This ribbon was wired, so the bow just needed a little fluffing and shaping. I used the pipe cleaner tails to attach it to the loop at the top of the wreath.
NOTE: Ideally, my pipe cleaner would have been pink or white, but the green didn't show.
I took down the winter wreath that has been on our mantel. The last step was hanging the heart wreath on the hook above our mantel.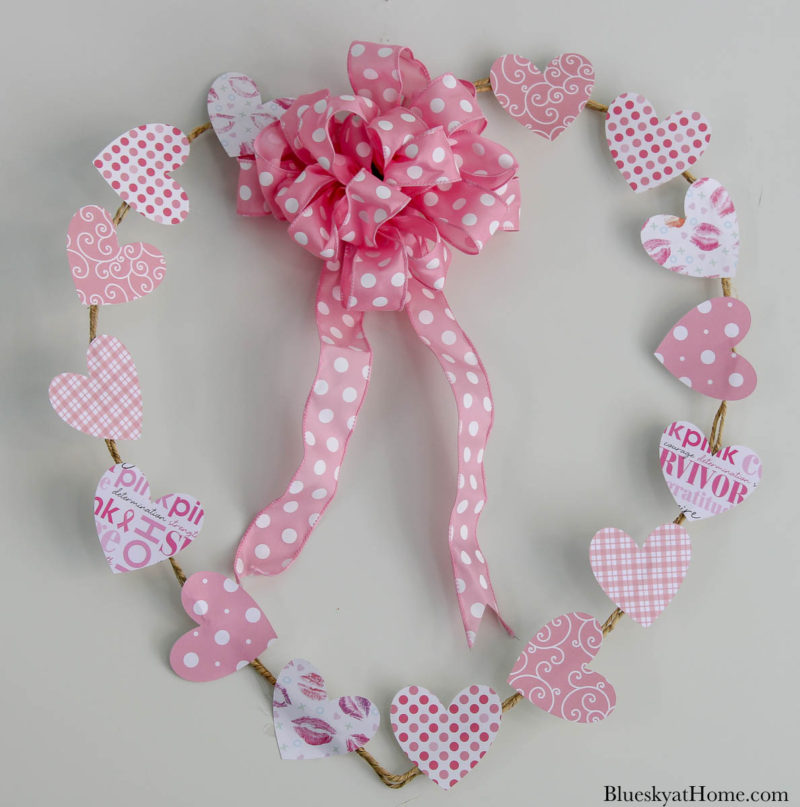 I told you that this was the easiest Valentine heart wreath you could ever make.

It took me less than 30 minutes from start to finish. (Half an episode of Episode 5 of last fall's Grey's Anatomy ~ I'm trying to catch up.)
There was only one problem ~ the area above our mantel is very tall and very white. Standing in our kitchen, you could hardly see the wreath, as cute as it was.

When Sweet Shark came home, I asked him how he liked my Valentine heart wreath and he said, "What wreath?"
I knew that the mantel needed a bigger Valentine heart wreath with a brighter color. It needed red.
So I took down the wreath and moved it to a shelf on our bookcase. In the smaller space, it looks much better.
Now, I still needed a Valentine wreath for the mantel. On to Plan B.
ANOTHER EASY VALENTINE WREATH TO MAKE
My Plan B is your bonus ~ another Valentine heart wreath you can easily make.
I had already brought out my Valentine's storage box. I didn't want to go to the craft store. Fortunately, I found the fabric ticking hearts that I made last year.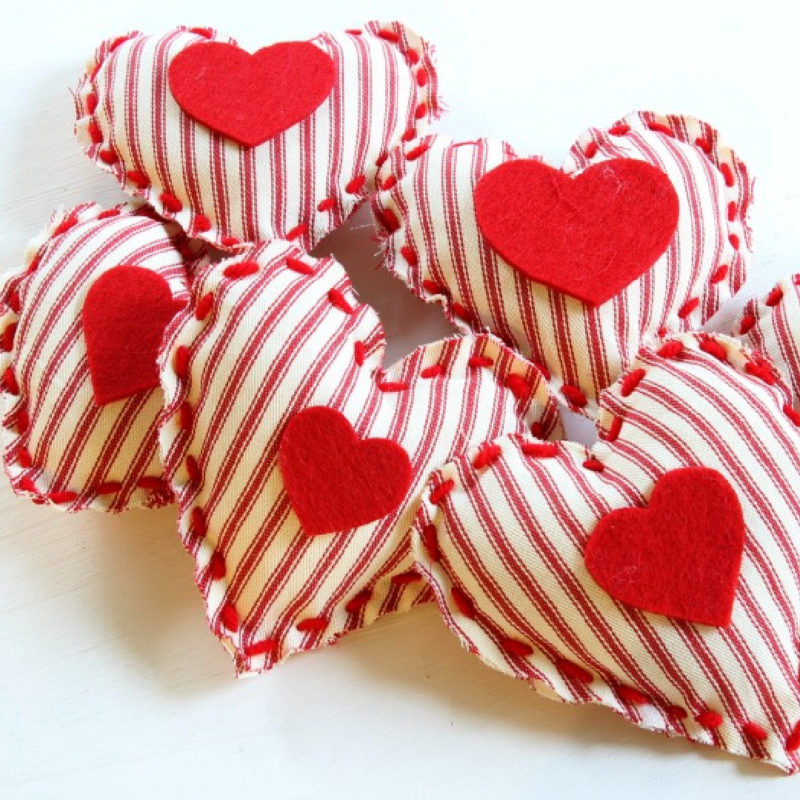 I had plenty of grapevine wire left. In fact, I decided to use all that was left to make a bigger wreath, using the same process I used for the first one.
Like with the paper hearts, I first spaced out the fabric hearts.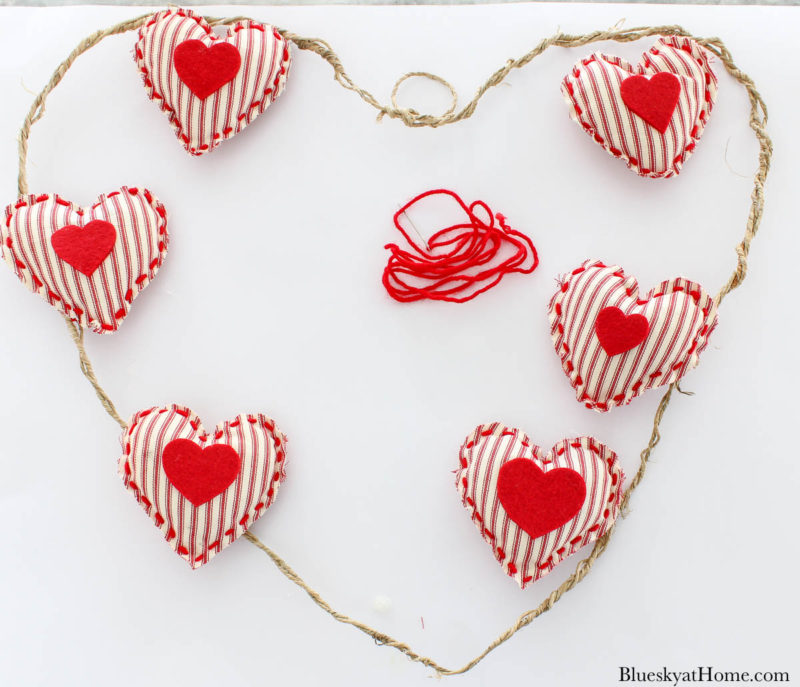 To attach the fabric ticking hearts to the wreath, I used red yarn and a needle to thread it on the back of the heart. Then I tied the heart tightly to the wire and cut off the excess yarn.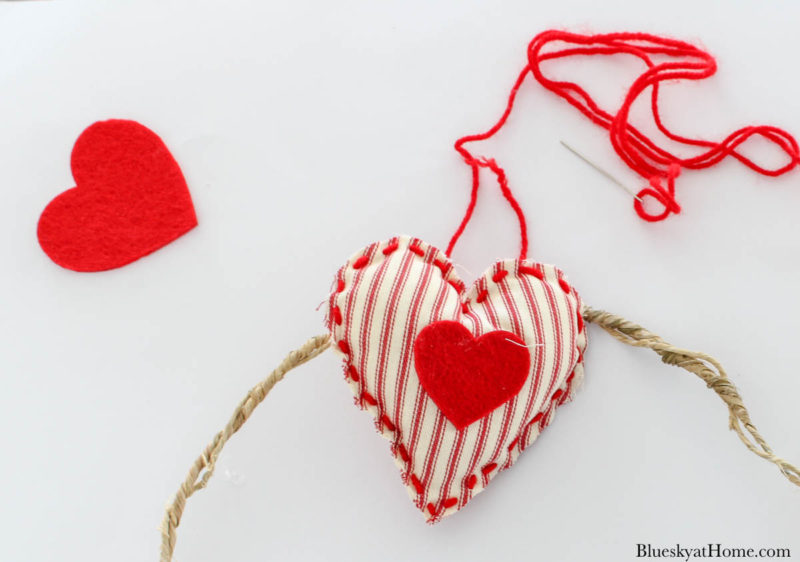 I also had some red felt hearts in my stash. I used my glue gun to attach them to the wreath.
Remember, it works best to put the glue on the wreath and then add the heart.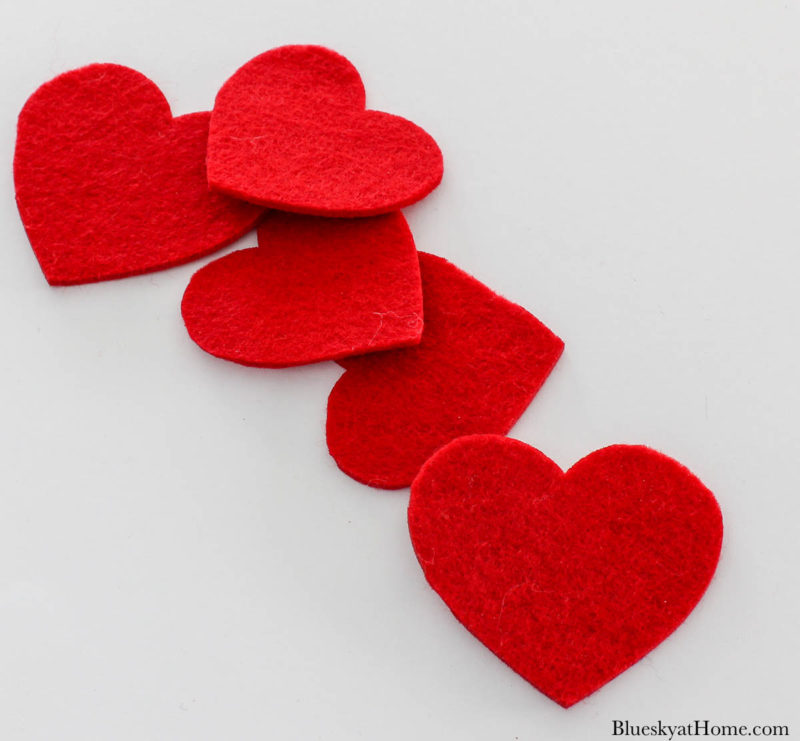 The solid red hearts give more pop of color and compliment the pattern of the red fabric ticking.
The wreath needed a big red bow. This roll of red ribbon was in my Valentine box. The ribbon has a matte texture that works well with the red ticking fabric.
Red Christmas ribbon works great for Valentine projects.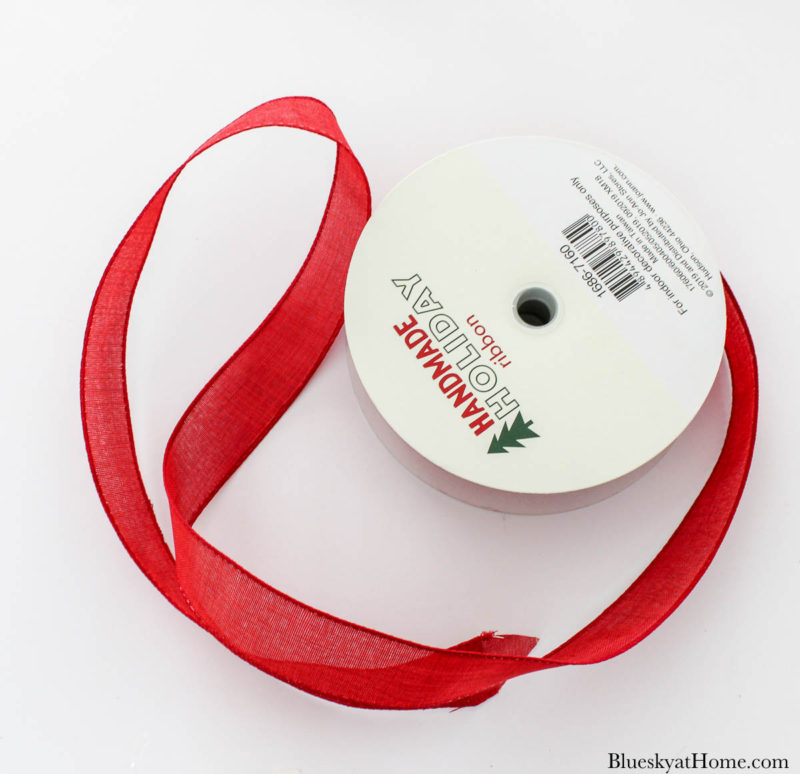 I love ribbon that has the same look on both sides. This ribbon also is wired which makes making and styling the bow easier.
TIP: Use pipe cleaners to secure your bows. They are much easier to twist than wire.
DISPLAYING THE FABRIC HEART WREATH
I pulled out the ladder again to reach the top of the mantel and hung the red wreath on the hook.
After hanging the new red Valentine heart wreath, I added two heart garlands, the yarn/wood heart garland on the mantel and the pom~pom and heart garland below the mantel.
It's a very simple scene. I may look for red votive holders for candles on the mantle.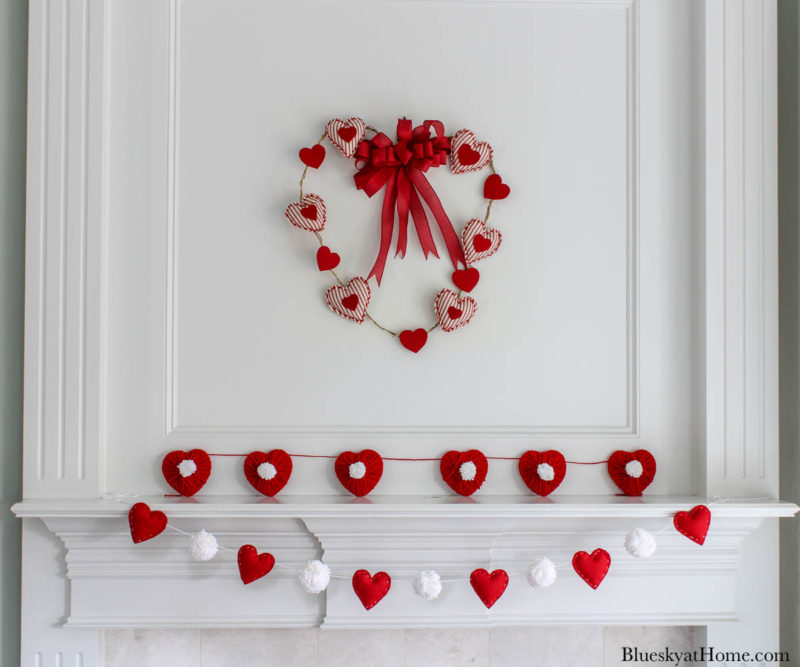 The larger red Valentine heart wreath shows up much better on the mantel.
Since the only supply that I bought was the grapevine wire and I made two wreaths with it, each wreath cost me $2.50. Not a bad return on my little bitty investment.
I told you once this was the easiest Valentine heart wreath ever, so I"ll say it again: This is the easiest Valentine heart wreath you could ever make. And you got two for the price of one!
This is definitely a Valentine project you will want to PIN!