Easy No-Recipe Lamb Chops ~ Weeknight Meal
We all like easy weekend night meals. I have an easy no~recipe lamb chops dish that you will love for any weeknight meal.
I love it because like most people during the week I don't want to spend hours in the kitchen cooking.
Most people want meals that are easy prep, easy cooking, and easy clean-up, especially during the week, when work, after-school activities and family time take precedent.
These easy no-recipe lamb chops are perfect for a weekend night meal. So I'm going to walk you through the steps.
EASY NO~RECIPE LAMB CHOPS WITH ROASTED BRUSSELS SPROUTS
This post may contain affiliate links to products that I use, love, and highly recommend. I may receive compensation if you order a product through this site. While I may make a few pennies, you do not pay one cent more.
I picked up two of these beautiful lamb loin chops. I love lamb loin chops for a weeknight meal. They look like a miniature T-bone steak. They are meaty, flavorful, a perfect size for a serving ~ each was about 5 ounces ~ and they are less expensive than a rack of lamb.
Unless you have folks at home who are huge eaters, one 5~ounce lamp chop is the right amount for a dinner serving. When you add a salad, a vegetable and a starch, you have a filling meal.
STEPS TO THE LAMB CHOP WEEKNIGHT DINNER
I try to have a salad at every meal. We love roasted Brussel sprouts which compliment any protein. That is plenty for sweet Shark and me, but you could definitely add baby roasted now potatoes.
Step 1 ~ First, preheat your oven to 375 degrees.
Step 2 ~ Unwrap the chops and place your lamb chops on a plate.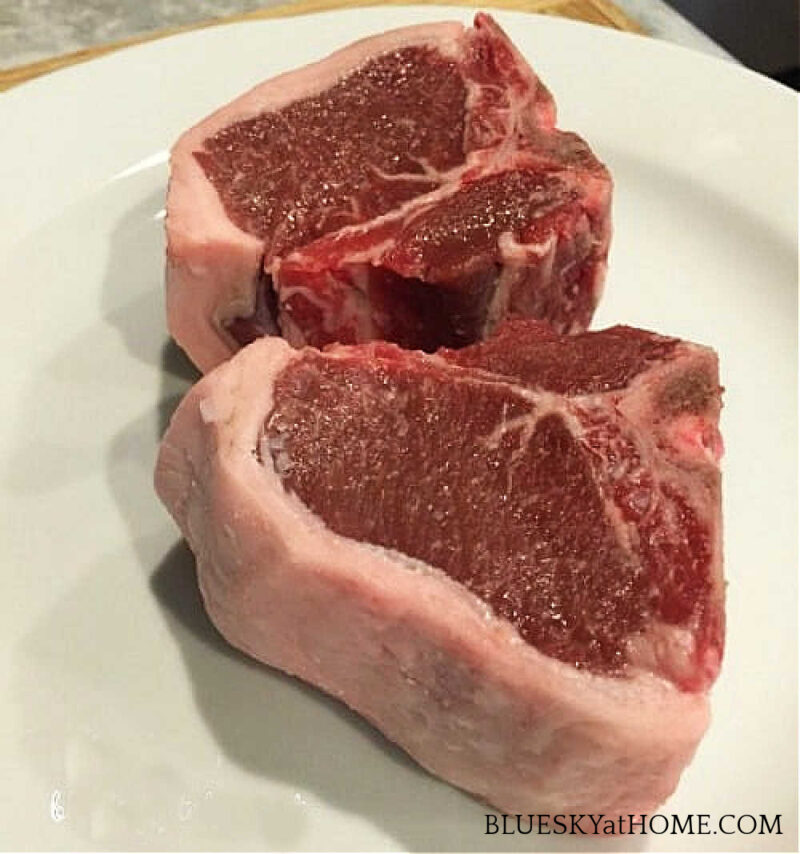 Step 3 ~ Pat the chops dry with a paper towel.
Step 4 ~ Liberally season with kosher salt and freshly ground pepper on both sides.
TIP: Keep your salt and pepper out on the counter for easy use.
Step 5 ~ While your chops are coming to room temperature and the oven is heating, we'll prep the Brussels sprouts.
Wash, trim and cut in half as many Brussel Sprouts as you need for the number of people you are serving.
Rough chop 1/2 an onion and 1 garlic clove.
Toss everything together in a bowl with extra virgin olive oil and generously season with kosher salt and freshly ground pepper.
Line a foil~rimmed half sheet. Place it in the oven to heat for a few minutes.
I had some cremini mushrooms and bacon on hand, so I threw those in too.
Pour the vegetables on the half sheet and pop in the top or middle rack of the oven.
Roast for about 20 minutes, tossing after about 10 minutes, until the Brussels sprouts are slighting brown in spots.
(For more information on Roasting Vegetables, see this way to prepare Brussels Sprouts for Roasted Brussels Sprouts with Pancetta.)
Step 6 ~ Heat a cast~iron skillet over medium~high heat for several minutes until the skillet is hot. (Flick a few drops of water in the skillet to test the heat.)
TIP: For the lamb chops, use an oven-safe skillet ~ I love using my cast-iron skillets, because:
1. They are great heat conductors
2. They can go in the oven
3. They are super easy to clean-up
Step 7 ~ Add about 1 tablespoon of oil ~ I used olive oil, but canola would work really well too ~ swirl in the pan and heat until really hot.
Step 8 ~ Place the lamb chops in the skillet ~ you should hear them sizzle. Sear on both sides, about 3 minutes per side, turning with tongs until nicely browned, even a bit "crusty" on the outside.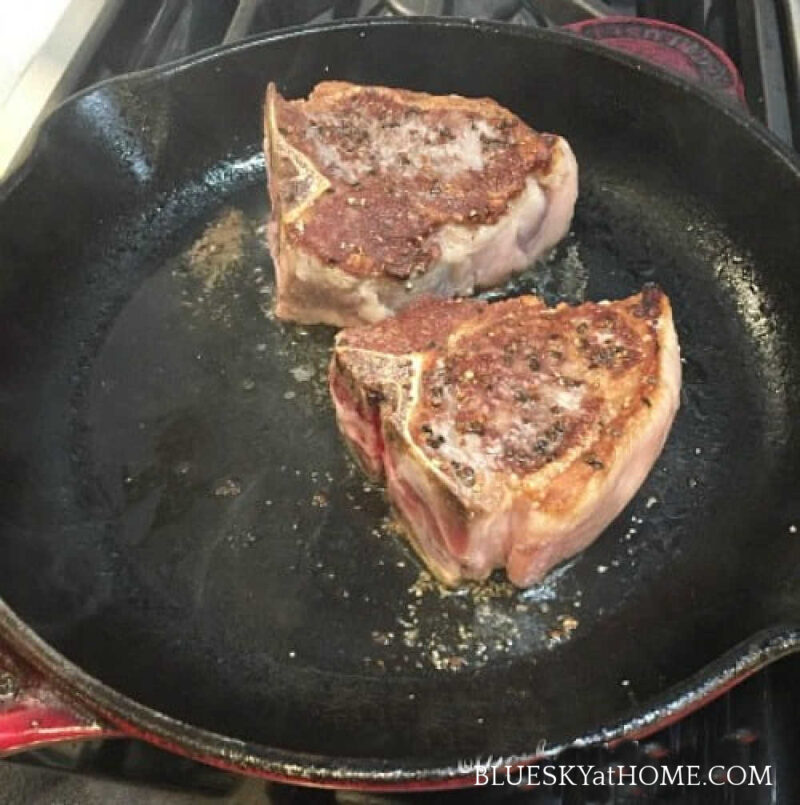 Step 9 ~ Pop the skillet on the lower rack in the oven. Set the timer for 6-7 minutes for medium~rare.
NOTE: This is a good time to toss the vegetables to make sure nothing is sticking
MAKING THE SALAD AND FINISHING THE MEAL
Now, while the lamb chops and vegetables are cooking, clean and tear your lettuce of choice into small pieces.
I used both red leaf lettuce and butter lettuce. Add some halved grape tomatoes, onion, whatever you like, and some cheese ~ I love cubed feta.
Make your quick vinaigrette in the same bowl that you used for tossing the vegetables. It already has a little oil and salt and pepper in it so no point in getting another bowl dirty.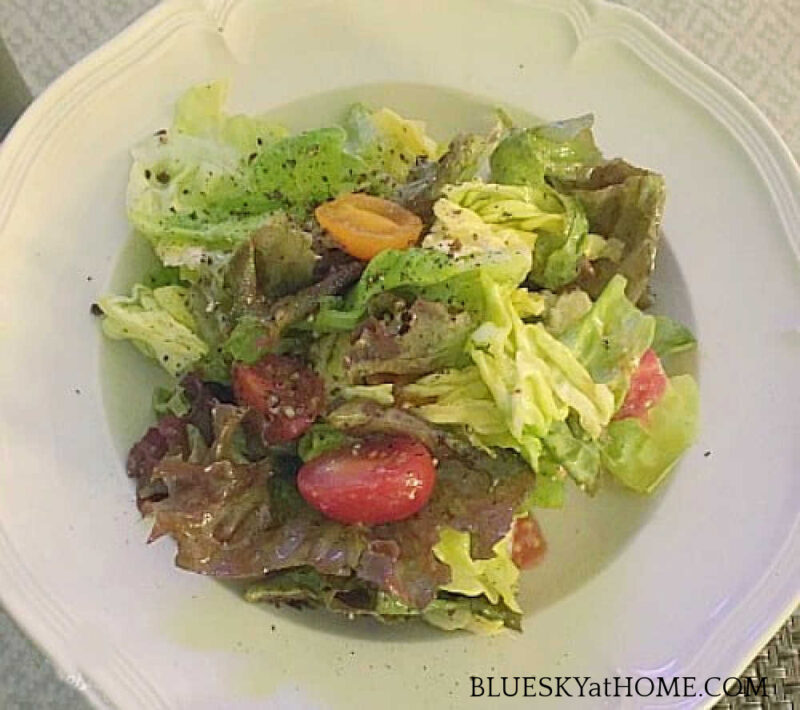 When the timer goes off, check the lamb chops for doneness with an instant-read thermometer, one of my favorite tools in the kitchen. My chops read 130 degrees. Tent loosely with foil and let rest for a few minutes. The internal temperature should rise to 135 degrees.
Next, toss the vinaigrette with the salad and place on the salad plates. Give the salad another grind of pepper.
Remove the vegetables from the oven. They've been in about 15 ~ 20 minutes total so they should be nice and roasted, brown, and caramelized.
Finally, plate the vegetables and the lamb loin chops on your serving plates. Sit down and enjoy your easy and delicious weeknight meal.
Dinner is done in under 30 minutes. And here is the great thing: after the meal, you have a super easy clean-up.
1. The tongs and whisk, plates, and silverware go in the dishwasher.
2. Take the foil off the rimmed baking sheet which should still be clean. Throw away the foil. Put away the rimmed baking sheet.
3. The bowl you used for the vegetables and the vinaigrette can quickly be hand washed.
4. If you used a cast-iron skillet, needs just a scrub with hot water and it's clean.

Here's another GREAT TIP: don't dry the dishes. Place them on a drying mat or clean dish towel and in the morning they will be dry and you can just put them away. In professional kitchens, equipment is never hand-dried for sanitary reasons. Air-drying is better for sanitation (no transfer of germs) and you save so much time.
One more GREAT TIP: place your cast-iron skillet in the oven to dry completely. There is enough residual heat from your cooking to ensure that the skillet is bone dry and there is no chance of rust. Just remember to remove it in the morning.
KITCHEN TOOLS TO MAKE EASY NO~RECIPE LAMB CHOPS
Hopefully, you already have these essential kitchen tools, but if not, here are my recommendations.
That's it. And you didn't even need a recipe to enjoy a delicious weeknight meal in 30 minutes.
Come back for more. If you love great recipes and want more, I share a recipe every week on my weekly newsletter.
I know you want this "recipe", right? Be sure to Pin this post.