10 essential tools for your holiday cooking
Last week I shared 10 Essential Ingredients for your Fall Pantry. Some pieces of equipment are just as important as ingredients and really must-haves for holiday cooking. Having the right tools just makes holiday cooking for family and friends more efficient and more pleasurable. This post contains affiliate links to products that I love, have used, and highly recommend.
Tuesday Tool Day
It's never too early to take inventory of your kitchen. If you're missing one of these suggested items, you can take advantage of early sales, beg Aunt Emma for the casserole dish you've always envied or realize you really do need that stack of pie plates your mother-in-law has been trying to give you for years.
Essential Tools for Holiday Cooking and Baking
1. Large, deep roasting pan
This essential tool isn't just for turkey. Use it all year for roasts, brisket or lasagna. In a roasting pan, solid handles are key. The V-rack keeps your turkey high enough to ensure the heat surrounds all sides of the turkey.
2. Large heavy saucepan
A good heavy-duty saucepan is indispensable in the kitchen. I use my All-Clad saucepans in different sizes everyday. Use it to make roux and simmer gravy; also great for cranberry sauce and sides like creamed peas and onions.
3. Rimmed baking sheet
Whether you call it a rimmed baking sheet or a half sheet or a jelly roll pan, every kitchen should have several on hand for organizing ingredients (each recipe gets its own baking sheet ~ that's called miss place), placing under bubbling casseroles, and roasting vegetables. I have a dozen, but at least 3 is a minimum number to have.
4. Large heavy skillet
Ideal for sautéing mirepoix (an essential combination of onions, carrots, and celery) and browning bacon. I love cast iron, which can go from stove-top to oven and is super easy for cleaning, but I've had this All-Clad skillet for years. All-Clad is one of the best stainless products available. I like that it is deep and retains heat. It comes with a lid which makes it perfect for when you want to create a little steam.
5. Large pot or Dutch oven
This kitchen essential is what you need for boiling potatoes, making soup, and simmering stock. My favorite is Le Creuset. I've had this oval one for years; it's also great for a pot roast, osso buco, or stewing a chicken. It has a lifetime guarantee and it's so easy to clean.
6. Pie dish
When not used for your pumpkin, pecan or apple pie, it does double duty as a casserole or gratin dish. Make sure it's pretty. I have half a dozen glass Pyrex pie plates, for the holidays I want a pretty dish so I can put it on the table. These beautiful pie plates are from Emile Henry. I love the colors.
7. Fat separator
For the most flavorful gravy, you want to use the drippings from your turkey, but you don't want it to have a fatty texture. This nifty tool leaves the delicious drippings behind and removes the fat.
8. Instant-read thermometer
I know there are ways to tell if your turkey is done (wiggle the leg, puncture a hole in the thigh and let the juices run clear), but to ensure beyond a shadow of a doubt, an instant-read thermometer is the only way to go. A chef wouldn't be without one in her pocket.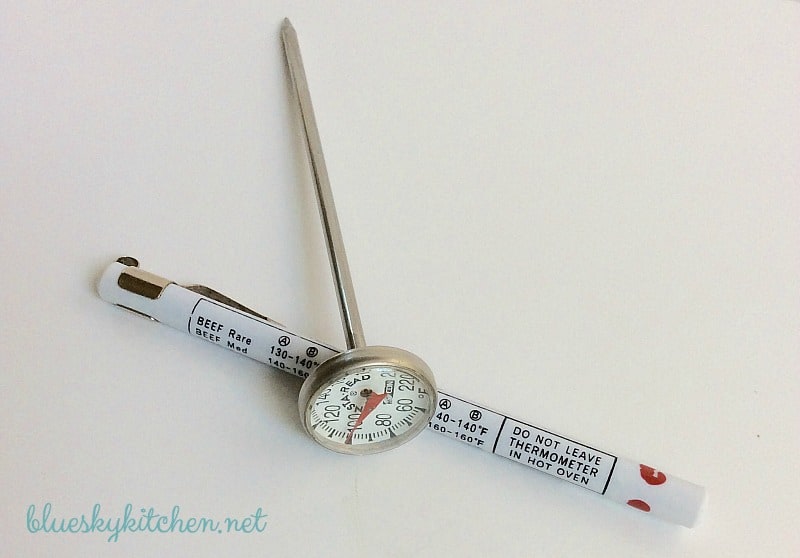 9. Flat (sauce) whisk
You want silky smooth gravy with your turkey? Its flat design of a flat (sauce) whisk allows you to get in the corners of your saucepan or roasting pan to blend in your roux with the turkey dripping.
10. Turkey baster
For a moist turkey with crispy, golden skin, you want to baste the turkey with the pan drippings. The easiest way to do this is with a baster. I like this one that comes with a cleaning brush.
I still have my mom's. It's so old and the bulb is so hard that I can't use it. But I can't get rid of it ~ too many memories.
I hope these suggestions help you get ready for your holiday cooking and baking.
Please check back in tomorrow for the third course in our Fall Festive Dinner. Here is the first course and the second course.