Two Yummy Delicious Sweets for Your Valentine
I promised you more Valentine's goodness. After sharing the cutest little Valentine's cookies, I have 2 yummy delicious sweets for your Valentine today. Because 1 is not enough and you need choices, right? Both of these sweet treats are easy to make, impressive and are the perfect way to say, I love you or I really like you or I just want to treat you to a special dessert. Just because. So I'm sharing with you. Just because.
This two yummy and delicious sweets for your Valentine can easily be made ahead so you can enjoy them in a relaxed mood with your sweetie. Add a glass of champagne and you are all set for a Valentine smooch.
Two Yummy Delicious Sweets for Your Valentine
Bourbon Balls
Being from the South, we love anything with bourbon and these Bourbon Balls are a little bite of crunchy chocolate heaven.
Raspberry Chocolate Tartlets
The combination of chocolate and raspberries is always a good pairing.
Always gather your ingredients.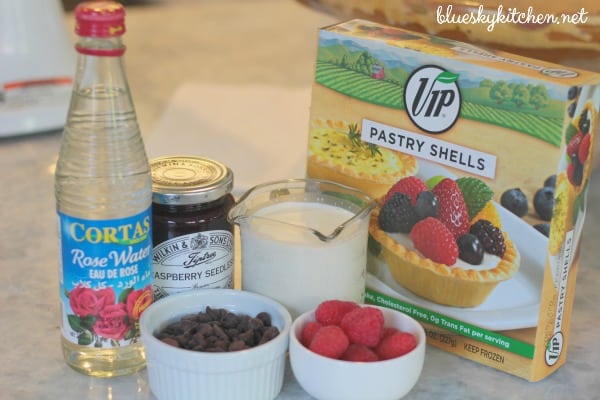 This recipe calls for pre-baked tart shells which I couldn't find, but I found these frozen ones.  Either pre-baked or ones you bake will work. The Rose Water is just that ~ a distillation of rose petals. It has a perfume~y flavor and fragrance (It's used in making perfume.), and is quite strong, so a little goes a long way.  A bottle is inexpensive and will last ~ forever? Be sure to use seedless raspberry preserves.
Remove the shells from the box.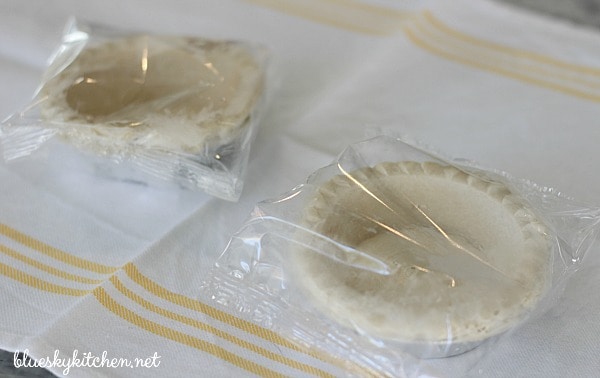 Remove from the cellophane wrapping and place on a sheet pan. Allow to rest for 10 minutes. Then dock ~ prick holes in the bottom and sides ~ with a fork.
Bake the shells in a preheated 425 degree oven for 10 minutes until just lightly brown. Remove and allow to cool. Then you can remove the pastry from the little pie tins. (I kept those for future use.)
Combine the raspberry preserves and the rose water.  Set aside.
Bring the cream to just below a boil in a saucepan. Remove from the heat and add the chocolate to the cream, whisking until the chocolate is melted and combined completely with the cream.
You will want to have a bowl of ice water ready for chilling the chocolate/cream mixture.
Pour the chocolate/cream mixture into a glass or metal bowl and place in the ice water to chill thoroughly. This may take up to 30 minutes. While the chocolate is chilling, spoon the raspberry preserves into the bottom of the cooled tart shells, about 1 tablespoon.
When the chocolate/cream mixture is chilled, place it in the bowl of an electric mixer and whisk on high until stiff peaks form.
Place the chocolate into a piping bag with a large star tip. Pipe the chocolate into the tart shells, covering the raspberry preserves.
Garnish with a raspberry and serve immediately to your sweetheart or you can place in the refrigerator for up to 1 hour.
Enjoy these yummy delicious sweet treats with your sweetheart, whoever that may be. And if you haven't had enough delicious sweet treat goodness, tomorrow in the newsletter, I'm sharing one of the sweetest (as in how cute!), easiest little cookies perfect for a Valentine's surprise. Sign~up to get it in your inbox on Saturday morning.
Parties where I've linked up this week (January 27 ~ February 2)
Celebrate Your Story   Create and Crave  The Creative Circle   Creativity Unleashed  From Dream to Reality   Happiness is Homemade  Lou Lou Girls Fabulous Party   Make It Pretty Monday    Monday Social    Moonlight and Mason Jars    Over the Moon  Recipe Sharing Party  Share It Link Party    Share Your Style   Show and Tell    Snickerdoodle  Sweet Inspirations    The Pin Junkie Pin Party   The Really Crafty Link Party   The Scoop   This is How We Roll   Thursday Favorite Things  Vintage Charm Link Party   Your Inspired Design