How to Make a Strawberry Vanilla Cake
Do you like strawberries in the summer? Want a mouthwatering summer dessert? I'm going to show you how to make a strawberry vanilla cake.
Like peaches, strawberries are an iconic summer fruit. The luscious berries are so delicious eaten out of hand. But in this cake, strawberries shine. I feel certain that you would like to know how to make a strawberry vanilla cake.
In the summer, at the height of the strawberry season, the flavor of the berries comes through. Even if you are not a baker, this strawberry vanilla cake is easy to make. It's so pretty you will want to serve it to friends and family.
If your favorite flavor in a peanut butter and jelly sandwich is strawberry, you will especially love this cake.
How to Make a Delicious Strawberry Vanilla Cake
This is the 4th Tuesday of the month, which means it's Pinterest Challenge day. For a few years, we've been creating seasonal vignettes and home decor inspiration for you. Our hostess, Cindy of County Road 407, chooses our inspiration image and we bloggers use our own instincts to create our version.
This month, Cindy stepped out of the box in three ways:
Our inspiration image came from a stock photography source.
Our inspiratation image is food.
We are all sharing a recipe.
Here is our inspiration image from the site Unsplash, created by Lucinda Hersberger.
So you can guess what our recipe is about? Strawberries! Yummy. This pretty colander of strawberries is the inspiration for this Pinterest Challenge Strawberry Recipe Blog Hop.
Here is my bowl of strawberries.
If you are joining me from my friend Michelle of Thistle Key Lane, I'm sure you enjoyed her strawberry scones.
LET'S MAKE CAKE!
When I knew that we would use strawberries in a recipe, I had a recipe in mind: Strawberry Vanilla Cake. I had seen this recipe in my favorite dessert cookbook many times. Sweet Chic by Rachel Schifter Thebault is my go~to cookbook for cakes, cupcakes, and cookie recipes.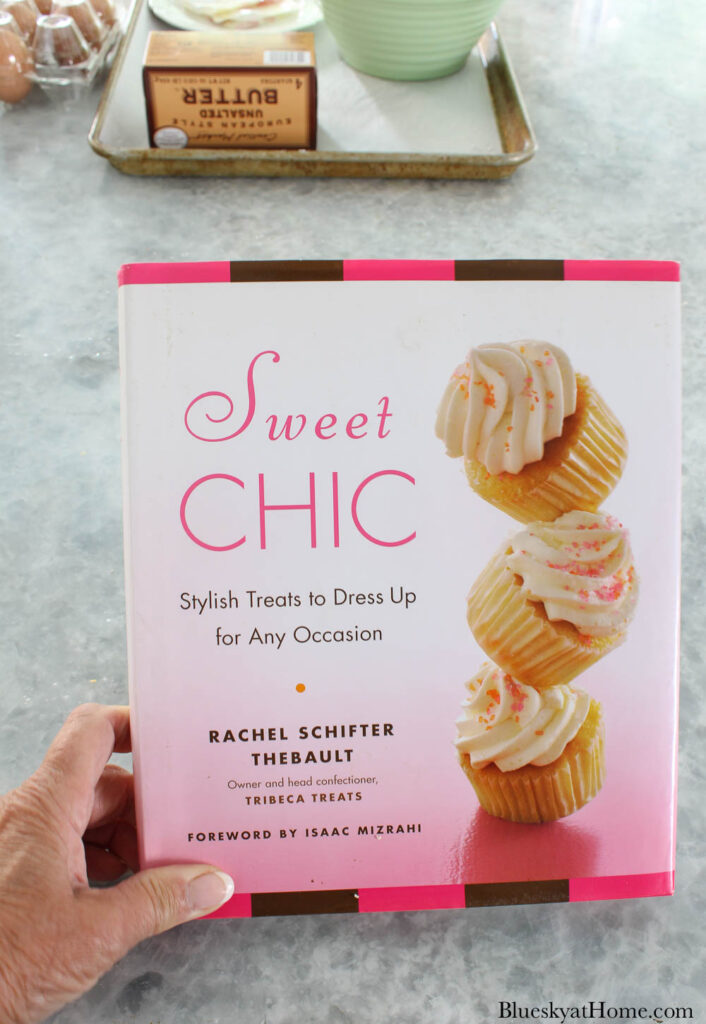 I also knew that I would have two helpers. My granddaughters were visiting last week. They both love to help bake. When I told them we were going to make a cake with strawberries, they loved the idea.
This Strawberry Vanilla Cake is moist, tender, and full of vanilla and strawberry flavor. It's the perfect summer cake when strawberries are in season. This picture was my inspiration.
This cake starts with a traditional yellow cake. This homemade version packs a ton of buttery vanilla flavor. A yellow cake is the perfect base for a variety of bolder flavor additions/variations and frostings.
MAKING THE VANILLA CAKE
As always, for any recipe, start with your mise en place ~ gathering all your ingredients. Meet my assistant, Lilah.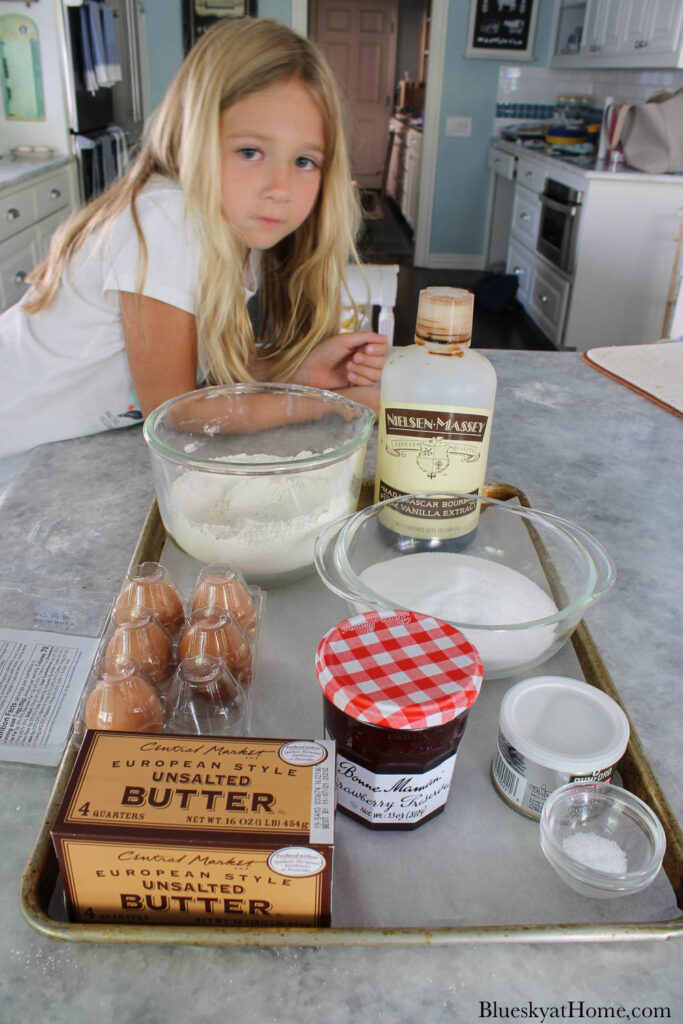 This vanilla cake recipe follows the standard cake procedure. Lilah demonstrates how to properly measure flour.
Place your room temperature butter in the bowl of a stand mixer. Beat until light and fluffy. Then add the sugar.
After adding your eggs one at a time, add the flour in two portions.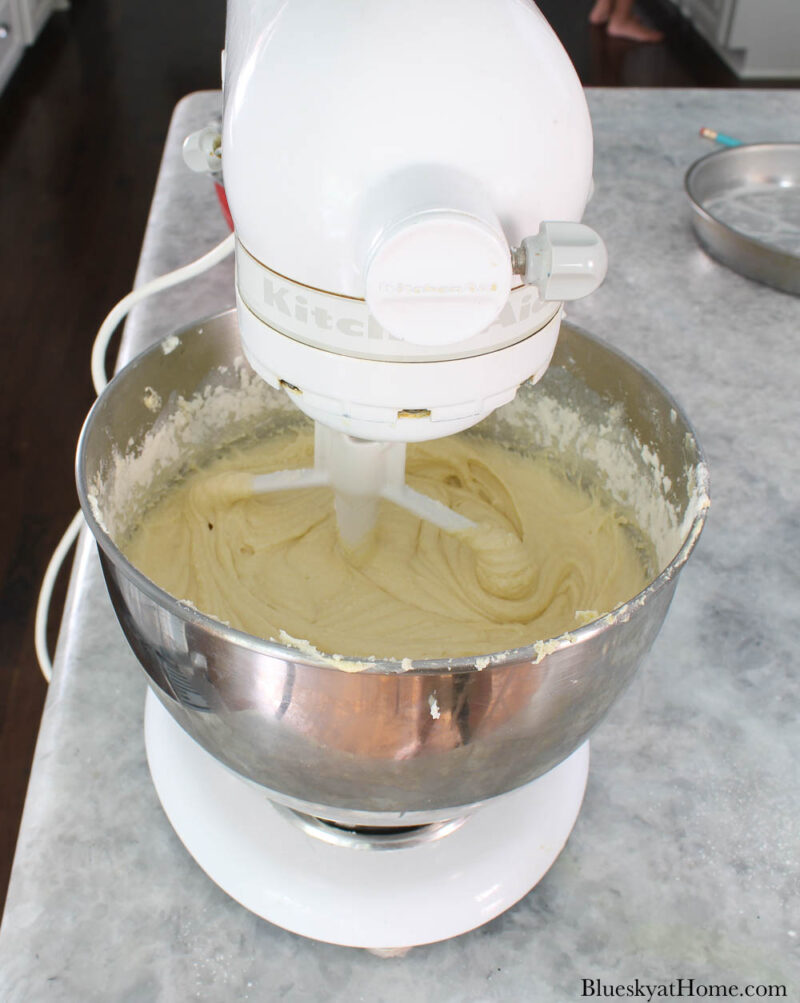 The girls used butter wrappers to add the softened butter to the pans.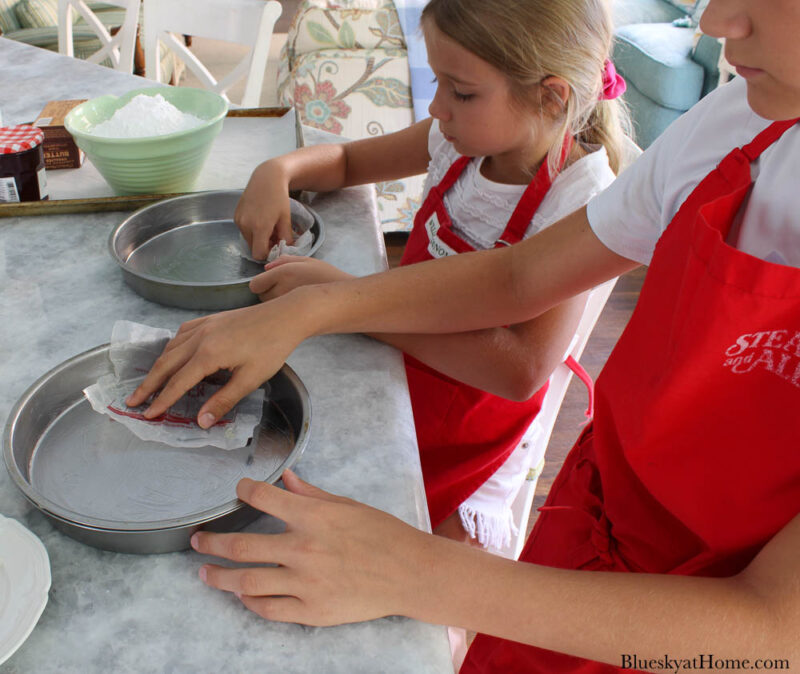 While Lilah and I added buttermilk and vanilla, Annabelle measured and cut out parchment paper to line the cake pans. She did a great job.
When the vanilla cake batter is ready, we poured the batter into the greased and papered cake pans. Each pan held 1.7 ounces of batter.
TIP: Using parchment paper ensures that your cakes will come out of the pan with no sticking.
TIP: Use a scale to weigh each pan (Culinary school tip) to measure the exact amount of batter.
Since I used 9~inch cake pans, there was less batter in each pan. I set the timer for 35 minutes and the cakes were perfectly done. After 5 ~ 10 minutes, remove the cakes from the pans and allow them to completely cool on racks.
TIP: When you remove the cakes out of the pan, brush on or squeeze on simple syrup for extra flavor and moistness (culinary school tip.)
YUMMY VANILLA ICING
While the cakes are baking and cooling, you can make the icing. This icing is so smooth with a definite butter and vanilla flavor.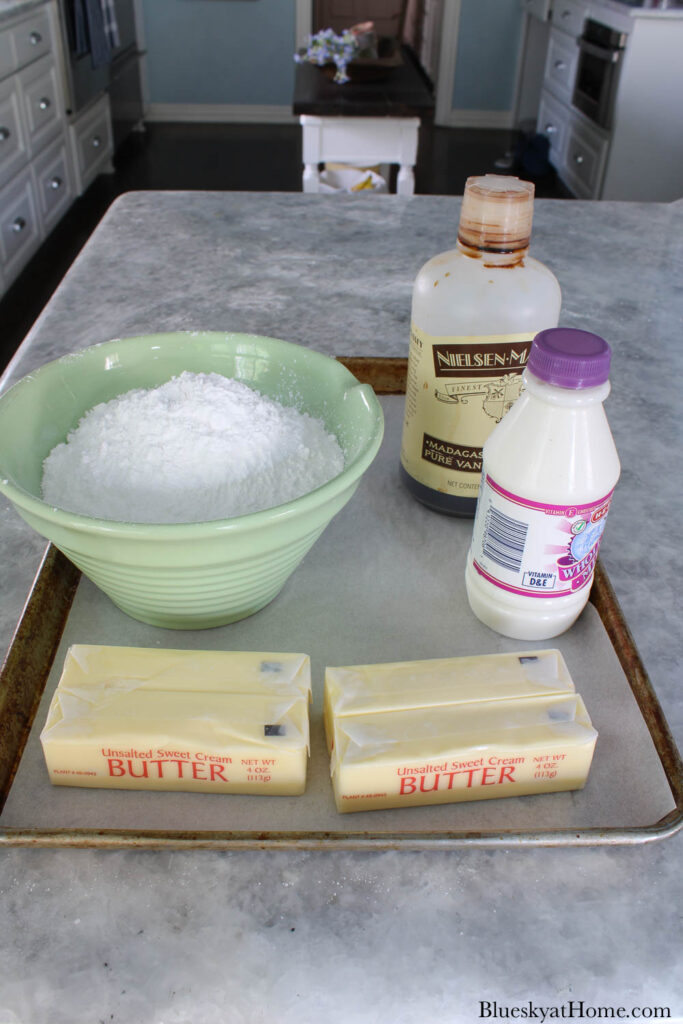 After beating your butter to a light and smooth consistency, add your confectioners' sugar on low speed.
TIP: Make sure that your sugar doesn't have lumps.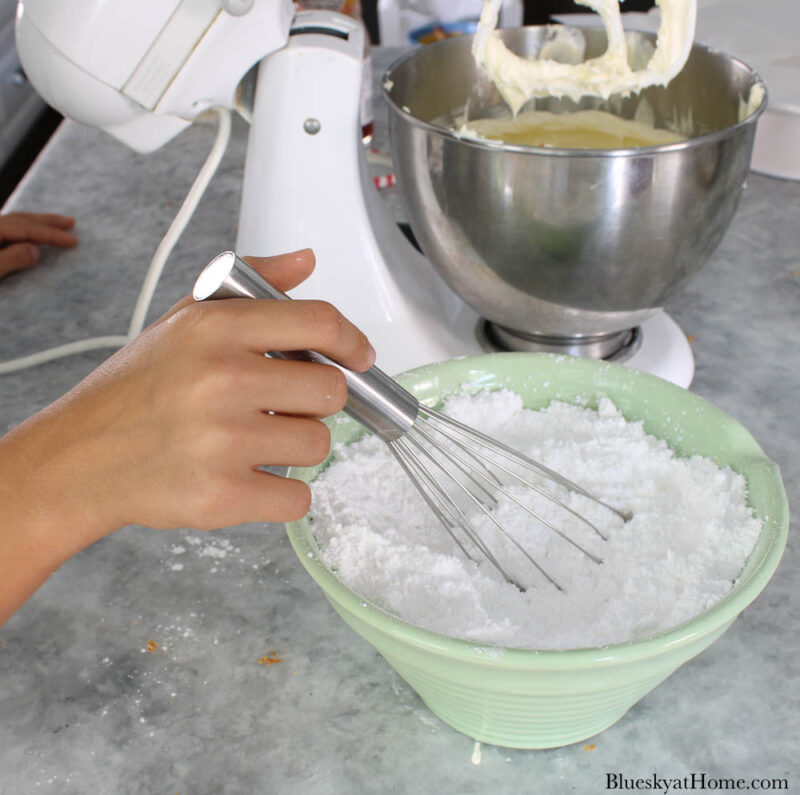 ASSEMBLING AND ICING THE STRAWBERRY VANILLA CAKE
A few weeks ago, I found the prettiest pink (between blush and bashful) cake stand online. I knew it would be perfect for this cake.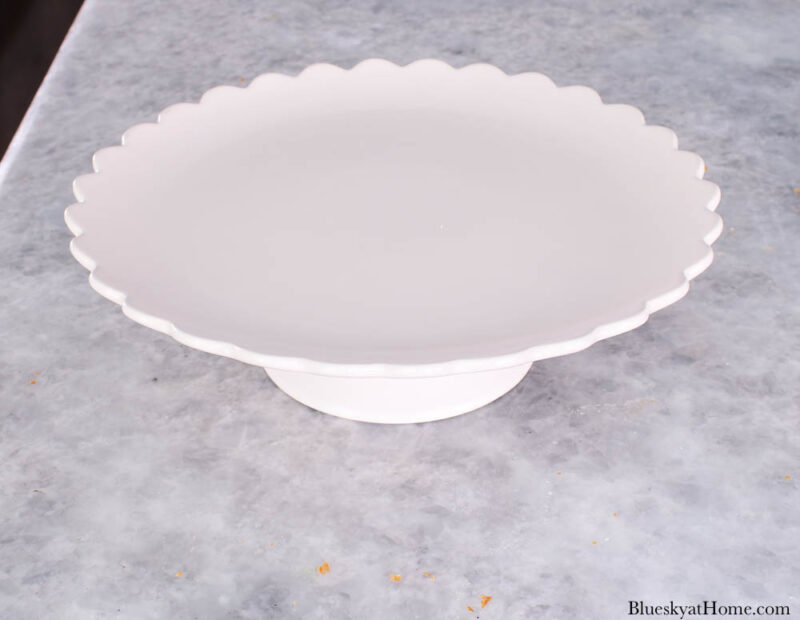 I place 3 strips of parchment paper on the cake stand in a triangle. This makes it easier to ice your cake and keep the stand clean.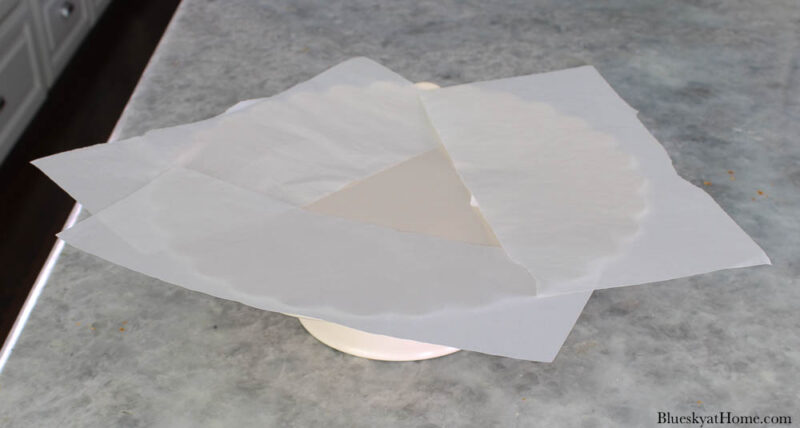 Assmble the cake:
place the first cake layer on the cake stand
spread the strawberry jam* on the cake. The recipe calls for a 1/2 cup total, but I used 1/2 cup between each layer.
use an ice cream scoop to place icing on the cake
spread the icing with an offset spatula
NOTE: I used strawberry preserves because I had plenty on hand.
Repeat with the second and third layers, pressing each layer down. With you last layer, use a cake spatula to cover the top and sides with more icing. The girls each took a turn at icing the cake.
GARNISHING THE CAKE WITH STRAWBERRIES
I have to give all the credit for the strawberry garnish to Annabelle. While Lilah took her turn icing the cake, Annabelle found my small heart~shaped cookie cutter. She made heart~shaped strawberries. They were perfect for the cake.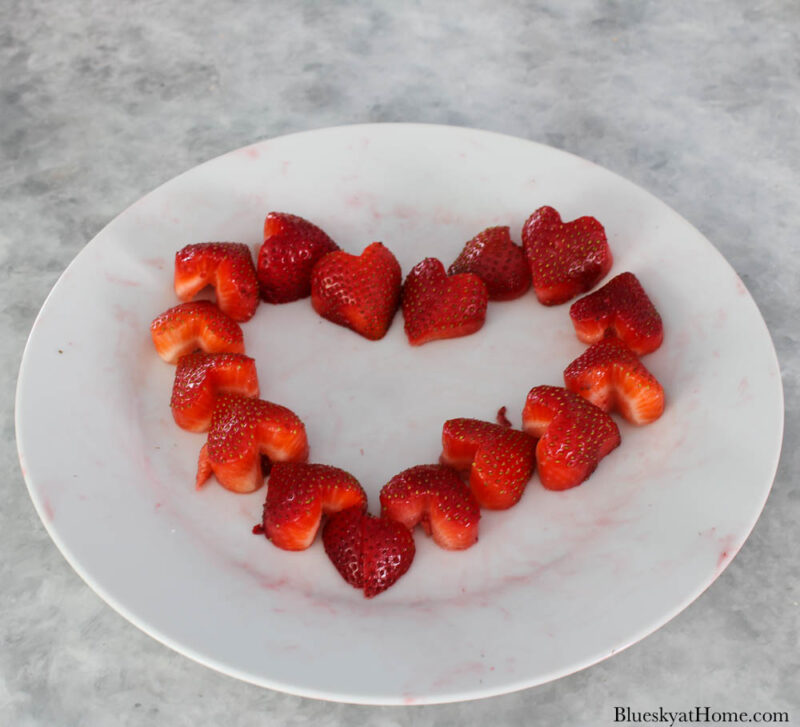 Then she decided that the center strawberry needed a little mint garnish.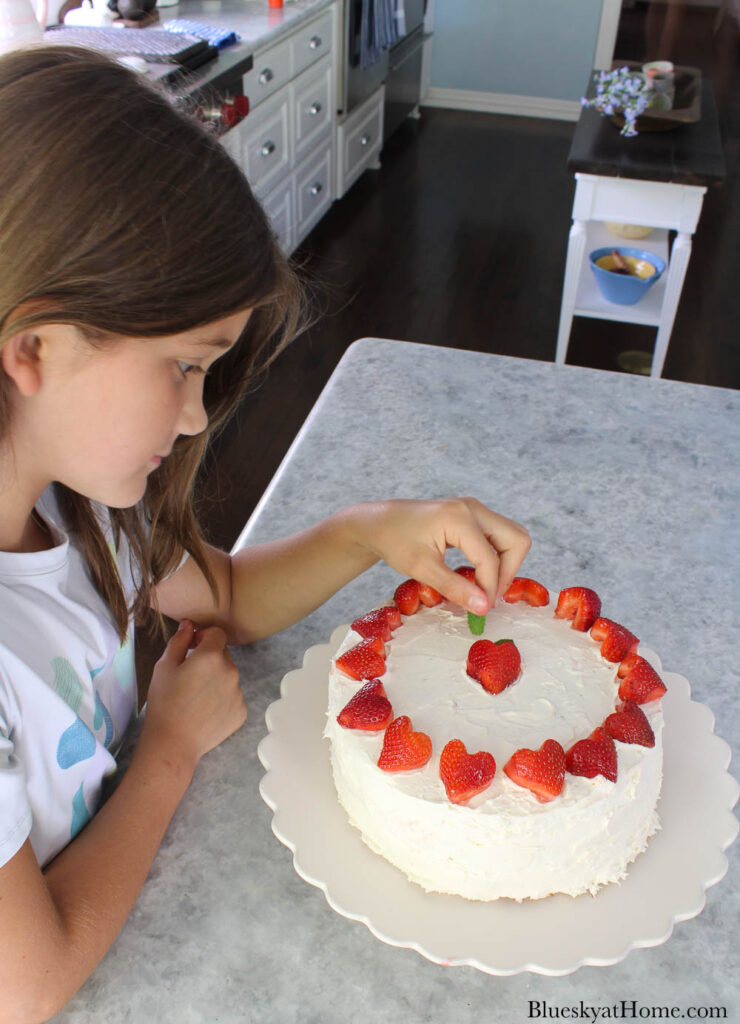 Now our Strawberry Vanilla Cake was ready for display. Little girl fingers did get some preserves on the cake stand and icing on the strawberries.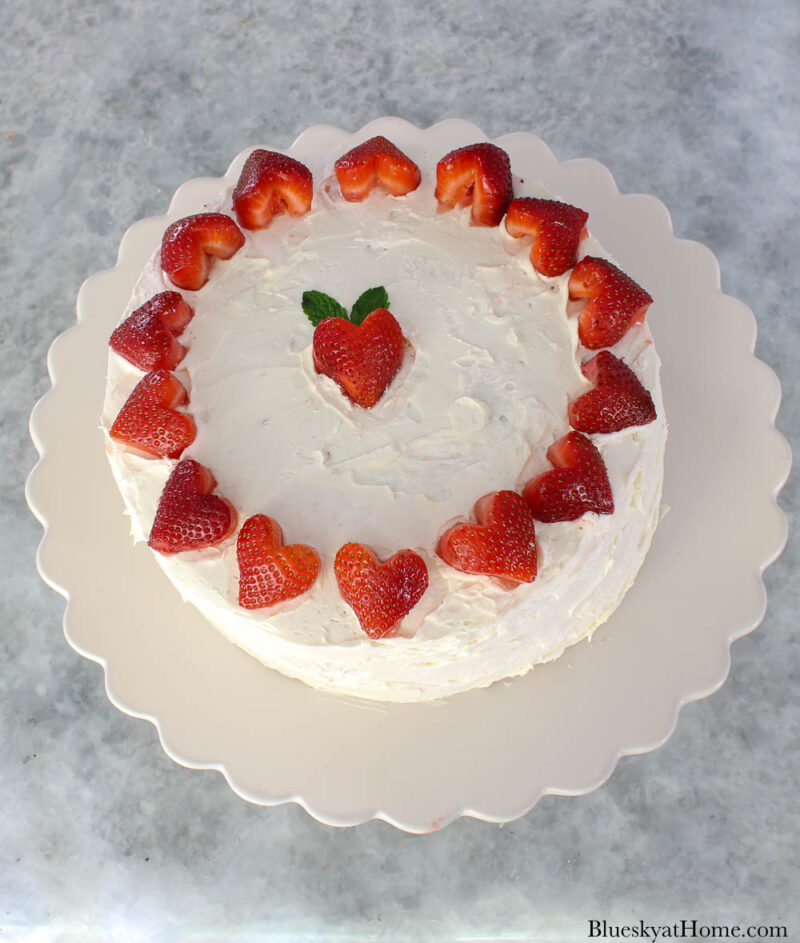 We placed the cake on the breakfast room table with plates for serving.
The girls were begging for a piece of cake. Cici wanted a piece, too.
Everyone agreed that the cake was absolutely delicious. It was moist, tender and the strawberry and vanilla flavors were just sweet enough. The girls said that learning how to make a Strawberry Vanilla cake was so much fun.
NOTE: Because strawberries are perishable, this cake needs to be refrigerated.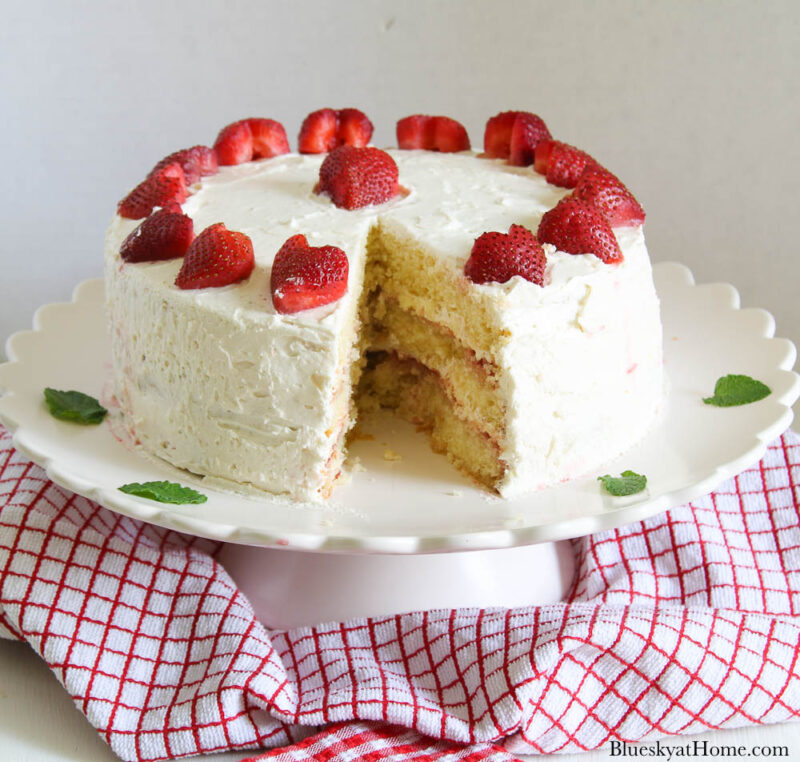 Here's the recipe for you to print out.
Strawberry Vanilla Cake
A moist vanilla cake enhanced with fresh strawberries and strawberry jam.
Equipment
dry measuring cups

liquid measuring cups

rubber spatula

mixing bowls

electric mixer

3 8~inch or 2 9~inch cake pans

cake spatula

offset spatula

cooling racks
Ingredients  
Vanilla Cake
2 ½

cups

all~purpose flour

1

tablespoon

baking powder

½

teaspoon

salt

2

sticks

unsalted butter

at room temperature

2

cups

granulated sugar

5

large

eggs

at room temperature

2

teaspoons

pure vanilla extract

1¼

cups

buttermilk
Vanilla Icing
1

pound

unsalted butter

at room temperature

6

cups

confectioners' sugar

1

tablespoon

pure vanilla extract

2

tablespoons

whole milk
Strawberry Vanilla Cake
1

recipe

Vanilla Cake

1

recipe

Vanilla Icing

1/2

cup

strawberry jam

1

cup

fresh strawberries

hulled and cut to a medium dice
Instructions 
Vanilla Cake Instructions
Preheat the oven to 350˚F. Grease 3 8-ich round cake pans with butter or nonstick cooking spray and set aside. (You can also use two 9~inch pans or 36~count cupcake pans.

Sift the flour, baking powder, and salt in to a mixing bowl and set aside.

Beat the butter in the bowl of a standing mixer fitted with a paddle attachment at high speed until it is light and fluffy, about 3 minutes.

Add the sugar and mix on medium~high speed until smooth, about 1 minute. Scrape down the sides and bottom of the bowl with a rubber spatula halfway through to ensure that the butter and sugar are well mixed.

Add the eggs, one at a time, mixing thoroughly after each addition. Again, scrape down the sides and bottom of the bowl to make sure the ingredients are fully combined.

Add approximately half the flour mixture and mix on low speed just until the flour is incorporated, about 30 seconds. Add the vanilla and buttermilk and mix until combined, about 15 seconds.

Add the remaining flour and mix until combined, about 15 seconds. Remove teh bowl from the mixer and scrape down the sides and bottom of the bowl with a rubber spatula to make sure that all the flour is fully incorporated.

Pour the batter evenly into the prepared pans. The batter should come about halfway up the sides of the pans.

Bake for 40 ~ 45 minutes, rotating the pans once halfway through.

When the centers of the cakes spring back to the touch, remove the cakes from the oven and allow to cool in the pans for 5 to 10 minutes. Run an offset spatula or dull knife around the edge of the cakes and the pans Transfer the cakes, right side up to a wire rack to bring them to room temperature.

Once the cakes are at room temperature, ice as desired.
Vanilla Icing Instructions
Beat the butter in the bowl of a standing mixer fitted with a paddle attachment on high speed until it is light and smooth, about 3 minutes.

Add the confectioners' sugar and mix on low speed until incorporated, about 2 minutes. (At this point, the mixture will be somewhat thick and pasty.)

Add the vanilla and milk and mix on medium~high speed until smooth, about 2 minutes.

Use the icing immediately, or keep it in an airtight container at room temperature for up 3 days. Before using, beat the icing in a mixer or stir vigorously with a rubber spatula for about 2 minutes.
Strawberry Vanilla Cake Assembly
Bake the Vanilla Cake per the instructions.

While the cake is baking and cooling, prepare the Vanilla Icing. Set aside.

If necessary trim the top of each cake layer with a serrated knife to make it even and flat.

Place the first cake layer on your cake stand or cake plate. Use an offset spatula to spread a thin layer of strawberry jam across the top of the cake.

Take a scoop of Vanilla Icing and spread it across the top of the jam, using a cake spatula and adding more as needed until it makes a layer about 1/2~inch thick.

Center another layer of cake on top of the first layer and gently press it into the icing below. Repeat the process of spreading the jam and then the icing. Repeat with the last layer of cake.

Finish the top layer with a crumb coat and more icing to cover the entire top of the cake and sides.

Arrange the diced strawberries in a ring around the top edges of the cake.

Serve the cake immediately or keep it refrigerated for up to 3 days. Bring the cake to room temperature for about 1 hour before serving.
Notes
I used 3 9~inch cake pans. They are done at 35 minutes.
Uniced cakes can be wrapped in plastic wrap and refrigerated for up to 2 days before icing.  Cakes can be frozen for up to 2 weeks. I always add a layer of foil over the plastic wrap.
I used 1 cup of strawberry preserves between the cake layers. That's what I had on hand. 
I hope you loved how to make a Strawberry Vanilla cake. You can use the same recipe to make cupcakes.
We made the cake last Thursday. Between the girls, Sweet Shark, Jennifer, and me, the cake was gone by Sunday.
STRAWBERRY PINTEREST CHALLENGE PARTICIPANTS
Ready to visit my Pinterest Challenge participant friends? Start with Niki of The House on Silverado and her strawberry crumble bars.
Be sure to PIN this Strawberry Vanilla Cake recipe for your future dessert needs.