3 Amazing Salads to Love for Your Next Party
Do you love salads? There are so healthy and perfect any time of year. A variety of salads is a great option for entertaining. I have great tips for 3 amazing party salads for your next gathering.
Maybe it's the changing of the seasons. Warmer months are here that have me yearning to talk about food, especially salads. Since parties and food go together, I wanted to share some warm-weather-perfect party salads.
I know these salads are winners for a party because I've made them for parties and catered events and they get rave reviews. Each is different, can be served at room temperature, and can be made ahead – always a plus in my mind.
Of course, they are so pretty. They are wonderful served individually, but look so pretty served together for a luncheon or buffet.
Salads to Love for Your Next Party: 3 Amazing Options
When you are serving multiple salads, I think you should offer variety in several areas:
color
texture
main ingredient
vinaigrette
with and without a protein
Tips for Serving Multiple Salads
Don't serve more than 1 pasta salad
You would want only one salad with chicken
Only salad with shrimp or other seafood
Only one salad should have a mayonnaise-based dressing.
Always include a salad that is mainly greens and serve it tossed with a vinaigrette.
For a green salad, use a mix of lettuces: red leaf lettuce, bibb (Boston), butter, baby spinach, arugula, kale, frissee. Mixing your greens gives the salad more interest in color, flavor, and texture.  
Add-ons, such as tomatoes, onions, mushrooms, cheeses, nuts, fruits or vegetables, create a more appealing salad from a taste and esthetic standpoint.
Have you ever needed enough salad to feed 10 or 20? Have you multiplied a recipe from 4 servings and ended up with enough to feed 50? I've scaled these 3 delicious recipes to serve a large crowd of about 1-cup servings each, so you can be sure that you will have enough, but not too much. If you don't need as much, half the recipes. Served together or separately, all three are pretty and delicious.
Southwestern Pasta Salad
Our first salad is a Southwestern Pasta Salad. I used bowtie (farfalle) pasta as the foundation, but any shaped pasta will work just fine.  I like shaped pasta for salads because they hold up to rich dressings and a mixture of several ingredients.
TIP: Cold inhibits flavor, so if you are going to serve this salad cold, you want to add a bit more seasoning.
Mixed Spring Greens with Seasonal Fruit and Blood Orange Vinaigrette
This salad with an emphasis on fruit provides a balance of ingredients and adds color and texture to packaged spring greens. The blood orange vinaigrette compliments the fruits. As with any dressed salad, add the vinaigrette right before serving. Instead of blood orange vinegar, juice a blood orange and substitute  1/4 cup of juice for the vinegar.
TIP: Hosting a potluck? So that you don't end up with 5 bowls of potato salad, ask guests to sign up for a specific type of salad.
NOTE: a juicer is one of my 25 favorite kitchen tools.
Chicken Citrus Salad
At least one of the salads should have a protein. I chose to use a grocery store rotisserie chicken which gives you a moist base for the salad and is usually cheaper and definitely less time-consuming than roasting one yourself.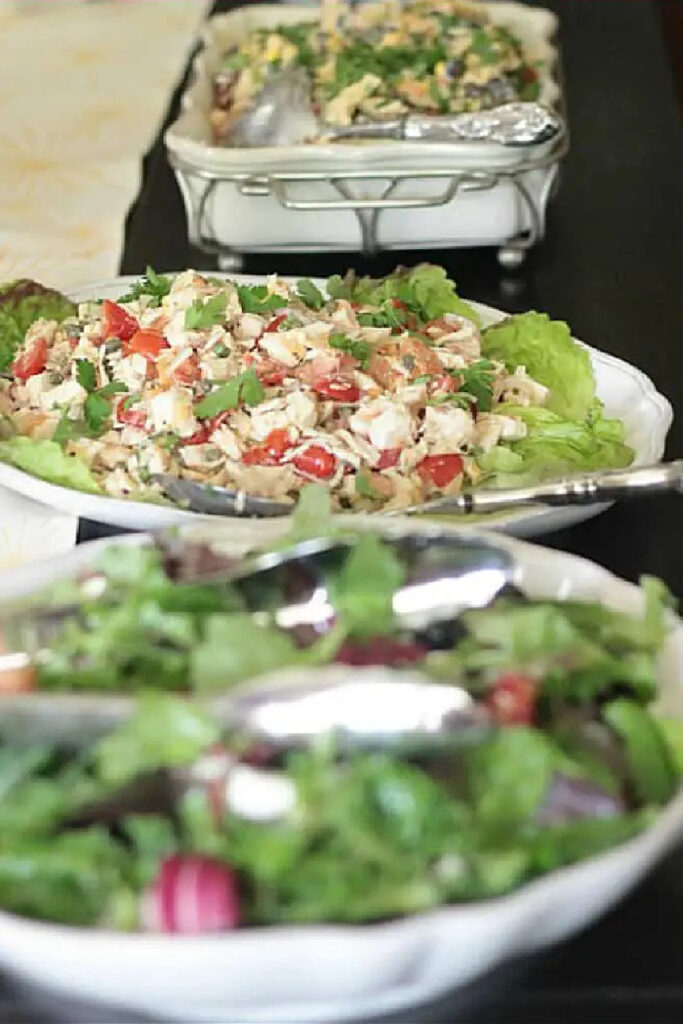 Grilled shrimp could be substituted for the chicken. I love to use Texas ruby red grapefruit in season for its sweetness and pretty deep pink color. You could also add a navel orange to the other citrus or in place of the grapefruit.
Need another option for a light and refreshing salad that guests will love? Try this delicious Sweet Pea Salad.
I hope you enjoy these amazing salads. As warmer weather arrives and we want lighter meals for family dining and entertaining, these salads should definitely be added to your recipe box.